December, 5, 2012
12/05/12
8:35
PM ET
California has hired Louisiana Tech coach Sonny Dykes, an offensive specialist, to replace Jeff Tedford as the
Bears head football coach
.
Why is the 43-year-old with a 22-15 record coaching in Ruston, La., a good hire in Berkeley?
For one, offense.
Louisiana Tech's offense ranked No. 1 in the nation in scoring this season with 51.5 points per game. And it wasn't just about passing. Most intriguing is the solid balance, as the Bulldogs rushed for 227.2 yards per game, which ranked 18th in the nation. They also ranked 18th in the nation in passing efficiency while yielding just eight sacks.
[+] Enlarge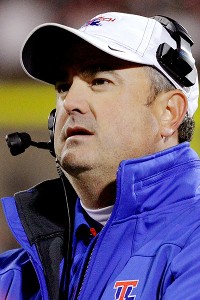 AP Photo/Seth PerlmanSonny Dykes went 22-15 in three seasons as coach of Louisiana Tech.
Dykes, who replaced recently fired Tennessee coach Derek Dooley at Louisiana Tech, is the former offensive coordinator at Texas Tech -- co-coordinator with now-West Virginia head coach Dana Holgorsen -- and Arizona, where he was largely responsible for the development of former Wildcats QB Nick Foles, now with the Philadelphia Eages. He learned offense from Hal Mumme and Mike Leach and is the son of former Texas Tech coach Spike Dykes, so he's grown up around the business.
In 2006, the year before he arrived at Arizona, the Wildcats ranked 115th in the nation in total offense and 105th in scoring offense. In 2008, the Wildcats ranked 16th in scoring and 33rd in total offense.
Dykes was the 2011 WAC coach of the year and led the Bulldogs to a 9-3 finish this season, which included road wins over Illinois and Virginia. The Bulldogs also almost knocked off Texas A&M before losing 59-57.
Dykes is known as a good recruiter with a good eye for talent. He also is socially smooth, so he should be able to negotiate those demands at Berkeley, which isn't the typical environment for a coach who expects football to be first at all moments.
Any questions? Well, defense. The Bulldogs were horrible at it this year. They were much better a year ago. The first big question will be who Dykes hires as his defensive coordinator.
Still, Cal appears to have grabbed a rising star, a molder of quarterbacks, one who knows the West Coast but also has knowledge of other areas, including Texas and the Southeast.
He steps into a good situation. Cal has a newly remodeled stadium and upgraded facilities that are the match of any Pac-12 team. It has a good Bay Area recruiting base, and a brand name that allows for a national reach.
Dykes needs to know, however, that Bears fans, despite being pretty darn bright, have become demanding. Fans started to grumble about Tedford not when he posted his first losing season in 2010 but in 2008 and 2009 when he won 17 games. Seven or eight wins a season won't create much enthusiasm. (And Dykes won't have the services of standout receiver
Keenan Allen
, who
announced Wednesday that he will enter the NFL draft
).
Of course, if Dykes leads the Bears to their first Rose Bowl since 1959, they will immediately build a statue of him outside of Memorial Stadium.
January, 2, 2012
1/02/12
12:29
PM ET
Washington has raided Tennessee to replace fired defensive coordinator
Nick Holt
,
according to ESPN.com's Chris Low
.

The Huskies have hired Justin Wilcox, a former Oregon player who built his reputation at Boise State, to replace Holt. Volunteers linebackers coach Peter Sirmon, another former Duck, is also part of the deal.
This looks like the foundation of a rebuilt defensive staff. The Huskies still have two vacancies: Jeff Mills also was fired, and Demetrice Martin was hired away by UCLA. Both coached in the secondary.
Sarkisian fired Holt, Mills and linebackers coach Mike Cox following a 67-56 loss to Baylor in last week's Valero Alamo Bowl, in which the Huskies yielded 777 total yards. The Huskies' defense was, arguably, the worst in program history this season.
According to Low:
Not a lot went right for Tennessee this season, but the Vols finished 28th nationally in total defense, and Wilcox and his staff were able to hold their own with one of the youngest defenses in the country. Three true freshmen -- linebackers A.J. Johnson and Curt Maggitt and safety Brian Randolph -- started most of the season.

Wilcox, 35, has been a hot commodity since his red-hot run at Boise State. He was wooed by Texas last season, but elected to stay at Tennessee.

Sirmon, a Wenatchee, Wash., native, played seven seasons with the Tennessee Titans as a linebacker. He spent the 2009 season as a graduate assistant at Oregon before coming to Tennessee in 2010 as a grad assistant working under Wilcox. In addition to being one of the Vols' top assistant coaches, Sirmon also was one of the program's best recruiters
Tennessee is probably getting tired of the Pac-12. Not only have the Vols lost four consecutive games to Pac-12 teams -- California, UCLA twice and Oregon -- USC hired away after just one season coach Lane Kiffin, who did a masterful job this year leading the Trojans to a top-five ranking while the Vols finished 5-7 under Derek Dooley.
As for Wilcox's contract issues coming and going, there's this from the
Knoxville News Sentinel
:
Wilcox does not owe UT anything by leaving for another job. His original contract stipulated that he owed the school $300,000 if he terminated the deal before Dec. 1, 2011 -- with the exception of leaving because he obtained a Division I head coaching position -- but that clause was completely wiped out when it was amended in August.

Wilcox was to receive $700,000 in 2012, a base pay of $275,000 and a "broadcast/endorsement" payment of $475,000.

Holt -- notoriously -- made $650,000 annually, an amount the Huskies will be on the hook for in 2012 because of a two-year contract. So the expectation is Wilcox is likely to exceed that total. It certainly is more expensive to live in Seattle than in Knoxville.
But Wilcox, a Eugene, Ore., native, also likely wanted to get back to the West Coast. He figures to become a top head coaching candidate if the Huskies' defense starts to excel, so he probably has his eyes on a Pac-12 post down the road.
Before that happens, of course, the Huskies will have to start playing good defense again, something their fans have been hoping for since the mid-1990s.
September, 12, 2010
9/12/10
11:30
AM ET
By
ESPN.com staff
| ESPN.com
Oregon left no doubters in Knoxville. Here's how Tennessee coach Derek Dooley started his postgame comments.
"They have a great football team,'' Dooley said. "They have a great coaching staff and they've got a lot of class; I'm impressed with everything about them.''
And
there's this
from Volunteers linebacker Nick Reveiz.
"They're a great team and they beat our butts," Reveiz said. "Completely dismantled us."
You can read
more comments here
, but I picked out some highlights.
Derek Dooley
What allowed Oregon to make more big plays in the second half?
"That's what they do. In their long run, I think we had six missed tackles. We said that's one of the keys here. What they do is they wear on you, they get you tired, you don't line up right or you don't have the right eye control or you miss tackles. They've got special enough players to make you pay when they do that. And they did with the two big plays -- the long run and the pick-six. Next thing you know, you're on your heels, and that's what happened. The long run should never happen. We've got the guy hemmed up in the backfield for minus-5 and we don't have our contain player where he's supposed and then we can't rally to the ball and get the runner down."
Chris Walker, DE
On the third quarter struggles:
"I think their playmakers came out, that tempo they were going at kind of got at us and wore us down, and we missed some tackles and made some mistakes that we usually don't make."
Matt Simms, QB
On the difficulty of the passing game
"Our goal was to wear them out physically and take shots with one-on-one matchups and hopefully our receivers would go up and get it for us. They [Oregon] did a lot of good things defensively, they did a good job of regrouping, and aligning to us better, that took away a few of our looks and things we were looking to take advantage of."
And here's some comments from the Ducks.
Chip Kelly
On the environment at Neyland Stadium
"That's an unbelievable environment to play in out there. I mean, this place is impressive. I tell my players all the time, 'Don't look at the stadium,' but I was looking at the stadium."
(I included that because I'm sure that Ducks fans who were at the game now know why I kept harping on the venue. Neyland is impossible to ignore).
Sophomore LaMichael James, RB
On his 72-yard touchdown run that put Oregon ahead 20-13 early in the third quarter
"That run was kind of incredible right there. Actually, someone grabbed my face mask and I was like, 'Dang, am I going to fall?' But then I didn't fall and I saw the clearing, and I just ran. I was very determined. We needed a boost and we needed a score. We weren't playing to our standards. We needed a boost and that's what I did."
September, 9, 2010
9/09/10
7:20
PM ET
By
ESPN.com staff
| ESPN.com
Welcome to the Thursday mailbag!
Decided to move it back a day because many of you have begun your, er, game preparations by the time we'd post it Friday afternoon.
Follow me on Twitter
. Please.
To the notes!
Dave from Portland writes
: I keep hearing about a zipper conference schedule. Just what is a zipper?
Ted Miller
: It's the idea of splitting the Pac-12 up by rivalry pairs instead of geography (North-South).
So Arizona and Arizona State, Oregon and Oregon State, USC and UCLA, etc., are in opposite divisions but guaranteed a game each year, though perhaps not on the dates their fan bases are accustomed to. So a team would play five games each year in its division, one guaranteed game with its rival in the other division and then a rotating schedule of three games with the other five teams. There also could be further designated games if, say, Cal and UCLA wanted a guaranteed game or Oregon and Washington, though that could complicate things (or could be solved within the divisions).
The advantage is it ensures the Northwest schools are paired with one team from Southern and Northern California and, at worst, will make a visit to each region every other year. Northwest schools want trips to California for recruiting purposes. The zipper plan also maintains traditional rivalries.
The California schools are resisting the plan because they want to be guaranteed games with each other on an annual basis. There are other downsides. For one, not going regional means increased travel costs. Also, if rivalry games are preserved for the final week of the season, it's possible you'd have have a rematch a week later in the new Pac-10 championship game (imagine, say, Oregon-Oregon State on back-to-back weekends). Further, when you don't break up divisions by geography, it's difficult for casual fans to know which team is in which division. As in: Name all the ACC teams in the Coastal Division.
While the idea isn't new, the first time I can recall reading the term "zipper" was from
Jon Wilner of the San Jose Mercury News
.
Dan from Olympia, Wash., writes
: One of the things that I've noticed that the Big10, Big12, and SEC do well is schedule and market their rivalry games. Which brings me to these two questions: 1) Would the Pac10 be better served if they spread out the in-state rivalry games over three to four weeks instead of the two we have now? That way, people would get a chance to see all of the games and would give the conference to showcase each game without them overlapping? 2) Is the Pac10 missing a trick here and should promote other rivalry games inside the conference that do not have a name or title sponsors? For example, the Washington-Oregon game could be marketed in the same way the Red River Shootout is. The intensity between the fan bases are surely there.I can see nothing but good coming from this? Your thoughts?
Ted Miller
: Some good points. When it comes to marketing and promotions, the new Pac-12 under Larry Scott strikes me as cutting edge, so I'm sure what you're saying here is also being said in the Pac-10 offices at present. Repackaging the rivalry games and relentlessly hyping them could become a prime directive for, say, a Pac-12 network.
There is a major reason why most rivalry games fall at the end of the season, other than just tradition: The potential for maximum impact. Consider the Civil War last year: The stakes were not only state pride, they were the Rose Bowl. Ergo: The biggest Civil War ever. You could say the same for the Ohio State-Michigan game: It's monumental when the stakes are the Rose Bowl or even the national title game, and you'll note the Big Ten
opted to protect the game's date
at the end of the season when it decided how to break into divisions.
Just imagine if Oregon and Oregon State had met in, say, week eight. Big game. Big rivalry. But little national interest, unless one or both are in the top-10 and contending for a national title.
As for finding ways to market other rivalries, I agree, particularly with Oregon-Washington. To me, that is the most underrated rivalry in the nation, though it lost some luster when the Huskies went into the toilet from 2004-2008. But all you have to do to get a sense for the bitterness is to read the comments section from the Pac-10 blog, where a story about Stanford's special teams can degenerate into barb trading between Ducks and Huskies.
The Columbia River Calamity? Feel free to provide your own ideas.
What you should take away from my answer here: Going forward, the Pac-12, once the patrician conference that resisted change and aggressive marketing, is now willing to at least entertain just about any idea within reason that promotes the conference and leads to increased revenue.
Torsten from Orlando writes
: How concerned should us Duck fans be about Tennessee's new defensive coordinator, Justin Wilcox. As Duck fans know he was the former coordinator at Boise State, the only team to beat Oregon the past two years, and because of that probably has an edge about how to stop our system. Not to mention their new Grad Assistant was a Duck Grad Assistant first. Is this something that we should start sweating and worrying about or am I just sweating the small stuff?
Ted Miller
: Oregon should beat Tennessee on Saturday because it's got better, more experienced players.
Now, if you are looking for reasons the Ducks might lose, Wilcox would be No. 2 on my list behind QB
Darron Thomas
struggling in his first road start in front of 105,000 at Neyland Stadium. In fact, those two pair together nicely as 1A and 1B.
Wilcox, a former Duck, is one of the bright, young coordinators in the nation, which is why Derek Dooley lured him away from Boise State. His game plans last fall against Oregon and then against TCU in the Fiesta Bowl were outstanding. And it should help him that his graduate assistant, former Duck Peter Sirmon, was a GA at Oregon last year.
These two will be familiar with Oregon's spread-option offense and the skills of individual players -- their strengths and weaknesses. Sirmon, for example, might have specific ideas on what might make Thomas uncomfortable.
So, yes, concern is legitimate.
That said: Sometimes there's information overload and overthinking. Oregon's Chip Kelly also knows what Wilcox did against the Ducks the past two seasons, and he probably knows what Sirmon might add to the equation in Knoxville. Count on Kelly having some counterpunches for the "inside" information that Wilcox and Sirmon might have.
Seth from Santa Barbara, Calif., writes
: Here's a question for you: If you were suddenly transported to a mysterious and exotic world in which you were the only sports writer and no other media coverage or ranking systems existed (or had ever existed before). Based on your observations of week one on the field performance who would your top 10 be? Feel free to rank the PAC-10 the same way if you are so inclined.
Ted Miller
: OK. So you want a ranking that leans overwhelmingly on what a team accomplished in week one instead of my subjective take on who's the best?
My national top 10: 1. Boise State; 2. Utah; 3. TCU; 4. Fresno State; 5. Jacksonville State; 6. Michigan; 7. South Carolina; 8. Arizona; 9. Kansas State; 10. Oregon.
As for the Pac-10, based entirely on what was accomplished in week one: 1. Arizona (won impressively on the road against a respectable team); 2. Oregon (looked unstoppable against a bad team); 3. USC (won on the road against a respectable team); 4. Oregon State (lost a competitive game on the road against an elite team); 5. Arizona State (created reasons for optimism on offense); 6. California (may have found a playmaker at receiver); 7. Stanford (beat an FCS team about like it should have); 8. Washington (lost to a good team on the road, but one it was expected to beat); 9. UCLA (lost to a middling team on the road, but one it was expected to beat); 10. Washington State (got beat up worse than expected by a middling team on the road).
Max from Sacramento writes
: Your
stock report
reminds me of the
NASPAQ
.
Ted Miller
: Thanks for the link. Worth taking a look.
Mr. Dude from Portland writes
: Yup,
there sure is a nickname
for Barner and James. Last year people started calling them Blaze N' Taze. Blaze for James' ridiculous speed, and Taze for the hybrid tazer position (slot + running back) Kelly implemented last year. Both adjectives are sure to leave many defensive players laying on the ground in a charred, mangled and helpless mess. Also it was a play off the previous years speed power combo (Johnson and Blount) smash and dash.
Ted Miller
: OK then.
Sure you don't like "Accelerating Anatidaes" better?
And when someone says, "Dude?" to you, do you go, "Hey, that's Mr. Dude!"
Cam from Albany, Ore., writes
: You asked on your blog if there was a nickname for Oregon's backfield and I have it. Traditionally you see "Thunder and Lightning." With James and Barner you have Lightning and Lightning. I humbly submit the title of "Blitzkrieg" for your consideration.
Ted Miller
: Cam, you and Mr. Dude need to talk this one out. I know better than to get between wide-eyed Ducks fans.
Steven from Guntersville, Ala., writes
: Normally I am content with people being ignorant if it doesn't concern me, but this is rediculous. I am in no way affiliated with Bama, other than being a fan. Do you even watch football? What are your rankings based on? Ill go out on a limb and give you Boise, because they have played in the best game, so far. But to have Bama behind the suckeyes and the horny toads, is borderline insane. For heaven's sake, TCU beat WHO? Maybe Boise and BAMA will go undefeated, and you can see who plays real football in Glendale. You can sit with the boise fans, after the crowd that showed up Monday Night, im sure there will be plenty of empty seats. Lets start voting with our head and not how Lame kiffin taught you to!
Ted Miller
: Apologies. I've found myself being rediculous all week.
My bad.
September, 8, 2010
9/08/10
11:00
AM ET
By
ESPN.com staff
| ESPN.com
Oregon is nearly a two-touchdown favorite for its visit to Tennessee on Saturday. That seems a bit odd, doesn't it, if you watched much of the Volunteers when they won 152 games and a national title from 1993-2008 under former coach Phillip Fulmer?
But Tennessee has experienced as much upheaval as any program in the country over the past two years. First, Fulmer was pushed out the door and replaced with Lane Kiffin. Some of you may have read this: Kiffin then bolted after a single season for USC, inspiring near-riots in Knoxville. Next, after being rebuffed by a number of higher-profile candidates, Tennessee hired Derek Dooley away from Louisiana Tech. He's the son of SEC coaching legend Vince Dooley, who won a national title at Georgia, and he's in charge of returning the Vols to past glory.
But that ain't happening this year. The roster Dooley inherited doesn't much look like the NFL factory once quarterbacked by the likes of
Peyton Manning
.
"Everything is new," said Oregon coach Chip Kelly, speaking specifically about the Tennessee coaching staff, which has brought in new offensive, defensive and special teams schemes, the nuances of which certainly weren't revealed in a 50-0 beatdown of Tennessee-Martin.
Still, making a cross-country trip to play in the Southeastern humidity in front of more than 100,000 fans isn't an easy task even when the Vols are down. Just ask California. In 2006, a talented Bears team wilted in Tennessee in a 35-18 route that wasn't nearly as close as the final score suggested. More than a few Bears later admitted they got wide-eyed taking in the Neyland Stadium frenzy.
Neyland is no joke. It's going to be loud and rowdy and orange. Lots of orange. And Oregon's sophomore quarterback
Darron Thomas
will be making it the venue for his first road start.
No matter how cavalier Oregon fans want to be on that -- well, UCLA's
Kevin Prince
did just fine last year! -- it's an issue until Thomas makes his mark.
"It's still an unknown -- he hasn't played in this environment," Kelly said. "There aren't many stadiums in college football that have 100,000 [fans]. We've got a lot of young guys it's going to be new for."
One of the most interesting statistics coming out of the Ducks blitzkrieg versus New Mexico was zero rushing yards from Thomas. Oregon quarterbacks
ALWAYS
have rushing yards. By design? No, said Kelly. But it was hard not to wonder if Kelly -- a certifiably tricky guy -- has something up his sleeve.
If Oregon handles the atmosphere in a businesslike way, the Ducks roll. They're just too fast, too experienced and too talented on both sides of the ball for the Volunteers. But the Vols also have enough talent that if the Ducks make mistakes or get distracted by 105,000 screaming Volunteers fans, then things could get interesting.
Oregon didn't punt vs. New Mexico. Kelly said Tuesday that's he's sure that won't be the case in Knoxville. This one, whatever the word coming out of Vegas is, won't be easy.
"We're going to be tested," he said.
July, 22, 2010
7/22/10
1:15
PM ET
By
ESPN.com staff
| ESPN.com
Ninth in a series looking at potential dream and nightmare scenarios for all Pac-10 teams, starting at the bottom and working up from my vote in the Pac-10 media poll.
Understand: These are not predictions. They are extreme scenarios and pieces of fiction.
Up next:
Oregon
Best case
"
Nate Costa
is our quarterback," Oregon coach Chip Kelly tells reporters on Aug. 23." "But
Darron Thomas
is going to play, too."
A reporter asks, "Are you concerned that..."
"No," says Kelly.
"I mean to say, might it become an issue that..."
"No," says Kelly.
Both Costa and Thomas play and play well in a 50-13 win over New Mexico. With
LaMichael James
on the sidelines serving a one-game suspension,
Kenjon Barner
rushes for 156 yards and two touchdowns.
"Truth is, when our offense is rolling like that, getting a break isn't such a bad thing," Costa says.
James returns to score two touchdowns and run for 133 yards in a 35-17 win at Tennessee.
"I know from my 'How to talk like an SEC coach' class that we're supposed to act like no body plays good football outside the SEC," new Volunteers coach Derek Dooley says. "But, man, that is a really fast team. They could play with anybody in our league."
Three men in seersucker suits and panama hats seemingly appear from nowhere behind Dooley. They grab him by the shoulder and whisper in his ear.
"Er, just kidding," Dooley says. "Just ignore the Pac-10's consistent success against the SEC. Nothing to see there."
The Ducks whip Portland State and survive a sloppy performance against a rugged Arizona State defense. Stanford's
Andrew Luck
throws three TD passes at Oregon, but Thomas leads a nifty 80-yard drive for the winning score late in the fourth. The Ducks, now ranked fourth, improve to 7-0 after easy wins over Washington State and UCLA. They average 485 yards on offense and surrender just 287 yards on defense. Combined, Costa and Thomas average 254 yards passing and 88 yards rushing per game and their twin efforts lead the conference in passing efficiency.
"This is almost like USC's bowl game," Kirk Herstreit says from the ESPN "College GameDay" set in front of the Coliseum. "If the Trojans win this game, they have a good chance to go undefeated. That means they could even end up ranked No. 1 in Lane Kiffin's first season."
A
Matt Barkley
TD pass to
Ronald Johnson
gives USC a 28-24 lead with two minutes left. Costa and company take over at the Ducks 20. James takes a first-down screen for 20 yards. A reverse to Barner moves the Ducks into USC territory. On third and 10, Costa finds
Jeff Maehl
for a first down at the Trojans 28. Under pressure, Costa scrambles for a first down at the 7-yard line with 40 seconds left. After an incomplete pass, James rushes for five. The Ducks use their final time out with 17 seconds left. Costa dumps a pass to Barner, but he's knocked out of bounds at the 1.
On fourth down, USC stops Costa on a spread-option play. The Coliseum releases its pent-up, NCAA-sanctions-induced frustration.
"I think Chip Kelly is challenging the spot," Brent Musburger says through the din.
Touchdown. Oregon wins 31-28.
"The Ducks look like the best -- the most complete -- team we've seen this season," Chris Fowler says.
Oregon returns home triumphant and avoids a let-down against Washington after intercepting
Jake Locker
twice. At California, things go splat. Perhaps it's back-to-back emotional victories followed by a road trip to Berkeley with a bye week ahead. Whatever the excuse, the Ducks turn in a lethargic performance and a late comeback attempt falls short in a 28-24 loss. Oregon drops from No. 2 to No. 6 in the rankings.
The Ducks trounce No. 17 Arizona 38-20, which sets up another Civil War for the Roses at No. 9 Oregon State.
With two minutes left, Oregon trails 27-23 and faces a fourth-and-3 from the Beavers' 33-yard line. Kelly has no choice but to go for it. Costa drops back and, under pressure, shovels the ball to James, who breaks to his right toward the sideline. One yard. Two yards. But at the marker Stephen Paea grabs James from behind. A battle of wills ensues. And the 180-pound James drags the 300-pound Paea, perhaps the strongest player in college football, forward for the first down.
And then he slips away and high steps into the endzone for the win. Later, most folks agree it was the moment that won James the Heisman Trophy.
The Ducks, one of four teams with only one loss, finish behind Alabama and Ohio State in the BCS standings even though they are ranked No. 2 in both the final human polls.
"Coach Kelly, have you noticed that the folks who do the computer polls all wear seersucker suits and panama hats?" a reporter asks.
"Yes," says Kelly.
The Ducks bludgeon Boise State 42-14 in the Rose Bowl and split the national title with Ohio State.
Worst case
A week after winning the quarterback competition with Nate Costa, Darron Thomas posts an uneven performance in an easy win over New Mexico. The sophomore clearly has skills both as a runner and passer, but he fumbles once and frequently tries to force the ball through tight coverage, though only one pass ends up picked off.
Those issues are even more glaring at Tennessee, where a crowd of 105,000 seems to be distracting the young QB. The Ducks trail 10-7 at halftime, and coach Chip Kelly makes a switch, inserting the senior Costa.
Costa isn't spectacular, but he doesn't make mistakes and he leads two second-half scoring drives as the Ducks escape 21-17. The Ducks improve to 4-0 with wins over Portland State and Arizona State.
But the ninth-ranked Ducks yield three TD passes to Stanford's Andrew Luck in a 30-24 home loss. After needing overtime to slip improving Washington State, and a fourth-quarter comeback to survive a challenge from UCLA, USC pounds the Ducks 35-20, knocking them out of the national rankings.
Then hated rival Washington comes to town.
Locker, who ranks just ahead of Oregon State running back
Jacquizz Rodgers
in most Heisman Trophy polls, is asked if he's aware of how Oregon fans constantly tweak him as all hype and no substance.
"No, I've never heard that," Locker replies. "I love Oregon fans. A lot of fans in the Pac-10 are obnoxious. But Oregon fans are gracious and mellow. Like Michigan fans."
Locker rushes for 205 yards and two TDs and passes for 310 yards and two scores as the Huskies roll over the Ducks 41-17, ending a six-game losing streak in the series.
"Wow," says Rece Davis back in the ESPN studios. "If Jake Locker isn't atop your Heisman Trophy contender list, I don't know what you're thinking. Who would have thought that Autzen Stadium would provide him such an accommodating stage to record a signature performance."
Oregon bounces back with a win at California and beats Arizona in overtime.
The Ducks find themselves in the unusual role of spoiler when they visit Oregon State for the annual Civil War. The Beavers must win in order to go to their first Rose Bowl since 1965.
Rodgers, who ranks just behind Locker in most Heisman Trophy polls, is asked if he's aware of how Oregon fans constantly tweak him and say he isn't as good as LaMichael James.
"No, I've never heard that," Rodgers replies. "I love Oregon fans. A lot of fans in the Pac-10 are obnoxious. But Oregon fans are gracious and mellow. Like Michigan fans."
Rodgers rushes for 225 yards and three touchdowns and catches 10 passes for 107 yards and a TD as the Beavers roll over the Ducks 44-14.
Wow," says Davis back in the ESPN studios. "Seems like Oregon is the team to play to make a Heisman Trophy statement."
Locker wins the Heisman. Rodgers finishes second and announces he's coming back for his senior season.
A 31-24 win over Texas in the Alamo Bowl earns Washington a 10-3 finish and a final No. 9 ranking. The Beavers beat Iowa 28-24 in the Rose Bowl and finish 11-2 and ranked fourth.
Oregon loses the Las Vegas Bowl to Utah and finishes 8-5.
Phil Knight converts to Buddhism, gives his fortune to the United Way and moves to Tibet. Chip Kelly goes with him.
Tyrone Willingham comes out of retirement to become the Ducks head coach.
January, 20, 2010
1/20/10
4:04
PM ET
By
ESPN.com staff
| ESPN.com
Pete Carroll's decision to leave USC for the Seattle Seahawks now has hit Arizona hard.
[+] Enlarge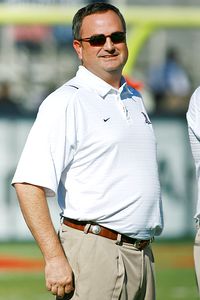 Chris Morrison/US PresswireSonny Dykes was the offensive coordinator at Arizona for three seasons.
Sonny Dykes, who rebuilt Arizona's offense,
will be named
Louisiana Tech's head coach this afternoon, ESPN.com's Graham Watson has learned.
Dykes, 40, will replace Derek Dooley, who left Ruston to take over at Tennessee when Lane Kiffin bolted for USC to replace Carroll.
See the dominoes go down!
Dykes ran the Wildcats' offense for three years after learning the spread from then-Texas Tech coach Mike Leach. He deserves a lot of credit for the Wildcats move from the bottom of the Pac-10 to the top-half.
You
can read Dykes' bio here
.
The Wildcats now will head into the 2010 season with two new coordinators. Defensive coordinator Mark Stoops left for the same job at Florida State after the Holiday Bowl.
Head coach Mike Stoops replaced his younger brother by promoting Tim Kish and pairing him with
Greg Brown
to be co-defensive coordinators. Brown was hired away from Colorado.
It's easier to feel confident about the Wildcats' defense because they were running the Stoops family system and will continue to do that. Of course, replacing seven starters is a challenge even for a staff that isn't making any changes.
It won't be easy to replace Dykes, whose ability to adapt schemes to fit his personnel was a particular strength.
On the plus side, whomever Stoops pursues for the vacancy will be handed a good core of returning talent, particularly at the skill positions, starting with junior quarterback
Nick Foles
, senior running
Nic Grigsby
and junior receiver
Juron Criner
.
Still, that's a lot of X's and O's and leadership turnover for any staff.
It will be interesting to see if the next coordinator can help Foles make the next step as a quarterback.
January, 20, 2010
1/20/10
12:23
PM ET
By
ESPN.com staff
| ESPN.com
Arizona offensive coordinator Sonny Dykes is a candidate to become Louisiana Tech's next head coach, according to
a report in the Shreveport Times
.
Dykes' cell phone voicemail is full. He didn't immediately respond to a text message from ESPN.com.
Louisiana Tech, according to the report, would like to hire a coach by the weekend.
The Bulldogs are trying to replace Derek Dooley, who was hired by Tennessee after Lane Kiffin bolted to USC.
If Dykes goes to Louisiana Tech, Arizona then would have two new coordinators heading into the 2010 season. Defensive coordinator Mark Stoops already left for Florida State.