July, 8, 2014
Jul 8
2:30
PM ET
Cinnamon. It should be on tables in restaurants along with salt and pepper. Anytime someone says, "Ooh, this is so good -- what's in this?" the answer invariably comes back, "cinnamon." Cinnamon. Again and again.
July, 2, 2014
Jul 2
12:00
PM ET
It's hard not to look up and down the Pac-12 rosters and marvel at some of the offensive talent at just about every school. With 10 starting quarterbacks coming back, the fall promises to bring many sleepless nights for defensive coordinators in the conference.
And while the embarrassment of riches under center is one obvious storyline, there are plenty more dynamic position groups to keep an eye on.
We've been
highlighting where each position group stands
with camp rapidly approaching, and today we discuss which of those groups deserves to be considered the best of the best.
[+] Enlarge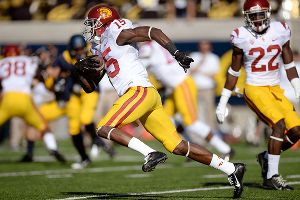 Thearon W. Henderson/Getty ImagesUSC's Nelson Agholor had 56 catches for 918 yards last season.
Chantel Jennings:
This was hard, and for me it came down to running backs and wide receivers. But, considering how great the quarterback situation is in the Pac-12, I think the receivers, conference-wide, are going to have huge seasons. Go down the line and pick out guys who are going to be major, major names to know this year: Arizona State --
Jaelen Strong
, Stanford --
Ty Montgomery
, Oregon --
Devon Allen
, USC --
Nelson Agholor
, Utah --
Dres Anderson
, Washington State -- everyone and their mother. Quarterbacks are only good when there are receivers on the other ends of their passes and this group of receivers will make this group of quarterbacks look very good (and vice versa).
What makes this even more impressive is to look at the wide receivers that are gone after the 2013 season. Oregon State lost Brandin Cooks. Colorado lost Paul Richardson. Oregon lost Josh Huff. USC lost Marqise Lee. That's some serious yardage and production to lose in one season. But even with that loss, this position group -- in my opinion -- is going to be incredibly impressive this upcoming season. In 2013, the Pac-12 played stage for the eventual Biletnikoff Award winner. I think the same could be true in 2014.
Kyle Bonagura:
With so many talented receiving groups out there (don't sleep on Cal), it's hard to go with one over the other, but I'm not convinced that's the case at running back. Kevin Gemmell
took a look at each team's group of backs
, and while he classified three (Oregon, USC and Arizona State) as being in great shape, it's pretty clear what group stands out: Oregon.
There's only a select few places in the country where
Byron Marshall
or
Thomas Tyner
wouldn't be the unquestioned feature back. At Oregon, they might be the second and third best options on their own team. Behind quarterback
Marcus Mariota
, of course. That's scary. And after the trio combined for 2,464 yards and 32 touchdowns a year ago, there is every reason to expect more in 2014 -- starting with the fact that they'll be running behind one of the best lines in the conference.
Taking everything into account -- especially the element Mariota adds -- finding a better offensive backfield in the country would be a tough task. There are schools that have more impressive workhorse-type backs, but Oregon's unique combination between its style of play and talent, for my money, is unmatched.
June, 19, 2014
Jun 19
9:00
AM ET
Over the past few weeks we examined the Ducks, position-by-position, evaluating the talent. But since I was in Eugene last week for the NCAA Track & Field Championships, I figured I'd stop by the football offices to check in with one of the guys who knows that information best, offensive coordinator Scott Frost. Wednesday, we went through
quarterback and running back
highlights. Today, we're on to wide receiver, tight end and the offensive line.
WIDE RECEIVER
On Devon Allen: He was actually a late offer for the Ducks who was offered after Chip Kelly left for the NFL. There were a few spots open (initially there had only been one spot for a receiver). "It all kind of worked out that we offered him, and this is where he wanted to be. I knew he could be fast. I had no idea he could go 13.1 in the high hurdles."
Frost actually was at Allen's race last Saturday when Allen won the 110-meter hurdle national title. Frost said that he doesn't think Allen "looks like he'd be a track guy, he's built more like a football guy, he's thick."
On his mindset on the receivers: "We felt good about receiver even losing the guys we did, with Bralon [Addison] back and some young guys we think are really talented. We're just going to have to have some of those young guys step up quicker than they would've had to otherwise."
The first receiver that Frost brought up after Allen was redshirt freshman Darren Carrington. "He has to grow up quick, but he has it in him to be that guy." The next three receivers he mentioned were redshirt sophomore Dwayne Stanford, redshirt sophomore Chance Allen and early enrollee Jalen Brown. Frost said that he thought Brown was "in over his head a bit" from a conditioning standpoint this spring, which limited his reps, but he's up to speed now, and Frost could see him being a contributor in the fall. So it sounds like after Keanon Lowe and D. Allen, there's certainly a pecking order of things, but the competition is still very much open.
It's the youngest crop of receivers Frost has ever had, so I was curious if there were any way he could speed up the learning curve or provide a catalyst (other than just more and more live reps). "Sometimes there's just no replacing experience. But all those guys are competitors. … They're going to get their shots early. You see it all the time in sports, when people get their opportunities some of them reach out and take it with both hands and others struggle a little bit. We're just hoping we have a bunch of guys where the former happens."
Frost said something interesting about indicators regarding whether a young guy can play early -- it's typically more based on mental and emotional maturity than talent.
TIGHT ENDS
Look for these guys, like the running backs, to be more involved in the pass game. "We have three, which is more than we've had going into a year that I can remember. … We have three guys that we trust to go out there and do it, and there's probably going to be times that a couple of them -- if they're playing well -- deserve to be on the field, and we can play with two tight ends."
Pharaoh Brown's injury isn't going to limit him through the fall. Frost said it's just a matter of keeping him healthy through the season. "He's really talented."
Frost called John Mundt's freshman year a "roller coaster" but said that when he was on, "he did some exceptional things."
Frost thought Mundt and Evan Baylis' biggest areas of growth over the past year has just been confidence. No surprise there.
OFFENSIVE LINE
I asked Frost about senior Hroniss Grasu taking the blame (for the line as a whole) for the losses last season. Grasu had said in the spring that he thought the group lacked toughness and got outmuscled in those games, and that's why the Ducks lost. "I wouldn't necessarily agree with that. I think we had two losses against teams that played really good games against us." Frost though the turnovers were a bigger problem in the Stanford and Arizona games. "If you play a team that does things right and you give them the ball that many times, that's a recipe for losing."
He wasn't surprised that Grasu said that, because he's that kind of a guy. He said it speaks to Grasu's leadership that he's willing to shoulder that kind of blame.
The line returns all five starters and considering the weight gain, the general consensus with everyone is that the Ducks should be just fine. But, I wanted to make sure to ask about a few backups who were getting significant reps during the spring season. Frost's thoughts: Redshirt junior Andre Yruretagoyena had his best spring season yet. He said the staff has high hopes for redshirt freshman Jake Pisarcik. He was impressed with redshirt junior walk-on Matt Pierson at right tackle.
June, 16, 2014
Jun 16
1:00
PM ET
EUGENE, Ore. -- Oregon football can now claim a 2014 national title. Sort of.
On Saturday, redshirt freshman wide receiver
Devon Allen
won the 110-meter hurdles at the NCAA Track & Field Championships in Eugene, Ore.
[+] Enlarge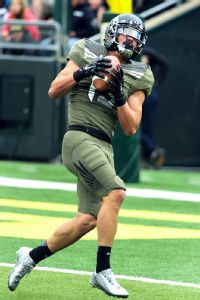 Steve Dykes/Getty ImagesDevon Allen says football is still first, but he plans to continue running track at Oregon.
Allen's time of 13.16 seconds was the second-fastest ever recorded in college track and field and helped the Oregon men's track team win its first team title since 1984.
"Off the last hurdle, it was pretty even," Allen said. "And I know I'm a good sprinter and I could sprint off the last 15 meters, so I was just hoping that I had got it. … I felt like I had it when I leaned across the finish line."
Allen said he has dropped 20 pounds from the end of the fall season until now, which has helped in football and track. He said that after this full year of participating in both sports, he has confidence that he'll be able to continue during his time in Eugene.
Even with his recent and phenomenal successes on the track, football will continue to be his No. 1 sport, he said.
"I had a big day today," Allen said. "But it's still football first for now. We'll see how my season goes."
Summer lifting and conditioning begins in two weeks for the Ducks football team, but Allen isn't completely leaving the track quite yet. He'll compete at USA Track & Field Senior Outdoor Championships in Sacramento, California, from June 26-29.
May, 23, 2014
May 23
2:30
PM ET
This week on the Oregon blog we took a look at five players (or rather, four players and one position group) who stood out through spring practices for the Ducks.
The group contained two defensive nods and three offensive nods. There was one no-brainer (quarterback
Marcus Mariota
) and a few backups from 2013 who could make huge impacts in 2014. And the most important standout this spring was the defensive line -- which got the nod as an entire position group after looking much improved in the Ducks' spring scrimmage.
Check out all five Oregon spring standouts here:
No. 5
: WR
Devon Allen
No. 4
: S
Erick Dargan
No. 3
: QB
Marcus Mariota
No. 2
: RB
Thomas Tyner
No. 1:
The defensive line
May, 23, 2014
May 23
12:00
PM ET
Over the last two weeks
we've been taking a look at some players who had big springs for their respective teams. Some are upperclassmen finally coming into their own, some are younger guys taking advantage of open spots on the depth chart, while others are leap frogging some older players and making a name for themselves. Regardless, there were plenty of impressive performances in the Pac-12 this spring. All of these players are going to play a big part for their teams this fall, but which player do you think will be the most crucial to his team's success in 2014?
Rank them 1-12 here
.
Here's a breakdown of the players we've profiled over the past two weeks:
Arizona: WR Cayleb Jones
-- The Wildcats might have the deepest wide receiver group in the entire conference, but could a Texas transfer become the most important one of the bunch? With a year spent studying the offense and learning from the sideline, Jones could be a major factor.
Arizona State: LB D.J. Calhoun
-- The early enrollee ended the spring listed as a starter with
Antonio Longino
at the weakside linebacker position. With the Sun Devils trying to replace three starting linebackers, could Calhoun become a significant contributor as a true freshman? Seems likely.
Cal: RB Daniel Lasco
-- Lasco found himself taking some extra reps this spring as
Khalfani Muhammad
(last season's leading rusher) split time between the Cal track and football teams this spring. During his career he has been slowed by injury, but now that he's finally healthy and taking more reps, could he battle Muhammad for the lead spot this fall?
Colorado: WR Bryce Bobo
-- Colorado fans should feel encouraged by Bobo's spring game performance (five catches, 132 yards) as they head into the summer wondering who can replace
Paul Richardson
's yardage. It's highly unlikely that it'll be one single player, but could Bobo carry a large part of it?
Oregon: WR Devon Allen
-- When he wasn't running for the Oregon track team this spring he was running circles around some Ducks defensive backs. The redshirt freshman could prove to be a huge player for Oregon as they look to replace last season's top-three receivers as well as injured
Bralon Addison
's production.
Oregon State: WR Victor Bolden
-- Could Bolden be a possible replacement for some of the yardage lost by Biletnikoff Award winner
Brandin Cooks
? He has seen most of his time on special teams, but could step up as a big contributor in the fall as QB
Sean Mannion
looks to have another very big season for the Beavers.
Stanford: DL Aziz Shittu
-- The sophomore, who can play every spot on the defensive line for the Cardinal, has received high praise this spring. Coach David Shaw said Shittu was, "probably the player of spring for us." If it's good enough for Shaw, is that good enough for you?
[+] Enlarge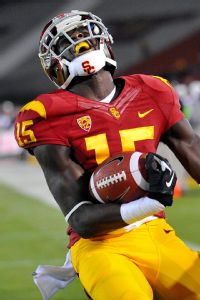 Gary A. Vasquez/USA TODAY SportsHow will USC wideout Nelson Agholor follow up his stellar 2013 season and excellent spring?
UCLA: CB Fabian Moreau
-- He was a big contributor to the Bruins last season but during this spring season Moreau became a better leader for UCLA. Coach Jim Mora has given Moreau high praise and if the Bruins are able to take the South Division title next season, a bit part could be because of the breakout year Moreau could have.
USC: WR Nelson Agholor
-- Chances are if you're a USC fan, you know who Agholor is. If you're not -- then he was the guy who played opposite
Marqise Lee
. But this spring Agholor took the steps to go from good WR to great WR, and next fall, the fruits of his labor could be on display for the entire conference to see.
Utah: RB Devontae Booker
-- Booker is right on the heels of RB
Bubba Poole
, as displayed by his spring game performance (2 touchdowns, 19 carries, 103 yards). But between Booker, Poole and
Troy McCormick
, the Utes could have a three-headed monster at running back that Pac-12 teams would not enjoy having to face.
Washington: LB/RB Shaq Thompson
-- He was the second-leading tackler for the Huskies last season so it wasn't a defensive breakout spring for him. But considering he started getting offensive reps, it was a breakout spring for him as a running back. UW needs to replace
Bishop Sankey
's yardage, could Thompson's spring give him a jump start to do so?
Washington State: WR Vince Mayle
-- The converted running back had a big spring for the Cougars. This spring Mayle got close to becoming quarterback
Connor Halliday
's safety net. Considering Halliday threw for more than 4,500 yards last season, being his safety net would mean major, major yardage next fall.
May, 16, 2014
May 16
12:00
PM ET
Over the next two weeks, the Pac-12 blog will be be looking around the conference at several players who really stood out during spring ball. It's only 15 practices, but it's enough time to catch the eyes of coaches and gain momentum going into the season.
Today we make our stop at
Oregon
.
Breakout player:
WR
Devon Allen
2013 statistics:
Redshirted
The case for Allen:
After the 2013 season, quarterback
Marcus Mariota
lost three of his top four receivers --
Josh Huff
,
Daryle Hawkins
and
De'Anthony Thomas
. Then in spring ball the Ducks lost
Bralon Addison
to injury, leaving the wide receiving corps depleted and in need of a playmaker.
Enter: Allen. The redshirt freshman had a phenomenal spring for the Ducks and it couldn't have come at a better time. The dual-sport Duck (he also runs track) emerged as one of the leading candidates for a starting spot in the fall after entering the spring as a relative unknown.
Allen provides top-end burner speed and, having redshirted last season, he has spent a lot of time in the playbook while learning from more experienced players. Those attributes could be enough to propel him to a very big season for the Ducks. Between Huff, Hawkins, Thomas and Addison, the Ducks will be looking to replace more than 2,500 receiving yards. Look for Allen to be a guy who could have a 600- or 700-yard season.
Other breakout players:
February, 19, 2014
Feb 19
7:35
PM ET
Spring football practice is right around the corner, but several Pac-12 players don't just have football on their minds.
For some, it's baseball season. For others, it's time for track and field.
Interestingly, Oregon State has the most football players participating in track despite not fielding an official men's team.
And a fun fact: Stanford coach David Shaw, who played football at Stanford, also
played in one basketball game in the 1993-94 season
and participated in a 400-meter race at one track meet.
Here's a list of Pac-12 football players who have or will participate in another sport this year:
[+] Enlarge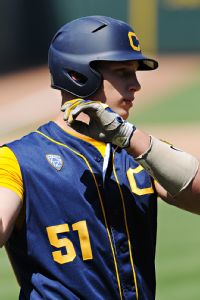 John Rivera/Icon SMICal outfielder Jacob Wark is also a wide receiver for the Bears.
Jacob Wark, Cal, baseball:
After catching two passes for eight yards and a touchdown for the football team, Wark has transitioned to baseball, where he plays outfield. He's
3-for-4 on the season
with an RBI.
Robbie McInerney, Cal, baseball:
True freshman kicker redshirted during the football season and is a middle infielder on the baseball team. He has not appeared in four games.
Khalfani Muhammad, Cal, track and field:
The Bears' leading rusher is currently participating on the indoor track team in sprints. He's recorded the team's
third-fastest time
in both the 60- and 200-meter dashes.
Dior Mathis, Oregon, track and field:
Fifth-year senior cornerback appeared in all 13 games for the football team and has participated in both football and track (sprints) since his freshman year.
Devon Allen, Oregon, track and field:
True freshman receiver redshirted during the football season. A sprinter and hurdler in track, Allen set personal bests in both the 60-meter hurdles and 60-meter dash at the Don Kirby Elite meet in Albuquerque, N.M., on Saturday. His time of 7.83 in the hurdles ranks fourth in school history.
Arik Armstead, Oregon, basketball:
Armstead, a defensive lineman in football, began the year on the basketball team, but only appeared in one game before leaving the team to focus on football.
Victor Bolden, Oregon State, track and field:
Freshman receiver had six catches for 62 yards and ran for 95 yards on 12 carries in football. He's running sprints in track.
Stevie Coury, Oregon State, track and field:
Freshman receiver did not appear in a game during the football season, but is showing well in track. He finished sixth in the 60-meter dash at the Husky Classic on Saturday.
Walter Jones, Oregon State, track and field:
Freshman receiver finished third in the long jump at the Husky Classic. He did not appear in a game during the football season.
Malcolm Marable, Oregon State, track and field:
Cornerback set a personal record in the 60-meter dash (7.07) at the Husky Classic.
Obum Gwacham, Oregon State, track and field:
Participated in the high jump at the first indoor meet of the season but has since stop competing in order to focus on his transition to defensive end from receiver.
Ryan Cope, Oregon State, track and field:
Cope is expected to run hurdles during the outdoor track season.
Hunter Jarmon, Oregon State, baseball:
True freshman receiver redshirted during the football season. He's listed as an outfielder for the baseball team and has made two appearances without a hit.
Zach Hoffpauir, Stanford, baseball:
A safety in football, Hoffpauir has started all four games for the Stanford baseball team in right field. He's
4-for-18
with a pair of homers.
John Fullington, Washington State, track and field:
Fullington started 43 consecutive games on the offensive line for the WSU football team. He will throw the shot put during the spring.
The list has a chance to grow as several football players have yet to decide whether they will run track during the outdoor season.