April, 26, 2013
4/26/13
6:00
PM ET
After vigorous debate and consulting all stakeholders, we've officially come up with a name for the Pac-12 blog mailbag. From here on out, it will be known as the Pac-12 blog mailbag. Simple, sophisticated. We considered two divisions for when Ted and I do them -- he'd be the "Turf" Division and I'd be the "Surf" Division. But that was voted down by an executive counsel of former coaches and administrators.
So, enjoy the Pac-12 blog mailbag. And, as always,
follow the blog on Twitter
.
David in Billings, Mont., writes
: Kevin, In your top 25 PAC-12 players for 2012-2013, you chose no players from Washington. Please explain how you were unable to recognize
Desmond Trufant
as worthy when he was selected # 22 in the NFL draft. He may not have had the stats you were looking for because nobody wanted to throw at him. Do you actually watch the games? Did you not recognize him because you hate Washington or is it because you don't know what you are talking about? I wonder why I bother reading your blog.
Kevin Gemmell
: I've got a little secret. Whenever you see me write a story with the dateline "Seattle," I'm actually at El Gaucho enjoying the $74 Bone-In New York cut. It beats actually going to the game. They are just so crowded. And that stadium got
sooooo
loud last year. Why bother?
I'm not going to rehash our entire thought process again about the top 25. But you're welcome to read
an extensive blogger debate
Ted and I did back in February that digs into how we collaborated on the list. You'll see Ted and I both struggled over Trufant and
Austin Seferian-Jenkins
. I invite you to read it -- though since you are convinced I hate Washington (by the way, I had a great chat with Sark yesterday for a Q&A on Monday -- and I was sure to tell him how much I hate his team) -- it's not going to change any opinions. But for what it's worth,
we did write on Wednesday
that we believed Trufant would be picked in the first round. But the top-25 list wasn't just about a draft -- a lot of factors, stats, team success, number of players at certain positions etc. etc.
All I can say is I don't hate Washington and thanks for being a reader. Have a fantastic weekend and I hope you enjoy the Sark Q&A on Monday.
---
Rob in Santa Clara writes
:
What was your USC column about
: USC or, your favorite team, UCLA? You are so fulla ... (NOTE: I wasn't familiar with the "sh" word Rob used at the end of his letter. After years of going to catholic school and a Jesuit college, I just assume he meant I'm fulla great insight and well-crafted arguments).
Kevin Gemmell
: I don't hate Washington -- but man do I love me some UCLA! So much! My personalized Jim Mora alarm gently buzzed me awake this morning to the sweet sounds of "
Is that a question or statement? Is that a question or a statement? Is that a question or a statement? Is that a ques
(click)."
I pulled off my Bruins comforter, did one good long stretch on my Bruins sheets and then rolled out of bed and glided into my Bruins slippers. I put in my contacts, slipped on my Bruins beanie, looked deeply into the mirror and then did an eight-clap to get me ready for the day.
Big, big UCLA fan here.
And yet despite my unquenchable lust for all things UCLA, was I wrong?
Per the attached poll, I'm not. I suppose if I wrote Stanford was USC's most important game -- considering USC's recent struggles against the Cardinal -- you would have called Stanford my favorite team. (By the way, my David Shaw alarm clock is on its way. It's not as exciting as the Mora clock. It just says
"power right
" 50 times in a row).
USC's most important game is UCLA. And the fact that the Bruins pushed the Trojans around last year isn't opinion or misconstrued homerism -- it's fact.
---
Darryl in Oakland writes
: Hey Kevin, Did
Cody Kessler
play in any games for SC last year? The reason that I ask is
in the Athlon rankings blog article
you said that you wouldn't rank Zack Kline ahead of other QBs in the 9 to 11 spots but you appear to be fine with Kessler, who unless I missed something, is just as unproven as Zack Kline is. For what it's worth, I've seen both of their High School tape and Kline is far superior than Kessler.
Kevin Gemmell
: How dare you use my own logic against me! Grrrr.
You are 100 percent correct. However, the reason I would rank Kessler higher than the other inexperienced quarterbacks is 1) Kessler has the No. 1 wide receiver in the country in
Marqise Lee
and one of the brightest up-and-coming receivers in the league -- possibly the nation -- as his No. 2 in
Nelson Agholor
. Even with the loss of
George Farmer
, there is still an extremely deep receiving corps with
Victor Blackwell
,
De'Von Flournoy
and very good tight ends in
Randall Telfer
and
Xavier Grimble
. 2) He's been in the offense for a couple of years backing up
Matt Barkley
. He's not learning a new scheme from scratch and he has more continuity than the other inexperienced guys.
Pointing out the inconsistency in my logic is very reasonable -- and perhaps I should have specified that more in the original post. But given the weapons Kessler (or Max-squared) will have at their disposal, I don't think it's unreasonable to give him/them a slight bump over some of the other guys who are transitioning to new coaches and have talented, but mostly unproven receivers around them.
There are exceptions to every rule. Just like
in their running backs rankings
-- I'm OK with Thomas Tyner and
Barry Sanders
being on the list because Sanders has a great offensive line and Oregon's offense is a proven commodity for running backs.
---
Kevin in Los Angeles writes
: I just noticed that USC plays 13 games compared to 12 for the other pac 12 teams. Any reason why?
Kevin Gemmell
: NCAA rule 17.9.5.2. Off the top of your head? Anyone? Anyone know NCAA rule 17.9.5.2?
And here I thought I was the only one who had memorized this
easy-to-read leaflet
laying out a couple of tiny ground rules in a clear and non-enigmatic manner.
Teams that play a game in Hawaii are granted an extra game, usually at home, to help offset travel costs. They can also choose to have an extra bye week if they want, but in this case the Trojans opted for an additional nonconference game. Their extra game this year is Utah State. By the way, the start time for the Hawaii game was announced this morning. 8 p.m. PT.
---
Rob in Portland writes
: Can you let me know your thoughts on players stock rising and falling in the few weeks before the draft. I understand their stock can change dramatically based on combines, interviews, senior bowl, etc, but how does it change 1 week before the draft, when they haven't done anything? 2 weeks ago someone might have been projected a first rounder, but suddenly he is a 2nd-3rd rounder after sitting at home ? How does "momentum" swing that fast in the absence of any new news?
Kevin Gemmell
: Gonna let you in on a little secret. It doesn't.
From my time covering the NFL, I can tell you this -- most draft boards are locked in a couple of weeks before the draft. Obviously, as things shift and adjust throughout the course of the draft, there are changes that have to be made. But a lot of the pecking orders and hierarchies are already in the place a few weeks before. This, of course, is barring any sort of news that could impact a player's stock -- an injury, a legal issue etc. etc.
All that changes is public perception. For starters, a local publication will post their own mock drafts or player rankings -- but it's in relation to their home team. For example,
a recent story
ranked San Diego State tight end
Gavin Escobar
above Stanford's
Zach Ertz
. This might be because Escobar is a better fit for the Chargers offense -- and there was probably a little home cooking. I covered Escobar in my life before ESPN and he's an outstanding player. But only one was a unanimous All-American. But others will read that and it could influence their mock drafts ... and so on and so on. Suddenly there is "buzz" and "momentum" changes. The truth is -- take what you read pre-draft with a grain of salt. There is no other happening in sports that creates more pre-event hype and speculation than the NFL Draft. But to the guys in the war rooms, the gameplan -- right or wrong -- is already in place.
Atlanta and Trufant is a perfect example of this. I'm guessing that weeks ago, the Falcons said if Trufant was there at No. 22, they were going to trade up to get him. They targeted a position and they went after it. That didn't happen on the fly or because momentum was swinging toward Trufant. He crushed it at the Senior Bowl. He crushed it at the NFL scouting combine. They wanted him. They got him.
---
Larry Scott, Pasadena:
So Kevin, how well do you think I did in the playoff negotiations? Would you have done anything differently? What could improve the system (other than making it a real playoff where every team has a fair chance of winning)?
Kevin Gemmell
: I think the eight-team model is the way to go. If you're No. 5 -- you still might have a legitimate gripe for not getting in. But if you are No. 9 -- you probably don't have a leg to stand on. But this is what we have for now and it's going to take baby steps to get there.
We don't know what the system is going to be yet -- so I can only speculate as to what I think would be.
For starters -- I think every team has to be on the same page when it comes to scheduling. I don't care if that's an eight-game or nine-game conference schedule. Also, in the Pac-12, they aren't allowed to take late-season byes or schedule FCS opponents later in the year. It's a huge advantage for some conferences to separate their rivalry games late in the year with weaker teams. (Oregon State was the exception last year because of the hurricane).
Also, strength of schedule must, must, must be a point of major consideration. This can't be another BCS by any other name. I'm also curious when they will release the rankings for the top four teams. Will it be in October like the BCS? November? I'd be in favor of a week-by-week standing after the first month so teams know where they stand.
But above all -- there has to be complete transparency in the selection process. Every week we have to know how and why the teams are ranked where they are. That's the only way people will understand and accept the process.
April, 16, 2013
4/16/13
12:00
PM ET
Lane Kiffin and Co. have released their official post-spring two-deep depth chart. And not surprisingly, there aren't a lot of surprises.
One of the most watched quarterback competitions in the country lists
Max Wittek
OR
Cody Kessler
OR Max Browne. Leaving us with what we knew a month ago. It's going to be Wittek OR Kessler OR Browne.

Steve Bisheff of WeAreSC
makes his case
-- and a compelling one at that -- for Kessler, who clearly had the strongest spring of all three quarterbacks.
Despite Kessler's clear advantage coming into the (spring) game, Kiffin had Max Wittek starting with the first unit at the Coliseum on Saturday. And even after Kessler outplayed his main competitor, throwing for 242 yards and three touchdowns with no interceptions compared to Wittek's 145 yards, two touchdowns and two interceptions, Kiffin insisted that no quarterback had emerged as a front-runner for the position and that he won't name a starter until the fall.
Sticking with the offense, there was already an assumed pecking order at wide receiver, but it's more solidified now. Darreus Rogers and
Victor Blackwell
are behind Biletnikoff winner
Marqise Lee
.
Nelson Agholor
will start opposite Lee with
De'Von Flournoy
and
George Katrib
backing him up.
Some intrigue at running back with
Silas Redd
at the top, but the starting gig is listed as Redd or Justin Davis or
Tre Madden
. Same for the fullback, which lists
Soma Vainuku
or
Jahleel Pinner
as the starter.
So while the entire offensive backfield is a grab bag of "ors," there is at least some solidarity on the offensive line, where four of the five starters appear to be in place.
Aundrey Walker
and
Max Tuerk
make up the left side with
Marcus Martin
at center and
John Martinez
at right guard. The only spot still in doubt is at right tackle between
Kevin Graf
or
Chad Wheeler
.
The new-look 52 defensive front has
Devon Kennard
and
Morgan Breslin
at the outside linebacker spots (that's going to be a scary combination, by the way) with
Leonard Williams
and
George Uko
(also a darn good tandem) at the ends. Nose tackle is still up for grabs between
Antwaun Woods
or
Cody Temple
.
In the secondary, where there are almost as many holes as there are questions -- little has been determined. Three of the four starting spots have an "or" attached to them. Only
Anthony Brown
looks like the inked-in starter.
Torin Harris
and
Kevon Seymour
are battling for the other corner spot and
Demetrius Wright
or Leon McQuay III are battling for free safety.
Josh Shaw
and touted freshman Su'a Cravens -- who missed a significant portion of spring drills -- will head into fall battling for strong safety.
August, 15, 2012
8/15/12
3:25
PM ET
By
WeAreSC Staff
| ESPN.com
Blair Angulo writes

: Su'a Cravens has a CIF title and a USC commitment in the bag. But that's not enough, as the four-star recruit wants to add a state title.
Garry Paskwietz writes

: Tuesday's practice report chronicles the progress of junior wide receiver De'Von Flournoy, who has made a move in the competition for the No. 3 WR spot.
Garry Paskwietz writes

: With fall practices halfway over, Garry Paskwietz gives his position-by-position assessment of how the Trojans look.
Blair Angulo writes

: Mission Hills, Calif., wide receiver Steven Mitchell, who committed to the Trojans in June, was a visitor to Tuesday's practice.
Video: Su'a Cravens

: Blair Angulo talks to USC commit Su'a Cravens (Murrieta, Calif./Vista Murrieta) about going undefeated on the field last year, his expectations for this season and his personal goals.
August, 9, 2012
8/09/12
2:30
PM ET
I'm a street-walking cheetah with a heart full of napalm.
August, 1, 2012
8/01/12
11:00
AM ET
On Monday we showed you KC Joyner's take on the Top 10
rushing offenses in the country
. There seemed to be some dispute among the masses (surprise, surprise) that USC was ahead of Oregon. No disrespect to my Insider brethren -- but I was on board with the masses on this one. But then again, with
Silas Redd
officially
making the switch to USC
... well... hmmm...
Either way, USC belongs in the top five considering who they have back on the line -- and the simple fact that if
Curtis McNeal
or Redd face a single eight-man front all season I'll be shocked.
[+] Enlarge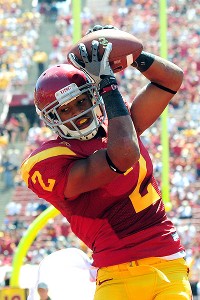 Chris Williams/Icon SMIRobert Woods is one reason the Trojans have the nation's top receiving corp.
But we're here to talk wide receivers, and Insider Travis Haney posted his Top 10 receiving corps for the 2012 -- and it's hard to argue with USC as the No. 1 overall team. Washington State, deservedly, checks in as the No. 9 unit.
You can check out all 10 teams in Haney's article
here

.
Woods and Lee. Lee and Woods. Clearly, USC has the top two wide receivers in the country in Robert Woods and Marqise Lee. They also have the Heisman favorite throwing to them and an offensive line that can protect Matt Barkley. After those two -- it's still a solid group with George Farmer and De'Von Flournoy waiting in the wings. A lot of Pac-12 teams wouldn't mind having those two as their starters. Haney -- rightfully so -- also considers the tight end in the receiving corps and the pair of Xavier Grimble and Randall Telfer will rival Stanford's outstanding duo of Zach Ertz and Levine Toilolo for best TE combo in the conference. There is no debate here -- USC is tops.

Nice to see the Cougars land on a preseason list that doesn't involve hot seats or bowl droughts. The hiring of Mike Leach gives the Washington State offense instant credibility and with strong-armed quarterback Jeff Tuel throwing to bona fide playmaker Marquess Wilson, the Cougars are going to put up sizzling numbers. Haney mentions Dominique Williams and Kristoff Williams in the Insider article, but a guy I'm excited to see in action is converted tight end Andrei Lintz. If you followed spring ball (I'm guessing most WSU fans did) it was clear that Tuel and Lintz had made a connection. Lintz only has eight career catches, but reports are he's going to be Tuel's guy over the middle. He's a big target at 6-5, 250 and could create plenty of mismatches with safeties and linebackers.
June, 7, 2012
6/07/12
7:00
PM ET
Every team has a strength -- that one position group that can make a play on offense or make a big stop on defense when needed.
Based on what happened this spring, we're going to look at the strongest position group for each school. It could be on either side of the ball -- and it could be subject to change after fall camp goes into full swing.
We're going in reverse alphabetical order.

USC
Strongest position group
: Wide receivers
Headliner
:
Robert Woods
(111 catches,1,292 yards, 15 touchdowns)
Supporting cast
:
Marqise Lee
(73/1,143/11);
Victor Blackwell
(RS);
De'Von Flournoy
(0/0/0);
George Farmer
(4/42/0)
The skinny
: Woods is the headliner for now. But when all is said and done by the end of this year, it might end up being Lee. Or it could still be Woods. Or Lee. That's the point. By themselves, they are two of the best wide receivers in the country. Together, they are by far the best receiver duo in the nation. And when you throw in a Heisman candidate quarterback in
Matt Barkley
, you have possibly the most explosive passing game in college football.
These two alone make USC's wide receivers the strongest position group. But when the highly-touted George Farmer is your No. 3, that ain't bad. Yes, USC's receiving corps might be a tad on the top heavy side with some limited experience backing it up. But Farmer was a Prep All-American who burns and Blackwell and Flournoy would likely be starters at most schools in the conference.
And though I consider tight end its own position position group, the fact that
Randall Telfer
and
Xavier Grimble
are out there opens things up even more for the Trojans receivers. It means more one-on-one coverage for at least one of the two A-listers in Woods and Lee. Wait until USC comes out in a double-tight formation -- with Woods, Lee, Telfer and Grimble all at the same time. Pump-and-go. Touchdown. Repeat as desired.
For what the overall depth of this position group lacks in experience, it makes up for with two of the most explosive players in the country.
April, 19, 2012
4/19/12
7:00
PM ET
Last week we gave you our thoughts on which Pac-12 team
had the best specific position group
-- taking into account playmakers at the top of the group and overall depth at the position.

Knowing full well he'd catch some grief, Kevin Gemmell still picked the Stanford linebacking corps, citing All-American candidates
Chase Thomas
and
Shayne Skov
and a very deep list of players who can fill out the Cardinal 3-4 scheme.
Ted Miller went top heavy, pointing out USC's fantastic wide receiver duo of
Robert Woods
and
Marqise Lee
, but also noting that players such as
George Farmer
,
De'Von Flournoy
and
Victor Blackwell
could provide some depth behind those two.
Did we pick the wrong units?
What about Utah's defensive line. The Utes boast the best defensive lineman in the conference in
Star Lotulelei
and are talented across the line.
What about the Oregon linebacking corps headlined by
Michael Clay
. They are athletic, deep and talented. Clay and
Kiko Alonso
are potential all-conference guys in 2012.
ASU has a pretty good stable of running backs.
Cameron Marshall
has impressed in the spring and
James Morrison
and a healthy
Deantre Lewis
make it that much deeper. JC transfer Marion Grice and incoming freshman D.J. Foster add to that depth.
Which team has the best position group?
April, 17, 2012
4/17/12
2:30
PM ET
Now, you Irish cops are perking up. That's two sound theories in one day, neither of which deal with abnormally sized men. Kind of makes me feel like Riverdancing.
April, 9, 2012
4/09/12
9:00
AM ET
Catching you up on the spring scrimmages from over the weekend.
UTAH

There were highlights on both sides of the ball as the Utes ran 97 plays in front of more than 3,000 fans at Rice-Eccles Stadium.
Projected starting quarterback
Jordan Wynn
completed 11 of 27 passes for 103 and two touchdowns. Wide receiver
Dres Anderson
caught seven balls for 96 yards, which included a 22-yard touchdown reception. A lot of the veterans on both sides sat out to yield time to the younger players. In the absence of running back
John White
IV, Harvey Langi rushed nine times for 42 yards --
earning praise from head coach Kyle Whittingham
.
"He's starting to play the way that we envisioned he would when we recruited him," Whittingham said. "... He really did some good things."
The defense also had its share of highlights. They managed five sacks -- despite defensive lineman
Star Lotulelei
and linebacker
Trevor Reilly
sitting out.
Joe Kruger
tallied three sacks and
Joape Pela
notched a sack and a pair of tackles for a loss. Cornerback
Keith McGill
returned an interception 35 yards for a touchdown.
"It wasn't perfect by any stretch of the imagination," said new offensive coordinator Brian Johnson. "But I thought we did a nice job moving the ball and guys showed up ready to play. Still got some work to do these last two weeks, but I think we've been doing a nice job so far."
Whittingham added that he thought the "flow" and "tempo" of the play calling was much better from the quarterbacks and Johnson.
WASHINGTON STATE

The defense recorded 12 sacks -- though a sack was granted when a defender could "grab" the quarterback. Still, defensive end
Logan Mayes
was able to get his hand on the quarterback four times and defensive tackle
Xavier Cooper
got there three times.
Quarterback
Jeff Tuel
settled in and completed 19 of 33 passes for 253 yards, two touchdowns and an interception -- one of four turnovers created during the 110-play session held in front of a couple of hundred fans at Martin Stadium.
"I feel real comfortable like I'm really starting to get a grasp of the plays,"
Tuel told reporters after the session
. "That's really what it is. Once you get it mentally, you start playing physically and not thinking about things. That's one of the things coach [Mike] Leach harps on is being hesitant. You really have to let it go."
All six scores came through the air with
Gino Simone
catching seven balls for 101 yards and a score.
Bobby Ratliff
and
Andrei Lintz
also caught five balls apiece and touchdowns, followed by scores from
Isiah Myers
and
Rahmel Dockery
.
Quarterback
Cody Clements
also threw a pair of touchdowns on 8-of-12 passing with an interception and
David Gilbertson
completed 15 of 26 balls for 192 yards and a score.
USC

The banged-up Trojans held a non-tackling scrimmage on Saturday. Garry Paskwietz and Erik McKinney from WeAreSC
break down what they saw from USC
-- specifically running back Buck Allen getting his reps now that
Tre Madden
is gone for the year. Allen has been hampered by a hamstring injury.
"Today gave me confidence,"
Allen told USC's blog
. "A teammate went down, so I knew I had to step up. I could have taken the day off, but I didn't."
Head coach Lane Kiffin talked about Madden's injury and said he thinks he'll come back as a "great player." He also said that Madden's switch from linebacker to running back is permanent.
"Extremely disappointing," Kiffin said of losing Madden. "Probably one of the most valuable guys on our team as of last week because we have a lot of great players, but sometimes we have guys that are similar to them. We don't have anybody like him, nor do we have anybody coming in really like him.
"To have a big guy that could run a 4.5 electronic, with his hands, it was really unique and it was a great experiment. Unfortunately he won't be here this year for us."
In other injury news, wide receiver
De'Von Flournoy
suffered a high ankle sprain.
March, 29, 2012
3/29/12
12:55
PM ET
By
ESPN.com staff
| ESPN.com
Erik McKinney writes
: Inspired by former USC wide receiver Brandon Carswell, junior De'Von Flournoy is making the most of spring ball, moving up from the bottom of the depth chart.
WeAreSC Roundtable

: WeAreSC's panelists discuss the surprises at the halfway point of spring ball.
Erik McKinney writes

: USC offered Bellflower, Calif., offensive lineman Nico Falah on Wednesday, its first offer to a California OL.
WeAreSC chat wrap
: The rundown of USC reporter Garry Paskwietz's weekly chat.
February, 23, 2012
2/23/12
10:00
AM ET
Pac-12 spring preview: South Division
Spring practice is almost here. Here's a snapshot at what to expect from the Pac-12 South in the coming weeks.

ARIZONA
Spring practice starts
: March 4
Spring game
: April 14
What to watch
:
Hello, my name is ... Like the other two teams in the South Division with new head coaches (Arizona State and UCLA) much of Arizona's first few weeks will be Rich Rodriguez evaluating his personnel and getting to know what he has to work with. Likewise, the players are going to have to figure out what this new coaching staff is about. Everything from how they do pre-practice stretches to how they call the cadence is going to change.
New scheme and a new scheme: A spread option on offense and a 3-3-5 on defense. That's a lot of new material to digest on both sides of the ball. Until Rodriguez can recruit the players he likes into his scheme, he's going to have to make it work with the players he has. Fortunately on the defensive side of the ball, Arizona has good depth in the secondary with Cortez Johnson, Marquis Flowers, Shaquille Richardson, Jourdon Grandon and Tra'Mayne Bondurant. The Wildcats should also get a boost with the return of injured players Jake Fischer (LB), Jonathan McKnight (CB) and Adam Hall (S).
Perfect fit? Former starter Matt Scott, who was beaten out by Nick Folesin 2009, is expected to reprise his starting role under Rodriguez. He redshirted the 2011 season and -- magically -- Foles never got hurt last year despite taking 23 sacks and countless hits. Scott is considered the more versatile quarterback and should fit nicely into the new run-based spread attack.

ARIZONA STATE
Spring practice starts
: March 13
Spring game
: April 21
What to watch
:
QB competition: We know what kind of offense new coach Todd Graham is going to run; now it's a matter of figuring out who is going to run it. Graham has his choice of three players -- Mike Bercovici, Taylor Kelly or Michael Eubank -- to replace NFL-bound Brock Osweiler. Graham said earlier this month that there are no favorites heading into the competition and each one brings his own skill set to the table. Eubank has the size (6-foot-5, 235 pounds), Bercovici (6-1, 205) is a mechanic and Kelly (6-1, 202) is a little bit of everything.
Get the locker room: By the end of the 2011 season, ASU's locker room wasn't just divided, it was completely splintered. Graham's task -- and that of his new coaching staff -- is to pick up the pieces, mend internal fences and find some chemistry on both sides of the ball. Linebacker Brandon Magee, long considered a great locker room leader, should help get the Sun Devils back on track as he returns from a season-ending Achilles injury.
Hands competition: The Sun Devils lose three of their top four wide receivers from last season -- Gerell Robinson, Aaron Pflugrad and Mike Willie. Jamal Miles returns after finishing second on the team last season with 60 catches and six touchdowns. Rashad Ross figures to be the No. 2 guy, but establishing depth in that corps -- especially if Graham wants to be up-tempo -- is key.

COLORADO
Spring practice starts
: March 10
Spring game
: April 14
What to watch:
Momentum, maybe? For as rough as 2011 was for the Buffs, they ended the year on a high note, winning two-of-three down the stretch -- including a 17-14 win over Utah in the season finale. But there is also the possibility that things might get worse before they get better. With just four returning starters on offense, spring in Boulder will likely be more about teaching and less about refining.
Where to start (offense)? Well, quarterback might be a good place. In the court of public opinion, Connor Wood, a transfer from Texas, seems to be the favorite. Nick Hirschman appeared in five games last season, mostly in mop-up time when the game was already out of hand. It's also possible a starter could be named by the end of spring ball. Finding offensive weapons to surround the new quarterback will also be a challenge. Wide receiver Paul Richardson caught 39 balls last season, and running back Tony Jones showed a flare for catching the ball out of the backfield. He'll likely step in as the new workhorse back for the departed Rodney Stewart.
Where to start (defense)? Last in this. Last in that. Last in almost every team statistic the Pac-12 has to offer. But there are some intriguing youngsters on the roster. Cornerback Greg Henderson was all-conference honorable mention as a freshman with a team-high nine passes broken up. Jered Bell also returns from injury after blowing out a knee last preseason. If healthy, he's expected to be a big contributor in the secondary. Linebacker Jon Majorreturns as the team's leading tackler, and if Doug Rippy is fully recovered from his knee injury, he'll look to build on what was a pretty good season last year before getting hurt.

UCLA
Spring practice starts
: April 3
Spring game
: May 5
What to watch
:
QB up for grabs: Like the majority of the conference, UCLA enters spring with a quarterback competition. New offensive coordinator Noel Mazzone said he doesn't care how much experience (or lack thereof) a player has -- if he can play, he wins the job. So don't be surprised if Brett Hundley passes Kevin Prince and Richard Brehautas the new man leading the Bruins. Fans have been clamoring for a change. Hundley might be it.
Attitude adjustment: One of the first things new head coach Jim Mora did was slam the team for its tradition of going "over the wall," a time-honored senior ditch day, saying if they want to jump the wall, they should just keep on going. How's that for sending a message? UCLA has earned a reputation for being soft and underachieving despite good talent. Attitude and toughness is needed -- and so far, Mora appears to be hammering that point home.
Speaking of toughness ... The defense has to get tougher. No two ways about it. It was weak against the run last season, allowing more than 190 yards per game on the ground; couldn't get to the quarterback; and couldn't get off the field almost 50 percent of the time on third down. It's time for potential all-conference players such as defensive end Datone Jones to start living up to the hype and the defense as a whole to stop getting pushed up and down the field. At 6-5, 275 pounds, Jones has the physical makeup to be a major force in the conference and catapult himself into the elite class of collegiate defensive players.

USC
Spring practice starts
: March 6
Spring game
: April 14
What to watch
:
Ignore the hype: Few teams ended last season hotter than USC and returning quarterback Matt Barkley. The Heisman talk has already started, the way-too-early rankings already have the Trojans as national championship contenders, and the public perception is that the offense is unstoppable. Nice to hear, but hype is a double-edged sword. Head coach Lane Kiffin has a knack for deflecting hype. This season will be his toughest test to date.
Insurance? The Trojans are loaded on both sides of the ball with returning players. But after the starting 22, things start to get dicey. Developing depth and keeping the starters healthy is a top priority -- particularly on the offensive and defensive lines and at running back, where experience is thin outside of the starters. The entire back seven returns on defense -- headlined by hard-hitting safety T.J. McDonald. Stopping the pass has been a major priority for Kiffin, and if this group stays healthy it should see the pass-efficiency numbers improve even more.
Other options: Along those same lines, wide receivers Robert Woods and Marqise Lee make up the most feared receiving duo in the conference -- maybe the country. But who are the Nos. 3 and 4 receivers behind them? George Farmer? Victor Blackwell? De'Von Flournoy? Don't overlook the tight end duo of Xavier Grimble and Randall Telfer, which should rival Stanford's Zach Ertz and Levine Toilolo as the best tight end tandem in the conference.

UTAH
Spring practice starts
: March 20
Spring game
: April 21
What to watch
:
Youthful approach: Head coach Kyle Whittingham turned some heads by naming former Utah quarterback Brian Johnson as his offensive coordinator. Johnson, who recently turned 25, said he's not looking to make wholesale changes to the offense, though he wants to put his stamp on it and continue to build around running back John White IV, who had a breakout season in his first year of major college football. Having quarterback Jordan Wynn back healthy should also help as the team transitions to Johnson running the offense.
Fixing the line: Who is going to protect Wynn (if he does indeed win back the starting job) and make holes for White? That's a major concern heading into spring as the Utes have to replace a pair of all-conference linemen in Tony Bergstrom and John Cullen. The Utes should be set at the interior but have to adjust to a new position coach, with Tim Davis leaving for Florida after just one season and Dan Finn -- a former Utah graduate assistant who was brought on to help Davis -- taking over the whole line following a one-year stint at San Diego State.
Work the experience: The defensive line should be one of the best in the conference, especially with the return of Star Lotulelei, who won the Morris Trophy last season as the conference's best defensive lineman. With the Kruger brothers returning to the line -- Joe at defensive end and Dave at tackle -- Derrick Shelby is the lone starter who has to be replaced. There's also some pretty good depth in the secondary that was tops in the conference last season in pass-efficiency defense.
April, 29, 2010
4/29/10
10:00
AM ET
By
ESPN.com staff
| ESPN.com
LOS ANGELES -- This winter, Lane Kiffin was handed his second plum college head coaching job just three years after becoming the youngest head coach in NFL history. Yet his record is 12-21. How the heck did he get the cardinal and gold keys to USC's Heritage Hall? His most notable achievement is manufacturing controversy with both his words and actions. Substance? Kiffin's critics will tell you "there's no there, there."
[+] Enlarge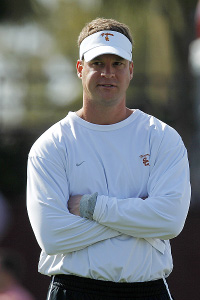 AP Photo/Jae C. HongLane Kiffin knows the only way to prove himself is by winning.
No there? We can tell you Kiffin was there, in his office at 3 a.m. PDT on April 15 watching frenetic defensive line coach Ed Orgeron scarf down a super-sized Red Bull -- No. 2 or 3? -- while presiding over his bleary-eyed staff. Why 3 a.m. on April 15? Because programs are allowed one call to a junior prospect during the spring recruiting evaluation period from April 15 to May 31, and Kiffin had decided that the first voice elite East Coast recruits would hear would be from a Trojan coach.
"We decided we were going to beat everybody in the country," Kiffin explained. "But we're on the West Coast. So if we're going to beat everybody, we're going to have to get up early and we're going to have to wake up East Coast parents."
At 4 a.m, the calls hit the Central time zone. At 5 a.m., they hit the Mountain time zone. And at 6 a.m., Kiffin and Orgeron, perhaps the best recruiting combination in the country, woke up the prospects in Los Angeles.
"The best part about it is Orgeron thinks everybody is going to be real excited about coming in at 3 a.m," Kiffin said. "He's so different. He goes, 'Hey guys, it's going to be great! I'm going to buy you guys donuts and Red Bull!'"
But donuts and Red Bull, and insanely intense recruiting, probably won't surprise you about Kiffin, who turns 35 on May 9. This might, though.
"It's more tightly run now. Businesslike, more serious," linebacker Malcolm Smith said. "We have to clean the locker room -- seriously -- now. They run us if you miss a class. There's no room for error. They've tightened the ship up."
According to Kiffin, if a player is "even one minute late" to a class, study hall or a session with a tutor, they have to meet Orgeron at 5 a.m. for extra running.
Smith's tone and expression makes the following line superfluous: "That is something you don't want to do."
When one coaching staff replaces another, the stories that immediately follow are predictable: The new staff is doing things better. More rules or more freedom? Players' coach or disciplinarian? Longer practices or shorter practices? Old is bad; new is good. Then there are the harder workouts, better schemes (attacking defense!), more coaching of fundamentals, etc.
Yet Pete Carroll's program was so open and observable that it's not speculative, or unfair, to note that things were a bit, er, loosey goosey at times. When the Trojans were regularly winning national and Pac-10 titles, that was a celebrated characteristic -- dancing with Snoop Dogg in the meeting room, wheeeeee! When the Trojans were getting manhandled by Oregon and Stanford and going -- disaster! -- 9-4, it was the root-cause of the fall of a football dynasty.
So if a basic contrast is to be drawn between the Ways of Carroll and the Ways of Kiffin as spring practices come to a close with Saturday's spring game, the early returns might be surprising: Kiffin seems to be closer to channeling Woody Hayes than Carroll, his old mentor.
There's a new sheriff in town and his name is Lane Kiffin. Y'all be cool.
"It's going to be done our way, which is the productive way of doing things right -- on and off the field," Kiffin said. "We feel that is how you are successful on Saturday and how you're disciplined on Saturday: how you are Monday through Friday. We are very hard on our guys. We have extremely high standards. We want it to be difficult to be a USC Trojan football player. They're never late to football meetings. So why are they late to other stuff? I believe it's emphasis."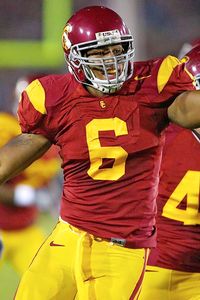 Gary A. Vasquez/US PresswireMalcolm Smith says Kiffin's staff is running a tighter ship.
Kiffin is aware he's in a bit of a pickle. Reporters repeatedly ask him about the team he inherited. If he notes shortcomings and concerns, he's seen as criticizing Carroll, who put Kiffin's career on the fast track when he handed him the keys of the Trojans offense in 2005. But Kiffin isn't good at not telling folks what's on his mind.
"It's not what it was when we left here," he said.
Kiffin sees sloppy play, noting the Trojans ranked 114th and 88th in the nation in penalties the past two seasons. He sees a lack of toughness when players skip practices and workouts because of minor injuries. He sees the "USC way" of players leaving early for the NFL draft only if they are first-round picks being abandoned -- see Everson Griffen, Damian Williams and Joe McKnight.
He sees a team that got its butt kicked last fall, posting the two worst losses of the Carroll Era.
"We have to figure out what went wrong because all of the sudden something really changed," Kiffin said.
The Kiffin Way means publicly calling out players, as he did when he stripped cornerback T.J. Bryant and receiver De'Von Flournoy of their No. 1 jerseys because they were under performing. Or when he said
the running backs
"don't have a clue right now on what we need to do to be a championship running team."
It means digging out players who fell out of favor with the old staff, such as defensive tackle DaJohn Harris, or challenging returning starters to fight for their jobs, such as linebacker Chris Galippo. It means repeatedly telling reporters that more than a handful of incoming freshmen will immediately compete for playing time.
The final one, actually, was a standard of Carroll's culture of competition that may have fallen off a bit the past couple of seasons.
No "there" there with Kiffin? Let's just say Kiffin seems to know exactly where he is.
He landed his dream job. And it will remain a dream job only if he wins -- and thereby proves himself a coach of substance.
Said Kiffin, "You can't come to this job with a rebuilding plan. You've got to win."
August, 21, 2009
8/21/09
5:09
PM ET
By
ESPN.com staff
| ESPN.com
Posted by ESPN.com's Ted Miller
Those camp legs are setting in. But the games also are getting closer.
Who is fighting through the pain and keeping his eyes on the prize?
We have this week's Pac-10 Practice Players of the Week. These are based on reports from program insiders and news accounts.
Arizona
Receiver Juron Criner. Criner, a 6-foot-4, 215-pound sophomore, has proven to be one of the team's most improved players after being a reserve as a true freshman. He has made catches all over the field with consistency and has challenged senior Terrell Turner for a starting job.
Arizona State
Receiver Gerell Robinson. A coach at Arizona State tried to get the entire Sun Devils receiving corps this award, but the Pac-10 blog is nothing but inflexible. So hearing that Robinson, a touted 2008 recruit who struggled last year, is the team's "most improved player" earned him this week's honor.
California
Linebacker Mychal Kendricks. The 6-foot, 230-pound sophomore was supposed to be good, and he's living up to high expectations during camp, nailing down one of the Bears two inside linebacker spots
Oregon
Center Jordan Holmes. Coach Chip Kelly calls Holmes "a real warrior." Holmes stepped in for All-Conference lineman Max Unger and has being a key leader for a unit that is rebuilding. He has not missed a snap this preseason.
Oregon State
Offensive lineman Grant Johnson. Johnson is a sophomore walk-on from Baker City, Ore. He's played just about every O-line position during the preseason, but he's now the frontrunner to start at left guard. Johnson has come out of nowhere to earn consideration for playing time.
Stanford
Linebacker Chike Amajoyi. Amajoyi didn't live up to high expectations in 2008 but he's having as good a camp as any of the Stanford linebackers.
UCLA
Receiver Ricky Marvray. Marvray, a true freshman, is battling for a spot in the rotation and makes at least one great play a day, according to head coach Rick Neuheisel.
USC
Receiver De'Von Flournoy: While USC is incredibly open with the media, but it also has a policy of discouraging interviews with true freshmen, at least during preseason camp. That is unless they are competing for immediate playing time, see quarterback Matt Barkley. So it is meaningful that Flournoy, who's made numerous big plays in camp, met with reporters this week.
Washington
Running back Johri Fogerson. Fogerson, a sophomore, moved back from safety to tailback this offseason. He starred in Wednesday's scrimmage with six runs for 48 yards, two receptions for 58 yards and a 50-yard punt return. It seems that he and Chris Polk are the top two tailbacks.
Washington State
Defensive tackle Bernard Wolfgramm. This is a big one for Cougars fans. Wolfgramm has battled a persistent back injury for over a year but is showing signs of turning the corner with his play. If healthy, he could help plug the middle of the Cougs defense.