August, 7, 2012
8/07/12
11:00
AM ET
Cal's
Brian Schwenke
has played in 26 of a possible 38 games for the Bears. He's started 24 games in his career -- all at offensive guard. He was one of the top guards in the country coming out of Oceanside High, where he helped his team to county titles and a state championship.
Not once during the hundreds of snaps and dozens of pancake blocks had he ever remotely entertained the idea of playing center.
[+] Enlarge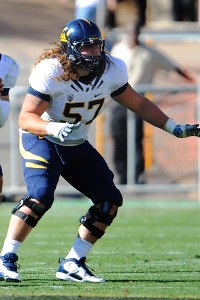 Ron Chenoy/US PresswireCalifornia senior Brian Schwenke is making the switch from guard to center this season.
"Until this past spring, I hadn't even really picked up a football," jokes the 6-4, 300-pound senior. "Initially, it was pretty tough. Just learning to snap and calling out the defense and having that guy closer to you than when you play guard. It's a pretty big change, but I played center all through spring ball and now I'm completely comfortable. It's like I've been playing center for three years. There is a learning curve, but once I got a grasp on it, it was pretty easy to get better after you get over that first little hump."
The switch to center should be helpful to a Bears' offensive line that recently lost a lot of experience. Schwenke, tackle
Matt Summers-Gavin
and
Dominic Galas
were supposed to make up an impenetrable right side. But Galas will miss up to three months after tearing a pectoral muscle in offseason training -- meaning Schwenke and Summers-Gavin are the veterans of the group.
"It sucks losing Dom," Schwenke said. "He's a really good player. On the other hand the younger guys have to step up and I'm not worried. We had a good spring. Everyone is ready to play. Multiple guys could step in and do well. It would be great to have Dom, but it sucks and we're bummed. We'll get through it."
Geoffrey Gibson
is slated to replace Galas at right guard.
"He played there all spring," Cal head coach Jeff Tedford said of Gibson. "He's done OK. I thought he started off in spring really well. I wasn't pleased with how he ended spring. There's a big goal for him to pick up in the fall. But he has a lot of experience since he played there all spring."
Offensive linemen measure their success -- aside from wins -- by how many sacks they allow and how their running backs do. The latter was solid last season as they helped
Isi Sofele
to 1,322 yards and 10 touchdowns. The sacks allowed, however, was not so solid, as the Bears linemen yielded 28 sacks.
"A lot of it is most of the sacks were communication errors," Schwenke said. "Often times we were doing different things. Our protections were pretty complex. We've gone through it and simplified a lot of our offense. I don't think it's ever been an issue of talent on the offensive line. What we've done is simplify the protections and we're going to do a lot better job since we'll be all be on the same page the whole time."
And now it's Schwenke's job as center to make sure everyone is on the same page. He'll be making the protection calls -- which involves a lot more knowledge of the playbook.
"When I first started out, I really only knew what I was doing," he admitted. "I was really young and it was a lot of offense to pick up. But over the years I've learned the entire offense. I know everything I need to know to play center. Now it's up to me to communicate that to everyone."
As quarterback
Zach Maynard
becomes more comfortable in the offense and with the Bears switching to a two-back set with Sofele and
C.J. Anderson
, Tedford said finding the right combination on the offensive line will be paramount.
"It's going to be key that we find the eight or nine guys that can move to different positions and interchange," Tedford said. "And with Dom being out now, some of the other guys are going to have to step up. The offensive line will definitely been a focal point in fall camp."
July, 24, 2012
7/24/12
3:48
PM ET
UNIVERSAL CITY, Calif. -- A summary of Cal head coach Jeff Tedford, wide receiver
Keenan Allen
and defensive back
Josh Hill
.
Tedford on getting back to playing on campus: "It's great to move home to Memorial Stadium … I know the players are fired up and the fans are fired up." He says that the first two rows of the field are down and they should be on the field Aug. 15. "I think our players did a very nice job of trying to block out the distractions [of not playing at home]." He said the home environment at Memorial Stadium will be very special.
Tedford said he feels good about having a 3,000-yard passer, a 1,000-yard receiver and 1,000-yard rusher coming back. He said there is a lot of experience on the defensive line, but losing Mychal Kendricks is a big hole to fill.
Tedford says he has a lot of confidence in quarterback Zach Maynard. "I think the early struggles were really just about game management and that comes with experience and knowledge of what we're doing ... we expect big things out of him this year."
Allen says there are guys who can step up and replace Marvin Jones.
Tedford says it's going to be an exciting year with the four new coaches. "Year in and year out you learn to have a book on some of these teams. With four new coaches, it's an opportunity to match up with some of these new offenses."
Tedford says offensive lineman Dominic Galas pulled his pectoral muscle and is having surgery Tuesday afternoon. How it looks in surgery will depend on rehab time but he's estimating about three months.
Allen says he plans to be 100 percent heading into camp. "If I had to play a game today, I'm not sure I could last all four quarters."
Tedford says if you ask the fans if they'd rather be in the national championship game or the Rose Bowl, they'd pick the Rose Bowl. "It's the measuring stick on where you want to be."
Tedford said spending time with the New England Patriots was great and he spent time looking at their tight end package. "I think that's going to be critical for our success this year." He says that being multiple in their formations will take a lot of the pressure off of Allen.
April, 3, 2012
4/03/12
8:35
PM ET
Recognition is so important for an offense. Think
Andrew Luck
-- or Peyton Manning -- wildly gesticulating at the line of scrimmage.
Or, for that matter, Oregon quarterback
Darron Thomas
doing the same thing.
That was something that stuck with me after I chatted with Oregon sophomore center
Hroniss Grasu
a couple of weeks ago. We were talking about how he improved at making line calls during the 2011 season, but he went out of his way to note how good Thomas was at helping out, at identifying last-second changes a defense made that perhaps hinted at its ill intentions.
The point: Centers and quarterbacks are the brains of an offense. The center typically makes the calls at the line of scrimmage that make sure everyone is accounted for. And quarterbacks communicate to both the skill players and the line about checks and audibles.
The QB and center work in tandem. They need to be in sync. And having smart, experienced signal-callers and centers is a big deal for an offense. It means an offense can go to the line with more options, and it can check into the right option more often than not. That breeds confidence, both among players and with their coaches.
So which Pac-12 teams are experienced at QB and center? Who has both back, one back or neither?
Thanks for asking.

Arizona: Center
Skinny
: While
Nick Foles
was the Wildcats' quarterback last year,
Matt Scott
has started five games, so the offense is not in inexperienced hands. Senior center
Kyle Quinn
did a solid job in 2011, earning honorable mention All-Pac-12 honors. On the downside, the Wildcats are installing a new offense with coach Rich Rodriguez, so past experience isn't as helpful.

Arizona State: Neither
Skinny:
QB
Brock Osweiler
is gone as is center
Garth Gerhart
.
Kody Koebensky
likely takes over at center, while the quarterback competition continues to be wide-open. Of course, the Sun Devils are installing a new offense under new coach Todd Graham, so being green isn't as much of an issue.

California: Both
Skinny
: QB
Zach Maynard
should be much more in control as a second-year starter. While center
Dominic Galas
is back, he's sitting out spring due to a shoulder injury, and it appears he will switch over to guard. Galas, some of you Bears fans might recall, did have some issues with shotgun snaps last year.
Chris Adcock
or
Mark Brazinski
could end up winning the job.

Colorado: Center
Skinny
:
Tyler Hansen
is almost certainly going to be replaced at quarterback by Texas transfer
Connor Wood
, a sophomore with no game experience. It should help Wood, however, to have junior
Gus Handler
back making the line calls.
Daniel Munyer
, who's slated to start at guard, also has starting experience at center.

Oregon: Center
Skinny: Center
Grasu's first start as a redshirt freshman was against LSU's beastly defensive front. That was a baptism by fire, but he consistently improved throughout the season. QB
Bryan Bennett
has some experience, including one start, but he will be challenged this spring by redshirt freshman
Marcus Mariota
.

Oregon State: QB
Skinny
:
Sean Mannion
is back at QB, but center
Grant Johnson
is gone. The frontrunner to win that job is sophomore
Roman Sapolu
. The Beavers have injury issues on the line this spring, and that likely will slow down the unit's -- and Sapolu's -- development.

Stanford: Center
Skinny
: You might have heard that Andrew Luck is gone.
Brett Nottingham
and
Josh Nunes
look like the favorites to replace him, but neither has significant experience. Senior
Sam Schwartzstein
did a fine job stepping into Chase Beeler's shoes in 2011, but life was, naturally, easier with Luck at QB. More will fall on Schwartzstein in 2012.

UCLA: QB
Skinny
: The Bruins have two quarterbacks with significant starting experience back:
Kevin Prince
and
Richard Brehaut
. But redshirt freshman
Brett Hundley
might end up winning the job. All three are learning a new offense this spring under new coach Jim Mora and offensive coordinator Noel Mazzone. Sophomore Jacob Brendel -- or perhaps junior
Greg Capella
, who mostly started at guard last year -- are the frontrunners to replace
Kai Maiava
at center.

USC: Both
Skinny
: You've maybe heard of Trojans QB
Matt Barkley
and his receivers,
Robert Woods
/
Marqise Lee
, being the best pass-catch trio in the nation. Well, Barkley and senior center Khaled Holmes are the perhaps the best QB-center combination in the nation. Holmes was second-team All-Pac-12 in 2011, and he's probably the best center in the conference.

Utah: Both
Skinny
: Junior
Jordan Wynn
, a three-year starter, only needs to stay healthy for the Utes to get at least solid QB play. Center
Tevita Stevens
is solid, but he will be breaking in a pair of new OTs.
Washington: Both


Skinny
: Junior QB
Keith Price
was a revelation last year as a first-year starter, far eclipsing the production of his celebrated predecessor, Jake Locker. Senior center
Drew Schaefer
is a 30-game starter. So this is a strong combo for the Huskies.
Washington State: Both


Skinny
:
Jeff Tuel
feels like a decided frontrunner to retain his starting job at QB, while junior
Matt Goetz
returns at center. A junior-college transfer in 2011, he started the final nine games of 2011. A year of seasoning -- and in the weight room -- should help Goetz in 2012.
March, 17, 2010
3/17/10
9:00
AM ET
By
ESPN.com staff
| ESPN.com
Part II of a Q&A with California coach Jeff Tedford.
Read Part I here
.
The offense as a whole has a lot of guys back: Where do you expect to see the most improvement this spring?
Jeff Tedford
: We have some guys back but are still young in certain areas. We really have only two receivers who've had any significant game time:
Marvin Jones
and
Jeremy Ross
. Besides that, we're very, very young there. Our depth at tight end is very young after
Anthony Miller
. Our fullback is completely new and our tailbacks, after Shane [Vereen], all those guys are new. [Sophomore Covaughn DeBoskie] played a little bit but after him you have [sophomore
Isi Sofele
] and you have
Dasarte Yarnway
, who was hurt all last year and Trajuan Briggs who came in as a mid-year transfer as a freshman. So we're young. That's an issue for us. On the offensive line, some guys need to step up and get in the rotation as well. So I don't think of us as real experienced. I know we have a couple people back but we are not deep with experience.
Besides the obvious starters, who do you expect to step up on offense with a much bigger role than in 2009?
JT
:
Spencer Ladner
at tight end is a guy who should do that. Brian Schwenke played as a true freshman last year on the offensive line. He's competing for a starting spot. Dominic Galas also on the offensive line. Our fullbacks are all new --
Will Kapp
,
Eric Stevens
and
John Tyndall
. The receiving corps, we're going to have to rely on some guys who are coming in. Some of the recruits coming in who are going to have to be in the rotation. It would be nice to see
Michael Calvin
step up at receiver and be healthy. He's a guy who's been injured every year.
Alex Lagemann
continues to grow and develop [at receiver]. But we're going to have to count on some young guys at that position.
Were you surprised when defensive coordinator Bob Gregory left to become an assistant at Boise State?
JT
: I was, yeah, I was surprised. I think it was a personal decision, about the time in his life with his kids and his family. It was a move to have some more time with his family. I was not expecting that. But everything happens for a reason. I think it's probably working out great for Bob, I'm sure he's happy where he is. And I think we really landed on our feet with Clancy [Pendergast]. He's been a great addition to our staff. I think everybody is happy about it.
What will be different with Pendergast running the defense?
JT
: We're probably going to pressure the passer a little bit more. That was one thing we didn't do a great job last year was pressure the passer, which kind of lends to 111th-ranked in pass defense. You've got to disrupt the timing of the passing game. So to get more pressure on the passer will be key. That's going to be the obvious thing.
Give me some new names you expect to break through on defense this spring.
JT
: Guys like linebacker Chris Little, noseguard Kendrick Payne, linebacker J.P. Hurrell, [defensive backs] Alex Logan and Steve Williams and Vachel Samuels and Chris Moncrease -- all those guys are back-end players I think are going to do a nice job. Deandre Coleman on the defensive line, Keni Kaufusi on the defensive line. Those guys are redshirts from last year who are really good players. We're really anxious to see those guys play.
Defensive end Cameron Jordan has a lot of potential: What does he need to do to fulfill that potential?
JT
: To be able to cut him loose and get him one-on-one at times. I think he gets double-teamed quite a bit in a three-man rush with eight dropping and three rushing. I think if you can get Cam one-on-one, he will be much more effective. But I think his maturity -- his physical and mental maturity -- has been something that has been a work in progress. I think he is poised for a very good season.
It's likely you won't get as much preseason attention this fall: Do you think your team may benefit from operating under the radar? Do you think they might be motivated by some not seeing themselves at the top of the conference?
JT
: Yeah, I do. I think that would be just fine -- for us to earn where we need to be and not just go off of on-paper stuff. That's going to be the mindset here. We're going to do everything we can everyday to reach our full potential, whatever that potential may be. We've got a lot of work to do. I think it will be motivating for us to strive to be at the top of the conference and not have all the press clippings. There's so many things out there and so many people patting you on your back and expectations that I think us just flying under the radar and saying, 'OK prove it.' That type of thing will be good. And we'll see where we go from there.