September, 21, 2011
9/21/11
3:36
PM ET
There's a pretty good reason coaches don't like to use the term "must-win." Losing such a game forces a team -- and a coach -- into a corner. As in: If you lose a "must-win" then your season must-sink.
Still, sometimes it's hard not to see a line drawn in the sand. There certainly seems to be one between UCLA and Oregon State, two desperate teams that have looked mostly awful to start the season.
The home-standing Beavers: 1. Opened with a loss to an FCS team, Sacramento State. 2. Got shut out at Wisconsin, 35-zip.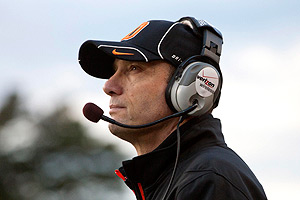 Jason O. Watson/US PresswireMike Riley knows that another loss this weekend would put the season on the line.
The visiting Bruins: 1. Sandwiched a loss at Houston and a blowout home defeat to Texas -- teams UCLA beat in 2010 -- around a lackluster win against a bad San Jose State squad. 2. Coach Rick Neuheisel's seat is among the warmest in the country.
A must-win for Oregon State?
"Boy, it sure feels like it," coach Mike Riley said. "I don't ever use that term because you're going to have to play the next ones anyway."
He then added, "If we want to have a good year, we've got to get some confidence. We've got to win a game."
A must-win for UCLA?
"I think both Oregon State and UCLA are certainly at that point in their season where they need to win, to get this thing jump started," Neuheisel said. "If [Riley] has called it a must-win, it's easy for me to do the same."
Riley's Beavers are notorious for slow starts and for overcoming those slow starts. But this is the slowest of slow starts. Sure, the 2004 Beavers started 1-4 but finished 7-5. And the Beavers won nine games after starting 0-2 in 2008. But 0-3? The last time that happened was 1996, when Jerry Pettibone was the coach and Oregon State was still one of the nation's top ha-ha-look-at-them! sad-sack programs.
And at 0-3, it's difficult to see where the Beavers could get the six victories over the final nine games. Those are wins they would need to avoid a second-consecutive losing season, which hasn't happened since 1997-98, Riley's first two years in Corvallis.
For Neuheisel, losing at Oregon State with a visit to Stanford ahead -- a likely 1-4 start -- would almost certainly spell the end of his tenure. LA reporters would start writing "Who's next?" coaching stories, and the debate would no longer be about whether Neuheisel survives but whether he finishes the season.
[+] Enlarge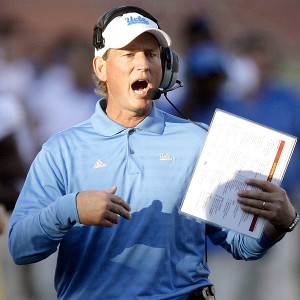 AP Photo/Paul ConnorsFor Rick Neuheisel a loss to Oregon State may also mean losing his job.
So, yeah, while this game won't send ripples across the college football nation, it's very important to the two programs.
The Beavers collective mood should be better than UCLA's. For one, it's getting some key injured players back: Most specifically receiver
James Rodgers
and tight end
Joe Halahuni
. Those two should significantly bolster the passing attack, which will now be led by redshirt freshman quarterback
Sean Mannion
, who has eclipsed 2010 starter
Ryan Katz
.
"I've always thought if we could get all of our guys healthy together this would be a very good receiving corps," Riley said.
Rodgers return was only made certain Wednesday. He hasn't played since blowing out his knee at Arizona on Oct. 9, 2010.
On the downside for Oregon State, it will be down two starting defensive tackles. Castro Masaniai will be serving a suspension for an offseason arrest, while Dominic Glover hasn't been cleared academically.
The potential to run inside for UCLA should help Bruins quarterback
Richard Brehaut
's chances. He was named the starter this week over
Kevin Prince
, who threw three interceptions against Texas. Brehaut was the quarterback of record when the Bruins beat Oregon State 17-14 last year, but the key in that game was 210 yards rushing. And the Beavers don't have DT Stephen Paea in the middle any more.
UCLA remains uncertain at quarterback, but this is a good opportunity for Brehaut to stake his claim to the full-time job. The Beavers rank last in the Pac-12 in pass efficiency defense. They've yet to record an interception while yielding seven touchdowns and a 69 percent completion rate.
"I think [Brehaut] has a high regard for his ability and is desperate to prove he's the guy," Neuheisel said.
The same can be said for Neuheisel.
At 2-2, there is hope in Westwood. Lose at Stanford but beat Washington State at home, and the Bruins are 3-3 at midseason with a manageable schedule ahead. A bowl is still possible. And Neuheisel could still survive.
Riley is one of the nicest guys in coaching. But he's not spending too much time worrying about Neuheisel's precarious situation. He's got his own must-win motives.
Said Riley, "It would be a really big thing for this team to win a game."
September, 7, 2011
9/07/11
3:21
PM ET
Oregon State coach Mike Riley isn't the sort of guy to toss over a table and spill 100 cups of Gatorade on his players to make sure they know how unhappy he is, but he's also not going to pat the Beavers on the back and wipe away their tears after an embarrassing loss to Sacramento State.
He's going to look for answers -- tough answers if need be. The one he immediately came up with Monday is announcing the quarterback job will be split between
Ryan Katz
, the 2010 starter, and redshirt freshman
Sean Mannion
.
Mannion played well in the loss to the Hornets; Katz did not. Ergo, the potential shakeup, though it's unclear how things will be rotated when the Beavers visit No. 8 Wisconsin on Saturday.
Yeah, Wisconsin. Not good. The Badgers are a big, physical team with a new, impressive dual-threat QB in
Russell Wilson
, a transfer from NC State. The Beavers lost at home to an FCS team. Now they are going on the road to play a national title contender.
The first issue: What went wrong for the Beavers against the Hornets in a 29-28 overtime defeat?
Riley isn't certain. And he admitted he didn't see such a flat performance coming.
"We trusted this team's work ethic," he said. "They were really good in fall camp. Everything up to that was positive. Why all of a sudden would you doubt what they are all about as far as getting ready to play?"
What's most worrisome: Riley thought the Beavers seemed tight, though they were playing at home against a supposedly overmatched foe. Sure, eight true freshmen and eight redshirt freshmen saw their first career action, in large part due to epidemic injuries, but that still doesn't fully explain a listless performance.
What does Riley expect -- hope? -- to see in front of 80,000 fans in Camp Randall Stadium?
"Poise is No. 1," he said. "We had some stage fright in our opener. It looked like we played with not much emotion but I sensed it was a fear."
Unfortunately, the injury luck still hasn't turned positive, even with the return of DT Kevin Frahm (knee) and potential return of DT Dominic Glover (academics). The lone bright spot from the Sacramento State game was true freshman running back
Malcolm Agnew
, who rushed for a nation-leading 223 yards. He's now doubtful for the visit to Wisconsin because of a hamstring injury suffered Tuesday.
The hits keep coming. The injury situation has been so bad that Riley made a decision he knew would inspire criticism: He opted to selectively enforce preseason player suspensions because of the thinness of the depth chart.
Fact is, it could get ugly at Wisconsin. It would be a tough matchup for the Beavers even at 100 percent. But with several key starters out -- most notably WR
James Rodgers
, TE
Joe Halahuni
and CB Brandon Hardin -- it's probably going to be a challenge for Riley to just restore his team's confidence.
There is a silver lining, though. The Beavers have a bye next week. Halahuni is likely back for UCLA's visit on Sept. 24. And Rodgers could be back, too. That will be a big boost in terms of skill and leadership, particularly in the passing game.
The hope is things will sort themselves out at QB this weekend -- and here's a guess Riley would prefer for Katz to reassert himself -- and the momentum will take a positive swing as Pac-12 play opens.
Otherwise, the Beavers could be looking at consecutive losing seasons for the first time since 1997-98.
September, 5, 2011
9/05/11
9:40
AM ET
Say the Oregon fans: At least there's Sacramento State. Thanks Hornets.
Say the Oregon State fans: At least there's LSU. Thanks Tigers.
[+] Enlarge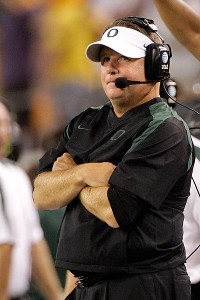 AP Photo/Tony GutierrezOregon's high-powered offense has averaged 17.8 points per game in Chip Kelly's four nonconference losses at the school.
Otherwise, either Ducks or Beavers fans would be crowing at the other's expense this week. As it is, both are miserable.
And they should be.
Oregon laid an egg instead of taking advantage of a major opportunity against LSU. The loss, naturally, inspired more of the same talk about the present leader of the Pac-12 not being able to physically keep up with an elite SEC team.
We
went that route, too
. But let's pause for a moment and wonder how that game might have gone for the Ducks if the teams had the same number of turnovers and penalties. You know: What if the game happened the way Oregon wanted it to instead of the way it actually did.
That same approach, which all unhappy football fans use the day after, is surely being employed by Oregon State adherents.
Beavers, yes, you are now on the ignoble list of FBS teams that have lost to FCS teams. In fact, you are on the list of FBS teams from BCS AQ conferences that have lost to FCS teams. Put all those letters together and they spell, "Embarrassing."
But we come not here to bury fans from the state of Oregon but to console them!
First, you have this: These defeats did nothing to damage your Rose Bowl chances. There are 11 games left. The only fact as of today is the best you can do in the regular season is go 11-1.
Oregon, you might have played yourself out of the national title chase. Or you might not have. Fair to say, it will take a lot of losing all over the country and impressive winning from the Ducks to get pollsters to rank the Ducks Nos. 1 or 2.
Oregon State, you might have a little embarrassing left to do. You are going to Wisconsin on Saturday. Did you watch the Badgers against UNLV? One word: Gulp. Hard to imagine that being a pleasant trip, though Beavers fans surely will enjoy one of the nation's great college towns.
But Beavers, you aren't whole. You are without your big front teeth and wonderful paddle tail: receiver
James Rodgers
, cornerback Brandon Hardin, defensive tackle Kevin Frahm, defensive tackle Dominic Glover and tight end
Joe Halahuni
. That's a lot of quality starters to be missing.
Many of those guys will be back at some point: Frahm this week, Halahuni by the Sept. 24 game with UCLA. Rodgers ... hopefully sometime.
But let's be honest Oregon State: This is a team with issues. Coach Mike Riley said as much during the preseason. Sure injuries have been brutal, leading to 14 players making their first career starts and a school-record eight true freshman playing. But even without the injuries, this team didn't look like a threat in the Pac-12 North Division.
That said: Slow starts are often a staple of good seasons in Corvallis.
The 2000 team that went 11-1 nearly lost its opener to Eastern Washington. The 2004 team started 1-4 but went 7-5. In 2006, the Beavers got bombed at Boise State but went 10-4. In 2007, they got stomped at Cincinnati but went 9-4. In 2008, Penn State delivered the beatdown, but that team went 9-4.
In fact, the Beavers best seasons seem to have featured multiple early defeats -- in many years bad ones -- which likely will be the case after the trip to Madison. So maybe this is just the unhappy required part of a pattern for success?
Just like Oregon, which has now lost four consecutive marquee nonconference games to A-list foes with extra time to prepare. That pattern, nonetheless, has been imposed upon the two-time defending conference champions, not exactly a struggling program.
Ducks, Beavers: It's Labor Day. Let it go sometime around 10 a.m. PDT. Find a fan of opposite color and rib him or her, and take it back good naturedly.
It's a long season. But you don't know that it's going to be a looooooong season just yet. Eleven more games to turn those frowns upside down.
August, 29, 2011
8/29/11
10:00
AM ET
Welcome to the final preseason Pac-12 power rankings!
You can review the
post-spring power rankings here
. There is a good deal of movement. And a lot of different iterations -- including change at the very top -- were heavily considered.
This week's vote is based on one factor: If the Pac-12 had a tournament this week on a neutral field, how do you think things would finish. That means, for example, a team's schedule doesn't matter. But preseason camp momentum -- read: an absence of controversy or injuries -- does.
Going forward, the power rankings will be far more focused on that immediate present reality: How did teams handle their business that past weekend? It won't necessarily be a projection of finish.
And, for those new to the power rankings, the motto here is simple: If you don't like where you are in the power rankings, play better.
1.
Oregon
: Based on what we typed above, one might think the Ducks would fall behind Stanford. And our thought process in early August was exactly that --
see here
-- as our top-25 poll included other factors, such as schedule, such as Stanford playing host to Oregon this season. But here's the deal: Oregon is the top bird until somebody shoots it out of the air.
2.
Stanford
: A lot of folks are questioning Stanford. The Pac-12 blog is, too. My question: Will
Andrew Luck
and the Cardinal win the national championship this season. My hunch? A strong maybe.
3.
USC
: If the Trojans were eligible for the postseason, the gap between them and Nos. 1 and 2 would be fairly small. As it is, the gap between USC and the top two spots is fairly gigantic.
4.
Arizona State
: The Pac-12 blog has been banging the Sun Devils' drum since late in the 2010 season. And if this team was getting ready to send out the depth chart it appeared to have last December -- just about everyone back -- I'd project it in the top-15. But with all the attrition -- injuries, players quitting, etc. -- it's hard to know who the Sun Devils will be.
5.
Washington
: The Huskies' big question was replacing quarterback Jake Locker. Ther second question was at linebacker. It seems more than a few folks are optimistic those questions will be adequately answered. There's a lot to like on this roster, particularly what looks to be a dramatically improved defense.
6.
Utah
: It's hard to project Utah because we've never seen them before in this environment. What we can say is the success of this season hangs on keeping quarterback
Jordan Wynn
's surgically repaired shoulder safe.
7.
Arizona
: Just when we were starting to think the Wildcats might be an underrated team, they lose their best cover corner -- Jonathan McKnight -- for the season to a knee injury. While Arizona State and Oregon State have had the worst injury luck of the offseason, the Wildcats aren't far behind.
8.
UCLA
: The Bruins feel like a sleeper. It almost seems as simple as this: If UCLA is merely adequate at quarterback, it will be a bowl team and a factor in the Pac-12 South.
9.
California
: See what we typed for UCLA, only in the North Division. Further, the Bears look like they are going to play a lot of their talented true and redshirt freshmen classes. That should at least be very interesting.
10.
Colorado
: Not unlike Utah, we don't really know what we're going to get with the Buffaloes. There was a big temptation to rank them higher -- this is an experienced team with more talent than many old school Pac-10 folks think. But how could we rank the Buffs ahead of Cal after what happened in Berkeley last season?
11.
Oregon State
: Beavers fans are erupting... no way! Yes way. On the list of injured or at least uncertain: receiver
James Rodgers
, tight end
Joe Halahuni
, cornerback Brandon Hardin, defensive tackle Dominic Glover, defensive tackle Kevin Frahm and linebacker Cameron Collins. And many more, actually. The Beavers entered preseason practices with a lot of questions -- as coach Mike Riley repeatedly said -- they will head into the first week with perhaps more than they did at the beginning of August.
12.
Washington State
: There was some thought of bouncing the Cougars out of the basement. They, unlike a number of teams, have stayed relatively healthy during camp, and just about every report coming out of Pullman is colored with optimism. But the same rule that applies to Oregon in a positive way applies to the Cougars in a negative one: You're here until you prove otherwise.
August, 24, 2011
8/24/11
1:01
PM ET
Oregon State and Arizona State seem to be battling to become the Pac-12's biggest MASH unit.
Most folks already know about the uncertainty of receiver
James Rodgers
(knee) and tight end
Joe Halahuni
(shoulder), who are doubtful to play at Wisconsin on Sept. 10. But there are a couple of other injuries worth following that are also critical.
On the "fairly good," side of the injured list is DT Kevin Frahm. He had surgery on Monday to repair a torn meniscus. The hope is he will return to practice in time to play at Wisconsin.
The news is not so good for cornerback Brandon Hardin and his shoulder. He'll need surgery to fix a fracture, and the procedure could end his season. At the minimum, he'll be out six weeks. Sophomore Rashaad Reynolds will step into a starting role.
Defensive tackle Dominic Glover still hasn't been cleared academically. What once seemed like a minor issue is taking longer than expected to resolve, which is reason to be nervous.
Things are cloudy at tight end until Halahuni comes back. Freshman Kellen Clute hurt his knee in the scrimmage, and two redshirt freshmen, Tyler Perry and Connor Hamlett, will be suspended for a game, though it's unclear which game at this point.
Also, linebacker Cameron Collins continues to be limited by an abdominal issue. He had offseason surgery and has missed a lot of practice time.
Getting away from injuries, it appears that true freshman
Malcolm Agnew
is on the cusp of earning the starting spot at running back. The last true freshman to start at the position for the Beavers turned out OK, you might recall.
August, 10, 2011
8/10/11
2:30
PM ET
By
ESPN.com staff
| ESPN.com
What that make you? Good? You're not good. You just know how to hide, how to lie. Me, I don't have that problem. Me, I always tell the truth. Even when I lie. So say good night to the bad guy! Come on. The last time you gonna see a bad guy like this again, let me tell you. Come on. Make way for the bad guy. There's a bad guy comin' through! Better get outta his way!
August, 9, 2011
8/09/11
7:00
PM ET
By
ESPN.com staff
| ESPN.com
The fifth of 12 quick updates on offseason Pac-12 goings on.
Oregon State in a sentence
The Beavers have critical questions -- both lines, injury issues, etc. -- that make it difficult to say whether they will end their bowl-less run at just one season.
The big issue
While a 100 percent healthy return of receiver James Rodgers would pack a positive punch, it's really all about the lines: The Beavers must fill big holes on the their defensive line, while the offensive line, which welcomes back four starters, needs to improve significantly.
Quick hit news
The early camp news on Rodgers, who underwent two surgical procedures on his right knee, is mostly good. He's practicing in a limited fashion. When he could return to full-contact work and just how much he'll look like his old self when he does remains to be seen.
Others players who missed spring practices due to injury include quarterback Ryan Katz (wrist), receiver Jordan Bishop (ankle), tight end Joe Halahuni (shoulder) and running back Jordan Jenkins (shoulder). Katz, Bishop and Jenkins were practicing at full speed, while Halahuni is expected to miss at least the first two games, including the visit to Wisconsin.
The status of starting DT Castro Masaniai, arrested in May after getting into a fight with his girlfriend, remains unclear. He's not yet practicing and he has a court appearance Thursday.
Another potential starting defensive lineman, Dominic Glover, had some academic issues, but he assured the local beat writers Wednesday that they will be cleared up by by next week.
Oregon State hired two new assistant coaches, but the bigger news was the firing of linebackers coach Greg Newhouse, who had been at Oregon State for 14 years. Chris Brasfield was hired as running backs coach and Brent Brennan was hired to coach receivers. Defensive coordinator Mark Banker will coach linebackers next fall. He supervised the safeties last season. Cornerbacks coach Keith Heyward will now be in charge of the entire secondary.
Linebacker Michael Bibbee and safety Dax Dilbeck quit the team. Both were reserve players not expected to start.
Oregon State played seven ranked teams in 2010 -- five of which were in the top 10 when they faced the Beavers. They will play just three teams ranked in the preseason coaches poll this fall, but all three -- Wisconsin, Stanford and Oregon -- are ranked in the top-10. They also play Arizona State, which is ranked in ESPN.com's preseason power rankings, as well as Utah and BYU.
July, 11, 2011
7/11/11
9:00
AM ET
No team in the Pac-12 wows you at defensive tackle. No team is a sure thing. There is a lot of "maybe" at the position. And probably some maybe not.
The uncertainty of quality -- both in terms of returning stars and depth -- made this a difficult position to rank. For example, Washington has a nice foursome at tackle, led by Alameda Ta'amu, who might be the best tackle in the conference.
That's great. Good for the Huskies. But they ranked 97th in the country in run defense last year. You sort of pause over that, you know?
So a lot of this ranking is feel thing, a projection of potential. And "great shape" here is relative to the conference. Nebraska, for example, wouldn't exchange its tackles -- Jared Crick and Baker Steinkuhler -- for any Pac-12 tandem.
Some of this figures to inspire a bit of debate.
Great shape
USC
: This may be in some part based on fumes from the Trojans reputation at the position. It definitely includes a vote of faith that they will get a 100 percent Christian Tupou back from the knee injury that killed his 2010 season. If so, the threesome of Tupou, George Uko and DaJohn Harris is strong. And if you toss in Armond Armstead -- who missed spring with an undisclosed medical condition that threatens his career -- you'd have a clear No. 1.
Washington
: Ta'amu seemed to find himself during the second half of last year, and the 330-pounder could end up getting some All-American consideration if he consistently plays like he did against Nebraska in the Holiday Bowl. Sione Potoa'e and Semisi Tokolahi are both experienced, and Lawrence Lagafuaina a space-grabbing, 344-pound redshirt freshman.
Colorado
: The Buffaloes are sneaky good here, even though they only ranked 48th in the nation in run defense in 2010. Both starters, Will Pericak and Curtis Cunningham, are back, but Conrad Obi was a revelation this spring. He looked like a future NFL draft choice, not a player who'd mostly been a bust. Nate Bonsu, who missed spring with a knee injury, also should help.
Good shape
Utah
: The Utes, who ranked 11th in the nation in run defense in 2010, lost Sealver Siliga, but they believe they have a budding star in, er, Star Lotulelei, while James Aiono, LT Tuipulotu and Joape Peta are solid. Also, Dave Kruger, who played end this spring, is 280 pounds and can play inside.
Arizona
: The loss of backup Willie Mobley to a knee injury hurts depth, but Justin Washington figures to take a step forward after an impressive true freshman season, Sione Tuihalamaka started four games in 2010. Depth is a question. The Wildcats ranked 33rd in the nation in run defense last fall.
Oregon
: On the one hand, Oregon lost both starting defensive tackles in Brandon Bair and Zac Clark from a unit that ranked 27th in the nation in run defense. On the other, they played so many guys last fall, the new starters are experienced players. Further, Ricky Heimuli, Taylor Hart, Wade Keliikipi, Isaac Remington and Jared Ebert played well enough this spring to suggest the position will be a strength in the fall.
Arizona State
: If Lawrence Guy didn't make his ill-fated decision to enter the NFL draft, the Sun Devils, who were 16th in the nation against the run last fall, would be in great shape here. As it was, Will Sutton had a great spring and looks like a potential All-Conference guy. Grinder Bo Moos is listed as the starter at the other tackle, though he could be eclipsed by Corey Adams. Toa Tuitea saw limited action last year.
UCLA
: The Bruins defensive line was terrible last year, ranking 108th in the nation against the run, but the talent is there for a significant turnaround. Cassius Marsh, Nate Chandler, Justin Edison, Donovan Carter and Seali'i Epenesa should do a much better job plugging the middle.
California
: Cal is actually fine here, despite the loss of NG Derrick Hill. For one, when you run a 3-4 defense, it's hard to rate your DTs, even if your DEs often operate like them. The Bears have two solid options at NG in Aaron Tipoti and Kendrick Payne, and it's also possible that touted 350-pound incoming freshman Viliami Moala will eclipse both of them.
We'll see
Oregon State
: Dominic Glover moves inside from end and Kevin Frahm has experience, but this unit didn't play well last year -- 89th in run defense -- even with one of the best DTs in the nation in Stephen Paea. 340-pound Castro Masaniai could help but he missed spring after shoulder surgery and has off-field issues. There's also Mana Tuivailala and Ben Motter.
Stanford
: Like Cal, Stanford runs a 3-4, so it naturally it is going to suffer a bit in DT rankings. More important: The loss of Sione Fua is significant. Terrence Stephens and Henry Anderson had solid springs but neither has much experience.
Washington State
: Brandon Rankin, a returning starter, was listed No. 2 on the depth chart behind Anthony Laurenzi after spring practices, with redshirt freshman Toni Pole No. 1 at the other tackle. Justin Clayton, Steven Hoffart and Xavier Cooper provide depth. It's not unreasonable for Cougars fans to expect improvement, perhaps significant improvement. But a team that ranked 115th in the nation in run defense the previous season is automatically a "We'll see" here.
April, 29, 2011
4/29/11
10:30
AM ET
By
ESPN.com staff
| ESPN.com
Oregon State concludes spring practices with its spring game on Saturday. Here's a brief primer.
Spring game
: The Beavers play their spring game at 3:15 p.m. -- 12:15 PDT -- at Reser Stadium.

Questions answered
: With starting quarterback
Ryan Katz
out, backups
Cody Vaz
and
Sean Mannion
were solid to impressive. There are few worries at quarterback -- Katz is throwing after a wrist injury -- which is always good. The outside linebackers are set with Cameron Collins and Michael Doctor. The secondary, led by safety Lance Mitchell, looks solid and there's good depth behind the starting four. Kicker Trevor Romaine has been consistent and may be an immediate upgrade on Justin Kahut.
Questions unanswered
: A lot of questions heading into the offseason, starting with the health of wide receiver
James Rodgers
, whose return is uncertain after a serious knee injury, and continuing with the uncertain seriousness of tight end
Joe Halahuni
's shoulder problem. Those are two big presences in the passing game. The pecking order on the offensive line, at running back and middle linebacker are far from set.
Ryan McCants
,
Jovan Stevenson
,
Jordan Jenkins
and the freshmen Terron Ward and
Malcolm Marable
are in the mix at running back. While the left side of the O-line is set, the right is not: Burke Ellis and Michael Lamb are competing at guard, and Colin Kelly and Michael Philipp at tackle. Rueben Robinson, Kevin Unga and Tony Wilson are still splitting time at middle linebacker. Further, there are questions about who will provide consistent pressure on the quarterback from the D-line.
Spring stars
: Doctor is going to be a player at weak-side linebacker. The move of Dominic Glover from defensive end to defensive tackle has yielded positive results. Jordan Poyer has been solid after replacing James Dockery at cornerback opposite Brandon Hardin.
Markus Wheaton
was a standout at receiver, and
Obum Gwacham
flashed some potential at the same spot. Spring started with writers celebrating Mannion over Vaz, but things reversed by the end -- mostly because of strong play by Vaz and not anything Mannion did or didn't do.
April, 13, 2011
4/13/11
2:30
PM ET
By
ESPN.com staff
| ESPN.com
What about the night
Makes you change
From sweet to deranged?
May, 7, 2010
5/07/10
8:30
AM ET
By
ESPN.com staff
| ESPN.com

OREGON STATE
2009 overall record
: 8-5
2009 conference record
: 6-3 (tied for second)
Returning starters
Offense: 8, Defense: 7, punter/kicker: 2
Top returners
: RB
Jacquizz Rodgers
, WR
James Rodgers
, C Alex Linnenkohl, DT Stephen Paea, DE Gabe Miller, LB Dwight Roberson, CB James Dockery
Key losses
: QB Sean Canfield, LB Keaton Kristick, LB David Pa'aluhi, DE Matt LaGrone
2009 statistical leaders (*returning starter)
Rushing
: Jacquizz Rodgers* (1,440)
Passing
: Sean Canfield (3,271)
Receiving
: James Rodgers* (1,034)
Tackles
: Keaton Kristick (95)
Sacks
: Stephen Paea*, Gabe Miller* (3)
Interceptions
: Lance Mitchell* (3)
Spring Answers
1.
Cool Katz
: Sophomore
Ryan Katz
entered the spring as the favorite to win the quarterback job and he didn't disappoint. He has a big arm and good mobility. All he is missing is experience. He'll enter fall camp as the clear leader, while
Peter Lalich
and
Cody Vaz
compete for the backup job.
2.
There are plenty of offensive weapons
: Everything starts with the Rodgers brothers, running back Jacquizz and receiver James, but it doesn't end there. Receivers
Markus Wheaton
and
Jordan Bishop
and tight end/H-Back
Joe Halahuni
will give Katz plenty of options when he distributes the football.
3.
Solid in the secondary
: The Beavers will be experienced -- not to mention big -- in the secondary, with three starters back from 2009 and all four first-teamers measuring over 6-feet. James Dockery and 6-foot-2, 219-pound Brandon Hardin are the corners, while Lance Mitchell, 230-pound Cameron Collins and Suaesi Tuimaunei have combined for 29 starts at safety.
Fall questions
1.
Front seven issues
: Taylor Henry stepped up at defensive end after Matt LaGrone quit the team, but what's unclear is if he can hold off touted JC transfer Dominic Glover as the starter. Things also are fluid at linebacker. Will Keith Pankey be 100 percent by fall camp after missing spring with a torn Achilles tendon? Will Tony Wilson or Rueben Robinson step in at middle linebacker?
2.
How will the offensive line shake out
? Starters Grant Johnson and Michael Philipp missed spring with injuries, which forced line coach Mike Cavanaugh to do some mixing and matching. The good news was the re-emergence of tackle Wilder McAndrews, who almost quit due to persistent wrist problem. It's possible that McAndrews could take over at left tackle and Philipp could move inside to guard. Then Johnson and Burke Ellis could compete at the other guard.
3.
Who is Katz's backup
? The story of spring might have been Katz's impressive effort, but Vaz also deserves note. His rise is more about how well he played than Lalich not producing. Considering how often a backup quarterback is needed, this will be an interesting competition to follow during fall camp.
April, 7, 2010
4/07/10
10:10
PM ET
By
ESPN.com staff
| ESPN.com
CORVALLIS, Ore. -- Watched Oregon State's practice Wednesday so here are some quick observations.
While the big story is the quarterback competition between Ryan Katz and Peter Lalich -- Katz is clearly ahead -- what I came away with was the feeling the Beavers are well-stocked at quarterback. Both Katz and Lalich look the part and can make plays. Redshirt freshman Cody Vaz also was impressive.
Vaz hooked up with split end Darrell Catchings on what might have been the play of the afternoon. Catchings hauled in a deep toss from Vaz under tight coverage by trapping it against his helmet as he fell out of bounds. "Good coverage, good catch," said coach Mike Riley.
Defensive tackle Stephen Paea is one thick dude. He played at around 285 last year and said he's around 310 now -- and it looks like all the new weight is muscle. It's well-distributed on his 6-foot-1 frame and he's far from top-heavy. His lower body is as impressive as his upper.
Receiver James Rodgers and cornerback James Dockery had a couple of nice one-on-one battles, with the 6-foot-1 Dockery holding his own vs. the powerful, super-quick, 5-foot-7 Rodgers.
Brandon Hardin has to be the biggest starting cornerback in the Pac-10. He's a linebacker-like 6-foot-2, 219 pounds. In fact, he and No. 1 safety Cameron Collins, who is 6-foot-2, 230 pounds, have to be the biggest secondary pair in the conference.
The move of Kevin Frahm from defensive end to tackle seems like a good call. While he's undersized at 267 pounds, he'll be more effective as a quick tackle in the Beavers gap-cancellation scheme than as an end who struggled to disengage blockers against the run and was perhaps a step slow on the perimeter.
The loss of middle linebacker David Pa'aluhi and end Matt LaGrone -- both quit for personal reasons -- were substantial blows to the defense, but LaGrone's departure might hurt worse. Sophomore Tony Wilson is a capable replacement at linebacker, but it remains to be seen whether sophomore pass-rushing specialist Taylor Henry can be an every-down end. The coaches are crossing their fingers that junior college transfer Dominic Glover -- a former Oregon player -- will be able to step in and help immediately.
On the plus side, everybody seems to feel that DE Gabe Miller is headed toward a potential All-Conference sort of season.
It's obvious who is the leader of the offensive line: center Alex Linnenkohl. The three-year starter seems to spend almost all of his downtime during drills giving tips to younger players.
Incoming freshman quarterback Sean Mannion watched practice with his dad, John, who has been hired as Silverton (Ore.) High School's new head football coach.
February, 4, 2010
2/04/10
1:27
PM ET
By
ESPN.com staff
| ESPN.com
Oregon State's
class of 16
ranked at or near the bottom of the Pac-10, according to the recruiting rankings, which is fairly typical.
Funny how the Beavers have won 36 games over the past four seasons without any good players.
"Are we in the top 50? " head coach Mike Riley asked. "We don't discount that, but I do like our process. When we decide a guy is worthy of a scholarship, if he commits and signs we will be happy about that. Where that puts us in the rankings, so be it. It will not change our feelings about the class."
The low ranking also can be partially blamed on the small class size. The Beavers had needs on defense and the class features five defensive linemen and three linebackers.
Top prospects
: Riley called
Shaydon Akuna
"a perfect fit" at outside linebacker. Quarterback
Sean Mannion
has tremendous upside. Riley said defensive lineman
Dominic Glover
, a former Oregon player, will play immediately.
Under the radar
: Riley said of defensive lineman
Mana Tuivailala
, "we really like this kid's potential," but Riley also described him as "rather raw." Tight end
Tyler Perry
could see playing time in 2010.
Issues
: Oregon State fans annually are torn between scoffing at recruiting rankings, while quietly wishing they could be higher. The Beavers missed on three big-time prospects: running back
Giovanni Bernard
(North Carolina), linebacker-fullback
Soma Vainuku
(USC) and defensive end
Owamagbe Odighizuwa
(UCLA). The class also lacks cornerbacks.
Notes
: Committed defensive tackle
Happy Iona
appears headed to junior college. ... Running back
Malcolm Marable
could end up as Jacquizz Rodgers' backup. ... Kicker
Trevor Romaine
, defensive back
Will Storey
and tight end
Connor Hamlett
will grayshirt.