Pac-12:

Dominique Williams
July, 17, 2013
7/17/13
7:00
PM ET
Receiver is not as strong a position in the Pac-12 as it was last year, but it's still pretty darn good, with Belitnikof Award winner
Marqise Lee
back and Oregon State's
Brandin Cooks
being a potential All-American.
And if Arizona didn't lose
Austin Hill
to a knee injury this spring, three 1,000-yard receivers would be back.
So how do things stack up?
GREAT SHAPE
[+] Enlarge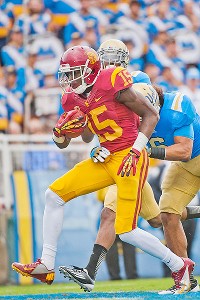 Jonathan Moore/Getty ImagesReceiver Nelson Agholor proved last season that he can be a deep threat for USC.
USC
: Lee is the nation's best receiver. Sophomore
Nelson Agholor
averaged 17.9 yards per catch last year. Just like last year when Lee was paired with
Robert Woods
, this might become the best combo in the country, though, of course, Woods was far more proven than Agholor. The depth is questionable but, at least based on recruiting rankings, it is talented.
Oregon
: While
De'Anthony Thomas
is officially a running back, you can't help but allow him to toss some fairy dust here. Further,
Josh Huff
seemed to take a step forward from being a pure athlete to a legit receiver last year, and up-and-comer Bralon Addison as well as
Daryle Hawkins
and
Keanon Lowe
are back. It's worth noting the top six pass-catchers overall are returning.
Washington
:
Kasen Williams
is the headliner after catching 77 passes last year. He's big and fast. The next two leading wideouts,
Jaydon Mickens
and
DiAndre Campbell
, also are back. Like the Ducks, the Huskies' top six pass-catchers, which includes a TE and RB you might have heard of, are back. Washington and Oregon fans will delight in knowing that I switched these two at the last minute, when I decided you couldn't completely ignore Thomas as a receiver.
Washington State:
While there's no Marquess Wilson among the returning guys, this is a deep crew:
Brett Bartolone
,
Gabe Marks
,
Dominique Williams
,
Isiah Myers
,
Bobby Ratliff
and
Kristoff Williams
caught between 53 and 22 passes last year. Phil Steele ranked the Cougars 28th in the nation at this position.
Oregon State
: The Beavers cling to "great shape" only because the speedy Cooks could be headed for a huge season after he caught 67 passes for 1,151 yards -- 17.2 yards per catch -- last year. There are some depth questions, though
Kevin Cummings
and
Richard Mullaney
combined for 31 receptions last year and
Obum Gwacham
and
Micah Hatfield
are back.
GOOD SHAPE
UCLA
:
Shaq Evans
caught 60 passes for 877 yards last year, but after him the leading returning receiver is
Devin Fuller
, who caught just 20 passes. Still, there's young talent here, topped by
Devin Lucien
,
Jordan Payton
and
Kenny Walker
.
California
: Sure, Keenan Allen is gone, but there's lots of young talent that saw action last year.
Chris Harper
was second on the 2012 Bears with 41 catches, while speedy
Bryce Treggs
had 21.
Darius Powe
and
Maurice Harris
also saw action, while redshirt freshman
Kenny Lawler
is promising. This might turn out to be a "Great shape" crew -- if there's a QB getting them the ball consistently.
Colorado
: Don't laugh -- the Buffaloes are solid at receiver, particularly with
Paul Richardson
back after missing 2012 with a knee injury. He's an All-Pac-12 type talent, and the top two receivers from 2012,
Nelson Spruce
and
Tyler McCulloch
, are also back. Further, converted running back
D.D. Goodson
is intriguing. Question for Buffs is QB, not WR.
Utah
: The Utes two leading wideouts in 2012 are back.
Dres Anderson
and
Kenneth Scott
combined for 69 catches last year. And they are probably better than folks think because the Utes' passing game problems started at QB, where true freshman
Travis Wilson
was taking his lumps most of the season. It hurts that projected starter Quinton Pedrosa was given the boot this summer for violating team rules.
Arizona
: The Wildcats would have been in "Great shape" if Hill hadn't blown out his knee and Tyler Slavin hadn't left the program. The issue isn't experience: Five guys return with at least 20-catch seasons. But there's a decided lack of a go-to guy. The leading returning receiver,
Dave Richards
, caught just 29 passes last year and ranked fourth on the team.
WE'LL SEE
Stanford
: Five of the top six receivers from 2012 are gone, though it's worth noting the top two didn't play receiver. While
Ty Montgomery
hinted at his potential in 2012, he only caught 26 passes for 213 yards with no TDs. After that, there are just names and potential based on strong spring performances:
Devon Cajuste
,
Michael Rector
,
Kodi Whitfield
and
Kelsey Young
.
Arizona State
: None of the Sun Devils' top five pass catchers from 2012 are back playing receiver this fall. The position was decidedly questionable last year -- see the top three receivers being a tight end and a pair of running backs -- and it is even more so this year, in large part because it's the team's only obvious hole. Yet, great hope hangs on incoming players, most notably the touted
Jaelen Strong
.
You can see previous previews here:
Quarterback
Running back
July, 16, 2013
7/16/13
1:00
PM ET
The watch list for the
Biletnikoff Award
, presented annually to the nation's top receiver, was announced Tuesday morning. Here are the seven candidates from the Pac-12:
The most obvious omission is Washington's
Kasen Williams
, and here's a bet one of Washington State's receivers --
Gabe Marks
?
Dominique Williams
?
Isiah Myers
? -- will get some consideration. It's also worth noting that Arizona's
Austin Hill
would have been on the list had he not blown out his knee during spring practices.
November, 29, 2012
11/29/12
11:00
AM ET
You're here because you're the best of the best. Or because I just cut and pasted at random.
To see the complete chat (including how my hair is better than Ted's),
you can click here
, or just enjoy these highlights.
james (atlanta, ga): Kev, why do you seem to not like the SEC? I know you are a pac 12blogger and want the teams you cover to do well, but i remember you saying you aren't going to give in to the SEC dominance but yet again they are poised to take the crystal for a 7th straight time and just look at the bcs top 10. Are u willing to admit it now?
Kevin Gemmell: (2:02 PM): James -- First, let's be clear. What I said was that I wasn't going to give into the mass-thinking when Alabama and Oregon were both undefeated that Alabama was simply better because they are in the SEC. Which is why I had Oregon No. 1 on my ballot. At the time, I was simply offering an alternative to the SEC-is-unstoppable dogma. As it turns out, both teams lost games. I have nothing against the SEC as a conference and you can't question their success.
CatsFan (Tucson): How much does Vegas care about not repeating last year's match up (ASU vs Boise St) or the UW opener vs Boise St next year? Do the Wildcats sneak into that spot?
Kevin Gemmell: (2:03 PM): I think UW probably gets the nod there. Arizona is in a tough spot because it has the weakest conference record and that's what determines the pecking order. Thinking they are pretty much stuck in the New Mexico Bowl unless Kraft takes a gamble, but I don't see that happening.
Cardinal Alumnus (CA): Hi, Kevin, and thanks for coming on to chat yet again. I'm worried about the talent Stanford Football is losing after this year. Assuming they can keep the coaching staff intact but lose all the redshirt juniors, how do you see Stanford doing in the PAC-12 and the PAC-12 North next season?
Kevin Gemmell: (2:14 PM): Hi Cardinal Alumnus. Thanks for asking the question. Seems like every year we question how Stanford will do it. No Harbaugh, no problem. No Luck, no problem. I think it's time to start giving Stanford the benefit of the doubt that they will be able to make the adjustments. Yes, they lose a lot of talent on defense, but there is some good talent coming up as well.
Chris (Gainesville): Who is the favorite for the Cal and Colorado job in your mind?
Kevin Gemmell: (2:19 PM): Lots of choices here. Cal is in a better position right now than Colorado, so I'd expect a bigger name for the Bears -- Greg Roman pops up, obviously Petersen is being mentioned. Gary Anderson, Noel Mazzone, etc. At Colorado, I think Tim DeRuyter has done a great job at Fresno State -- another place it's tough to build. Mike McIntyre has turned around a terrible San Jose State program. And I think if Tedford wants to get back into the game immediately, Colorado could be a good landing spot.
Cory (Ohio): Tell me your thoughts of Denard Robinson in the NFL QB,WR,Special teams hes a true athlete it would be a shame to see him not play. Also where is the best fit for him. and were would he end up in the draft?
Kevin Gemmell: (2:23 PM): I watched Michigan more closely last year -- only because I wanted to see how he would do in an Al Borges system (knowing Al fairly well from the SDSU days) and, not surprising, he didn't fit. I haven't studied him enough this year to make a serious evaluation. But WR seems like a good fit given the size and speed.
Bryce (SF): How will the Pac-12 stack up in the preseason rankings? Who should be ranked, and where?
Kevin Gemmell: (2:28 PM): Uh... off the top of my head. Top five, Oregon. Top 10, Stanford. Top 15, UCLA, Oregon State. Top 25, USC, Washington, maybe Arizona and ASU. Would have to really study rosters.
Brian (Spokane WA): Do you think UCLA loses Mazzone to a head coach job this off season?
Kevin Gemmell: (2:29 PM): My gut says no, but that's not to say there won't be offers. I talked with him extensively about that yesterday, poking and prodding and trying to get anything to suggest otherwise. But my gut says he really likes having a raw Brett Hundley to shape for the next couple of years.
Gowazzu02 (Not allowed to comment in your articles anymore): Dominique Williams was uncover -able during the Apple Cup Trufant a First team all pac CB had to literally shove him to the ground a few times to guard him. The next Wilson? without the quitters mentality?
Kevin Gemmell: (2:36 PM): Different body frame. He's a couple inches shorter than Wilson -- but not a bad start. 30+ catches, a three TDS, 500 yards. He's got the size on Gabe Marks, who also had a strong first year. Could be a scary combo in the years to come.
BeavsBelieve (Albany, OR): We are seeing more and more read-option, spread-type mechanics in pro offenses. Do you think that Hundley, and Mariota type mechanics will begin to fit into more of these pro systems?
Kevin Gemmell: (2:40 PM): One of my biggest gripes about the NFL is that people are attributing fantasy success to actual success. How many games has Cam Newton won? How many playoff games? Running quarterbacks get figured out or eventually hurt -- that's the nature of the NFL. The point is to win a Super Bowl and all of these dual-threat guys had better learn to be better pocket passers if they want to succeed in the playoffs.
Jon Embree (Tedford's basement): Seriously, what just happened?
Kevin Gemmell: (2:55 PM): You got hosed.
August, 1, 2012
8/01/12
11:00
AM ET
On Monday we showed you KC Joyner's take on the Top 10
rushing offenses in the country
. There seemed to be some dispute among the masses (surprise, surprise) that USC was ahead of Oregon. No disrespect to my Insider brethren -- but I was on board with the masses on this one. But then again, with
Silas Redd
officially
making the switch to USC
... well... hmmm...
Either way, USC belongs in the top five considering who they have back on the line -- and the simple fact that if
Curtis McNeal
or Redd face a single eight-man front all season I'll be shocked.
[+] Enlarge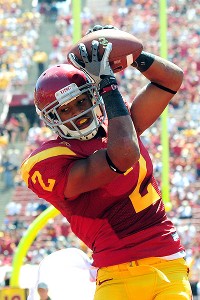 Chris Williams/Icon SMIRobert Woods is one reason the Trojans have the nation's top receiving corp.
But we're here to talk wide receivers, and Insider Travis Haney posted his Top 10 receiving corps for the 2012 -- and it's hard to argue with USC as the No. 1 overall team. Washington State, deservedly, checks in as the No. 9 unit.
You can check out all 10 teams in Haney's article
here

.
Woods and Lee. Lee and Woods. Clearly, USC has the top two wide receivers in the country in Robert Woods and Marqise Lee. They also have the Heisman favorite throwing to them and an offensive line that can protect Matt Barkley. After those two -- it's still a solid group with George Farmer and De'Von Flournoy waiting in the wings. A lot of Pac-12 teams wouldn't mind having those two as their starters. Haney -- rightfully so -- also considers the tight end in the receiving corps and the pair of Xavier Grimble and Randall Telfer will rival Stanford's outstanding duo of Zach Ertz and Levine Toilolo for best TE combo in the conference. There is no debate here -- USC is tops.

Nice to see the Cougars land on a preseason list that doesn't involve hot seats or bowl droughts. The hiring of Mike Leach gives the Washington State offense instant credibility and with strong-armed quarterback Jeff Tuel throwing to bona fide playmaker Marquess Wilson, the Cougars are going to put up sizzling numbers. Haney mentions Dominique Williams and Kristoff Williams in the Insider article, but a guy I'm excited to see in action is converted tight end Andrei Lintz. If you followed spring ball (I'm guessing most WSU fans did) it was clear that Tuel and Lintz had made a connection. Lintz only has eight career catches, but reports are he's going to be Tuel's guy over the middle. He's a big target at 6-5, 250 and could create plenty of mismatches with safeties and linebackers.
June, 4, 2012
6/04/12
7:00
PM ET
Every team has a strength -- that one position group that can make a play on offense or make a big stop on defense when needed.
Based on what happened this spring, we're going to look at the strongest position group for each school. It could be on either side of the ball -- and it could be subject to change after fall camp gets into full swing.
We're going in reverse alphabetical order.
Washington State

Strongest position group
: Wide receivers
Headliner
:
Marquess Wilson
(82 catches, 1,388 yards, 12 touchdowns).
Supporting cast
:
Andrei Lintz
(7/96/1),
Bobby Ratliff
(28/348/1),
Kristoff Williams
(9/134/2),
Gino Simone
(4/69/0) and
Dominique Williams
(RS).
The skinny
: Wilson is an elite wide receiver among a conference of elite wide receivers. He showed what he's capable of in a Mike Leach offense during the spring game. And it's scary good. The pecking order was fairly clear last season with Jared Karstetter and
Isiah Barton
behind Wilson. There is more depth this year, though what impact and in what order is still up in the air.
Lintz exploded onto the scene this spring as a tight-end-turned-big-wide receiver and showed great chemistry with quarterback
Jeff Tuel
. Ratliff, Williams, Simone and Dominique Williams should all see quality field time -- especially because of Leach's pass-first mentality.
The new coach in Pullman has produced some big-time wide receivers and their year's crop -- Wilson in particular -- should flourish.
May, 14, 2012
5/14/12
6:00
AM ET
2011 overall record:
4-8
2011 conference record:
2-7 (6th in North)
Returning starters:
Offense: 7; defense: 7; kicker/punter: 1

Top returners
QB
Jeff Tuel
, WR
Marquess Wilson
, OL
John Fullington
, S
Deone Bucannon
, LB
Travis Long
, WR
Andrei Lintz
.
Key losses
LB Alex Hoffman-Ellis, LT David Gonzales, OL
B.J. Guerra
, WR
Jared Karstetter
.
2011 statistical leaders (*returners)
Rushing
:
Rickey Galvin
* (602 yards)
Passing
:
Marshall Lobbestael
(2,584 yards)
Receiving
: Marquess Wilson* (1,388 yards)
Tackles
: Alex Hoffman-Ellis (88)
Sacks
: Travis Long* (4)
Interceptions
:
Damante Horton
* (4)
Spring answers
1. Tuel steps up:
Remember that whole quarterback-competition thing? While Mike Leach hasn't officially named Jeff Tuel his starter, given the quickness with which he picked up the offense and the numbers he put up during the spring, it's likely that a proclamation that Tuel is the guy will come early in the fall. He's looked very good to date.
2. Plenty of weapons:
Lots of them. Marquess Wilson returns as one of the top wide receivers in the conference -- and he showed in the spring game what he's capable of. Converted tight end Andrei Lintz had an outstanding spring at wide receiver and showed real chemistry with Tuel throughout the 15 practices.
Gino Simone
,
Dominique Williams
and
Blair Bomber
add depth to a very deep group.
3. New role for running backs:
Can you catch? That's what Leach is looking for out of his guys. With the ball in the air 70 to 75 percent of the time, guys like
Marcus Mason
and Rickey Galvin will need to shift their focus from downhill to soft hands. There will be chances to run the football, but most of those will be after the catch.
Fall questions
1. Lineup:
What's the offensive line going to look like? With players like
Wade Jacobson
(missed the final eight games last year with a back injury) and
Matt Goetz
(started nine games at center last season) missing time this spring, the starting five is likely to change. Which five and at what positions remains a question.
2. New-look D:
With the Cougars switching to a 3-4 front, there is more focus on the linebacking corps. Travis Long should flourish in this system (12 tackles for a loss last season), but there are depth and position questions.
Eric Oertel
was a pleasant surprise this spring, as were
Chester Su'a
and
Darryl Monroe
-- though both saw their springs end early with injuries. Expect some growing pains as the group comes together in the odd front.
3. D-line depth:
Xavier Cooper
had a very good spring, but outside of him,
Lenard Williams
and
Anthony Laurenzi
(6.5 tackles for a loss last year), there are a lot of untested players.
Matthew Bock
saw some reps during the spring, but defensive coordinator Mike Breske will have to develop some more guys for the unit to be sound. A pair of Samoans in the recruiting class --
Robert Barber
and
Destiny Vaeao
-- could be forced into action early.
April, 23, 2012
4/23/12
11:00
AM ET
Catching you up on the spring games and scrimmages from over the weekend.
Arizona State

All three of Arizona State's quarterbacks did some good things during Saturday's spring games. ASU didn't keep official stats, but Doug Haller of the Arizona Republic kept
his own unofficial stats here
.
Michael Eubank
completed 8 of 15 passes for three touchdowns,
Mike Bercovici
went 12-of-21 for a pair of scores and
Taylor Kelly
was 10-of-12 with a touchdown and an interception. Eubank also rushed for a touchdown to go with 52 yards on the ground.
But the highlight might have been the performance of running back
James Morrison
, who carried 13 times for 83 yards and a score.
"I thought 'Tank' Morrison had an incredible spring," Graham said
following Saturday's game
. "... I think Tank is a guy that's going to contribute, no doubt about it."
Haller reports it was a pretty vanilla showing from the defense -- adding that linebacker
Jason Franklin
and cornerback
Joe Eason
logged interceptions.
"Once they started grasping and understanding the vision and our philosophy, the football part of it started to come along faster," defensive coordinator Paul Randolph said of implementing the system. "We threw the whole kitchen sink at them. We got everything in."
California

Zach Maynard
completed 6 of 10 passes and tossed a 29-yard touchdown to
Maurice Harris
to open the scoring of the Cal Football Spring Experience. He also added a 1-yard touchdown run that put his team ahead 14-3. But his "Blue" team would ultimately fall to the "Gold" squad as a pair of long
James Langford
field goals, a
C.J. Anderson
touchdown run and a 40-yard touchdown pass from
Zach Kline
put the Gold team in front for good.
With the Blue team trailing 21-14,
Austin Hinder
connected with
Stephen Anderson
on a 75-yard touchdown as time expired. But the 2-point conversion failed and the Gold team held on 21-20.
"It was a good game, a hard-fought game and a good practice overall," Maynard said. "Unfortunately, we got beat by one point."
Kline, who threw a 40-yard touchdown to tight end
Spencer Hagan
in the fourth quarter and also completed the 2-point conversion, is off limits to the media. But Maynard said after the game that
he thought Kline played well
.
"Zach did very well today," Maynard said. "He's progressed since he's been here. He's one of those high-caliber type of guys so he's going to perform quickly and early."
Anderson looked particularly strong, rushing for 85 yards on 14 carries, which included a 15-yard touchdown run.
John Crumpacker of the San Francisco Chronicle
noted strong defensive performances
from
Mustafa Jalil
and Cecil Whiteside.
Puka Lopa
, Whiteside and
Nick Forbes
shared game-high honors with seven tackles apiece.
UCLA

Following Saturday's scaled-down scrimmage, head coach Jim Mora said he was "encouraged, but not satisfied."
And it doesn't look like there is much clarity in the way of the quarterback competition, either.
Richard Brehaut
,
Kevin Prince
and
Brett Hundley
all threw interceptions. Though Prince and Brehaut both threw touchdowns to
Steven Manfro
.
Due to injuries and a lack of depth at several key positions, Mora made Saturday more about situational scrimmaging rather than a full experience.
"We are moving closer to the kids understanding my expectations," offensive coordinator Noel Mazzone
told Chris Foster of the L.A. Times
. " … It's hard for me to get mad at them for trying to run stuff they have never run before. We're getting to the point where these guys should have a handle on it. It's like a Rubik's Cube; you have to keep turning it until the colors line up."
Utah

Jordan Wynn
completed 8 of 11 passes for 124 yards and a score, but two of the incompletions were interceptions in the annual spring game in front of more than 13,500 at Rice-Eccles Stadium.
Wynn's touchdown was a 48-yarder to
Dres Anderson
. It looked like he had touchdown No. 2, but a holding call negated the 21-yard pass to
Westlee Tonga
and Wynn was picked off in the end zone on the next play by Tyler Cahoon.
Naturally, head coach Kyle Whittingham isn't thrilled with turnovers in the end zone.
"You can't turn the ball over," he told
Mike Sorenson of the Deseret News
. "That's job one for the offense. You have to take care of the ball and we didn't get that done. That was one of the negatives, but the flip side is, the defense was making plays and they came up with two interceptions."
Running back
Jarrell Oliver
ran for a pair of scores and 24 yards on five carries.
Defensively,
Dave Fagergren
also had an interception and
Joape Pela
, running-back-turned-defensive end
Thretton Palamo
and
Cameron Taylor
all logged sacks.
"A lot of progress was made in many areas," said Whittingham. "Always, the most critical thing for us is to get fundamentals and technique sound during spring football. There is some scheme we will also put in with the change of coordinators. But overall, this was a very positive spring. We stayed very healthy, which is always something in question. It is still a work in progress, but with each successive recruiting class we have been able to add to the depth."
Washington State

Jeff Tuel
was a crisp 19-of-21 for 285 yards two touchdowns as the first team offense had its strongest showing of the spring.
"Guys kind of let it go and we just played,"
Tuel said
. "There wasn't a lot of hesitation from the first-team offense which was good to see. ... It's easy to come into a scrimmage and not be 100 percent focused. Today we really treated it like a game so guys came real focused and were real sharp with their routes and my reads and the receivers and myself were really on the same page and I felt good about it."
Marquess Wilson
and
Dominique Williams
both had monster receiving days. Wilson caught four balls for 149 yards and a score and Williams had five catches for 122 yards to go with his touchdown.
Logan Mayes
continued to be a terror on the defensive side, notching 4.5 touch sacks.
"I was pretty happy with our play, especially the D-line,"
Mayes said
. "I feel like we've been getting after it all spring and we really proved it here. ... People are thinking of us as an offensive team right now, but we have some good defensive players out there. It's going to be an exciting year I think."