December, 31, 2011
12/31/11
11:00
AM ET
SCOTTSDALE, Ariz. — Stanford head coach David Shaw knows quarterbacks. For nine years in the NFL, he studied them, analyzed them and broke down every tangible mechanic and intangible characteristic trait there is.
So when he says he's never seen anyone like
Andrew Luck
-- specifically, a college quarterback with the intelligence to read defenses the way he does and call plays -- you have to consider him a credible source.
[+] Enlarge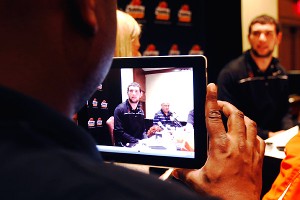 AP Photo/Paul Connors"I applaud him for being able to do it," former NFL quarterback Brian Sipe says of Andrew Luck calling plays for Stanford, "and for the coaches who are willing to give him that responsibility."
But he's also biased. Like any good coach, he sticks up for his guy. Pumps him up. Some have even accused Shaw of over-inflating his future No. 1 draft pick.
So to get unbiased sources, I looked to a pair of former NFL MVP quarterbacks from two different eras -- Steve Young and Brian Sipe -- for their take on Luck and the significance of a college football player calling his own plays. Young, a Hall of Famer, spent years carving up defenses just up the road from Palo Alto with the San Francisco 49ers.
And he knows a little something about the Stanford offense. It derives from the Bill Walsh offense Young ran with San Francisco. It's not identical, but as a Walsh disciple, Shaw kept many of the same principles.
Much is made about what Luck does pre-snap. He has a playbook of 250 plays each week in his mental Rolodex and he can pull from anything at any time. That's an awful lot to heap on a college kid. And the fact that Luck does it with amazing results is tangible, empiric evidence of his football IQ and NFL potential.
"What I appreciate is what [offensive coordinator] Pep Hamilton has done for Andrew, continuing what Jim Harbaugh did. They have really prepared him like a pro," said Young, a two-time NFL MVP. "They do pro game plans with pro verbiage and pro schemes. They can't push some of the other kids as much, because they don't have the experience. But they find ways to keep Andrew motivated. Calling his own plays, creating his own plays, putting more responsibility on him keeps him focused and sharp."
Sipe, now the quarterbacks coach with San Diego State, played during a transitional era -- spanning a time when all quarterbacks called their own plays to a time when none of them did. Sipe was one of the last to still make the calls in the huddle and at the line of scrimmage.
"[Luck] is obviously very intelligent and we know it can be done," said the 1980 NFL MVP. "What's shocking to me is that there is a coaching staff out there comfortable enough to relinquish that kind of responsibility. If we prepare these kids right, they know what we're trying to do and they should be able to do it. But at the same time, they don't have the luxury of all the information and data in front of them. I understand why coaches prefer to call their own plays from the sidelines and the press box. I applaud them for having that confidence in him."
That confidence comes from trust. Shaw said he knew early on he'd be able to take this leap with Luck -- and when Luck announced he was returning for another year and Shaw was promoted from offensive coordinator, the two clicked.
"As soon as I got the job, the first thing I said was 'Andrew, we're going back to the no-huddle,' and there was a big smile on his face," Shaw recalled. "He and I have both loved the idea from the beginning, and he's so good at it. It took a little bit of time, but he's a rare quarterback that can handle this."
Luck said they tinkered with the idea early in his career, but not until he proved he was ready to handle the extra responsibility did they start integrating his play calling into the game plan.
"Experience is a big part of it, and showing the coaches that you can execute their plan on the field," Luck said. "As a player, obviously it's great to know your coaches trust you. To go out there and make the call and know they are behind you, that's special."
Sipe said he enjoyed being able to call his own plays -- though he understands the game has evolved.
"As a quarterback, I felt like I had a feel for the game that could only come from being out on the field and being in the huddle with the guys and being close to it," Sipe said. "But at the same time I recognize the benefit of having data at your fingertips and hearing from everybody else. When you're out there, you are on your own and have to process it all … you have to think like an offensive coordinator, and I applaud him for being able to do it and for the coaches who are willing to give him that responsibility."
Chances are, Luck won't be calling his own plays at the next level. Young said the pro game has changed so much that quarterbacks actually calling their own plays could be detrimental.
"I think it's almost foolish -- like you're not a real man if you don't call your own plays," Young said, the second part tongue in cheek. "Good play-callers like Marty Mornhinweg or Mike Holmgren or Mike Shanahan, the all-timer -- in some ways the last thing you want to be doing is taking them out of the mix. I had free range to call whatever I wanted. But I liked calling their combinations. I think it's overrated a little bit in the pro game.
Drew Brees
could call his own plays. But Sean Payton can put together great combinations. I don't see it as a badge of honor.
"But in college, the way Stanford uses it for Andrew, I think it's really great. It's the perfect way to keep him active and keep him sharp."
It's when pulling those combinations together, Shaw said, that Luck is at his best.
"That's a big part of understanding the situations -- what do we need on second-and-5 as opposed to second-and-10," Shaw said. "He gets it. We don't give him any guidelines. We put it in his hands and he gets it naturally.
"We wanted to make sure we were continually challenging him. Let's give him options. Let's make sure he always has something to study. Andrew has taken it to the next level."
February, 9, 2010
2/09/10
2:30
PM ET
By
ESPN.com staff
| ESPN.com
In the shadow under the green visor of the cap Ignatius J. Reilly's supercilious blue and yellow eyes looked down upon the other people waiting under the clock at the D.H. Holmes department store, studying the crowd of people for signs of bad taste in dress. Several of the outfits, Ignatius noticed, were new enough and expensive enough to be properly considered offenses against taste and decency. Possession of anything new or expensive only reflected a person's lack of theology and geometry; it could even cast doubts upon one's soul.
January, 20, 2010
1/20/10
9:00
AM ET
By
ESPN.com staff
| ESPN.com
Yes, there are lots of USC teams in our list of the "best Pac-10 teams of the decade."
Not sure how you get around that. From 2002 to 2008, the Trojans finished ranked in the nation's top four. During that span, no other conference team topped the Trojans in the national rankings.
One team not listed, however, merits special mention: Oregon in 2007.
That team was 8-1, ranked No. 2 in the BCS standings and appeared to be headed for a showdown with LSU for the national championship. Then quarterback Dennis Dixon blew out his knee at Arizona -- he'd actually hurt it the week before vs. Arizona State -- and the Ducks subsequently lost to the Wildcats, the first of three consecutive losses before a blowout victory over South Florida in the Sun Bowl.
More than a few people -- not just Ducks fans -- believe that team would have won the national title if Dixon had remained healthy.
Of course, if wishes were fishes then cows would fly.
10.
USC, 2007
: A toss-up between this squad and the Trojans 2006 team. The '07 team finished ranked third in the AP and second in the coaches poll, while '06 finished fourth in both. '07 lost to 41-point underdog Stanford and at Oregon, see above about the Ducks. '06 lost at Oregon State and at UCLA, a 13-9 defeat that cost it a spot in the national title game. That last detail iced it for '07.
9.
USC, 2002
: More than a few pundits watching Carson Palmer and company pound Iowa in the Orange Bowl opined that, by season's end, this might be the nation's best team in 2002. After a 3-2 start in Year Two of the Pete Carroll Era, the Trojans won eight in a row to finish 11-2 and ranked No. 4.
[+] Enlarge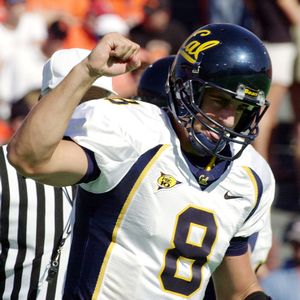 AP Photo/Don RyanAaron Rodgers and the Golden Bears only had one regular-season loss in 2004.
8.
California, 2004
: Sure, the Bears laid an egg vs. Texas Tech in the Holiday Bowl -- quick Cal fans: how many receivers were missing due to injury? And what do you think of Mack Brown? -- but Aaron Rodgers and company put on quite a show. The only regular-season defeat came in a thriller at USC -- see below -- 23-17, when the Trojans held strong after the Bears had a first-and-goal from the 9-yard line with less than two minutes left.
7.
Oregon State, 2000
: If not for a crazy finish at Washington in a 33-30 defeat, the Beavers might have played Oklahoma for the national championship. They went on to blister Notre Dame 41-9 in the Fiesta Bowl and finished ranked fourth in the nation. Go back and look at the roster: Chad Johnson, T.J. Houshmandzadeh, DeLawrence Grant, Dennis Weathersby, LeDarius Jackson, Ken Simonton, etc. This was hardly a scrappy, little team.
6.
Washington, 2000
: This crew of Huskies was hardly dominant but they just found a way to win week after week, led by quarterback Marques Tuiasosopo. The 11-1 season included a victory over Miami, which finished ranked No. 2, a loss at No. 7 Oregon, and a Rose Bowl win over Drew Brees and Purdue.
5.
USC, 2008
: This crew paired one of the best defenses in college football history with a quarterback who's playing in the AFC championship this weekend. Yes, it's fair to ask how the horsepucky this team didn't win the national championship. Oregon State fans care to explain?
4.
Oregon, 2001:
How strange was the Ducks 49-42 loss vs Stanford, their only defeat of the season? The normally staid AP said this in the game story, it was "a game that had everything but aliens landing on the Autzen Stadium turf." The Ducks led by 14 in the fourth quarter before a blocked punt and interception from Joey Harrington allowed the Cardinal to take the lead. While Oregon fans mostly remember getting BCSed out of the national title game by Nebraska, the Stanford game prevented them from playing Miami in the Rose Bowl. The Ducks blasted Colorado in the Fiesta Bowl and finished No. 2, still the program's best final ranking.
3.
USC, 2003
: A dominant team that lost only in triple-overtime at California. Only a BCS computer glitch forced the Trojans, ranked No. 1 in every poll, to share a portion of the national title with another squad.
2.
USC, 2005
: The offense was a thing of beauty -- 580 yards, 49 points per game -- but a young defense, which featured a true freshman and four sophomore starters, cost the Trojans in the thrilling BCS title loss to the University of Vince Young.
1.
USC, 2004
: Unbeaten, undisputed. Dominant. Best team of the decade in all of college football? Perhaps, though folks could make a strong argument for Miami in 2001. An extraordinary array of talent on both sides of the ball. And defense was the difference vs. 2005. It ranked sixth in the nation in total defense and third in scoring. The Trojans battered Oklahoma 55-19 for the national title.