October, 20, 2012
10/20/12
11:49
PM ET
LOS ANGELES -- The
USC Trojans
came into Saturday's game against Colorado hoping to find some momentum for an offense that had, in a nutshell, been struggling to meet their standard. The Buffaloes ranked among the bottom teams in the conference in every defensive category, so it figured to be the perfect opportunity for the Trojans to regain their offensive mojo.
It didn't take long for their ideal scenario to play out, as the Trojans scored a touchdown on the second play of the game, a 55-yard scoring pass from
Matt Barkley
to
Marqise Lee
. After an interception by
Drew McAllister
, Barkley connected with
Robert Woods
with a 39-yard touchdown completion. The Trojans forced a Colorado fumble on the first play of the next drive, and Barkley wasted no time before hitting
Xavier Grimble
with an 8-yard touchdown pass.
Less than six minutes into the game, USC had three touchdowns on the board on its way to an enjoyable
50-6 victory
at the Los Angeles Memorial Coliseum.
"This was a really good team win today," USC coach Lane Kiffin said. "I'm proud of the guys, because we prepared well this week as if we were playing the best team in the world, and it resulted in a historic day where so many good things happened."
Click
here
to read the full story at WeAreSC.
October, 20, 2012
10/20/12
9:52
PM ET
The
USC Trojans
came into Saturday's game looking for a spark, something to kickstart the second half of their season. With a
50-6 victory
over Colorado, they might have gotten their wish.


It was over when:
The teams got off the buses at the stadium. Well, maybe not literally, but close to it. The Trojans scored a touchdown on the second play from scrimmage and had three touchdowns on the board before the game was six minutes old. USC dominated from start to finish against the struggling Buffaloes and gave the home crowd multiple record-breaking offensive performances to enjoy.
Game ball goes to:
Matt Barkley
. The USC signal-caller had a game for the ages by completing 19 of 20 passes (his only miss was a dropped ball) for 298 yards and six touchdowns. His completion percentage (95 percent) set a Pac-12 record, and his touchdowns gave him 102 for his career, which broke the school record held by former USC quarterback Matt Leinart. It was the type of performance which should put Barkley back in the discussion for the Heisman Trophy with several high-profile games left on the schedule to make his case.
Stats of game:
First downs and time of possession. The Buffaloes had 25 first downs compared to 22 for the Trojans and held the ball for 37:10 compared to 22:50 for USC. Needless to say, those stats didn't lead to on-field results, as six Colorado turnovers resulted in the Buffs mustering only only six points on two field goals.
Record performance:
Barkley wasn't the only USC player with a record-breaking night. Wide receiver
Robert Woods
had eight catches for 138 yards and four touchdowns, which gave him 220 receptions in his career to set a new USC mark (formerly held by Dwayne Jarrett). Woods also became the first USC receiver to have four touchdown catches in one game.
Unsung hero:
Drew McAllister
, the USC senior safety who had an interception and a fumble recovery early in the game. It was the first interception since 2008 for McAllister, a senior who has battled multiple injuries throughout his career.
What we learned -- USC:
The Trojans needed a crisp offensive performance to gain some confidence on that side of the ball with a tough stretch of opponents coming up in November, and they got it. If USC can build off this effort, it should be able to compete for not only the Pac-12 title but a potential national title shot as well.
What we learned -- Colorado:
The Buffs' transition to the Pac-12 Conference continues to be a tough experience. The last three losses for CU had been by a combined 117 points, and the Trojans added to that with a 44-point margin Saturday.
April, 16, 2012
4/16/12
11:00
AM ET
Catching up on the scrimmages and spring games in the south division.
ARIZONA

The Wildcats quarterbacks combined for six passing touchdowns -- including four from
Matt Scott
, who completed 22 of 35 passes for 315 yards. Arizona threw 55 times and ran 43 times in addition to working through several different scenarios.
"I shouldn't expect too much with the first year in the system, but with Matt Scott I'm going to expect a lot," head coach Rich Rodriguez
told the Tucson Citizen
. "And I think Matt can deliver."
Tyler Slavin
caught three touchdowns and
Richard Morrison
caught a pair. Dan Buckner hauled in the sixth.
Safety
Marquis Flowers
brought in the lone interception of the day and linebacker
Jake Fischer
matched a team high with six tackles after missing all of 2011 with a knee injury.
The day was marred, however, by another knee injury. Safety
Adam Hall
tweeted Saturday night that
he tore his ACL
-- a similar tear to the one he had last spring that kept him out of all but one game in 2011.
ARIZONA STATE

The three-way quarterback competition isn't settled, but head coach Todd Graham said he'd like to see someone take the lead before the end of the spring session,
writes Doug Haller of the Arizona Republic
.
Michael Eubank
threw three touchdowns -- a pair to
Gary Chambers
and a third to
Rashad Ross
. But he also threw a pair of interceptions.
Haller reports that
Taylor Kelly
looked effecient, throwing an 11-yard touchdown to tight end
Max Smith
and
Mike Bercovici
tossed three touchdowns -- all in the overtime session of the scrimmage.
Defensively, the Sun Devils forced a trio of turnovers and three times stopped the offense on fourth-and-1.
COLORADO

The Buffs ran a 42-play scrimmage with the emphasis on the offense. Head coach Jon Embree said he was happy with the performance of
Connor Wood
, who completed 7 of 10 passes for 137 yards and touchdowns to
Jarrod Darden
and
Dustin Ebner
.
"I thought No. 5 was sharp,"
Embree said
. "He missed a couple of deep balls ... but I thought he played well."
Embree also said that running back
Tony Jones
separated himself from the rest of the pack and looked solid during the spring session. Jones carried four times for 23 yards on Saturday.
Josh Ford
, however, stood out with 141 yards and two touchdowns on eight carries -- though Colorado's defensive line has been patchwork.
Embree said that if Colorado wants to reach a bowl game in 2012, they are going to have to rely on some of the players coming in this fall.
"I still think it's achievable, but how far we go towards that goal and how we accomplish it, we're going to lean on some guys coming in," Embree said. "So how quickly -- and I told this to the seniors and the rest of the team -- how quickly you're able to help them assimilate, help them know how to practice, know how to work, will help us get to that goal.
"If you want to look at it as they're the bad guy because they coming here to compete for a job, then we'll all have the same fate -- we'll all be home for Christmas."
USC

The Trojans secondary picked up a pair of interceptions -- one from safety
Drew McAllister
off of
Cody Kessler
and the other from cornerback
Brian Baucham
off of
Matt Barkley
-- as the defense outshined the offense at the Los Angeles Memorial Coliseum.
Barkley completed 23 of 39 passes for 212 yards with a touchdown -- a 1-yard pass to
Marqise Lee
. Kessler (3-of-6, 68 yards) picked up the majority of his passing yards on a 44-yard touchdown to fullback
Soma Vainuku
.
"It was definitely a learning experience," Kessler
told USC's blog
.
Linebacker
Hayes Pullard
and cornerback
Anthony Brown
each had six tackles, while linebacker
Dion Bailey
added five stops. Cornerback
Isiah Wiley
had five deflections to go with his four tackles. There were three sacks (by defensive ends
Devon Kennard
, Greg Townsend Jr. and Morgan Breslin).
"I think the young linebackers are playing really well," Lane Kiffin told
Erik McKinney of WeAreSC
. "Like I mentioned, the defensive backs have improved a lot. That was really critical, especially with a new coach back there."
UTAH

Quarterback
Jordan Wynn
completed 7 of 12 passes for 149 yards with a touchdown and zero interceptions as the Utes' offense continues to find its rhythm under new offensive coordinator Brian Johnson.
"Brian wants to take more shots downfield than we have recently and we can do that now because we have the speed in the wideouts to create separation and we have quarterbacks who can throw with accuracy," head coach Kyle Whittingham said. "Our quarterback situation is the best it has been in years."
Dave Kruger
, LT Filiaga and
Trevor Reilly
all recorded sacks for the defense and
Terrell Reese
returned an interception for 43 yards to go with a pair of tackles for a loss.
Luke Matthews
and
Kenneth Scott
both had touchdown catches.
DeVonte Christopher
had two catches, but led the receivers with 70 yards.
March, 21, 2011
3/21/11
5:49
PM ET
By
ESPN.com staff
| ESPN.com
Spring is supposed to be a time of renewal and hope, but USC coach Lane Kiffin seemed to be suffering a prolonged case of the winter blahs Monday. And for good reason. He said 20 players -- many of them projected starters or key contributors -- won't be available for full-contact work when the Trojans begin spring practices Tuesday.
[+] Enlarge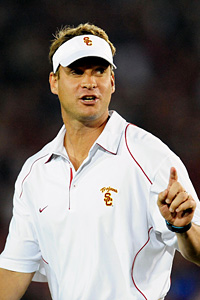 Gary A. Vasquez/US PresswireLane Kiffin is concerned about his team's spring injuries, particularly on the offensive line.
Rebirth and renewal of the Trojan empire after a middling 8-5 finish in 2010? Humbug.
"There's too many questions," Kiffin said. "I think it would be a little tough to say this team is better than last year."
Most of these injuries are not expected to be issues when preseason practices begin in August. But you never know. And there were some
troubling additions
to the already
long injury list we noted last week
, including linebacker Chris Galippo, whose back is giving him trouble again. Toss in injuries to Devon Kennard (hip) and Shane Horton (hip), and none of the projected starting linebackers are ready to practice. In fact, when you toss in an injury to backup Ross Cumming, the only available linebacker from last year's depth chart is redshirt freshman Will Andrew.
Few position groups have been spared the injury bug. Defensive linemen are out: end Armond Armstead, tackle Christian Tupou and end Wes Horton. Offensive linemen are out: Khaled Holmes, tackle Kevin Graf and center Abe Markowitz. Defensive backs are out: safety Drew McAllister and cornerbacks T.J. Bryant and Torin Harris. And a receiver is out:
Kyle Prater
.
So while, officially, 13 starters are back -- 6 on offense; 7 on defense; no specialists -- there will be plenty of opportunities for young players to shine. Of the 86 players on the spring roster (that includes walk-ons), just 38 saw action in 2010 and 47 have never taken a college snap, so there will be a bit of "Hello, my name is..." this spring. Just 14 returning Trojans have started at least 10 games.
Further, because of the lack of bodies -- particularly on the lines -- Kiffin said that much of the work this spring will be 7 on 7 -- "You're not going to be able to have normal practices," he said.
What's Kiffin's chief concern? The offensive line, which he calls "a gigantic issue."
There is some good news in terms of continuity on Kiffin's coaching staff. The only change is the departure of receivers coach John Morton, who joined Jim Harbaugh's staff with the San Francisco 49ers. He was replaced by
Ted Gilmore
, who was at Nebraska last year.
The spring game is April 23 in the Coliseum.
Some other notes:
Spread?
Kiffin talked last year about adopting some spread elements to his offense going forward, but that was more about one-back, four receiver sets, not a spread-option similar to what Oregon runs. The reasoning is largely about personnel. The Trojans lose the versatile
Stanley Havili
-- perhaps the best fullback in the nation -- and have little experience ready to step in at the position. And there's lots of intriguing young talent at receiver.
Position changes
: Redshirt freshman Dion Bailey moved to linebacker from safety.
Robert Woods
takes over at "Z" receiver -- flanker -- the position
Ronald Johnson
played last season.
Positions to watch
: Obviously, injuries all over the depth chart mean youngsters will get plenty of reps this spring, which means plenty of opportunities to impress. Here are some spots Kiffin made specific note of, other than the injury-riddled lines:
Tight end: Rhett Ellison is back, but what will be the pecking order between Xavier Grimble, Randall Telfer and Christian Thomas? The Trojans would like to run more two tight end sets.
Running back: Marc Tyler is the returning veteran, but he struggles to stay healthy. What will the pecking order end up between Dillon Baxter, Curtis McNeal and D.J. Morgan?
Backup QB: Matt Barkley is the starter (duh), but with the departure of Mitch Mustain, who's his backup? Redshirt freshman Jesse Scroggins would seem to have an inside track, but touted true freshmen Cody Kessler and Max Wittek will both participate in spring practices.
Linebacker: Great opportunity for guys to catch their coaches eyes: Bailey, Andrew, Dallas Kelly, Marquis Simmons, Simione Vehikite, Hayes Pullard, etc.
What about Barkley
? Barkley, a true junior, took a step forward last season as a second-year starter, but he still missed too many throws, 12 of which ended up as interceptions. Kiffin said he expects Barkley's next step to be playing at a consistently elite level. "He's competing against the best in the country," Kiffin said. "He's competing against the Andrew Lucks. He's got to take that mindset in every practice."
What about that NCAA appeal
? On Saturday, it will be nine weeks since USC president Max Nikias, athletic director Pat Haden and four other university representatives spent more than four hours talking with the NCAA infractions appeals committee in Indianapolis. Most appeals take four to eight weeks. Ah, but nothing in the USC case has moved quickly. Kiffin said he had no idea when USC would learn if the appeals committee will reduce the penalties that appear more draconian by the day, as other schools end up in headlines about alleged rules violations that appear far worse than the findings against USC.
March, 14, 2011
3/14/11
6:58
PM ET
By
ESPN.com staff
| ESPN.com
Michael Lev of the Orange County Register provides an
injury update
for USC, and it ain't pretty: 12 players who are either projected starters or likely contributors are expected to be out or limited when spring practices start on March 22.

Obviously, as Lev points out, it's premature to panic because sitting out spring is often about being healthy in the fall.
Still, it's quite a list (see link for details): WR
Kyle Prater
, OL Khaled Holmes, OT Kevin Graf, C Abe Markowitz, DE Wes Horton, DL Armond Armstead, DT Christian Tupou, MLB Devon Kennard, OLB Shane Horton, S Drew McAllister and CBs T.J. Bryant and Torin Harris.
Of particularly concern: Three offensive linemen and eight defenders are out.
The Trojans lack depth on their offensive line, which must replace three starters as well as part-time starter Butch Lewis. Now it appears that left tackle Matt Kalil will be the only full-go returning starter available this spring.
Meanwhile, the defense is looking to bounce back from a sub-par year under coordinator Monte Kiffin. While injuries to veterans will allow younger players to see more action, there's something to be said for the veterans being available to more fully digest the elder Kiffin's schemes during spring when there's more time to teach.
August, 10, 2010
8/10/10
1:41
PM ET
By
ESPN.com staff
| ESPN.com
Safety in the Pac-10 this year? Solid for the most part.
Only UCLA, Oregon State and Washington "officially" welcome back both of their starting safeties, with the Bruins boasting perhaps the best in free safety in the nation: Rahim Moore. Only Arizona State and USC must find two new safeties.
So how do things stack up?
Great shape
UCLA: Moore, a true junior and 25-game starter, led the nation with 10 interceptions in 2009 and is a consensus All-American. Tony Dye ranked fourth on the Bruins with 73 tackles.
Oregon: Sure, the Ducks lost hard-hitting T.J. Ward to the NFL, but Ward was hurt much of last season, so John Boyett, the first freshman to lead the Ducks in tackles, and Javes Lewis, who played both free safety and rover, are returning starters, as is Eddie Pleasant, a linebacker starter in 2009 who's moved to rover.
Oregon State: Lance Mitchell and Cameron Collins give the Beavers a solid, experienced combination and Suaesi Tuimaunei also has starting experience.
Good shape
Washington: Nathan Felner and Nate Williams are both returning starters, but the competition is ongoing among players with experience, not to mention touted incoming freshman Sean Parker.
Arizona: The Wildcats lost Cam Nelson, and Robert Golden might move back to cornerback after playing strong safety last year. Still, there's talent here. Adam Hall, a touted, 6-foot-4, 212-pound 2009 recruit, might make a move.
Arizona State: Both starters, Jarrell Holman and Ryan McFoy, are gone, but Clint Floyd and Keelan Johnson have started games and junior Eddie Elder has been surging since the spring.
California: While the Cal secondary didn't play well in 2009, Sean Cattouse is solid. Senior Chris Conte has converted to safety from cornerback, but he could be challenged in camp for the starting job.
Stanford: Strong safety Delano Howell should blossom as a junior, and Michael Thomas has potential at free safety. Still, the Cardinal secondary got burned in 2009 and is probably the team's biggest question mark.
We'll see
USC: The Trojans are replacing all four starters in their secondary, and the days of giving them a free pass based on recruiting rankings are over. Still, Jawanza Starling, T.J. McDonald and Drew McAllister (if he's healthy) are a talented trio.
Washington State: WSU lost free safety Xavier Hicks, but LeAndre Daniels, Chima Nwachukwu, Tyree Toomer, Casey Locker and Jamal Atofau give the Cougars hope at the position.
March, 10, 2010
3/10/10
9:35
AM ET
By
ESPN.com staff
| ESPN.com
The eighth of a 10-part series that looks at where Pac-10 teams are strongest and weakest as they begin spring practices.

USC
Strong
: Front seven
Why it's a strength
: USC listed 24 front-seven players on its 2009 defensive depth chart, and just four are not returning: end Everson Griffen, tackle Averell Spicer and linebackers Nick Garratt and Uona Kaveinga. Only Griffen was a starter. That sort of experience is certainly a strength, one that in past years might have struck fear into future opponents. The Trojans, however, were not dominant up front last year, ranking fifth in the Pac-10 against the run. Still, despite a sub-par year by USC's standards, the defense still ranked first in the conference in scoring (19.8 points per game). Moreover, 16 of these returning front-seven players were freshmen or sophomores last fall. There should be significant improvement with new coordinator Monte Kiffin and fiery defensive line coach Ed Orgeron. Players like junior tackle Jurrell Casey, sophomore linebacker Devon Kennard, sophomore end Nick Perry and junior tackle/end Armond Armstead could take a step toward stardom.
Weak
: The secondary
Why it's a weakness
: The Trojans are replacing all four starters -- multi-year starters at that -- including free safety Taylor Mays. That's four of the top seven tacklers. Moreover, the leader to replace Mays, Drew McAllister, will miss the spring due to hip surgery. Of course, the Trojans are hardly devoid of talent, particularly with the return of cornerback Shareece Wright. Wright, widely regarded as the team's best cover corner, would have started last year but he was academically ineligible. And there are plenty of promising youngsters on the depth chart who have already seen action, including corners T.J. Bryant and Brian Baucham and safety T.J.McDonald. Still, this is a unit in transition that will face an outstanding crew of experienced Pac-10 quarterbacks.
March, 9, 2010
3/09/10
2:30
PM ET
By
ESPN.com staff
| ESPN.com
It's ridiculous that "Avatar" didn't win "Best Picture."
May, 8, 2009
5/08/09
9:10
AM ET
By
ESPN.com staff
| ESPN.com
Posted by ESPN.com's Ted Miller
USC Trojans
2008 overall record: 12-1

2008 conference record: 8-1

Returning starters

Offense 9, defense 3, kicker/punter 0

Top returners
WR Damian Williams, C Kristofer O'Dowd, OT Charles Brown, OG Jeff Byers, TB Stafon Johnson, TB Joe McKnight, FS Taylor Mays, CB Josh Pinkard, DE Everson Griffen.
Key losses
QB Mark Sanchez, LB Rey Maualuga, LB Brian Cushing, DE Clay Matthews, DT Fili Moala, SS Kevin Ellison.
2008 statistical leaders (*returners)
Rushing: Stafon Johnson* (705)
Passing: Mark Sanchez (3,207)
Receiving: Damian Williams (869)
Tackles: Rey Maualuga (79)
Sacks: Kyle Moore (5)
Interceptions: Cary Harris, Drew McAllister*, Kevin Thomas* (3)
2009 Schedule
Sep. 5 San Jose State
Sep. 12 at Ohio State
Sep. 19 at Washington
Sep. 26 Washington State
Oct. 3 at California
Oct. 17 at Notre Dame
Oct. 24 Oregon State
Oct. 31 at Oregon
Nov. 7 at Arizona State
Nov. 14 Stanford
Nov. 28 UCLA
Dec. 5 Arizona
Spring answers
1. Reload at LB: Sure, the Trojans lost three first-day NFL draft picks at linebacker, but it's hard to find anyone around the program worried about the position. With Chris Galippo in the middle, and Michael Morgan and Malcolm Smith flanking him, this unit will be faster than last year. That said, incoming freshmen Frankie Telford and Jarvis Jones may be able to work their way into the rotation.
2. Griffen steps up: Defensive end Everson Griffen has always been a spectacular talent, but his focus and work ethic haven't been consistent. Until this spring, at least, when Griffen joined Smith as the defense's standout player. He leads a young defensive line that flashed brilliance at times this spring.
3. If the QBs come through ...: With nine starters back and depth at every position, the Trojans' offense doesn't appear to have any weaknesses. Of course, the guy who's going to distribute the ball -- either Aaron Corp or Matt Barkley -- will be making his second career start at Ohio State, which gets a qualified, "Yikes!"
Fall questions
1. Is Barkley really in this? While coach Pete Carroll has long shown no fear starting -- or at least playing -- true freshmen, he has yet to do that at quarterback, where a pattern of sitting for three years and learning the system has been established. Corp emerged from spring the clear leader at the position, but Barkley flashed passing talent that's hard to ignore. Can Barkley really beat out Corp, and if he doesn't will he be the backup and burn his redshirt in 2009?
2. How will the tailback rotation go? With Curtis McNeal and Marc Tyler making statements this spring -- particularly McNeal -- it appears that the Trojans are again a six-headed monster at tailback. There's just one ball, but there's Stafon Johnson, Joe McKnight, Allen Bradford and C.J. Gable, with Gable presently the favorite to get his carries cut due to fumbling issues. Or will McKnight's inability to stay healthy -- at least during practices -- suddenly be recognized as a problem?
3. Who's the kicker? Joe Houston seemed to emerge with a small lead over Jordan Congdon at kicker, but touted JC transfer Jacob Harfman arrives in the fall, and Harfman could end up kicking and punting.
August, 20, 2008
8/20/08
2:11
PM ET
By
ESPN.com staff
| ESPN.com
Posted by ESPN.com's Ted Miller
| | |
| --- | --- |
| | |
| | AP Photo/Kevork Djansezian |
| | Pete Carroll and the Trojans have their sights set on a Pac-10 title. |
LOS ANGELES -- Sat down with USC coach Pete Carroll on Sunday night. He ate ice cream and answered questions.
What's your feeling on this scenario: Let's say Mitch Mustain starts at quarterback against Virginia and has a lights out game. Do you have a philosophical opinion on whether an injured starter [Mark Sanchez] always retains his job or do you go with the hot hand against Ohio State?
Pete Carroll: I would never... I can't even answer a question about that. To surmise what's going to happen with one guy and then what we're going to do with the next guy? I wouldn't even tell you what the first stage of it is let alone the second or third. So I'm not going to answer that. Too much conjecture there.
You talk about getting better and growing every year. What have you changed in the past couple of years about how you do things?
PC: Not very much. We do mostly the same stuff with just small changes. It depends on our staff continuity. This year, we've got 99 percent staff continuity so it's really easy [only staff change was the GA who works with the secondary]. We're able to do more things with that. When we're bringing new people along, we can't do that. We can't afford to go off and experiment. This year, we've done more things but it's kind of like if you have a philosophy then why would you change? The consistency is part of the philosophy -- how you recruit, where you recruit, who you recruit. The consistency of what the expectations are, the consistency of the standards for practice, the offseason programs. All of those things are the same. We get better at them. We get better versed on knowing what we want and getting more astute as we go along but we don't change much.
I know this is going to sound pretty stupid, but you're the only coach who can be asked this: Is winning the Rose Bowl ever not enough?
PC: No. You've got to understand that our mindset is to focus only on what we can control. We can only control getting to the Rose Bowl. Winning our conference and going to the Rose Bowl is what our goal is every year. Our goal isn't about national championships, because we don't have control of that -- that's in somebody else's hands. We found that out years ago [2003], when we were No. 1 but then we were No. 3. We already knew that but that just proved it. If we win our games and we're out there and they want us to go somewhere else, then we'll go. We love the Rose Bowl.
Does it ever register with you that there's such a small margin for error for USC that if you don't win the national championship then some believe it hasn't had a successful season?
PC: I know people say that but I don't care. They can say whatever they want.
Could you give me a couple of names of younger guys who have stepped up in preseason practices?
PC: A guy who's had a really good camp is Travon Patterson, a wide receiver. He's caught touchdowns on every big day, every big scrimmage we've had. He's playing fast and has made a lot of plays for us. The guys who have done a lot of good stuff are the freshmen -- [TE] Blake Ayles is a guy you might not have expected to but he's looked great. The other guy is [RB] Allen Bradford. He's had a great camp again. I really like [WR] Jordan Cameron. All four of the freshmen defensive linemen [Armond Armstead, Jurrell Casey, Wes Horton and Malik Jackson] -- they look great. These guys have a chance to play early. Uona Kaveinga has been playing second-team "Mike" linebacker. [Safety] Drew McAllister has looked really good -- he's had three or four picks in big, scrimmage-type situations and hit well. It's been a really solid freshmen class. The offensive linemen have looked good but it's going to take them some time.
Things get a little juicer in Part II, when Carroll talks about new UCLA coach Rick Neuheisel, his future and what he thinks of his legacy.