January, 15, 2012
1/15/12
11:06
AM ET
Woke up thinking about Oregon quarterback
Darron Thomas
' surprising decision to
enter the NFL draft
.
We
wrote last night it was a "terrible," decision
, and based on things at present, it would be difficult to argue that it was a good decision.
[+] Enlarge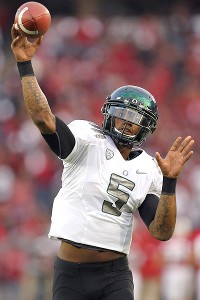 Ezra Shaw/Getty ImagesOregon quarterback Darron Thomas is skipping his senior season to enter the NFL draft.
We may have overstated things saying that Thomas won't get drafted. For one, Thomas is a winner. He's 23-3 as a starter. And, despite some mechanical issues and runs of inaccuracy, he still finished ranked 11th in the nation in passing efficiency, though some might argue the dominance of the Ducks' run-first scheme made for some wide-open opportunities in the passing game.
Bottom line: All it takes is for one general manager to fall in love with him. Perhaps there are coaches out there who want to run more shotgun, spread-option elements.
Further, we don't know Thomas' situation. There could be personal reasons he's taking this seemingly premature leap of faith in himself, though he didn't provide any such insights to ESPN's Joe Schad during a phone conversation Saturday night. He already has his degree, so that certainly satisfies one potential tweak from observers.
A couple of you reasonably commented in the mailbag that Thomas probably wouldn't solve his issues -- mechanical or otherwise -- during his senior year if he hadn't already, therefore his stock likely won't get much higher.
I'd add that the recent decisions of USC QB
Matt Barkley
and Oklahoma QB
Landry Jones
to return for their senior seasons makes this QB draft class fairly thin after Stanford's
Andrew Luck
and Baylor's
Robert Griffin III
. This likely was also noted by Arizona State's
Brock Osweiler
, who surprised some with his decision to leave early.
You tick off the
top 10 QBs and things start to get thin pretty early
. Considering 12 QBs were drafted last spring, Thomas certainly has a
solid shot to be a late-round pick
.
But Thomas would have benefited from coming back, and I strongly feel he would have improved his draft status.
For one, yes, he could improve his accuracy and mechanics. While some insist you can't improve accuracy after a certain point, keep in mind accuracy is a two-way street. Do you think Oklahoma State quarterback
Brandon Weeden
's 72 percent completion percentage would have been any lower if he didn't have wide receiver
Justin Blackmon
? Yes, you do. The Ducks should be better and deeper at receiver next season -- assuming the talented redshirt freshmen come through -- and that might have helped Thomas boost his 62 percent completion percentage.
Further, completing a body of work matters. If the Ducks won another BCS bowl next January, and Thomas improved to, say, 36-4 as a starter -- and maybe completed 66 percent of his passes in 2012 -- the evidence on the "winner" side counterbalancing the "he's a spread-option guy with questionable mechanics" would have been much heavier. Three years of success playing quarterback in the Pac-12 would have been far more impressive than two years.
Schad reported that Thomas signed with agent Drew Rosenhaus, which means the deal is done. There won't be any backtracking.
But it also means that one of the top agents in the NFL believes in Thomas. So maybe what will end up being "terrible" about this decision will be our initial reaction?
November, 14, 2010
11/14/10
9:00
AM ET
What did we learn this week?
Oregon's offense isn't unstoppable
: Did California provide a map for at least slowing down the Oregon offense? The Bears didn't do anything fancy. They mostly just played man coverage, used seven guys in the box to stop the run and the defensive line played downhill, driving to penetrate, making it hard for Oregon's spread-option to move laterally in the backfield. Or was it just a bad day for the Ducks? In any event, the performance by the Bears showed that -- as good as the Ducks are -- Oregon's offense isn't a supernatural force.
[+] Enlarge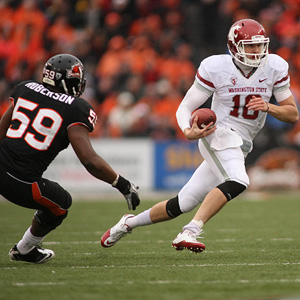 Craig Mitchelldyer/US PresswireJeff Tuel had his way passing and running against the Oregon State defense on Saturday.
There is hope for Washington State
: The Cougars have been more competitive this year, yes, but a lot of the praise in that respect felt like a pat on the head. But winning big at Oregon State is much different. That's something that can be a linchpin of a transformation. Bottom line: For the first time in 16 Pac-10 games, the Cougs were smiling when the clock struck zero.
Lane Kiffin might be a good coach
: There is evidence that, perhaps, Kiffin advanced more quickly through the coaching ranks than he deserved. There is evidence that Kiffin sometimes says things he will regret, or that qualify as trash talking. But, please, show me some evidence that he can't coach. And, as a counter to the lame evidence Kiffin's critics produce, consider the Trojans' win at Arizona. And how the Trojans are a better team today than they were a year ago, when they were deeper and more talented.
Stanford's defense has turned the corner
: Stanford used to be seen as soft on defense. It stopped being that under Jim Harbaugh, but then it was slow. Now? Stanford looks pretty darn good. A week after holding Arizona to just 17 points, the Cardinal held Arizona State to 12 first downs and 268 total yards. When you look at one-loss teams, who looks better than Stanford? The answer: No one.
Oregon State? Heck if I know
: The Beavers were projected as the No. 3 team in the Pac-10 during the preseason. Perhaps that was respect for the program. And just two weeks ago, the Beavers were still in control of their Rose Bowl fate. But now, after their third loss in four games, they look like a long shot to earn bowl eligibility. Oh, and they now are the trivia answer to: Who did Washington State beat to end a 16-game Pac-10 losing streak? Where the Beavers are is not where anyone expected them to be.
January, 15, 2010
1/15/10
1:42
PM ET
By
ESPN.com staff
| ESPN.com
The ultimate goal, said Arizona tight end
Rob Gronkowski
, is getting three brothers on the same NFL team.
[+] Enlarge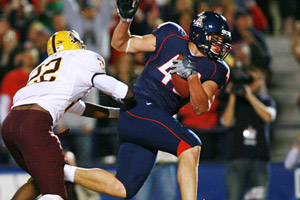 Chris Morrison/US PresswireRob Gronkowski had 672 yards and 10 TDs in 2008.
The day's news is that Gronkowski is leaving Arizona a year early to join his brother and Wildcats teammate, senior fullback Chris, in the NFL draft, after which they will join older brother Dan, who's already with the Detroit Lions.
"Three brothers in the NFL at one time? That's unbelievable," Rob Gronkowski said. "That was always my dream."
Gronkowski said that despite sitting out the entire season with a back problem that required surgery, he's healthy now -- doctors cleared him this week, he said -- and he and expects to be selected in the first round.
"I got all great reports [from the NFL] -- first round, if I can show them I'm healthy," he said.
Gronkowski said he was medically cleared by Dr. Robert G. Watkins III, who performed back surgery on Gronkowski, as well as Dr. James Andrews, but he admitted he's not sure if he will be able to participate in the NFL combine.
"If I'm not 100 percent, if I don't feel like I'm ready to go, then I might just go and do interviews," he said. "But I'm definitely going to be ready before the draft. I'll be ready for pro day or my own little pro day I'll do. I'm definitely going to show them I'm 100 percent."
He said he has hired Drew Rosenhaus to be his agent.
Gronkowski said he expects two years of game film to impress scouts and GMs. And when he's ready to work out, he expects to show off impressive physical skills that earned him All-Pac-10 honors as a sophomore.
"I'm going to wow the teams," he said.