Pac-12:

Ducks-Bears-111310
November, 14, 2010
11/14/10
1:21
AM ET
BERKELEY, Calif. -- The narrative trajectory of a national championship run is rarely a straight line. There are zigs and zags even during an undefeated season. Some games are prettier than others. Sometimes the biggest statements are made in unexpected ways. It's just the way college football is.
So perhaps it's fitting that the offensive juggernaut that is top-ranked Oregon made its most powerful statement on its worst night of the season by not scoring. The flashy Ducks, who are all about hanging half-a-hundred on foes with lightning-quick drives that make bathroom breaks risky for fans, became yeomanlike in their final possession of a
15-13
victory over California, slowing the pace, grinding out first downs and burning the clock.
Oregon, clinging to a two-point lead, took over at its 20-yard line with 9:25 left in the game, and 18 plays later -- 17 runs -- quarterback
Darron Thomas
took a knee at the Bears' 15-yard line. Game over. Ducks survive.
It was the Ducks' only drive of the night of more than 46 yards. But somewhere Woody Hayes is smiling.
"Coach [Chip] Kelly told us in the huddle before we went out there that this was going to be the drive of the year; this was going to be the drive we remember," Thomas said. "Exactly what he told us was, 'This is going to be the drive you tell your family about 30 years from now.'"
[+] Enlarge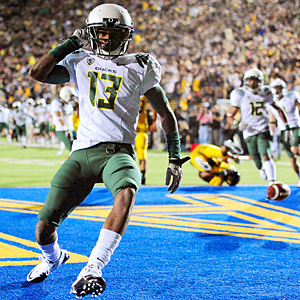 Kyle Terada/US PresswireOregon found a way to win without its high-scoring offense against Cal. Cliff Harris scored the Ducks' first touchdown on a 64-yard punt return.
Oregon is 10-0. If they win three more games -- two regular season and the national title game -- they will have plenty to tell their children and grandchildren about.
But this was not the Ducks we've seen this season, at least offensively. They looked vulnerable. They were getting whipped at the line of scrimmage. California was penetrating up front and blanketing Ducks' receivers in the secondary with man-coverage -- even after losing starting cornerbacks Darian Hagan and Marc Anthony to injury.
"It was ripe for the upset," Cal safety Chris Conte said. "We knew that if we came out and executed, this team was very beatable. Watching film,we saw their people making mistakes. We knew if we held them to no big plays, we'd be right in this game. We should have won."
That was a popular theme among the Cal players. But it also is curious that a team that can play with top-ranked Oregon can lose by 28 to Oregon State, the Beavers' only win in their past four games.
Oregon was held to a season-low 317 yards. But it made four of its eight successful third-down conversions on the final drive.
And after 400 words, perhaps we should take note of the Ducks' defense. It held the Bears to just 193 yards, 49 of which came on their first possession, when they took a 7-0 lead after the Ducks failed on one of their six fourth-down conversion attempts (they made four).
"You see the true character of a team when it's not 50-7 or whatever," defensive tackle Brandon Bair said. "It's awesome to see that if our offense struggles, our defense can step up."
The Ducks' defense was certainly helped by the absence of a Cal passing game. Quarterback
Brock Mansion
, making his second start since
Kevin Riley
went down with a season-ending knee injury, completed 10 of 28 passes for 69 yards. He didn't throw an interception, and he made a couple of nice passes, but it was clear that running back
Shane Vereen
, who rushed for 112 yards on 26 carries, was the Bears' only offensive weapon.
Oregon didn't help itself much. It missed two field goals; the first kicker Rob Beard has missed this season. It had eight penalties for 62 yards. And Thomas gifted the Bears a TD when he fumbled into the end zone in the third quarter while cocking to throw, and nose tackle Derrick Hill recovered for a touchdown.
For the first time this year, Oregon was challenged well into the fourth quarter. It was a new experience. Kelly, however, said his team never showed any signs of tightness, and his players agreed.
"We were never worried or thinking about losing," Thomas said. "We never thought about losing."
As for style points, none of the Ducks seemed too concerned that the judges -- the pollsters, the computers, the BCS standings -- might dock them for failing to win in their typical fancypants manner.
"At the end of the season, they are not going to say, 'How many points did they beat Cal by?'" said running back
LaMichael James
, who finished with 91 yards on 29 carries.
This week, though, they are going to ask about James. The Heisman Trophy candidate had to be helped off the field in the game's waning moments. Afterward, he was wearing a boot on his left foot and was on crutches.
"I'm good," he said. "I'll be at practice next week."
The Ducks are off until Arizona visits Autzen Stadium on Nov. 26. They are moving into territory that the program and long-suffering fan base have never experienced before.
So forgive Kelly and his players for not beating themselves up for winning ugly.
"A win's a win," Kelly said. "We're happy. We're 10-0."
November, 14, 2010
11/14/10
12:15
AM ET
November, 13, 2010
11/13/10
10:46
PM ET


BERKELEY, Calif. -- Top-ranked Oregon survived,
15-13
.
It wasn't pretty. California shut down the best offense in the nation. The Ducks only produced a drive on their final possession, which burned the final minutes off the clock.
The defense came to play, and that saved the Ducks.
More later.
November, 13, 2010
11/13/10
10:11
PM ET
BERKELEY, Calif. -- We decided to extend the third quarter one play in order to type this: Oregon trails in the fourth quarter for the first time this season. A short field goal just gave California a 16-15 lead.

But Cal missed the field goal, so Oregon still leads.

Whatever happens, Cal has provided a blueprint for disrupting the Ducks offense. Oregon has just 203 total yards, and it's been completely out of sync throughout. Its two TDs came on a punt return and on a short field after a Cal turnover.

In other words, there have been no -- not one -- impressive drives from the Ducks.

A lot is at stake here. Oregon has yet to be challenged like this. They haven't -- really -- played a close game.

Will the Ducks survive.

One quarter to find out.
November, 13, 2010
11/13/10
9:10
PM ET
BERKELEY, Calif. -- Who predicted an 8-7 score at halftime? Not me.

Stat of the half: Other than the score? Oregon has 149 total yards and no offensive points. This is the No. 1 offense in the nation, which is averaging 54.7 points and 567.2 yards per game.

Best player in the half: Oregon's points came on a 64-yard punt return from Cliff Harris, his fourth punt return for a TD this year.

What Oregon needs to do; What California needs to do: Oregon has been masterful after halftime, outscoring opponents 215-48 after the break. So the Ducks need to figure out why Cal is stumping them and plan accordingly. It would seem to this layman's eyes that the offensive line is not blocking very well. As for Cal, it only had 99 yards in the first half. It must figure out a way to get first downs, possess the ball and get some points. The Bears are keeping it close. But do they want to win? If so, they have to take a few chances.
November, 13, 2010
11/13/10
8:34
PM ET
BERKELEY, Calif. -- California got exactly what it needed in the first quarter.

The Bears got off to a fast start, got the crowd into the game and probably gained confidence on both sides of the ball. At present, they are playing physically and fast.

And Bears running back Shane Vereen was the player of the quarter. He rushed for 60 yards on nine carries and scored the only touchdown of the game.
November, 13, 2010
11/13/10
6:51
PM ET
BERKELEY, Calif. -- Let's say California's defense slows down No. 1 Oregon today.
Does that mean the Ducks score just 27 points, which is half their season average?
It's hard to see that happening if you've watched Oregon this year. Teams have slowed them down for quarters. Even halves. But the Ducks seem to always end up turning up the volume to 11 at some point, and that leads to a blowout. There's a reason that Ducks are on track to set a NCAA scoring record for a 13-game season.
But let's just say Oregon ends up with 27 points today.
Can Cal score 28? It averages 30 points per game, and the Ducks have the best defense the Bears have faced. Moreover, Cal is breaking in a new quarterback. This will be
Brock Mansion
's second-career start. In his first, he and the Bears offense scored 20 at Washington State, the lowest total the Cougars had yielded this year -- including FCS Montana State, which scored 22. Seven of eight FBS foes had scored at least 35 vs. the Cougs.
The point: It's hard to imagine Cal getting the upset.
But, by the same token, inexplicable things happen on an almost weekly basis in college football. So Cal, which has plenty of players who will one day play on Sundays, has a puncher's chance.
So what needs to happen for the planets to align and the Ducks to go down?
Turnovers for one. Maybe a pick-6. Or two. Cal needs to get points and short fields off Ducks mistakes. And the Bears need to respond with seven points -- not three -- when they get breaks.
Then there's the Bears best weapon: running back
Shane Vereen
.
Vereen almost single-handedly led an upset of Stanford last year in the Big Game, when few gave the Bears a shot against the then-rolling Cardinal.
Vereen having success also means time ticks off the clock, which means fewer opportunities for Oregon.
As for the Bears defense, first-year coordinator Clancy Pendergast is an NFL guy who's just getting used to the funky offenses of college football. His first run at Nevada's pistol went badly, but he solved UCLA's version.
Can he put a plan together that mutes the Ducks spread-option?
Finally, if those pieces come together, Mansion must play mistake-free football and make a few plays downfield in the passing game. If he can get the ball there, his receivers,
Marvin Jones
and
Keenan Allen
, can turn short passes into long passes.
That's a lot of stuff that has to go Cal's way.
But, as they often say:"Stuff happens." At least every once and in while