Pac-12:

Ducks-Cougars-092912
September, 30, 2012
9/30/12
4:13
AM ET
SEATTLE -- The occasional bloody lip can be a good thing. A body blow -- while it might stun momentarily -- is sometimes just what the lungs need to suck in fresh air.
And for 30 minutes Saturday night at CenturyLink Field, the
Washington State Cougars
swung and clawed and took their best shots at the No. 2 team in the country. They went for it on fourth down. They tried an onside kick. On offense, they attacked at the heart of their opponent and on defense they blitzed without fear or consequence.
And for a period -- a brief period, mind you -- the
Oregon Ducks
had a little blood on their lips.
But the Ducks calmly reached up, wiped it away, and delivered a potent and dismissive second-half performance en route to a
51-26 victory
.
This was a good thing, because it's only going to get harder for the Ducks (5-0, 2-0 Pac-12). Unlike their nonconference blowouts, things are a little tougher in the Pac-12. The athletes are a little faster and they hit a little harder. So facing a bit of an adversity is just what a team in the midst of a national title run could use.
"Absolutely," said Oregon running back
Kenjon Barner
. "With our team, we know we're going to get everybody's best shot. Credit to Washington State because they played a great first half. They did everything you are supposed to do in that first half. They just did a great job. But we're a strong-willed team and we know when we execute and do what we're supposed to do, it's hard to stop us."
Barner got the Ducks going early. After the defense forced a three-and-out on Washington State's first possession, Oregon calmly marched 50 yards in four plays, ending with a 22-yard Barner run -- the first of his three rushing touchdowns on the night. The Ducks cruised out to a 20-3 lead and it looked like another sleepwalk.
But the Cougars didn't fold as others have.
Carl Winston
added a 2-yard touchdown run to Andrew Furney's 18-yard field goal to make it 20-9 after the missed PAT. Then
Brett Bartolone
caught a 26-yard touchdown from
Connor Halliday
midway through the second quarter following a 34-yard field goal from Oregon's
Rob Beard
. It was 23-19 and the folks at CenturyLink were thinking another upset could be possible -- following Washington's stunner Thursday night over No. 8 Stanford.
[+] Enlarge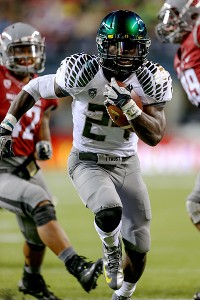 Otto Greule Jr/Getty ImagesKenjon Barner rushed for 195 yards and three touchdowns, two of which came in the second half.
"We battled away," said Washington State coach Mike Leach. "Some of our field goals should have been touchdowns. We gave them two relatively easy touchdowns early. I think if we played with more control, we wouldn't have. We played pretty courageously throughout the rest of it."
And with less than four minutes to play in the half, Washington State drove inside the red zone and looked poised to, at the very least, make it a one-point game. That's when the Oregon defense really broke loose.
Three consecutive sacks (
Dion Jordan
,
Michael Clay
and
Wade Keliikipi
) put the Cougars out of field goal range and shifted the momentum heading into the locker room.
"We understood that they gave us their best shots," said Jordan. "So the second half we went out and focused on going out and trying to finish the game. Guys made big plays … it was wonderful.
"We knew they were going to keep fighting and they weren't going to change much in what they were doing. We just had to turn up the dial as a team and as a unit and that's what guys did. We got after it and played smart football."
And therein lies the maturity of the Ducks. They opened the second half with a grinding, 18-play drive (their longest since last year's game against LSU, when they had a 19-play drive) that went 76 yards and took up 6 minutes, 20 seconds.
De'Anthony Thomas
capped the march with a 4-yard touchdown.
"We knew we were going to get the ball to beginning of the second half and that first drive was going to be key for us to set the tone for what we wanted to do," said Oregon coach Chip Kelly. "Everybody contributed and made plays. I thought we were balanced. They made us work for it. Give them credit. I thought defensively they had a good plan and it took us a while to get on the right track."
When the Cougars finally did get back on the field, the drive was ended when
Avery Patterson
intercepted Halliday and returned it 34 yards for a touchdown and a 37-19 advantage.
The Ducks no longer tasted blood. They smelled it, sacking Halliday seven times in the game, with two each from
Taylor Hart
and Keliikipi.
"We turned it up and tried to get him out of the pocket a little bit and get their offensive line on their heels," Jordan said. "Those guys got more tired than we were in the second half."
Barner would add a 10-yard touchdown on Oregon's next possession for the third Ducks score of the quarter. He capped a fantastic game with an 80-yard touchdown run in the fourth, finishing with 195 yards on 20 carries.
"That's what it's all about," Kelly said. "You get a chance and hopefully you don't make the same mistakes twice and every week is its own season and how the games themselves unfold. We know in this league it's going to be a 60-minute game … We think we're built to play for the whole game and a lot of guys kept fighting and battling and they finished."
September, 30, 2012
9/30/12
2:11
AM ET
SEATTLE -- After a wacky week of football at CenturyLink Field, it looked like the
Washington State Cougars
might make things interesting against No. 2 Oregon. Then came the second half and ultimately another Oregon blowout,
51-26
. Here's how it all went down Saturday night in Seattle.


It was over when
: Oregon's
Avery Patterson
jumped a
Connor Halliday
ball intended for
Gabe Marks
and returned it 34 yards for a touchdown with 7:20 left in the third quarter. The play put Oregon ahead 37-19 and sucked the life out of any WSU comeback.
Offensive game ball goes to
:
Kenjon Barner
carried 20 times for 195 yards and three touchdowns. He had scoring runs of 22, 10 and 80 yards. He also caught three passes for 37 yards and another score.
Defensive game ball goes to
: Oregon's
Taylor Hart
came up huge with a pair of big sacks in the first half when the issue was still in question. He finished with four tackles, three of them solo. As a unit, Oregon's defense registered seven sacks.
Stat of the game
: 18 -- The Ducks opened the third-quarter with an 18-play drive that spanned 76 yards and ate up 6 minutes, 21 seconds of clock, ending with a 4-yard
De'Anthony Thomas
run. Very un-Oregon, but it was the kind of drive that was needed to deflate an excitable Cougars squad coming out of the locker room. It was Oregon's longest drive (by number of plays) since a 19-play drive last season against LSU.
What it means for Oregon
: The Ducks could use a bit of adversity after coasting through their first four games. They responded admirably -- on both sides of the ball -- in the second half. A hungry Washington team visits next Saturday.
What it means for Washington State
: The Cougars did better than a lot of other teams have done in 30 minutes against the Ducks. But ultimately youth, and pass-protection issues, doomed them in the second half. Still much work to be done.
September, 30, 2012
9/30/12
12:32
AM ET
SEATTLE -- Something's brewing at CenturyLink… again. And it ain't Seattle's Best coffee.
After falling behind 20-3, the
Washington State Cougars
have come roaring back in the second quarter and have narrowed the gap to 23-19 at halftime against the
Oregon Ducks
, the No. 2 team in the country.
The Ducks jumped ahead 6-0 on a 22-yard
Kenjon Barner
touchdown and extended it on a
Marcus Mariota
13-yard run and a 30-yard touchdown pass to Barner.
But a 2-yard
Carl Winston
run, a second
Andrew Furney
field goal and a 26-yard touchdown pass from
Connor Halliday
to
Brett Bartolone
has the Cougars within a touchdown heading into the second half.
Mariota is 11-of-17 for 107 yards with a touchdown and a pick. Halliday is 17-of-30 for 151 yards and a touchdown. Barner has 10 carries for 57 yards.
De'Anthony Thomas
has been a non-factor with four carries for 22 yards and two catches for 11 yards.
The Ducks have sacked Halliday five times while the Cougars have gotten to Mariota three times.
Washington State players came off the field pumping their helmets in the air to fire up the crowd.
September, 29, 2012
9/29/12
10:13
PM ET
SEATTLE -- Though technically a home game for the
Washington State Cougars
, tonight's matchup against the
Oregon Ducks
will probably be -- at the very least -- a neutral-field experience.


Even the mileage favors the No. 2 Ducks, who are squaring off the Cougars at CenturyLink Field in the Seattle game.
Eugene to Seattle = 283 miles.
Pullman to Seattle = 287 miles.
Obviously, the Ducks have a few more advantages than just the mileage. Like one of the nation's most exciting offensive players in
De'Anthony Thomas
, a youthful but efficient quarterback in
Marcus Mariota
and a defense that is playing as well as any in the Pac-12.
Thomas is tied for the FBS lead with eight all-purpose plays of 30 yards or more. Which is a technical way of saying he's super-duper explosive.
Washington State, meanwhile, is trying to bounce back from a loss last week to Colorado. This is the first time in Mike Leach's career he's faced Oregon.
Connor Halliday
is again expected to start at quarterback for the Cougars. He's appeared in seven games in his career for Washington State and has 17 touchdowns. That's the most by any quarterback in school history during his first seven games.
It's been a weird week of football at CenturyLink Field. Thursday night, Washington upset No. 8 Stanford; Monday night we saw the simultaneous-possession call at the end of the Seahawks-Packers game. Worth noting that the last time Washington State beat a ranked team, it was in 2006, when it beat No. 16 Oregon in Pullman.