Pac-12:

Ducks-Tigers-090311
September, 4, 2011
9/04/11
1:38
AM ET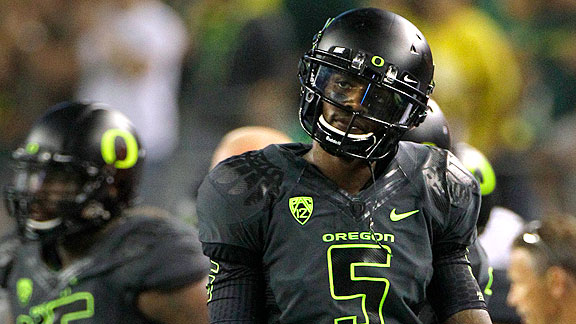 AP Photo/Tony GutierrezDarron Thomas had 240 yards and a touchdown but was also out of sync with his receivers at times.
ARLINGTON, Texas -- Don't like Oregon's ludicrous speed, spread-option attack? How about a methodical, clock-eating drive to complement great defense? That should satisfy the doubters.
The Ducks went 79 yards in 19 plays and burned 7:47 off the clock, taking a 13-9 lead over LSU with just over five minutes left before halftime of the season's most celebrated nonconference game. It was a beautiful assertion of will. It felt like an early glimpse of validation that was to come.
At that point, the Tigers had 25 yards of offense. It seemed as though third-ranked Oregon was on the cusp of making the statement it didn't make against Boise State, or against Ohio State in the 2010 Rose Bowl, or against Auburn in the 2011 national championship game: We have arrived. We are elite.
Then LSU took the ball and took back the lead on a 12-play, 75-yard drive. It didn't seem at that point to presage a deluge, but it was the first seven points of an unanswered 24-point run that left the Ducks reeling.
Oregon coach Chip Kelly talked about self-inflicted wounds -- and the Ducks had plenty -- during his postgame news conference after a
40-27 loss
to the No. 4 Tigers. But he also admitted that there is still something that is different about LSU and Oregon as programs.
Asked George Schroeder of the Eugene Register-Guard: "Chip, is there a step you guys need to take win games like this against these kinds of teams."
Kelly: "Yes."
Again, Schroeder: "Do you feel like you guys haven't reached that kind of tier?"
Kelly: "Yes."
Later, Kelly was more expansive: "They've got a little bit different athlete running around out there right now. Looking at their D-line, standing next to them, walking off the field, they don't look like the kind of guys we see. That's the common trait, the trait you saw in the Auburn game."
Understand that LSU didn't run Oregon off the field, though the game wasn't really in doubt in the fourth quarter. While there is again legitimate reason to question the Ducks after they fell short against another A-list defense with extra time to prepare, they did themselves in with four turnovers (versus one for the Tigers) and 12 penalties for 95 yards (versus five for 47 for the Tigers).
Things went completely haywire in the third quarter, when a pair of fumbles from talented true freshman running back
De'Anthony Thomas
-- one on a seven-yard run for a first down; the other after an impressive kickoff return -- gave LSU a short field, and it took advantage. A 3-point game became a 17-point game. And poof went the Ducks validation.
"I really think we stopped ourselves," Ducks redshirt freshman center Hroniss Grasu said. "They are a very talented team but I felt like if we didn't shoot ourselves in the foot so many times we could have overcome them and gotten that W."
The Ducks rushed for 95 yards, compared to 175 for the Tigers.
LaMichael James
rushed for just 54 yards on 18 carries. Backup
Kenjon Barner
rushed for just seven yards on four carries before getting hurt, and he also was stripped on a punt return, giving LSU its first touchdown.
As for the passing game, it was hot and cold.
Darron Thomas
completed 31 of 54 throws for 240 yards with an interception and a touchdown. He was off target a number of times. And he was victimized by a number of drops.
"It was their first game and it was a big game for those guys," Thomas said of the Ducks' rebuilding crew of receivers. "I still believe in them."
Self-belief won't be an issue, all the Ducks insisted. The message from Kelly was to turn the page and start thinking about Nevada, and he's confident that message will resonate.
"Why am I confident?" Kelly said. "I know those guys in the locker room."
But that locker room also is aware that a pattern exists that annoying reporters will continue to talk about until Oregon wins a game like this. It's hard to ignore.
Acknowledged tight end
David Paulson
: "From our history, I guess they would be right."
September, 3, 2011
9/03/11
11:43
PM ET
ARLINGTON, Texas -- At halftime, it looked like a potential nailbiter. By the start of the fourth quarter, it was clear it wouldn't be.
No. 4 LSU dominated the second half and rolled over No. 3 Oregon
40-27
.


How the game was won
: Oregon trailed just 16-13 at the half and had the better numbers, but the Ducks imploded in a decisive third quarter. LSU outscored Oregon 14-0 in the frame, taking advantage of two fumbles from true freshman
De'Anthony Thomas
. But it wasn't only Ducks mistakes. LSU outgained the Ducks 122-15 in the third. The Tigers had six first downs. Oregon had zero.
Turning point
: The first three possessions of the third produced no points. But then Thomas had his first fumble on the Ducks 21-yard line -- he was in the midst of a nice first-down run. Six plays later, LSU punched it in and increased its lead to 10. That was the beginning of the deluge.
Stat of the game
: Oregon had 11 penalties for 89 yards, while LSU had 6 penalties for 31 yards.
What Oregon learned
: The Ducks learned that they will be annoyed by the same questions that they got asked before the game: Why does a good team with extra time to prepare seem to shut down their offense? From Boise State to Ohio State to Auburn and now to LSU, it's hard not to see a pattern.
What it means
: It means that Oregon and the Pac-12 failed to make a national statement. The top team in the Pac-12 -- the Ducks -- has now lost to two different SEC West foes in consecutive games. We can debate the details of the SEC's ascendancy, but it's meaningless when you don't beat them.
<
September, 3, 2011
9/03/11
10:54
PM ET
ARLINGTON, Texas -- Oregon had a really bad third quarter. It strongly suggested this one is going to be wildly disappointing for the Ducks.
LSU outgained the Ducks 122-15. They had six first downs. Oregon had zero.
But, most important, Oregon lost two fumbles, which led to two LSU touchdowns.
It doesn't help that both
LaMichael James
and
Kenjon Barner
are hurt. True freshman
De'Anthony Thomas
flashed some skills with the ball, but he also lost two fumbles.
When the Ducks look back on this game, they will see turnovers and penalties. But that's not all.
LSU clearly asserted itself in the third and the Ducks didn't have an answer.
September, 3, 2011
9/03/11
9:55
PM ET
ARLINGTON, Texas -- Neither team's offense could do anything. Then both put together impressive drives on their final possession of the half.

LSU leads Oregon 16-13. Obviously, lots of game left.

Turning point: The turning point was both teams offenses waking up with TD drives, but the point difference in the game is due to Kenjon Barner -- passing up on a fair catch on a punt return -- getting stripped by Tyrann Mathieu, who walked into the endzone.

Stat of the half: Two of them. LSU had just 100 yards in the first half, but Oregon had 7 penalties for 66 yards -- including two "leg whips" -- while LSU had three for 14.

What Oregon needs to do: The Ducks seemed to find their offensive rhythm on their go-ahead drive. They passed to set up the run, which only works when you execute in the passing game. But LSU then also seemed to find its mojo. The running game will matter for both teams in the second half, but here's a guess that if LSU running back Spencer Ware is held up 100 yards rushing, the Ducks will win. He had 43 at halftime.
September, 3, 2011
9/03/11
9:36
PM ET
ARLINGTON, Texas -- Oregon just jumped ahead 13-9 on a 19 play, 79 yard drive that took 7:41.

I'm not sure if I've ever seen Oregon have a 19-play drive that took 7:41 since Chip Kelly arrived in Eugene.

I recall that clock killing drive at California last year, but this was different. This was in the second quarter.

Oregon now knows it can drive on an SEC defense.

Three numbers to consider.

Oregon is going to win the time of possession battle in the first half. It's had the ball for 15:16 compared to 9:28.

Further, Ducks have outgained LSU160-31.

What's an issue? Mistakes. Oregon, of course, gifted LSU's touchdown.

And then penalties: Oregon has 7 for 66 yards. LSU has three for 14 yards.
September, 3, 2011
9/03/11
9:17
PM ET
ARLINGTON, Texas -- Oregon gifted LSU a touchdown when
Kenjon Barner
fumbled away a punt into the hands of Tyrann Mathieu, making the score 9-6 after a missed PAT, but the story so far is defense.
Neither team is doing anything on offense.
Oregon has 60 yards. LSU had just 31. The Tigers are 1-of-6 on third down. Oregon is 3-7.
A six-point gift isn't a good thing in this type of game.
But the Oregon offense seems closer than the Tigers offense. The Ducks are averaging 3.5 yards per play compared to 1.8 for LSU.
The Ducks D came to play. And we know that the Oregon offense can -- wham! -- wake up quick.
September, 3, 2011
9/03/11
8:57
PM ET
ARLINGTON, Texas -- Oregon failing to score a touchdown when it gets the ball on LSU's 20-yard line after a botched snap is a win for the Tigers' defense.
But Oregon surely will take a
6-3
lead heading into the second quarter.
Still, the Ducks' passing game is out of sync.
Quarterback
Darron Thomas
is 7 for 15 and is averaging just 2.9 yards per completion. He's had a couple of catchable balls dropped. And missed some open men.
Conclusion: It's clear that the Ducks miss Jeff Maehl and D.J. Davis.
The Ducks' stars so far: The secondary, which has made a number of big plays.
September, 3, 2011
9/03/11
8:45
PM ET
ARLINGTON, Texas -- Both teams have taken advantage of good field position, and now the Ducks and Tigers are tied at
3-3
.
Clearly, both teams are feeling each other out. You can see that the LSU defense is well-schooled on some of the things the Ducks like to do on offense. And you can tell LSU isn't eager to ask too much of
Jarrett Lee
.
But after the first few possessions, the counter-punching starts.
Speaking of which: Clearly some edge out there. A couple of times players resorted to pushing and shoving.
Hopefully the sloppiness is over and it will just be about football.
September, 3, 2011
9/03/11
8:30
PM ET
ARLINGTON, Texas -- The weeks of hype -- and controversy -- are almost over. In 90 minutes, No. 3 Oregon and No. 4 LSU will start butting heads and we'll get some football answers instead of speculation.


Oregon's high-tempo, spread option offense will get another shot at a big-fast-mean "SEC defense." The Ducks will get an opportunity to end a pattern of struggling to move the ball against A-list defenses that get extra time to prepare.
What tweaks might have Chip Kelly come up with during his extra time to prepare? Are the Ducks going to be pass-first, as they were forced to be against Auburn. Or will the running game get going with
LaMichael James
, Kenyon Barner and true freshman
De'Anthony Thomas
?
Suspensions anyone? We'll see what LSU looks like without starting quarterback
Jordan Jefferson
and
Russell Shepard
, its best receiver. We'll see what the Oregon defense looks like without CB Cliff Harris, and -- most likely -- MLB Kiko Alonso.
Is LSU going to be conservative and rely on its defense and 223-pound running back
Spencer Ware
? Or will it let
Jarrett Lee
throw the ball around, thinking a Harris-less secondary isn't as worrisome?
What nutty things do the coaches have planned?
Just like Kelly isn't afraid to go for it on any fourth down or do an on-side kick to open a second half, Les Miles has never been one to shy away from trickeration. Miles, who's 23-0 in regular-season nonconference games, even succeeds when he makes major gaffes.
Miles, however, won't eat the grass at Cowboys Stadium. It's artificial. That would be gross.
While the superficial position is to compare the LSU and Auburn defenses, but that's not really accurate. LSU's is better and more talented at all three levels. Only it has two new starting DTs, not Nick Fairley disrupting things in the middle.
Still, the Tigers secondary is vastly superior to Auburn's. If the Ducks have no running game, it will be tougher going throwing it. And much more risky.
Further, the Ducks are breaking in two new offensive linemen, one of whom -- OG Ramsen Golpashin -- is a 275-pound former walk-on.
Oregon also is breaking in five new starters on its front-7 on defense, though the new guys have plenty of experience. The Ducks defense held up well versus its offense this spring and preseason. Most in green believe the defense will do fine.
After all, no SEC defense did a better job against Cam Newton and Auburn last year.
The stakes are simple: The winner immediately becomes a national title contender. The winner, in fact, might -- should -- move up to No. 1 in the major polls, which means it will have poll position in the title chase.
Things are quiet here at present. But that won't last 80,000 fans are going to pack this place -- a significant majority of them in LSU purple -- and the talk will end and the best season-opener in decades will start to provide some answers.
September, 3, 2011
9/03/11
8:25
PM ET
ARLINGTON, Texas -- In a game where every point will surely matter, Oregon's initial sloppiness might cost it after it gifted LSU a 3-0 lead.

Oregon's first drive? Holding onto the kickoff. Two personal fouls -- clipping and leg whip. A punt from the Ducks endzone. A shanked punt, in fact.

LSU takes over at the Ducks 39, but the Ducks knock the ball loose and apparently recover a fumble. But LSU out wrestles the Ducks for the ball.

It could have been worse, of course.

But the first battle goes to the Tigers.
September, 3, 2011
9/03/11
6:51
PM ET
ARLINGTON, Texas -- There are a lot of Ducks here. But there are a lot more Tigers who are going to fill up 80,000-seat Cowboys Stadium.

If noise is a factor, it will be a factor in LSU's favor and at Oregon's expense.

The good news is the game is indoors, where it is air-conditioned. It's 98 and humid, conditions that would favor LSU, if the game were not inside Jerry World.

So will this clash live up to its epic billing? The last time two teams this highly ranked -- No. 3 Oregon; No. 4 LSU -- opened on a neutral field was in 1984, when No. 4 Miami beat No. 1 Auburn the Kickoff Classic at Giants Stadium.

Meanwhile, the game is playing with a backdrop of potential conference realignment and expansion: Is the Big 12 about to crumble and the Pac-12 get even bigger?

Pac-12 commissioner Larry Scott will shortly talk to reporters. Don't expect any breaking news, but know that Scott is and will be chatting with a lot of folks over the next week. Things might move quickly.

Or they might not.

But we do know these two teams move quickly. But who arrives first?