January, 11, 2015
Jan 11
7:00
PM ET
DALLAS --
Adolphus Washington
had a hunch the message would be waiting for him in the Sugar Bowl locker room.
After celebrating the 42-35 win over Alabama, Ohio State's defensive tackle grabbed his phone and checked. Yep, there it was.
"See you in Dallas."
[+] Enlarge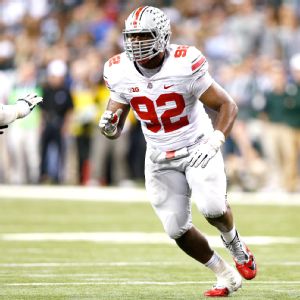 Joe Robbins/Getty ImagesOhio State's Adolphus Washington racked up 9.5 tackles for loss and 3.5 sacks on one of the nation's best defensive lines
The sender? Oregon receiver
Dwayne Stanford
. The best friends from Cincinnati grew up together and became stars at Taft Information Technology High together. Finally, it's time they face off.
Actually, they've battled plenty before. Stanford suggests asking Washington about the time they squared off on a basketball court in eighth grade.
"We beat 'em!" Washington argued. "I mean, I guess he wants to say he dunked on me or whatever. It didn't really play out like that. I was in the area. I wasn't under him."
This is where their bond started. Their parents worked together at Millvale Rec Center. Stanford and Washington loved playing AAU ball. Football was just something they played for fun because they were bigger and faster than everybody.
"We thought we were going to be NBA players," Washington said.
Recruiters had other plans for them. Ohio State wanted both, but they made no promises or pacts to one another. Washington picked the Buckeyes. Stanford wasn't so sure, took an official visit to Oregon and fell hard for the Ducks.
"I think it surprised a lot of people," Stanford said. "A lot of people think I just came out here for the uniforms because I like to look nice."
Neither is surprised they're playing in the College Football Playoff National Championship Presented By AT&T. Stanford catches Buckeye games whenever he can. Washington has been watching Oregon all season long.
"When I watch Oregon, I'm looking at him," Washington said. "I really don't care about what everyone else is doing. Of course
Marcus Mariota
's the Heisman Trophy winner. I don't even watch him. I'm hoping he's throwing it to Dwayne."
He's watched Stanford emerge as one of Oregon's top targets, a big 6-foot-5 weapon with 39 catches for 578 yards and six scores. With
Devon Allen
,
Darren Carrington
and
Bralon Addison
out for the title game, Stanford is poised the see a lot of passes thrown his way.
[+] Enlarge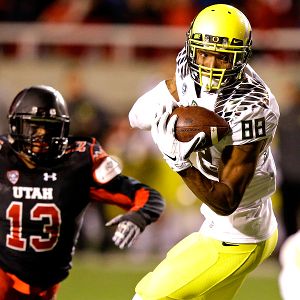 AP Photo/Rick BowmerOregon's Dwayne Stanford emerged as one of the Ducks' biggest targets this season.
And the wideout has enjoyed from afar seeing Washington rack up 9.5 tackles for loss and 3.5 sacks while teaming with
Joey Bosa
and
Michael Bennett
on one of the nation's best defensive lines.
Hence the steady stream of text messages. When they watch, they text.
Great play! You blew by that guy! I see you!
It's usually quick messages sent mid-game to show they care.
"It's great to see my brother out there playing so well at a big-time school like that," Stanford said. "It's a good feeling."
So is the hometown pride. Taft is wedged in the middle of Cincinnati's West End neighborhood. Washington can think of only one other Taft grad who's played at this level of college ball:
Tank Carradine
, the 49ers rookie from Florida State.
"It was kind of rough there most of the time. Kind of rough," Washington said. "The school is not really known for sending people off to school for academics or for sports. For us to come out of there is a pretty big accomplishment. The school definitely shows us a lot of love when we go back."
But Washington is quick to point out that his love for Stanford gets put on hold Monday. Sure, they'd love to run into each other at midfield after the love. They'll catch up with each other's families afterward. They'll hang out together on spring break.
"But once that clock gets going and we get out there and start warming up, I'm not gonna be too happy for him," Washington said. "I'm gonna try to hurt him."
Somebody has to go home the loser. Washington sincerely hopes it's Stanford.
The wideout doesn't look at the stakes quite like that. He cares more about who gets to do all the talking back home in Cincinnati.
"To know one of us gets to go back to the high school with a championship ring is really a blessing," Stanford said.
June, 19, 2014
6/19/14
9:00
AM ET
Over the past few weeks we examined the Ducks, position-by-position, evaluating the talent. But since I was in Eugene last week for the NCAA Track & Field Championships, I figured I'd stop by the football offices to check in with one of the guys who knows that information best, offensive coordinator Scott Frost. Wednesday, we went through
quarterback and running back
highlights. Today, we're on to wide receiver, tight end and the offensive line.
WIDE RECEIVER
On Devon Allen: He was actually a late offer for the Ducks who was offered after Chip Kelly left for the NFL. There were a few spots open (initially there had only been one spot for a receiver). "It all kind of worked out that we offered him, and this is where he wanted to be. I knew he could be fast. I had no idea he could go 13.1 in the high hurdles."
Frost actually was at Allen's race last Saturday when Allen won the 110-meter hurdle national title. Frost said that he doesn't think Allen "looks like he'd be a track guy, he's built more like a football guy, he's thick."
On his mindset on the receivers: "We felt good about receiver even losing the guys we did, with Bralon [Addison] back and some young guys we think are really talented. We're just going to have to have some of those young guys step up quicker than they would've had to otherwise."
The first receiver that Frost brought up after Allen was redshirt freshman Darren Carrington. "He has to grow up quick, but he has it in him to be that guy." The next three receivers he mentioned were redshirt sophomore Dwayne Stanford, redshirt sophomore Chance Allen and early enrollee Jalen Brown. Frost said that he thought Brown was "in over his head a bit" from a conditioning standpoint this spring, which limited his reps, but he's up to speed now, and Frost could see him being a contributor in the fall. So it sounds like after Keanon Lowe and D. Allen, there's certainly a pecking order of things, but the competition is still very much open.
It's the youngest crop of receivers Frost has ever had, so I was curious if there were any way he could speed up the learning curve or provide a catalyst (other than just more and more live reps). "Sometimes there's just no replacing experience. But all those guys are competitors. … They're going to get their shots early. You see it all the time in sports, when people get their opportunities some of them reach out and take it with both hands and others struggle a little bit. We're just hoping we have a bunch of guys where the former happens."
Frost said something interesting about indicators regarding whether a young guy can play early -- it's typically more based on mental and emotional maturity than talent.
TIGHT ENDS
Look for these guys, like the running backs, to be more involved in the pass game. "We have three, which is more than we've had going into a year that I can remember. … We have three guys that we trust to go out there and do it, and there's probably going to be times that a couple of them -- if they're playing well -- deserve to be on the field, and we can play with two tight ends."
Pharaoh Brown's injury isn't going to limit him through the fall. Frost said it's just a matter of keeping him healthy through the season. "He's really talented."
Frost called John Mundt's freshman year a "roller coaster" but said that when he was on, "he did some exceptional things."
Frost thought Mundt and Evan Baylis' biggest areas of growth over the past year has just been confidence. No surprise there.
OFFENSIVE LINE
I asked Frost about senior Hroniss Grasu taking the blame (for the line as a whole) for the losses last season. Grasu had said in the spring that he thought the group lacked toughness and got outmuscled in those games, and that's why the Ducks lost. "I wouldn't necessarily agree with that. I think we had two losses against teams that played really good games against us." Frost though the turnovers were a bigger problem in the Stanford and Arizona games. "If you play a team that does things right and you give them the ball that many times, that's a recipe for losing."
He wasn't surprised that Grasu said that, because he's that kind of a guy. He said it speaks to Grasu's leadership that he's willing to shoulder that kind of blame.
The line returns all five starters and considering the weight gain, the general consensus with everyone is that the Ducks should be just fine. But, I wanted to make sure to ask about a few backups who were getting significant reps during the spring season. Frost's thoughts: Redshirt junior Andre Yruretagoyena had his best spring season yet. He said the staff has high hopes for redshirt freshman Jake Pisarcik. He was impressed with redshirt junior walk-on Matt Pierson at right tackle.