Pac-12:

EagleBank 2009 bowls
December, 30, 2009
12/30/09
11:17
AM ET
By
ESPN.com staff
| ESPN.com
UCLA dominated the second half to beat Temple 30-21 in the EagleBank Bowl on Tuesday, but a big question hangs over the victory: What direction will the Bruins struggling offense take going forward?
In other words: Will offensive coordinator Norm Chow return in 2010?
T.J. Simers of the LA Times asked Chow that very question after the bowl game and didn't get
a clear answer
.
His answer, nothing but a smile after the bowl win, and when the question was repeated, Chow said, "Check back next week."
Hmm. Chow was a little
more chatty here
, but he hardly closed the door on the notion that he might not return in 2010.
Couple of notable issues here.
First, Chow and head coach Rick Neuheisel had different takes on the Bruins quarterback situation this season. Chow was all-in with redshirt freshman
Kevin Prince
. Neuheisel wanted to see more of true freshman
Richard Brehaut
.
Neuheisel never hid that there was a difference of opinion but he also insisted there was no rift
between the two
.
There's another issue: Money. UCLA is not known for handing out big money to coaches, particularly assistant coaches. And Chow will cost the Bruins if he comes back in 2010.
Neuheisel was able to hire Chow in 2008 because of some creative negotiating. When UCLA hired Chow, he was due $1 million over each of the next two years -- 2008 and 2009 -- from the Tennessee Titans, who fired him after he'd signed a two-year contract extension. Chow's base salary with UCLA his first two seasons was a manageable $250,000 plus a $50,000 talent fee.
But Chow's three-year contract with UCLA was backloaded because of his Titans contract, which deducted his UCLA salary but paid him the remainder of his $1 million annual salary. In 2010, his deal with the Titans over, Chow is due a $140,000 talent fee as well as a $250,000 retention bonus on top of his base salary.
That retention bonus will be paid to Chow on the first day of spring practices, according to a 2008 report on the contract in the Los Angeles Daily News.
So, for whatever reason, if Chow doesn't return to UCLA this spring, the school will save $250,000, though it obviously will have to pay off the final year of Chow's contract if he is terminated.
Simers, however, throws out an intriguing scenario. There's a certain school across town that hasn't won a national championship since Chow left.
How's this for a devilish thought? Would USC try to bring Chow back, thereby appeasing irritated Trojans fans unhappy with the play-calling, while heightening the tension between UCLA and USC?
"That'd be interesting," Chow said with another grin.
Again, hmm.
December, 29, 2009
12/29/09
8:00
PM ET
By
ESPN.com staff
| ESPN.com
UCLA, awful in the first half, scored 23 consecutive points to beat a game Temple squad
30-21
on a chilly night in Washington D.C.
Pac-10 improved to 2-2 during the bowl season.
How the game was won
: Not to discount an inspired effort from Temple, but the Bruins, who were down 21-7 before tacking on a field goal just before halftime, won because they turned up their intensity in the second half on both sides of the ball. Also, from the Owls perspective, the UCLA cause got a boost when Temple lost leading rusher
Bernard Pierce
to injury in the second quarter.
[+] Enlarge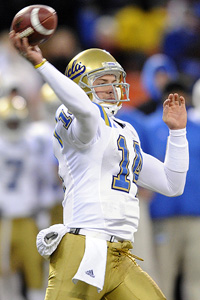 AP Photo/Nick WassUCLA quarterback Kevin Prince led his team back from a 21-7 deficit.
Turning point
: After UCLA closed the gap to 21-17 to open the third quarter, Temple drove to the Bruins 10-yard line. On third-and-2,
Matt Brown
appeared to dive for the first down. But the spot, which was upheld upon review, marked him inches short. On fourth down, the Owls tried to run up the middle and the Bruins stopped Brown cold. From that point on, little went right for Temple, while UCLA took control.
Stat of the game
: 41 and zero. That's how many yards and points Temple had in the second half after they gained 241 yards and scored 21 in the first half.
Player of the game
: UCLA quarterback
Kevin Prince
didn't have a great game. He missed open receivers a number of times and tossed an interception. But he was much better while leading the second-half comeback, completing 9 of 15 passes for 131 yards with a touchdown after the break. He also ran for a key first down in the fourth quarter while the Bruins were trying to run out the clock -- the bad news being he appeared to re-injured the shoulder he hurt in the season-finale vs. USC.
Unsung hero of the game
: Despite tough conditions, UCLA kicker Kai Forbath connected on field goals of 40 and 42 yards. He's now made 37 in a row from inside 50 yards.
What it means
: After going 4-8 in Rick Neuheisel's first year, the Bruins improved to 7-6 and won a bowl game in year two. While it wasn't a distinguished performance, a bowl win is a bowl win, and it sends the Bruins into the offseason on a positive note, which is encouraging for a team expected to take another step forward in 2010
December, 28, 2009
12/28/09
10:25
AM ET
By
ESPN.com staff
| ESPN.com
Breaking down the EagleBank Bowl between UCLA (6-6) and Temple (9-3).


WHO TO WATCH
: UCLA quarterback
Kevin Prince
has been inconsistent this year and is coming back from a shoulder injury that he suffered against USC. If he is healthy and on-target, the Bruins should be able to attack an Owls secondary that isn't terribly skilled. And the passing threat should open up the Bruins' typically anemic running game a bit against a tough Owls run defense. In other words, Prince is the linchpin here. If he play well, UCLA should be able to score. But the Bruins won't be able to just line up and run right at Temple, which boasts a solid front-seven, particularly with a banged up offensive line.
WHAT TO WATCH
: The Bruins' run defense has been hot and cold this year, ranking seventh in the Pac-10 while giving up 144 yards on the ground per game. Temple is a run-first team with a good pair of true freshmen running backs in
Bernard Pierce
and
Matt Brown
. The good news for UCLA is middle linebacker Reggie Carter, who has been slowed by a sprained knee much of the year, is healthy again. And it's unlikely that the Owls have faced many front-sevens with as much power and athleticism as UCLA, particularly junior tackle Brian Price, a potential first-round NFL draft choice if he opts (as expected) to enter the NFL draft. If Temple struggles to run, it could be in trouble because it ranks 112th in the nation in passing and the Bruins' ball-hawking secondary is among the best in the country.
WHY WATCH
: It's a last chance to see -- probably -- three of the Pac-10's best defensive players in Price, Carter and cornerback Alterraun Verner. Also, the Pac-10 is looking to even its bowl record after an 0-2 start to the postseason. Further, if Price and the offense show some sparks, it bodes well for the Bruins continuing their deliberate climb in the conference pecking order in 2010, Season 3 under Rick Neuheisel.
PREDICTION
: UCLA has better players, but Temple, playing in its first bowl game in 30 years, will compete as though its collective hair is on fire. So the big issue is will the Bruins match the Owls' passion? Or at least approach it? And might chilly temperatures in Washington, D.C., get the best of the Bruins, who are accustomed to the warmth of Southern California? If UCLA is focused, it should win. The guess here is that the Owls will scrap and claw into the third quarter, but the Bruins will gradually take control and win 24-17.