July, 23, 2012
7/23/12
1:00
PM ET
By
ESPN.com staff
| ESPN.com
USC QB
Matt Barkley
and Washington QB Keith Price have been added to the watch list for the Manning Award, given annually to the nation's best QB.
The Manning watch list is being announced by conference in conjunction with each league's media days. Pac-12 media day is Tuesday in Burbank, Calif.
From the news release:
The overall Watch List will include 25 of the top quarterbacks in the nation heading into the 2012 season. The winner will be announced after the bowls in January and will be honored at a ceremony in New Orleans.

The Manning Award was created by the Allstate Sugar Bowl in honor of the college football accomplishments of Archie, Peyton and Eli Manning. It is the only quarterback award that includes the candidates' bowl performances in its balloting.

Barkley, who is one of three Manning Award finalists returning for this season, had an outstanding junior campaign in 2011. He completed over 69 percent of his passes for 3,528 yards and 39 touchdowns. He also set a host of school records, including the single-game marks for touchdown passes (six vs. Colorado), passing yards (468 vs. Arizona) and completions (35 vs. UCLA, when he matched his six TD record). He is making his third appearance on a Manning Award Watch List. After not being eligible for postseason competition since the 2009 season, USC will open its 2012 campaign by hosting Hawaii on Sept. 1.

Despite battling a pair of knee injuries, Price still managed an excellent season in 2011, completing 66.9 percent of his passes for 3,063 yards and 33 touchdowns. The 33 touchdown strikes are a school record, while his passing yards are the second-best in school history. He also set Husky standards for completion percentage and passing efficiency (161.9). Price capped his first year as a starter by throwing for 438 yards with four touchdowns to go with three additional rushing scores in the Alamo Bowl against Baylor.

The preseason Watch List recognizes top quarterbacks in the nation based on previous collegiate performance, however, every quarterback in the nation remains eligible for the honor. Additional quarterbacks may be added to the Watch List after the start of the season. The list of 10 finalists will be released on Monday, Nov. 26. The winner will be announced on Wednesday, Jan. 9.

The Manning Award will be recognizing its ninth winner this year. USC's Matt Leinart was the inaugural winner of the award in 2005, followed by Texas' Vince Young in 2006. Both went on to be top 10 NFL draft picks. In 2007, LSU's JaMarcus Russell earned the award and was the NFL's No. 1 draft pick. Boston College's Matt Ryan claimed the award in 2008 and was drafted No. 3, quickly becoming the starting quarterback for the Atlanta Falcons. In 2009, Florida star Tim Tebow earned the honor – he also went on to be selected in the first round of the NFL Draft. The 2010 winner was Texas signal-caller Colt McCoy, the winningest quarterback in college football history, who was selected by the Cleveland Browns in the draft. Auburn's Cameron Newton earned the award in 2011, prior to being selected No. 1 overall in the 2011 NFL Draft by the Carolina Panthers. This past season's honoree was Robert Griffin, III, from Baylor, who was also a top NFL draft pick (No. 2 overall by the Washington Redskins).
March, 27, 2012
3/27/12
9:00
AM ET
The Pac-12 is the conference of quarterbacks. The SEC is all about defense.
Oh, and winning national championships.
But as good as the defenses are in the SEC, what role does poor-to-middling offense play in that perception? As in, what would happen if those defenses played against a series of future NFL quarterbacks, as Pac-12 (and Big 12) defenses do?
The question before us is this: How would USC quarterback
Matt Barkley
do against those rough-tough SEC defenses?
Ted Miller
: It's sort of a chicken and the egg question. Are SEC defenses so good because they rarely play against A-list quarterbacks? Or do Pac-12 quarterbacks pile up eye-popping numbers because they don't play against SEC defenses?
[+] Enlarge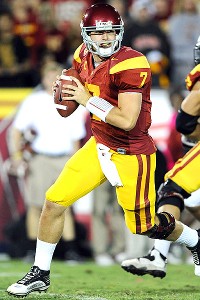 Harry How/Getty ImagesWould Matt Barkley be as successful if he played against SEC defenses all season?
Is it more notable that four of the top 11 quarterbacks in the nation in terms of passing efficiency in 2011 were from the Pac-12, compared to none in the top 20 from the SEC? Or is it more important that six SEC defenses ranked in the top 17 in pass efficiency defense compared to zero for the Pac-12?
It's hard to say. It's likely a person's home -- Los Angeles or Baton Rouge -- has a large influence on his or her opinion.
Pac-12 fans would be prone to point out: In 2005, LSU ranked No. 3 in the nation in passing efficiency defense. But in the Tigers' trip to Tempe that season, Arizona State's Sam Keller completed 35 of 56 passes for 461 yards with four touchdowns and no interceptions in a 35-31 defeat.
Or this: LSU's defense did a nice job against Oregon's offense in the 2011 season opener. Of course, the Ducks scored more points on LSU than ANY OF THE OTHER 13 TEAMS LSU PLAYED.
Apologies for the caps lock. Reckless typing.
While we can all acknowledge the SEC -- at least the elite teams -- play better defense than the rest of the nation, it is also worth noting that when future first-round NFL draft picks played quarterback in the SEC, they put up good numbers, whether we're talking about the Manning brothers, Matt Stafford or Cam Newton. And I'm sure, one day in the future --perhaps this decade! -- we'll be able to add a name to that list.
There are some nice quartebacks in the SEC:
Tyler Wilson
,
AJ McCarron
and
Aaron Murray
. All three seem like they'd have a good chance of winning the backup job at USC. Maybe.
Chris Low
: No way am I going to argue that Barkley wouldn't have success in the SEC.
He's a future pro and probably the front-runner to win the Heisman Trophy in 2012.
The question is: How much success would he have, and would he hit the proverbial wall going against SEC defenses on a weekly basis?
My feeling is that all quarterbacks hit that wall. Any coach will tell you (ask your buddy Lane Kiffin) that what separates SEC defenses is the speed in the front seven, particularly in the defensive line. There are fast players all over the country in college football, but the SEC has cornered the market on fast, explosive defensive linemen and pass-rushers who also have the size and strength to overpower people.
That's the difference, and that's where Barkley would notice the greatest difference.
It wasn't a banner year for quarterbacks in the SEC last season. And, yes, I realize that's an understatement. But it was a banner year for premier defensive players. That's why the first round of the NFL draft next month is going to look like an SEC who's who. As many as 10 SEC defensive players could go in the first round.
Don't sleep on the SEC's quarterback class this coming season, either. Wilson may be a future first-rounder. Murray has thrown nearly 60 touchdown passes in his first two seasons, and we all saw what McCarron did in the BCS title game against an LSU defense that was outstanding.
Barkley's a big-time talent, no question. But it's a different game when you're trying to throw from your back.
And in this league, ALL QUARTERBACKS (sorry, my caps tend to lock up, too) encounter that problem.
Ted Miller
: Truth is, Wilson, Murray and McCarron are good quarterbacks who look like guys with NFL futures. Loved how McCarron handled the pressure of the title game, and Murray has Pac-12-type talent.
[+] Enlarge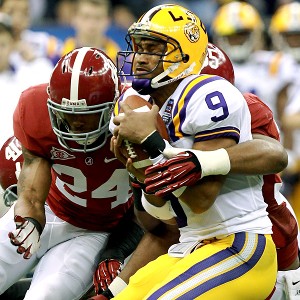 Ronald Martinez/Getty ImagesAlabama's defense smothered Jordan Jefferson and the LSU Tigers in the BCS championship game.
We're trash talking here, but if you can't acknowledge what is real, well, then it's just noise.
And the reality of this debate is this: Barkley would be more challenged on a weekly basis by SEC defenses than by Pac-12 defenses -- which I believe are underrated but still a step behind the SEC for the reasons the Inimitable Low mentioned above. If Barkley played at Vanderbilt, Mississippi State or Kentucky, he'd just be the best quarterback in the history of those programs while leading those teams to "historic" seasons. Like a third-place finish in their divisions.
Yet what makes Barkley, Barkley is not just Barkley. It's USC. It's his supporting cast. It's receivers
Robert Woods
and
Marqise Lee
, who will both have NFL careers. And two tight ends who will also. And a good offensive line, and a 1,000-yard rusher who averaged 6.9 yards per carry in 2011 (
Curtis McNeal
).
By the way, if you wonder where USC's true potential Achilles heel is this year, it's the defensive line. The Trojans have three A-listers -- guys who would be touted in the SEC -- but are thin thereafter. That's a problem for a team that views itself as a national title contender.
That's ultimately the rub here, too. If all goes according to plan, Barkley and USC should be in position to play for the national title. It's hard to imagine that wouldn't be against another SEC team.
Now, Chris, wouldn't it be fun if it were USC and LSU? Recall that in 2003, LSU won 1/16 of the national title when no one in the entire world thought LSU was better than USC, other than computers obviously loaded with all sorts of viruses.
Or USC-Alabama? Great history, and Saban versus Barkley & Co. would certainly attract plenty of eyeballs.
Chris Low
: One of the most compelling things that could happen to college football next season would be for USC and Barkley to take their shot at an SEC defense in the money game.
Then, we could quit debating and let it play out on the field. As much as I knew that Alabama and LSU were the two best teams in the country last season, there was a part of me that wanted to see Oklahoma State against either the Alabama or LSU defense in the BCS title game.
It's the matchup we all want to see: A high-powered offense versus a suffocating defense.
Maybe that's what we'll be treated to this fall.
Of course, I go back to the 2010 national title game, and Oregon had been short-circuiting scoreboards all season long. The Ducks go up against an Auburn defense that had been opportunistic, but wasn't one of the best in the SEC that season statistically. But in that game, Auburn put the clamps on Oregon and won 22-19.
The Tigers won because the Ducks couldn't block Nick Fairley.
And that's what the Trojans would run into if they find themselves up against an SEC team next January in Miami.
It won't come down to Barkley. Sure, he'll make a few plays. He's legit. But what it will come down to is the group of guys blocking for Barkley, and that's where it always gets ugly against SEC defenses.
In the meantime, just make sure the Trojans get there. They've been known to stumble along the way, and what we're left with is a bunch of hollow chatter about what they would have done (or could have done) had they made it to the party.
We'll check the guest list in December and chat again then.
January, 19, 2012
1/19/12
2:30
PM ET
By
ESPN.com staff
| ESPN.com
You know I used to wait two days to call anybody, but now it's like everyone in town waits two days. So I think three days is kind of money. What do you think?
September, 28, 2011
9/28/11
11:03
AM ET
By
ESPN.com staff
| ESPN.com
Here's a consolation prize for Oregon State QB
Ryan Katz
, who recently lost his starting job: He nonetheless made the first cut on the Johnny Unitas Golden Arm Award's new 25-player watch list.
Stanford's
Andrew Luck
and Arizona's
Nick Foles
are also on the list. It's curious that Oregon's
Darron Thomas
, second-team All-Pac-10 in 2010, isn't.
Candidates must be completing their college eligibility or be a fourth-year junior, on schedule to graduate with their class. Previous winners include Colt McCoy, Matt Ryan, Brady Quinn, and both Peyton and Eli Manning.
The 2011 winner will be presented with his award Dec. 9 in Baltimore, Md.
The list of this year's top 25 candidates includes:
John Brantley, Florida
Zach Collaros, Cincinnati
Kirk Cousins, Michigan State
Dayne Crist, Notre Dame
Austin Davis, Southern Mississippi
Nick Foles, Arizona
Robert Griffin III, Baylor
Chandler Harnish, Northern Illinois
Tim Jefferson, Air Force
Landry Jones, Oklahoma
Ryan Katz, Oregon State
Case Keenum, Houston
G.J. Kinne, Tulsa
Andrew Luck, Stanford
Ryan Lindley, San Diego State
EJ Manuel, Florida State
Bryant Moniz, Hawaii
Kellen Moore, Boise State
Dan Persa, Northwestern
Chris Relf, Mississippi State
Sean Renfree, Duke
Ryan Tannehill, Texas A & M
Brandon Weeden, Oklahoma State
Russell Wilson, Wisconsin
Tyler Wilson, Arkansas
November, 29, 2010
11/29/10
6:48
PM ET
By
ESPN.com staff
| ESPN.com
Stanford's
Andrew Luck
and Oregon's
Darron Thomas
are among 10 finalists for this year's Manning Award.
The winner will be announced after the bowl games on Jan. 19 and will be honored at a ceremony in New Orleans. The Manning Award was created by the Allstate Sugar Bowl in honor of the college football accomplishments of Archie, Peyton and Eli Manning. It is the only quarterback award that takes the candidates' bowl performances into consideration in its balloting.
The finalists are
:
Andy Dalton
, TCU
Colin Kaepernick
, Nevada
Andrew Luck, Stanford
Ryan Mallett
, Arkansas
Kellen Moore
, Boise State
Cameron Newton
, Auburn
Terrelle Pryor
, Ohio State
Denard Robinson
, Michigan
Darron Thomas, Oregon
Brandon Weeden
, Oklahoma State
PAC-12 SCOREBOARD
Monday, 12/22
Saturday, 12/20
Tuesday, 12/23
Wednesday, 12/24
Friday, 12/26
Saturday, 12/27
Monday, 12/29
Tuesday, 12/30
Wednesday, 12/31
Thursday, 1/1
Friday, 1/2
Saturday, 1/3
Sunday, 1/4
Monday, 1/12
Tweets from https://twitter.com/ESPNCFB/lists/pac12