April, 11, 2014
Apr 11
7:00
PM ET
The first round of spring games in the Pac-12 kicks off Saturday with Colorado, Arizona and Stanford. All three games are free to the public. Here's a primer on what you need to know.

Arizona
Where
: Arizona Stadium
Kickoff
: 1 p.m. MST
TV
: Pac-12 Network (replays throughout the week)
What to watch
: The Wildcats are in the hunt for a new quarterback to replace
B.J. Denker
and a new running back to replace
Ka'Deem Carey
. Rich Rodriguez
hasn't said much on the quarterback front
, with
Anu Solomon
,
Connor Brewer
,
Jesse Scroggins
,
Jerrard Randall
and
Nick Isham
. Per Rodriguez, "one through five is pretty much bunched up." You read that right --- one through five! How those reps all get divided will be very telling if Rodriguez is leaning one way. Or you could just crush some tea leaves and check the planetary alignment. Because right now, those make as much sense as any guesswork. One note about returning wide receiver
Austin Hill
, a 2012 Biletnikoff Award semifinalist who missed all of last season with a knee injury: "He won't play a whole lot," Rodriguez said. "He played a lot in spring. We will give him a couple series. He is a proven veteran and we know what we have in him. He's slowly getting his confidence back. He's 100 percent, but there's a transition period in getting your confidence back." … There will also be a celebrity/alumni flag football game kicking off at 11:15 a.m.

Colorado
Where
: Folsom Field
Kickoff
: Noon MST
TV
: Pac-12 Network (replays throughout the week)
What to watch
: Obviously, there is going to be a lot of attention at wide receiver to see who steps in for the departed
Paul Richardson
. The Buffs are eyeballing a rotation/committee of
D.D. Goodson
,
Devin Ross
,
Bryce Bobo
and
Elijah Dunston
. There is no Richardson out there. So, as Colorado wide receivers coach Troy Walters
recently said
: "We're going to have to do it collectively … if we get two or three guys to do with P-Rich did, then we'll be in good shape." Richardson caught 83 passes for 1,343 yards and 10 touchdowns last season. On the other side of the ball, guarding those receivers has been an interesting power struggle. The Buffs look set at their two starting cornerback spots with
Greg Henderson
and
Kenneth Crawley
. But developing depth has sparked a pretty good competition with
Chidobe Awuzie
and juco transfer
Ahkello Witherspoon
. (Colorado is quickly making a push to contend for the Pac-12 blog's
all-scrabble team
.) … After the game, Colorado will host a Healthy Kids Day. Children can go through fitness stations with athletes from all of Colorado's sports programs and get a free T-shirt.
Stanford
Where
: Stanford Stadium
Kickoff
: 1 p.m. PST (fan activities begin at 12:15)
TV
: Pac-12 Network (replays throughout the week)
What to watch
: How will the running back carries be divided? With
Remound Wright
suspended for the second half of spring practice, that opens the door for
Kelsey Young
,
Barry Sanders
and
Ricky Seale
to get some extra work. The Cardinal are trying to replace
Tyler Gaffney
, who carried 330 times for 1,709 yards and 21 touchdowns last season. Recall a year earlier, they were trying to replace Stepfan Taylor and his 322 carries, 1,530 yards and 13 touchdowns. The Cardinal have used bell cows the last couple of seasons, though head coach David Shaw
told the Pac-12 blog
he'd prefer to have multiple guys working in a committee – similar to the stable of the 2011 group. Keep an eye on the offensive line as well. All five projected starters are from the much-heralded 2012 recruiting class. … All players will be available after the game to sign autographs.
March, 20, 2014
Mar 20
9:00
AM ET
Starters in, starters out. That's college football. Players' eligibility expires and they leave for the rest of their lives, which might include the NFL or not.
And they leave behind shoes of various sizes that need to be filled.

In alphabetical order, we will survey each Pac-12 team's most notable void. Today we look at Colorado.
Biggest shoes:
WR
Paul Richardson
Richardson leaves Colorado as one of its most accomplished receivers. He's third all-time in receptions (156), fifth in receiving yards (2,423) and second in touchdowns (21). He posted three games of 200 yards receiving or more, a school record, and his nine games of 100 receiving yards or more is fifth in school history. He earned Colorado's MVP award and was an all-league first-team pick. His shoes, which were quite fleet-of-feet, are not easy filled.
Stepping in
: Several options, but by-committee seems the most likely.
There was hope that
Jeff Thomas
would be able to fill in, but his transfer in January left an additional void in the receiver corps. At least for right now, it's looking like a rotation of
D.D. Goodson
,
Devin Ross
,
Bryce Bobo
and/or
Elijah Dunston
. Goodson caught 22 balls last year for 306 yards and two touchdowns. He has outstanding speed and of his 22 catches, 12 were for 10 yards or more and three were for 20 yards or more -- including a 75-yard touchdown. Of the group, he might be the strongest big-play threat. Ross caught six balls for 24 yards last season.
Nelson Spruce
is a steady presence on the other side, but lacks the breakaway speed Richardson had. There are a couple of incoming freshmen who might work themselves into the mix as well.
January, 24, 2014
Jan 24
9:00
AM ET
The Pac-12 has 26 of the 98 early entrants in the NFL draft. That's impressive. Some players are locks to get drafted. Others might have jumped the gun a bit and find themselves on practice squads or brushing up on their Canadian. We'll see.
What we're more concerned about here is who is going to replace them. Some answers are clearer than others. Some teams might have to alter their schemes just to account for a departed player.
Here's a look at the possible replacement players in the Pac-12 South. We'll look at the North later this morning.
Leaving:
Ka'Deem Carey
, RB, Arizona.
The replacement:
Jared Baker
should be in the mix, though an injury will keep him out of spring ball. He's expected to return in time for fall camp.
Pierre Cormier
and
Zach Green
will also get looks. Speaking with folks at Arizona, the word right now is that it's wide open. One player could emerge, or it could end up being a by-committee approach. Nothing is off the table at this point.
Leaving:
Carl Bradford
, LB, Arizona State
The replacement:
There really isn't anyone who has Bradford's skill set in the program yet, so the position is wide open.
Viliami Latu
has potential. So does
Chans Cox
, who was hurt a lot last season. They are also excited about incoming freshman
Ismael Murphy-Richardson
. He might not be ready to jump in immediately, but he could be the Devil backer by 2015.
[+] Enlarge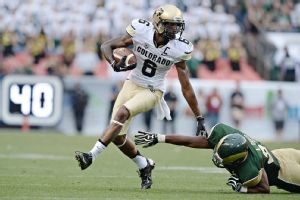 Ron Chenoy/USA TODAY SportsColorado will have a hard time replacing the explosive plays that Paul Richardson provided.
Leaving:
Paul Richardson
, WR, Colorado
The replacement:
It was probably going to be
Jeff Thomas
before he transferred. Now it's probably going to be a rotation of
D.D. Goodson
,
Devin Ross
, or redshirt freshmen
Bryce Bobo
or
Elijah Dunston
.
Nelson Spruce
has been solid, but he's not the breakaway threat Richardson was. This will be a key spring battle to watch.
Leaving:
Xavier Su'a-Filo
, OL, UCLA
The replacement:
Simon Goines
should be back after starting six games at left tackle before an injury forced him out.
Scott Quessenberry
stepped in and played five games at left guard, which is where he'll likely be next season with Goines back at tackle.
Leaving:
Dion Bailey
, LB, USC
The replacement:
Leon McQuay III
saw some playing time and is very highly regarded by the coaching staff. His contributions last season were mostly on special teams, but he'll take on a larger role with Bailey's departure.
Leaving:
Marqise Lee
, WR, USC
The replacement:
Remember
George Farmer
? He's still around and could be in for a big season if healthy.
Darreus Rogers
and
Steven Mitchell
both are promising, but both have missed time with injury. You never truly replace a Biletnikoff winner, but playing opposite a surging
Nelson Agholor
could help boost the production of whoever gets in the regular rotation.
Leaving:
George Uko
, DT, USC
The replacement:
Transfer
Delvon Simmons
is coming off a redshirt season, as is freshman
Kenny Bigelow
. Both should get some serious looks, as this will be one of the hot position battles this spring. Someone will ultimately win the job, but expect a rotation with both next season.
Leaving:
Marcus Martin
, C, USC
The replacement:
Lots of ifs here. It could be
Max Tuerk
moving over from guard, but he'll also be in the mix for right tackle to replace
Kevin Graf
.
Khaliel Rodgers
redshirted and is an option at guard or center.
Giovanni Di Poalo
could also get a look.
Leaving:
Xavier Grimble
, TE, USC
The replacement:
Grimble and
Randall Telfer
were basically co-starters, so all this probably means is Telfer's workload increases as he becomes the clear No. 1.
Jalen Cope-Fitzpatrick
is the only other scholarship tight end on the roster.
Leaving:
Jake Murphy
, TE, Utah
The replacement:
Westlee Tonga
seems like the logical fit. He has been around for a few years and has some experience, but was injured most of last year. He'll get another opportunity to be the lead tight end in the newest installment of Utah's offense.
August, 16, 2013
8/16/13
10:30
AM ET
We continue our day-by-day snapshots of each Pac-12 team heading into the 2013 season in reverse alphabetical order with the
Colorado Buffaloes
.
Colorado
Coach
: Mike MacIntyre (16-21, 0-0 at Colorado)
2012 record
: 1-11, 1-8 Pac-12 South
Key losses
: OT
David Bakhtiari
, TE
Nick Kasa
, OLB Jon Major, DT
Will Pericak
, FS
Ray Polk
.
[+] Enlarge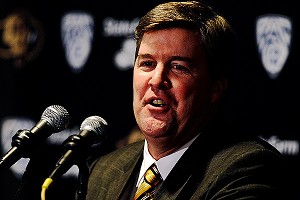 AP Photo/Brennan LinsleyMike MacIntyre is charged with turning around Colorado after making a winner out of San Jose State.
Key returnees
: C
Gus Handler
, TB
Christian Powell
, WR
Tyler McCulloch
, S
Marques Mosley
, DE
Chidera Uzo-Diribe
, P
Darragh O'Neill
, WR
Paul Richardson
,
Derrick Webb
.
Newcomer to watch
: It's too early to tell which one, but three freshmen wide receivers --
Elijah Dunston
,
Devin Ross
and
Bryce Bobo
(ironically numbered 1, 2 and 3) -- are all making a case to be in the rotation and two-deep.
Biggest games in 2013
: The season opener against Colorado State (Sept. 1) is always a big one, and the rivalry with Utah (Nov. 30) is starting to take shape.
Biggest question mark
: While no official word has come down on who will start at quarterback, it's looking more and more like
Connor Wood
will at least begin the season as the starter. So we can at least put a partial check mark there. The biggest question is really what sort of progress -- if any -- we'll see in Mike MacIntyre's first season as the new head coach. He comes in with solid credentials and was Mr. Fix-It at San Jose State. But with the new job comes a new set of challenges. Chief among them, the proverbial challenge of "changing the culture." MacIntyre made it clear that he wants to win and compete immediately, and he believes that his players have bought in. We'll see how much on Sept. 1.
Forecast
: The media
doesn't have much faith
in the Buffs, picking the team that went 1-11 last season to finish last again in the Pac-12 South. This might be one of those situations in which the team shows improvement -- just not in the win department. Remember, San Jose State appeared to take a step back in MacIntyre's first season, going 1-12, but it was during that time that he was establishing his schemes and philosophies, and in Year 2 they went 5-7. By the third season, the Spartans were 11-2 (10-2 under MacIntyre) and ranked in the top 25. No one is saying the Buffs will be ranked in three seasons, and most people probably aren't expecting it. The Pac-12 is a different animal than the now football-less WAC, but it's not wrong to hope for a postseason berth in the next 3-5 seasons.
And this season, the Buffs are loaded with young players who gained a ton of experience last season. They return 17 starters (eight offense, nine defense) including a young secondary that took its licks last season. Mosley,
Kenneth Crawley
and
Yuri Wright
all started last season, and
Greg Henderson
and
Parker Orms
are the veterans of the group. Up front defensively, Uzo-Diribe is a talented pass-rusher, and linebackers
Derrick Webb
and
Paul Vigo
should be the anchors on defense.
Offensively, they lose Bakhtiari to the NFL and Alex Lewis announced a transfer, which was followed by
some bizarre and unfortunate circumstances
. But they get Richardson back after he missed all of 2012 with a knee injury. When he's healthy, he's one of the most explosive wide receivers in the country and should give the Buffs a stretch-the-field threat they were lacking.
Powell also quietly put together a strong second half last season, posting a pair of 100-yard games and four touchdowns over the final five. If they can plug the left side of the line (it's looking like veteran
Jack Harris
at left tackle and
Kaiwi Crabb
at left guard), he could inch closer to 1,000 yards on the ground after posting 691 and a 4.4 yards per carry average last season.
There is talent on Colorado's roster, but, as what's becoming a trend with Colorado, fans are going to have to be patient until the new staff figures out how best to use it.
PAC-12 SCOREBOARD
Saturday, 12/20
Monday, 12/22
Tuesday, 12/23
Wednesday, 12/24
Friday, 12/26
Saturday, 12/27
Monday, 12/29
Tuesday, 12/30
Wednesday, 12/31
Thursday, 1/1
Friday, 1/2
Saturday, 1/3
Sunday, 1/4
Monday, 1/12
Tweets from https://twitter.com/ESPNCFB/lists/pac12