November, 10, 2010
11/10/10
3:00
PM ET
It's time for a blogger debate! And it doesn't get much better than when we match the SEC and Pac-10.
Our topic: No. 1 Oregon and No. 2 Auburn. Who's better and why?
Both are unbeaten, and if the season ended today, they'd play for the national title.
We've got lots of football left, and probably many more plot twists in the hunt for the national title, but there's no reason we can't engage in a hypothetical, is there?
So the Pac-10 blog -- Ted Miller -- and the SEC blog -- Chris Low -- have decided to meet for some civilized debate on Auburn versus Oregon.
Ted Miller
: Chris, since things are so quiet in the sleepy SEC, I think we should spice things up with a Pac-10-SEC blogger debate! It seems like a long time since we last had a debate between our two conferences. How'd that one go? Let's see I championed Taylor Mays and you celebrated Eric Berry. Wait.
Why did I bring that up
?
Anyway, our topic is Oregon and Auburn: Who's better and why.
[+] Enlarge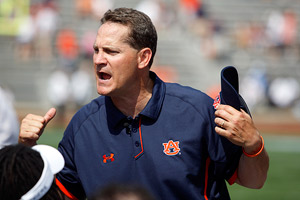 John Reed/US PresswireGene Chizik has silenced those critical of his hiring last year but getting Auburn off to a 10-0 start this season.
This is a potential national title game between the No. 1 Ducks and No. 2 Tigers, who are both unbeaten and feature Heisman Trophy candidates leading high-powered offenses.
You get first blood. Tell me about Auburn. It seems like it wasn't too long ago that Jay Jacobs was getting hounded for hiring Gene Chizik. Guessing that's died down a wee-bit.
Chris Low
: No doubt, Ted. I wonder where that obnoxious guy is now, the one yelling at Jacobs as he was leaving the airport after finalizing the deal with Chizik? Maybe Jacobs knew what he was doing after all. The guy with the 5-19 record at Iowa State has done all right by himself on the Plains. He has a Heisman Trophy-caliber quarterback and the SEC's leading rusher in Cam Newton, a 6-foot-6, 250-pound freak of nature who runs like Bo Jackson and also has an NFL arm. Keep your eyes, too, on freshman running back Mike Dyer, who they haven't had to lean on much this season, but is oozing with talent and has fresh legs for this stretch run. The Tigers' defensive numbers are nothing to write home about, but they do have the kind of dominant interior defensive lineman, Nick Fairley, who can take over games. Georgia coach Mark Richt said Fairley's the closest thing he's seen to Warren Sapp. Auburn's calling card defensively has been making plays at key times in the fourth quarter. The Tigers have been a serviceable defense through three quarters this season, but they've been a championship-caliber defense in the fourth quarter -- which is why they're 10-0.
So tell me about Oregon?
[+] Enlarge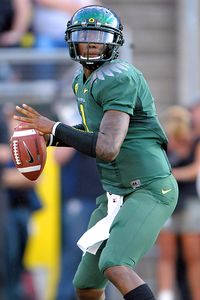 Kirby Lee/Image of Sport/US PresswireSophomore Darron Thomas was thrust into the starting quarterback job and has performed admirably.
Ted Miller
: Speaking of coaches: How about Oregon's Chip Kelly? How could he possibly expect to top winning the Pac-10 and playing in the Rose Bowl his first season? How about contending for a national title in his second? The Ducks, however, expected to be here when the 2009 season ended because just about everybody was coming back from the Pac-10 champions. That is until a guy you are now familiar with -- quarterback
Jeremiah Masoli
-- got caught up in some off-field issues and eventual got himself booted from the team. That seemingly left a void behind center, but sophomore
Darron Thomas
has not only filled Masoli's shoes, he's gone up a few sizes: He's 15th in the nation in passing efficiency and 21st in the nation in total yardage. Meanwhile, speedy running back
LaMichael James
is the top Heisman alternative to your guy, Newton. As for the defense, it's like the offense: Extremely fast. It ranks 13th in the nation in scoring defense and it has forced 28 turnovers, second-most in the nation. Folks often underestimate the Ducks' defense because it gives up some yards -- it ranks 29th in the nation in total defense -- but that's because the offense scores so quickly: The nation's No. 1 offense ranks 115th in the nation in time of possession. But the Ducks only give up 4.45 yards per play. Our factoid of the day is that number would rank No. 1 in ... wait for it ... the SEC!
Obviously, we're talking about two very good teams that have done impressive things on their way to remaining unbeaten. I know we both have Oregon ahead of Auburn in our power rankings, but give me the case for Auburn.
Chris Low
: Ted, I think what separates Auburn is Newton. Nobody has been able to stop him. If you commit to taking away the run, he's proved he can beat people throwing the ball. And if you come after him and/or don't have enough people in the box, he's been magic running the ball. Keep in mind, too, that we're not talking about a 220-pound guy running the ball. We're talking about a 250-pound guy who's physical, tough and doesn't run out of bounds. In the red zone, he's the great equalizer, because he gains 3 yards when he falls forward and has the size and the strength to push the pile. On top of it all, he's always a threat to throw the ball. Similar to Oregon, Auburn doesn't flinch if somebody puts 30-plus points on the board, because the Tigers' mentality is that they're going to score 50. Their offensive coordinator, Gus Malzahn, will make you defend everything -- reverses, throwback passes, passes to the backs, even passes to Newton. He caught a touchdown pass two weeks ago against Ole Miss. The Tigers also play at a tempo on offense that has opposing defenses gasping for air in the fourth quarter. But when they have to, they can put teams away and finish games by running the ball. They're fourth nationally (one spot ahead of Oregon) this week in rushing offense with an average of 307.2 yards per game. Auburn's top four rushers -- Newton, Dyer,
Onterio McCalebb
and
Mario Fannin
-- are all averaging at least 6.4 yards per carry. Do the Ducks have any answers for that running game?
[+] Enlarge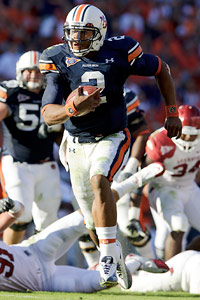 Paul Abell/US PresswireAuburn's Cam Newton is just as dangerous with his arm as he is on his feet.
Ted Miller
: That's what's so interesting about this as a potential national title game match -- there's an odd familiarity that both teams will have with each other despite never crossing paths. My guess is Malzahn and Kelly already have studied each other, just in terms of mutual admiration. And both defenses will be familiar with up-tempo, no-huddle, spread-option offenses that can power you and finesse you and throw downfield. Further, the Ducks have played against a number of big, fast, capable quarterbacks with NFL futures: Washington's
Jake Locker
, Ohio State's
Terrelle Pryor
and Stanford's
Andrew Luck
. The results have been mixed. Last year, Luck and Pryor got them. Luck beat the Ducks with uncanny downfield accuracy, which is why he'll go No. 1 in this spring's NFL draft. Pryor shocked them with the best passing game of his career in the Rose Bowl. Locker missed this year's game, but he's never had much luck against Oregon. In general, Oregon has a good run defense: Opponents are averaging 3.38 yards per rush. But the Ducks are undersized. A physical Stanford team had some success, rushing for 177 yards. But one thing about Oregon on both sides of the ball: It is masterful with halftime adjustments. They shutout Stanford, owners of the nation's No. 5 scoring offense, in the second half, and have given up just 48 points in the second half this year -- just seven in the fourth quarter!
Obviously, two very good teams that have done impressive things on their way to remaining unbeaten. I know we both have Oregon ahead of Auburn in our power rankings, but give me the case for Auburn if it played Oregon in the national title game. How do you see it going?
Chris Low
: Well, if that happens, the first thing we all better make sure we have is a calculator. That and make sure there's no danger of a power surge to the scoreboard. You're right about Oregon. Nobody in the country has been better in the second half. The Ducks' ability to score points in bunches is amazing, but the Tigers are equally adept at going on head-spinning scoring sprees. Just ask Arkansas, which saw Auburn roll up 28 points in the fourth quarter in Xbox-like fashion. I have no doubt that an Auburn-Oregon matchup would be played in the 40s. I think the difference, though, would be Auburn's ability to put the breaks on the track meet and run the football in the fourth quarter, especially with Newton being so good at converting on third down. So I'm going Auburn 45, Oregon 41 in a game that rates up there with the Texas-USC classic to decide the 2005 national title.
Ted Miller
: That's clearly something we can all agree on: This likely would be a highly entertaining, offensively driven national title game if these two teams manage to get themselves there. Further, I think, after never getting a USC-SEC title game, folks on both coasts would enjoy an SEC-Pac-10 matchup. No trash-talking there, right? And I do see a clear advantage for Auburn: It has been tested. It's played five games decided by eight points or fewer, and three decided by a field goal. The Ducks closest game? An 11-point win at Arizona State. But that's also why I'd pick Oregon in this one. Oregon beat the No. 6 team in the nation, Stanford, by 21 points. It shut Andrew Luck out in the second half. And I look at all of Auburn's close games: Mississippi State, Clemson, South Carolina, Kentucky and LSU, and think: None of them would be within 10 points of the Ducks. Maybe LSU, because any game Les Miles touches is surprising. And I think Vegas would agree with me. So if we ended up with an Oregon-Auburn national title game, my guess is the Tigers would go TD for TD with the Ducks in the first half, then the Ducks would pour it on late for a 50-35 win. But I reserve the right to change my mind, particularly because I think the Tigers' toughest test -- Alabama -- is ahead.
Moreover, both teams should be advised: You probably should get to the Jan. 10 date in Glendale before you start trash-talking each other. At least before you use your best stuff.
April, 23, 2010
4/23/10
7:08
PM ET
By
ESPN.com staff
| ESPN.com
To the notes.
Robert from Seattle writes
: Who does the Pac-10 ultimately answer to? The fans or to the presidents? A follow-up not-so-quick question. If the Pac-10 wants to survive as a conference, what do they do?
Ted Miller
: Who does the Pac-10 answer to? Easy: $.
Commissioner Larry Scott's charge going forward is to maximize sports revenue, which means football and men's basketball (but mostly football). Of course, he doesn't want to completely compromise the culture and values of the conference -- academic or otherwise -- but my guess is his first interest is revenue.
He has two basic issues ahead of him that he'd like to have a handle on before he goes off to negotiate new media/TV deals after the first of the year (the Pac-10's contracts with Fox and ESPN-ABC expire after the 2011-2012 academic year).
The first is expansion: Would adding teams increase revenue per team? The 10 existing members want their pie slices to grow, not get smaller, with expansion. So he's looking for teams that: 1. are interested in joining the Pac-10; 2. would increase revenue. Much of that, of course, is tied to the idea of creating more value -- real and perceived -- when negotiating new TV contracts.
The second issue -- if he cannot bring the presidents an expansion plan that works -- is defending the Pac-10's interest if expansion becomes the rage back east.
If, suddenly, a 16-team Big Ten and 16-team SEC are nose-to-nose for domination, Scott has to figure out what that means for the Pac-10. At the BCS meetings, Scott said he doesn't necessarily believe that would force the Pac-10 to follow the leaders. Maybe. But maybe not.
It's possible that the new, powerful super-conferences would make demands, such as second automatic berth in BCS bowl games (and perhaps an option for a third) as well as other special accommodations. That could create a significant revenue imbalance.
Moreover, Scott has to be aware of what might happen if there is a long-term and significant revenue imbalance between the Pac-10 and the super conferences.
For example, what happens if the SEC-16 starts to pay assistant coaches an average salary of $750,000, while Pac-10 assistants average just $250,000? Or think about this: What if Florida offered Mike Stoops $2.5 million to leave Arizona to become the Gators defensive coordinator? Or what if the existing imbalances in facilities become so pronounced that a significant percentage of recruits from southern California start heading east?
The Pac-10 could suddenly learn what it feels like to be a non-AQ conference. Heck, it could become a non-AQ conference.
Still, as I wrote on Thursday, we are wallowing in
speculation and hypotheticals
.
Ultimately, Scott's job is simple: He's going to try to improve the Pac-10's position in the marketplace, but, failing that, he needs to at least maintain it.
Matt from Athens, Ga., writes
: When is the last time a USC player was not drafted in the 1st round? Does that point to any talent drop-off at USC or is it more particular players not fitting teams' needs in a given year?
Ted Miller
: Last time? All the way back to ... 2007.
This is a good note from the
Orange County Register
though: "In the 75-year history of the National Football League draft, USC (63), Miami (56) and Ohio State (53) have produced the most first-round selections. On Thursday night in the 2010 first round, they combined for zero."
As for USC's talent, I don't think this is a moment to say the sky is falling. USC figures to have perhaps six players go in the next two rounds: Everson Griffen, Taylor Mays, Charles Brown, Damian Williams, Joe McKnight and Anthony McCoy. That ain't too shabby.
Michael from Tucson, Ariz., writes
: Your
Pac-10 predictions
discount an Arizona team the returns almost the entire talent-ridden offense that, despite new coordinators, will run the same offense. As for the defense, it's still a Stoops team that always ranks high defensively, star talent or not. What's keeping the Cat's out of Pac-10 favorites?
Ted Miller
: First, those aren't "predictions" -- they are "power rankings." They are based at the present moment. Things can change (and probably will).
A few points.
First, Arizona not only lost two coordinators, it lost two very good coordinators in new Louisiana Tech head coach Sonny Dykes and new Florida State defensive coordinator Mark Stoops. That can't be written off. The new foursome of co-coordinators are all smart, respected coaches, but it's prudent to take a wait-and-see attitude to how this unusual arrangement will work out going forward.
Second, Mike Stoops knows defense, without a doubt. But just like everyone else he needs players. As for "always" ranking highly: The 2007 unit ranked seventh in the Pac-10 in scoring defense and fifth in total defense.
Third, the 2010 defense must replace seven starters, including both defensive tackles, all three linebackers and half its secondary. That seven includes three second-team All-Pac-10 players from each level (tackle Earl Mitchell, linebacker Xavier Kelly and free safety Cam Nelson). Moreover, they are counting on a pair of JC transfers to start at linebacker. I'm skeptical of JC transfers until proven otherwise.
Now, despite all this, the Wildcats still look like a bowl team -- in large part because, as you note, the offense should be able to score on anybody. Therefore, they are a member of what I see as the Pac-10's extremely competitive and deep middle. I rank USC, Oregon and Oregon State as a clear top three. But from Nos. 4 to No. 8, you could arrange and re-arrange teams and not get much of an argument from me.
Luke from Philadelphia writes
: I am a fan/follower of PSU and the Big Ten. But I am really excited about what looks like a lot of changes out there in Pac-10 country. Naturally I hate USC, so seeing them humbled last year was awesome. It's great to see the rest of your conference rise up and bring more drama to the season and the Rose Bowl. What's the feeling out there in the west? Did Pac-10 fans traditionally feel proud of USC for being the football flagship and thus feel sad about their becoming mortal in 2009? Or are they as happy as I am to see some drama in the conference, even if it means the Pac-10 could actually lose a Rose Bowl or two?
Ted Miller
: Not getting a sense of any sadness from the other nine teams of USC slipping back -- potentially slipping back, I should type -- particularly when I was in Westwood last week.
A wide-open Pac-10 is more fun. For a while there, it felt like everyone was playing for second place behind the Trojans, though it's important to note that three times during the Pete Carroll Era, USC only shared the title with another conference team (2002, 2006, 2007).
As for pride in USC, it was more a case of a desire for more sympathy and less "Pac-1" ridiculousness. The Trojans would have dominated any other conference just as they did the Pac-10 from 2002-2008.
Would they have won seven consecutive SEC titles? Probably not. But I also think that if USC had played in the SEC, it would have won more national titles during that span.
Gerald from Norcross, Ga., writes
: How's the Eric Berry versus Taylor Mays
comparison looking
?
Ted Miller
: Fair to say that Berry is the decisive winner after going No. 5 overall. Heck, Pete Carroll even rated Mays below Texas' Earl Thomas by taking Thomas over Mays with the No. 14 pick.
And how about this: Who would have thought that Mays wouldn't even be the first Pac-10 safety selected (Cleveland just picked Oregon's T.J. Ward with the
sixth pick of the second round
)?
Tough day for Mays no doubt. But he'll eventually get drafted and have plenty of opportunities to prove his doubters wrong.
Craig from Corvallis, Ore., writes:
Do you think that a super conference for the Pac-10 would be considered if it partially revived the old Southwest Conference? The conference could have two divisions, the pacific and southwest. The Pacific would be composed of the original Pac-8 members. The Southwest would include the Arizona schools and six Texas schools. Unfortunately, some of the old Southwest members would have to be left out (I know Arkansas would not mind, they are probably very happy in the SEC). I think the best fit would include: Texas, Texas A&M, Baylor, SMU, TCU and Texas Tech (or Rice). It would be a bold move by Larry Scott but very interesting for the world of college football. I think it would be interesting to see SMU brought back to the forefront of college football after their long dark-age.
Ted Miller
: The Country-Western Conference!
It would be even better if you dropped Baylor and added Oklahoma, though that breaks from your old Southwest Conference theme.
This is an interesting idea, and not a bad one. I think the chances of something like this happen are decidedly remote, but I've read ideas that were far worse.
January, 7, 2010
1/07/10
12:15
PM ET
By
ESPN.com staff
| ESPN.com
I know this is a day late, but take a gander at this:
What do you notice?
That the former Pac-10 defensive players went one, two, three in the Defensive
Rookie of the Year voting
.
Not too shabby.
Five Pac-10 defensive players are candidates to be drafted in the first two rounds this spring: UCLA defensive tackle Brian Price, USC safety Taylor Mays, USC defensive end Everson Griffen, California cornerback Syd'Quan Thompson and Cal defensive lineman Tyson Alualu. Oregon State's junior defensive tackle Stephen Paea would join that list if he opts to enter the draft.
Wonder if any of them will challenge Ndamukong Suh, Eric Berry or Gerald McCoy for 2010 Rookie of the Year honors?
December, 17, 2009
12/17/09
2:16
PM ET
By
ESPN.com staff
| ESPN.com
Stanford running back
Toby Gerhart
was a unanimous pick for first-team All-American while UCLA kicker Kai Forbath was a consensus All-American.
Here's the list as it will appear in the 2010 NCAA Football Records.
Offense
WR --
Jordan Shipley
, Texas, 6-0, 190, Senior
WR -- *
Golden Tate
, Notre Dame, 5-11, 195, Junior
TE --
Dennis Pitta
, BYU, 6-5, 247, Senior
OL -- Mike Iupati, Idaho, 6-6, 330, Senior
OL -- Mike Johnson, Alabama, 6-6, 305, Senior
OL -- *Russell Okung, Oklahoma St., 6-5, 300, Senior
OL -- Trent Williams, Oklahoma, 6-5, 318, Senior
C -- Maurkice Pouncey, Florida, 6-5, 318, Junior
QB -- *Colt McCoy, Texas, 6-2, 210, Senior
RB -- *Toby Gerhart, Stanford, 6-1, 235, Senior
RB -- *
Mark Ingram
, Alabama, 5-10, 215, Sophomore
PK -- Kai Forbath, UCLA, 6-0, 192, Junior
Returner/All-Purpose -- *
C.J. Spiller
, Clemson, 5-11, 195
Defense
DL -- Terrence Cody, Alabama, 6-5, 365, Senior
DL -- *Jerry Hughes, TCU, 6-3, 257, Senior
DL -- Gerald McCoy, Oklahoma, 6-4, 297, Junior
DL -- *Ndamukong Suh, Nebraska, 6-4, 300, Senior
LB -- Greg Jones, Michigan St., 6-1, 228, Junior
LB -- *Rolando McClain, Alabama, 6-4, 258, Junior
LB -- Brandon Spikes, Florida, 6-3, 258, Senior
DB -- Javier Arenas, Alabama, 5-9, 198, Senior
DB -- *Eric Berry, Tennessee, 5-11, 203, Junior
DB -- *Joe Haden, Florida, 5-11, 190, Junior
DB -- Earl Thomas, Texas, 5-10, 197, Sophomore
P -- *Drew Butler, Georgia, 6-2, 203, Sophomore
* Indicates unanimous first team selection; Bold indicates consensus repeater from 2008
Here's an explanation of how the list was compiled from Jeff Williams, the NCAA's Assistant Director of Statistics:
The players listed had the highest number of points competing against players at that position only. A points system was used for the selections of the All-America team (three points for first team, two points for second team and one point for third team). Twelve players were unanimous choices by the five organizations used in the consensus chart -- American Football Coaches Association (First Team), Associated Press (First, Second and Third Teams), Football Writers Association of America (First Team), The Sporting News (First, Second and Third Teams) and Walter Camp Foundation (First and Second Teams). Note: Each of the five teams has a different way of listing the returner or all-purpose player. For the purpose of the Consensus All-America team those categories were treated as one position.
December, 14, 2009
12/14/09
9:25
AM ET
By
ESPN.com staff
| ESPN.com
ESPN.com's NFL draft guru Todd McShay has published his first 2010 mock draft, and Washington fans may not be thrilled by who
sits on top
.
Huskies quarterback
Jake Locker
, who's still considering whether he wants to return for his senior season, is projected as the No. 1 overall pick.
Yes, Locker is slotted to go to the St. Louis Rams, ahead of such luminaries as Nebraska defensive tackle Ndamukong Suh and Tennessee's Eric Berry.
Locker has until Jan. 15 to make his final decision, but Huskies head coach Steve Sarkisian said he expects his quarterback to decide before the deadline. He also said he was "optimistic" that Locker will decide to return.
September, 11, 2009
9/11/09
12:53
PM ET
By
ESPN.com staff
| ESPN.com

Posted by ESPN.com's Ted Miller
Redundant questions are part of the game, and a veteran coach like Rick Neuheisel knew entering the week that he was going to field a bevy of inquiries about how his young
UCLA Bruins
would handle the intensity of 100,000 fans at Tennessee's Neyland Stadium.
Neuheisel's responses included two two points: 1. It's going to be fun; 2. It's not that big of a deal.
"A lot is made of it. It's going to be no secret to our players that it's going to be loud," Neuheisel said. "I don't think making this seem like this is a mountain we have to climb is the right way. We address it. We deal with the practical things in terms of snap counts and trying to make checks as an offense."
Eyebrows arched at these responses.
In 2006, a very good California squad wilted inside Neyland, losing 35-18, a final score that doesn't do justice to how badly things went that day for the Bears.
It's pointed out that the Bruins feature a redshirt freshman quarterback and two offensive linemen -- one a true freshman, the other a JC transfer -- making their first road start. Is Neuheisel really confident that these youngsters won't be wide-eyed?
"Do I have a choice? Ready or not, here we come," Neuheisel said. "We have to go and play and I don't want them to be nervous about it. I want them to go and enjoy the dang experience and I think we're going to do that."
UCLA enjoyed last year's game, a 27-24 overtime victory in the Rose Bowl over the then-18th-ranked Volunteers, who would fire coach Phil Fulmer at season's end and hire former USC assistant Lane Kiffin to restore the once proud program to national prominence.
Which is sort of why UCLA hired Neuheisel last year.
Both Neuheisel and Kiffin energized their fans with highly rated recruiting classes, and both teams will feature plenty of freshmen in the rotation. UCLA played eight, Tennessee 11, in their respective season openers.
UCLA quarterback
Kevin Prince
, a redshirt freshman, had mixed results in his first start against San Diego State. He completed 18 of 29 passes for 176 yards with a touchdown and two interceptions. He also fumbled and was sacked three times.
"In the second half, I made some silly mistakes and poor reads, little things I could have easily avoided," Prince said. "I thought it was a good learning experience."
Neuheisel said he thought Prince "relaxed" in the second half.
"I saw a lot of good things," he said. "He was better than he'd been in our scrimmages, so he handled the pressure of game day. He was very sharp for most of the evening. But there were some mental lapses, some things that I know he's scratching his head as to how he let that happen."
There will be no relaxing against the Vols, particularly with ball-hawking safety Eric Berry prowling the secondary.
Nonetheless, the Bruins seem to be down-playing Berry's threat -- he had an interception in last year's game -- just like they are the hostile atmosphere.
"You can't focus too much on one player -- you can't be afraid," Prince said. "You've just got to look at the schemes they are running and try to attack the schemes and not worry about a single player."
Both defenses are solid, though the Bruins took a big hit to their secondary when Aaron Hester went down with a fractured right fibula. Hester's replacement, 5-foot-8 Courtney Viney, will be a tempting target for Vols quarterback
Jonathan Crompton
, who threw for 233 yards and five touchdowns in the 63-7 win over Western Kentucky.
The game almost certainly will turn on how well Prince and his rebuilt offensive line handles the pressure of the crowd and the moment, not to mention a fairly good Tennessee defense.
Twenty-three Bruins saw their first college action in the win over San Diego State. This one will feel different.
Neuheisel, again, just wants his guys to enjoy themselves.
"I don't want them to avoid the excitement that comes from playing in that kind of venue," he said. "You'd be missing out on something that could be a memory for a long time."
Then he concluded, "How positive that memory is going to be is up to how well we play."
August, 14, 2009
8/14/09
7:53
PM ET
By
ESPN.com staff
| ESPN.com
Posted by ESPN.com's Ted Miller
First, good catch for those of you who noticed the problem with this on my Best Case for California:
Florida nipped Cal 43-42 in triple-overtime when Gators linebacker Brandon Spikes tipped away a Riley pass on a 2-point conversion.
Obviously, for that to happen in triple overtime it would have to be a 2-point margin because both teams are required to go for two in the third OT. I was so focused on a 1-point victory that, hey, I forgot my math.
Sorry.
To the notes:
Rob from Los Angeles writes: With all that's going on with the USC quarterback situation, and what you're hearing in general, what do you think is the most likely outcome of the Corp/Barkley saga going into the first two games of the season?
Ted Miller: With USC, there aren't a lot of secrets. What I hear is what you hear.
USC has two good quarterbacks. Aaron Corp is more experienced, faster and makes fewer mistakes.
Matt Barkley is a spectacular talent who looks like a sure future NFL first-round pick. He's smart and mature and poised. But. BUT! He's also a true freshman, and rarely do true freshmen lead championship teams.
Corp emerged from spring with a solid lead.
It appears that during summer work, Barkley's arm and composure wowed teammates. Conversations I've had with various players suggested that more than a few were buying into Barkley as a real possibility.
That seed of momentum carried over into preseason practices. Barkley seemed to start fast, while Corp was his steady self. Then Corp got hurt. Based on effusive praise from players and coaches, the general feeling is Barkley is going to win the job.
But it appears Corp will return sooner -- one week -- rather than the reported three weeks. So there may be a couple more chapters here before the opener on Sept. 5.
And it seems possible that San Jose State may see two quarterbacks, though that's just my guess, not something coaches are saying.
---
Tyler from Hillsboro, Ore., writes: I want a new debate to arise. With Mr. "Quizz" Rodgers hurt in the civil war and of course dennis dixon knocked out 2 years ago. which player really made a difference in the loss for the team? Rodgers or Dixon? I have heard arguments for both. This topic is hot in the state of Oregon. But i want your take...
Ted Miller: Tyler, Tyler, Tyler. I know what you're up to, or did you believe I wouldn't notice the whole "mallardman" thing?
I don't think Oregon State fans will get too bent on this one, though.
Obviously, Dixon probably would have made a bigger difference in the 2007 Civil War than Rodgers in the 2008 Civil War because the former game was decided in double-overtime while the latter, er, was not.
And, as I have stated before, I believe Oregon would have won the national title had Dixon not blown out his knee. The Ducks offense at its peek in 2007 was a thing of beauty.
August, 13, 2009
8/13/09
4:55
PM ET
By
ESPN.com staff
| ESPN.com
Posted by ESPN.com's Ted Miller
Know some of you are done with the whole Eric Berry vs. Taylor Mays debate, but obviously there's some interest.
At Pac-10 media day I chatted with the one coach who can provide real insight into the discussion: UCLA coach Rick Neuheisel.
He's faced both Berry and Mays in 2008.
Here's what he said about Mays:
"Taylor is the unblocked tackler. Because of their defense's structure, it's hard to get a body on him. So he comes down and becomes that extra guy at the point of attack who makes a lot of plays around the line of scrimmage... His impact is more felt in the run game... Taylor is more of a downhill player, although he plays centerfield very well. He can do both, which makes him unique. He's Steve Atwater but can also play centerfield."
And Berry:
"Berry is more of a guy who makes plays on the back end. He's an Ed Reed type of guy who sort of wanders around and doesn't necessarily play the rule of the coverage and trusts his instincts. Coaches get to a place where they are so comfortable with his instincts they let him gamble a little bit."
What I read into this is Berry perhaps made more plays on the ball because he's allowed more freedom in the Volunteers' system. Considering the Vols will use a new system this fall -- and with Monte Kiffin making the calls it will be similar to USC's -- it will be interesting to see if Berry gets to freelance as much.
Neuheisel also has coached in the NFL. I asked him what he thought of each as NFL prospects. He focused on Mays more than Berry.
"The only question they have about Taylor is what position. He runs a straight line as fast as anybody. The question is how he'll do on the agility drills. And I would bet he will be terrific at them and be highly sought after."
What I read into this is what I've heard from other observers: Berry is a sure-thing. Barring injury, he's going to be a great NFL safety -- the Reed comparison seems compelling on many levels.
With Mays, his freakishness actually creates questions: Will a 235-pound guy, no matter how fast, be quick enough laterally to do what NFL defenses need a free safety to do?
Or his he a strong safety? Or a hybrid linebacker.
Berry is plug, play and go.
Mays, a great athlete and great football player, is a bit of a mystery, though he could end up with more upside than Berry.
August, 13, 2009
8/13/09
10:48
AM ET
By
ESPN.com staff
| ESPN.com
Posted by ESPN.com's Chris Low
Eric Berry or Taylor Mays?
I know, it's like asking: Would you rather be soaking up rays on a beach in Maui or a beach in Cancun?
Can you go wrong with either?
Nonetheless, the debate is raging as we point toward the 2009 season as to who's the best safety in college football.
There's Tennessee's Berry on the East Coast and Southern California's Mays on the West Coast.
They were both Thorpe Award finalists a year ago and catalysts for a pair of defenses ranked among the top four nationally. Mays is bigger. Berry is faster.
They're similar in that they're both the kind of safety that changes the way an opposing offense will try to attack the defense. They're different because they each have their own distinctive styles.
Ted Miller and I will endeavor to settle this debate. Ted covers the Pac-10 for ESPN.com. He'll make the case for Mays, and I'll make the case for Berry based on four different categories: 1. Who's the better pass defender? 2. Who's the better tackler? 3. Who has a greater overall impact on the game? 4. Who's the better NFL prospect?
June, 26, 2009
6/26/09
7:00
PM ET
By
ESPN.com staff
| ESPN.com
Posted by ESPN.com's Ted Miller
My wife is piping Buffett throughout the house, trying to distract me from your notes.
Not that I'm claiming there's a woman to blame ...
Kevin from Phoenix writes: I know that nobody is talking about Danny Sullivan for the Sun Devils, but if somebody of note would take a look at this kid, he is a stud. He had an outstanding spring. He has turned into a great leader and motivator for DE's team He has an arm, the size, and the mental tools to be successful this upcoming season for the devils. So where is the love for Sully?
Ted Miller: Kevin, you need to talk to Manny from Scottsdale (see final note).
Sullivan will get love if Arizona State gets back on the winning track, simple as that.
Folks are nervous about him for two reasons: 1. He hasn't seen much action, and when he has it hasn't been terribly impressive; 2. He's not very mobile, and if you haven't noticed the O-line is an issue.
But you are right about his spring. There were lots of rumblings that other guys would overtake him, but Sullivan stepped up and ended that quickly. Erickson, in fact, went out of his way to laud Sullivan's performance.
Of course, as in all things looking ahead: We shall see.
---
Kenny from Corvallis, Ore., writes: Every year each college team graduates players at positions all over the field, meaning every team in the country has some sort of question marks somewhere (except for Florida this year). But obviously some are more important than others. How would you rank significance of "question marks" of positions? i.e. I would say offensive line is probably most significant, whereas wide receiver is probably the least significant.
Ted Miller: First off: Any of you notice that Kenny gets almost a letter a week? It's because he asks interesting questions.
Second, another mailbag rule: If you repeatedly call me a stupid, SEC-loving redneck who should go back to the south [Yes, SEC fans, I get it from BOTH FREAKING SIDES!], don't expect me to forget and publish your notes/questions a week later.
As for this query ... Quality trumps everything. There's a huge difference between a GOOD starter and just a starter.
Fans often get on pundits for paying too much attention to returning starters, and it's a fair criticism. It's also about all you can go on when you don't have a body of work from which to evaluate new starters.
I'd rate tight end last. But a great tight end -- particularly one who can catch and block -- is one of the best weapons a team can have.
Same with receiver, running back and safety, which are down my list. Unless your safety is Taylor Mays. Or Eric Berry.
I'd always start with experience at quarterback. A close No. 2 would be quality returning starters on the offensive line.
But the O-line is kind of cheating. It's five players.
It's hard to pick between cornerback, defensive end and defensive tackle, though I'd probably go in that order. Unless the DT is Sedrick Ellis or Haloti Ngata.
I rate linebacker lower than most folks would because I've seen so many great college LBs wash out in the NFL because they were protected by schemes that helped them pile up numbers.
So, if quality is a constant, I'd rank it: QB, OL, CB, DE, DT, LB, RB, WR, S, TE.
And, yes, I know there are some defensive coordinators who will tell you I'm cracked about the value of safeties. And, no, I won't turn my back on Mays when I go to USC practices this fall.
April, 17, 2009
4/17/09
6:45
PM ET
By
ESPN.com staff
| ESPN.com
Posted by ESPN.com's Ted Miller
Good afternoon. On the Pac-10 blog it's always happy hour.
To your notes!
Steve from Tucson writes: If the WSU vs. UW model works, do you think this will carry over to a potential ASU vs. UA @ University of Phoenix Stadium? My view is that there are enough U of A fans in the Phoenix area + Tucsonans willing to travel to carry the game. Students are tough to draw during the "traditional" thanksgiving weekend game so I don't think they would get ripped off very much by moving the game to Glendale (AZ).
Alex from Las Vegas writes
: I think the rest of the Pac-10 should follow the Apple Cups lead and hold the big in-state rivalry on a neutral field. It would balance the number of home and away games for the conference season, neutral site games always have a great atmosphere and it would underscore the fact that the Pac-10 has the best rivalries in college football.
Ted Miller: Hmm. Is it possible I have become a stick-in-the-mud traditionalist?
I recoiled when I first read the proposal to move the Apple Cup to Qwest Field. Maybe the idea of not being able to go to the Coug and watch Chad Eaton flick beer on purple-clad Huskies fans any more made me sad.
Lots of folks agree with me. But lots of folks apparently disagree (see above).
My take is rivalry games are best when they are on-campus. Sure, Florida and Georgia and Oklahoma and Texas have great traditions with off-campus, neutral sites. But, to me, those are the exceptions.
But, as in many things, I could be in a minority.
What do you guys think? Would you want your rivalry game played in a neutral venue?
Such as: The Civil War in Portland or Arizona-Arizona State in University of Phoenix Stadium?
---
Raymond from Tucson writes: It's never to early for your 2009 PAC-10 predictions for finishing 1-10. I'm sure you will provide each school breakdown but I think I am looking for a real gut check on USC this year from experts. I'm looking to find that someone who is willing to say "USC is a true champion but in 2009 it will take a Trojan Horse trick to repeat as PAC-10 Champions. I want to see somebody use more than just rubber stamping statements like; 1. USC will reload 2. USC are champions until they lose the title. 3. Its USC then the PAC-9... USC has to replace their best offensive weapon (the QB) and the majority of their defense. USC tuffest games are ALL ON THE ROAD. Are you going to be the ONE who has the strength and vision to predict SC falling from its throne?
Ted Miller: Strength and vision! That sounds like me!
Not sure yet, Raymond. I'm still a USC lean, but as many have noticed, I've been developing a Cal jones this offseason.
---
Sweatervested from Mobile, Ala., writes: Ted, Good day to you sir! I have a question about recruits committing early. I would ask Chris Low on our SEC blog, but he has so many fans he may not get around to answer. Do you think committing early does more harm than good? Recruits these days seem to want to be catered to, and they seem to change their minds often.
Ted Miller: We meet again, Sweatervested, scourge of the Pac-10 blog!
The answer is Louisiana-Monroe and Utah!
Ah... but you played that darn Mobile card, so I have to be nice.
As for your question -- I know Chris is busy as heck -- no, I don't like early commitments, but each prep athlete and his family should do what's best for them.
If I'm a prep All-American linebacker at UMS-Wright playing for Terry Curtis and I love the Crimson Tide, maybe I should just get everyone off my back and commit.
But I'd advise my son -- who's four-months old but wears nine-month clothes by the way -- to make all five official visits, which is the only way to make an informed decision.
Plus, visits are fun and they are a great way to see other parts of the country, expenses paid.
And don't you owe me some royal red shrimp?
---
Stephen from Los Altos, Calif., writes: The NCAA knows who their cash cows are, so I thought nothing would become of this USC Investigation Probe until I heard the words 'lack of institutional control.' What do you realistically think will become of this situation? Outside of punishing EWU, the NCAA hasn't made any statements for a long time. Do you think that they may be making up for lost time with these UCONN and USC situations?

Ted Miller: Ha! Like I'd know what the NCAA might do.
The decision to combine the Reggie Bush-O.J. Mayo cases suggests that the NCAA is focusing on oversight within USC's athletic department as a whole. My intuition is that means some sort of sanction will come out of this, though it's hard to say if it will involve the dreaded scholarship cuts and postseason bans.
My personal take, as many of you know, is that the Bush case is incredibly difficult to dump on the football program. I've read all the stories and the book, and the connections to the program are tenuous, at best.
The Mayo case feels different. And the two paired together create a "where there's smoke, there's fire" impression that's hard to shake.
Will that end up being "a lack of institutional control"?
Maybe.
But my gut says it may end up being the lesser "failure to monitor," which should spare the programs from crushing penalties.
---
Eric from Terre Haute, Ind., writes: Do you think ASU's Michael Jones will garner any interest from NFL teams?
Ted Miller: I think Jones will get drafted on the second day because his decent speed and 6-foot-4 frame will raise at least one GM's eyebrow.
---
Vince from Scottsdale writes: please, please, please mention something about Pat's Run in your blog, especially in light of Coach Snyder's passing. I realize you live here in the valley and were most likely going to have a full blown entry about the foundation and the run itself but I just wanted to make sure it gets the recognition it deserves. I personally feel that the legacy of Coach Snyder was kind of put on the backburner by ESPN in favor of the baseball deaths that occurred on the same day. He was an important part of ASU, a strong proponent of the Tillman Foundation and an all around good person.
Ted Miller: Did it, but if you missed it, here it is.
---
Alex from Carlsbad, Calif., writes: I know you want to shy away from the top 30 list in Friday's mailbag, but I'm curious about the Mays' vs Berry topic. Mays doesn't have the "stats" that Berry does, and it's my opinion that he does his job so flawlessly, that you don't see it happening. Can you find the total amount of "big plays" Tennessee's defense gave up compared to SC's? Then maybe some SEC fans will give credit where credit is do.
Ted Miller: I know some see me as an SEC gadfly, but I'm just into telling the truth or at least gathering the facts and not making judgments on
teams and conferences based on stadium size.
And, with that in mind, Berry, my friend, is the truth.
Mays is a more spectacular athlete, by Berry has been more productive statistically by a wide-margin, and that can't be completely explained away by scheme.
Yes, USC had the nation's best pass defense in 2008. But Tennessee ranked 11th, and the Vols only gave up eight touchdown passes (USC gave up six).
And Berry's supporting cast was vastly inferior -- only end Robert Ayers would have started for USC.
Now, as I wrote, I still think it's wide-open on who gets picked first in the 2010 NFL draft. Mays could make up ground this season, and Berry could, perhaps, lose some in a new system. But that is not a majority opinion -- most favor Berry, in large part because of his production.
---
John from Portland writes: Ted, What's your sense of WSU's ability to compete in the PAC10 over the next 5-10 years. Seems that budget and facilities will become more and more of an issue.
Ted Miller: My sense is that Washington State has been to two Rose Bowls since 1997 and the Cougs won 30 games from 2001-2003. Have budget and facilities issues gotten that much worse during that span?
No.
The Cougs can compete. They've proven it before and I bet they'll prove it again.
Or my friend Jim Moore's head might explode.
---
John from Seattle writes: Hey, Ted, I just had a discussion with my wife about the percentage of people who would get a Stendhal reference. I said 10 percent, she said one. As for a Beckett allusion, well, since this is a college football blog, I'll upgrade it to 12 percent. Though as it's a Pac-10 blog, with all those Cal and Stanford folks (and OK, UCLA and USC aren't terrible), I might go as high as 14 percent. Might. It's probably closer to the one percent, of course. As a writer, I understand how fun it is to drop in literary references, even if only one percent of my audience gets it. And it's fun as a reader, too. So keep it up, but you should challenge your readers to Name That Writer! And now I must go on. I can't. But I will.
Ted Miller: Literary references? You mean those random lines before my lunch links? Those are just my original scribblings. Really! And who is this Stendhal? Didn't he play defensive end for Stanford in the '80s?
John, I try to touch a lot of cultural bases -- high and low -- with those entry lines. Hopefully, folks find it amusing.
Of course, pleasure is often spoiled by describing it.
---
Jason from Queen Creek, Ariz., writes: Where was Nic Grigsby on your Top-30 list? He was only 4th in the conference in rushing as a Sophomore and tied for 4th in TD's. And all this was while splitting time with Keola Antolin. I would think based on production AND potential, he would have made the list.
Nick from the Bay Area writes: why don't you go on web cam and post a video on youtube where you say "based on my top-31 list, i am saying that i think cameron jordan is, at most, the eighth best defensive end in the conference"... and then keep a straight face for at least 5 seconds... seriously, i dare you to try.

John from Oregon writes: I'm sure you do this to cause questions to be raised but...You have Blount listed as the 4th best running back in the Pac-10??? McKnight has how many yards on how many carries? Rodgers is a fun little story but that is it. Blount would have had 1800 to 2000 yds last year if the Ducks didn't have Jeremiah Johnson. I'll give you Best but outside of him the only other Pac-10 running back who will be in the NFL in the next two years is Blount. Get your act together.
Ryan from Berkeley writes: Now that you have posted the whole list, I think that you have underrated Alterraun Verner.
Dan from Austin, Tx., writes: While I am an Arizona Wildcat, I'm gonna give another guy props first. Toby Gerhart is rated way too low. He is a beast and one of the hardest RB's to bring down not to mention he rushed over 1000 yds sharing time at RB? Stafon Johnson and Joe McKnight from USC are rated way too high !! Everyone is on the USC bandwagon but to have these two guys high on the list and not even have Nic Grigsby make the top 30??? Grigsby is the other lone thousand yard rusher in the Pac-10 and rushed for more TD's than McKnight and Johnson combined. I'm not saying Grigsby is top 10...but he HAS to be in the top 30!
Raffy from Los Angeles writes: While Taylor Mays may be an exceptional safety, no Pac10 OC's are game planning around him...In January of 2010, the one player the world will associate with Pac10 football will be Jahvid Best. It is an easy out to put an SC player at the top of this list (happens often I imagine) but let's face it, among college football players in 2009, few if any are comparable to the electricity and sheer physical talent that is Jahvid Best. Hard to appreciate from Bristol and other points east, but Best is a singular running back talent that must be watched to be appreciated
Ted Miller: Great points. Duly noted.
My top-30 list no longer will be carved into granite with gold leaf accents and hung from the highest point of Mt. Olympus.

April, 15, 2009
4/15/09
7:10
PM ET
By
ESPN.com staff
| ESPN.com
Posted by ESPN.com's Ted Miller
The attempt to rank the Pac-10's 30 best players certainly generated a lot of debate.
Some were unhappy who was left off.
Some were unhappy where some were ranked.
Some seemed to enjoy the list a lot, even when they were unhappy.
Because I don't want Friday's mailbag to ONLY be about the top-30 list, I thought I'd take on some issues.
Folks seemed most disappointed that Oregon safety T.J. Ward, California defensive lineman Cameron Jordan and USC guard Jeff Byers were left off the list. I can understand that.
Some Oregon fans were peeved that LeGarrette Blount was ranked No. 14. Too low, the Ducks adherents said. Maybe. Blount was a touchdown machine in 2008, even though he was a backup. But Blount was hurt by his off-season suspension -- yes, I factored in everything. He also had 13 carries for 1 yard against USC and California, the Ducks two Pac-10 defeats. He also needs to improve as a receiver and blocker.
Not saying it for sure -- you know, you've got to let things percolate -- but California running back Jahvid Best might have been No. 1 if not for his off-season surgeries -- elbow and foot -- that knocked him out of spring practices. Durability is another factor.
Another guy who may have seemed too low was Stanford running back Toby Gerhart at No. 25. Gerhart was hard to rank. He was docked because he may end up bolting to play baseball -- he's not participating in spring practices -- and it seems like the NFL doesn't know what to make of him. That said, I am not unsympathetic to the position that he should have been higher.
Lots of Joe McKnight critics. And, yes, his No. 12 ranking was based on potential more than production. But McKnight continues to be a high-level NFL prospect. And if he stays healthy -- a big if -- and gets 150 or more touches, he could become an All-American this year.
Watched the debate between fans of USC's Taylor Mays, No. 1 on the list, and Tennessee backers of Eric Berry. Interesting. And sometimes ridiculous. Both are fabulous players and talents. And it's far from determined who will go first in the 2010 NFL draft. Mays' role will be slightly different this year, which should allow him to make more plays and get his hands on the ball more. Of course, you won't hear me say anything bad about Berry. Just a great freaking player.
September, 1, 2008
9/01/08
9:46
PM ET
By
ESPN.com staff
| ESPN.com
Posted by ESPN.com's Ted Miller


PASADENA, Calif. -- From the Rose Bowl press box:
The second quarter started off with the Tennessee offensive line looking rattled with consecutive false starts -- they'd jumped three times before two minutes passed in the second quarter.
However, big plays cure things quickly. Crompton found Josh Briscoe for 41 yards to advance to the Bruins 11. Montario Hardesty ran off-tackle on the next play for the tying score.
That seemed like a potential confidence-builder for Crompton that would swing the game's momentum but Crompton then made his first big mistake by tossing an interceptions to a diving Alterraun Verner on the Vols 41.
The Bruins went three-and-out but pinned the Vols on their 7, and they gained only one yard and had to punt from their own endzone.
Let's pause for a moment and recognize that UCLA's DTs, Brigham Harwell and Brian Price, are playing as advertised. Harwell just busted up that third-down screen and he and Price are owning the middle of the line.
But they are going to need the offense to possess the ball, or they are going to wear down.
Second consecutive possession starting in Vols territory and a third interception, this time by FS Eric Berry. It was another ill-advised pass frm Craft that had no chance.
The defense bailed the offense out, despite giving up a a couple of big plays that allowed the Vols to drive to the Bruins 34.
The Bruins are doing a good job of getting consistent pressure on Crompton, though they haven't recorded a sack.
Surprisingly, though, neither did the Vols in the first half.
But sometime the defense can't help, such as when Craft's fourth interception is returned 61 yards for a TD by Nevin McKenzie.
It is 14-7 at the break and UCLA needs to decide if maybe it could do better with Chris Forcier instead of Craft.