September, 5, 2011
9/05/11
12:30
PM ET
Taking stock of the first week of games in Pac-12 history (and perhaps the
last first weekend of games
in Pac-12 history).
[+] Enlarge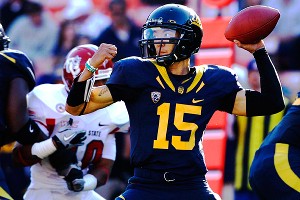 AP Photo/Jeff ChiuCalifornia quarterback Zach Maynard recovered nicely after an early interception.
Team of the week
: California was far from perfect in its 36-21 win over Fresno State -- the offensive line struggled at times -- but the Bears, singled out by some as a potential game one upset victim, made a solid statement against the Bulldogs that they might be a factor in the Pac-12 North Division. The biggest piece of news was the solid play of quarterback
Zach Maynard
. That he bounced back so well from an early interception might even be more meaningful. His two predecessors were known for letting mistakes linger and affect their performances.
Best game
: It shouldn't have been a thriller, but Washington needed a late interception to outlast Eastern Washington 30-27. And it's worrisome that the Huskies were outgained by the Eagles 504 yards to 250. Hey, guys, how about a little pass defense?
Biggest play
: Sure you've seen the highlight of UCLA receiver
Nelson Rosario
's 54-yard reception against Houston, ESPN's Play of the Day on Saturday, though it came in a losing effort. Rosario, turned around with his back to the endzone in tight coverage, grabbed the ball with his right hand, then trapped it on the back of the Cougars defender to make the catch. An instant classic. Now, Nelson, how about becoming consistent on routine plays?
Offensive standout
: USC wide receiver
Robert Woods
caught a school-record 17 passes for 177 yards and three touchdowns in the Trojans'
19-17 win
over Minnesota. A tip of the cap to Oregon State's true freshman running back
Malcolm Agnew
, who rushed for 223 and three TDs on 33 carries in the Beavers upset loss to Sacramento State.
Defensive standout
: While Arizona State linebacker Vontaze Burfict (three sacks) and Utah linebacker Brian Blechen (two interceptions) put up nice numbers versus FCS foes, Cal linebacker Mychal Kendricks piled up a game-high nine tackle with 2.5 coming for a loss -- the 0.5 was a sack -- against a solid Fresno State team. He also broke up a pass as the Bears held the Bulldogs to 218 yards and 11 first downs. It's possible the Bears will have the best defense in the conference.
Special teams standout
: Washington kicker Erik Folk was 3 for 3 on field goals of 40-plus yards in the tight win over Eastern Washington, connecting on kicks of 53, 47 and 40 yards.
Smiley face
: To the Bay Area. Both Cal and Stanford took care of business with solid performances. Sure, San Jose State isn't much, but Stanford was cruelly efficient in dispatching the Spartans. Cal surely raised more than a few eyebrows in the conference.
Frowny face
: The state of Oregon. Both Oregon and Oregon State went down, though to very different foes in very different ways.
Thought of the week
: Two things we thought we'd see on Saturday that we didn't: An improved UCLA defense and a strong performance from Colorado at Hawaii. The Buffs defense was pretty solid, though the Hawaii offense was rebuilding other than quarterback
Bryant Moniz
. But the offensive line is a big concern, giving up seven sacks and struggling to open holes for the running game. A struggling offensive line doesn't bode well for Cal's visit. As for the UCLA defense, it played much better in the second half at Houston. We'll see if the first half was an anomaly--
Case Keenum
is a pretty good QB, after all -- or the start of a pattern of inconsistency.
Questions for the week
: Welcome to "measuring stick" week. There are big nonconference games across the board that likely will establish how the Pac-12 is viewed nationally, particularly after a lackluster opening frame. Will the conference notch a couple of quality wins? Or will it get cut down and see its national perception plummet? Further, Utah's visit to USC is the first Pac-12 game in,well, history. Will the Utes immediately prove they belong?
September, 5, 2011
9/05/11
12:24
PM ET
By
ESPN.com staff
| ESPN.com
USC receiver
Robert Woods
, Washington cornerback Desmond Trufant and kicker Erik Folk have been named Pac-12 Players of the Week.
Woods, a sophomore from Carson, Calif., caught 17 passes for 177 yards in No. 25 USC's season-opening home win against Minnesota. The 17 receptions broke Johnnie Morton's school mark of 15 (set in 1993). It was the second-most receptions in a game by a Pac-12 receiver (2 shy of the record). Woods hauled in three touchdowns (7, 43 and 2 yards, all in the first half) to tie a school game record. He also returned three kickoffs for 73 yards. He had 11 grabs for 115 yards in the first half.
Trufant, a junior from Tacoma, Wash., led both teams with a career-high 11 tackles in the Huskies' 30-27 win against reigning NCAA FCS champion Eastern Washington. Trufant also had perhaps the most important play of the game as he intercepted a pass in the end zone with just 29 seconds remaining in the final quarter. Additionally, Trufant forced a fumble that was recovered by the UW in the first quarter.
Folk, a senior from Woodland Hills, Calif., was a 3-for-3 on field goals for the Huskies. All three of Folks field goals came from at least 40 yards, as he hit from 53, 47 and 40 yards. His 53-yarder was just a yard shy of his career best.
Also nominated for offensive player of the week honors were quarterbacks
Nick Foles
of Arizona,
Brock Osweiler
of Arizona State,
Andrew Luck
of Stanford, and
Marshall Lobbestael
of Washington State; running backs
Malcolm Agnew
of Oregon State, John White of Utah and
Chris Polk
of Washington; wide receivers
Marvin Jones
of California and
Paul Richardson
of Colorado; and tight end
Joseph Fauria
of UCLA. Also nominated on defense were defensive end C.J. Parish of Arizona, linebackers Vontaze Burfict of Arizona State, Mychal Kendricks of California, Shayne Skov of Stanford, Brian Blechen of Utah and Alex Hoffman-Ellis of Washington State; and cornerback Torin Harris of USC. Also nominated for special teams play were returner
Jamal Miles
of Arizona State, tackle Matt Kalil of USC and place kickers Jordan Williamson of Stanford and Coleman Petersen of Utah.
October, 5, 2010
10/05/10
7:18
PM ET
By
ESPN.com staff
| ESPN.com
Some numbers that might interest you.
In four games last weekend, Pac-10 teams averaged 487 yards and 34.4 points per game. No conference team scored fewer than 28 points.
Three conference running backs rushed for more than 200 yards: Oregon's LaMichael James (257 yards vs. Stanford), USC's Allen Bradford (223 vs. Washington) and UCLA's Johnathan Franklin (216 yards vs. Washington State).
A conference of QBs? Four Pac-10 teams rank among the nation's top-25 in rushing: No. 2 Oregon, No. 10 UCLA, No. 15 USC and No. 24 Stanford. But only two are among the top-25 in passing: No. 9 Arizona State and No. 11 Arizona.
Arizona is the only conference team that ranks in the top-25 in rushing and pass defense. The Wildcats are No. 2 in the nation in total defense (230.75 yards per game). The Wildcats have not allowed a TD in three of four games. They've surrendered zero rushing TDs.
USC QB Matt Barkley is No. 1 in the Pac-10 and 14th in the nation in passing efficiency.
Three Pac-10 kickers have yet to miss a field goal attempt: Stanford's Nate Whitaker (9 for 9, long of 46 yards), Washington's Erik Folk (7 for 7, long of 54 yards) and Oregon's Rob Beard (5 for 5, long of 42 yards). The longest field goal so far this year came from Washington State's Nico Grasu, who connected from 56 yards (vs. Oklahoma State).
Washington LB Mason Foster leads the conference with 48 total tackles and 12 tackles per game.
Oregon DT Brandon Bair leads the conference with 8.5 tackles for a loss.
Oregon CB Cliff Harris leads the conference with four interceptions and eight pass breakups.
Four Pac-10 teams rank among the top-15 in the nation in turnover margin. Oregon is No. 1 (2.20), Oregon State is No. 2 (2.0), California is No. 12 (1.0) and Stanford is 15th (0.80). The Beavers are the only team in the country that hasn't turned the ball over.
Four Pac-10 punters rank among the top-14 in the country. Arizona State's Trevor Hankins is No. 1, UCLA's Jeff Locke is No. 10, Washington's Kiel Rasp is No. 12 and Washington State's Reid Forrest is 14th.
On the downside for punters, five conference punt returners also rank among the top-14 in the country: Oregon's Harris is No. 1, Oregon State's James Rodgers is No. 4, USC's Ronald Johnson is No. 6, Oregon's Kenjon Barner is No. 11 and Cal's Jeremy Ross is 14th.