March, 15, 2012
3/15/12
10:00
AM ET
For many of the former Cal football players who weren't invited to the NFL combine last month, Wednesday was their lone chance to show the NFL scouts what they are capable of -- even if the weather wasn't completely cooperating.
Wide receiver
Michael Calvin
logged a consensus 4.32 in the 40-yard dash -- a mark that would have been faster than any player at this year's combine.
"When I got to the end, I turned around and everybody was staring at me and looking down comparing times, trying to make sure it was a consistent time," Calvin said in a news release from the school. "I knew it was a good thing, to see that I ran something fast."
Calvin also showed well in the broad jump (11'1") and the vertical jump (40.5"). The broad jump mark would have matched the best jump at the combine and the vertical jump would have tied for fourth best.
"It's a chance for me to show the assets that I have," Calvin said. "Being under the radar, it's good to get this kind of exposure. Showing some speed definitely helps, but I would also have liked to have run some routes. Everything looks great on paper, but I know these guys want to see what you can actually do as a far as position work goes."
The uncooperative weather rained out the position drills.
Linebacker
Mychal Kendricks
-- who posted a 4.47 in the 40 at the combine, which was tops among inside linebackers -- shaved a tenth of a second off his 20-yard shuttle time.
"Anything can happen in this draft," Kendricks said. "You just want to get your foot in the door, and once you do, you have to take full advantage. Whether it's in the first round, second or seventh, you just want to get picked somewhere you fit in. It's all about what you can do on the field after you get picked. I plan on doing a lot of work on and off the field."
Some results made available by the school and notes from the pro day:
Calvin: 4.32 40-yard dash; 40.5" vertical; 11'1" broad jump; 4.09; 20-yard shuttle; 6.79 3-cone drill.
Safety D.J. Campbell: 4.51 40-yard dash; 38" vertical; 10'7" broad jump; 4.18 20-yard shuttle; 22 bench press reps.
Wide receiver Coleman Edmond: 41" vertical; 11'1" broad jump; 4.10 20-yard shuttle.
Kendricks: 4.09 20-yard shuttle; 6.70 3-cone drill.
Defensive lineman Ernest Owusu: 4.76 40-yard dash; 30" vertical; 9'4" broad jump; 39 bench press reps.
Campbell's 22 bench press reps would have been tied for first among safeties at the 2012 combine, while his 4.51 40-yard dash and 38" vertical jump would been second-best, and his 10'7" broad jump would have been tied for second-best among safeties.
Kendricks' time of 6.70 in the 3-cone drill would have been the best among linebackers and tied for 10th overall at the 2012 combine (Kendricks did not do the 3 cone drill at the 2012 combine).
Former Cal players punter Bryan Anger, wide receiver Marvin Jones, offensive lineman Mitchell Schwartz were in attendance at pro day but did not participate in any measurable drills (all three participated in the combine last month).
July, 11, 2011
7/11/11
4:13
PM ET
By
ESPN.com staff
| ESPN.com
Pac-12 media day is July 26 in Los Angeles, and in advance of that event the conference has published its media guide.
You can
check it out here
.
One thing the media guide does is make "official" the returning starters for each team, though obviously injuries are still at issue.
[+] Enlarge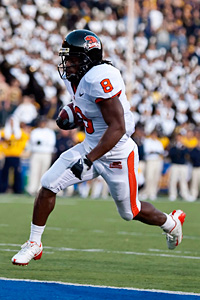 Jason O. Watson/US PresswireReceiver James Rodgers isn't listed as a returning starter for Oregon State, but he was one of the Beavers' best players in 2009.
Here's the list:
Arizona State 19 (10 offense, 9 defense, 0 PK/P)
Colorado 18 (9 offense, 8 defense, 1 PK/P)
Washington 17 (7 offense, 8 defense 2 PK/P)
Washington State 17 (9 offense, 8 defense, 0 PK/P)
UCLA 16 (7 offense, 8 defense, 1 PK/P)
California 15 (7 offense, 6 defense 2 PK/P)
Oregon 15 (7 offense, 6 defense, 2 PK/P)
Arizona 13 (5 offense, 7 defense, 1 PK/P)
Utah 13 (7 offense, 5 defense, 1 PK/P)
USC 13 (6 offense, 7 defense 0 PK/P)
Stanford 12 (5 offense, 6 defense, 1 PK/P)
Oregon State 12 (7 offense, 4 defense, 1 PK/P)
Of course these numbers sometimes are a bit fudged. Arizona State, for example, doesn't include
Kerry Taylor
as a departed starter. He led the Sun Devils in receptions and receiving yards last season. And offseason injuries are not accounted for: Safety Adam Hall and linebacker Jake Fischer are included as returning starters for Arizona, but it's unclear how much they will play this fall after suffering knee injuries this spring.
For Cal, defensive end Ernest Owusu is considered a returning starter because he started nine games, while Trevor Guyton is not after starting just four (five is the threshold for a "returning starter"). But Guyton had 29 tackles with 8.5 coming for a loss and Owusu had 14 with 2.5 coming for a loss. For Colorado, center Mike Iltis is included, but he retired this offseason. Oregon -- fairly -- gives Darrion Weems credit for being a starter, even though that means the Ducks officially had six starting offensive linemen in 2010. Receiver
James Rodgers
is not listed as a returning starter for Oregon State, nor is UCLA center Kai Maiava or Stanford receiver
Chris Owusu
. All three were starters in 2009. Receiver is always a difficult position to rate a starter and nonstarter. Utah lists two returning starters at the position (
Luke Matthews
and
DeVonte Christopher
) as well as two departed starters (
Jereme Brooks
and
Shaky Smithson
).
As it is, the conference welcomes back 180 starters of a possible 288, and the per-team average of 15.0 is slightly above the 14.9 average over the past decade. The offensive numbers are better: An average of 7.2 offensive starters are back compared to 6.8 on defense. Most notable: Nine of 12 starting quarterbacks are back.
Eight punters are back, but just four kickers.
Of the 180 returning starters, 10 were first-team All-Pac-10 in 2010 and 12 were second team, including a pair of Heisman Trophy finalists: Stanford quarterback
Andrew Luck
and Oregon running back
LaMichael James
.
April, 11, 2011
4/11/11
8:02
PM ET
BERKELEY, Calif. -- California has something sort of old and something sort of new this spring on both sides of the ball.
On defense, Clancy Pendergast is back for his second season coordinating the Bears defense. On offense, Jim Michalczik is back in town after spending a couple of years with the Oakland Raiders. Pendergast turned in a successful first campaign, with his more aggressive version of a 3-4 scheme ending up ranked third in the Pac-10 in scoring and first in total defense. And from 2002-2008, Michalczik might have been the best offensive line coach in the conference.
Here are some notes from chats with both coordinators as well as head coach Jeff Tedford.
Other than a blowout loss to Stanford, the Bears defense turned in its best work in November, most notably holding Oregon to just one offensive touchdown in a 15-13 Ducks win. Pendergast didn't think that was a coincidence: "I think our guys trusted the system, trusted each other. Had better eyes. All those things." As for year two, the longtime NFL coach, probably has a better grasp on some of the quirky offenses he'll face in the conference. "Anytime you go into a second year, you're going to be more comfortable," he said.

Pendergast on former defensive end Cameron Jordan, who is expected to be a first-round NFL draft pick on April 28: "He'll be solid, consistent player at next level who can do a lot of different things."

[+] Enlarge

Chris Morrison/US PRESSWIRECal's Clancy Pendergast expects to be more comfortable coaching against Pac-12 offenses in his second season.

Pendergast is clearly high on the incoming freshmen. He repeatedly mentions them -- first and last names -- when talking about his potential depth chart. When asked if he expects a handful to play, he said, "No question." Names he -- and later Tedford -- mention: defensive tackle Todd Barr, defensive tackle Viliami Moala, defensive end Brennan Scarlett, and cornerbacks Stefan McClure, Joel Willis and Kameron Jackson.

The top three defensive ends are Trevor Guyton, Deandre Coleman and Ernest Owusu. At nose tackle, both Aaron Tipoti and Kendrick Payne are out with shoulder injuries. Guyton has had a good spring, while Tedford said, Coleman "should be much better this year."

The inside 'backers are Mychal Kendricks, who put up huge numbers last fall playing outside, and D.J. Holt, also a returning starter. As for Kendricks move inside, Pendergast said, "He's probably a better fit as a stack inside linebacker than an outside linebacker."

There will be two new starters at outside linebacker. At present, Ryan Davis and David Wilkerson (strongside) are with the ones, with Chris McCain, Cecil Whiteside and Lucas King providing depth.

In the secondary, Marc Anthony and Steve Williams are the corners. The depth appears unsettled -- see Pendergast and Tedford both listing three freshmen who are not on campus yet as being in the mix. Pendergast seemed most pleased with Anthony, whom he said was playing physically and with a lot of confidence. At safety, there's Sean Cattouse and D.J. Campbell, with Adrian Lee, C.J. Moncrease, Alex Logan and Michael Coley earning note. It's hard to say if true freshman Avery Walls, who's participating in spring practices, will get into the mix.

On offense, Michalczik is mostly focused on the offensive line. Tedford will call plays this fall and is working with the quarterbacks as well, while receivers coach Eric Kiesau is the passing game coordinator and running backs coach Ron Gould is the running game coordinator. So there will be plenty of input on offense.

Michalczik wouldn't commit too much on the offensive line: "We've got some young guys and we've got some time," he said. Left tackle Mitchell Schwartz and center Dominic Galas are likely starters, but both are sitting out with injuries. Matt Summers-Gavin has bounced from guard to right tackle. Brian Schwenke and Justin Cheadle are the No. 1 guards at present. Youngsters to watch include Chris Adcock and Mark Brazinski at center, as well as Alejandro Crosthwaite, Bill Tyndall and Tyler Rigsbee.

Marvin Jones and Keenan Allen are set at receiver, but the No. 3, 4 and 5 options are not. Michael Calvin -- yes, him again -- Coleman Edmond and Kaelin Clay earned note from Tedford, who said of Clay, "He's been very good, very fast, brings big-play potential."

Tedford isn't very happy at running back behind Isi Sofele. His highest praise goes to walk-on Mike Manuel, who was impressive in the scrimmage Saturday. Injuries are a big issue at the position, but it seems as though Tedford isn't happy with the group, which includes a number of touted recruits. "As of right now, it looks like to me we are going to have to rely on younger guys who are coming in," he said.

Quarterbacks? It's still wide open, but it shows how serious Zach Maynard's candidacy is that Tedford said he doesn't expect to announce a starter until well into fall camp, specifically because he wants to give Maynard, who transferred from Buffalo last year, as much time as possible to digest the offense. Said Tedford, "He does have some athleticism. He can make plays with his legs. He throws the ball accurately. He can throw all the balls on the field. He's a lefty. He can throw the deep ball. He's got zip on the ball. His main thing is just going to be the mental part of understanding our offense and understanding what we're looking for."

As for Brock Mansion, who started the final four games after Kevin Riley went down, Tedford said, "You can tell that Brock is better because of the experience he had last year. He's more comfortable. And he's even learned some things physically. You can see the maturity there a little bit. Still not where we need to be."

As for Allan Bridgford, the question might be athleticism. Said Tedford, "Smart guy. Can throw the ball. He can throw all the balls on the field. Escape dimension? Haven't seen that yet. That's a concern, but he's not a led-foot by any means."

One problem for the Bears this spring is injuries. There are a lot of them, which makes it more difficult to give the QBs full-tilt, looks. "That's a challenge, to get QB's enought reps without beating up the whole team," Tedford said.
November, 4, 2010
11/04/10
6:57
PM ET
By
ESPN.com staff
| ESPN.com
Nine Pac-10 players are among the 25 selected as Academic All-District 8 members. They are now eligible to become ESPN Academic All-Americans.
You
can view all the lists here
. (It's worth looking at because it gives you the list of GPAs and majors, which is impressive).
2010 Academic All-District Football Team District
8
Jared Karstetter
, WR, Washington State
Chase Beeler
, C, Stanford
Micah Hannam
, OL, Washington State
Andrew Phillips
, OG, Stanford
Carson York
, OL, Oregon
Chima Nwachukwu
, S, Washington State
Owen Marecic
, LB-FB, Stanford
Ernest Owusu
, DE, California
Jeff Locke
, P, UCLA
August, 27, 2010
8/27/10
9:42
AM ET
By
ESPN.com staff
| ESPN.com
You can see California's
new depth chart here
.
Jonathan Okanes does a
nice job of explaining the hot spots
.
Some quick observations:
Quick, undersized sophomore Isi Sofele is the backup tailback, eclipsing Covaughn DeBoskie-Johnson, Dasarte Yarnway and Trajuan Briggs. That strikes me as a minor upset, but Sofele is a scatback type who can make plays as a runner and receiver. Coach Jeff Tedford always gives his No. 2 RB plenty of touches.
The starting corners are Marc Anthony and Darian Hagan. Bryant Nnabuife is listed as the backup to both.
Okanes notes that the top four safeties will see extensive action, but it seems notable that Chris Conte and Josh Hill are first team, meaning returning starter Sean Cattouse has dropped in the pecking order.
A veteran -- Ernest Owusu -- held off a hard-charging youngster -- Deandre Coleman -- at one defensive end. Another hard-charging youngster -- Kendrick Payne -- eclipsed a veteran -- Derrick Hill -- at noseguard.
QB Kevin Riley's backup is Beau Sweeney.
The only true freshman on the depth chart is receiver Keenan Allen, who is No. 1 opposite junior Marvin Jones.
The Bears will start eight seniors and six sophomores.
August, 2, 2010
8/02/10
1:30
PM ET
By
ESPN.com staff
| ESPN.com
The best way to neutralize the impressive quarterback talent in the Pac-10 this fall is to get someone in their faces as much as possible. That's what pass-rushing defensive ends do, and there is a solid cast of them coming back.
Even the two teams that fall in the "We'll see" category here don't lack for talent or experience. They just have obvious questions heading into preseason camp.
So how do things stack up?
Great shape
Arizona: The Wildcats were in great shape at the spot last year with the same two players, though Ricky Elmore eclipsed Brooks Reed when he recorded 10.5 sacks while Reed was hurt (ankle) much of the season. Word on the street is Reed has been a maniac in the weight room this offseason. Solid depth here, too.
USC: Two players worth buying stock in: Armond Armstead and Nick Perry. Perry had eight sacks as a backup in 2009 and Armstead was dominant this spring. Transfer of Malik Jackson hurts depth.
Oregon: Kenny Rowe led the Pac-10 with 11.5 sacks in 2009, while Dion Jordan was perhaps the breakout player of the Ducks' spring practices.
Good shape
California: Cameron Jordan has been good, but he has a chance to be great: Is 2010 his year? Trevor Guyton is the leader to replace first-round draft pick Tyson Alualu, while Deandre Coleman and Ernest Owusu provide high-quality depth.
UCLA: Datone Jones had a great spring, while Keenan Graham looks like the favorite to start on the opposite side. Solid depth with Damien Holmes, Iuta Tepa and touted incoming freshman Owamagbe Odighizuwa.
Oregon State: The Beavers struggled to rush the passer in 2009 and returning starter Matt LaGrone quit, but Gabe Miller is a talented athlete who came on late and had a good spring. Sophomore Taylor Henry is No.1 on the other side.
Arizona State: The Sun Devils must replace four-year star Dexter Davis. James Brooks and Greg Smith are the likely starters. Solid depth here but no standouts.
Washington State: The Cougars are sneaky good with sophomore Travis Long and senior Kevin Kooyman.
We'll see
Stanford: The Cardinal is hard to rate because they are switching from a 4-3 to a 3-4, so Thomas Keiser and Chase Thomas, returning starters at end, are now outside linebackers and don't qualify. Meanwhile, Matt Masifilo and Brian Bulcke are experienced tackles but are new to end.
Washington: This is as pure of a "we'll see" as you can get. Four-year starter Daniel Te'o-Nesheim is off to the NFL and potential starter Andru Pulu got kicked off the team. If Everrette Thompson and Kalani Aldrich are healthy and ready to play 12 games, the Huskies are solid. Maybe even better than solid. If not, things are iffy.
March, 29, 2010
3/29/10
10:58
AM ET
By
ESPN.com staff
| ESPN.com
Third in a series looking at lineup holes that are important even if they don't make headlines.
California
Everybody is talking about
: Two things have Bears fans talking: 1. Will
Kevin Riley
be challenged for the starting quarterback job (probably not); 2. What will the defense look like under Clancy Pendergast (the three-man pass rush may be dead).
Bigger shoes than you think
: Defensive end Tyson Alualu
Alualu is hardly anonymous. He started 39 games for the Bears, recording 17 sacks in the process, and earned first-team All-Pac-10 honors in 2009 after being tapped second team the year before. He figures to be picked before round three of the NFL draft ends. Still, it always seemed like he operated under the radar. While replacing cornerback Syd'Quan Thompson is more urgent considering how poorly the Bears' secondary played in 2009, the void left by Alualu -- his production and quiet leadership -- will be difficult to fill in 2010.
Who's stepping in
: Last year's depth chart says it will be junior Trevor Guyton, who had four tackles for a loss as Alualu's backup. Junior Ernest Owusu has the physical skills for a potential breakthrough. But it's also possible that Pendergast is going to shuffle some players and look at myriad options -- is it a 3-4 front, or a hybrid 3-4 or a 4-3 dressed up as a 3-4, etc. Is this DE position going to be a glorified tackle or a pass-rushing end? Cal beat writer Jonathan Okanes opined that redshirt freshman DeAndre Coleman, "a 6-foot-6, 309-pound man with the athletic ability to play outside"
might be a possibility
.
February, 11, 2010
2/11/10
11:00
AM ET
By
ESPN.com staff
| ESPN.com
Who will breakout and make a move toward stardom this season?
Most of these guys aren't "new," but they could make the next step up in their careers this spring.
Arizona
Juron Criner, WR, Jr
: Criner (6-foot-4, 210 pounds) is already a familiar name to Wildcats fans. Heck, he led the team with nine touchdown receptions in 2009. The reason he makes this list is this: It would be a surprise if he's not first-team All-Pac-10 at season's end.
Arizona State
Aaron Pflugrad, WR, Jr
: Hmm. Name seems familiar? Pflugrad is a transfer from Oregon, who left the Ducks after his father, Robin, was fired as receivers coach. He was expected to start for the Ducks in 2009, and he should be in the same position with the Sun Devils, who need help at receiver.
California
Ernest Owusu, DE, Jr
: Owusu looked like a budding star early last season when he recorded two sacks and three tackles for a loss against Maryland, but that was about it for his production in 2009. Still, he combines good intelligence and speed with special power -- he's the Bears' strongest player -- and that could all come together as he fights to break into the starting lineup.
Oregon
Diante Jackson, WR, RFr
: Many thought Jackson would offer immediate help to the Ducks' receiving corps as a true freshman, but, instead, he was a scout team star last year. The Ducks are looking for a dynamic, play-making presence at wideout and Jackson might be the guy.
Oregon State
The Unga brothers
: The Beavers lost Keaton Kristick to graduation and Keith Pankey may miss 2010 with an Achilles injury, so there are opportunities at linebacker. These twin brothers -- Kevin "Feti" Unga and Devin "Uani" Unga -- could fight their way into the mix.
Stanford
Shayne Skov, LB, So
: Skov started seven games last year as a true freshman and ended up third on the Cardinal with 62 tackles. The early returns are Skov will be first-team All-Pac-10 before he's done.
UCLA
Cory Harkey, TE, Jr
: With the departure of
Logan Paulsen
and
Ryan Moya
, Harkey will finally get his chance to take center stage. He caught eight passes for 41 yards and a touchdown in 2009. His production will be many times that in 2010.
USC
T.J. McDonald, S, So
: First off, the son of former USC legend Tim McDonald is listed at 205 pounds. Really? He looks bigger -- in a good way. And he's a hitter. He had seven tackles as a backup to strong safety Will Harris last year, but he could play either free or strong.
Washington
Talia Crichton, DE, So
: Crichton was forced into action last year as a true freshman -- he started four games -- because the Huskies lacked depth on the defensive line. With the departure of both starting ends -- and the questionable status of Kalani Aldrich's knee -- Crichton is almost certain to ascend to a first-team spot. Here's a guess he's better prepared in 2010.
Washington State
Travis Long, DE, So
: Back in the Cougars' glory days -- folks, it wasn't really that long ago, either -- they always had ends who were disruptive. Long led the Cougars with 6.5 tackles for a loss and two sacks as a true freshman in 2009. Those numbers will more than double in 2010.