May, 10, 2012
5/10/12
1:06
PM ET
The Atlantic Coast Conference's television contract extension with ESPN,
announced Wednesday,
is the first of three major conference deals expected to be finalized in the next few months.
The ACC contract was extended after the addition of new members Syracuse University and the University of Pittsburgh last September. The shifting of schools as part of conference realignment also led to changes in the Big 12 and Southeastern Conference that has those existing deals in play, too.
The ACC deal is worth $3.6 billion over the next 15 years, according to The Associated Press. That puts the ACC behind only the Big Ten and Pac-12 in terms of the average revenue per school, per year by one measure (viewing all current contracts divided between conferences' 2012-13 membership.)
SportsBusiness Daily has reported the Big 12 has verbally agreed to a new contract with ESPN and FOX for its first-tier rights for $2.6 billion over 13 years. That would bring the per-year average for the Big 12 to $200 million and the per-school, per-year average to $20 million. The SEC is expected to reopen its contract talks with ESPN following the addition of the University of Missouri and Texas A&M.
ESPN had no comment on any of the deals, which vary in what slate of rights are included, but a spokesman did say that the network is in regular contact with its business partners.
With all of the shuffling and extensions, it can be hard to keep up. Here's a listing, according to information from The Associated Press, SportsBusiness Daily, SportsBusiness Journal and Adweek, of where things stand now. The Big 12 extension is not included because it has not been finalized. Also, per-year averages and per-school, per-year averages are straight averages and do not take into account actual variances by year as stipulated in individual contracts.
November, 28, 2010
11/28/10
10:17
AM ET
By
ESPN.com staff
| ESPN.com
ESPN's "College GameDay
" is headed to Corvallis for the Civil War between Oregon and Oregon State.
Why? If Oregon wins, it plays for the national title. And if Oregon State wins, it will be an upset for the ages that Beavers fans will never -- never, never, never -- let Ducks fans forget about.
This will be "GameDay's" third Pac-10 trip this year, all involving Oregon: Stanford at Oregon, Oregon at USC and now the Civil War.
This will be the first time "GameDay" has been to Corvallis, but it will be the third time the Beavers have been playing in game with "GameDay" in town. "GameDay" originated from Boise on Sept. 25 when the Beavers played at Boise State. And in 2004 it was on the scene in Baton Rouge when Oregon State was at LSU.
October, 14, 2010
10/14/10
1:08
PM ET
The Man has been holding California running back
Shane Vereen
down. And by "The Man," I mean the media.
There's a reason that Vereen is the best running back folks outside the West Coast haven't heard of. There's a reason a back who can go yard or run with power or catch passes doesn't get more publicity.
[+] Enlarge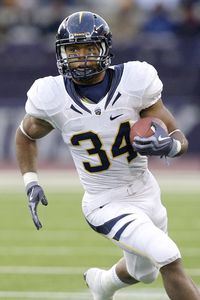 AP Photo/Elaine ThompsonCal running back Shane Vereen has five career rushes for more than 50 yards.
Folks, these are tough times. Everyone is worried about jobs -- getting one, keeping one. And Vereen, a media studies major, is eyeballing a job at ESPN. After talking to the articulate junior for only a few minutes, there is one obvious reaction for any media member: Yikes.
"I've always wanted to be a sports analyst," he said. "One of my favorite shows is SportsCenter. I like PTI. I grew up watching Stuart Scott. It's been a big dream of mine to be able to argue about sports."
(Note to boss: Vereen wants to be on TV. He has no interest in taking over the Pac-10 blog. So no need to contact him. Really. Please.).
Vereen is presently second in the Pac-10 and 13th in the nation with 115.4 yards per game. He's tied with Oregon's
LaMichael James
for the Pac-10 lead in touchdowns with 10 (eight rushing, two receiving). He and the Bears visit USC on Saturday in a critical matchup for both teams. The winner figures to set a trajectory into the top-half of the Pac-10. The loser likely takes a turn to the bottom-half.
There is another reason Vereen hasn't been in the spotlight. Before this season, he was only a highly productive backup. While he posted 1,667 rushing yards and scored 16 touchdowns with a 5.1 yards per carry average, he, nonetheless, spent the previous two seasons as the counterpunch for Jahvid Best.
But Vereen has long had a fan club, which has only grown larger this fall. That fan club is comprised of coaches who watch him on tape and play against him on Saturdays.
"Wow, I think he's NFL [quality]," Arizona coach Mike Stoops said. "I don't think there's any question about his ability -- his size, his vision, his speed, his balance. He breaks tackles. He's a complete running back. There's nothing he can't do on the field. He's your prototypical NFL guy with size and speed and vision."
Then there's Stanford coach Jim Harbaugh: "He's a really efficient runner when it comes to him getting all the yards that are blocked for him. And he is explosive enough to get even more yards than what are blocked for. He can take it the distance. He's one of those backs who can make a big run. He's good after contact. He's really explosive -- just a good football player."
With Best injured last year, some Cal and Stanford fans might recall that Vereen piled up 193 yards on 42 carries in a 34-28 upset win in the Big Game.
Said UCLA coach Rick Neuheisel, "He's a fabulous back. He's been a fabulous back since he's been in this league. And once again on Saturday he was a great player."
Neuheisel is alluding to the Bears 35-7 win against UCLA in which Vereen rushed for 151 yards and two touchdowns on 25 carries and caught three passes for 51 yards.
"He's the next great running back," said USC coach Lane Kiffin, who knows slowing down Vereen is the top priority for his struggling defense.
Vereen admits that redshirting his freshman season was difficult -- he was a touted recruit who wanted to play -- but he said he had no problem being Hutch to Best's Starsky the previous two seasons.
"That didn't bother me," he said. "Jahvid was a great running back and one of my best friends. I was happy for him. He deserved all the accolades he received."
What coaches keep coming back to with Vereen is his versatility. He's got five career rushes over 50 yards, but the 204 pounder also can get tough yards inside and break tackles. He also is an outstanding receiver and can return kicks.
"The thing that stuck out the most about Shane was his versatility," Cal coach Jeff Tedford said. "He has a great feel for the running game and he's got great speed, but the way he catches the football out of the backfield -- you can put him at receiver. He's got great feel for the passing game."
The general consensus is that Vereen will have to settle for an NFL career for a while before he joins the ESPN family. As for the lack of publicity -- at least to this point -- Vereen doesn't seem terribly worked up.
"I don't pay too much attention to it," he said. "I try to just focus on the simple things -- on what's important this week, in this day. I have enough trouble remembering my class schedule, let alone worrying about national attention and all that kind of stuff. I assume that when the time is right it will come."
Vereen, as a student of the sports media, also is painfully aware of the perception of Cal. The Bears boast great talent and can look unbeatable at times. Then, just when they get acclaim, they flop. Last year, the Bears were ranked No. 6 before they took consecutive whippings from Oregon and USC by a combined count of 72-6.
"We understand that in the past couple of years, we have had some letdowns," he said. "Because of that, I think we're conscious of what needs to be done. I think we feel like we have a lot to prove."
Any type of revenge against Oregon will have to wait until the Ducks visit on Nov. 13 in what might be a game with national title implications.
But Vereen and the Bears get the Trojans on Saturday, a team Cal hasn't beaten since 2003. If Vereen puts up big numbers in a Cal win, it's not likely The Man will be able to keep a lid on his talents much longer.
May, 11, 2010
5/11/10
3:00
PM ET
By
ESPN.com staff
| ESPN.com
ESPN and the Pac-10 will be seeing a lot of each other this fall, which means you'll be seeing a lot of football.
ESPN-ABC announced a number of additions to its
broadcast schedule
today, which means, to date, there will be 24 games involving conference teams televised in 2010.
Some notes:
There will be five games that feature defending conference champion Oregon, including the Ducks' Sept. 11 visit to Tennessee (ESPN2, 7 p.m. ET)
There's eight involving USC, including the Nov. 27 date with Notre Dame.
Stanford and touted QB Andrew Luck will be on four times.
ABC has selected two UCLA games as part of its Big 12 agreement. The Bruins will open the 2010 season at Kansas State on Sept. 4 at 3:30 p.m. On Sept. 25, the Bruins travel to Texas, and ABC will televise that contest at a time to be determined 12 days prior to the game.
The schedule features three matchups between teams ranked in the ESPN.com early preseason Top 25, including two Saturday Night Football on ABC broadcasts, both at 8 p.m. ET: No. 15 USC at No. 24 Stanford on Oct. 9, and No. 10 Oregon at No. 15 USC on Oct. 30. ESPN will televise No. 24 Stanford at No. 10 Oregon on Oct. 2, at 11:15 p.m. ET.
A minimum of four Saturday late-night games, including two on Saturday, Sept. 18: No. 11 Iowa at Arizona at 10:30 p.m. on ESPN, and Wake Forest at No. 24 Stanford at 11:15 p.m. on ESPN2. An additional two games will pit No. 24 Stanford at UCLA on Saturday, Sept. 11, at 10:30 p.m. on ESPN and No. 24 Stanford at No. 10 Oregon on Saturday, Oct. 2, at 11:15 p.m. on ESPN.
ESPN's Thursday night College Football Primetime series will feature four telecasts involving Pac-10 teams, including No. 15 USC at Hawaii (Sept. 2 at 11 p.m.), UCLA at No. 10 Oregon (Oct. 21 at 9 p.m.), UCLA at Washington (Nov. 18 at 8 p m.) and Arizona State at Arizona (Dec. 2 at 8 p.m.).
As for non-ESPN-ABC games, Fox Sports Net will broadcast USC's home opener against Virginia on Sept. 11 (10:30 p.m.) and Cal's visit to USC on Oct. 16 at 3:30 p.m. FSN also has selected UCLA's home game against Houston on Sept. 18 (10:30 p.m.) and the Bruins' visit to Arizona State on Thanksgiving Friday (3:30 p.m.) as well as Oregon's game at Arizona State on Sept. 25 (10:30 p.m.).
Now that ABC and ESPN have made their early television selections, FSN/Versus will announce further early selections during the first week of June. Additional Pac-10 games could be selected then or as the 2010 season progresses
April, 26, 2010
4/26/10
10:01
AM ET
By
ESPN.com staff
| ESPN.com
Washington's home game with UCLA has been moved to Thursday, Nov. 18 so it can be broadcast in prime time on ESPN, the
Seattle Times reported
.
The game, originally scheduled for Saturday, Nov. 13, will kick off at 8 p.m. ET.
It could become a showcase game for Huskies quarterback
Jake Locker
, who is projected to be a high draft pick in 2011 -- perhaps No. 1 overall -- and could be a leading Heisman Trophy candidate.
March, 26, 2010
3/26/10
6:01
PM ET
By
ESPN.com staff
| ESPN.com
Lots on your mind.
To the notes.
Chris from Oregon writes
: I've been hearing from my Pac-10 brethren that Mike Riley and my beloved Beavers are content with being a second-tier team and this is why they continue to schedule games the caliber of TCU @ Cowboys Stadium. Do you feel this is the case or are my beleaguered brethren wrong?
Ted Miller
: Oregon State is
loading up its schedule
to make money. The athletic department, like many others,
needs to create more revenue to remain competitive
.
And Mike Riley, as secure a coach as there is in the Pac-10, can afford to play an extra-difficult schedule, where other coaches who are worried about job security cannot.
But nobody around the Beavers program seems content with being "second-tier." Recall that last December, they were a Civil War victory away from playing in the Rose Bowl.
Is Oregon State ever going to be, say, Texas? No. But being a perennial top-25 team is hardly "second-tier."
So, respectfully, your beleaguered brethren are wrong.
CP from Hermosa Beach, Calif., writes
: How is a LSU coach
providing housing
for a player not as bad at the alleged Reggie Bush case where a non booster or University employee provided housing for his family?
Ted Miller
: Cases are not even comparable. Bush's family allegedly was provided a fancy home by aspiring sports agents as a permanent arrangement. This LSU recruit, apparently, was provided a room over the summer. The recruit never played in a game and his scholarship wasn't renewed. The coach involved was sanctioned and then not retained. LSU self-reported. USC found out about Bush's alleged extra benefits when Yahoo! Sports broke the story.
Not saying LSU is blameless -- or that USC is going to get crushed by NCAA sanctions in the coming weeks. These are just two very different cases, and my first impression is LSU handled its case about as well as an institution can.
DY from Berkeley writes
: In regards to your article on Oregon State's scheduling, why can teams get a 13th game when visiting Hawaii? because of TV exposure? or lack of it when going to Hawaii?
Ted Miller
: It's an actual NCAA rule. Playing for Hawaii means brutal travel -- six road games with extra long and expensive flights. So the NCAA allows the Warriors to play seven home games. And, to help the Warriors schedule those games, the team that opts to play at Hawaii can play 13 games because it gets an exemption for making the long trip. The idea is that the considerable expense of flying to Hawaii is made up for with the extra game.
Mitch from Seattle writes
: Interesting note about
Jake Locker
playing some baseball
this summer. Remember a few years ago when Dennis Dixon went to play baseball before he had his breakout season at Oregon? A lot of eyebrows were raised, but Dixon said it helped him with patience and timing. A lot of people are hoping for big things from Locker this year. I'm curious whether this experience will help Locker in the same way.
Ted Miller
: I remember how there was a minor kerfuffle over Dixon playing baseball -- not terribly well, if I recall.
I think it helps guys to "get away" a little bit during the offseason, and playing another sport is a good way to get away without getting soft. Locker strikes me as the sort who will learn at least a few things as a pro baseball player that will help him his senior year at Washington.
Scott from Palo Alto writes
: When are you going to start talking about
Andrew Luck
for Heisman? Before or after the 2010 season? It would be a nice break from the Eugene police blotter assignment you've inherited.
Ted Miller
: I'm eager to be done with the police blotter -- for each and every Pac-10 team.
As for Luck: It may be the latter. Luck is likely a season away from playing his way into the national picture.
That said, if Stanford, which plays three of its first five games on the road, wins at Notre Dame and Oregon and improves to 5-0 before playing host to USC on Oct. 9, and Luck is putting up some big numbers, he'll be in position to launch a Heisman Trophy candidacy that weekend.
That's a big "if." But hardly an inconceivable one.
Derek from Birmingham writes
: A friend and I are planning to attend the Washington/Oregon game in Eugene in November. We hear Oregon is a great place to see a game so we want to go out there and check it out - with a stop in Blacksburg on Thursday night to see Ga Tech play Va Tech which is another great game venue we hear about.We are from Alabama (I am a Bama fan, and he is a UGA fan) so we know nothing about how hard it is to get a ticket to an Oregon game. What can you tell me about that?
Ted Miller
: That's a great college football weekend: Lane and Autzen Stadiums are two of the best -- and most hostile -- venues in college football.
Washington-Oregon used to be a bitter rivalry -- perhaps the most intense in the Pac-10 -- until the Huskies went into a five-year tailspin. However, Washington is perking up under coach Steve Sarkisian, and it's possible that game could have significant conference implications.
Oregon is the
toughest ticket
in the Pac-10 -- 68 consecutive sellouts -- and that will be one of the toughest Oregon tickets. You will want to plan ahead or
it could cost you to get inside
-- perhaps $150-$200 a seat.
Toby from Los Angeles writes
: I have a few questions: 1. With Masoli being suspended for next year, what team in the Pac-10 benefits the MOST from this? 2. Do you think Mike Bellotti will coach again the Pac-10? Jeff Tedford is on borrowed time in my opinion and I would LOVE to have Bellotti coaching Cal.3. I have a friend who graduates this spring from ASU and is looking at broadcasting opportunities in sports. You have any advice for her for getting started?
Ted Miller
: 1. I think USC benefits the most, then Oregon State. Reason is simple. I had them Nos. 2 and 3 in the conference behind Oregon before quarterback
Jeremiah Masoli
was suspended for the season. At this point, my top three are USC, Oregon and Oregon State. But things are tight.
2. My guess is that if someone went hard after Bellotti, who turns 60 in December, he might seriously consider a return to coaching -- Pac-10 or anywhere else. The temptation for a last hurrah for five or so years might be hard to ignore. That said, I also think he's going to enjoy his new gig doing analysis with ESPN. And, by the way, not sure if I were a Cal fan that I get too "grass is greener" about Jeff Tedford. What was the decade pre-Tedford like?
3. My background is print journalism, not broadcasting. But the key to getting ahead in the industry is working harder than everyone else. That means doing as much work as possible and not worrying about compensation in order to produce as much impressive tape as possible that potential employers can look at. One thing she should do to increase her exposure is to do her own blog and post videos.
On the other hand, I always advise anyone younger than 25 to take some time to enjoy life -- backpack across Europe on the cheap or get a job on a cruise ship or live at the beach. You will have plenty of time to fret about your future. Trust me.
Greg from Hillsboro, Ore., writes
: "If the pages of this book contain some successful verse, the reader must excuse me the discourtesy of having usurped it first. Our nothingness differs little; it is a trivial and chance circumstance that you should be the reader of these exercises and I their author."
Feeling our oats today
are we?
Jorge Borges
. Really? Silly English majors. Always trying to put a label or explanation on a moment instead of just letting it be and taking it in.
Ted Miller
: Greg, not sure what you mean with that last line, but I must say that I was hurt when one of our frequent commenters, the often acerbic "
Borges
", who is clearly a HUGE UCLA fan (kidding!), didn't notice and comment on the lunch link quote you noted.
March, 26, 2010
3/26/10
3:41
PM ET
By
ESPN.com staff
| ESPN.com
Lorraine Davis will serve as Oregon's interim athletic director on a month-by-month basis until a permanent replacement for Mike Bellotti is found, the school announced Friday.

Bellotti resigned on March 19 to become a college football analyst for ESPN.

Davis, who joined the Oregon faculty in 1972, is the school's former vice president for academic affairs. She will begin as interim AD on April 20.

As part of the university's tenure reduction program, Davis has continued to serve in part-time employment since retiring in June 2006. Currently, Davis oversees academic support services for student-athletes, and is deputy administrator of the E.C. Brown Foundation and Trust, a philanthropic health education organization. She also chairs the vice provost for enrollment management search, which is expected to be completed soon.

"For many years, I've worked in varying roles to connect academics and athletics on campus and I am willing to take on an even greater responsibility as interim AD," Davis said in a statement. "I appreciate the president's confidence in my ability to contribute and lead the department and look forward to working closely with employees during this transitional period."

The national search for the permanent athletics director will involve members from the university administration, coaches and staff, along with Pac-10 Commissioner Larry Scott and others. Oregon President Richard W. Lariviere has selected Robin Holmes, vice president for Student Affairs, to chair the committee.
March, 22, 2010
3/22/10
9:00
AM ET
By
ESPN.com staff
| ESPN.com
The most interesting secondary news item from Mike Bellotti's
decision to leave
Oregon for ESPN is be
best explained
in this column Saturday from George Schroeder of the Eugene Register-Guard.
Not only will Bellotti get a $2.3 million golden parachute from Oregon, there's also reason to retroactively wonder if he was "encouraged" a year ago to hand off the Ducks head football coaching job to Chip Kelly and move into the athletic director's office.
Here's Schroeder:
It's evident that a year ago, the school desperately wanted him to change jobs.
It's time we recognized that becoming athletic director wasn't Bellotti's idea.
He took one for the team.
Pat Kilkenny was ready to go, and the higher powers worried Chip Kelly might be, too. And so it was convenient to, uh, ask Bellotti if he'd like to change gigs and try something else.
They found 2.3 million reasons to convince him it was a good idea, but it was a disservice to Bellotti, who deserved better.
It's likely Bellotti's situation was nuanced. At the time
he stepped aside
for Kelly, recall that he said it was for family reasons, but he rejected the idea that he was burned out and he refused to say he was done with coaching.
And then-athletic director Pat Kilkenny made no secret of
his enthusiasm
for Kelly.
It's not unreasonable to speculate that Bellotti might have planted a seed for the end of his tenure coaching the Ducks with higher-ups, and that seed sprouted into reality perhaps faster than he wanted it to.
It's critical to understand, however, that at no point during the process did Bellotti intimate he felt mistreated or portray any bitterness about how things went down. I had multiple conversations with him about the transition and felt only the ambivalence of a highly successful, driven guy knowing he was heading toward a major life transition.
And Bellotti, as honest and articulate a guy as you'll find in college coaching, is going to be a great college football analyst.
March, 19, 2010
3/19/10
4:05
PM ET
By
ESPN.com staff
| ESPN.com
You can read the official release on Mike Bellotti stepping down as Oregon's athletic director to become an analyst for ESPN
here
.
Here's what Bellotti said:
"One of the most difficult decisions in my life was to walk away from being the head football coach at Oregon. Coaching here for 20 years was a wonderful experience that enriched my life. The players, coaches, staff and fans are simply the best. The relationships that we have built and the memories we share will endure forever.

"The second most difficult decision has come today, to leave the university. This past football season as Athletics Director, I had the opportunity to work in the broadcast booth for the Oregon Sports Network. It allowed me to stay connected to the game in a new way. ESPN recently offered me a position, which I accepted yesterday, as a college football analyst. It is a tremendous, once-in-a-lifetime opportunity. I like college athletics, but I love college football.

"I appreciate the understanding and support of president Lariviere, the university and the athletics department. I will always be supportive of the University of Oregon and in the offseason I hope I can still be involved with UO functions."
March, 19, 2010
3/19/10
2:31
PM ET
By
ESPN.com staff
| ESPN.com
This is so cool: Mike Bellotti and I
are now co-workers
.
Bellotti has resigned as Oregon's athletic director, a position he took over in July, and will join ESPN as a college football analyst.
He will provide studio and game analysis among several ESPN platforms, making his debut April 17 on ESPNU's telecast of Auburn's spring football game.
Bellotti, one of the most affable and articulate coaches I've worked with, will do well as an analyst.
January, 5, 2010
1/05/10
11:24
AM ET
By
ESPN.com staff
| ESPN.com
The Pac-10's
2010 schedule
will once again feature the nation's toughest nonconference slate, as well as games on Thursday and Friday.
And, once again, most of those nonconference games are on the road.
The season opens with USC's visit to Hawaii on Sept. 2, a Thursday night game on ESPN, but the first weekend includes four tough road tests.
Saturday, Sept. 4
UCLA at Kansas State
Oregon State vs. TCU (Cowboys Stadium)
Washington at Brigham Young
Washington State at Oklahoma State
Other tough nonconference road games: Oregon at Tennessee (9/11), Arizona State at Wisconsin (9/18), USC at Minnesota (9/18), Oregon State at Boise State (9/25), Stanford at Notre Dame (9/25), UCLA at Texas (9/25).
As for nonconference home games: Iowa at Arizona (9/18), Colorado at California (9/11), Virginia at USC (9/11), Syracuse at Washington (9/11), Louisville at Oregon State (9/18), Wake Forest at Stanford (9/18), Houston at UCLA (9/18) and Nebraska at Washington (9/18).
The first weekend of all Pac-10 games is Oct. 2, but Stanford visits UCLA on Sept. 11 for the first conference game of the season.
A quick thought: After USC played perhaps the nation's toughest schedule in 2009, things dial back in 2010. No nonconference foe figures to be ranked in the preseason, and the Trojans will play host to Oregon, California and Notre Dame. While three of the first four games are on the road, each is manageable and, from Oct. 2 until the end of the season, there are no consecutive road games.
Oregon, the Pac-10 front-runner, plays at Tennessee, at USC, at California and at Oregon State.
July, 30, 2009
7/30/09
8:07
PM ET
By
ESPN.com staff
| ESPN.com
Posted by ESPN.com's Ted Miller
LOS ANGELES -- The Pac-10 has been walking the walk on the football field, witness a winning record vs. every other FBS conference since 2000.
But in this fast-paced media age when image is everything and spinning reality is critical to creating perception, the conference used its media day Thursday to do a better job talking the talk.
| | |
| --- | --- |
| | |
| | AP Photo/Nick Ut |
| | Pete Carroll on the Pac-10: "I think it's the best conference in the country." |
Which means just about every coach at some point during his presentation cocked his head thoughtfully, conjured a pained look and said in so many words, "Golly, there are just no weeks off in this conference! And we just beat each other up."
Take USC coach Pete Carroll, whose Trojans were picked in the media poll to win their eighth consecutive championship.
"Our conference is so challenging for us," he said. "Year in and year out, without question, our most difficult games, not just one game, but many games, come right from our own conference opponents. I know that we've only lost a few games out of conference through the years, but we've lost a bunch of games to conference opponents. I think it's the best conference in the country."
Carroll went on for a few more minutes but you get the point. This, by the way, was not in response to a question.
It was obvious that when the coaches met with new Pac-10 commissioner Larry Scott, whose hiring was in large part due to his willingness to push aggressive and creative marketing plans, the marching orders were to refer to the Pac-10's general awesomeness whenever possible.
After all, it's a strategy that has worked elsewhere.
"This is going to be a physical conference -- only the strong are going to survive in this environment, 2009 Pac-10 football," Stanford coach Jim Harbaugh said. "This is going to be a mighty men conference this year."
Exhibit A for the perception problem was USC's loss at Oregon State last year. To many pundits across the nation, that was another inexplicable implosion by the Trojans.
| | |
| --- | --- |
| | |
| | Kirby Lee/US Presswire |
| | During the first Pac-10 media day under new commissioner Larry Scott, the league seemed more willing to market itself. |
It seemed that few realized that the Beavers had finished nationally ranked the previous two seasons while winning 19 games. And then, after the Beavers finished 9-4 and again nationally ranked in 2008, they had seven players picked in the NFL draft.
"This whole perception thing -- I don't know how you say this -- but people ought to look into reality before they really believe in that perception of our conference," Oregon State coach Mike Riley said. "Head-to-head, in bowl games, our league stands out pretty well.
"And, not that this matters in a season, but it does as far as notoriety: We get as many drafted to the NFL as the SEC does."
Actually, that's not true. The Pac-10 has had more players drafted, per team, in each of the last two NFL drafts.
But who's counting?
Apparently this new version of Pac-10, which hasn't spent much energy on press releases tooting its own horn in the past, but distributed Thursday a colorful five page release that featured factoids on the conference's general unwillingness to schedule patsies and the Pac-10's outstanding bowl record.
Associate commissioner Jim Muldoon, after a couple of coaches fielded questions about Pac-10-SEC matchups this fall, made a point of noting the conference is 10-7 vs. the SEC since 2000.
That wasn't all.
In the past, reporters sat at tables while coaches droned on from a podium in a drab conference room. It was indistinguishable from gathering of widget salespeople.
This time, the room featured a pair of giant video screens and loud music that made the assembled laptops vibrate. An ESPN-produced video -- from the World Wide Leader's new Los Angeles digs -- provided pre-coach entertainment. The event was streamed live on the Pac-10's official website and a good number of questions came from fans via Twitter.
Muldoon further noted that conference coaches, who a few years ago griped about even having to attend, were suggesting the event be scheduled over multiple days in order to get more media coverage.
Heck, even the post news conference buffet was the best it's been in years.
This, apparently, is the new rock and roll Pac-10 during the Larry Scott Era.
Of course, the critical thing to remember while talking the talk is to continue walking the walk.