June, 19, 2014
Jun 19
9:00
AM ET
Over the past few weeks we examined the Ducks, position-by-position, evaluating the talent. But since I was in Eugene last week for the NCAA Track & Field Championships, I figured I'd stop by the football offices to check in with one of the guys who knows that information best, offensive coordinator Scott Frost. Wednesday, we went through
quarterback and running back
highlights. Today, we're on to wide receiver, tight end and the offensive line.
WIDE RECEIVER
On Devon Allen: He was actually a late offer for the Ducks who was offered after Chip Kelly left for the NFL. There were a few spots open (initially there had only been one spot for a receiver). "It all kind of worked out that we offered him, and this is where he wanted to be. I knew he could be fast. I had no idea he could go 13.1 in the high hurdles."
Frost actually was at Allen's race last Saturday when Allen won the 110-meter hurdle national title. Frost said that he doesn't think Allen "looks like he'd be a track guy, he's built more like a football guy, he's thick."
On his mindset on the receivers: "We felt good about receiver even losing the guys we did, with Bralon [Addison] back and some young guys we think are really talented. We're just going to have to have some of those young guys step up quicker than they would've had to otherwise."
The first receiver that Frost brought up after Allen was redshirt freshman Darren Carrington. "He has to grow up quick, but he has it in him to be that guy." The next three receivers he mentioned were redshirt sophomore Dwayne Stanford, redshirt sophomore Chance Allen and early enrollee Jalen Brown. Frost said that he thought Brown was "in over his head a bit" from a conditioning standpoint this spring, which limited his reps, but he's up to speed now, and Frost could see him being a contributor in the fall. So it sounds like after Keanon Lowe and D. Allen, there's certainly a pecking order of things, but the competition is still very much open.
It's the youngest crop of receivers Frost has ever had, so I was curious if there were any way he could speed up the learning curve or provide a catalyst (other than just more and more live reps). "Sometimes there's just no replacing experience. But all those guys are competitors. … They're going to get their shots early. You see it all the time in sports, when people get their opportunities some of them reach out and take it with both hands and others struggle a little bit. We're just hoping we have a bunch of guys where the former happens."
Frost said something interesting about indicators regarding whether a young guy can play early -- it's typically more based on mental and emotional maturity than talent.
TIGHT ENDS
Look for these guys, like the running backs, to be more involved in the pass game. "We have three, which is more than we've had going into a year that I can remember. … We have three guys that we trust to go out there and do it, and there's probably going to be times that a couple of them -- if they're playing well -- deserve to be on the field, and we can play with two tight ends."
Pharaoh Brown's injury isn't going to limit him through the fall. Frost said it's just a matter of keeping him healthy through the season. "He's really talented."
Frost called John Mundt's freshman year a "roller coaster" but said that when he was on, "he did some exceptional things."
Frost thought Mundt and Evan Baylis' biggest areas of growth over the past year has just been confidence. No surprise there.
OFFENSIVE LINE
I asked Frost about senior Hroniss Grasu taking the blame (for the line as a whole) for the losses last season. Grasu had said in the spring that he thought the group lacked toughness and got outmuscled in those games, and that's why the Ducks lost. "I wouldn't necessarily agree with that. I think we had two losses against teams that played really good games against us." Frost though the turnovers were a bigger problem in the Stanford and Arizona games. "If you play a team that does things right and you give them the ball that many times, that's a recipe for losing."
He wasn't surprised that Grasu said that, because he's that kind of a guy. He said it speaks to Grasu's leadership that he's willing to shoulder that kind of blame.
The line returns all five starters and considering the weight gain, the general consensus with everyone is that the Ducks should be just fine. But, I wanted to make sure to ask about a few backups who were getting significant reps during the spring season. Frost's thoughts: Redshirt junior Andre Yruretagoyena had his best spring season yet. He said the staff has high hopes for redshirt freshman Jake Pisarcik. He was impressed with redshirt junior walk-on Matt Pierson at right tackle.
April, 1, 2014
Apr 1
9:00
AM ET
By most football standards, last season in Eugene, Ore., was a success. Under a first-year head coach the Ducks had an 11-win season while their 273.5 rushing yards per game and 291.5 passing yards per game were among the best in the country. But there was no Pac-12 championship and no BCS bowl game (ending the Ducks' run of four-consecutive BCS bowl game appearances). So, year two is going to be as big of a test as the first for Mark Helfrich & Co.
With spring practices beginning Tuesday, the first steps of 2014 will be taken as the Ducks look to build on what they did last season and fix the mistakes that were made and the shortcomings that plagued them.
[+] Enlarge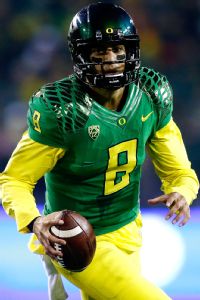 Jonathan Ferrey/Getty ImagesThe return of Marcus Mariota meant big expectations are back for Oregon's offense.
Offensively, their identity is set.
Marcus Mariota
decided to return to Oregon, and with that decision expectations soared for what this offense could do. The Ducks lost their No. 1 and No. 3 receivers but with Mariota slinging it behind an offensive line that returns abundant talent and experience, even average receivers could look great. The receiver depth is far better than average.
Keanon Lowe
and
Bralon Addison
need to continue to contribute at a high level as they look to make up for the loss of two of the top three receivers from 2013.
However, since the receiver experience is limited, look for Helfrich to get the tight ends more involved in the pass game as the Ducks return a trio that could help take some of the yardage burden off those WRs. In 2013 the tight end trio of
Pharaoh Brown
,
Johnny Mundt
and
Evan Baylis
accounted for five touchdowns and 475 yards on just 30 receptions.
The run game, again, will be no surprise to anyone. Even without
De'Anthony Thomas
, the Ducks should be fine.
Byron Marshall
-- who led Oregon with 14 rushing touchdowns and 1,038 rushing yards -- and
Thomas Tyner
will be able to attack defenses up front and be a very formidable matchup in the option when teams try to stop the run. They both boast good hands, so they'll be able to help out in the pass game as well, helping Mariota put up even bigger numbers in 2014.
All of that combined will make up a high-powered offense, which is exactly what people expect out of Oregon. But the biggest question will be whether the defense can be an equal counterpart. And with an attack like Oregon's, the defense must almost be even stronger considering it's on the field about 10 minutes more per game than teams.
So it's not very fair to put up their straight defensive numbers and statistics against any other team that doesn't feature as prolific of an offense. But it is fair to say that it's one of the bigger concerns heading into this spring and one of the facets of the game that must make the biggest strides.
Last year, Oregon was known for its deep secondary as it dared teams to throw. But in return, the Ducks struggled against the run even with an experienced group. They gave up 3.8 yards per rush and allowed opponents to convert on 65.5 percent of rushing attempts on third downs (119
th
nationally). Oregon returns
DeForest Buckner
on the D-line, but overall, the group will need to improve its numbers against the run. It's certainly a place where players could emerge through spring ball and one of the most important position groups that must build depth.
But even with the shuffling and inexperience on the defensive line, new defensive coordinator Don Pellum will stick with the 3-4 base defense because of the depth and experience the Ducks have in their linebacker group, which returns three starters, and their defensive backs. Even though the Ducks have just one returning starter in the secondary (cornerback
Ifo Ekpre-Olomu
), most of the DBs got some experience last season.
Next season could be huge for Oregon, but the foundation of what happens next December and January begins right now.
February, 24, 2014
Feb 24
9:00
AM ET
We're taking a look at a player from each Pac-12 team who could step into the spotlight in 2014.
Spotlight:
TEs
Pharaoh Brown
, Jr. (6-6, 241);
Evan Baylis
, R-So. (6-6, 235);
Johnny Mundt
, So. (6-4, 232)
2013 summary:
This tight end troika combined for 30 receptions for 475 yards and five touchdowns.
[+] Enlarge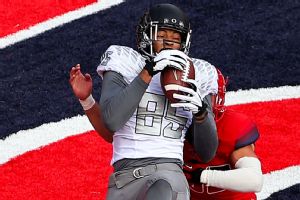 Christian Petersen/Getty ImagesPharaoh Brown, who had 10 receptions for 123 yards in 2013, hopes to get more involved in the Oregon offense in the fall.
The skinny:
Quick: Which Pac-12 team probably has the most talent at tight end heading into 2014? Stanford? Nope. USC? Nope. Oregon State? Well, maybe. The Beavers are pretty stacked at the position, too. But Oregon, which has long had good tight ends -- future NFL players, in fact -- laboring mostly in obscurity, has a dynamic threesome that coach Mark Helfrich and offensive coordinator Scott Frost need to more fully integrate into their offense this spring and fall. All three of these guys are big and athletic. Note the yards per catch: 12.3 for Brown, 17.8 for Baylis and 17.6 for Mundt. Brown started five of the last nine games after missing the first three games with an injury, finishing with 10 catches for 123 yards and two touchdowns. His injury provided the opportunity for Mundt to turn in one of the true "what the heck?" performances of 2013, when the freshman caught five passes for 121 yards and two touchdowns in his starting debut against Tennessee, though his best moment might have been a vicious and effective stiff arm to an SEC defender. He didn't, however, keep up the pace, finishing with 16 receptions for 281 yards and three TDs. Baylis might have been playing the best of the three at season's end, though he finished with just four receptions for 71 yards. QB
Marcus Mariota
's top two passing targets next fall are sure to be receivers
Bralon Addison
and
Keanon Lowe
, but there is no reason the tight end position can't boost the Ducks' offensive diversity with 50 or 60 receptions, not to mention help in the running game in two-tight end sets. Who says you can't use Stanford's "jumbo" formation in an up-tempo offense?
Previous spotlights
January, 24, 2014
Jan 24
9:30
AM ET
Earlier this morning, we took a look at who might replace the guys who jumped to the NFL in the South Division. Here's a look at the North.
Leaving:
Brendan Bigelow
, RB, Cal
The replacement
:
Khalfani Muhammad
and
Daniel Lasco
are both coming back, so there is at least some experience at the position.
Jeffrey Coprich
and
Darren Ervin
could also see some time. Incoming freshman
Devante Downs
is built more like a fullback but could also see some carries in the running game.
Leaving
:
Richard Rodgers
, WR, Cal
The replacement
:
Stephen Anderson
is a possibility to emerge at inside receiver.
Darius Powe
is going to see action regardless of whether it's inside or outside and
Raymond Hudson
,
Jacob Wark
, and
Drake Whitehurst
are all possibilities.
Leaving
:
Khairi Fortt
, LB, Cal
The replacement
:
Nathan Broussard
is coming off an injury and
Raymond Davison
and
Jason Gibson
are moving back to linebacker from safety. Juco transfers
Sam Atoe
and
Jonathon Johnson
could help. Also, Downs (see the Bigelow section) comes in as an athlete, and putting him on the defensive side of the ball is a possibility.
Leaving
:
Kameron Jackson
, CB, Cal
The replacement
:
Darius Allensworth
and
Trey Cheek
will get the most looks.
Cedric Dozier
saw some starting time last season. He's not a lock but has some experience.
Isaac Lapite
,
Adrian Lee
and
Joel Willis
are also possibilities.
Stefan McClure
should also be back from his 2013 injury, and
Cameron Walker
, who was playing out of position at safety, might move back to corner.
Leaving
:
Viliami Moala
, DT, Cal
The replacement
:
Jacobi Hunter
should be the main guy, but transfers Trevor Kelly and
Marcus Manley
should help out across the line.
Austin Clark
is still waiting to hear about his sixth year of eligibility, but if he gets it, he and
Mustafa Jalil
could shuffle up and down the line as they look to replace the graduated
Deandre Coleman
as well.
Leaving
:
Chris McCain
, DE, Cal (Previously dismissed from team)
The replacement
:
Kyle Kragen
and
Puka Lopa
were the top two guys to replace McCain after he left.
Brennan Scarlett
is also expected back and Johnson could be in the mix. The coaching staff seems to be really high on him.
[+] Enlarge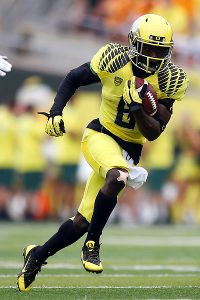 Jonathan Ferrey/Getty ImagesDe'Anthony Thomas' unique set of skills will be hard for Oregon to replicate.
Leaving
:
De'Anthony Thomas
, RB, Oregon
The replacement:
Unless Oregon is hiding another multitalented back who can run like DAT, there is no "real" replacement.
Byron Marshall
and
Thomas Tyner
should continue to get the work as the primary 1-2 punch, but it will be interesting to see if the Ducks use either in a more dynamic way like they did Thomas.
Leaving
: Colt Lyerla, TE, Oregon (Left the team earlier in the season).
The replacement:
Pharaoh Brown
,
Evan Baylis
and
John Mundt
will all continue to get work, probably in that order. They all pitched in in some capacity after Lyerla left the team, so the Ducks should be in good shape at the position.
Leaving
:
Terrance Mitchell
, CB, Oregon
The replacement
: That
Ifo Ekpre-Olomu
opted to return bodes well for the Ducks.
Troy Hill
would have been the obvious selection, but he remains suspended indefinitely, and his future with the program is in question.
Dior Mathis
has experience and the coaching staff is high on redshirt freshman
Chris Seisay
. Juco transfer
Dominique Harrison
enrolled early and will participate in spring ball, so there are options.
Leaving
:
Brandin Cooks
, WR, Oregon State
The replacement
: Much like USC's dilemma with
Marqise Lee
, The Beavers' task of replacing a Biletnikoff winner is no easy one.
Victor Bolden
is the logical choice. He returned kicks, ran a few fly sweeps and was Cooks' immediate backup. But a big wide receiver class last year that included Bolden,
Hunter Jarmon
and
Walter Jones
could make things more interesting in the spring.
Leaving
:
Scott Crichton
, DE, Oregon State
The replacement
:
Lavonte Barnett
was the backup all season but didn't have much production.
Jaswha James
has bounced around a bit -- mostly at linebacker -- but has finally settled at DE and had a nice bowl performance.
Titus Failauga
is also a possibility as Mike Riley went out of his way to specifically mention him during a recent teleconference. There are also rumblings that
Obum Gwacham
-- a talented athlete who hasn't worked out at wide receiver -- could move to defensive end.
Leaving
:
David Yankey
, OL, Stanford
[+] Enlarge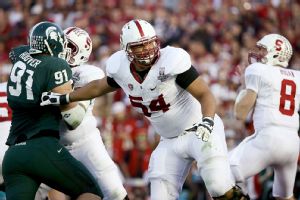 AP Photo/Ben LiebenbergStanford has a lot of offensive linemen with experience, but replacing an All-American such as David Yankey is never easy.
The replacement
: A member of Stanford's lauded offensive line recruiting class of 2012,
Joshua Garnett
has already seen his share of playing time. That's one of the big advantages of being an offensive lineman at Stanford. With their multiple offensive-linemen sets, there is plenty of rotation. Then again, Yankey was a two-time All-American -- it's tough to replace that.
Leaving
:
Cameron Fleming
, OL, Stanford
The replacement
: Like Garnett,
Kyle Murphy
was part of the '12 class and has also seen his share of action on the offensive line. The Cardinal are replacing four offensive linemen, but most of those replacements -- such as Garnett and Murphy -- already have some playing experience.
Leaving
:
Ed Reynolds
, FS, Stanford
The replacement
: Good question. All of Stanford's free safeties are gone, while returning strong safeties include
Jordan Richards
and
Zach Hoffpauir
. Someone could make a switch, or it's possible that former quarterback
Dallas Lloyd
, who is now making the transition to safety, could play here.
Leaving
:
Bishop Sankey
, RB, Washington
The replacement
:
Jesse Callier
started the 2012 season, but a season-ending injury gave rise to Sankey.
Dwayne Washington
seems like he could be an every down-type back, while Callier excels in third-down situations or as a changeup back.
Deontae Cooper
will also see carries.
Leaving
:
Austin Seferian-Jenkins
, TE, Washington
The replacement
:
Joshua Perkins
was the No. 2 all season, so there's little reason to think he won't graduate to No. 1. He's more receiver than blocker, but he's got talent and shouldn't have a problem assuming the role of the outgoing Mackey winner.
March, 28, 2012
3/28/12
5:45
PM ET
By
ESPN.com staff
| ESPN.com
Oregon coach Chip Kelly runs a fast-paced offense and a fast-paced pre-spring football teleconference.
When a telephone operator announced there were no more questions in the queue on Wednesday -- instead of the customary reiteration of "Hit 'star-1' to ask a question" -- Kelly hung up before completing the typical roster run-through.

Of course, while Kelly is often insightful and colorful while answering specific questions about specific players, he's not much for presenting a pecking order for positional competitions heading into spring practices. A pre-spring depth chart? Neh.
"Everything's wide open," Kelly said. "It doesn't matter what position you play on our team. It's always been that way -- since day one -- and it'll always be that way. Our program is founded on competition, so we don't go in saying who's what at every position."
That includes the QB competition between
Bryan Bennett
and
Marcus Mariota
, which was brought front-and-center by the somewhat surprising early departure of
Darron Thomas
for the NFL draft.
Some quick notes:
Kelly said the QB battle likely won't be decided until the week before the opener against Arkansas State on Sept. 1.
Three true freshmen will participate this spring: DL Arik Armstead, TE Evan Baylis and QB Jake Rodrigues. All three could be in the mix for playing time, even -- conceivably -- Rodrigues. Of course, as Kelly said, "They've got to catch up."
Kelly on Kenjon Barner taking over for LaMichael James after three years as an understudy: "I know Kenjon Barner is capable of being a 25 carry guy, if need be... I think Kenjon coming back for his senior year, he's going to be one of the top running backs in the country."
Oregon's spring practices, for the first time, are completely closed. Said Kelly, "We analyze everything in this football program, look at the pluses and minuses. And if the pluses outweigh the minuses, that's the direction we go in." Kelly then added that only a handful of fans typically show up for open practices: "It's not like we've told thousands they can't come to practice."
The first of 15 practices is Tuesday. The spring game on April 28 at 11 a.m. at Autzen Stadium will not only be open to everyone, it also will be broadcast on ESPN3.