October, 4, 2014
10/04/14
7:21
PM ET
SOUTH BEND, Ind. -- Ninth-ranked Notre Dame topped No. 14 Stanford
17-14
on Saturday. Here's how it went down:
How the game was won:
Ben Koyack
caught a wide-open 23-yard touchdown pass on fourth-and-11 with 1:01 left to give the Irish a 17-14 lead. A game in which points were hard to come by featured two touchdowns in the final 3:01, with
Everett Golson
directing the winning drive.
Game ball goes to:
Cole Luke
had two interceptions, becoming the first Irish player with two picks in a game since Manti Te'o did against Michigan two years ago. The sophomore also forced a fumble and has been a huge piece for the Irish in
KeiVarae Russell
's absence.
What it means:
Notre Dame's perfect season is alive at 5-0, as the Irish survived their first true test of the season against the nation's No. 1 defense. The Irish's young defense continued to impress and will only get better as the season moves along.
Playoff implication:
At 5-0, Notre Dame's College Football Playoff hopes remain alive, with a huge test awaiting in two weeks at reigning national champion Florida State. Two-loss Stanford isn't completely eliminated, as this was a nonconference game, but the Cardinal essentially need to win out to have a chance, something that looked more possible with Oregon's struggles Thursday but less possible with Stanford's offensive ineptitude Saturday.
What's next:
Notre Dame has what is essentially a tuneup for Florida State as it takes on reeling North Carolina next Saturday. Stanford hosts Washington State on Friday before it travels to Arizona State for a Pac-12 title game rematch on Oct. 18.
June, 21, 2013
6/21/13
11:00
AM ET
Notre Dame and the Pac-12 clash three times in 2013. First, it's Arizona State on Oct. 5 in Arlington, Texas. Then, the Irish host USC on Oct. 19 before closing out the season Nov. 30 at Stanford. Is any one of the three games more intriguing than the others? Notre Dame blogger Matt Fortuna and Pac-12 blogger Kevin Gemmell weigh in.
Matt Fortuna
: The USC game is the USC game. It's another night game at Notre Dame Stadium, and we all know the Irish do not want a repeat of 2011, when the Trojans beat them from start to finish in the building's first night contest in 21 seasons, which all but ended the Irish's BCS bowl hopes in the middle of the season.
The Arizona State game comes at a crucial time for both teams -- sandwiched between the Irish's Oklahoma tilt and their bye and following a three-week stretch of Wisconsin, Stanford and USC for the Sun Devils. But I've still got my eyes on Stanford, for a number of reasons.
For one, Notre Dame and Stanford seem to mirror each other, from the classroom standards to the smash-mouth, defensive-oriented style of football both displayed during BCS bowl seasons in 2012. One needs to look no further than last Oct. 13, with "College GameDay" in town and the rain coming down hard in South Bend, Ind.
It wasn't just that the Irish finally beat the Cardinal that day, it was the way that they did it -- utilizing an overtime goal-line stand to top a team that, in victories in the three seasons prior, had outrushed Notre Dame by a 642-208 margin.
Notre Dame outgained Stanford on the ground in their 2012 matchup.
Stanford was the standard, and Notre Dame passed it in fitting fashion.
When the Irish topped USC six weeks later to clinch a BCS title game spot, athletic director Jack Swarbrick said that the Stanford game was what made him think the program had turned a corner and could pull off the run it did last fall. When Stanford topped Wisconsin to win the Rose Bowl, Cardinal coach David Shaw called the Irish contest a turning point, as the team went on to win its final eight games.
With this season's game serving as both teams' regular-season finale, the stakes might be even higher.
Sure, the loss of quarterback
Everett Golson
hurts Notre Dame's chances at reaching another BCS title game. But the program is still in position to compete for a BCS bowl bid, and the final hurdle this fall might be the program it has begun to mirror in so many ways recently.
[+] Enlarge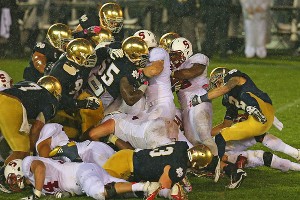 Jonathan Daniel/Getty ImagesNotre Dame and Stanford both pointed to last season's meeting -- an overtime Irish victory -- as key in their respective runs to BCS bowls.
As for Stanford? Well, for a Cardinal program consistently popping up in preseason top-five conversations, and with its conference title-game fate already decided before this contest, Notre Dame might be the biggest thing standing between Stanford and another trip to Pasadena, Calif. -- this time with stakes much higher than last season.
Kevin Gemmell
: No doubt, that game has plenty of intrigue, but I'm really eyeing the Arizona State game. And had I gone first in this Take 2, I still would go with Arizona State.
First, nationally televised games on neutral fields smack-dab in the middle of the season should naturally perk the ears up. Second, these two teams have
stirred the pot in recent weeks
, with the Sun Devils staring down the Irish to keep that 2014 game in Tempe, Ariz. Third, I think it's going to be an outstanding football game.
This is a big push season for the Sun Devils -- who feel like they have the personnel and depth to make a run at not just the South Division, but maybe the Rose Bowl. Their quarterback is efficient, their running back tandem is explosive and their defensive front seven might be as good as any in the Pac-12.
And I think the Sun Devils will be able to put up some points.
Marion Grice
and
D.J. Foster
form as dynamic a running back combination in the country, combining for 25 touchdowns last season on the ground and through the air.
Taylor Kelly
should be an even better quarterback this season after posting a 67.1 completion percentage in his first season as a starter, with 29 touchdowns to nine interceptions. And
Chris Coyle
is one of the top tight ends on the West Coast. If the junior college transfers ASU is expecting in the fall pan out at wide receiver, the Sun Devils will have one of the most diverse offenses in the league.
I'm also really excited to see how
Will Sutton
,
Carl Bradford
and the rest of the front seven do against Notre Dame's traditionally beastly offensive fronts -- headlined by left tackle
Zack Martin
. Last season, only five FBS players had 80-plus tackles, 20-plus tackles for a loss and 10-plus sacks. Three of them are gone. The remaining two are in the Pac-12. Bradford is one of them. And in case anyone forgot, Sutton, an All-American, had 13 sacks and 23.5 tackles for loss.
As Matt notes, this game comes at the tail end of what could be a character- and season-defining four-game stretch for the Sun Devils. Just two weeks earlier, that ASU defensive front will have faced one of the best offensive lines in the country in Stanford. However that game turns out, there's probably going to be a lot of self-scouting and lessons learned. The Sun Devils will know what they are made of before they set foot in Texas. And, apropos of noting, I also find it ironic that Notre Dame will be scouting ASU from consecutive weeks of Stanford and USC film.
Just as the Stanford game was a turning point for both teams last season, the Arizona State game could have a similar impact in 2013.
May, 28, 2013
5/28/13
12:30
PM ET
There should be no joy when a college football player shows "
poor academic judgment
," as Notre Dame quarterback
Everett Golson
described his turn of misfortune, thereby earning a suspension that ended his 2013 season before it began.
So stop smiling, particularly you guys in Tempe, Los Angeles and Palo Alto.
Seriously, that's not terribly charitable.
In any event, Golson's academic pratfall dramatically changes the complexion of the three Pac-12 games with Notre Dame this season: Arizona State in Cowboys Stadium on Oct. 5, USC on Oct. 19 and at Stanford on November 30.
While Golson was inconsistent as a redshirt freshman starter last fall, he still was good enough to lead his team to an undefeated season and a berth in the national title game. Word this spring was
he looked more in command
and greatly improved, which makes sense for a second-year starter. It's not unreasonable to believe the big-armed, speedy dual-threat QB would have been more of a dual threat this fall, perhaps significantly more, a guy who well fit what coach Brian Kelly wants to do on offense.
There is no way to sugarcoat it: Notre Dame just got worse. And that benefits the Irish's opponents.
With Golson back, one could overlook obvious issues for an offense that only finished 78th in the nation in scoring last year. Now, not so much. As ESPN.com's Matt Fortuna pointed out, this offense "features two new starting linemen, is down its top two running backs from last year, and has no sure answer to replace record-setter Tyler Eifert at tight end."
So the Irish are going to -- again -- lean heavily on their defense. Arizona State, USC and Stanford each have offenses that, at least in terms of potential, can more than match up with what should again be a good Notre Dame defense. And all three should have an advantage when their defense squares up with the new-look Irish offense, particularly Stanford.
With Golson gone, the most obvious answer is experienced senior
Tommy Rees
. He has 18 career starts and has played well at times, but he's far from big armed and he doesn't have the running ability Golson has. Life gets much easier for a defense when the opposing QB isn't a substantial run threat.
While it's unseemly to leap into the air and click your heels together over a foe's misfortune, it is fair to say that Todd Graham, Lane Kiffin and David Shaw didn't have their Memorial Day weekend ruined by this news.
October, 13, 2012
10/13/12
10:23
PM ET
SOUTH BEND, Ind. -- The secret to
Tommy Rees
' ability to step in without a moment's notice and lift Notre Dame out of its second deficit of the season is really no secret at all. It's plain on the sideline for all of his teammates to see. It's the reason why, when the trailing team's starting quarterback goes down in the final minutes with an undefeated season on the line,
Manti Te'o
said, the Irish "don't have any worries."
"It's just: OK, Tommy's in now," Te'o, one of four captains, said after Notre Dame's
20-13 overtime victory
Saturday over Stanford.
"Good luck, defense."
Why?
"He's watching the game, relaying stuff to coaches,"
Tyler Eifert
, another captain, said. "His knowledge of the game is so good that the coaches sometimes depend on him to talk to him [starting QB Everett Golson] and tell him what he's seeing out there for the sideline. He's focused on the game and not distracted during the game at all."
The clock showed 3 minutes, 27 seconds left in the fourth quarter when the white and gold helmets clashed at the Notre Dame 47-yard line, and the best backup quarterback in the country immediately went searching for his own headgear.
"Get your helmet and let's go," coach Brian Kelly recalled telling Rees. "He couldn't find his darn helmet."
[+] Enlarge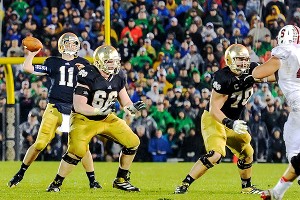 Robin Alam/Icon SMTommy Rees completed all four passes he threw against Stanford, including the winning score in OT.
That's as unprepared as the junior would be on a Saturday when he helped the Irish get to the season's halfway mark undefeated, completing 4 of 4 passes -- three of them in overtime -- in setting up
Kyle Brindza
's game-tying field goal before a 7-yard touchdown pass to
T.J. Jones
proved to be the deciding score in Notre Dame's sixth and most dramatic win of the season.
When
Everett Golson
was shaken up after a helmet-to-helmet hit from Stanford's
Usua Amanam
, his chance at lifting the Irish out of a three-point hole gave way to four support staff members crowding him on the sideline, his helmet off, his vision blurred from what Kelly later called a blow to the head.
The redshirt freshman's most uneven start of the year featured three fumbles but enough scrambling ability and resiliency against a hungry defense to keep Notre Dame alive, the calls for his backup to replace him coming the loudest after a fumble in his own end zone led to a Cardinal touchdown and the first Notre Dame deficit of the season.
And yet few have done more in a shorter period of time than Rees has in going from one of the most vilified students on Notre Dame's campus to one of the most popular, and not just because, like every No. 2 signal-caller on every level of this game, he is not the guy on the field making the mistakes. The twist has taken a sharper turn than the breaks that had so often been going against the Irish before this season.
Two closing jobs through Notre Dame's first five games of 2012 have Rees ready and waiting for his number to be called. But even he admitted afterward that this call was unlike any other so far.
Still, staying engaged while watching on the sideline for three-plus hours has not been the hard part for the aspiring coach.
"I like it," Rees said. "I love football and I love the game and I love learning and I love paying attention and trying to help Everett and the rest of the guys as much as I can. I stand with
[Andrew] Hendrix
most of the game and we talk about what the looks are out there. We just try to relay some of that."
Kelly added: "He's an incredible young man that he can stay so focused in the game, know what's going on during the game. At halftime I'm talking with him and Everett and he's pointing out some things about the outside coverages that we should maybe think about running, as well. He's just a very smart football player."
And so despite the biting rain pouring down shortly after his entrance -- creating a muck of a field -- and despite a big hit from
Trent Murphy
on the first play of overtime that threatened to unsettle things, Rees delivered.
He completed three consecutive passes in the extra session, his biggest a 16-yarder to
Theo Riddick
on a third-and-8 that saw the Irish staring at a long field goal in anything-but-simple conditions. He hit Jones for the score, and he watched his defense make a goal-line stand, celebrate, wait for an official's confirmation, then celebrate again.
Notre Dame is 6-0, with two different quarterbacks playing pivotal roles in three wins apiece.
"Not exactly, no, I didn't imagine this," Rees said. "For good, bad or different, it's worked out this way and it's going well, I guess, we are 6-0 I think."
October, 13, 2012
10/13/12
7:25
PM ET
It was wet and often times ugly with No. 17 Stanford at No. 7 Notre Dame. As expected, it was physical and the weather made for some sloppy play on Saturday. Sixty minutes wasn't enough. The Irish clutched up and won
20-13
in overtime. Here's how it all went down:


It was over when
: After Notre Dame went ahead in overtime on a 7-yard touchdown pass from
Tommy Rees
(in for the injured
Everett Golson
) to
TJ Jones
, the Irish defense stopped
Stepfan Taylor
from the 1-yard line on third and fourth down. The final play even went to review to determine when Taylor's forward progress was stopped. The call on the field was upheld. It was high drama until the very end.
Game ball goes to
: The Notre Dame front seven. They clutched up when it mattered in overtime with two huge stops. It was ugly, it was messy and it was a heck of a football game.
Unsung hero
: Though he's part of that front seven, Notre Dame's
Manti Te'o
was huge, leading all players with 11 tackles. A fantastic performance from one of college football's marquee players.
Unsung hero II
: Fans were screaming for Rees, but they didn't get him until Golson was injured. He came in off the bench and was 4-for-4 for 43 yards and the touchdown in overtime.
Unsung hero III
: Give some credit to the Cardinal defense as well. It provided Stanford with its only touchdown of the game when
Ben Gardner
sacked Golson in the end zone and forced a fumble that
Chase Thomas
recovered for a touchdown in the second quarter.
What it means for Notre Dame
: The Irish remain undefeated, showed they can win ugly, and now have three wins over teams ranked in the Top 20. Expect a nice slot for them when the BCS rankings come out Sunday.
What it means for Stanford
: It was the second straight week the Cardinal have gone to overtime, though the outcome was different last week. Stanford needs to figure out how to score on the road. The Cardinal have two touchdowns in two road games this year and both came from the defense. They are on the road again next week at Cal.
October, 9, 2012
10/09/12
9:00
AM ET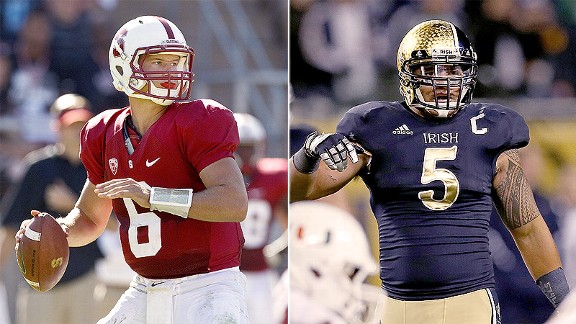 Getty ImagesHow will Josh Nunes and the Cardinal fare against Manti Te'o and Notre Dame's shut-down defense?
"College GameDay" will be in South Bend this week, bringing more hype to an already highly anticipated matchup between No. 7 Notre Dame and No. 17 Stanford. Notre Dame blogger Matt Fortuna and Pac-12 blogger Kevin Gemmell got together to throw out some early thoughts on the game.
Kevin Gemmell
: Well Matt, I'd imagine this is going to be a much different blogger discussion than the one we did to close out the 2011 season, when Andrew Luck was gunning for a Heisman, Stanford was looking for a BCS bowl berth and Notre Dame was playing quarterback roulette.
Lots of changes from both teams since the end of last November.
Kick it off and give those of us on the Left Coast a feel for what's happening with the Irish right now. I know they are a spread team. But it's different from the spread Stanford saw last week against Arizona and the one they will see later this year at Oregon. What's the skinny?
Matt Fortuna
: Kevin, the Irish offense is still very much in the developmental stages, largely because its quarterback,
Everett Golson
, is a redshirt freshman who has played only five games. They let him loose a bit against Miami, as he showed some running ability that the Irish haven't seen at the position in recent years, but he was not exactly facing Stanford's defense, either.
Notre Dame has a big, physical offensive line that allows the team to run the ball effectively and take much of the pressure off Golson.
Tyler Eifert
may be the best tight end in America, but he has been the focus of every defense so far and has not put up the numbers he did last season. The Irish have a number of reliable upperclassmen receivers, but no real game-breaker who has stepped up to be that go-to guy yet.
Conversely, what in the world do we make of this Stanford defense? I thought we'd be looking at two similar teams slugging it out in a 10-7 battle, but then I saw this past Saturday, when Arizona put up 48 points on the Cardinal.
[+] Enlarge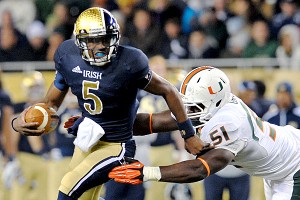 Matt Cashore/US PresswireEverett Golson had one of his best games of the season against Miami on Saturday.
Kevin Gemmell
: First off, bold statement to make about Eifert with the tight end duo of
Zach Ertz
and
Levine Toilolo
coming to town. Toilolo caught five balls for 141 yards and a score against Arizona and Ertz had six catches for 64 yards and a score. The Cardinal are 10-1 when Ertz catches a touchdown ... just sayin'.
Now, about that defense. Yikes, indeed. The Wildcats had 617 total yards. But the most disturbing part about it -- according to Stanford head coach David Shaw -- was that Arizona got some big plays over the top of the secondary. The Cardinal are happy to give up the short passes, so long as they make tackles at the point of the catch. But getting beat over the top is a no-no. Shaw said that's just a technique issue and can be corrected in the film room. We'll see.
But we can't dump on the defense too much. Because when they absolutely needed a stop -- or a couple of them -- they got it. They clutched up in the fourth quarter, got the ball back for the offense and the Cardinal scored twice in the fourth to overcome a 14-point deficit. And
Chase Thomas
had the interception in overtime that led to Stanford's win.
Tell me about the Notre Dame defense. No touchdowns in the past three games and the state of Michigan is 0-for-end zone against the Irish. Are they as advertised?
Matt Fortuna
: Miami didn't score a touchdown, either, making it three straight games that this defense has held an opponent out of the end zone. The simple answer so far is yes. The Irish are giving up 7.8 points per game, second-lowest in the country. They have forced 13 turnovers and recorded 14 sacks. The front seven has looked as good as any in the country, and
Manti Te'o
may just be the best defensive player in the country.
The secondary has had two starters go down since camp -- and was entering this campaign with no returning starts at cornerback to begin with -- but has more than held its own through five games, surviving a couple of early drops against Miami and not letting any Canes receivers get over the top after the game's opening drive.
Does
Josh Nunes
have the ability to make life difficult for the defensive backs this week?
Kevin Gemmell
: And therein lies the $1 million question. Nunes was adequate the first two games, solid in the second half against USC, terrible at Washington and then he blew up last week against Arizona, throwing a pair of touchdowns and running for three more. So far, he has done his best work at home and his worst performance was in their only game away from Stanford Stadium.
So this will be a huge test for him to see if he can get it done outside of Palo Alto. A lot of people were calling for his ouster after the Washington debacle, so credit Nunes for pushing out the noise and refocusing with a possible season-saving performance against the Wildcats. He's still not where Shaw and the Cardinal need him to be from a consistency standpoint. But I don't think anyone is going to question his toughness, determination or character after last week.
As for whether he can make it tough -- a lot of that falls on the Stanford receivers. Wide receiver
Ty Montgomery
needs to play better.
Jamal-Rashad Patterson
came through with a big catch and, of course, the tight ends will play a major role. If the Cardinal can run the ball effectively (no promises against a good Notre Dame front), then it will force those safeties down and create some matchup problems with the tight ends. Nunes has to consistently get them the ball as he did against Arizona. Because if he falters on the road as he did against Washington, it will be another touchdown-free performance for the Irish.
So closing it out, it seems as though Stanford's tight ends will be the biggest X factor for the Notre Dame defense. Can they hang with the 6-foot-6 Ertz and 6-8 Toilolo?
Matt Fortuna
: I still have images of Stanford's tight ends dragging Irish corners during last year's contest. Those were a pair of seniors with multiple starting seasons under their belts. This is a pair of first-year starters who came to Notre Dame as offensive players.
I still think a big part of it comes down to the pressure Notre Dame gets up front. It didn't have any sacks against Miami, but it took the pocket away from
Stephen Morris
and threw off timing. That has been the Irish's defensive formula so far, and I expect them to try it again Saturday, even against an offensive line as good as the Cardinal's.