January, 26, 2015
Jan 26
2:00
PM ET
We all know that recruiting is an inexact science, and Arizona linebacker Scooby Wright proves the point, as Wright's Twitter handle --
TwoStarScoob
-- testified while the true sophomore unanimous All-American became the nation's most decorated defensive player, winning the Lombardi, Nagurski and Bednarik awards.
Back when he was known as "Philip" Wright as a high school senior, he was rated just two stars by
Rivals.com
and
Scout.com
. ESPN.com -- cough, cough --
gave him three stars
.
Funny thing is, for every player who is celebrated at every level all the way to NFL super-stardom, there are more cases of guys coming from nowhere to become stars. Or at least key contributors.
That is the purpose of this series. We'll run through each Pac-12 team and highlight a player who was low on star rating when he arrived on campus but became a critical guy.
We start with Wright's own team:
Arizona
.
Two-Star Scoob
: OT
Fabbians Ebbele
Recruiting ratings
: ESPN.com: Not rated; Rivals.com: Three stars; Scout.com: No. 5 OT in Illinois.
Recruiting analysis
: He made the Chicago Sun-Times first-team all-public league and the Sun-Times area top 100. His first scholarship offer came from Illinois in December of his senior year. While his size -- 6-foot-8, 315 pounds -- is ideal for a tackle, there was some concern about Ebbele's lack of speed as his recruiting 40 time was listed as 5.74.
On campus
? After redshirting his freshman year, Ebbele went on to start 50 games as a four-year starter. During those four years, the Wildcats averaged at least 458 yards per game, despite using four different quarterbacks, two different head coaches and three different O-line coaches. In 2011, as a pass-first offense with Nick Foles behind center, Ebbele's line yielded just 23 sacks. Over the next two years, the Wildcats rushed for 228 and 265 yards per game and gave up 18 and 17 sacks. While the sack numbers went up this season to 40 with redshirt freshman
Anu Solomon
at QB, the Wildcats averaged nearly 35 points and 463 yards per game. While Ebbele never became an All-Pac-12 performer, his steadiness and durability were key reasons the Wildcats have surged in three years under Rich Rodriguez.
December, 3, 2014
12/03/14
2:00
PM ET
Without Arizona's offensive line play, there probably wouldn't be stories about quarterback
Anu Solomon
or running back
Nick Wilson
or the Wildcats' outstanding wide receiver corps.
And there definitely wouldn't be stories about Arizona winning the Pac-12 South Division and squaring off with the
Oregon Ducks
in Friday's Pac-12 championship game.
This is not a heralded bunch. When the
all-conference teams
were released Monday night, only center
Steven Gurrola
was named to the second-team all-league squad. No one else even got an honorable mention.
Yet this group helped the Wildcats produce the No. 4 rushing offense in the conference, averaging nearly 190 yards per game -- and they were second to only Oregon in rushing touchdowns (23). The 'Cats were also fourth in total offense (481.2 yards per game) and scoring offense (36.7 points) while staying in the upper-half in the league (5th) in sacks allowed. As good as Arizona's skill players have been, the offensive line at least had
a little something
to do with that success.
[+] Enlarge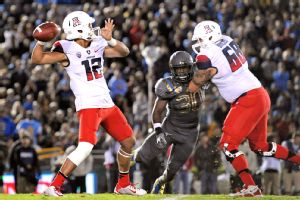 Jake Roth/USA TODAY SportsSenior Mickey Baucus (No. 68) and the rest of the offensive line have been a key cog to Arizona's well-oiled machine this season.
No matter. They don't want the attention anyway. They'll leave that to Solomon and Wilson and the receivers.
"We're happy those guys are having success, because that means we're having success as a team," said left tackle
Mickey Baucus
. "We just want to go out there and do our business. If an offensive lineman's name is getting called, it's usually because he gave up a sack or committed a penalty. We just like to do our stuff in the background and win football games."
Added Gurrola: "It's part of the position. We're not looking to get our names out there."
While the line has gone mostly unnoticed by the masses, it has certainly caught the attention of Oregon coach Mark Helfrich. He saw its handiwork first hand earlier this year when the Wildcats rushed for 208 yards and totaled 495 yards in their
31-24 win
against the Ducks in Eugene.
"They've done a really nice job," Helfrich said. "They are huge on the edges. Huge tackles. They look ginormous, 6-7, 6-8, 3-something. And they can move. They do a great job with all the run-pass stuff. It's literally difficult to see the ball just by their sheer size, whether it's a give or a keep by the quarterback, a keep by the quarterback and a throw. They do a great job of providing a level of deception just from their girth."
Experience on the line has been key this season for the Wildcats. Baucus will be making his 51st start in the conference championship game and right tackle
Fabbians Ebbele
has started 48. That gives the 'Cats 99 starts on the edges. Gurrola has started 26 games and guard
Cayman Bundage
has started 24.
"That experience has helped," said coach Rich Rodriguez. "We haven't always dominated. We've played some really good fronts. Sometimes they've won, sometimes we've won. But our guys, because they have been through the battles, so many battles and so many games, there's not a lot of things that they'll see throughout the course of a game they haven't seen before and they can't adjust to. From a scheme standpoint, from an intelligence standpoint, we've been really good up front."
The Wildcats have also been blessed with consistency. The trio of Baucus, Gurrola and Ebbele has started every game this season. Bundage has started 11 of 12 and redshirt freshman
Jacob Alsadek
has started nine.
Lene Maiava
has seen spot duty, starting four games at either guard position. So for nine of Arizona's 12 games they have had the same starting five up front.
That continuity has helped the Wildcats gut out some tough wins. Seven times this season their games have been decided by seven or fewer points. And Arizona is 6-1 in those tight games.
"Just because we've been there before, we don't get rattled that easily," Baucus said. "The biggest thing about us as a group is we're fighters. We've been down in some games, but we fight all 60 minutes. That's why we've been so successful in a lot of those close games."
Perhaps Friday's title game will be a nail-biter as well? The first meeting was decided by a touchdown. But neither team is putting much stock in the "rematch" element.
"They are a good team, but so are we," Baucus said. "We're just excited to play for a championship."
May, 22, 2014
5/22/14
7:00
PM ET
There might be no one on the entire Arizona roster more eager for coach Rich Rodriguez to pick a starting quarterback than center
Steven Gurrola
-- except maybe the handful of quarterbacks who are still vying for the job.
Still, as far as Gurrola is concerned, the sooner the better.
"Every quarterback is different," Gurrola said. "I've got a different relationship with each one. For example, me and
Jesse [Scroggins]
will snap it two times. Then I'd go to [the next guy] and snap two times. I'm trying to get a feel for where each one wants it. They are different heights. They each have different aiming points where they want the ball. It's different for each guy, but you have to find a way to adjust to whatever makes them comfortable."
[+] Enlarge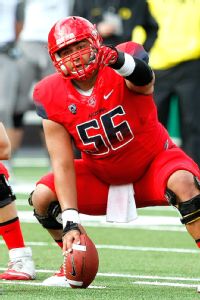 AP Photo/Rick ScuteriArizona center Steven Gurrola anchors an experienced O-line.
The relationship between center and quarterback is a, well, an intimate one. So Gurrola, like the rest of Bear Down nation, can't wait to see who finally emerges with the job.
One thing is for sure. Whoever does get the job will have a veteran line protecting him. The Wildcats return four starters on the offensive line: Gurrola, who was recently named to the Rimington spring watch list for the nation's best center; left tackle
Mickey Baucus
, who has started 38 games; left guard
Cayman Bundage
, who started all 13 games last fall and played in 11 more as a true freshman; and right tackle
Fabbians Ebbele
, who has 37 starts over the last three seasons. The lone starter they are looking to replace is
Chris Putton
.
Continuity like that along the offensive line is invaluable -- especially when breaking in a new starting quarterback. And Gurrola, the de facto leader of the group as center, said he notices the difference between how the offensive line operated this spring compared to last season.
"You can see as a group that we get it," he said. "There was a lot more communication and we all know exactly what we have to do with our assignments. We all know who is reading the safeties and the linebackers and who has the alert calls. It was a lot easier this spring than it was last year."
Of course, last spring the Wildcats also had the benefit of the nation's leading rusher in
Ka'Deem Carey
coming back. Carey would go on to rush for 1,885 yards and 19 touchdowns in 2013 with Gurrola and Co. leading the way. As an offense, the Wildcats averaged 33.5 points per game, totaled 311 first downs and averaged 458.5 yards per game of offense. They were also second in the conference in sacks allowed, giving up just 17 all season.
A transfer from Glendale Community College, Gurrola was tasked with replacing Kyle Quinn -- a staple at center the previous couple of seasons. The expectations were simple: match Quinn's productivity or be better.
"The coaches told me from the beginning that I'd have some big shoes to fill," Gurrola said. "Kyle was a great center. It's one of those things where I knew I'd have to work at it every day if I wanted to be great."
And now he's receiving the recognition as one of six centers in the conference to be named to the Rimington Trophy watch list -- something he called a blessing and an honor.
"It's definitely not something I was expecting," he said. "That I'm even mentioned is exciting."
He also wasn't expecting the pace of Arizona's practices and conditioning when he first arrived. Once he got the job, Rodriguez famously proclaimed that his team was weak physically. Stuff like that doesn't sit well with the players, who took their coach's challenge to heart.
But now, entering the third year of the system, Gurrola and the rest of his compatriots on the line find themselves pushing the tempo more often than not.
"It was a tough adjustment because I didn't know what to expect, and I definitely wasn't in the right shape," Gurrola said. "But things have gotten easier. As the center, I'm pretty comfortable telling my guys they need to keep up the pace. I'll even tell the quarterbacks to speed things up. That's the style we want to play. Always moving."
May, 2, 2014
5/02/14
11:00
AM ET
Three things we learned this spring about the Arizona Wildcats:
The wide receivers are good: How good? Well, that probably depends on the quarterback situation (see below). But Austin Hill is back from injury after being a Biletnikoff Award semifinalist in 2012 and transfer Cayleb Jones is an awards candidate. Davonte' Neal also adds an intriguing element that could make Arizona's corps one of the best in the country.
Secondary leadership: Key players, such as Jared Tevis, Jonathan McKnight and Jourdon Grandon impressed the coaching staff this spring. However the Wildcats have lost a few defensive backs here and there. So look for a safety -- or even a wide receiver or two -- to get some work at corner in the fall while that trio holds the group together.
Solid line: Mickey Baucus and Fabbians Ebbele bring a lot of experience to a group that will have to make holes for a new running back and protect a new quarterback. The addition of Jim Michalczik as offensive line coach last season was a boost to the unit, which showed steady improvement throughout last season and is blossoming into one of the better lines in the league.
Three questions for fall:
QB of the O: Arizona has one of the most intriguing quarterback competitions in the country. The winner will likely have strong numbers running Rich Rodriguez's offense. And with a group of wide receivers that stacks up with just about any other in the country, whoever runs the show will not be lacking in talented targets. As for settling on one guy…
QB of the D: The departure of linebacker Jake Fischer leaves a defensive void as well as one in the locker room. Fisher was quietly one of the top linebackers in the league the last few years. Scooby Wright has the talent and will have to grow into a leadership role despite being a sophomore. Hank Hobson has dealt with injuries, but is capable.
Something special: The Wildcats ranked in the bottom half of the league last year in kick and punt returns, though significant progress could be on the way with T.J. Johnson and Neal in the return game. Last year the Wildcats were ninth in kick returns (20.5 average) and seventh in punt returns (7.2 average).
One way-too-early prediction
: After back-to-back eight-win seasons in Rodriguez's first two years, the Wildcats will surpass that win total and get to nine wins – which includes a third consecutive bowl win. The nonconference slate sets up for a 3-0 start. Then it's a matter of finding five conference wins plus a bowl victory. In the third year of RichRod's system – and with that WR stable – the Wildcats are capable of doing a lot of damage.
August, 21, 2013
8/21/13
10:30
AM ET
We conclude our day-by-day snapshots of each Pac-12 team heading into the 2013 season in reverse alphabetical order with the
Arizona Wildcats
.
Arizona
Coach
: Rich Rodriguez (83-53, 8-5 at Arizona)
[+] Enlarge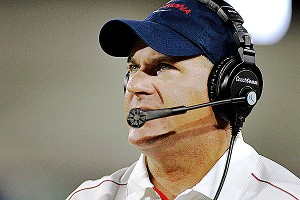 AP Photo/John MillerLast season Rich Rodriguez's offense scored 38 points per game, but his defense gave up 35.
2012 record
: 8-5 (4-5 Pac-12 South)
Key losses
: QB Matt Scott, WR Dan Buckner, C Kyle Quinn, DL Dominique Austin, OL Trace Biskin.
Key returnees
: RB
Ka'Deem Carey
, RB
Daniel Jenkins
, LB
Jake Fischer
, LB
Marquis Flowers
, WR
Terrence Miller
, OL
Fabbians Ebbele
, OL
Mickey Baucus
, OL
Chris Putton
.
Newcomer to watch
: The Wildcats have put an emphasis on building defensive depth, so look for linebacker Scooby Wright to contribute immediately. The all-state performer out of Cardinal Newman (Windsor, Calif.) has impressed so far in camp.
Biggest games in 2013
: With UCLA, USC and ASU getting the bulk of the hype in the Pac-12 South, the Wildcats will have to pull off some upsets if they want to be in contention. That makes all three (at USC Oct. 10, vs. UCLA Nov. 9, at ASU Nov. 30) critical. Of course, the ASU game is the biggest of all.
Biggest question mark
: Next week is game week, and the Wildcats are still in quarterback limbo. It was thought that
B.J. Denker
and
Jesse Scroggins
would be the front-runners, but neither has pulled away and
Javelle Allen
, Anu Solomon and
Nick Isham
have all kept pace. They've all shared close to equal reps in camp, so at least there is continuity with the receivers seeing all of the QBs (Denker is the only lefty). The fact that the Wildcats have a fairly easy nonconference schedule bodes well. Rodriguez has already said it's possible he could start three different quarterbacks the first three weeks before Arizona opens league play on the road at Washington on Sept. 28. There are a few more practices coming up before the Wildcats get into "game week" mode, so every rep will count.
Forecast
: It hasn't been the greatest offseason for the Wildcats. The opening of
the new facility
and a couple of awesome! videos (
Part I
and
Part II
) were overshadowed by Carey's
off-field indiscretions
, the loss of wide receiver
Austin Hill
to
injury
and the
departure
of receiver Tyler Slavin. Once thought to be their strongest position group, the Wildcats now find themselves struggling with some wide receiver depth.
Terrence Miller
,
Garic Wharton
and
Johnny Jackson
make up a solid starting three, and
David Richards
, though hampered by injuries, is a solid 3B. And Jenkins can be a do-it-all guy, but it's still an area of concern.
Matt Scott was obviously a huge part of the offense. And he and Carey complemented each other nicely. It will be interesting to see if Carey continues his outstanding pace with a new quarterback. The belief is that there will be just as much passing as last season, and given Arizona's scheme, it's unlikely Carey will be seeing many eight- and nine-man boxes.
The offensive line should also be solid. Quinn was an underappreciated center and he'll be missed, but Ebbele, Baucus and Putton (who will be plugged in as needed) make up a strong troika.
Defensively, the question is if this group, which returns virtually every starter from last year, got better. Fischer and Flowers are legit playmakers, and you'd think a second year in the 3-3-5 will help. As explosive as the Wildcats were offensively, the defense gave up more than 35 points a game -- ranking 102nd nationally. Fortunately, the offense averaged better than 38 points per game.
Arizona is an extremely intriguing team. If Rodriguez can make the quarterback spot plug-and-play, and Scott's production can be mostly replicated, that will take a lot of pressure off Carey, who could be in for another big season. And, if the defense is improved, the offense won't have to feel like it has to win every game.
But those are two big ifs.
May, 8, 2013
5/08/13
11:30
AM ET
ARIZONA WILDCATS
2012 record
: 8-5
2012 conference record
: 4-5 (fourth in South Division)
Returning starters
: Offense: 6; defense: 11; kicker/punter: 0
Top returners

RB
Ka'Deem Carey
, WR
David Richards
, LB
Jake Fischer
, LB
Marquis Flowers
, WR
Terrence Miller
, OL
Fabbians Ebbele
, OL
Mickey Baucus
.
Key losses
QB Matt Scott, WR
Dan Buckner
, C Kyle Quinn, DL
Dominique Austin
, OL
Trace Biskin
.
2012 statistical leaders (*returners)
Rushing
: Ka'Deem Carey* (1,929 yards)
Passing
: Matt Scott (3,620 yards)
Receiving
:
Austin Hill
* (1,364, suffered ACL tear in spring, out indefinitely)
Tackles
: Jake Fischer* (119)
Sacks
: Marquis Flowers* (5.5)
Interceptions
: Marquis Flowers* and
Jonathan McKnight
* (3)
Spring answers
1. Plenty of weapons:
Yes, Austin Hill's injury is brutal. Yes, it's a big blow to the Wildcats. Is it a game-changer? Maybe, maybe not. It's not like the Cats are strapped for receiving options.
Johnny Jackson
, David Richards,
Tyler Slavin
and
Garic Wharton
still make up an awfully formidable receiving corps. If a couple emerge, Arizona will be OK. If they all do, the Wildcats might not miss a beat.
2. The whole defense returns:
Great -- except that the defense struggled last season. Having a ton of starters back is a good thing -- but only if they get better. A second year in the 3-3-5 should naturally lend itself to less thinking and more playing. And it's not just the starting 11. There are 20 defensive players who notched at least one start last season -- so there is depth to go with the experience.
3. O-line rising:
It's no easy task replacing center Kyle Quinn. But the good thing about Arizona's line is that its members are versatile and can play multiple positions. Mickey Baucus (LT) and Fabbians Ebbele (RT) started every game last year and
Chris Putton
started multiple games at both guard spots and can also play center. The five isn't set -- but there is room and depth to mix and match.
Fall questions
1. QB roulette?
Unlike with some other Pac-12 teams with quarterback competitions, Arizona coach Rich Rodriguez doesn't want to name his starter and then stand by his man. He could name a different starter the next day. And then a different one the day after that. Rodriguez said he could have three different quarterbacks start the first three weeks of the season. Many feel
B.J. Denker
had the strongest spring with
Jesse Scroggins
slowed by injury. Stay tuned.
2. Ready to lead?
Did Matt Scott make Ka'Deem Carey look good? Or did Carey make Scott look good? Most think it was a bit of both. With Scott gone and Carey now a national name, the target will be squarely on the chest of last season's national leader in rushing. Carey isn't going to surprise anyone. Can he duplicate 2012's production with the increased attention and a new quarterback at the helm?
3. Injuries stink:
That's not so much a fall question as a statement on the olfactory unpleasantness of injuries. The Wildcats had as many as 20 injuries this spring, meaning a lot of players who might not start in the fall got to start in the spring. That's great for depth, but it leaves a lot of holes and a lot of questions still be to be answered when the bulk of those injured players return in the fall.
August, 17, 2012
8/17/12
2:30
PM ET
June, 19, 2012
6/19/12
9:00
AM ET
Every team has a strength -- that one position group that can make a play on offense or make a big stop on defense when needed.
Based on what happened this spring, we're going to look at the strongest position group for each school. It could be on either side of the ball -- and it could be subject to change after fall camp goes into full swing.
We're going in reverse alphabetical order.

Arizona
Strongest position group
: Offensive line
Headliner
:
Kyle Quinn
(6-3, 300), center
Supporting cast
: T
Mickey Baucus
(6-8, 290); T
Fabbians Ebbele
(6-8, 305); G
Chris Putton
(6-4, 282); G
Trace Biskin
(6-5, 282)
The skinny
: The first thought was the defensive backs -- there are some good headliners in the secondary and a lot of depth. But the fact that the Wildcats potentially return their entire starting offensive line from last season outweighs the secondary's depth.
Three returning offensive linemen is good. Four is great. But to have the entire cast back is such a huge advantage in terms of timing, continuity and overall familiarity. This will help soften the blow of adjusting to a new offense because while the scheme might be different -- no one has to be broken in to a new position.
Further, offensive line coach Robert Anae was re-hired by new coach Rich Rodgriguez which gives this unit even more continuity.
Quinn is the steady Eddie of the group. The senior has started the last 14 games has made 33 appearances over the course of his career. He returns after earning all-conference honorable mention last year and anchors the line with consistency and authority.
Baucus and Ebbele are big boys on the outside (assuming Ebbele does everything asked of him to return to the team following an off-the-field incident) and Putton and Biskin have a bunch of experience.
Quinn, Baucus and Ebbele started every game last season and as a unit, they started seven games together.
Worth noting also that they have all dropped some weight from last season. Quicker is going to be better as the Wildcats look to run the ball significantly more this season.
May, 7, 2012
5/07/12
12:30
PM ET
By
ESPN.com staff
| ESPN.com
It appears that two key Arizona players involved in a March brawl will shortly be rejoining the Wildcats after prosecutors decided
not to pursue criminal assault and trespassing charges
.
Charges against defensive back Jourdon Grandon already have been dismissed, and the lawyer for offensive tackle
Fabbians Ebbele
told the Tucson Star on Friday that he anticipates the same happening for his client soon. From the Star: "City prosecutors filed a motion to dismiss Ebbele's charges on Wednesday. He is scheduled to appear in court again May 17."
Both have been suspended since the March 2
fight at a house party
.
Their return would good news for the Wildcats, who don't have enough depth to lose two potential starters.
Ebbele, a 6-foot-8, 310 pounds, was Arizona's starting left tackle last year as a redshirt freshman. Protecting QB
Matt Scott
is priority No. 1 for the Wildcats in 2012, considering there's zero experience behind him on the depth chart. Grandon can play either safety or cornerback -- he started four games in 2011 at nickel back. He finished with 36 tackles, an interception and two forced fumbles last year. In the Wildcats new 3-3-5 defense, there is obviously a bigger need for quality defensive backs.
March, 8, 2012
3/08/12
1:00
PM ET
A fresh start for a college football coach can turn sour quickly, particularly when a couple of starters decide not only to get into a fight at a party but opt to
return for a second go-around
, thereby making it an iron-clad certainty they'd get arrested.
Last week, new Arizona coach Rich Rodriguez talked about his disappointment with the
conditioning of his players
. He called them "weak, really weak." Who knew he was also referring to their heads?
[+] Enlarge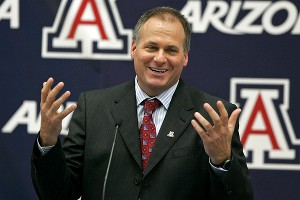 AP Photo/ Arizona Daily Star/Benjie SandersRich Rodriguez already has had to deal with a lack of fitness as well as immaturity from his Arizona players.
Offensive tackle
Fabbians Ebbele
, at 6-foot-8, 310 pounds, has NFL potential after starting as a freshman, and sophomore DB
Jourdon Grandon
, a four-game starter in 2011, could be key pieces for making Rodriguez's life easier. Instead, they are making it harder by getting charged with first-degree criminal trespassing and assault.
Both are
scheduled to appear
in Tucson City Court on March 15 -- also involved, safety
Jared Tevis
and guard
Eric Bender-Ramsay
were charged with trespassing -- but in the court of public opinion getting into a fight where there are allegations of women being punched tends to inspire a high degree of consternation. While the details of the original report from the
Arizona Daily Wildcat
are decidedly one-sided -- it's all from accounts from the folks hosting the party where the fights broke out -- this is the sort of thing that shortens a new coach's honeymoon.
And from his experience at Michigan, Rodriguez knows as well as anyone about short coaching honeymoons.
This incident could be forgotten by September, buried under confetti celebrating an early season upset. Or if things start slowly, it could become a centerpiece of an initial round of "We told you so" jabs air-mailed from Ann Arbor.
Here's a not completely fair point: It appears Rodriguez thus far has been unable to persuade his players to buy in 100 percent. He told the Wildcats to keep up their conditioning just after he was hired and they didn't. And he's told them to stay out of trouble, which they didn't. With this incident, even with thinking time -- "Hmm, is driving back to this party a good idea?" -- players opted to seek out a fight, not walk away. Toss in a first recruiting class that didn't make much of an impression, and you can feel a down-tick in the momentum of athletic director Greg Byrne's universally praised hire.
Of course, winning solves problems and makes this sort of stuff go away. The problem is, the Wildcats have plenty of personnel issues on both sides of the ball. Further, the schedule does not set up well for a fast start: a nonconference game with Oklahoma State and visits to Oregon and Stanford before mid-October. And Rodriguez's systems -- a no-huddle, spread-option offense and a 3-3-5 defense -- will require an adjustment period.
If you are looking for a negative comparison -- hey, just call us the party pooper -- consider Tyrone Willingham's ill-fated Washington tenure. Willingham got hired at Notre Dame (a Midwestern power) based on a solid job at Stanford (2000 Rose Bowl) but then was quickly -- and many thought unfairly -- fired after three seasons.
Immediately upon his hiring at Washington, Notre Dame fans, who felt wronged by depictions of Willingham's termination, bombarded Seattle-area media and Huskies message boards with "Just wait! You'll see!" missives.
And guess what? They were right. Willingham was a failure at Washington.
Willingham and Rodriguez are nothing alike, and these notable similarities of career path are purely coincidental. The Pac-12 blog is firmly on board with a high grade for the Rodriguez hire.
But the takeaway here is big-time college football's persistent, sobering reality.
After all the high-fives Rodriguez's hiring inspired, he's not a sure thing. No one is. And be advised, Wildcats fans, that there are likely going to be more stumbles ahead as Rodriguez tries to build the program he wants, with his players and his systems. Recent events are reminders that you might want to stock up on some patience before planning for a long-awaited trip to Pasadena.
March, 7, 2012
3/07/12
1:30
PM ET
Rich Rodriguez has his
first crisis
at Arizona.
Four
Arizona
football players, including starting offensive tackle
Fabbians Ebbele
, were arrested early Friday morning after a fight at a house party. Also arrested were sophomore cornerback
Jourdon Grandon
, sophomore offensive lineman Eric Bender and sophomore safety
Jared Tevis
.
Ebbele, Grandon and Bender were arrested on charges of criminal trespassing in the first degree and assault. Tevis was arrested on trespassing charges.
The story was first reported by the
Arizona Daily Wildcat
, and the details it provides are, well, pretty darn horrifying.
According to police records, residents asked Tevis and the other players to leave because they were not invited. One of the men responded by shoving one of the women backwards. The man was later identified as former safety Joshua Robbins. After being shoved, the resident slapped Robbins, who then proceeded to punch her in the face — starting a brawl between the football players and members of the party.

The players left after the brawl, but before leaving said, "We will be back with our homies." A short time later, the players returned "in a group of between 10 and 30," and a man later identified as sophomore offensive tackle Fabbians Ebbele forcibly entered the home and "began punching everybody he could reach," according to the report, including the resident who was initially assaulted and her brother.

People at the party told officers the UA players entered the home and began assaulting male members of the party while several women attempted to stop another fight from happening. One woman was pushed up against the wall by Robbins. Robbins continued to push other female guests and residents.

Members of the party identified Grandon after he "punched a female guest in her face with a closed fist and began punching other females in the face." Tevis was also present during the altercation but none of the victims observed him assaulting anyone.
Athletic director Greg Byrne released a statement, and a school spokesman said Rodriguez would have no further comment at this time.
"We are taking this matter seriously," Byrne said. "We are cooperating fully with the Tucson Police Department, and disciplinary action will be handled accordingly. Due to federal student-privacy laws, we will have no further comment."
Keep in mind this is just one side of the story. There are no reports of injuries, so it's unclear how far this went as a "brawl." Still, it's hard not to cringe. No matter the conflicting details that are sure to come out, this is without question a case of poor judgment. Salient point: The players returned to the house looking to settle a score. They could have walked away but they opted to escalate the situation.
Hard to believe that, at the very least, some suspensions won't soon be coming. Based on the details above , it wouldn't be surprising if one or more players get dismissed.
Losing Ebbele and/or Grandon would be a big blow. Ebbele, a 6-foot-8, 310 pounds, has NFL potential after starting as a freshman. Grandon almost certainly would have been in the mix to win a job in the Wildcats' new 3-3-5 defense.
A bad show all around, and certainly not the headline Rodriguez was hoping for on the week that his first spring practices in Tucson began.