November, 28, 2010
11/28/10
11:58
AM ET
By
ESPN.com staff
| ESPN.com
California was down an assistant against Washington because defensive line coach Tosh Lupoi was suspended for instructing a player to fake an injury against Oregon on Nov. 13.
Apparently Lupoi acted alone: Head coach Jeff Tedford was not aware that Lupoi instructed nose tackle Aaron Tipoti to take a dive on a play that was an almost comically bad acting job.
The Pac-10 released a statement from commissioner Larry Scott.
The Pac-10 takes the integrity of the game very seriously. Instructing a student-athlete to feign an injury is an unethical and unsportsmanlike practice in violation of coaching ethics as outlined in the NCAA Football Rules and Interpretations. This behavior is unacceptable and will not be tolerated by the Conference. Nothing is more important than the integrity of our programs and the role our play in building good character in our student-athletes. We commend California's Coach Jeff Tedford and Director of Athletics Sandy Barbour for the forthright manner in which they have addressed this issue and for the positive example they are setting by reinforcing the importance of the principles at stake.
Here's the San Francisco Chronicle
on the matter
. And the
Contra Costa Times
.
Hopefully this solves an issue that has lingered throughout the season: Defenses trying to slow down Oregon's fast offensive pace by faking injuries. It also was an obvious issue against Arizona State and Stanford, so Cal wasn't unique in this.
Lupoi is taking a fall in order to discourage this tactic in the future, which is a good thing.
But it also would be a good idea if Oregon fans stopped booing injured players. Twice against Arizona on Friday, legitimately hurt players were booed. Not good.
November, 16, 2010
11/16/10
4:26
PM ET
Ouch.
Did I just hurt myself, or am I faking it? Hard to say.
That's a topic Oregon fans are obsessing about this season: Opponent's defenses are apparently faking injuries in order to force the fast-paced Ducks offense to stop while that player is helped off the field.
And then said player returns -- apparently after a miraculous recovery -- either one or two plays later.
First, Oregon fans do need to hear this: Yes, you are correct. Teams are faking injuries. Without a question.
While there's video from the California game that many Ducks fans find most damning -- and hilarious -- my favorite continues to be what I suspect was a purposely poor acting job from Stanford linebacker Chase Thomas that -- again, I suspect -- was intended to goad the crowd at Autzen Stadium.
[+] Enlarge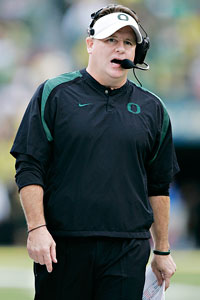 Joe Nicholson/US PresswireOregon coach Chip Kelly wouldn't directly address the topic of Oregon opponents faking injuries to slow the game down.
Oregon coach Chip Kelly mostly danced around the topic during the Tuesday Pac-10 coaches call.
"We don't talk about it. If the league wants to look into stuff like that, that's their problem. That's not coming from me," he said. "Obviously you don't know when a player is really injured and not injured. I don't know really what can be done about it."
And that is the issue: Little can be done. Wrote Pac-10 vice president of communications, Dave Hirsch, "Officials cannot decide if someone is faking an injury or not."
Don't think for a second Kelly isn't bothered by this. We've all seen him wildly gesticulating on the sidelines and yelling at officials about apparently fake injuries during games. We've heard his halftime quips, such as when he noted at Arizona State, "It's kind of like a World Cup game with this crowd. And the injuries." Kelly was referring to the diva bad acting you often see in soccer games in order to draw yellow and red cards.
When a questioner who operates a
Washington Huskies
fan website asked if the booing from Oregon fans was poor sportsmanship, Kelly allowed his true feelings to show.
"I know what our fans reaction is when he's carted off the field and he looks like he's going to surgery, and then he's back immediately the next play," he said.
Cal coach Jeff Tedford was asked directly about whether his team faked injuries during the game Saturday.
"People get hurt during games, and in fast-tempo stuff, there's cramps," he said. "That's not the deal. I know that anytime anybody goes down against Oregon, they always think that's the case. But it's not the case."
Tedford is typically a straight-shooter. But not in this case. Defensive tackle Aaron Tipoti's cramp from nowhere that appeared immediately after he took a long look at the Cal sidelines is going to to earn him the Pac-10 blog's Worst Actor award.
While there's little that can be done about opponent's faking injuries, Kelly did note that as far as strategies go, it's a weak one.
"You basically have thrown up a white flag and said you can't play at our pace," he said. "Do you really want to say you can't play at this level of football that we're playing?"
The Ducks are off this weekend. They play Arizona on Nov. 26. Wildcats coach Mike Stoops was asked if he has any opinion on faking injuries to slow Oregon down.
"I've never even seen it so I wouldn't even know what you are talking about," he said. "I don't know what that is. That's not something we use as part of our game plan."
We shall see.