January, 3, 2013
1/03/13
3:30
PM ET
By
Sharon Katz, ESPN Stats & Info
| ESPN.com
The Tostitos Fiesta Bowl matches two of the top offenses in the nation in
Oregon
and
Kansas State
. While both teams are ranked in the top 10 in scoring offense, their respective styles of play could not be more different.
Oregon runs a quick-strike offense that is built off of speed and big plays. Kansas State's scoring is more methodical and a result of overall team efficiency and discipline.
Kansas State's Team Efficiency/Discipline
1.
Kansas State averages 10.1 fewer points per game than Oregon this season, but that does not mean its offense is any less efficient. Kansas State scored a touchdown on 40 percent of its offensive drives and is averaging 3.5 points per drive, tied with Oregon for the second-most in FBS.
2.
Kansas State's average drive starts at its own 41; their opponents at their own 27. The Wildcats' plus-14 field-position differential is 4 yards better than any other FBS school.
3.
The Wildcats are tied with Kent State for the best turnover margin (plus-21) in FBS this season. They had not allowed a point off of a turnover until Week 11 against TCU.
4.
Kansas State is committing 3.5 penalties per game, second-fewest in FBS.
5.
Oregon leads the nation in first-half scoring margin, but Kansas State has been the best second-half team in the nation (plus-12.8) largely because of its ability to force turnovers. The Wildcats have forced 16 turnovers in the second half that have led to an FBS-best 98 points off turnovers.
Oregon's Speed/Scoring
1.
Oregon is averaging one point every 32.9 seconds of possession, twice the rate of the average FBS team (65.8 seconds per point).
2.
The Ducks are averaging a touchdown every 11.8 plays this season, the best rate in FBS. Kansas State is third in the nation, averaging 12.8 plays per touchdown.
3.
Oregon leads the FBS in offensive touchdown drives that lasted one minute or less (22) and two minutes or less (44) this season. The Ducks are averaging 2 minutes, 7 seconds per touchdown drive and are in the top three of FBS in points per game for the third straight year.
4.
Oregon averages more points in the first half (31.3) than 72 FBS teams average in a game. The Ducks' average halftime lead is 22.3 points, and the only time that they trailed after halftime was after the last play of overtime in their loss to Stanford.

5.
The Oregon Duck mascot does push-ups every time Oregon scores, with the number of push-ups equaling the number of points Oregon has at that point in the game. The Duck has done 2,735 pushups this season and is averaging over 225 push-ups per game. With four scores on Thursday, the Duck will probably exceed its previous high of 2,790 push-ups done in 2010.
December, 29, 2010
12/29/10
9:00
AM ET
Folks throw around terms such as "best" and "worst" and "most" and "least" in sports in all the time, even when their application is more symbolic than real. Extremes are easy to understand. Talking about them can be fun. Actually experiencing them is rare, though. Living through the best of times and worst of times? That was just Charles Dickens rolling out a good opening line.
Richard Sherman and the rest of Stanford's fifth-year seniors, however, know both the best of times and worst of times, at least in terms of college football.
In 2006, the Cardinal went 1-11. That was the most losses in school history and worst record since an 0-10 mark in 1960. It was the program's fifth consecutive losing season, and coach Walt Harris was fired after just two years.
[+] Enlarge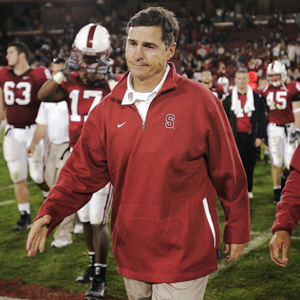 AP Photo/Paul SakumaThe Cardinal went 1-11 in 2006 under former coach Walt Harris.
Worst of times.
In 2010, the Cardinal went 11-1. That set a school season record for victories. Stanford, ranked fourth in the final BCS standings, hasn't finished ranked in the top five of the AP poll since 1940. It's headed for a date with Virginia Tech in the Discover Orange Bowl on Monday.
Best of times.
And, yes, the latter is more fun.
"It's unbelievable," Sherman said. "I can't even express to you the emotions I have and the other seniors have. Coming in the way we did, obviously, 1-11 and now leaving with a record-setting season, one of the best offenses in the country, one of the best defenses in the country. Just a great team. We love each other. I can't explain it to you. It's a combination of joy, happiness, pride, a lot of things. Man, watching these guys grow up. We've all come a long way."
Sherman was a freshman on the 2006 team. It was shut out twice. It lost to San Jose State. It ranked 118th in the nation in scoring (10.6 points per game) and 108th in scoring defense (31.4 ppg), meaning it lost by an average of three touchdowns.
Harris went 6-17, turning in the shortest tenure of any Stanford coach since Rod Dowhower left after one season in 1979 with a 5-5-1 record. It was clear his disciplinarian methods weren't clicking with the sort of players who can get into Stanford.
"It was maybe just a bad fit," receiver Mark Bradford said at the time. "Maybe we didn't respond to the way that was his style of coaching. His style of coaching probably would have worked in a lot of other places. It didn't work here."
Enter Jim Harbaugh, who introduced himself by stating, "I vow I will attack this endeavor with enthusiasm unknown to mankind."
He was the anti-Harris. "It was just a whole different way of coaching. ... Coach Harbaugh definitely brought a different energy and enthusiasm to the program. Basically, he brought a belief in winning that I don't think guys had before he got here," Sherman said.
That can't be undersold. While injuries were a huge issue for Stanford in 2006, there was
plenty of talent on the roster
: Trent Edwards was the quarterback for the first half of the season before he got hurt, and plenty of guys went on to the NFL. And many names are familiar because of their roles in the Cardinal's recent surge under Harbaugh, from running back Toby Gerhart to Sherman to almost the entire offensive line.
[+] Enlarge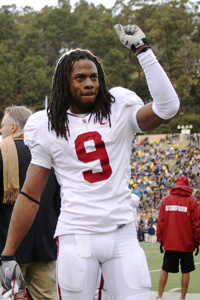 Ezra Shaw/Getty ImagesRichard Sherman is part of Stanford's senior class that has transformed the program.
There was talent in 2006. Sherman said the players worked hard and practiced hard. But the results were terrible. The offense only scored as many as two touchdowns in two games all season.
"It was rough coming from high school," said Sherman, who started out as a receiver. "You don't really know what to expect and then you come into that. It's rough to not get wins. You work hard every week, you game plan every week, and things just don't work out for you. It's obviously frustrating."
Just four years later, Stanford became one of the great turnaround stories in college football history. Louisville, which went 11-1 in 2001 after going 1-10 in 1997, was the last FBS team to win one game and then as many as 11 games four years later. Pittsburgh won the 1976 national championship with a 12-0 record four years after posting a 1-10 mark.
The 2010 Cardinal not only won, they dominated. They outscored foes by an average of more than 22 points. They ranked No. 8 in the nation in scoring (40.3 ppg) and No. 11 in scoring defense (17.83). They recorded three shutouts for the first time since 1969. They set a school record for points (484), and quarterback
Andrew Luck
set a school record with 28 touchdown passes. For the second consecutive year, the program produced a Heisman Trophy finalist -- Luck -- who followed Gerhart, the 2009 runner-up.
"This year was like the perfect storm," Sherman said.
But Sherman & Co. still retain a chip on their collective shoulders. They aren't ready to announce their arrival on the national scene just yet. They won four games in 2007, five in '08 and eight in 2009. It's been a process, and they sense there are still some stragglers who doubt them.
"People don't look at us as a talented team now and they didn't look at us as a talented team then [in 2006]," Sherman said. "Obviously, when you put on the Stanford 'S' it takes your talent and speed away. You're not fast or athletic anymore. It's been that way since I got here. We have great athletes, great players."
Sherman said the Cardinal aren't satisfied with merely earning the trip to Miami for a BCS bowl game. "There aren't going to be many guys trying to live the life in Miami. It's not about the trip. It's about the win," he said.
Winning, of course, is the only way to ensure that 2010 will be remembered as the very best of times on the Farm.
June, 9, 2010
6/09/10
2:55
PM ET
By
ESPN.com staff
| ESPN.com
The NCAA announced its latest multiyear Academic Progress Rate (APR) numbers Wednesday, and no Pac-10 football team was docked scholarships for failing to meet minimum standards.
The latest figures measure a four-year period: the 2005-2006 academic year through 2008-2009.
The average in football among FBS teams was 947.
Here's the academic pecking order among Pac-10 football teams (you can review
the information here
).
Stanford ... 976
California ... 969
USC ... 965
UCLA ...953
Washington ... 948
Oregon State ... 947
Arizona State ... 945
Oregon ... 942
Arizona... 940
Washington State ... 918
April, 13, 2010
4/13/10
3:49
PM ET
By
ESPN.com staff
| ESPN.com
Missed this while I was in the Northwest: Arizona State has signed a home-and-home game contract with the University of Texas.

At San Antonio.

The games will be played on Saturday, Sept. 17, 2016, at the Alamodome in San Antonio and on Saturday, Sept. 1, 2018, at Sun Devil Stadium in Tempe.

In the Sun Devils' defense, they've scheduled a patsy in addition to nonconference games with LSU (2016) and Colorado (2018). And San Antonio is a cool town to visit.

UTSA and new head coach Larry Coker signed the program's first ever recruiting class in February. It will play two years as an FCS Independent, beginning in 2011. It then will notify the NCAA in June 2013 of its intent to advance to the Football Bowl Subdivision in 2015. The Roadrunners will comply with FBS standards during the 2013 and 2014 seasons, then will seek full FBS membership and bowl eligibility in 2015.

So the Sun Devils will get full credit toward their bowl eligibility for stomping the Roadrunners.

"This is a series that fits several criteria that we have in football scheduling," athletic director Lisa Love said in a statement. "It is important for us to schedule home-home series with schools that are located in the Western portion of the country. And what a fantastic travel destination the city of San Antonio is for our fan base with the River Walk and the Alamodome. The series fits well with the other nonconference games that we have in those years. The University of Texas at San Antonio is a very nice addition to our future schedules, which already include Notre Dame, LSU, Wisconsin, Colorado, Missouri and Illinois."
March, 15, 2010
3/15/10
7:31
PM ET
By
ESPN.com staff
| ESPN.com
Another late mailbag. Sorry. Stuff just keeps happening on Fridays.
Jason from Portland writes
: Chip Kelly should have kicked both
[Jeremiah] Masoli
and
[LaMichael] James
off the team. They are criminals and criminals shouldn't play college football. How can you not see this?
Ted Miller
: I received lots of notes like these. This one was just the most coherent and expletive-free.
Why does this feel like I'm being sucked into a sociopolitical debate -- you know one of those where the arguing parties never listen to each other but just scream their positions with self-righteous fervor?
Some folks fall into the "zero-tolerance" camp. I do not. When I listen to the "zero-tolerance" camp's arguments, I remain unconvinced the result benefits anyone. I completely understand what they are saying. I just don't buy it.
I believe Kelly's punishment for James -- a one-game suspension --
fits his transgression
. I believe suspending Masoli for the 2010 season, while leaving open the possibility he could return in 2011, is a severe punishment that offers a young man an opportunity to redeem himself.
Jake from Sacramento writes
: What do you think the odds are of Masoli transferring from Oregon, red-shirting, and playing somewhere else in 2011?
Ted Miller
: Slim.
For one, which FBS program take him for just one year? His pool would be severely limited not only by his legal troubles and the negative attention his arrival would bring, but also by his skills being specific for a spread-option offense.
If Masoli believes he can no longer remain in Eugene, his most likely option is transferring to an FCS program, where he could play immediately.
I hope he doesn't take that route, though. Kelly gave Masoli an great opportunity to earn his way back. I think it would be a mistake for him not to take advantage of it.
Donald from Eugene writes
: If the PAC10 does expand but neither usc or ucla make the championship game, wouldn't the attendance be similar to this season's b-ball tournament? In other words, how many fans would come to watch, for example, UW vs UA in the Rose Bowl for the PAC10 championship? This is not the SEC where not only are there way more passionate fans but all the schools and major venues are located in relative proximity to each other. From a pure logistic standpoint, I don't see a "neutral" field championship game being practical.
Ted Miller
: Maybe. Maybe not.
Let's take your example, though: Washington vs. Arizona in the Rose Bowl for the Pac-10 title. That's two hungry fan bases that would buy a lot of tickets. (And Seattle folk probably would embrace an excuse to escape to Southern California in December).
Would 91,000 fans buy tickets? Probably not, but I'd bet $1 that close to 71,228 would show up, which is the capacity of the Georgia Dome, where the SEC title game is played.
If an LA team were in the game, it would sell a lot of tickets. If a Bay Area team were in the game, it would do fairly well. Washington and Oregon fans tend to travel well. It's an easy trip from Arizona.
If it were Oregon State vs. Washington State, that might be a hard sell to the locals, but the possibility of a Rose Bowl berth would be alluring enough for Cougars and Beavers fans that the stadium would certainly be more than half-full.
I don't see a Pac-10 title game being a financial flop if the conference office handles it well, such as making sure that there's more going on than just a single game on Saturday.
Your point also perhaps bolsters the argument for NOT splitting up the divisions into a North and South. Putting traditional rivals in opposite divisions would increase the odds for an LA team playing for the championship.
Bruce from Portland writes
: So why did the NCAA grant [receiver Darrell] Catchings another year of eligibility when he play two games last year and [quarterback Lyle] Moevao played just ONE PLAY and was not granted another year?
Ted Miller
: Two different cases.
Catchings' case was approved by the Pac-10 office and was a
textbook medical hardship
. He has never taken a redshirt year, he suffered a season-ending injury and didn't play past the third game of the 2009 season.
Moevao was denied by the NCAA because he played five years -- he voluntarily redshirted in 2006 -- and missed only one season beyond his control.
By comparison, USC's Jeff Byers earned a sixth year because he
lost two seasons to injury
and never took a voluntary redshirt.
Just so you know, Oregon State officials always believed Moevao's case was a huge long shot.
Derrick from Omaha writes
: I have asked this before, could you explain Costa's eligibility status? He is listed as a Senior but last year was pretty much his first season.
Ted Miller
: 2010 will be Costa's
fifth year
at Oregon.
He saw action as a true freshman in 2006. He redshirted in 2007 (and blew out his knee in practice). He missed all of 2008 with a knee injury. He saw action in 2009, starting against UCLA.
And, yes, if Costa wanted to petition for a sixth year due to medical hardship, he'd be a long shot because he was voluntarily redshirting in 2007 before he got injured in an October practice.
Clark from Iraq writes
: I have a question about your schedules you posted for ASU and Stanford. You have one playing Oregon Oct 1st and one playing Oregon Oct 2. I was wondering which one is right?
Ted Miller
: Both!
The
schedule posted
for Stanford was for 2010. The
schedule posted
for Arizona State was for 2011.
February, 22, 2010
2/22/10
5:44
PM ET
By
ESPN.com staff
| ESPN.com
USC, despite tumbling from the top of the Pac-10, ranked 11th in the nation in attendance in 2009, topping four conference teams in the top-30.
The Trojans led the conference in attendance for the seventh consecutive year with an average of 84,799.
UCLA ranked 25th in the nation, Washington 26th and California 30th.
Washington State ranked last in the nation in attendance among BCS conference teams (25,909).
The NCAA released football attendance figures today, which
you can review here
.
The Pac-10 ranked fourth in average attendance (54,186) among BCS conferences. That number is down an average of 3,164, the biggest dip for any of the 12 FBS conferences.
The SEC was No. 1 (76,288), the Big Ten was second (71,769) and the Big 12 was third (62,875).
On the positive side for the Pac-10, Stanford produce the fifth biggest attendance increase among FBS schools, its average attendance of 41,436 being an increase of 7,177 from 2008.
Here are the Pac-10 figures[Note: Arizona's attendance was previously listed incorrectly].
USC... 84,799
UCLA... 64,547
Washington... 64,356
California... 59,472
Oregon... 58,544
Arizona... 52,555
Arizona State... 48,556
Oregon State... 42,328
Stanford... 41,436
Washington State... 25,909
December, 1, 2009
12/01/09
1:09
PM ET
By
ESPN.com staff
| ESPN.com
The Pac-10 blog has a number of friends who are Washington State fans. So the Pac-10 blog feels the pain of the Cougar Nation. And hears about it,
Jim Moore
.
Moreover, the Pac-10 blog believes in the wisdom of WSU athletic director Jim Sterk: It was a good decision to give coach Paul Wulff at least one more season to turn the program around.
Wulff inherited a sinking ship. Maybe a coaching genius would have righted the thing in two seasons and then motored off to a tropical bowl game. But the Pac-10 blog doubts that.
There is hope in the Cougars youth this season. There is hope in savvy recruiting. And there is hope because hope is sometimes all you have.
The program has risen from the ashes before.
But what follows is basically a catalogue of numbers that quantify an uncomfortable present reality: Washington State is the worst BCS conference team over the past two seasons by a wide margin.
And, playing in a conference that may be the nation's best this year and, perhaps, next year, Washington State clearly ranks among the worst in all of FBS football.
The Cougars are now 3-22 overall and 1-17 in the Pac-10 over the last two seasons.
For most Cougars fans, that is enough. But we have more. Lots more.
Last year, the Cougars ranked last in the Pac-10 five of eight major statistical categories (pass, run, total and scoring offense and defense).
This year, the Cougars rank last in all eight.
Last year, the Cougars ranked 118th in the nation -- second to last -- in scoring offense and defense.
This year, the Cougars ranked 119th in scoring offense -- second to last again -- and 118th in scoring defense.
Last year, the Cougars ranked 74th in the nation in attendance (30,718)
This year, the Cougars rank 85th (22,509), worst among BCS conference teams.
How about this: Using a complicated metric,
Football Outsiders
calculated that five of the 10 worst performances this year in games between BCS teams were recorded by Washington State.
Want more? No?
Sorry. We have more.
ESPN.com's crack crew in Stats & Information looked behind the numbers to see where the Cougars stood. It ain't pretty.
By the way, some of this will interest -- and perhaps surprise -- fans of other teams. Michigan, UCLA and Arizona State -- even Virginia Tech -- might find some insights into shortcomings below.
Offense
Yards per rush, last two seasons
1. Washington State:
804 attempts, 2084 yards, 2.59 average
2. Duke: 758, 2036, 2.69
3. San Jose St.: 701, 1933, 2.76
4. Fla Int'l: 802, 2245, 2.80
Lowest percentage of offensive plays gaining 5-plus yards, last two seasons
1. Washington State
: 33.8
2. Central Florida: 34.4
3. New Mexico State: 35.6
4. San Jose State: 35.8
Most negative plays, last two seasons
1. Washington State:
251
2. Virginia Tech: 221
3. Michigan: 215
4. Wake Forest: 212
Highest percentage of negative plays, last two seasons
1. Washington State:
16.3
2. San Jose State: 13.8
3. Michigan: 13.3
Fewest TD drives of 60-plus yards, last two seasons
1. Washington State:
20
2. Army: 23
3. UCLA: 24
Highest percentage of 3-and-outs, last two seasons
1. Washington State:
31.0
2. San Jose State: 29.4
3. New Mexico State: 28.3
4. Virginia: 27.8
Most 3-and-outs, last two seasons
1. Washington State:
104
2. Boston College: 99
3. Michigan: 93
4. Vanderbilt: 91
Worst 3rd down conversion percentage, last two seasons
1. Washington State
: 25.4
2. Arizona St: 30.1
3. Syracuse: 30.3
4. San Jose St: 30.6
Worst 3rd and long conversion percentage (3rd and 7-plus), last two seasons
1. Washington State:
11.5
2. Army: 15.7
3. Syracuse: 16.4
4. Arizona St: 18.5
Defense
Fewest percentage of 3-and-outs forced, last two seasons
1. Idaho: 11.7
2. Washington: 12.5
3. Washington St.:
13.8
4. Tulane: 13.8
Percentage of plays allowed for 10-plus yards, last two seasons
1. Washington State:
24.5
2. Idaho: 23.1
3. North Texas: 23.0
4. Rice: 22.4
Most plays of 10-plus yards allowed, last two seasons
1. Washington State
: 432
2. Rice: 412
3. UTEP: 395
4. Texas A&M: 391
Special teams
Highest Average Yards Allowed per Kickoff Return, Last Two Seasons
1. Idaho: 27.0
2. North Texas: 26.2
3. Washington
St
: 26.1
PAC-12 SCOREBOARD
Saturday, 12/20
Monday, 12/22
Tuesday, 12/23
Wednesday, 12/24
Friday, 12/26
Saturday, 12/27
Monday, 12/29
Tuesday, 12/30
Wednesday, 12/31
Thursday, 1/1
Friday, 1/2
Saturday, 1/3
Sunday, 1/4
Monday, 1/12
Tweets from https://twitter.com/ESPNCFB/lists/pac12