Pac-12:

Flipping out 111313
November, 13, 2013
11/13/13
7:00
AM ET
For the past six seasons, I've covered the Pac-12 for ESPN.com. The decade before that, I was in Seattle, as a college football writer and columnist. And before that, I covered the SEC.
I know football on both coasts. But I don't really know the land-locked states. The states in the middle. States that some snotty folks in the Pac-12 might refer to as "the flyover states."
[+] Enlarge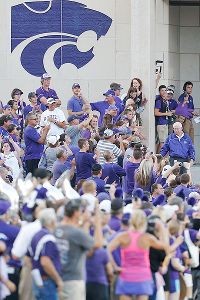 AP Photo/Orlin WagnePac-12 reporter Ted Miller will be taking in the atmosphere in Manhattan, Kan., this weekend.
But it's "Flip" week at ESPN.com. The idea is our regional college football writers are going to be leaving their regions -- their comfort zones -- for another, to search out the thrills and chills of college football in a different place. What makes that place different and special?
So I felt like it was right in my big-city wheelhouse when my bosses said I was going to Manhattan. Then they explained it was Manhattan, Kan., home of Kansas State, not the one on Hudson River. The Little Apple, not the big one.
That sent me to Google. And the more I read about Manhattan, the more I was intrigued. While the Pac-12 has a few neat college towns -- Eugene, Corvallis, Pullman, Boulder -- it's mostly big city football out here: Los Angeles, San Francisco, Seattle, Phoenix, Salt Lake and Tucson. Manhattan sounds like a quintessential college town.
After chatting with Kenny Lannou in the Kansas State sports information office, I found myself getting excited. This is going to be cool.
But I need to hear from you guys about what I should see and seek out. What is most important about Kansas State football? What is uniquely K-State?
My inquiry is about the Friday before and game day -- the tailgate and game itself. No stone should be left unturned.
I turned to our resident Kansas State alum, senior recruiting reporter Jeremy Crabtree. What should I see? And what should I expect?
Jeremy Crabtree
: Ted, the sightseeing on your trip to Kansas State should start even before you even arrive in Manhattan.
As you make your way West along I-70 from Kansas City, you'll notice a change in the scenery as you near exit 313 for Manhattan. You will be driving through a section of the Flint Hills, one of the few remaining sections of tallgrass prairie in America. You'll have to use your imagination some because it's winter and the grass is brown instead of green, but envision oceans of vibrant green grass untouched by man as far as the eye can see. As a native Kansan, I truly believe the Flint Hills rival some of the natural beauty you're used to seeing in Pac-12 territory.
[+] Enlarge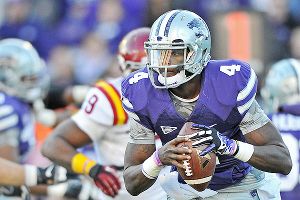 Peter G. Aiken/Getty ImagesQuarterback Daniel Sams and Kansas State take on TCU on Saturday at 3:30 p.m. ET.
Make sure you bring your clubs, because Colbert Hills Golf Course should be your first stop in Manhattan. From there you can experience some of the Flint Hills vistas yourself on a course designed by professional golfer Jim Colbert. You can see as far as 12 miles from some of the holes, and Colbert is a proud Kansas State alumnus, so the place is near and dear to Wildcat fans.
After you're done there, I would make a beeline to Aggieville, a six-square block section in town that's full of restaurants, bars and shops that serve as the social hub of Manhattan. You honestly couldn't go wrong with any of the places in Aggieville for lunch, but I'm a big fan of Coco Bolos, a Mexican wood-fired grill and cantina. The evil desert chicken is to die for, and if you're adventurous you can order it "truly evil" like I do. From there it's just a short walk to Varney's Book Store, Aggieville's anchor store and the only place to get everything purple you'll need for Saturday's game.
Your afternoon would also not be complete without a visit to the Call Hall Dairy Bar on campus. From there you can sample some of the 30-different student-made ice cream flavors. I've always been a big fan of purple pride, candy crunch and apple dapple.
On game day, make sure you get there early as the real pre-game show takes place in the parking lots.
Arrowhead Stadium in Kansas City has the best tailgating in the country, but you have to rank Bill Snyder Family Stadium right up there, too. With large blacktop parking lots on the east and west side of the stadium, there's plenty of room for cars, trucks and RVs to cram in and that creates kind of a tailgating utopia. With everyone packed in so tightly, a sweet-smelling combination of smoke from ribs, brats, steaks, burgers, brisket or whatever hangs in the air.
Also don't be shy if you see something you want to sample. Fans from opposing schools have always commented on how friendly the tailgating is in Manhattan, and K-Staters don't like seeing people go hungry, even if you come empty-handed.
Ted Miller:
Consider me intrigued. So Kansas State fans, if you have any suggestions for me to guide me on this trip, feel free to
drop them in my mailbag
or shoot me a note on Twitter
@ESPN_Pac12blog
. If you see me walking around Manhattan, don't be shy, say hello.
November, 13, 2013
11/13/13
6:00
AM ET
Welcome to Flip Week. What's Flip Week, you ask? Read on.
Kevin Gemmell
: You know those reality shows where husbands and wives swap houses for a month and hilarity ensues? We're doing something a little bit like that this week at ESPN.com. We're married to our blogs, and as a Pac-12 reporter, I know how this league can be a fickle mistress.
So for one weekend, the Pac-12 and I are breaking up and I'll be looking for a little Southern comfort. I'll be heading East to see South Carolina host Florida to witness firsthand what all of the SEC hype is about.
SEC reporter Chris Low will be coming out to Los Angeles for a UCLA/USC doubleheader.
As a career Left Coaster (California for the last 33 years of my life and Southern California for the last 15) my knowledge of the South is limited. I'm told the hospitality is outstanding and the barbecue is as good as it gets. I often hear Chris say y'all on our blogger conference calls.
I can't wait to dig into the pageantry of SEC football. Despite 17 years in this business, my travels have never taken me to an SEC football game in an SEC stadium. The Cock Pit seems like a great place for my initiation. And I'm told I absolutely need to see something called a Cockaboose?
C-Low, you're one of the resident SEC experts. What can I expect when I roll into Columbia? What's a SoCal guy like myself to do when I'm in town? What's the over/under on y'alls I get from the airport to the rental car to my hotel?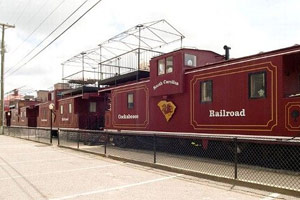 Courtesy of South CarolinaTailgating takes a unique twist aboard a 'Cockaboose' at South Carolina.
Chris Low
: First off, Kevin, if you think my accent is ripe with a Southern twang, you're in for a treat when you get to Columbia East. I have to designate the "East" part because we now have two Columbias in the SEC. Missouri is obviously located in Columbia West.
And, yes, you haven't lived until you've done a little tailgating on a Cockaboose. They're old cabooses that have been renovated into gameday condos and sit right outside Williams-Brice Stadium. You never know who you might see partaking in a little pregame festivities on one of the Cockabooses. PGA golfer Dustin Johnson stopped by prior to the Alabama game in 2010, and if you get down on the field prior to the game, take a look around and see if pro wrestler Ric Flair is in the house. The "Nature Boy" goes back a ways with Steve Spurrier and is a frequent visitor to South Carolina games.
We all agree that tailgating in the South is an art form, and the folks at South Carolina are pros. Be sure and tour the Fairgrounds area on the downtown side of Williams-Brice Stadium. They've really spruced up that area over the years, and the cuisine is excellent. I can't promise that anybody will offer you any fish tacos, but there will be all the barbecue, burgers and ice-cold adult beverages that you can stomach. Also, be sure to sample a true South Carolina delicacy while you're in town -- boiled peanuts.
Enough about the South. Any chance I can rent a helicopter while I'm in Los Angeles and avoid the freeways? Seriously, I can't wait to tour the UCLA and USC campuses. I've been to the Rose Bowl for several games but never to the Coliseum. Any pointers and/or suggestions? I sure hope Wally World isn't closed while I'm out there.
Kevin Gemmell:
First off, please feel free to send a note to Chris' mailbag if you have "Holiday Road" stuck in your head for the next 72 hours. I know I will.
Since you're pulling double-duty, we'll start with the Friday night game. Since you've been to the Rose Bowl, you won't be overwhelmed by the history, tradition and beauty of the historic venue. And even if you are, that's OK. The Rose Bowl is a shrine to college football. Not a visit goes by when I don't stand on the sidelines and do a quick 360. It's an amazing place.
Just like every sporting event known to man, there will be tailgating. Soak it up. Visit some of trailers just outside of the stadium, or take a stroll through the Brookside Golf Course, which becomes the overflow parking lot.
The Los Angeles Memorial Coliseum is also a pretty special venue. Super Bowls, two Olympiads and a World Series -- along with some pretty darn good football -- has been played out within its walls. You can even see the Hollywood sign from the pressbox. While you're there, be sure to check out the Court of Honor, which honors those who have had an impact on the Coliseum. Pretty neat to see Knute Rockne and Vin Scully honored alongside JFK.
And don't be surprised if there are a few celebrity sightings on the sidelines. Will Ferrell and Snoop Dog (or is it Snoop Lion these days?) are big fans.
A hop and a skip over Exposition Boulevard and you're on USC's campus. Heritage Hall is still getting a makeover. But be sure to check out the new John McKay Center.
I can't help you with traffic. That's part of the charm we Southern Californians put up with. I suggest renting Steve Martin's "L.A. Story" before coming out here.
OK, one last question from me: What can I expect from SEC football up close and personal? Is it every bit as dominating as y'all (see what I did there) make it out to be?
Chris Low
: Listen, there's something special about college football no matter what part of the country you happen to reside in -- the pageantry, tradition and school pride that's on display every week.
But one of the things that separates the SEC, other than all the national championship rings the league has collected over the last decade, is the way college football is woven so deeply into the very fabric of people's lives here. You might be able to insult somebody's wife and get away with it in these parts. Good luck in trying that with somebody's football team. Generations of families have been flocking to games at Alabama, Georgia, LSU and South Carolina for years, and in many cases, sitting in the same seats and tailgating in the same spots. And I'm sure you've heard, too, but football season never ends in the SEC. There's always some debate, some recruiting battle, some scandal.
Or some championship to defend. The streak is at seven and counting.
That's not making anything out to be dominant. It simply is dominant, and more precisely, the most dominant run by one conference (four different schools have won national titles) that we'll ever see.
Obviously, Florida has been decimated by injuries and is struggling to stay afloat this season. In general, though, get ready to witness -- up close -- freakish athletes on the defensive line, massive guys who move and run like linebackers. Get ready to witness speed all over the field and not just at the skill positions. Get ready to witness the Head Ball Coach drawing up a few of his patented ball plays, and most of all, get ready to witness a religious experience. It's a lot more than just a football game.
One other thing. When that rooster starts crowing ... cover your ears.
Kevin Gemmel
l: Speed, I've seen. There is no shortage of that in the Pac-12. And I think you'll be pleasantly surprised by the amount of speed you see on the field. You'll see the reigning Biletnikoff winner in
Marqise Lee
and one of the most athletic quarterbacks in the country in
Brett Hundley
.
We've got some pretty good defense, too. I know you SEC folks don't buy that, but it's true. You're going to see up close and live the top two outside linebackers in the country in
Anthony Barr
and
Trent Murphy
.
The SEC and Pac-12 are the top two conference in college football. So when it comes to pure talent, there isn't going to be much of a difference from what we see on the field.
But the experiences will be exciting and unique. And yes, the traffic stinks.
Kevin Gemmell and Chris Low want to hear your suggestions as they jet set to another part of the country. What should they see when they are town?
Send comments and thoughts to
Kevin Gemmell
and
Chris Low
.
November, 13, 2013
11/13/13
5:30
AM ET
It's Flip Week at ESPN.com, where many of our conference reporters are venturing outside of our comfort zone to experience a different culture of college football. We're going in with open minds and open arms, ready to embrace whatever we find.
Heather Dinich:
For the past six years, I have covered the ACC for ESPN.com. Been to every stadium in the league, stood on the field at Lane Stadium for Enter Sandman, and watched Osceola and Renegade charge onto the field for one of the best pregame ceremonies in the country. Heck, I've even clumsily run down The Hill one summer in Death Valley.
Now it's time to try something a little different.
On Thursday, I'm heading to Oregon.
What makes Oregon special? What traditions must I see and where should I go? The point of this trip is not to criticize; it's to understand what Oregon fans love about their school, to learn about a Saturday in the Pac-12, and to see how it's possible to all love and watch the same game through a different lens. It has nothing to do with the BCS standings, but it has everything to do with the passion the fans in Oregon have in defending their program and supporting it.
So, here I am, asking for a little help.
[+] Enlarge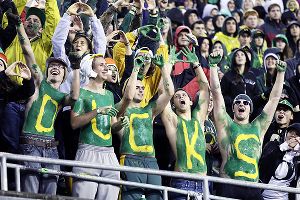 AP Photo/Don RyanDuck Nation can put its best webbed foot forward as our ACC blogger ventures to Autzen Stadium
As a native of Northeastern PA and current resident in Maryland, I know nothing about visiting Oregon. Nada. Zip. Never been there. Portland is two hours from Eugene, you say? Had no idea.
I'm picturing beautiful scenery, amazing running trails, and … well, uniforms.
I'm expecting sort of a Willy Wonka room filled with nothing but uniforms, some sort of spectacular, magical array of combinations that would wow any recruit. I'm expecting facilities that would rival that of any NFL team -- shiny, immaculate locker rooms that ooze money, not stench.
I want to meet this Duck character (does he know an Ibis?). I want to find "the strip" downtown, check out the hot spots, talk to Oregon fans and alumni, visit your tailgate, eat your food, drink your … water.
All things Pac-12 blogger Ted Miller has already done, right?
Ted Miller:
Heather, you might run into something even I haven't seen much in Autzen Stadium: Grumpiness.
Of course, the Ducks are coming off a dispiriting loss at Stanford, the second time in two years the Cardinal have derailed the Ducks' national title hopes. And which conference benefited from that? Hmm.
Anyway, per Eugene and Autzen Stadium and the University of Oregon. First things first: Bring ear plugs. Autzen is loud. I'm guessing the experience will be not unlike Virginia Tech's Lane Stadium, only with a Duck riding a motorcycle and without the Metallica.
Eugene is a great college town with an overall vibe that is much different than you'd find at the average East Coast football school. Fair to say things are a bit bluer in Eugene than, say, Tallahassee. You will encounter plenty of vegans and perhaps even a few anarchists in Guy Fawkes masks. You might encounter some odd smells wafting through the air…
Of course, the football program is purely plutocratic. You must tour Oregon's facilities, particularly the new football building. For one, it might give you some idea for a remodel of your home. Or remind you of a spa in the new Wynn resort in Las Vegas. Palatial? There are folks who live in actual palaces who would be jealous.
If you want to soak up some college atmosphere on Friday night, consider a visit to Taylor's or Rennie's Landing, purely in the spirit of this sociological research project. Not that I know the bar scene in Eugene well -- cough, cough. I just hear things, you know.
As for game day, be advised not to wear purple. Don't wander into the Oregon tailgate and say, "Go Huskies!" The most bitter Pac-12 rivalry is Washington-Oregon, though the Huskies haven't really been pulling their weight for the, oh, the past decade. I suspect the Northwest food choices will be different than what you see in the ACC -- as in grilled salmon instead of burgers and wings.
You also might want to wear rain gear and sensible shoes. While Oregon's facilities are spectacular, Phil Knight apparently hasn't felt the urge to build the Phil Knight Media Parking Lot. Old lot 8 can get pretty darn muddy.
HD:
Ha, I am loving it already. Can't wait to check it out. Oregon fans, if you have any suggestions for me to guide me on this trip, feel free to
drop them in my mailbag
or shoot me a note on Twitter
@ESPN_ACC
. If you see me walking around, don't be shy, say hello. ACC fans? I'll be back. Don't flip out on us. That's our job.