Pac-12:

flipping out review 122413
December, 24, 2013
12/24/13
11:00
AM ET
Editor's note: During Week 12, 10 ESPN.com reporters changed conferences to experience college football in unfamiliar territory. Here is what they learned from the experience.
I went to Manhattan -- Kansas, that is -- from Nov. 14-17 to see what Kansas State football had to offer and how it compared to a Pac-12 weekend.
Two things happened: 1) I was impressed; 2) I had a blast.
For one, Manhattan is a cool college town. I suspected it would be after talking to some folks beforehand who know the place well. And everyone was incredibly friendly and accommodating, from fans and boosters to Kansas State administrators. Even media-averse coach Bill Snyder took a moment for a casual chat.
Was it different than the Pac-12? Yes and no.
There is certainly a different feel to K-State compared to say, Stanford, USC, Washington, Arizona State and California. Particularly Cal-Berkeley. K-State most closely resembled Oregon State and Washington State. The game-day experience, from the pregame tailgate to the stadium atmosphere, had its own unique vibe, too, as all places do.
Still, in the end, passionate college football fans express themselves mostly in the same way. The music, chants and colors are different, but a game-winning field goal -- which the Wildcats got to beat TCU -- gets the same reaction everywhere: unbridled joy.
So here are some impressions.
[+] Enlarge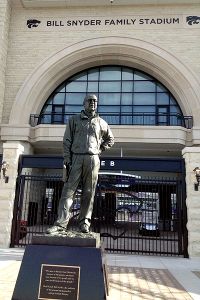 Ted Miller/ESPNKansas State prides itself on the family atmosphere at Bill Snyder Stadium in Manhattan.
Best meal
: None of my meals was bad -- dinner at
Coco Bolos
, breakfast at
The Chef
, lunch at
So Long Saloon
-- but I'd have to rate my prime rib at
Harry's Restaurant
on Saturday night after the game as the highlight. I'd write that the bartender made a nice martini, but then my boss would read this and suspect I had a martini while on assignment, which I would never, ever, ever do.
Must-see sight in Manhattan
: If you are young -- or young at heart! -- there is no better place to be on a Friday night in Manhattan than Aggieville. My foray included Rock-a-Belly Deli, Taco Lucha, Keltic Star and Aggie Station, and I saw the Kansas State band circulate around the entertainment district, firing up Wildcats fans for the next day's game with TCU. I've been to a lot of great college towns -- 39, by my quick estimation -- and Manhattan definitely rates among the best.
Biggest surprise
: It may have been the celestial ribs from
Oklahoma Joe's BBQ
pleasantly digesting in my stomach after a late lunch pit stop in Kansas City after my flight, but I was surprised by how scenic the drive was down I-70 into Kansas' Flint Hills and Manhattan, and how appealing I found the vastness of the tall-grass prairie. Like many from the coasts, I've long viewed Kansas as a fly-over state, flat and tornado-infested. The rolling, treeless hills provided a topography a West Coast person doesn't typically see. For Pac-12 folks, I'd compare it to the drive through the Palouse from Spokane to Pullman in Washington. Another surprise was a sunny, 70-degree day on Nov. 16.
Biggest difference from conference I cover
: You mean other than no one barking at me about how I favor such-and-such Pac-12 team over such-and-such Pac-12 team? Well, it was clear that I was pretty removed from any large population center. I don't get that with most Pac-12 stops, where skyscrapers are often within view or just a few miles away. That's also probably a big reason why the town and campus were not as socially diverse as most Pac-12 destinations. Further, the Pac-12 as a whole has a lot more "granola" to it than the Big 12, and that's even more true when you compare Manhattan to, say, Berkeley or Eugene. Without getting too political, it seems reasonable to suspect Manhattan is just a bit more red than the decidedly blue Pac-12.
They said it
: "Kansas State University is not the biggest school in the country. It's not the wealthiest school in the country. But it has among the most loyal, dedicated, traditional fans of any school in the country. This school went through many, many years of not much success, but the fans stuck with the program, and it's been a great success since Bill Snyder arrived here." -- Bill Keller, Kansas State booster, at the tailgate before TCU game
If I could go back
: Because I had so much advance help from ESPN.com's Jeremy Crabtree, Kansas State sports information director Kenny Lannou and Kansas State fan Alex Judd (a friend of Crabtree's and Pac-12 general counsel/senior VP Woodie Dixon), I'd probably do another trip much as I did my first -- a stop in Kansas City for barbecue before heading to Manhattan and a couple of nights on the town in Aggieville. If I could do one thing, though, I'd take a more thorough tour of the campus. The limestone buildings were pretty cool, and it looked like a pleasant place to wander around, weather permitting.
December, 24, 2013
12/24/13
10:30
AM ET
Editor's note: During Week 12, 10 ESPN.com reporters changed conferences to experience college football in unfamiliar territory. Here is what they learned from the experience.
In mid-November, several of the college football reporters at ESPN.com flipped out. We traded conferences, traditions and fan bases for one college football Saturday -- an experiment deemed "Flip Week," intended to experience and relay different cultures of the sport we all love. I went to Eugene, Ore., for my first Pac-12 game and saw Oregon play Utah. For two days I walked around campus and downtown, trying to soak up all I could about the culture of Oregon football.
Here's a quick overview of some of the highlights:
Quack! #flipweek pic.twitter.com/EEqzeQHePg

— ESPN ACC (@ESPN_ACC) November 16, 2013
Best meal
: Breakfast at the Glenwood Restaurant. It was so good I went twice, the first on Friday morning for standard eggs and bacon fare, and then again on game day for a ham, egg and cheese omelet. I went Saturday morning to see how different it was on a game day, and the place was bustling. On Friday morning, I was the first and only person there. On Saturday, I had to wait in line, and the place was filled upstairs and downstairs with both Oregon and Utah fans.
Must-see sight in Eugene:
Oregon's facilities. I've never seen anything like it. Anywhere. Ever. It was like a cross between The Matrix (doors that unlock with players' fingerprints, practice film that is uploaded into each players' iPad before they're out of the showers) and a spa at the Ritz Carlton (waterfalls, anyone?). Honestly, one glass door was so clean I almost walked right into it. (My living room, this was not.) They even have their own dentist in there. Everything is built with perfection, with functionality, and with the finest materials in the world.
[+] Enlarge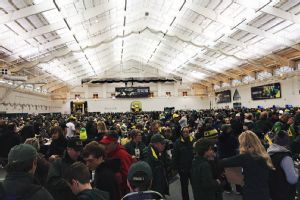 Heather Dinich/ESPNOregon fans take the tailgate indoors as the Ducks practice facility is open to fans on game days.
Biggest surprise:
The Moshofsky Center, aka "The Mo." What a fantastic indoor tailgate -- not to mention a smart concept. The Ducks' indoor practice facility is turned into a tailgate on Saturdays. Everyone kept telling me to go check it out, so I did, and I was really expecting just more of what you see in the parking lot, but it was food vendors, a live band, games for the kids, and just rows and rows of fans sitting around and talking like they were old friends and family at a wedding. It really had a special feel to it. I got some food, sat down and immediately struck up a conversation with some Utah fans. Everyone was so welcoming.
Best moment:
The duck on the motorcycle. With 4:01 remaining until kickoff against Utah, Doug Koke disappeared behind the shiny visor on his motorcycle helmet, and revved the engine of a pristine black Harley. The larger-than-life duck, sitting behind Koke, wrapped his right arm (wing?) around Koke and with his left gave a webbed wave to the crowd and a fist pump. Just when it seemed as if it couldn't get any louder, the players emerged from the tunnel, and it was at this very moment that the energy in Autzen Stadium was at its most palpable. It was electric, and with each rev of the engine, it was as if you could feel every heartbeat in the stadium vibrating with it. The players began to bounce and jump as the anticipation built, and within seconds, they were released like a pack of wild animals, charging after the duck on the motorcycle and setting the stage for yet another sold-out crowd.
Best tradition:
The walk over the Willamette Bridge to and from Autzen Stadium. On the way over the bridge, I stopped halfway just to take in the scene and interview fans as they made the trek to the stadium. This is a walk that literally takes you over a river and through the woods -- a tradition that brings the fans together every Saturday. The most amazing part was actually the walk back. It was literally stop-and-go traffic, as fans were shoulder-to-shoulder on the path and on the bridge.
[+] Enlarge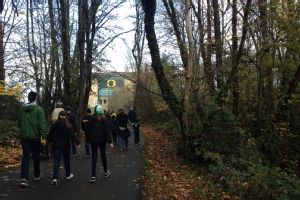 Heather Dinich/ESPNOregon fans walk through the woods to get to Autzen Stadium on Ducks game days.
Biggest difference from ACC:
There just isn't that folksy feel in the ACC. The ACC is more Southern charm, with its barbeque, sweet tea, and "y'all," and its Tobacco Road traditions. Oregon had a much more organic, earthy feel to it. There are so many trees on campus -- more than 400 kinds -- that the university offers a class on them.
They said it:
"What I love? The whole ambiance of being in Autzen Stadium. What makes it unique is the program. We have a great football program, that's all there is to it. We did not have a great program in the '70s and early '80s. The people who've been around here for a long time really realize and appreciate what we have now. We used to have 20,000 people, and half of them would go home at halftime. And it rained about every game. Now, it never rains here." -- Don Essig, who has been the public address announcer at Autzen Stadium since it first opened in 1967.
If I could go back:
I can't believe I never got to see Pre's Rock. As a recreational runner, it was one of the things at the top of my list, I just never got around to it. On a second trip, I would definitely visit that iconic rock, and find a few trails to run.
December, 24, 2013
12/24/13
10:00
AM ET
Editor's note: During Week 12, 10 ESPN.com reporters changed conferences to experience college football in unfamiliar territory. Here is what they learned.
Recall last month that the ESPN reporters flipped out for a few days and ventured to parts of the country unknown to them.
This Southern California boy was transported to a different South. Not going to lie -- most of what I knew about the South I learned from catching snippets of the Blue Collar Comedy Tour on TV. I could already see the "you might be a redneck" texts coming from my buddies. My cable guy neither looks nor talks like Larry.
[+] Enlarge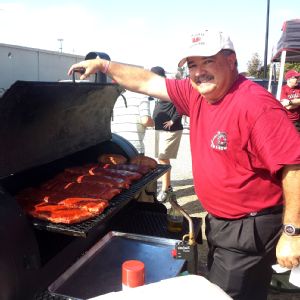 Kevin GemmellSouth Carolina fans welcomed a West Coast native to their tailgate before the Florida game Nov. 16.
But that wasn't what I got. Instead, I was welcomed with open arms by warm people who love their food, love their friends and love their football. I spent a great deal of time with a group called "The Ultimate Tailgaters" who wouldn't let me leave with an empty stomach or empty arms. There were hugs all around.
I saw Florida fans and South Carolina fans mingling -- and talking a little bit of trash. I saw cocktails toasted, toured a Cockaboose and learned a great deal about a region of the country I knew little about.
Excited but admittedly a bit apprehensive about what I'd encounter, I'm happy to say I left richer for the experience.
Best meal:
A good burger in Southern California is a good burger in Columbia, S.C. So checking out Pawley's Front Porch in Five Points with a few of my new USC friends was all well and good. But honestly, the best food I had was wandering from tailgate to tailgate trying out the local fare. From boiled peanuts and fried gator tail to the briskets, ribs and sausages, the tailgating grub was outstanding. And I do find it humorous that I can get better pulled pork in the Columbia, S.C., airport than I can in San Diego.
Must-see sight in Columbia:
I loved the history of the region (which I'll get into in the next section). But aside from seeing good football and some great historical sites, one absolutely must take a stroll through The Horseshoe -- the old part of campus. It's obvious why "College GameDay" picks this venue to set up at when it visits Columbia. The leaves were turning and it was simply beautiful. I could picture myself 20 years ago as a student, parked under a tree with a cup of coffee furiously trying to make sense of Immanuel Kant.
Biggest surprise:
As noted, I found the history of the area fascinating. I'm no Civil War buff, but it always interested me. In Pac-12 country, when we talk about the Civil War, it refers to Oregon's recent dominance over Oregon State. But hearing how most of the college was spared during the Civil War because it was converted into a hospital, and seeing the George Washington statue in front of the state house (allegedly once used as target practice for Confederate soldiers) was engrossing. So the biggest surprise to me was how much the Civil War is still such a part of the daily culture and community, for better or worse. It's something we simply don't think about on the West Coast.
Biggest difference from the Pac-12:
The football wasn't all that different. The SEC has speed. The Pac-12 has speed. In fact, there was a play when Shon Carson broke off a 58-yard run and got caught from behind by two defenders in the open field. I remember thinking to myself, no way Ka'Deem Carey or Bishop Sankey or De'Anthony Thomas gets caught from behind (SEC fans, no doubt, will attribute that to the league's superior defensive speed).
I have been to many Pac-12 games hours in advance where the lots are only half-full. But eight hours before kickoff in Columbia, the traffic on Bluff Road rivaled the 405 at 5 p.m. on a weekday. SEC folks come out early and make it a full day. There are some Pac-12 fans who do as well, but a lot more in the South.
They said it:
My outstanding tour guide for one of the days was Cory Burkarth, a member of USC's sports information department. I asked him how folks from South Carolina refer to Californians like myself. To which he replied: "You're not from the South. You're not a Yankee. If you're from the West Coast, you're a hippie." I laughed and bought him a burger.
If I could go back:
I'd sit in the student section and jump up and down during the players' entrance to "2001: A Space Odyssey" and wave my towel every time "Sandstorm" is played before a kickoff. I was on the field for it, several times, but the vibe and energy coming from the stands was intense. And, next time around, I'll be sure to refer to our USC as Southern California. Lesson learned, Columbia, and thanks for the hospitality.
December, 24, 2013
12/24/13
9:30
AM ET
Editor's note: During Week 12, 10 ESPN.com reporters changed conferences to experience college football in unfamiliar territory. Here is what they learned from the experience.
I was admittedly dreading the freeway traffic. But after just a couple of days in Los Angeles, I was already used to it, whether I was crawling along on the 405 or the 110.
See, I even sound now like I've been in Hollywood all my life. Not really, though.
My junket out West was a blast. I'd been to Los Angeles a few other times, but being able to soak in a Pac-12 doubleheader -- UCLA-Washington on Friday and Stanford-USC on Saturday -- was a treat.
[+] Enlarge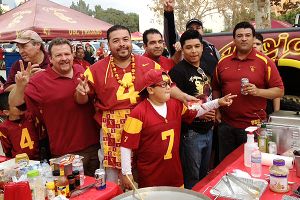 Chris LowAl Bautista (No. 4) hosts one of the better tailgates at USC.
Both the Rose Bowl and Los Angeles Memorial Coliseum should be on your bucket list if you're truly a college football junkie. I guess everything's a little more laid-back in California, and perhaps that's a stereotype, but what struck me the most was the unique blend of energy, warmth and knowledge of both the UCLA and USC fans.
The sheer beauty of the UCLA campus was equally stunning. It was like a postcard, although I don't envy the students having to get from Westwood to Pasadena on game days. Shuttles are available to take them, but it's a dramatically different dynamic than students at Auburn or LSU merely strolling across campus on fall Saturdays.
There are countless contrasts when you start comparing the world of college football in the SEC with the world of college football in Los Angeles.
For instance, they were filming an episode of the NBC sitcom "Parks and Recreation" not far from my hotel in Pasadena the day before the UCLA-Washington game. In the SEC, they're usually filming statues the day before games, as in statues of Bear Bryant and Nick Saban in Alabama's Walk of Champions.
Being a part of the mob scene on the field at The Coliseum following USC's upset over Stanford was something I won't soon forget. I was standing just outside the left upright when
Andre Heidari
kicked his game-winning, 47-yard field goal and could tell the kick was going to be good the whole way.
A couple weeks later, after taking in the Clemson-South Carolina game in Columbia, S.C., I couldn't help but wonder how many people saw both "USCs" play this season on the two different coasts. I know I'll catch grief from my Trojan pals for referring to South Carolina as "USC," but cut me a break. I grew up in South Carolina.
Here are some highlights from a truly memorable trip. Can't wait to get back out there for the VIZIO BCS National Championship in a few weeks:
Best meal:
The chimichanguitas at Mijares Mexican Restaurant in Pasadena were the best I've ever eaten … by far. They're mini-chimichangas that are flaky enough on the outside that it's almost as though you're eating homemade biscuits. And if you're really hungry or share the chimichanguitas with somebody else, you can follow them up with the shrimp and lobster enchiladas at the family-owned restaurant that's been a staple in Pasadena since 1920.
Must-see sight:
Driving down Sunset Boulevard past the famed Beverly Hills Hotel (you can get a room for just south of $700 a night) and then kicking it in Hollywood for a few hours. You never know what celebrities you might run into. One of the most gorgeous sights you're ever going to lay eyes on are the San Gabriel Mountains hovering in the distance at the Rose Bowl. Also, seeing the USC Trojan Band come marching through campus to the The Coliseum was awesome. The coolest part was seeing some of the USC fans sneaking the band members beers as they marched by. Tubas are a great place to hide those beers, by the way.
Biggest surprise:
The tailgating, particularly at The Coliseum prior to the Stanford-USC game, was every bit as elaborate as anything you'll find in the SEC. You're talking about everything from homemade salads and shrimp dishes, to huge, big-screen televisions to watch the other games, to fans arriving at the games as early as 6 o'clock in the morning.
Biggest difference from the SEC:
Fans were definitely fired up and passionate, but I didn't sense some of the nastiness you encounter at some of the SEC stadiums between rival fans. In other words, I didn't see any fights.
They said it:
"I didn't know they played football in the SEC, or at least, played anybody that was any good." -- USC fan Michele Brown of Huntington Beach, Calif.
If I could go back:
I'd figure out a way to buy one of those palatial homes in the Pasadena neighborhood you go through to get to the Rose Bowl. I'd also figure out a way to tailgate a little longer with some of the best people you're ever going to meet -- Jenny Bailey, Justin Bailey, Al Bautista, Angel Bautista, Andrew Biren, Justin Biren, Michele Brown, Benny Castro, Steven Doria, Ryan Draizin, Juan Duran, Daniel Fogelson, Spencer Sloan, Pat West and Lori Zavala.