December, 3, 2013
12/03/13
7:15
PM ET
Arizona State had a great run under Frank Kush in the 1970s. The Sun Devils went 10-2 under Darryl Rodgers in 1982. They won the Rose Bowl over Michigan after the 1986 season under John Cooper. Bruce Snyder's only loss in the 1996 season was a nail-biting Rose Bowl against Ohio State. Dirk Koetter was 9-3 in 2004. Dennis Erickson opened his ASU tenure with a 10-3 mark in 2007.
But each Arizona State surge was followed by mediocrity and losing seasons. Since Kush was controversially forced out in 1979, the only thing that has been consistent about Sun Devils football has been inconsistency.
[+] Enlarge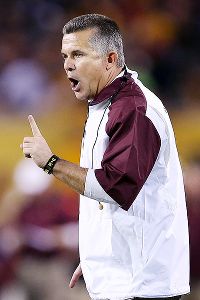 Christian Petersen/Getty ImagesTodd Graham says players should take charge of leadership on a team.
That has baffled many folks, particularly sportswriters, who have repeatedly called Arizona State a "sleeping giant." In fact, the Pac-12 blog has done this a couple of times over the past five years --
here
and
here
. It's been
a national story
a number of times. It's
been debated
. It's been
a topic this season
.
That's why the Sun Devils' rise under Todd Graham should be approached cautiously. While there's plenty of evidence suggesting a cultural transformation, unfettered optimism has been a dangerous state of mind for Sun Devil fans.
How about just the facts? Graham took over a team that went 6-7 in 2011 and went 8-5 his first season. In his second, he has the Sun Devils at 10-2, ranked 11th and facing No. 7 Stanford on Saturday for the Pac-12 championship and Rose Bowl berth .
Arizona State had been a notoriously undisciplined program. In 2011, the Sun Devils ranked last in the nation in penalty yards per game. Last year, they ranked eighth in the nation, and this year they rank third.
The discipline has extended off the field. The Sun Devils have been mostly avoiding the police blotter and doing well in the classroom, see nine players earning Pac-12 All-Academic honors, the program's most since 2006.
"We've always lacked consistency," said running back
D.J. Foster
, a Scottsdale native. "Even before I came here, just watching stuff. I feel like this program finally has constancy with Coach Graham. His work ethic is rubbing off on the players."
Graham said that even before he took the Arizona State job he had talked to other coaches about the football program's potential, most notably Cooper, who bolted Tempe for Ohio State after going 7-4-1 in 1987. Cooper is the last Sun Devils coach whose tenure didn't end with a pink slip. Graham, who has notoriously called multiple places his "dream job," wasn't worried about the dreaded "sleeping giant" label, which typically became a subject for off-the-record derision among former Sun Devils coaches.
"I think it just points to the potential," Graham said. "This is a great place."
There was an outside perception that the team Graham took over didn't lack athletic ability but that it might be thin on character. Fair or unfair, the Sun Devils have long been dogged by a reputation as a self-centered team that lacked mental toughness. But what Graham says he found was a locker room eager to embrace change.
"I think they were somewhat tired of some of the discipline things," Graham said. "I believe young people will meet whatever standard you set."
Want buy-in? Two-time Pac-12 Defensive Player of the Year
Will Sutton
on Monday was finishing up a 15-page paper on leadership. Guess who it was about: Graham.
"It's about leadership and change in the community, and what better person to do than Coach Graham?" Sutton explained.
For Graham, however, the message that he advanced this season compared to last is players taking charge of leadership instead of the coaches. That's part of a team and a program maturing.
"Our players are leading the team," he said.
The improvement this fall has been impressive. The Sun Devils are 10-2 against one of the nation's toughest schedules and they are riding a Pac-12-best seven-game winning streak. While Stanford is the defending conference champion, it's the Sun Devils who are favored.
"This has been the best situation I've ever been in in coaching," Graham said. "We've really gelled really quickly. We had a great plan and we really fit the place. I think the players were really hungry for what we've brought."
If the Sun Devils keep winning, it certainly
will bolster efforts to renovate Sun Devil Stadium
, a project that is critical to the program remaining competitive. And retaining Graham.
While the previously nomadic Graham seems to -- finally -- be content, leading Arizona State to a Rose Bowl will refocus the nation on his program building skills, not his controversial departures from previous schools. Keeping him and his coaching staff happy will be an important test for the athletic department, which already is replacing athletic director Steve Patterson, who left for Texas this fall.
Further, everyone knows nothing big has been accomplished yet. This is about establishing a consistent winner, not just breaking through every five or 10 years for a magical run. It's no good if the sleeping giant just got up to grab a glass of warm milk before again retiring.
"I feel the sleeping giant is awoken but we've still got a lot more work to do and a lot more big games to win to be established as a dominant program," Foster said.
June, 4, 2013
6/04/13
11:00
AM ET
ESPN.com's Ivan Maisel looks at which conferences send head coaches to the NFL and
makes a conclusion
: "The shortest road for any FBS head coach to the NFL is through the Pac-12. In fact, no other conference even comes close."
He points out that Chip Kelly (Oregon to the Philadelphia Eagles) was the 15th Pac-12 coach to jump to the NFL since "Tommy Prothro moved crosstown from UCLA in 1971 to coach the Los Angeles Rams."
And during that span the SEC has sent three to the NFL. The Big Ten one.
Figuring out exactly why this is true is more of a challenge, particularly because folks in other regions will get mad hearing the real reason: Brains and sophistication.
[+] Enlarge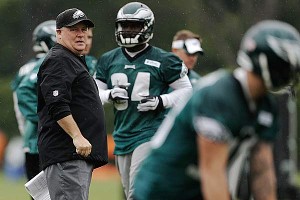 Matt Rourke/AP PhotoChip Kelly's offensive creativity helped him become the latest Pac-12 head coach to land an NFL head coaching gig.
Hey... take it easy. Just saying. And you Pac-12 folks need to behave.
Just look at the list: Dick Vermeil, Bill Walsh, John McKay, Mike Riley, Dennis Erickson and Chip Kelly. Those are some of the most innovative minds in football history, particularly offensive football.
Schematically, the Pac-12 -- historically and I think still at present -- is the nation's most sophisticated league. There's just more ... stuff. Playbooks are thicker. That, by the way, includes both sides of the football. The QBs are asked to do more. And that forces defenses to do more, too.
This, by the way, fits in with those who -- wrongly -- view the Pac-12 as a finesse league: A conference that is physically inferior has to use its wits to succeed.
But sophistication is about more than scheme. It's about psychology and managing people. There's more diversity on the West Coast. That complicates the job, so doing it well is meaningful. John McKay probably would have been successful coaching in Tuscaloosa. Not as sure the same could be said of Bear Bryant in Los Angeles.
Part of that is this: There's not as much "Yes, sir," "No, sir" on the West Coast as there is in other regions, particularly the Southeast and Texas, though that as a historical trend is likely narrowing. Going old school on an 18-to-23-year old from L.A. or Seattle probably won't work as well as it would on a kid from small town Alabama. The way a successful Pac-12 coach talks to and motivates his team is, in general, different. And, historically, it's probably closer to the NFL model, where the players are paid professionals and less willing to respond positively to a ranting coach.
Understand, there are plenty of exceptions to that. Frank Kush at Arizona State and Don James at Washington were as old school intimidating to their players as any of their contemporaries.
There's another level to that sophistication: Big cities. The NFL is a big-city league. So is the Pac-12. Maisel thinks this matters:
It could be that universities that share a market with NFL teams lose more coaches to the league. A school such as Boston College, clamoring for attention in a crowded market, might be more liable to hire a prominent NFL assistant coach such as Tom Coughlin, who left the Eagles for the Jacksonville Jaguars in 1994. That best explains why, even without counting Johnson or Erickson, the 22-year-old Big East has lost five head coaches to the NFL.
But there are other potential reasons:
Out of the box hires create fast-rising stars: Kelly, Jim Harbaugh and Pete Carroll each arrived in the Pac-12 in creative ways. Mike Bellotti made the inspired decision to hire Kelly away from New Hampshire. Harbaugh mostly generated head scratches when Stanford hired him away from San Diego. And Carroll was USC's 174th choice after a bumbling search. Heck, even Bill Walsh was a frustrated NFL assistant when he arrived at Stanford.

Previous NFL experience: Carroll had previous NFL coaching experience. So did Dick Vermeil, Bill Walsh and Dennis Erickson. Harbaugh was a longtime NFL QB. Several other guys on the list at least had a cup of coffee as an NFL assistant before taking over a Pac-8/10/12 team. You could conjecture that many of them viewed returning to the NFL as their ultimate ambition, unlike a college coaching lifer.

Recruiting rules in SEC: The most important skill for a head coach in the SEC is without question: Recruiting. The competition for recruits nationwide is brutal, but it's a blood sport in the Southeast. And that is not really a skill that translates in the NFL.

Money: Some conferences' pay scales are competitive with the NFL. The Pac-12's is not.
November, 23, 2012
11/23/12
4:00
PM ET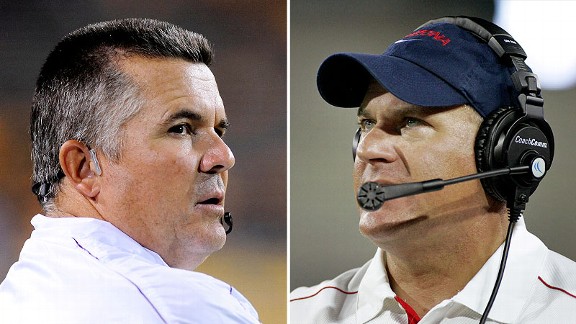 US Presswire, AP PhotoFirst-year coaches Todd Graham and Rich Rodriguez face off Friday in the Territorial Cup.
There are two coaching approaches these days when it comes to preparing for rivalry games.
The new school -- Chip Kelly school, really -- preaches that every game is important and that rivalry games are only hyped up for fans, not about coaches and players.
The old school -- the Woody Hayes school -- preaches that a great season is ruined by a loss to a rival and a bad season is transformed by a victory.itroial
It seems appropriate then that the Territorial Cup between Arizona and Arizona State, which the Pac-12 blog believes is one of the nation's most underrated in terms or pure bitterness, would feature two first-year coaches that represent these opposing approaches.
Arizona coach Rich Rodriguez is new school.
"We prepare for every game with the same focus and intensity, and we'll be doing the same against Arizona State," he said. "After I got hired, I heard about the rivalry from all the fans and alumni during the offseason. We're really just treating this game like any other game, but of course, there will be a lot more attention because of the rivalry."
Arizona State coach Todd Graham is old school.
"It is the biggest game of the year, every year," he said. "It is about Arizona State University winning the Territorial Cup. That's it."
Part of Graham's approach can be traced his his friendship/mentorship with Sun Devils legend Frank Kush, whose name is probably in the many dictionaries next to the term "old school."
"[Kush] has let me know, just like everybody else, that you can be 11-0 and if you don't win this game, you have had an unsuccessful season," Graham said. "This is what college football is all about, rivalry games. Nothing has more passion than this one. I know, hands down, that to our fan base -- to the Sun Devil Nation -- that this means the most to them and we are working hard to represent them."
Further, there's history between Rodriguez and Graham. They coached against each other in the 1993 NAIA national championship game, and Graham briefly worked for Rodriguez at West Virginia.
There is no public evidence that these guys detest each other. But the Pac-12 blog feels comfortable telling you their relationship isn't exactly warm, and that isn't exclusively based on their fans really, really not liking each other.
Each was asked about the other this week. Here are their responses from the official news conference transcripts.
Rodriguez: "We saw each other at a couple events up in Phoenix. I don't have a whole lot of interaction with a lot of people other than the people who I work with every day. It is just the way that the coaching profession is. I hired him at West Virginia because I knew him from the recruiting trail. We were also starting something new at West Virginia, and he did a good job. After two years, he moved on and started to become a head coach shortly after that."

Graham: "We knew each other from competing against each other in 1993 when we played for the National Championship, when he coached at Glenville State and I was at East Central. I also worked there [at West Virginia] for a brief time, but that is it."
Doesn't sound like they will go camping together anytime soon, eh?
It would be fair to say that the Sun Devils are much better on defense than the Wildcats, but the Wildcats offense has often appeared unstoppable, other than a lost trip to Eugene, Ore. Arizona's
Matt Scott
is one of the best dual-threat quarterbacks in the nation, while running back
Ka'Deem Carey
is trying to win the national rushing title.
Graham has no problem praising Carey.
"He is as good as there is," he said. "He is, no question, the guy you have to stop and it is a tall order to do that. Not many people have even come close."
Of course, Sun Devils quarterback
Taylor Kelly
& Co. have been pretty darn good this year averaging 36 points a game. The Wildcats defense gives up 33.6 points and 488 yards per game. So this one might be a high-scoring affair.
Just another game? Well, that's very new school, but don't expect it to feel like that tonight in Tucson.
July, 9, 2012
7/09/12
9:00
AM ET
Does a coach define your program? Think Alabama and Bear Bryant, Penn State and Joe Paterno and Florida State and Bobby Bowden.
Does he cast a shadow that's hard to escape? Or is your all-time winningest coach mostly incidental?
[+] Enlarge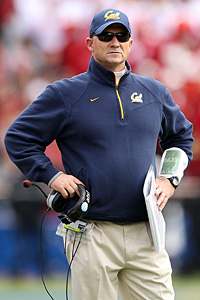 Ezra Shaw/Getty ImagesCoach Jeff Tedford is Cal's winningest coach of all time, but is he the face of the program?
ESPN.com is looking at the winningest coach for each FBS program today, and the results from the Pac-12 are interesting.
Some teams are trying to regain the past glory of a legendary coach (Arizona State and Frank Kush, Colorado and Bill McCartney, UCLA and Terry Donahue and Washington and Don James).
Some teams all-time wins leader paved the way for present glory (Oregon and Mike Bellotti and USC and John McKay).
Some are just names on a list, Hall of Famers or otherwise, men glaring at us from black and white photos (Pop Warner for Stanford, Lon Stiner for Oregon State, Ike Armstrong at Utah and Babe Hollingbery for Washington State).
And for some teams, well, things are complicated.
For one, Jeff Tedford, who has been hot-seated by many reporters and California fans, is the Bears all-time winningest coach. Then there's Oregon State's Mike Riley, who most feel is sitting on the second-warmest seat in the Pac-12. He needs just three victories to eclipse Stiner as the Beavers winningest coach.
A guy who might identify: Arizona's winningest coach Dick Tomey. Tomey went 12–1 in 1998 but was forced out in 2000.
Hey, look at this patch of grass. It's lovely. Not perfect, though. Is that a clover? Hmm. What about the grass ... over there?
The most interesting names, of course, are Kush, McCartney, Donahue and James. Each is the standard for his program. Even fans too young to have witnessed their tenures know who they are. While these coaches' programs have experienced varying degrees of success both before and after them, no one has been able to duplicate their consistency. And those who have tried over the past couple of decades seem as though they shriveled up under the shadow of the legends who preceded them.
While fans fervently cling to the "It happened before, so it can happen again" position, the truth is comparisons are sometimes unfair. College football is much different than it was before the BCS era, which none of these four experienced.
But that doesn't keep fans from hoping for a second-coming.
December, 15, 2011
12/15/11
10:52
AM ET
There's the real world. There's the theoretical world. And there's the world of spin.
The real world
: Todd Graham left Pittsburgh for Arizona State and
didn't even get a notable raise
on his $2 million salary because he'd rather be the head coach at Arizona State than Pittsburgh. His reasons? Really, it doesn't matter in Tempe. That's a question Pittsburgh should ask of itself, not Graham. It could be revealing.
[+] Enlarge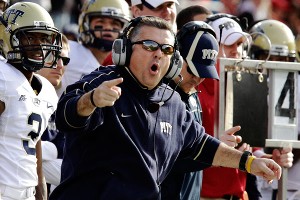 Garry Jones/AP PhotoFollowing one season at Pittsburgh, Todd Graham is now Arizona State's new football coach.
The theoretical world
: Todd Graham should have stayed at Pittsburgh because he said it was his dream job and he talked to his players about commitment and told boosters about his commitment to the future and because a high-character person would honor commitment above all else. And he certainly wouldn't announce a breakup with a text message.
The world of spin
: Todd Graham was Arizona State's first choice and everyone is thrilled. Graham feels horrible about the way he left Pittsburgh because he loves and respects everyone there. It just couldn't be helped.
You want absolutes of honor, character and integrity in college football? Two names: Joe Paterno and Jim Tressel. How are your absolutes doing now?
You believe in absolute honesty? When you last broke up with a girlfriend/boyfriend did you say: 1. It's not you, it's me; or, 2. You've gained 10 pounds since we started dating and your laugh drives me crazy. And I hate your friends. Except for the one I might ask out.
What did Todd Graham have to say about how he left Pittsburgh during his
introductory news conference
at Arizona State?
I want to first start and talk about my players from Pitt. The last few hours have been extremely gut wrenching for me, obviously for my family. I love those guys. I'm very proud of the growth that they had this year, both on the field, off the field, in the classroom and in the community. I'm very proud of them. You never want to leave a program, and I never dreamed that I would have to leave a program under these circumstances.

The timing of these processes are extremely rapid, and it did not allow for me to address the team, and that is very hurtful. I've never had to endure that, and I really regret that. I really regret that I didn't have the opportunity to do that. I reached out to them in the only way that I knew how, the only means that I had at my disposal because I absolutely did not want them to hear about this on the news. I wanted them to know first. The only other alternative I had was not to communicate at all, and that was just unacceptable to me.

I plan on my return to Pittsburgh to reach out to them and to communicate to them. Obviously my staff that's there has communicated, as well, and those young men, I just want them to know that I love them. Coaching and teaching is a passion to me, and that's something that's very, very important before I talk about anything else, that I want my players from Pitt to know that I love them and I'm proud of them.
You can believe it or not.
If Graham loved his Panthers and was proud of them, why did he not insist on delivering the news of his exit personally?
Well, obviously this transpired this morning in a rapid pace, and it was last night and this morning, and there wasn't an opportunity to have a team meeting and be able to meet with them.

Now, these processes move very quickly and very rapidly, and that's the tough thing about this business and about coaching. I've had experience with that before, and if there was anyway possible, again, that's — I never want to do that, and that's the greatest regret you can have, and it's the most horrible feeling that you have. But again, I reached out in the only way that I knew how because I absolutely was not going to just have them see this on the news.
In other words, Graham put what he termed "a gut-wrenching experience" in his left hand and the opportunity with Arizona State in his right and decided to endure the one because of the appeal of the other. He made a tough decision that many people make in the job market, only the news media wasn't Tweeting about it all day Wednesday. And there are, whether folks back East are willing to admit it or not, real world reasons why Arizona State held such great appeal to Graham.
ASU athletic director Lisa Love admitted she was aware of Graham's now even more justifiable reputation as a mercenary climber who constantly eyeballs better jobs.
Said Love: "I love the fact that [Graham's wife] Penny's parents are sitting right here and they drove up the road. I love the fact that Todd has family here. I love the fact that Desert Mountain was a place where they were investing and prepared to invest in property and believed him. I believed him. I can tell you that I saw that on job movement, but I believed him."
Trust. It's dangerous. But Love needed a coach after a muddled 17-day search that Wednesday's spin couldn't smooth over, and there was Graham -- eager, affordable and with a fairly solid resume. Ergo, leap of faith.
Of course, track records don't disappear. What if Georgia or Ohio State comes calling with $4 million a year? Why should Arizona State fans believe this is a better dream job than his last dream job, a phrase that the effervescent Graham throws around a lot.
Question: Because of your track record, how do you convince Sun Devil Nation, future recruits, the football team, everyone affiliated with ASU that you're here for the long haul?

COACH GRAHAM: I think the only way to respond to that is just being here. Obviously it was, like I said earlier in the remarks, that this is a dream opportunity for our family. It's obviously the first decision I've ever made that has actually benefited my wife and benefited our family. You know, I think that the only way you can do it is, like I said, I'm going to work hard to earn their trust, and I think trust is earned, so that's all I can do.
Right. Actions, ultimately, are real world tangible. Words are for worlds of theory and spin.
But words are all there are at present, and many of the words are going to be negative about Graham, and not completely without justification. Graham's perfect grasp of massaging talking points Wednesday evening often strained credulity. For example, he celebrated former Sun Devils greats Pat Tillman and Terrell Suggs. Suggs
took a shot at him on Twitter
, and Tillman, an absolutist on integrity in both word and deed, would not likely have been at the presser clapping for Graham had he not given his life for his country.
Graham also seemed to be unaware of the term "irony."
Question: When you get settled in, what's the first thing you do to get this program going in the Todd Graham way?

COACH GRAHAM: One word: Relationships. Start building relationships. That's a key component.
He's — officially — referring to the theoretical world. But he's — in reality — speaking of relationships of convenience. You do your best to get along with folks at your office whom you might not like. You talk as pleasantly as possible to annoying neighbors because, well, it seems smarter than telling them they are annoying gasbags. You nurture your world and love your family and friends.
A football coach enters relationships of convenience with a football program. He's got his AD. He's got his school president. He's got boosters who want to play golf with him. He's got to shake hands with lawyers who will offer unsolicited advice on using the tight end more and being more "attacking" on defense. He's got 85 scholarship players who need to be pushed, prodded and coddled in ways unique to their individuality. There is lots of talk of family but it ultimately is a business based on what the scoreboard says.
The real world will be more difficult for Graham because of his present standing in the theoretical world, and no spin can change that. He doesn't have a clean slate. Some will resist giving him the benefit of the doubt.
Relationships? What about those guys at Pitt?
But if Graham is who Love and school president Michael Crow say he is, "just being here" is a reasonable point A for hope. Point B be will be maintaining a recruiting class that seemed headed for a top-25 national ranking before Dennis Erickson was fired.
And the endgame? That's where the real world intrudes over all else: Winning, winning, winning.
August, 12, 2011
8/12/11
9:00
AM ET
In 2008,
the then-Pac-10 blog noted
that "If you Google 'Arizona State' and 'sleeping giant,' 3,400 articles come up."

If you did it this week, you get 85,900 results (in 0.23 seconds! Technology rocks! Though it doesn't seem as if all the matches are relevant, Google).
In 2008, we wrote, "If a Pac-10 team has a chance to break USC's choke-hold on the conference title -- or at least to regularly challenge the Trojans for the top spot -- it's the Sun Devils."
Drrrrrr.
We were wrong. Somehow I want to blame Chip Kelly.
We are considering programs that are "teases" in the Pac-12, which my new boss,
Ruthless Reynolds
, described as "teams that always look great in the preseason only to underwhelm when play starts."
Sun Devils, why can't we quit you?
Well, lots of reasons.
You have the only coach in the conference who's won a national title in Dennis Erickson. As a resident of north Scottsdale living in the shadow of Black Mountain, I can confirm that the weather -- though a bit toasty in the summer -- is just about perfect eight months of the year. Tempe is just a short flight from the recruiting hotbed of Southern California. The, er, scene at Arizona State strikes this codger as something that might appeal to an average 18- or 19-year-old male. Academic standards don't typically limit recruiting options.
And the program has been there before, becoming a national power in the 1970s under Frank Kush and then again in the 1996 season, when it lost a national title in a thrilling Rose Bowl defeat to Ohio State.
Still, it's one of the great questions in college football: Why doesn't Arizona State win more consistently?
Of late, the Sun Devils have typically underperform compared to expectations. In four of the past six years, they've finished below where they were picked in the Pac-10 preseason media poll, most notably in 2008 -- that year! -- when they were picked second in the conference but finished sixth with a 5-7 record.
To be fair, though, they've eclipsed their preseason prediction in two of the four years -- 2007 and 2010 -- under Erickson.
And so we have 2011.
The Pac-12 blog started touting Arizona State as a 2011 contender before last season was done. Why? It wasn't just that the Sun Devils went nose-to-nose with some of the best teams in the country -- Oregon, Wisconsin, Stanford -- it was coaches from other teams specifically noting how talented the Sun Devils were.
Then you looked at the 2010 depth chart: Everyone was coming back. Seriously: The only senior starters last year were receiver Kerry Taylor and defensive tackle Saia Falahola.
Wow. To be honest, my thought process immediately saw 6-6 in 2010 and thought Rose Bowl shot in 2011.
But after a nice finish to the 2010 season, little has gone right for the Sun Devils. Defensive tackle Lawrence Guy made a poor decision and entered the NFL draft. Quarterback Steven Threet was forced to retire due to concussions. Fellow quarterback Samson Szakacsy left the team. Unanimous All-Pac-10 cornerback Omar Bolden blew out his knee at the beginning of spring practices, followed shortly thereafter by top returning receiver T.J. Simpson. Starting defensive end James Brooks quit, and the status of talented running back Deantre Lewis (gunshot wound) remains up in the air as he might redshirt this season.
That's five starters, a co-starter (Lewis) and an experienced backup quarterback. So, Sun Devils fans, you have a ready-made excuse if the season falls short of expectations and you end up only wondering what might have been.
That said, Arizona State, despite these major personnel losses, is still good enough to win the South Division. It also helps, by the way, that USC's ineligibility means it's only a five-team race among squads that each have significant holes.
But every time you start to think they'll be OK, something else happens, such as All-American linebacker Vontaze Burfict
fighting a receiver
he outweighs by 50 pounds in the locker room last week, or linebacker Oliver Aaron suffering a high ankle sprain, or backup defensive tackle Joita Te'i suffering a foot injury that will sideline him for seven weeks, or cornerback Devan Spann dislocated his left shoulder two times in the first week of practice.
Still, 28 seniors back in the locker room, five starters back on the offensive line, Burfict leading impressive talent in the front seven, an underrated running back in Cameron Marshall and a quarterback in Brock Osweiler who looks ready to lead.
Sun Devils, why can't we quit you?
May, 31, 2011
5/31/11
2:30
PM ET
By
ESPN.com staff
| ESPN.com
It really don't matter if I lose this fight. It really don't matter if this guy opens my head, either. 'Cause all I wanna do is go the distance. Nobody's ever gone the distance with Creed, and if I can go that distance, you see, and that bell rings and I'm still standin', I'm gonna know for the first time in my life, see, that I weren't just another bum from the neighborhood.
December, 20, 2010
12/20/10
6:29
PM ET
A "consensus" All-American is a player who earns first-team honors on three of the five All-American teams recognized by the NCAA.
So Oregon coach Chip Kelly, by the same standards, is now a "consensus" Coach of the Year, after winning the honor from the
Walter Camp Football Foundation
.
Kelly is the first Oregon coach and just the third from the Pac-10 to earn the award (Arizona State's Frank Kush in 1975 and Bruce Snyder in 1996), which is voted on by FBS coaches and sports information directors.
Kelly previously won Coach of the Year honors from the Football Writers Association of America and The Sporting News.
Under Kelly's direction, the second-ranked and Pac-10 champion Ducks (12-0) earned their first BCS Bowl Championship Game appearance and will meet No. 1 Auburn (13-0) on Jan. 10 in Glendale, Ariz. It is Oregon's first 12-win season in its history.
Kelly, along with members of the 2010 Walter Camp All-America team, will be honored at the organization's national awards banquet on Jan. 15 at the Yale University Commons in New Haven.
August, 17, 2009
8/17/09
9:00
AM ET
By
ESPN.com staff
| ESPN.com
Posted by ESPN.com's Ted Miller
My guess is this will be a heck of a conversation starter.
Thou art a villain!
Now and forever!
Who is Public Enemy No. 1 of your program? Who beat you, ruined you, annoyed you?
Here's a list.
But know that we are completely aware of this unavoidable fact: We only observe and speculate. You feel.
If you have additions, gripes or different takes, feel free to respond. We want to know who really gets your goat.
Arizona
Current villain: John Mackovic. Mackovic went 10-19 before getting canned midway through the 2003 season after a player revolt. His prickly and pompous personality didn't go over well in Tucson and he left the program bereft of talent.
All-time villain: Frank Kush. Kush led Arizona State to national prominence and was 16-6 vs. the Wildcats, winning 13 of his final 15 matchups.
Arizona State
Current villain: Joe Germaine. The Ohio State quarterback, who played high school football in Mesa, Ariz., led a last-minute touchdown drive in the 1997 Rose Bowl, denying the previously unbeaten Sun Devils a share of the national title.
All-time villain: Kevin Rutledge. The former Sun Devils punter accused legendary coach Frank Kush of punching and harassing him and in 1979 sued the school for $1.1 million, which directly led to Kush's midseason termination.
California
Current villain: Mack Brown. The Texas coach vociferously -- and with little justification -- lobbied to be promoted in the national polls past California so the Longhorns could earn a BCS bowl berth. A number of voters listened, changed their voting patterns and denied the Bears their first Rose Bowl invitation since 1959. Dispirited, Cal sleepwalked through a Holiday Bowl loss to Texas Tech.
All-time villain: Tyrone Willingham. Willingham? Well, while Stanford's coach from 1995-2001, Willingham went 7-0 in Big Games. How can that not be incredibly annoying to Cal fans, even more so today, considering the trajectory of Willingham's coaching career?
Oregon
Current villain: Dennis Dixon's ACL. Dixon looked like he was on his way to the Heisman Trophy and his Ducks to the national title game when his knee gave way with four games remaining in the 2007 season.
All-time villain: Washington. The hate between the schools started in 1948 when Washington broke ranks with the Northwest schools and voted California into the Rose Bowl instead of Oregon -- and convinced Montana to do the same -- after the Bears and Ducks tied for the best record in the conference.
Oregon State
Current villain: Larry Tripplett. In the 2000 game at Husky Stadium, the Washington defensive tackle caught Ken Simonton for a three-yard loss on second-and-1 from the Huskies 26-yard line with 42 seconds left and Washington leading 33-30. The Beavers mistakenly spiked the ball -- they had a time out left -- and then Ryan Cesca missed a 46-yard field goal to tie. It was the Beavers only loss of the season; they crushed Notre Dame in the Fiesta Bowl. They would have played Oklahoma for the national title if they had prevailed.
All-time villain: 1971-1998. During that 28-year span, the Beavers never posted a winning record. What's more, they averaged just 2.32 wins a season. It's one of the great streaks of consistent losing in college football history.
Stanford
Current villain: Jeff Tedford. Since Tedford took over at California, the Bears have won six of the past seven Big Games.
All-time villain: Kevin Moen. Moen is the Cal player who ran through the Stanford band and knocked over trombone player Gary Tyrrell in the endzone to complete "The Play" in the 1982 Big Game.
UCLA
Current villain: Pete Carroll. Honestly, does this need explanation? He's 7-1 vs. the Bruins since starting USC on its unprecedented run.
All-time villain: Bill Hayhoe. Though the Bruins' classic 1967 showdown with USC is most remembered for O.J. Simpson's 64-yard touchdown run, UCLA fans surely recall that kicker Zenon Andrusyshyn missed three field-goal attempts and an extra point in the 21-20 defeat. The 6-foot-8 Hayhoe blocked two of those field goals and the PAT. The Bruins entered the game ranked No. 1 and the defeat cost them a shot at the Rose Bowl and the national championship. USC went on the win both.
USC
Current villain: The BCS. Who knows how many national titles USC would have won during Pete Carroll's tenure had a playoff been in place. Certainly more than two. Maybe as many as five. Moreover, the BCS has kept the Trojans out of the "national title" game a number of times, which has been a great boon to the SEC, which hasn't had to prove itself vs. the Trojans.
All-time villain: Lou Holtz. Holtz went 9-2 vs. USC while Notre Dame's coach, including the 1988 game when the unbeaten and No. 1-ranked Fighting Irish whipped unbeaten No. 2-ranked USC 27-10 in the Coliseum. The Trojans then lost the Rose Bowl to Michigan, while Notre Dame went on to win the national title. Ouch.
Washington
Current villain: Tyrone Willingham. Tough call here between Willingham and Rick Neuheisel as to who Huskies fans blame the most for the program's current state. But our guess is memories of Neuheisel's victory in the 2001 Rose Bowl earns him a break, while the Willingham-led 0-12 disaster is still very, very fresh.
All-time villain: William Gerberding. While school president, he alienated highly respected and successful athletic director Mike Lude and then -- the whopper -- enraged revered football coach Don James, who resigned in 1993 because he felt Gerberding mishandled an NCAA and Pac-10 investigation into the football program. Gerberding also hired Barbara Hedges, whose leadership is often cited as the point A for the football program's downturn as well as the current sorry state of Husky Stadium.
Washington State
Current villain: Bill Doba. Nicest guy in the world. Did a great job as Mike Price's defensive coordinator. Led a winning effort against Texas in the 2003 Holiday Bowl. But the lack of talent on the Washington State roster in 2008 and at present falls almost entirely on him.
All-time villain: Rick Neuheisel. While Don James led a period of Washington dominance in the Apple Cup rivalry -- he was 13-5 vs. the Cougars -- there was always a grudging respect for James. Not so for Neuheisel, who went 4-0 vs. the Cougars and was reviled in Pullman. The unranked Huskies triple-overtime victory over the then-third-ranked Cougars in 2002 ended with Washington State fans littering the field with bottles and other trash.
April, 13, 2009
4/13/09
5:52
PM ET
By
ESPN.com staff
| ESPN.com
Posted by ESPN.com's Ted Miller
Bruce Snyder wasn't Arizona State's greatest coach. That would be Frank Kush. But Snyder ranks a solid No. 2, and he also was something few coaches are: well-rounded.
Snyder loved to read. He could talk incisively about things other than football. And, get this: He was a nice guy.
| | |
| --- | --- |
| | |
| | AP Photo/Roy Dabner |
| | Bruce Snyder went 126-106-5 in 20 years as a head coach. |
Not long ago, he was also doing something few football coaches do: Enjoy retirement.
Then, in June, his doctor gave him stunning news: He had Stage IV melanoma. The story is gracefully told in this column by George Schroeder.
The situation was dire. Realistically, it was a death sentence. But, of course, Snyder fought like crazy. And he shared his journey with the world on his blog.
But that final journey ended Monday. Snyder was 69. He leaves behind a wife, three daughters, a son-in-law, two grandchildren, four sisters, two brothers and his beloved dog, Ella.
And an impressive legacy.
His being well-rounded and good-natured, of course, isn't why Pac-10 fans will remember Snyder today. He was a heck of a football coach, winning Pac-10 Coach of the Year honors at two different schools and nearly leading Arizona State to a national championship in 1996.
He compiled a 58-47-0 record in nine seasons at Arizona State, the win total ranking second behind Kush.
What Arizona State fans will remember most fondly was a scintillating 1996 season, when Jake Plummer, Pat Tillman and the Sun Devils were in the national title hunt until the waning moments of the Rose Bowl, when Ohio State and quarterback Joe Germaine broke their hearts in a 20-17 defeat.
Still, that 11-0 regular season, which included a 19-0 domination of two-time defending national champion and top-ranked Nebraska, and a final No. 4 ranking earned Snyder numerous national coach of the year awards.
And probably more than a few moments of "what if" when the lights went off.
Snyder, recently enshrined into the ASU Athletic Hall of Distinction, went 126-106-5 in 20 years as a head coach. He also earned Pac-10 Coach of the Year honors at California in 1990 after the Bears finished 7-4-1 and defeated Wyoming, 17-15, in the Copper Bowl -- Cal's first bowl berth in 11 years and first bowl win since 1938.
In 1991, his final season at Cal, he led the Bears to a 10-2 record, No. 8 national ranking and a win over ACC champion Clemson in the Citrus Bowl.
So, within a six-year span, he led two different Pac-10 teams to final top-10 rankings.
If someone else has done that, well, I couldn't find him.
He coached more than 40 players at ASU who were selected in the NFL draft, including seven first-round draft choices: Shante Carver, Craig Newsome, Erik Flowers, Adam Archuleta, Todd Heap, Levi Jones and Terrell Suggs.
That's an impressive resume by any measure.
It's a coaching legacy that will endure. And here's a guess that those who knew Snyder well also will treasure his legacy as a person.
February, 9, 2009
2/09/09
4:08
PM ET
By
ESPN.com staff
| ESPN.com
Posted by ESPN.com's Ted Miller
Sure some of you folks already have seen this but it may have gotten lost in the recruiting hoopla for many of you: ESPN.com did a state-by-state "Mt. Rushmore" of sports.
You can vote for your favorite here. And here's the index.
It was notable to me that the only two Pac-10 football presences were Don James for Washington and Pat Tillman for Arizona. Pac-10 hoops produced John Wooden for California and Lute Olsen for Arizona.
By way of comparison, two of the four picks from Alabama and Florida emerged from college football.
Wonder how some of you might envision a Mt. Rushmore of Pac-10 football.
To me, the two certainties would be Don James and John McKay.
It would be hard not to include Pete Carroll. Tillman would be a good one -- good granite chin, too.
If it were still 1993, O.J. Simpson would be a possibility.
Who else?
Terry Baker? Terry Donahue?
Frank Kush? Howard Jones?
Marcus Allen? Pappy Waldorf? Carson Palmer? John Elway? Troy Aikman? Jim Plunkett? Gary Beban? Charles White?
Feel free to talk amongst yourselves.
December, 4, 2008
12/04/08
2:30
PM ET
By
ESPN.com staff
| ESPN.com
Posted by ESPN.com's Ted Miller
Two sources confirmed to the Pac-10 blog that these are links.