May, 30, 2012
5/30/12
12:00
PM ET
Taking a cue from the guys at the Big Ten blog, who recently
looked at the potential 3,000-yard passers
in that conference in 2012, I thought it would be worth a look at the Pac-12 group.
For the B1g boys, 3,000 yards might seem like a bench mark. In the Pac-12, it's more common, given the brand of football played in the league and seemingly never-ending parade of amazing throwers and catchers who grace the Pac-12 each year. Heck, the conference had two 4,000-yard passers on 2011 in Nick Foles and Brock Osweiler.
But those two are gone -- and so are their head coaches, coordinators and offensive schemes.
Here are the members of the 3K club last season:
Foles, Arizona, 4,329
Osweiler, Arizona State, 4,036
Matt Barkley, USC, 3,528 (returning)
Andrew Luck, Stanford, 3,517
Sean Mannion, Oregon State, 3,328 (returning)
Keith Price, Washington, 3,063 (returning)
[+] Enlarge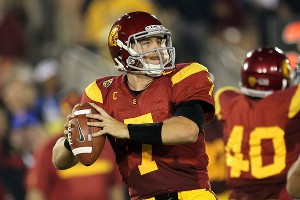 Stephen Dunn/Getty ImagesUSC's Matt Barkley seems like a sure bet to throw for 3,000-plus yards this coming season.
Now let's look at the conference quarterbacks in 2012 and see who has the best chance of cracking the 3K mark.
Matt Scott, Arizona
: Rich Rodriguez's spread option is primarily run-first, and I couldn't find a 3,000-yard passer to his credit as a head coach. The closest anyone got was
Denard Robinson,
who hit 2,570 in 2010. History says probably not.
TBD, Arizona State
: Another up-tempo, run-first offense -- though Todd Graham has had more success in the air. G.J. Kinne hit 3,650 passing yards for Tulsa in 2010, but that was also his second year in the system. With a workhorse running back like
Cameron Marshall
, a deep running back corps and a green quarterback, 3K seems unlikely.
Zach Maynard, Cal
: Just 10 more yards. Just one more little swing pass or one broken tackle and Maynard would have joined the 3K club after throwing for 2,990 yards last season. All indications are that he had a good spring, and he looks more comfortable in the offense. Plus, he's got one of the best receivers in the country in
Keenan Allen
. Maynard should get there.
TBD, Colorado
: Tyler Hansen ( who is now gone) almost got there last season, throwing for 2,883 yards even though his leading receiver in catches was running back Rodney Stewart (who is now gone). Toney Clemons (who is now gone) led in yards, and
Paul Richardson
(who is out for the season with a knee injury) was second. The odds are slim that
Connor Wood
or
Nick Hirschman
will improve off Hansen's numbers with so much turnover.
TBD, Oregon
: Does it really matter?
Darron Thomas
knocked on the door last season with 2,761 yards. But establishing the pass isn't exactly priority No. 1 for the Ducks. Whoever wins the job will have the benefit of
De'Anthony Thomas
, who can turn 5-yard passes into 50-yard completions. But with the Ducks carrying a 62-38 run-pass percentage last season, it's unlikely they'll stray from that formula, which means it's unlikely a new quarterback will reach 3K.
Sean Mannion, Oregon State
: One of six quarterbacks in the conference last season to break 3K, Mannion threw for 3,328 yards in his debut campaign. Vows from coach Mike Riley to re-commit to the running game should actually enhance Mannion's numbers. And with receivers like
Markus Wheaton
and
Brandin Cooks
on the outside, there is no reason to think he won't top 3,000 again.
TBD, Stanford
: Despite a run-first, pro-style attack, Luck still threw for 3,517 yards. The Cardinal were 55-45 in their run-pass ratio last season, and a lot of Luck's aerial success came from his ability to successfully sell play-action and distribute the ball among many position groups. But the top three receivers (Griff Whalen, Chris Owusu and tight end Coby Fleener) are gone, and you can't bank on the new quarterback being as efficient as Luck. Expect a healthy dose of running back
Stepfan Taylor
, meaning Luck's replacement probably won't break 3K.
TBD, UCLA
: The Bruins joined Utah last season as the only teams that did not have a passer ranked in the top 10 in passing yards in the conference. That will change this season with new offensive coordinator Noel Mazzone -- the architect of Osweiler's 4K season. The ball will be in the air a lot more than it was in the pistol offense. But seeing as there is so much uncertainty still -- and we could see multiple quarterbacks this season -- it's too tough to call. If one guy starts the entire season, I could see it.
Matt Barkley, USC
: Yes, yes, 3,000 times, yes.
Jordan Wynn, Utah
: I'd say it's 50-50 for Wynn at this point. The Utes have a very good running back in
John White
, and coach Kyle Whittingham likes the control game. But Wynn did toss 2,334 yards in 2010 in 10 games. If
DeVonte Christopher
has the big season many are predicting, and new offensive coordinator Brian Johnson dials up the aggressiveness, I could see it happening. As always, unfortunately, every conversation regarding Wynn has to be stipulated with an "if he stays healthy" until he proves otherwise.
Keith Price, Washington
: Had it not been for a career-high 438 passing yards against Baylor in the Alamo Bowl, Price would have come up way short of the 3K club. But he's in. And without Chris Polk to lean on, we could see Price's passing numbers go up. Prior to the bowl game, he only had one 300-yard game. He has a good chance to repeat as a 3,000-yard passer, but it's not a lock.
Jeff Tuel, Washington State
: Mike Leach hasn't named him the starter, but, come on. He lit it up in the spring, and showed to be a quick study in learning the new offense. With a deep and talented crop of wide receivers -- headlined by
Marquess Wilson
-- and an offense that throws three out of every four times, Tuel should easily clear 3K.
August, 9, 2011
8/09/11
12:00
PM ET
The Pac-12 is popularly known as the conference of quarterbacks, mostly because it has better quarterbacks than everyone else, at least in terms of NFL potential.
That is again the case in 2011. The conference boasts Stanford's
Andrew Luck
, USC's
Matt Barkley
and Arizona's
Nick Foles
, who each could become first-round NFL draft picks next spring. Then there's Oregon's
Darron Thomas
, who beat out Barkley and Foles for second-team All-Conference honors in 2010, and talented youngsters such as Washington State's
Jeff Tuel
, Oregon State's
Ryan Katz
and Utah's
Jordan Wynn
.
Oh, but across the country in Conference USA, there's a crew of quarterbacks that offers something that bests the Pac-12 signal-callers: huge numbers. Four Conference USA passers threw for more than 3,000 yards; just two did in the old Pac-10. Also, three threw 31 or more touchdown passes versus just one in the Pac-10 -- Luck with 32.
[+] Enlarge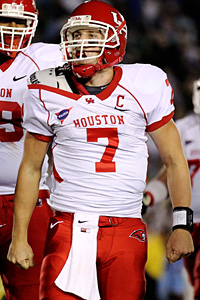 Stephen Dunn/Getty ImagesCase Keenum is one of only two players in Division I history to have thrown for over 5,000 yards more than once.
And that doesn't even include the return of Houston's
Case Keenum
, who passed for over 5,000 yards in both 2008 and 2009 and 44 touchdowns each season. Keenum was lost for the 2010 season in Game 3 after suffering a knee injury at UCLA.
So while the Pac-12 may think of itself as the conference of quarterbacks, Conference USA might be able to counter as the conference of passers.
Sounds like a blog debate! Bring on Andrea Adelson!
Ted Miller
: Andrea, you have me and many of my Pac-12 blog readers at a loss. You know all about the Pac-12 quarterbacks because they are on TV all the time.
While most are familiar with Keenum's eye-popping numbers for the Cougars, some of these other names draw blanks. Educate our poorly informed West Coast brains, please!
Andrea Adelson
: Yes, Ted, there is a reason C-USA has a Wild, Wild West Division. It is there you will find some of the most prolific passers in the nation -- Keenum,
G.J. Kinne
of Tulsa, and
Kyle Padron
of SMU.
Keenum was just picked as the C-USA preseason offensive player of the year for obvious reasons. Your Pac-12 brethren only got a small glimpse of what he could do last season against UCLA -- the game in which he tore his ACL and was lost for the season. Keenum got a sixth season and has a slew of NCAA records he is chasing down -- total offense, passing yards, touchdowns, pass attempts and completions. He is in an offensive system that suits his strengths, and he really came onto the scene in 2008 under a certain coach named Dana Holgorsen.
With Keenum out last season, Kinne picked up the torch and was named C-USA Offensive Player of the Year. Kinne actually began his career at Texas before transferring to the Golden Hurricane. Last season he truly blossomed, but he is a different style quarterback than Keenum and Padron. Kinne can run -- he led the team in passing (3,650 yards) and rushing (561). It should come as no surprise that Padron is a gunslinger -- he plays for June Jones after all. And Jones is a master of the run 'n' shoot. But there are quarterbacks in the East who aren't slouches, either.
Dominique Davis
transferred from Boston College to East Carolina and flourished last season, leading the nation in passing.
Austin Davis
, one of the most underrated quarterbacks in the nation can run and pass, too. We all know the Big 12 is known for its passers, but C-USA equaled that conference with three players ranked in the top 11 in the nation in yards passing with Davis, Padron and Kinne. The Pac-12 might have the most "quarterback ready" players, but C-USA has guys who know how to put the ball in the air, that is for sure. And who doesn't love offensive fireworks?
[+] Enlarge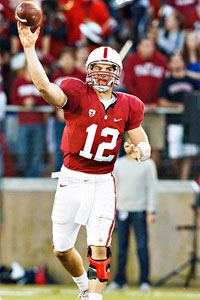 Jason O. Watson/US PresswireA number of analysts project Stanford's Andrew Luck will be the No. 1 overal pick in the 2012 NFL draft.
Ted Miller
: Andrea, those are impressive -- and sometimes HUGE -- numbers. Keenum got knocked out against UCLA, so the Bruins didn't really get a full taste of him, which they figure to on Sept. 3 in Houston. But that's the only time Pac-12 fans will get to see any of these guys. In the Pac-12, I'd rate Luck No. 1, Barkley No. 2, Foles No. 3 and Thomas No. 4 in terms of NFL prospects. Luck and Thomas are both outstanding athletes who are capable running the ball. Most folks don't realize that Luck rushed for 453 yards last year. Barkley and Foles are prototypical drop-back passers.
So how do you see your guys' NFL prospects stacking up?
Andrea Adelson
: None of these guys are first-round prospects, but that does not make them any less impressive as college quarterbacks. All of them are going to carry the "system quarterback" label with them when their careers end. Keenum already gets that when his name comes up in Heisman chatter. Interestingly, he is after the NCAA career passing mark of Timmy Chang -- coached at Hawaii by June Jones. And Jones has a guy in Padron who can sling it, too. Davis is in a system that Ruffin McNeill picked up from his "Air Raid" days at Texas Tech -- a school that has produced prolific passers such as Graham Harrell and Kliff Kingsbury but nobody who tore it up in the NFL. If you want to rank them as college quarterbacks, then Keenum deserves to be in the conversation as one of the best playing today. He is, after all, one of only two players in Division I history to have thrown for over 5,000 yards more than once.
Ted Miller
: That's the rub, I think, Andrea. While the Pac-12 prides itself on producing NFL quarterbacks, I think we can all appreciate guys who produce thrilling performances in the college game, the game by the way we love most, apologies to the NFL.
So as excited as I am to see Luck this year -- and others -- I also am eager to see what a healthy Keenum does in Round 2 with UCLA. And perhaps we on the West Coast need to branch out a bit in our quarterback appreciation and catch a few Conference USA games this season.
We do, you know, like our passing out West.