December, 2, 2010
12/02/10
1:05
PM ET
On the one hand, it's pretty cool for Oregon State that ESPN's "College GameDay" is going to be in Corvallis for the first time on Saturday. On the other, Chris, Kirk, Lee and Desmond figure to be hanging out with the Duck, not the Beaver, during the show.
That's because, however you want to spin it, the Ducks are the show, the only reason "GameDay" will set up outside Reser Stadium. They are No. 2 in the BCS standings. They are a Civil War victory away from playing for the national title. They are undefeated and fancy-pants cool with the point-a-minute offense and funky uniforms.
Oregon State? It's supposed to play the Washington Generals to Meadowlark Kelly and the Eugene Globetrotters.
[+] Enlarge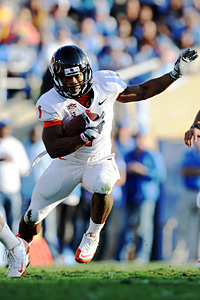 Harry How/Getty ImagesOregon State will need a big game from Jacquizz Rodgers if it hopes to spring an upset on Saturday.
The Beavers get it. So what if Oregon cornerback Cliff Harris called them "
little brother
" this week? When one team is 11-0 and the other is 5-6, that's sort of the way things go.
"It's easy to talk when you're the No. 1 team in the country," cornerback James Dockery said.
Surely, though, it must be difficult for the Beavers and their fans to hear all the crowing coming out of Eugene. Isn't there just a bit of jealousy?
"It doesn't make me jealous," running back
Jacquizz Rodgers
said. "They are doing what is right. Any time a team is undefeated and No. 1 in the nation, you've got to give them their respect. They earned it. Playing this game is hard. To have a perfect season like that -- week in and week out -- they did their job. There's no hatred for me."
Oh, but fans are a different story. Beavers fans are not terribly happy about things in general, both with their team's fortunes in 2010 and Oregon's rise under Chip Kelly.
The Ducks won the past two Civil Wars, each time knocking the Beavers out of the Rose Bowl. In 2008, the Ducks delivered a shocking 65-38 beatdown in Corvallis that turned celebratory roses into trash scattered all over the stadium and the parking lot. Last year, the Beavers nearly notched the upset in the "Civil War for the Roses," but the typically uptempo Ducks were able to burn the final six minutes off the clock in a 37-33 win.
So, yeah, delivering a little bit of heartbreak to the Ducks would be great fun for the Beavers.
"It would be nice to knock them out of that [national championship] game," Dockery said. "Of course."
The Beavers know their chief concern -- an upset win would earn them bowl eligibility -- isn't front and center nationally. But that's their primary motivation. They are perfectly aware that few give them a chance. And more than a few confess to being baffled why they've been, to use coach Mike Riley's phrase, "horribly inconsistent" this season. They've won at Arizona and stomped California. Impressive. Yet they got shocked by UCLA and lost at home to Washington State. Embarrassing. They showed pride while blowing out USC. Impressive. And a lack of it while getting blanked 38-0 at Stanford a week ago. Embarrassing.
"It's been quite a roller coaster for the Beavers," Riley said. "We've had some really good wins and we've had some clunkers."
The Beavers, who will be playing their fifth top-10 opponent this season on Saturday, have struggled on both lines, and the offense lost All-American receiver
James Rodgers
on Oct. 9 to a season-ending knee injury. The running game has never been consistent. The defense ranks ninth in the Pac-10 in passing efficiency.
"At times, we're really good. At times, we're really bad," Jacquizz Rodgers said. "It seems like on every play, somebody makes a mistake."
If the Beavers are to have any chance, their two biggest stars must produce special performances. That's Rodgers and defensive tackle Stephen Paea. And, of course, when major upsets happen, there's usually somebody you don't see coming -- perhaps quarterback
Ryan Katz
will duplicate his 393-yard and two touchdowns performance at Arizona?
Oregon is the big show. It's why "GameDay" is on hand. But the Beavers will lead "SportsCenter" if they pull the upset. And "little brother" is clearly aware of that.
"Obviously, we know about the extravagant nature of Oregon and their university and everything they have to offer," Dockery said. "Until someone can beat them and make them stop talking, they can keep on talking."
November, 28, 2010
11/28/10
10:17
AM ET
By
ESPN.com staff
| ESPN.com
ESPN's "College GameDay
" is headed to Corvallis for the Civil War between Oregon and Oregon State.
Why? If Oregon wins, it plays for the national title. And if Oregon State wins, it will be an upset for the ages that Beavers fans will never -- never, never, never -- let Ducks fans forget about.
This will be "GameDay's" third Pac-10 trip this year, all involving Oregon: Stanford at Oregon, Oregon at USC and now the Civil War.
This will be the first time "GameDay" has been to Corvallis, but it will be the third time the Beavers have been playing in game with "GameDay" in town. "GameDay" originated from Boise on Sept. 25 when the Beavers played at Boise State. And in 2004 it was on the scene in Baton Rouge when Oregon State was at LSU.
September, 20, 2010
9/20/10
2:43
PM ET
Oregon State is hoping that seeing a lot of blue this week will help it see red on the blue turf at No. 3 Boise State on Saturday.
The Beavers were in the process Monday of painting one of their practice fields blue, an obvious attempt to mimic the shockingly bright blue turf at Boise State's Bronco Stadium.
[+] Enlarge
Ethan Erickson/Oregon State AthleticsOregon State painted its practice field this week to prepare for Boise State.
"It's kind of purpley," sports information director Steve Fenk said of the half-finished process.
Fenk said in order to make the green field look as blue as possible, it had to be painted white first.
The Beavers won't practice on the field until Tuesday. Oregon State's scout team also will wear blue jerseys this week.
Most opponents leave Boise singing the blues. The Broncos are riding a 44-game home winning streak, which includes a 2006 defeat of the Beavers. Since 1999, they are 56-1 in regular-season home games.
ESPN's "College GameDay" will broadcast from Broncos Stadium on Saturday morning.
July, 26, 2010
7/26/10
2:54
PM ET
By
ESPN.com staff
| ESPN.com
Want to unscientifically measure the difference between one year of Larry Scott vs. 26 years of Tom Hansen atop the Pac-10?
Do this: Google "Pac-1o commissioner Larry Scott" then do "Pac-10 commissioner Tom Hansen."
Yeah: Stunning. Nearly two million hits vs. 105,000.
While some traditionalists -- and the Pac-10 still has plenty of those -- might not believe that's necessarily a good thing, what Scott has done in one year is dramatic: He's made the conference big news. Even when his grand plan for a "Pac-16" fell apart due to a Texas two-step, Scott's bold behind-the-scenes maneuvering was the lead story of an usually busy college football summer.
When the machinations finally ended, the conference added two teams, Colorado and Utah, and everyone now waits to see how Scott will parlay that into a media deal that keeps the conference financially competitive with the SEC, Big Ten and ACC.
But that answer won't come until 2011. The present "next big thing" is this week: A bi-coastal showcase of Pac-10 football coaches and players. And new, aggressive Pac-10 marketing.
Danette Leighton, an Arizona alum and the Pac-10's new -- and first -- chief marketing officer, uses terms like "sizzle" when she talks about how the conference plans to present itself to the media and public.
"It's about presenting Larry Scott's vision," she said.
That vision means elevating the Pac-10's national profile and waging war on the "East Coast bias" -- real or mythical -- by reaching out in order to overcome instead of merely complaining about perceived slights. That vision means putting the Pac-10 in front of a national audience as much as possible, even if much of that audience supports other conferences and is inclined to boo an interloper from the West.
Cheering or booing -- that means folks are paying attention. And those eyeballs, Scott believes, will translate to increased revenue and a better position in the college football pecking order.
As for the new stuff this week ... You can see the
new Pac-10 website here
when it opens at 2 p.m. PT on Tuesday. And you can pose questions to the coaches and players available during Thursday's media day on the new
Pac-10 Twitter page
.
The Pac-10 blog will be tagging along to all three destinations (image:
Pac-10 blog
walking up to Pac-10 coaches, "Hey, are you guys playing cards?"). That means lots of stories and videos over the next few days. So you may want to take a few days off.
Here's the media days itinerary:
Tuesday (New York)

5 p.m. ET:
News conference at the Manhattan W Hotel featuring all 10 coaches and the unveiling of new Pac-10 logo and football trailer. Pac-10 QBs will visit Times Square -- where the Pac-10 football video will be playing on the Jumbotron -- and the Empire State Building.
6 p.m
.: Private cocktail reception at W's "Whiskey Blue" with TV executives, corporate sponsors, former players and other VIPs.
8 p.m
.: Coaches eat dinner with ESPN's "GameDay" crew. Coach spouses will see Broadway musical, "
Promises, Promises
."
Wednesday (New York, ESPN)
Morning
: Coaches will ring the opening bell at NASDAQ and then conduct East Coast media interviews.
11 a.m.
: Bus to ESPN offices in Bristol, Conn., where players and coaches will do interviews on all ESPN platforms.
5 p.m.
: Charter flight from New York to Los Angeles; check in Peninsula Beverly Hills Hotel.
Thursday (at Rose Bowl, all times PT)
9:30 a.m. - 12:30 p.m. Coach and player group interview session (field)
9:30 a.m. - Introduction and format - Dave Hirsch
9:35 a.m. - Pac-10 commissioner Larry Scott
9:45 a.m. - Paul Wulff & DE Kevin Kooyman, Washington State
10:00 a.m. - Dennis Erickson & PK Thomas Weber, Arizona State
10:15 a.m. - Rick Neuheisel & FS Rahim Moore, UCLA
10:30 a.m. - Steve Sarkisian & LB Mason Foster, Washington
10:45 a.m. - Jeff Tedford & LB Mike Mohamed, California
11:00 a.m. - BREAK
11:15 a.m. - Lane Kiffin & QB
Matt Barkley
, USC
11:30 a.m. - Jim Harbaugh & FB/LB
Owen Marecic
, Stanford
11:45 a.m. - Mike Riley & RB
Jacquizz Rodgers
, Oregon State
12 noon - Mike Stoops & QB
Nick Foles
, Arizona
12:15 p.m. - Chip Kelly & DT Brandon Bair, Oregon
12:30 p.m. - Pac-10 video presentation
12:30-2:30
: One-on-one coach/player interviews during luncheon.
5:30 p.m.
: Reception at the Fox Network Studios: Joe Buck and Troy Aikman host Pac-10 presentation.
October, 25, 2009
10/25/09
9:56
AM ET
By
ESPN.com staff
| ESPN.com
Posted by ESPN.com's Ted Miller

It's now official: USC's visit to Oregon on Saturday is a big game.

ESPN's College GameDay will do its Saturday show on-site from Autzen Stadium.

GameDay visited Eugene twice in was 2007: On Sept. 29 when No. 6 California beat No. 11 Oregon, 31-24 and Nov. 3 when No. 4 Oregon beat No. 6 Arizona State 35-24.

In the initial post on this, I forgot about ASU's visit. My bad.
November, 24, 2008
11/24/08
12:46
PM ET
By
ESPN.com staff
| ESPN.com
Posted by ESPN.com's Ted Miller
Word from the main office in Bristol: It's Bedlam, not the Civil War.
College GameDay will be on-site in Stillwater, Okla., for the Oklahoma-Oklahoma State game, instead of heading west to Corvallis for the Civil War between Oregon and Oregon State.
The Sooners-Cowboys clash apparently earns the nod because its national title implications trump the Civil War's Rose Bowl stakes.
Also, GameDay radio will be at the Iron Bowl -- Auburn-Alabama.
Of course, a super-special-fantastic someone from ESPN is coming to Corvallis.