December, 19, 2011
12/19/11
9:00
AM ET
The Pac-10 and Big 12 nearly got married last year, but only Colorado ended up eloping with the now-Pac-12.
You know: The conference that can count!
But the Pac-12, which has, yes, 12 teams, and the Big 12, which has 10 teams (though it's often hard to keep up with which ones), play each other in three bowl games this holiday season.
Joy to the world.


So it seemed like a good time for the Pac-12 and Big 12 bloggers -- Ted Miller and David Ubben -- to say howdy and discuss all the coming fun.
Ted Miller
: Ah, David, the bowl season. Pure bliss. Unless you're the Pac-12, which is expected to get a whipping from your conference over the holidays. We have three Pac-12-Big 12 bowl games with the Tostitos Fiesta Bowl between Stanford and Oklahoma State, the Valero Alamo with Baylor and Washington, and the Bridgepoint Education Holiday matching California and Texas. And the Big 12 is favored in all three!
Poor ole West Coast teams. What are we to do? It's almost like the Big 12 is the SEC or something. Speaking of which, how are things with your Cowboys? Are they over not getting a shot at LSU for the national title? Are they excited about getting a shot at
Andrew Luck
and Stanford? We might as well start with that outstanding matchup in Glendale.
David Ubben
: You know, I was actually a little surprised. I stuck around Stillwater for the BCS bowl selection show announcement, and the players took the news pretty well. They found out an hour before, but there wasn't a ton of down-in-the-dumpiness from the Pokes. When you've never been to this point before, it's a bit difficult to develop a sense of entitlement. If Oklahoma had OSU's record and was passed over by Alabama and sent to the Fiesta Bowl for the 17th time in the past six years, you might have had a different reaction.
But Oklahoma State's first trip to the BCS and first Big 12 title aren't being overlooked. These players are looking forward to this game. There's no doubt about that.
I know the Big 12 seems like the SEC, but I have a confession, Ted. I wasn't supposed to tell anybody, but I can't hold it in anymore. When the Big 12 began back in 1996 ... wow, I'm really going to do this ... then-SEC commissioner Roy Kramer graciously allowed the league to keep two of his teams. The league made a similar arrangement with the Big Eight a century ago, and the Southwest Conference around the same time. Missouri and Texas A&M are really wolves in sheep's clothing: SEC teams just pretending to be in other leagues. So, that might explain the Big 12's recent dominance.
These should all be fun games, though. I ranked two of the matchups among the top three in my bowl rankings.
As for the big one, they say you learn more by losing than by winning. Stanford got its first BCS win. How do you think that experience plays into this year's game? I hate to ruin the surprise, but Oklahoma State's a bit better than the Virginia Tech team Stanford beat last season. OSU's loss to Iowa State this season is bad, but it's nothing like the Hokies' loss to James Madison last season.
[+] Enlarge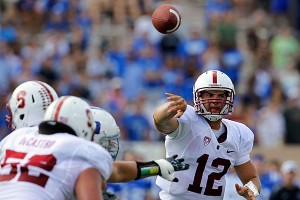 AP Photo/Gerry BroomeQuarterback Andrew Luck leads Stanford into its second consecutive BCS bowl, this season against Oklahoma State in the Fiesta Bowl.
Ted Miller
: Not only is Oklahoma State better than Virginia Tech, it's still questionable whether this Stanford team is better than last year's. Since we're going all crazy and whispering about the SEC, there was a feeling out West that by the end of the 2010 season the Cardinal might not only be the best team in the Pac-12 but also in the nation. They were big and physical and quarterback Luck actually had a solid receiving corps with which to work. After a loss to Oregon in the fifth game, they didn't lose again until playing, er, Oregon in this year's 10th game. If we could go back in time and have the Cardinal play Auburn, I think Stanford would have won the national title.
But that's 2010. The difference this year is the season-ending knee injury to middle linebacker Shayne Skov, who was an All-American candidate, a slight step back on the offensive line and a lack of top-flight receivers. But if Oklahoma State fans are looking for something to worry about it is this: Stanford's running game.
The Pokes are bad against the run, and they haven't faced a team that is as physical and creative in the running game as Stanford. As much as folks talk about Luck's passing, it's his run checks that often ruin a defense's evening.
The Fiesta Bowl matchup looks like a great one, perhaps the best of the bowl season. But I'm excited to see Mr. Excitement
Robert Griffin III
in the Alamo Bowl against Washington. Of course, I'm not sure that the Huskies, their fans and embattled Huskies defensive coordinator
Nick Holt
are as thrilled. First, tell us about what Washington should be most worried about with Griffin. Then tell us about Baylor in general. Such as: Can the Bears stop anyone?
David Ubben
: Nope. Not really.
Oklahoma State's defense unfairly gets a bad rap. Baylor's bad rap is earned. This is the same team that won five consecutive games late in the season -- but became the first team ever to win four consecutive in a single season while giving up 30 points in each.
[+] Enlarge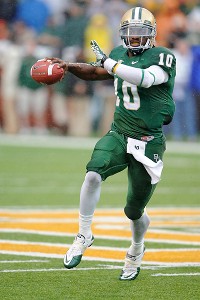 Jerome Miron/US PresswireBaylor's Robert Griffin III will try to make it three straight bowl victories by Heisman Trophy winners.
Which, if you ask me, says plenty about both the defense and the power of RG3. They've got a lot of athletes on the defense, but when four of your top five tacklers are defensive backs, well, you need a guy like RG3 to go 9-3.
The man is a nightmare. Top to bottom, he's the most accurate passer in a quarterback-driven league. Then, you add in his athleticism, which he doesn't even really need to be extremely productive. It sets him apart, though, and forces defenses to account for it, and it buys him time in the pocket. How many guys break a 20-plus yard run before hitting a receiver for a game-winning 39-yard score to beat a team like Oklahoma for the first time?
How do you think Washington will try to slow him down? What has to happen for them to have some success?
Ted Miller
: This game matches the 99th (Washington) and 109th (Baylor) scoring defenses. It has a 78-point over-under, the biggest of any bowl game. The offenses are going to score plenty, at least that's the conventional wisdom.
How does Washington stop RGIII? His name is
Chris Polk
. He's a running back. Baylor gives up 199 yards rushing per game. Polk right, left and up the middle is a good way to contain Griffin. The Huskies' best hope is to reduce Griffin's touches with ball control. It also needs to convert touchdowns, not field goals, in the redzone. The Huskies are pretty good at that, scoring 36 TDs in 45 visits to the red zone.
The Huskies also have a pretty good quarterback in
Keith Price
, who set a school record with 29 touchdown passes this year. He and a solid crew of receivers have prevented teams from ganging up against Polk. But Polk is the guy who burns the clock.
Should be a fun game. As should, by the way, the Holiday Bowl. David, Cal fans are
still
mad at Texas coach Mack Brown and his politicking the Longhorns into the Rose Bowl in 2004. Every team wants to win its bowl game, but the Old Blues really want to beat Brown.
Of course, neither team is what it was in 2004. Cal has an excuse. It's not a college football superpower. Sure you've been asked this before, but give me the CliffsNotes version of why the Longhorns have fallen so hard since playing for the national title in 2009.
David Ubben
: Cal fans are still mad? Really? I'd suggest they get over themselves. What's anybody on that Cal team ever done anyway? It's not like the best player in the NFL missed out on a chance to play in the Rose Bowl. Now, if that were the case, we might have a problem. But honestly, I don't think Tim Tebow cares all that much about the Rose Bowl.
As for Texas' struggles?
The easy answer is quarterback play. Texas relied on Colt McCoy and Jordan Shipley more than anyone realized. When they were gone, Texas couldn't run the ball, and quarterback Garrett Gilbert never made it happen. Two seasons later, the Longhorns still don't have a quarterback.
The other big answer last season was turnover margin. Gilbert threw 17 interceptions and the Longhorns were minus-12 in turnovers, which ranked 115th nationally.
They were still only 90th this year, and without solid quarterback play in a Big 12 dominated by passers, they scored five, 13 and 17 points in three of their five losses. Texas keeps people from moving the ball and runs the ball better this year, but without a solid passing game and a defense that changes games, it's tough to rack up wins in the Big 12.
It's been awhile since Cal was in the mix for the BCS, even as USC has fallen. Oregon answered the call and rose, but what has prevented Cal from winning the Pac-10 and Super Pac-10 since the Trojans' swoon?
Ted Miller
: You mention quarterback play. Cal fans ... any thoughts? You mention Aaron Rodgers. Cal fans? Oh, well, that's not very nice during this festive time of the year.
Cal has become a solid defensive team, but it's lost its offensive mojo, and that can be traced to a drop in quarterback play since Rodgers departed. The latest Bears quarterback,
Zach Maynard
, started fairly well, stumbled, but then seemed to catch on late in the season. It's reasonable to believe the team that gets better quarterback play -- mistake-free quarterback play -- is going to win this game.
Nice to cover a conference where quarterback play matters, eh David?
Speaking of quarterback play and winning, let's wind it up. Our specific predictions aren't coming on these games until after Christmas. But we can handicap the Big 12-Pac-12 side of things. We have a three-game series this bowl seasons.
I say the Pac-12, underdogs in all three games, goes 1-2. What say you?
David Ubben
: And to think, before the season, all I heard was the Pac-12 had surpassed the Big 12 in quarterback play. Did somebody petition the NCAA for another year of eligibility for Jake Locker and/or clone
Matt Barkley
? You West Coast folk are geniuses; I figured you'd find a way. We can't all be Stanford alums ...
Clearing out all the tumbleweeds here in middle America, I'll go out on a limb for the Big 12 in this one. Every matchup is a good one, and I don't think Cal has seen a defense like Texas' and Washington hasn't seen an offense like Baylor's. People forget that, yeah, RG3 is outstanding, but the Bears also have the league's leading receiver and leading rusher.
Stanford-OSU is a toss-up, but I'll go with a perfect sweep for the Big 12. The Cowboys haven't played poorly on the big stage yet, so I'll give them the benefit of the doubt in this one, and they clean up for the Big 12 against what was almost its new conference this fall.
Oh, what could have been. Ubben and Miller on the same blog? Divided ultimately by a little thing we call the Rockies.
September, 14, 2011
9/14/11
3:00
PM ET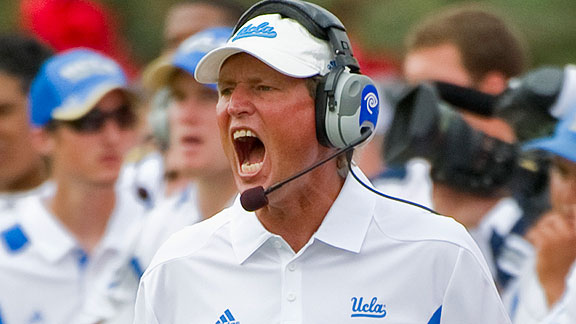 AP Photo/Dave EinselThe Bruins are off to a slow start after a Houston loss and a weak performance against San Jose State.
Rick Neuheisel is on the hot seat. Rick Neuheisel has botched UCLA's quarterback situation. Rick Neuheisel questioned whether his team cared at a practice last week. Rick Neuheisel is no longer doing his post-game speech after home games at the Rose Bowl. Rick Neuheisel's team yawned its way through a win over San Jose State in front of a half-full stadium.
There's lots of Rick Neuheisel chatter these days, most of it negative. While such chatter doesn't block and tackle -- or miss blocks and miss tackles -- it certainly doesn't help the rebuilding process in Westwood. And it certainly doesn't make Neuheisel's job easier. Or help him keep it, for that matter.
Neuheisel said he knew it was coming.
"I told our team at the outset of the season that this was going to be one of those years where people were going to make stories that don't have anything to do with us," he said. "That's exactly what's taking place."
Neuheisel, known for his relentless optimism and boundless self-confidence, has flashed moments of frustration this year. Reporters have questioned whether he's lost faith in his team, a position Neuheisel is quick to discount.
"I'm not concerned at all with the passion and energy the football team is bringing to work," he said.
Here's the thing: Momentum in the media and among fans can reverse course in a matter of a weekend or two. If UCLA manages to beat Texas on Saturday and then open the Pac-12 schedule with a road win at Oregon State -- a perfectly reasonable scenario -- the Bruins would be 3-1 and back on track.
A loss at Houston and a lethargic performance against San Jose State doesn't automatically augur a lost season. But something positive has got to happen on the field to reignite belief, both among the fans and inside the locker room.
Recall that no one gave the Bruins a shot at then-No. 7 Texas last year, but the Bruins went to Austin and delivered a physically dominant 34-12 rear-end kicking. Sure, Texas was sloppy. But the Bruins were decisively winning the battle at the point of attack on both sides of the ball. Heck, they outrushed the Longhorns 264 yards to 85.
And, if you recall, quarterback
Kevin Prince
tweaked his knee late in that game. After masterfully leading the pistol rushing attack, particularly in the second half, he wasn't the same thereafter and he was shelved for the year with a knee injury after a rotten day at California.
Which leads into the next obvious topic: quarterback questions, which is the case for both teams.
Prince didn't play last week against San Jose State, though he was reportedly healthy enough after a concussion and shoulder injury from the opener, and
Richard Brehaut
was mediocre. Neuheisel has long seemed to prefer Prince, and he probably hasn't forgotten what Prince did at Texas last year. While Brehaut often seems like a more polished passer, the one thing he hasn't done that Prince has is win a few games.
So who starts? Neuheisel won't say.
"If Kevin is healthy, then Kevin will be back in the mix and we'll see how it goes as to how we divide those reps and play the game," he said.
Texas, by the way, also is uncertain at the position.
Garrett Gilbert
, a 14-game starter, has been benched, and either sophomore
Case McCoy
or freshman
David Ash
will get the call. Both played in the comeback win over BYU and it's likely the Bruins will see both on Saturday.
But whatever Texas does or whatever fans say, Neuheisel and the Bruins are looking inward. This game -- and the rest of the season, really -- are about what Neuheisel can get out of his Bruins.
The nabobs of negativity can natter, but it will come down to wins and losses for Neuheisel and the Bruins.
Said Neuheisel, "It's about us. It always has been about us. If we can keep our focus on that, then we're going to be fine."
August, 22, 2011
8/22/11
7:27
PM ET
By
ESPN.com staff
| ESPN.com
Fifth in a series looking at potential dream and nightmare scenarios for all Pac-12 teams.
Understand: These are not predictions. They are extreme scenarios and pieces of fiction. You can read
last year's versions here
.
We're going in reverse order of my
post-spring power rankings
(which might not be identical to my preseason power rankings).

Up next
: UCLA
Best case
Someone forgot to tell Datone Jones UCLA's visit to Houston was supposed to be about the quarterbacks.
Jones provided three of the Bruins six sacks against
Case Keenum
, while Bruins starter
Kevin Prince
turned in a solid, unspectacular performance in UCLA's 28-24 win.
"I read in the Pac-12 blog that Jones was supposed to be good, but against my better judgment I chose to ignore the Pac-12 blog," Keenum says. "I have learned my lesson. Dude's a beast. Jones, not the Pac-12 blog, who I hear is very nice."
Prince and most of the other starters sit out the second half of a 55-10 win over San Jose State. Up next is Texas, which comes to town talking about revenge for the 34-12 whipping administered by the Bruins last year when the Longhorns were ranked seventh.
"We want revenge," Longhorns quarterback
Garrett Gilbert
says. "We're Texas. You're not supposed to mess with us, particularly if you wear pastels, though my mother thinks I look good in powder blue."
Prince passes for 250 yards and two scores and rushes for 85 in a 35-21 Bruins victory.
"Does that guy only play well against us?" queries Texas coach Mack Brown.
It's not an unfair question. But it's one Prince answers well at Oregon State, running for a score and passing for another in a 30-27 victory. UCLA, at 4-0, moves up to No. 15 in the national polls.
Headline in Los Angeles Times: "Neuheisel seat no longer so hot."
Headline in Seattle Times: "Miami scandal? Neuheisel's fault!"
Of course, Prince is no
Andrew Luck
. Luck, the Heisman Trophy favorite, throws three touchdown passes in a 35-24 Cardinal victory, though Jones does beat All-American tackle Jonathan Martin for a sack.
"Those two are going to be going at it 10 years from now," observes play-by-play man Brent Musburger.
The Bruins nip Washington State on a 55-yard field goal from Kip Smith, but they fall at Arizona in overtime. They beat California at home, which sets up a critical Pac-12 South showdown with Arizona State.
Down 28-21, Prince finds
Cory Harkey
, who hasn't dropped a pass all season, for a 17-yard TD with 38 seconds remaining.
"I'm going to tell you why we are going to go for two," coach Rick Neuheisel tells his gathered offense on the sideline during a time out. "It's because we need to show everyone who we are right now."
On a quarterback draw, Prince runs over Sun Devils linebacker Vontaze Burfict for the winning points.
UCLA, in a classic let-up scenario, goes down at Utah the following weekend. The Bruins bounce back with a 31-24 win over Colorado.
They head to the Coliseum to play arch-rival USC with the Pac-12 South Division title on the line. If the Trojans beat the Bruins for the 12th time in 13 years, they will be the South champions, even though they're not eligible for the postseason. If the Bruins win, they will be tied for first with Utah and Arizona State, which beat the Utes, but would win a tiebreaker for a spot in the inaugural Pac-12 championship game.
"Is it more motivating to win the first South division crown or to stop UCLA from doing it?" USC quarterback
Matt Barkley
says, repeating a reporter's question. "Well, I'd like to say us winning the division but really there's nothing better than making those guys miserable. Was I even alive the last time they beat us?"
Barkley recovers: "Oh, yeah, you're right. I was alive in 2006."
Jones sacks Barkley three times as the Bruins roll over the Trojans 33-17.
Before the Bruins play top-ranked Oregon in the Pac-12 championship game, Neuheisel is named conference Coach of the Year.
Says USC coach Lane Kiffin, "Yeah, I voted for him. He deserved it. He outcoached me."
"Vindicated?" says Neuheisel. "You know what? Tough times don't last, tough people do."
Whispers Prince to a nearby reporter: "He says that, like, five times a day."
Oregon nips the Bruins 33-31 on a 44-yard field goal at the end of regulation. The Bruins are invited to the Alamo Bowl, where they whip No. 10 Texas A&M 41-20 to finish 10-4 on the season and ranked 14th.
"We sort of own the state Texas, don't we?" Jones says.
Andrus Peat
,
Shaq Thompson
,
Kyle Murphy
and
Davonte Neal
announce commitments to the Bruins the night of the bowl game. The Bruins 31-player class -- six elite prospects are brought in early to count against the 2011 class -- ranks sixth in the nation.
"It was great to cherry-pick Southern California recruiting," says Neuheisel. "So much talent. Glad we had a full allotment of scholarships."
Worst case
UCLA coach Rick Neuheisel had pointed to the road trip to Houston as a game his Bruins needed to win in order to establish early-season momentum. If so, the season's momentum starts off flowing in the wrong direction.
Case Keenum, whose season ended in the 2010 game at UCLA, throws for 330 yards and three TDs in a 35-21 win, as the Bruins passing game again sputters with Kevin Prince under center.
Neuheisel repeatedly berates Prince as he walks off the field. "He has to play better," Neuheisel says after the game. "We've taught him what to do. He's just not doing it."
"So the coaching isn't working?" LA Times columnist T.J. Simers volunteers.
The Bruins beat San Jose State 24-10 but get humiliated at home by revenge-minded Texas, which keeps its starters in the game well into the fourth quarter of a 44-10 victory.
"
Richard Brehaut
will start at Oregon State," Neuheisel says. The Bruins lose 28-17 in Corvallis.
"Kevin Prince will start at Stanford," Neuheisel says. The Bruins lose 51-13 in Palo Alto.
Writes Simers, "I'm trying to figure out who is a worse coach, the Bruins head coach or its quarterbacks coach. It's hard to say who is more clueless."
Neuheisel began the 2011 season on the hotseat. It's clear he's pretty much sitting naked in a pool of lava after a 1-4 start.
"Tough times don't last, tough people do," Neuheisel says.
Neuheisel is fired after a home loss to Washington State. Offensive line coach Bob Palcic is named interim head coach.
The Bruins slog through the rest of the season with Prince and Brehaut sharing the QB duties. It works curiously to perfection in an upset of Arizona State, but the Bruins head to the Coliseum to play unbeaten arch-rival USC at 2-9.
"Do we hope AP voters rank us No. 1 if we finish unbeaten?" USC coach Lane Kiffin asks. "Well, sure. We're pretty good. We just beat No. 1-ranked Oregon. Stanford's only losses this year are to us and Oregon. Arizona State's only loss is to us and Oregon. Notre Dame's only loss is to us, though Stanford will probably beat them. "
It's pointed out to Kiffin that UCLA upset the Sun Devils. "Really?" he says. "How the hell did that happen?"
Matt Barkley throws four touchdown passes as USC rolls the Bruins 42-3. Barkley nips Stanford QB Andrew Luck for the Heisman Trophy. When Oregon beats Alabama in the BCS national championship game, the AP votes USC No. 1.
On Jan. 12, NCAA president Mark Emmert announces that after a double-secret meeting, all remaining sanctions against USC are revoked. Says Emmert: "It's easy. A Committee of Infractions hearing chaired by former Miami athletic director Paul Dee has zero credibility. I personally reviewed the case. Those penalties were exorbitant. So the Trojans get time served -- a two-year postseason ban. But they will get all their scholarships back."
Kiffin sweeps across the country, tearing away commitments from major powers in every AQ conference.
Says ESPN recruiting guru Tom Luginbill on national signing day, "It might be the best recruiting class in history."
Meanwhile, UCLA hires Paul Hackett as its head coach.
"He has a track record in Southern California," says athletic director Dan Guerrero.
September, 22, 2010
9/22/10
1:48
PM ET
UCLA was 0-2. Texas, the defending Big 12 champion, was ranked. When they met in Austin, no one could have predicted the outcome.
66-3.
UCLA.
"Last time they were here it wasn't good for us," Texas coach Mack Brown said, recalling the historic defeat in 1997 that was the cornerstone of Texas firing John Mackovic and luring Brown away from North Carolina.
Is there a chance of history repeating itself when the 1-2 Bruins visit No. 7 Texas, the defending Big 12 champions, on Saturday?
[+] Enlarge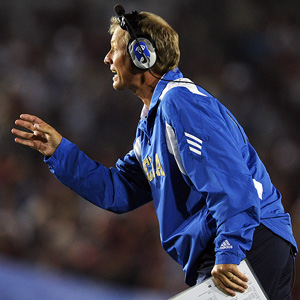 Harry How/Getty ImagesRick Neuheisel's Bruins team has to play a mistake-free game if they hope to upend Texas.
The odds are probably close to zero, but Brown is taking the game seriously. He called the matchup "dangerous," particularly with the possibility that some of his players might be looking ahead to the red letter date with Oklahoma on Oct. 2. But the Longhorns profess respect for the Bruins.
"You just say UCLA, and people's eyes kind of open," Texas safety Blake Gideon said. "So it will be fun, and it will be a challenge. It will be a blast playing against guys like that."
UCLA certainly seems like a different team than it did a week ago when it was coming off a 35-0 drubbing vs. Stanford at home. That change is due to a 31-13 whipping of No. 23 Houston, which included 266 yards rushing from an offense that had been sputtering.
Of course, that newly potent running game will be severely tested by the Longhorns, who rank No. 1 in the nation in run defense (44 yards per game) and second in total defense (206.67).
It's not just the run defense, though. Texas may have the nation's best secondary. It completely bottled up Texas Tech last weekend. Just let Brown list the ways.
"We forced three turnovers and had a fourth down stop," he said. "They were 3-of-14 on third down situations, 8-of-23 on first down situations. We had 14 hits on the quarterback, ten three-and-outs, five sacks and we handled sudden change 100 percent. We only had three missed tackles for 33 yards."
So this is a heck of a unit to test the Bruins newfound confidence.
The biggest boost UCLA got last week was getting a full week of practice from quarterback Kevin Prince, who'd battled injuries all of fall camp and over the first two weeks. That certainly helped the offensive rhythm. Still, the passing game, despite what looks like a deep and talented receiving corps, is sputtering.
"We're getting closer, there's no question," UCLA coach Rick Neuheisel said. "We're not where we want to be yet, especially with the throwing game, and mixing and matching that to the run."
Speaking of running, that is an interesting matchup on the other side of the ball. Texas has struggled to find its running game for a couple of years and it presently ranks 65th in the nation with 152.33 yards per game. Moreover, its running backs are banged up and the offensive line has been inconsistent.
The Bruins would love to stop the run and force new starting QB Garrett Gilbert to beat them by throwing into a highly skilled secondary led by safety Rahim Moore. The only problem is UCLA ranks 105th in the nation in run defense, yielding 210.67 yards per game. So who wins? The movable object or the resistible force?
UCLA doesn't have a prayer if it continues to be sloppy with the football. See: 10 turnovers in three games, which is twice as many as any other Pac-10 team.
"We can't do anything to help them beat us," Neuheisel said.
UCLA has won two in a row from Texas. The year after the drubbing in Austin, Brown and the Longhorns lost 49-31 in the Rose Bowl, but what Brown most remembers was his fans cheering a tough second-half effort after his team trailed 35-3 at halftime.
That Texas team was rebuilding, as the Bruins presently are, though at a deliberate pace that has some fans grumbling.
Brown, however, took a moment to give Neuheisel a vote of confidence.
"Rick is really bringing UCLA back," he said. "I think you will see them back on the map soon."
Just don't expect a case of 66-3 deja vu.
July, 14, 2010
7/14/10
9:00
AM ET
By
ESPN.com staff
| ESPN.com
Third in a series looking at potential dream and nightmare scenarios for all Pac-10 teams, starting at the bottom and working up from my vote in the Pac-10 media poll.
Understand: These are not predictions. They are extreme scenarios and pieces of fiction.
Up next:
UCLA
Best case
Rick Neuheisel's critics might have called it "smug," but his reaction after UCLA's much-maligned "pistol" offense rolled up 450 yards in a 42-17 win at Kansas State more accurately should be termed "vindicated." Might even have been a bit of relief there.
"It took us a lot of hard work to get here," he says after the Bruins impressive road win. "But it will take us even more to get where we want to go."
Solid wins over Stanford and Houston mean the Bruins carry a No. 19 ranking to No. 3 Texas on Sept. 25.
"We aren't afraid of them," Bruins linebacker Akeem Ayers says before the game. "It's not like UCLA hasn't won at Texas before." Ayers refers to the 66-3 stomping the Bruins delivered the Longhorns during their last visit to Austin in 1997.
Of course, Texas isn't the same in the Mack Brown Era as it was during John Mackovic's ill-fated tenure. Still, the Bruins don't yield until a
Kevin Prince
pass is intercepted in the endzone in the waning moments. Texas holds on 20-17, despite four Bruins sacks of QB
Garrett Gilbert
.
"Ten [Ayers] and 56 [end Datone Jones] -- those guys can really run," Gilbert says afterwards. "Seemed like they were in my face all day."
After dispatching Washington State, it's made clear, however, that the Bruins haven't arrived. Four turnovers sinks them at California, and Oregon surprises the Bruins by going to the air, with Ducks QB
Nate Costa
throwing for 320 yards and three touchdowns in a 35-24 win.
The Bruins beat Arizona when kicker Kai Forbath drills a 55-yard field goal with 30 seconds left, but lose in double-overtime to Oregon State. The visit to Washington feels like a must-win, and the good news for everyone is it has nothing to do with Neuheisel's controversial tenure as the Huskies coach. Both teams are trying to fight into the top-half of the conference.
Huskies QB
Jake Locker
puts on quite a show. Only, on this evening, he's not as good as Prince, who runs for two scores and throws for three others as the Bruins win a shootout, 45-42.
A win at Arizona State then sets up the annual showdown with city rival USC. The stakes? Well, if the Bruins prevail, they earn a Holiday Bowl berth. And if USC wins? It goes undefeated and likely is voted No. 1 in the AP poll, despite NCAA sanctions that prevent it from playing in the postseason.
"It's clear we are the best team in the nation," Trojans coach Lane Kiffin says before the game. "Just look at the numbers. We've won every game by double-digits playing in the best conference in the country. Heck, even UCLA can almost win at Texas and the Longhorns look like they are going to play for the BCS title."
Kiffin uses finger quotes when he says, "BCS."
The Bruins win 21-3, holding Kiffin's offense to 215 total yards. "I'm not going to talk about [Kiffin]," Neuheisel says after the game. "This is about us, not them. This is about building classy hotels on Park Place and Boardwalk. We don't care about the other guys. Just as long as they pay rent when they
land on our squares
."
After UCLA trounces Missouri in the Holiday Bowl,
Christian Westerman
,
George Farmer
,
Todd Barr
and
Antwaun Woods
announce they will sign with the Bruins, who finish 9-4 and ranked 14th.
The NCAA rejects USC's appeal of sanctions.
Worst case
Who's idea was this freaking "pistol" offense anyway?
That is the general feeling among UCLA fans after a lackluster 13-10 win at Kansas State, with Akeem Ayers 38-yard fumble return giving the Bruins their only touchdown.
Even the defense looks bad in a 30-17 loss to Stanford. The Bruins get their feet back under them -- after reverting back to a more pro-style scheme -- and outlast Houston and QB
Case Keenum
33-30, but the Bruins' multiple issues are laid bare in a 35-10 embarrassment at Texas.
The offensive line can't protect Kevin Prince. It can't open holes. And the defense is good but not dominant.
A win over Washington State only preludes a desperate five-game losing streak -- Cal, Oregon, Arizona, Oregon State and Washington. Neuheisel and offensive coordinator Norm Chow bench Prince in favor of
Richard Brehaut
for the trip to Arizona State.
"The offensive struggles aren't Kevin's fault," Neuheisel says. "But we need something to change. We want to see what Richard can do."
Brehaut does just enough to lead the Bruins to a win over Arizona State, but few fans are happy with the state of the program as it limps toward its annual showdown with USC, which is unbeaten and ranked No. 1 in the AP poll.
It further doesn't help the Bruins mood that the week is dominated by talk of how USC coach Lane Kiffin and QB
Matt Barkley
had, in late July, together plugged the BP oil spill in the Gulf, earning a commendation from the president.
"It wasn't that big of a deal," Kiffin says. "We were on the beach and Matt said he wanted to swim out there and take a look. So we did. I just happened to have an old Tennessee football helmet with me, and Matt said we might be able to plug it with that. Not that I needed the helmet anymore. Hey, it worked. But you have to understand: That's what we do. We're
USC Trojans
."
USC wins 45-3. After two irrelevant teams play for the BCS title, the president and congress jointly decree that -- just like in 2003 -- anyone who says "BCS national champion" is required to use finger quotes.
In the spring, the NCAA apologizes to USC and gives it all of its scholarships back.
May, 3, 2010
5/03/10
4:47
PM ET
By
ESPN.com staff
| ESPN.com
The
post-spring power rankings
are out, which means it's a good time to see where the A-list Pac-10 nonconference foes rank.
Arizona
Sept. 18 vs. Iowa
Adam Rittenberg ranks the Hawkeyes second in the Big Ten. He writes: "A very good defensive line got better, players stepped up at linebacker, quarterback
Ricky Stanzi
worked on his interceptions and the offensive line saw some separation occur."
Arizona State
Sept. 18 at Wisconsin
Boy, Sept. 18 will be a Big Ten vs. state of Arizona challenge, eh? Rittenberg has the Badgers third in the Big Ten. Interesting note from Rittenberg here: "Injuries prevented the offensive line from truly coming together." Might this be a low scoring game because the Sun Devils should be pretty salty up front on D?
California
Sept. 11 vs. Colorado
Big 12 blogger David Ubben ranks the Buffaloes last in the Big 12, writing "... the defense gave up the second-most points in the conference last season, and there's little reason to think they'll be a lot better in 2010."
Sept. 17 at Nevada
The Bears better take the Wolf Pack seriously. First, it's not easy to win anywhere on the road. Second, Graham Watson ranks Nevada as the 10th-best non-AQ team in the nation. She writes, "... the defense still has a ways to go, but if the Wolf Pack can catch its defense up with its offense, it will be a tough team to beat this year."
Oregon
Sept. 11 at Tennessee
This isn't your father's Volunteers. Chris Low dumps Tennessee into the 10th spot in the SEC, concluding "even getting to .500 next season will be a challenge for the Vols, who will have five new starters on the offensive line, a first-year starter at quarterback and no depth at defensive tackle."
Oregon State
Sept. 4 vs. TCU (Dallas Cowboys Stadium)
Welcome to the nation's toughest nonconference schedule. The Horned Frogs rank second in the non-AQ power rankings and
sixth overall in the nation
, according to Mark Schlabach, who writes, "Quarterback
Andy Dalton
and running backs
Matthew Tucker
and
Ed Wesley
lead what should be a very potent running attack."
Sept. 11 vs. Louisville
Brian Bennett dumps Louisville into the cellar of the Big East: "The team got better and tougher this spring under Charlie Strong but still has a long way to go," he writes.
Sept. 25 at Boise State
Boise State is this season's likely BCS buster but on a grander scale than previous versions, considering they almost certainly will start the season ranked among the top-five. Schlabach has the Broncos second and notes, "Boise State could very well be in the BCS title game hunt at season's end. The Broncos return 23 of 24 players who started against TCU in the Fiesta Bowl."
Stanford*
Sept. 18 vs. Wake Forest
The Cardinal will want to take revenge for their loss at Wake Forest a year ago. Heather Dinich has the Demon Deacons ranked ninth in the ACC, noting "The Deacs will reveal a more run-based, option offense under their new quarterback. The interior defensive line remains a concern. "
*The Cardinal also play at Notre Dame, which wasn't ranked by Schlabach.
UCLA
Sept. 4 at Kansas State
Another "what were they thinking?" nonconference schedule. Ubben has the improving Wildcats sixth in the Big 12. He writes, "The Wildcats aren't built to win 10 games just yet, but if Nebraska and Missouri stumble, they'll be there to slip into the North conversation just like last season."
Sept. 18 vs. Houston
Watson has the Cougars seventh among non-AQ schools. She writes, "[New defensive coordinator Brian] Stewart's work paid dividends during the spring game when his defense had 12 sacks, three interceptions and one fumble recovery."
Sept. 25 at Texas
Schlabach ranks the Longhorns No. 4 in the nation. He writes, "The Longhorns have several pieces to replace from the team that lost to Alabama in the BCS Championship Game, but replacing quarterback Colt McCoy doesn't seem as daunting after
Garrett Gilbert
's performance this spring."
USC
Sept. 11 vs. Virginia
This shouldn't be much of a challenge for the Trojans, but it figures to be more of a challenge than it was in 2008, when they rolled 52-7 in Charlottesville. Dinich has the Cavaliers 12th in the ACC: "This will be a transition year with a new staff, new philosophies and possibly a new quarterback."
Sept. 18 at Minnesota
Rittenberg rates the Golden Gophers ninth in the Big Ten, and he suggests that
Matt Barkley
should be eager for this road game: "The Gophers had some setbacks on defense, including safety Kim Royston's broken leg, and still have to replace a whopping nine starters."
Washington
Sept. 4 at BYU
Is BYU rebuilding? That seems to be what Watson thinks, writing, "The Cougars had a lot of questions to answer this spring and they seemed to come out with more questions."
Sept. 11 vs. Syracuse
Huskies quarterback
Jake Locker
made an impressive debut three years ago at Syracuse. Bennett ranks the Orange seventh in the Big East, and his praise is faint: "Syracuse still should show improvement based simply on having more healthy bodies.
"
Sept. 18 vs. Nebraska
This should be a great matchup of Locker and a talented Huskies offense vs. a rugged Nebraska defense. Ubben ranks the Cornhuskers third in the Big 12, though with one reservation, "... don't count on another 10-win season if the offense doesn't improve."
Washington State
Sept. 4 at Oklahoma State
The Cowboys lose a lot of key pieces from their 2009 team, which is why they are rated eighth in the Big 12. Writes Ubben, "Oklahoma State should have an impact player at each level of the defense in defensive end Ugo Chinasa, safety Markelle Martin and linebacker Orie Lemon, but they'll need the rest of the D to solidify for the Cowboys to climb to a higher rung of the South ladder."
Sept. 18 at SMU
The Mustangs are on the rise under coach June Jones, even though they gave -- literally, gave, see
four interceptions
, two of which were returned for TDs -- Washington State its only win last year. Watson rates SMU fourth among non-AQ teams: "The Mustangs will be young for the second consecutive season, but a lot of that youth has experience."