Pac-12:

Garrett Weinreich
March, 20, 2013
3/20/13
11:00
AM ET
Get comfortable, Oregon State fans. It's going to be a long quarterback competition.
Addressing the media Tuesday in a pre-spring conference call, Oregon State head coach Mike Riley said it's doubtful anything will be decided between
Sean Mannion
and
Cody Vaz
this spring. Mannion is listed No. 1 on the depth chart -- only because Riley and Co. didn't include an "or" between the two names. Anyone looking for meaning to Mannion being No. 1 can keep looking.
"You can't read anything into that," Riley said. "We're going to split their time evenly. You don't need to ask them daily about what's going on because I probably won't make a decision until the end of fall camp. I'm just going to let them play and grow and try to get better this spring. We'll give them absolute even turns as we go -- unless somebody just takes the bull by the horns and separates. But I don't know if that's going to happen. I think they both did a lot of good things and they both had some rough moments. It's a matter of who comes out of it with the most consistent, best play. And that might take some time. I think they are both knowledgeable. They both work hard and are well-respected. We're going to let them get as much preparation as they can."
This will be one of the more closely watched quarterback competitions in the conference -- and nationally, as the Beavers are expected to start the season in the preseason top 25.
Mannion helped the Beavers to a hot start in 2012, guiding them to victories in their first four games before hurting his knee against Washington State. That paved the way for Vaz, who engineered back-to-back wins at BYU and against Utah.
[+] Enlarge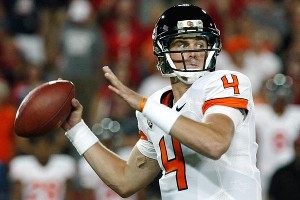 Rick Scuteri/US PresswireSean Mannion is listed as Oregon State's No. 1 QB, but nothing's been decided, coach Mike Riley said.
Then came the first loss of the season, to Washington, in which Mannion threw four interceptions. Oregon State was off and on the rest of the season -- as were its quarterbacks. After a 6-0 start, the Beavers went 3-4 down the stretch, culminating with a 31-27 loss to Texas in the Alamo Bowl.
Mannion finished the year with 2,446 yards and 15 touchdowns to 13 interceptions on 64.7 percent passing. Vaz completed 58.9 percent of his throws for 1,480 yards, but also had 11 touchdowns to just three interceptions.
"We've talked to both of them about the fact there is going to be competition," Riley said. "They have to learn to handle that and be a great leader and a great teammate and focus on doing their best. I think it will be good for both of them. I think it will bring the best out in both of them and then we'll have to see what we're going to do from there. I suppose in the long run we could come out of it stronger."
Other notes:
Players who will miss spring ball include: Safety Tyrequek Zimmerman, left tackle Garrett Weinreich, defensive end Scott Crichton, wide receiver Richard Mullaney and fullback Tyler Anderson. Left guard Chase Eldredge and center Isaac Seumalo will be limited.

Riley talked about the competition between Sean Martin and junior-college transfer Steven Nelson to replace departed cornerback Jordan Poyer: "[Martin] got more opportunities to play last year and that was all good for him, and we'll see if he can step up into what can be a reliable starting role. ... [Nelson] is always around working out, and in a short amount of time has seemed to fit in real well. I anticipate good things from him in spring ball. The best thing that can happen to this team is really develop good competition with good players at the corner. "

Riley on the depth at running back with Storm Woods, Terron Ward and Chris Brown: "That right there is good depth. I hate losing Malcolm [Agnew] because he's a good football player. He's all over special teams and when you watch our cutups or games, he's always doing something. But I think we have good players there. Storm can build on his freshman year for sure and Terron Ward looked really good in the offseason running and has really worked hard. Chris Brown is a young talent trying to break in where he can hopefully fill some of those roles that Malcolm Agnew played and bust into the rotation of playing in the game."
February, 13, 2012
2/13/12
1:00
PM ET
Oregon State head coach Mike Riley has a lot on his mind these days. He has a new recruiting class with one of the top offensive linemen in the country -- which is good for him, since a large part of his O-line is still rehabbing from last season. There's talk of his seat being toasty next year, and what's the next step for his young quarterback and standout defensive lineman?
Here's part one of a Q&A with the OSU head coach.
[+] Enlarge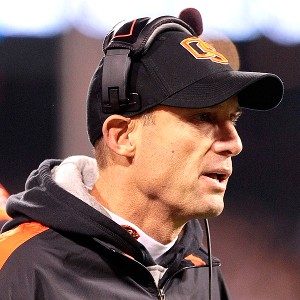 Kelley L. Cox/US PresswireThe pressure is on Mike Riley to avoid a repeat of last year's 3-9 season.
This past year, 10 true freshman and 23 first-time starters played. Once the injuries started to pile on, was the thought just to get these guys as much playing time as possible and hope it pays off in the future?
Mike Riley
: When you're right in it, the immediate thought is we have to get the best players into the game because I've always had the philosophy that the best way to do well in the future is to take care of the present. We didn't just shove freshmen into prominent roles. There was either an injury or they earned the opportunity. It was the nature of our team last year. We had obviously lost some good players, like [Jacquizz) Rodgers, so it was open competition.
Malcolm Agnew
originally won it and then he had a significant hamstring and missed four or five games. We played them because we thought they were the best players and gave us the best opportunity to win. Even though we had a bad record, I liked the team. I think with that youth, they kept their spirits up and kept working hard and hopefully now it does pay off for the future.
You have 17 starters coming back and 58 players who saw time last season. What sort of dividends will that pay in the next few years?
MR
: If we and the players use it correctly, it should pay great dividends. There is nothing like experience, especially if you can combine it with talent and in the offseason you can enhance your talent with good, hard physical work. When you come into spring practice, you should carry much more knowledge and much more physical preparation into the next year. That's very encouraging to me. I think we have a hard-working team. I think guys will take advantage both of their work and of their experience.
Speaking of spring ball, give us some rehab updates. Are you expecting most everyone to be ready for spring?
MR
: I think we'll be very limited with a couple of guys that played a lot in the offensive line.
Colin Kelly
had surgery on his ankle and he won't be ready for spring.
Grant Enger
had surgery on his shoulder and I don't think he's going to be ready for spring. Malcolm Agnew continues to go through a specific rehab program for his hamstring. I think he will be practicing and hopefully full speed in the spring time. I think the offensive line -- we won't be deep in spring ball and that's the reason we signed seven guys in this class. I think we'll have to do a lot of individual development because I don't know what it will look like as a group in total. One good thing is
Michael Philipp
, who was injured and redshirted because of his injury after he started for two years, he'll be back in spring. I'm very excited about that and getting him going and hopefully he'll be a stronger, better player when we get to spring ball. We're looking at developing some new faces on the line while we wait for that class to come in.
What are your first impressions of your recruiting class?
MR
: The realistic look at it is that I think it was an outstanding class in almost all ways. The disappointing factor -- we had four corners committed going into the last week. We got one of them. I'm very excited about
Tyler Hasty
from Bellevue, Wash. We're probably going to play
Zach Robinson
out of Tahlequah Ok., we're probably going to try him at corner first. He's a long body that can run. Was a real good receiver and defensive back. He might be that big corner we're looking for. But the rest of the class, I think we hit all the marks. Offensive line was a priority in recruiting and we got seven kids I'm really excited about then. Then, defensively, we needed more defensive backs in general and we signed three safeties. Nice-sized kids, good athletes. Two of them in particular played major roles as receivers. They are all around football players. Linebackers, we got two junior college linebackers which should help us right away and then we signed a couple of underclassmen that I think will be real good players down the road,
Caleb Saulo
and
Joel Skotte
. Then on offense, we just needed kind of one of each. We ended up with two tight ends I'm really excited about.
Caleb Smith
is a well-known prospect from the state of Washington and
Dustin Stanton
is not well-known, but he has tremendous potential. Big, 6-6 kid that runs well. Real good basketball player and a really good athlete for his size. We were really after one wide receiver. At the end, I thought we were going to get two. But we got
Malik Gilmore
and he was our first pick from the beginning. I'm really excited about Malik. Then I think we got an outstanding running back and quarterback. Kind of the bonus at the very end was we ended up signing the kicker from Arroyo Grande. Really good athlete, was a wide receiver.
I think we saw in the conference that you need kickers?
MR
: Oh my gosh, no kidding. I have a great special teams coach in Bruce Read, been with me for many years here at Oregon State and then with the Chargers. He stayed in the NFL for a while and we got him back. He's a great evaluator and a great coach. We've always had some really good specialists here.
It's usually tough for offensive linemen to come in right away and play. Do you see Isaac Seumalo and or/ Garrett Weinreich being able to make an immediate impact?
MR
: We're going to let them go in there and play. We know Isaac so well and he's a real talented kid. Who knows exactly where he'll go with it. But we're anticipating great things from him. As we place our group, we'll be very careful as to where we put him. He can play every position on the line. He could play center, guard or tackle. As we place our players we have to be very aware about him and everyone else. We're really excited about
Stan Hasiak
. He has experience starting in the conference. Coming out of high school we thought he was a really good player so we're expecting his competition right away. I also really like the talent and the tenacity of
Grant Bays
from Oceanside, Calif. I think physically and mentally he could fit in right away too. It's a good group.
February, 2, 2012
2/02/12
10:30
AM ET
Every team had needs going into 2012 national signing day. Last week, Ted Miller looked at the needs of each team in the
North Division
and
South Division
. Here's a look at
whether those needs were met
.

Arizona
: Either
Javelle Allen
or
Josh Kern
-- both Texans -- could be the long-term answer at quarterback. Noticeably missing is the lack of an impact linebacker. But there is some good depth to the offensive line.
Arizona State
: Nice pickup with running back
D.J. Foster
.
Richard Smith
and
Josiah Blandin
boost the wide receiving corps. Nine JC signees? We'll see.
Cal
: QB
Zach Kline
(No. 2 QB) is the jewel of the class, and receiver
Darius Powe
could be an immediate impact player. Cal wins the award for bipolar recruiting season, but this is still a solid class.
Colorado
: If
Yuri Wright
can keep his thumbs in check, he's a huge addition. He and
Kenny Crawley
boost a secondary sorely in need of playmakers.
Oregon
:
Arik Armstead
headlines a diverse class that, as expected, is heavy on speed and addresses depth across the board. Next to duct tape, few things are quick fixes than a juco kicker.
Oregon State
: No. 1 offensive guard
Isaac Seumalo
and tackle
Garrett Weinreich
fill immediate needs on the line. A lot of unproven commits on a defense that still needs help.
Stanford
: Business should be booming in the Stanford cafeteria with seven new offensive linemen. And they get to grow with and block for
Barry Sanders
.
Noor Davis
and
Alex Carter
are elite defensive playmakers.
UCLA
: Four ESPNU 150 players, headlined by athlete
Devin Fuller
. Who said Jim Mora wasn't cut out for college? Keeping
Ellis McCarthy
in Southern California -- and out of red and gold -- is big time.
USC
: Don't cry for this tiny class. It features seven ESPNU 150 players and adds speed on defense with
Jabari Ruffin
, size on the offensive line with
Max Turek
and
Jordan Simmons
and athleticism with wide receiver
Nelson Agholor
. Another great haul for Troy.
Utah
: A quarterback of the future is needed, and
Travis Wilson
(No. 39 QB) and
Chase Hansen
(No. 43 QB) should have a heck of a competition in the coming years. Lots of help and depth added to the offensive line.
Washington
: A shaky recruiting season was saved at the last minute by the commitment of
Shaq Thompson
and the ability to hold quarterback
Cyler Miles
.
Brandon Beaver
helps a secondary that was one of the worst in the conference.
Washington State
: Running back
Robert Lewis
and receiver
Alex Jackson
could prove to be money in the Mike Leach offensive overhaul. A few juco transfers should be stopgaps until depth develops and Leach's plan comes together.
PAC-12 SCOREBOARD
Monday, 12/22
Saturday, 12/20
Tuesday, 12/23
Wednesday, 12/24
Friday, 12/26
Saturday, 12/27
Monday, 12/29
Tuesday, 12/30
Wednesday, 12/31
Thursday, 1/1
Friday, 1/2
Saturday, 1/3
Sunday, 1/4
Monday, 1/12
Tweets from https://twitter.com/ESPNCFB/lists/pac12