September, 11, 2013
Sep 11
9:00
AM ET
Todd Graham thinks he's got a pretty good football team. Now -- finally -- he's going to have an opportunity to showcase it.
The Sun Devils kick off a four-game stretch that rivals any in the country in terms of difficulty. It starts this week with No. 20 Wisconsin coming to Sun Devil Stadium. They follow it up next week with a trip to No. 5 Stanford, then host USC and then to Dallas to face No. 21 Notre Dame on a neutral field.
[+] Enlarge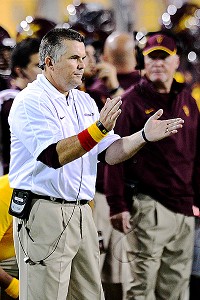 Matt Kartozian/US PresswireTodd Graham says this four-game stretch is a chance for ASU to takes its program "to the next level."
This is not the time to be shying away from adversity.
"We get an opportunity to play the Big Ten champion, then the Pac-12 champion and then USC and Notre Dame, who played for the national championship," Graham said. "We think that is a great opportunity for our program and great exposure for our program. We can take our program to the next level.
"Our kids are excited. I'm excited. Our fans are excited. It's going to be a blackout game. This is what college football is all about."
We'll learn a lot about the Sun Devils over the next month. How good are they, really? Picked by some to finish second in the Pac-12 South, picked by others to win the division, the expectations for the Sun Devils are considerable.
A home victory this week lands them in the top 25. A loss isn't devastating -- Graham has already said he values conference games above all else -- but losing at home would certainly be setback for a team trying to break into the national spotlight.
"We're going to know exactly where we are," Graham said. "We're playing one of the best teams in the country. They've been to the last three Rose Bowls, defending Big Ten champion and their offense is 602 yards per game. The defense is physical. I don't know about a coming out party or anything like that, but I think in this game we'll find out exactly where we are at."
In ASU's favor is the fact that it gets the Midwest team -- probably not acclimated to the desert -- at home. The temperature at kickoff is estimated to be 100-degrees plus. Plus the Sun Devils -- specifically quarterback
Taylor Kelly
-- has played better at home since being named the starter last season. In seven career starts at home, Kelly is completing 74.2 percent of his throws with 19 touchdowns to just three interceptions. Worth noting, too, that the Sun Devils are 8-0 all-time against the Big Ten conference when playing at home.
"He's been very efficient," Graham said. "He's faster. This year he has a mastery of the offense where as last year he was trying to learn it."
Wisconsin, led by new coach Gary Andersen (once rumored for a couple of Pac-12 jobs), has opened 2013 with a pair of shutouts for the first since 1958. Impressive? Well, one of those teams was UMass and the other was Tennessee Tech, so it's about as impressive as ASU blanking Sacramento State 55-0 in its opener. In other words, neither team has really been tested yet.
"We played a team we should dominate and we did," Graham said. "... We want to get better every week because it's only going to get tougher from here for us. This is our chance to show that we have a really good football program."
August, 28, 2013
Aug 28
1:00
PM ET
Just about anything that could go wrong went wrong for Utah during its visit to Utah State last year. Nonetheless, there were plenty of moments when the Utes could have pulled themselves up by their Pac-12 bootstraps and cast aside a team that they had beaten 12 consecutive times.
Could've, should've, would've.
Same goes for Colorado against Colorado State in their 2012 opener. The Buffaloes had a fourth-quarter lead and plenty of opportunities to take the short drive home from Denver with a win.
Nope.
Utah and Colorado are about to begin their third year of Pac-12 play. Neither is happy with what has transpired over the past two seasons. Colorado has been awful, and Utah has gone from top-25 program to a team with a losing conference record.
[+] Enlarge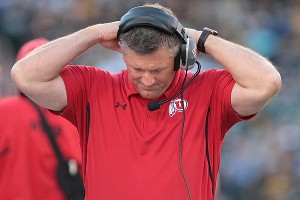 Kelley L Cox/US PresswireUtah coach Kyle Whittingham admits he didn't handle the loss to Utah State last season very well.
It's not unreasonable to wonder if early-season losses to a "little brother" state rival last September -- as in non-AQ teams with a history of losing in the series -- might have taken the starch out of their seasons before they really had started, that a residual hangover lingered throughout the year.
"I think without a doubt," Utah coach Kyle Whittingham said. "Me personally, I didn't take it well. I wasn't able to put it behind me and move forward quick enough. In this profession, that's what you've got to be able to do. You've got to be resilient and, win or lose, move forward and focus on the next opponent. I think there was a little bit of a hangover, and that's squarely on my shoulders and my fault. I'm responsible for the mindset of the program and the team."
Let's set the table with "what if" for both. What if Utes QB Jordan Wynn doesn't in the second quarter again hurt his shoulder against the Aggies, an injury that would end his once-promising career? What if Coleman Peterson wins the game in regulation with a 52-yard field goal instead of missing? What if a TD catch in overtime from tight end Jake Murphy doesn't get nullified by an offensive pass interference penalty?
(We'll pause to allow Utes fans to express themselves about that call).
Essentially, what if Utah wins? At the very least, the Utes don't suffer their first losing season in a decade. In a bigger picture of "what if," the entire season might have played out differently.
As for Colorado, it's pretty simple. If the Buffaloes had made plays in the fourth quarter of a game they seemed poised to take control of, it's possible that Jon Embree would still be the head coach, not Mike MacIntyre.
These little brother rivals also had different trajectories. Utah State rolled to an 11-2 finish, and coach Gary Andersen parlayed that into a contract coaching Wisconsin. Offensive coordinator Matt Wells takes over a team with a lot of starters back, including dynamic QB Chucky Keeton, that figures to make some noise in the Mountain West Conference this fall.
Conversely, the Rams, also in the Mountain West, lost six in a row after beating Colorado, including an embarrassing 22-7 defeat to North Dakota State, an FCS team. Still, the Rams have a lot of starters back.
Both "little brothers" probably feel good about their chances, the Aggies on Thursday and Colorado State on Sunday.
For MacIntyre, he knows that a season-opening win could provide his tenure some immediate good will from a beleaguered fan base. Of course, he's been tossed into a measuring stick game with more ramification than most first-year coaches are facing this week.
"There's a lot of emotion involved in it," MacIntyre said. "I think it's different than a lot of opening games. You're playing your in-state rival at a neutral site. That puts a little bit of added emotional context to it."
The rebuilding Buffaloes are a 3-point underdog, but their matchup with the Rams represents their best chance for a win over an FBS team in 2013. A loss would make it a hard-sell for MacIntyre to convince his guys they have any chance in Pac-12 play. A win? It might inspire enough momentum for the season to exceed expectations, thereby igniting longterm optimism.
Utah has bigger goals, but a loss to Utah State would make earning bowl eligibility suddenly seem like an uphill battle. Fans impatient with the Utes progress in the Pac-12 might then point the finger of blame at Whittingham.
In other words, these are big games for both programs.
While coaches like to pooh-pooh the idea of "must win," it's not unreasonable to believe the trajectory of both teams' seasons could be set this week against an ambitious "little brother."
July, 12, 2013
Jul 12
9:00
AM ET
Your B1G and Pac-12 bloggers have been grinding away on their respective leagues' nonconference primer series. Here's
the Big Ten series
, and here's
the Pac-12 series
. Part of the fun is learning about other teams in other conferences and what they bring to the table. The Pac-12 and Big Ten face each other five times during the regular season. The Pac-12 got the better of the matchups last year. Will this year be different? Brian Bennett and Kevin Gemmell decided to talk it over.
Brian Bennett
: The first thing I look at for Big Ten-Pac-12 matchups in any given season is where the games are staged. Big Ten teams don't seem to think the West Coast is the Best Coast; they are just 5-20 in true road games against the Pac-12 since 2000, and that includes an 0-3 mark on the road versus the Pac-12 last year. (The league also has just one win in its past 10 Rose Bowls, but not all of those games came against the Pac-12.)
[+] Enlarge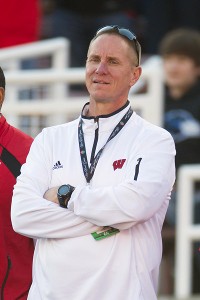 AP Photo/David StlukaNew coach Gary Andersen and the Badgers will have their hands full at ASU this season.
So it's not good news for the league that I cover that three of these five matchups are located far left of the Midwest. If there's any reason for optimism, it's that the Big Ten teams should be substantial favorites in two of the road games -- Northwestern at Cal in the opener and Ohio State against those same Bears in Week 3. Cal is intriguing because of new coach Sonny Dykes, but Northwestern and Ohio State are both legitimate Top 20 teams with conference-title aspirations; if they can shake off the jet lag and contain the Bears' passing attack, they should take care of business.
The two most interesting games -- and what look like virtual toss-ups -- are Wisconsin at Arizona State, and UCLA at Nebraska. The Badgers have a lot of returning talent, but a new head coach and different schemes on both sides of the ball. It's also going to be a clash of styles, with the Badgers' power running game going up against Arizona State's spread offense. Will Gary Andersen's team have its new systems figured out by then, and is Wisconsin's defense -- particularly its inexperienced secondary -- fast enough to handle the Sun Devils?
UCLA-Nebraska is probably not getting enough attention as a must-watch game this year. Last year's shootout in Pasadena, Calif., featured nonstop pingpong action, and both teams figure to have topflight offenses again. The Cornhuskers have a perilously young defense, but Bo Pelini's teams usually defend much better at home than on the road. Quarterback
Taylor Martinez
-- who grew up a Bruins fan but was recruited by them as a defensive back -- will be highly motivated to beat UCLA his senior year. This is Nebraska's only major test in the first seven games, and it's one I think the Huskers have to find a way to win.
Finally, there's Washington at Illinois. The Illini get the benefit of home turf, sort of, as the game will be played at Soldier Field in Chicago. We'll see if Tim Beckman's crew will inspire enough fans to show up by Week 3. While Washington has been mediocre for what seems like forever, I can't confidently pick Illinois to beat any half-decent power conference opponent at this point.
In the end, I say the Big Ten manages a winning record this time around against the Pac-12, taking the two games in Berkeley, Calif., and the one in Lincoln, Neb. A 3-2 mark sounds about right, though if Wisconsin can pull off the win in the desert, that could be a good sign for both the Badgers and the league as a whole.
Kevin Gemmell
: I'm going 3-2 also, but in favor of the Pac-12. After all, if we were in total agreement, it would make for a pretty boring Take 2. So I'll play the contrarian when it comes to UCLA-Nebraska.
[+] Enlarge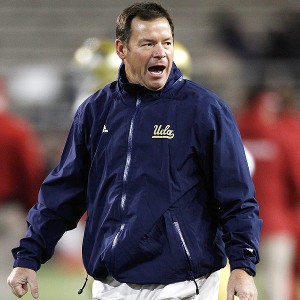 William Mancebo/Getty ImagesCoach Jim Mora and UCLA allowed just six points in the second half of last year's win against Nebraska.
We agree on the Cal games versus Northwestern and Ohio State -- though I think Cal is going to give both of those teams a better run than they are banking on. I like what Andy Buh is doing with a defense that could be sneaky good. And the Bears have
some explosive depth at wide receiver.
But ultimately it's a rookie quarterback -- whomever Dykes chooses among
Zach Kline
,
Jared Goff
and
Austin Hinder
-- and a team that will still have some growing pains as new systems are installed on both sides of the ball. Like you with Illinois, I'm not ready to give the Bears the green light yet. However, last year's game in Columbus, a 35-28 win for Ohio State, should serve as a reminder not to take Cal lightly. No doubt, the Buckeyes will remember
Brendan Bigelow
and his four carries, 160 yards and two touchdowns.
Both halves of the Pac-12 blog have been saying we believe Washington is going to get over that seven-win hump this year after three straight seasons of mediocrity. The Huskies have a lot of pieces in place with a returning quarterback, a 1,400-yard rusher, good receivers, a good line and the top tight end in the country. Their defense made huge strides last season in the first year under Justin Wilcox, and we're expecting another leap forward in 2013. What scares me is Washington's inconsistent play on the road the past few seasons. During the Huskies' trio of 7-6 seasons, they are 14-5 in Seattle (last year they played at CenturyLink Field) and 6-11 on the road. The past two years they are 11-2 at home and 3-8 on the road (0-2 in their bowl games at neutral sites). If the Huskies want to have a breakout year, they are going to have to win away from home. Steve Sarkisian actually talked about this
in a Q&A we did back in April
. But they certainly have the talent to win this game.
The ASU-Wisconsin game is really a critical one for the Sun Devils. It kicks off a four-game stretch (with no bye weeks) that also includes Stanford, USC and Notre Dame. ASU is another team looking for some national credibility, and this is its first opportunity to get some. You're right to talk about the ASU offense, but that defense -- which ranked first nationally in tackles for a loss and second in sacks last season -- is going to be crazy good with
Will Sutton
and
Carl Bradford
leading the attack. I'm banking on a good game, but ultimately one ASU wins at home.
That brings us to UCLA-Nebraska, a game I'm also surprised more people aren't geeked up about outside of the respective fan bases. This should be a fantastic showcase for both leagues.
Brett Hundley
impressed in his freshman campaign, and I think this game is going to be a spotlight for two of the country's most athletic quarterbacks. I was in Pasadena for the game last season, and what actually stood out to me was UCLA's defense -- particularly in the second half. The Bruins allowed only six points, and kept Martinez to 11 yards rushing and the Huskers to 106 total yards in the final 30 minutes. They should be improved in Year 2 under Jim Mora and Lou Spanos. If the Bruins pull this one off, it's going to be because of what they can do defensively.
July, 1, 2013
Jul 1
7:00
PM ET
We continue our series taking a closer look at each Pac-12 team's nonconference schedule.

USC
at Hawaii, Aug. 29
Coach: Norm Chow (3-9), second year
2012 record: 3-9, 1-7 Mountain West
Returning starters: 9 offense, 8 defense
Offensive headliner: We met the offensive line in the Oregon State nonconference primer. Wide receiver Scott Harding is back after catching 20 balls and a pair of touchdowns last year with a 12.8 yards-per-reception average.
Defensive headliner: Linebacker Art Laurel posted 51 tackles, including 13.5 for a loss and four sacks last season while also forcing a fumble.
The skinny: This is actually the first time we'll see Hawaii this season, though they make back-to-back appearances against the Pac-12 and will travel to the mainland a week later to face Oregon State. Last year's game was a blowout in LA, with the Trojans winning 49-10. The first play of the game was a 75-yard touchdown from Matt Barkley to Marqise Lee. Many thought it was a harbinger. Many were wrong. Will be interesting to see how Taylor Graham, a QB transfer from Ohio State, factors in.
Boston College, Sept. 14
Coach: Steve Addazio, first year
2012 record: 2-10, 1-7 ACC
Returning starters: seven offense, nine defense
Offensive headliner: Chase Rettig returns at quarterback after completing 54.2 percent of his throws with 17 touchdowns and 13 interceptions in 2012.
Defensive headliner: One of the coolest names for a linebacker in all of college football -- Steele Divitto -- is back after posting 92 tackles last year while forcing a pair of fumbles and recovering four of them.
The skinny: The Eagles return a lot of players -- particularly on defense -- but it was a defense that gave up a lot of yards and never got much pressure -- ranking 120th last year in sacks and tackles for a loss. It's been a couple of down years, but they are only a few seasons removed from being an 11-win team. They should improve on the two wins from last year, but it's still better to get them early in the season.
Utah State, Sept. 21
Coach: Matt Wells, first year
2012 record: 11-2, 6-0 WAC
Returning starters: eight offense, seven defense
Offensive headliner: Quarterback Chuckie Keeton, a first-team all-league performer, returns after completing 67.6 percent of his throws for 3,373 yards with 27 touchdowns and nine interceptions.
Defensive headliner: Linebacker Jake Doughty led the team with 109 tackles and also notched 3.5 tackles for a loss and a sack while earning first-team all-league honors.
The skinny: Keeton is back, but he also has all five starters on the line protecting him -- a group that helped departed running back Kerwynn Williams rush for 1,512 yards and 15 touchdowns last year. Former offensive coordinator Matt Wells was promoted as head coach after Gary Andersen took the Wisconsin job, so continuity is in place. This is a squad that topped Sonny Dykes' Louisiana Tech team and Mike MacIntyre's San Jose State team last year. Their only losses were to BYU and Wisconsin by a combined five points.
at Notre Dame, Oct. 19
Coach: Brian Kelly (28-10), fourth year
Returning starters: six offense, eight defense
2012 record: 12-1, Independent
Offensive headliner: Wide receiver T.J. Jones matched the team high last season with 50 catches for 649 yards and four touchdowns.
Defensive headliner: Behind that stout defensive front, linebacker Dan Fox is back after posting 63 tackles last season, including two for a loss.
The skinny: So ... last year's game was ugly. The Trojans ended 2012 by losing five of their last six -- including three straight. This one was sandwiched in between losses to UCLA and Georgia Tech in the Sun Bowl and the Irish were able to punch their ticket to the BCS championship game at the Trojans expense. This is the second of three Pac-12/Notre Dame showdowns.
Thoughts
: The Trojans are one of the few teams in the league that don't have an FCS team on their nonconference schedule. That being said, Hawaii and Boston College shouldn't be considered much of a threat. Because the Trojans play at Hawaii, they get to add an additional game -- and that's Utah State -- a team that's risen the ranks of the non-BCS hierarchy the last few seasons. How they do under a new coach (even though he was promoted from within) will be interesting to see. The fact that the Trojans will have already played three games prior to their meeting with the Aggies is in USC's favor, especially as Lane Kiffin and Co. continue to break in a new quarterback. Notre Dame is obviously a historical rivalry, and last year the Irish provided a twisty dagger in the vein of shortcomings that was USC in 2012. Retribution should be on USC's mind. Two games are very winnable, one game smells like a trap and the other is a rivalry game. Fans and players should expect nothing less than 4-0, though 3-1 wouldn't be outrageous considering they are playing in South Bend.
June, 19, 2013
Jun 19
7:00
PM ET
We continue our series taking a closer look at each Pac-12 team's nonconference schedule.
Arizona State
Sacramento State, Sept. 5
Coach: Marshall Sperbeck (30-37), seventh year
2012 record: 6-5, 4-4 Big Sky
Offensive headliner: Running back Ezekiel Graham is the top offensive threat, rushing for 861 yards and five touchdowns last season. Not huge numbers, but he also makes his mark as a receiver out of the backfield, catching 40 balls for 406 yards and two touchdowns last year.
Defensive headliner: Linebacker Todd Davis has led the Hornets in tackles the past couple of seasons and there's little reason to think he won't again. He posted 103 tackles last year -- including an impressive 13.5 for a loss.
The skinny: Not to worry. It's just an FCS team, right? Well, considering the Hornets have beaten Pac-12 teams in back-to-back years, that should at least perk the ears of ASU up a little bit. They topped Oregon State 29-28 in overtime in 2011 and then a year later beat Colorado, 30-28, on a walk-off field goal by a walk-on kicker. The chance of an upset isn't likely. But the history suggests enough to not sleepwalk through this game.
Wisconsin, Sept. 14
Coach: Gary Andersen, first year
Returning starters: eight offense, six defense
2012 record: 8-6, 4-4 Big Ten
Offensive headliner: Wide receiver Jared Abbrederis headlines a pretty deep wide receiving corps. A first-team All Big Ten selection last year, he caught 49 balls for 837 yards and five touchdowns. The former walk-on QB is tops among all active FBS players with an average of 16.7 yards per catch. He's also a dangerous punt returner.
Defensive headliner: Linebacker Chris Borland needs 144 tackles this season to become Wisconsin's all-time leader. He's forced 14 career fumbles -- the most in school history and most among active NCAA players.
The skinny: Andersen was a hot name among potential Pac-12 coaching vacancies, but last year's WAC coach of the year instead ended up in the land of cheese. Last year the Badgers became the third Big Ten team to play in three consecutive Rose Bowls -- though they lost all three, including to Stanford last season and Oregon in 2011-2012. New offensive coordinator Andy Ludwig also has strong ties to the Pac-12, having worked at Cal, Utah and Oregon.
Notre Dame, Oct. 5 (In Arlington, Texas)
Coach: Brian Kelly (28-10), fourth year
Returning starters: six offense, eight defense
2012 record: 12-1 Independent
Offensive headliner: Skill position players are more fun to talk about, but left tackle Zack Martin will be starting for the fourth straight year and he's a captain. Watching him against ASU's defensive front will be a great game within the game.
Defensive headliner: Take your pick between defensive end Stephon Tuitt or noseguard Louis Nix. Both are elite playmakers and present a defensive front that rivals the talent and athleticism of ASU's.
The skinny: The last time we saw Notre Dame, it was getting run up and down the field by Alabama in the BCS National Championship Game. But before that, the Irish were perfect -- including wins over Stanford and USC. Though they tiptoed through quite a few rain drops along the way -- and haven't had the quietest of offseasons -- this should be a game of national interest. Both teams will have already played tough games (ASU: Wisconsin, at Stanford, USC; Notre Dame: at Michigan, Oklahoma) but a potential meeting of Top-25 teams on a neutral site will draw plenty of intrigue.
Thoughts
: No, I don't think Sacramento State will make it three in a row. ASU should out-distance and out-muscle the FCS squad fairly early. But the rest of the nonconference slate will get the Sun Devils some national attention. The Wisconsin game is intriguing. But because what the Sun Devils bring to the table -- that's a very winnable game. Notre Dame is the really interesting one. Not only because of the
little bit of nastiness
that's built up between the programs in recent weeks, but because it's on a neutral site and it comes after three straight games against Wisconsin, at Stanford and home to USC. That's a brutal gauntlet that could either propel ASU into the national spotlight or leave them scrambling to pick up the pieces. A 3-0 record is very possible. Going 2-1 is probable and 1-2 is the worst-case scenario (we're not even putting 0-3 on the table).
March, 19, 2013
Mar 19
9:00
AM ET
We know that it's probably going to take some time for Mike MacIntyre to get things off the ground at Colorado. After a difficult first two seasons in the Pac-12, that's seen the Buffs win just four games over that span, head coach Jon Embree was fired after 2012. That paved the way for MacIntyre, who helped turn San Jose State into a Top 25 team.
He chatted with ESPN senior writer Ivan Maisel about the big building project ahead of him. It's a great read as MacIntyre talks about how he's been down this road before.
Here's what he told Maisel:
"Every person, when I told them I was thinking about taking the job," MacIntyre said of San Jose State, "there wasn't one person, not one person out of the 100 I asked, who told me I should take the job. And then when we were successful, I had people call me and tell me, 'I thought we'd never hear of you again. I thought your career would be over as a head coach when you took that job.'"
The story also talks about how Butch Jones and Gary Andersen both passed on Colorado -- meaning MacIntyre took on a job that that scared others off.
"I just think that sometimes when you're not being successful in any business or any organization, you kind of isolate and make assumptions about other people," MacIntyre said. "I think in any business or corporation or team, once you knock down barriers and knock down walls, and start being vulnerable, then you can grow. And that's what we are working on now."
You can read all of
Maisel's story here
.
November, 30, 2012
11/30/12
2:30
PM ET
November, 29, 2012
11/29/12
2:30
PM ET
Well, it's a well known fact, Sonny Jim, that there's a secret society of the five wealthiest people in the world, known as The Pentavirate, who run everything in the world, including the newspapers, and meet tri-annually at a secret country mansion in Colorado, known as The Meadows.
November, 27, 2012
11/27/12
4:00
PM ET
California, a week past the 11-year Jeff Tedford Era, is presently a program in limbo. It has a skeleton staff of five coaches trying to maintain a recruiting presence, while athletic director Sandy Barbour hopes she can manage a coaching search in total secrecy.
Even if she succeeds, that won't stop the blather. Media folks -- yes, that includes me -- will trot out lists of the usual suspects, and then the Internet will go wild with rumors, many of which will begin with, "I just talked to a guy [a big booster, someone in the athletic department, random insider, etc.] who said that Coach X is on his way to Berkeley to sign a contract!"
And "Coach X" is surely to be Boise State's Chris Petersen.
Cal has retained DHR International to lead the search. Typically, I'd slap my forehead over that because these search firms charge a lot of money for very little. But,
as Jon Wilner reported
, Glenn Sugiyama is handling Cal's account, and his track record includes former Stanford coach Jim Harbaugh and San Jose State head coach Mike MacIntyre, who figures to get a look from Cal.
(Still, I bet Wilner, Kevin and I -- and a bottle of Lagavulin 16yr -- could give Cal just as good a list of candidates, with far more first-hand insight, for a Amazon.com gift certificate and a table at Chez Panisse on a Friday night).
[+] Enlarge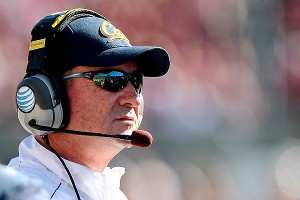 Kelley L Cox/US PRESSWIRECal's hefty buyout of Jeff Tedford could make finding his replacement more of a challenge.
It will be interesting to see how Cal plays this. It is unlikely it will be able to afford to lure away a "big-name" coach, which would be expensive and subsequently would inspire many, many frowns on upper campus.
For example, Louisville coach Charlie Strong was essentially a runner-up to Tedford 11 years ago. He makes $2.3 million coaching a Big East team. Making that much in Louisville is equivalent to making $3.4 million in Oakland. Further, he has been connected to the vacancy at Arkansas, where he surely would take a substantial leap across the $3 million line.
The next tier is made up of up-and-coming college head coaches, top coordinators or perhaps an NFL coach looking to jump back to the college ranks for whatever reason.
Cost, again, is a big issue, and it's not just about the head coach. In fact, Cal administrators need to pay as much attention to the assistant coaches as the head coach. It should be one of the first interview questions: "We like your stuff. Give me 10 or 15 coaches you'd want to hire, starting with your coordinators."
Yet emphasizing a quality staff means budgeting about $1 million for offensive and defensive coordinators, and at least $1.4 million for the other seven positions. And these are conservative numbers, folks.
If you pay the head coach between $2.5 and $3 million, then you're talking about $5 million-plus annually for a quality staff, top-to-bottom. Meanwhile, Cal is paying off Tedford -- nearly $7 million -- and his former staff.
Doing this right ain't going to be cheap.
Still, there's plenty to sell California.
Brand new facilities that are outstanding. Among the best in the conference.

The program is on solid ground. There's enough talent on hand to make a quick turnaround, see UCLA.

Good recruiting area. The Bay Area isn't as rich as Southern California, but it's darn good.

A national brand as the nation's best public university. That means a chance to recruit nationally.

There is good fan support, and it isn't crazy-nutso, expecting every season to end with a BCS bowl victory.

And, of course, becoming Cal's coach means a chance to chat regularly with the Pac-12 blog. (Sandy, you can't undersell that!).
So now we trot out a list.
It's just a list. Barbour didn't email it to me. It might be useful/entertaining for Colorado fans, too.
Head coaches
Chris Petersen, Boise State
: We couldn't leave him out! If I were a betting man, I'd say the only place that could lure him away from the comfort of Boise is Oregon.
I do love this, though
, a wonderful mix of journalism and unabashed fandom. Great effort guys.
Charlie Strong, Louisville
: He's done a great job at Louisville, but the general feeling is he wants an SEC job.
Mike MacIntyre, San Jose State
: He went 10-2 with a San Jose State program that was left for dead. It gave Stanford a better game than Cal did. The scuttlebutt on him is very good.
Sonny Dykes, Louisiana Tech
: Dykes' team is 9-3 after losing to San Jose State -- score one for MacIntyre. He's a former Arizona offensive coordinator who learned offense from Mike Leach. Just a matter of time before he gets a big job.
Tim DeRuyter, Fresno State
: He's done a really nice job turning Fresno State (9-3) back around in one year. Just ask Colorado.
Art Briles, Baylor
: Briles makes $2.5 million and seems to love Baylor. Defense not a selling point.
Gary Andersen, Utah State
: Not only did Utah State go 10-2 this year -- beating Utah -- it lost to BYU and Wisconsin by a combined five points. Also something to be said for a guy who's been around for a while. He spent five seasons as the assistant head coach, defensive coordinator and defensive line coach at Utah, where he worked under Urban Meyer and Kyle Whittingham.
Dave Doeren, Northern Illinois
: He took over a MAC power and is 22-4 in two seasons. Colorado also might be interested, but Doeren is a guy who is probably eyeballing a Big Ten job.
Darrell Hazell, Kent State
: If you're going to list Doeren as a hot coaching candidate, as lots of folks do, how can you not list Hazell, who is a former Ohio State assistant in his second year leading a program that plays Northern Illinois for the MAC title on Friday? The Golden Flashes' last league title came in 1972. That 6-5-1 team, by the way, featured Pro Football Hall of Famer Jack Lambert, Alabama coach Nick Saban and Missouri coach Gary Pinkel.
Willie Taggart, Western Kentucky
: A former Stanford assistant, he's done a great job building a respectable program at Western Kentucky.
Coordinators
Mark Helfrich, offensive coordinator, Oregon
: How highly respected is Helfrich? He might be the top candidate to replace Chip Kelly if Kelly bolts for the NFL.
Noel Mazzone, offensive coordinator, UCLA
: He's coached everywhere, but really has found his offensive legs the past few years. Made Brock Osweiler into an NFL QB at Arizona State, and appears to be doing the same with
Brett Hundley
at UCLA.
Pep Hamilton, offensive coordinator, Stanford
: He was part of the Jim Harbaugh transformation at Stanford, which included building an offense that emphasized a physical, downhill running game. He's worked with Andrew Luck, but his best selling point may be the midseason transition to redshirt freshman QB
Kevin Hogan
.
Derek Mason, defensive coordinator, Stanford
: A frontrunner for the Broyles Award given annually to the nation's top assistant coach. He's built the Cardinal into a defensive power -- see the upset at Oregon on Nov. 17.
Justin Wilcox, defensive coordinator, Washington
: Highly respected coordinator who rebuilt the Huskies defense from abysmal to pretty good this fall. Played at Oregon and coached at Cal, Boise State and Tennessee, so he knows the national landscape. It's only a matter of time before he gets a head coaching job.
Bob Diaco, defensive coordinator, Notre Dame
: Have you seen the Notre Dame defense? 'Nuff said. Other than he seems like a guy who'll end up in the Big Ten.
Kirby Smart, defensive coordinator, Alabama
: See Diaco. It also helps that he's coached under Nick Saban, so he knows how a national power conducts business.
Todd Monken, offensive coordinator, Oklahoma State
: You want offense? The Cowboys are the answer to Oregon in the Big 12.
Lorenzo Ward, defensive coordinator, South Carolina
: Steve Spurrier arrived at South Carolina as an offensive genius, but Ward is a big reason the Gamecocks are now known for defense.
A great recruiter with a lot of charisma
. Likely a guy who wants to stay in the SEC.
NFL
Ron Rivera, head coach, Carolina Panthers
: My mailbox suggests a lot of Cal fans are hoping this former Bear is done with the Panthers and wants to come back to Berkeley. Could be the latest incarnation of Pete Carroll/Jim Mora.
Greg Roman, offensive coordinator, San Francisco 49ers
: What Chip Kelly is to the spread, Roman is to the Harbaugh-ian creativity of power football. You know: All those tight ends shifting around everywhere. He probably will be a top NFL candidate, too, which is a problem.
Hue Jackson, defensive backs, Cincinnati Bengals
: Lots of college and NFL experience. He served one year as the Bears offensive coordinator under Steve Mariucci, and is a former Oakland Raiders head coach, so he knows the Bay Area.
September, 7, 2012
9/07/12
11:00
AM ET
Some notes to get you through the hours until Saturday. Many thanks to ESPN Stats & Information.
The Pac-12 plays seven games against foes from other AQ conferences on Saturday.
Arizona has lost 6 consecutive games against top-20 teams. Its last victory against a top-20 opponent came Sept. 18, 2010, against ninth-ranked Iowa.
Oklahoma State defeated Arizona each of the past two seasons -- in the 2010 Alamo Bowl and last year in Stillwater. The 'Pokes outscored Arizona 73-24 in the two games, and gained 594 yards in the win last season. That was the most yards allowed by Arizona in a single game since 2005.
In his brief debut last week in an 84-0 win over Savannah State, Oklahoma State freshman quarterback Wes Lunt was 11-for-11 passing for 129 yards. Arizona ranked last in the Pac-12 last year in pass defense.
The Illinois defense recorded six sacks, two interceptions and recovered a fumble in its 17-14 win against Arizona State last year.
Illinois quarterback Nathan Scheelhaase's injury status will be a key thing to keep an eye on for this game. Scheelhaase left the Illini's victory over Western Michigan last week with an ankle injury. After he left, the offense managed no points and just 15 yards on the five drives with Reilly O'Toole at the helm. The defense scored Illinois' only points after Scheelhaase left.
California has never played Southern Utah before.
Utah State last week held Southern Utah to three points and 209 yards.
Colorado is playing Sacramento State for the first time. It's the Buffs third game against an FCS foe.
Sacramento State lost its opener at New Mexico State, 49-19.
Oregon has dominated the series with Fresno State of late, winning six in a row against the Bulldogs. Fresno State's last win in the series came in 1982.
Oregon leads FBS in touchdowns drive of two minutes or fewer (95) one minute or fewer (44) and three plays or fewer (41) since the start of 2010. Last week against Arkansas State, Oregon scored eight touchdowns that averaged 2:00 and five of the Ducks' eight touchdowns were scored in under 1:45.
Since coach Chip Kelly took over in 2009, Oregon has had 60 rushing plays of at least 30 yards, the most in FBS. That's bad news for the Bulldogs. Over that same span, Fresno State's defense has allowed 45 such plays (worst in FBS).
Wisconsin has won 33 consecutive regular-season non-conference games, the second-longest active streak among FBS teams. Its last loss regular-season non-conference loss came in 2003 against UNLV.
Oregon State has lost two straight and three of its last four season openers.
Duke visits Stanford looking to do something it hasn't done in more than 40 years -- the Blue Devils haven't beaten a ranked team away from Durham since Oct. 2, 1971. The opponent and location of that game? Stanford, in Palo Alto, Calif. Since then, Duke has dropped 57 straight games against ranked opponents away from Durham. In fact, Duke's overall record against ranked opponents since that game is a dismal 3-93, with all three wins coming at home.
Stanford has won 10 straight August/September games and nine straight regular season games vs non-conference opponents.
Running back Rex Burkhead's injury status (knee) will be a big topic, but Nebraska feels comfortable with its depth behind Burkhead. When Burkhead left the game in the first quarter last week, his backups -- Ameer Abdullah, Braylon Heard, Imani Cross -- rushed for 177 yards and combined for two scores (one rush, one pass).
Nebraska QB Taylor Martinez saw instant returns on his work this summer at the Manning Camp and with QB guru Steve Calhoun. Martinez had a career-high 354 passing yards and five touchdowns in the Cornhuskers' 49-20 victory over Southern Miss. Martinez had the majority of his success downfield, completing 10 of 15 throws that traveled 10 yards or more downfield for 225 yards and four touchdowns. His four touchdowns on these throws doubled his previous career high. He had two each against Northwestern in 2011 and Oklahoma State in 2010.
Keep an eye on UCLA's special teams, specifically their extra-point attempts. Last week against Rice, they allowed Cameron Nwosu to set an NCAA record by blocking three of them.
USC dropped from No. 1 to No. 2 in the AP poll this week becoming the first team to win a game by more than 35 points and fall from No. 1 since Penn State in 1997. The only No. 1 team to win its opener by more than 35 points and fall from No. 1 was Florida in 1994. The Gators beat New Mexico State 70-21 and fell to No. 2 behind Nebraska. Nebraska had shut out No. 24 West Virginia 31-0 the previous week in the Kickoff Classic.
Matt Barkley has thrown 35 touchdowns since the start of 2010 season when opponents send five or more pass-rushers. Against a blitz, he's completing 61 percent of his passes with 35 TDs and just three interceptions.
USC gained 224 of its 394 receiving yards after the catch against Hawaii, the most yards after the catch for any AP top-25 team in Week 1. Marqise Lee had 138 yards after the catch, including 69 on his 75-yard touchdown reception on the first play of the game. The 224 yards after the catch was the Trojans' second-most since the start of the 2009 season. They had 234 YAC against UCLA in their final game of last season.
This is the 110th meeting between Utah and Utah State, the 12th-most-played rivalry in FBS history. Utah has won the past 12 meetings and leads the all-time series 77-28-4. The last seven meetings have all been decided by more than 15 points.
Utah State is 0-3 against BCS-AQ schools since Gary Andersen took over as coach in 2009, but all three games have been within eight points. Utah State has not hosted a BCS-AQ team since 2001.
LSU hosts Washington on Saturday night and the Tigers have been anything but kind to Pac-12 opponents over the years. LSU hasn't lost to a Pac-12 team since dropping a 17-12 decision to USC in 1979. Since then, LSU is 11-0 and averaging 35.8 points per game in those contests. To make things worse for Washington, LSU has won 38 straight non-conference regular season games.
LSU lost three of its four starters in the secondary. Last week, North Texas threw for two touchdown; last year, the Tigers allowed multiple TD passes only once (two against West Virginia) and allowed only seven on the season.
Washington hasn't fared well in non-conference road games of late. The Huskies have lost four consecutive non-conference games away from home, with their last such win coming in the 2007 season opener at Syracuse.
Since the SEC was formed in 1933, Washington is only 1-6 against SEC teams, with its lone victory coming in the 1989 Freedom Bowl over Florida. This is Washington's first road game at an SEC school since 1983 (also at LSU).
Washington State is playing Eastern Washington for the first time since 1908.
The new kickoff rules seem to be having an impact already. In the first week last season, the touchback percentage was 19.4 (138 total). Last week, the touchback percentage ballooned to 40.8 (269 total).
PAC-12 SCOREBOARD
Saturday, 12/21
Monday, 12/23
Tuesday, 12/24
Thursday, 12/26
Friday, 12/27
Saturday, 12/28
Monday, 12/30
Tuesday, 12/31
Wednesday, 1/1
Thursday, 1/2
Friday, 1/3
Saturday, 1/4
Sunday, 1/5
Monday, 1/6
Tweets from @ESPNCFB/pac-12