February, 2, 2015
Feb 2
12:01
AM ET
After winning several high profile recruiting battles under Gary Pinkel, Missouri fans have learned some of the tricks to help an elite prospect like
Terry Beckner Jr
. feel at home on an official visit.
5* recruit Terry Beckner Jr. visited #Mizzou Arena during official visit. https://t.co/wjcImNkISd

— Mark Kim (@MarkJKim_) February 1, 2015
The Antlers are rocking the #79 jersey's today in honor of 5-star DE recruit Terry Beckner Jr.'s visit. pic.twitter.com/eBAwyK7EyM

— Alex Schiffer (@TheSchiffMan) January 31, 2015
December, 20, 2013
12/20/13
4:05
PM ET
You can't say Utah coach Kyle Whittingham is afraid of change. You can't say he's not desperately trying to fix his ailing offense. And you can't say that the unexpected hiring of former Wyoming head coach Dave Christensen on Friday to run the Utes offense in 2014 isn't a bold move with a potentially substantial payoff.
Christensen has a great reputation for offensive innovation -- just review what he did at Missouri in 2007 with QB Chase Daniel.
Still, it is fair to wonder if a revolving door at offensive coordinator is a good thing for the Utes' short-term prospects, particularly with growing pressure on Whittingham to reverse a two-year bowl-less slide.
[+] Enlarge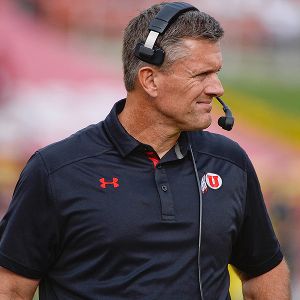 Robert Hanashiro/USA TODAY SportsKyle Whittingham has had a revolving door at offensive coordinator.
Revolving door? Christensen is Utah's sixth offensive coordinator in… six years:
• Andy Ludwig -- 2009
• Aaron Roderick and Dave Schramm -- 2010
• Norm Chow -- 2011
• Brian Johnson -- 2012
• Dennis Erickson (Johnson remained co-coordinator in name only) -- 2013
• And now Christensen -- 2014
Here's an interesting dynamic: At least as of now, Roderick, Johnson and Erickson will remain on staff, working under Christensen. Erickson will coach running backs, Johnson quarterbacks. There was a void on the offensive staff because tight ends coach Jay Hill was hired as Weber State's head coach. Christensen will coach tight ends. Roderick was receivers coach and passing game coordinator last year. The release from Utah on Christensen's hiring doesn't note any change to his status.
The Pac-12 blog's oft-stated position on why the Utes offense has struggled the past few years, other than a higher quality of opposing defenses in the Pac-12 compared to the Mountain Weast, was the lack of continuity at quarterback. Unless Christensen has a cure for what ails the health of the promising
Travis Wilson
, that will be the overriding issue in 2014.
Whittingham also probably will need to smooth over some roughed-up egos.
It would seem this move is a surprise to Erickson, who refused to comment to the Salt Lake Tribune, per Twitter, but had said he wanted to return as coordinator. The feeling when Erickson, 66, was hired last winter to play lead with demoted co-coordinator Brian Johnson was he would mentor Johnson, an inexperienced but undeniably promising coach, not to mention a former Utes football great. The seeming ideal scenario there was Erickson retiring after a few years and Johnson regaining his old spot with a new bag of tricks and far more seasoning. That scenario has been clouded by the hiring of Christensen.
It will be interesting to see if this offensive staff doesn't undergo a few more changes before next season.
Christensen was only fired at Wyoming on Dec. 1. He went 27-34 overall in five seasons coaching the Cowboys and 16-23 in the Mountain West. He was Mountain West Conference Coach of the Year in 2011, but he went 9-15 the past two seasons.
Before Wyoming, he served 17 years as an assistant for Gary Pinkel at Toledo (1992-2000) and Missouri (2001-08), and he's a no-huddle, spread specialist, the scheme the Utes have been tinkering with with varied results for several seasons.
"As one of the pioneers of the spread offense, Dave Christensen is an innovative coach and was the architect of one of the top offenses in the country during his time at Missouri," Whittingham said in a statement from the school. "We feel fortunate he was available and interested in joining our program, and he will be a great fit with our staff. We want an explosive offense and that's been a trademark of Dave's throughout his career as an offensive coordinator."
Whittingham and Christensen worked together at Idaho State in 1989-90. Christensen played offensive line at Washington from 1980-82 before getting his degree in 1985 at Western Washington.
This is a good hire in many ways. Erickson wasn't the long-term answer, and Christensen's availability and willingness to come to Salt Lake probably was too alluring to pass up for Whittingham. Yet six coordinators in six years is pretty extreme turnover. While there are reasonable explanations for each change, it's impossible to not at least raise an eyebrow.
Of course, the way to lower that skeptical eyebrow is the same for Whittingham/Christensen as it is in all things in big-time college football.
Produce results. Win.
December, 3, 2013
12/03/13
7:00
PM ET
While the specifics of UCLA coach
Jim Mora's new contract agreement through the 2019 season
aren't yet known, he could be getting more money for his assistant coaches and football facility upgrades.
And does anyone else find it just a tad coincidental that the news broke just as Steve Sarkisian was being introduced as USC's new coach?
This is a huge step forward for the Bruins, who are recognizing the progress the program has made under Mora. It's a declaration that they are ready to be more than just a basketball school.
As the Pac-12 blog mentioned this morning
, there was a strong possibility that if the Bruins brass didn't make a commitment to Mora and the football program, he could pursue the Washington job that was vacated by Sarkisian's move to USC.
[+] Enlarge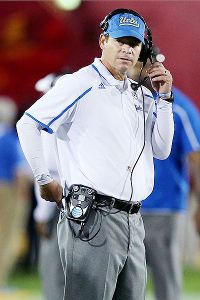 Stephen Dunn/Getty ImagesJim Mora signed a contract extension with UCLA through the 2019 season.
Mora made sense for the Huskies given his roots in Seattle, where he played and owns a home. And it's not the first time his name has been floated for the job. The extent to which he has been pursued in the past 24 hours probably won't ever come to light. But no doubt, phone calls were made and interests were gauged.
This was the smart play by Mora and the Bruins. They won the Pac-12 South championship in Mora's first season and were in the thick of the South hunt up until the final two weeks of the 2013 regular season. Through two seasons, the Bruins are 18-8 with Mora at the helm and 9-1 against South Division teams.
More importantly, they are 2-0 against USC. And that gave Mora leverage to push for the things he needed to keep the program moving in the right direction. Wisely, UCLA's decision-makers concurred.
From a conference perspective, Mora staying put means a hyper-competitive Pac-12 South for years to come. Todd Graham has the Sun Devils in the Pac-12 title game in his second year. Rich Rodriguez has the Wildcats bowling for two straight seasons and they'll be getting a boost next year from multiple transfers. USC figures to be a player again with Sarkisian at the helm. And let's not forget that Kyle Whittingham's Utah team beat Stanford and seems to be on the edge of breaking through, while Colorado got to four wins in its first season under Mike MacIntyre.
While we'll never know for sure if Washington was going to offer Mora the job (or if it did), the fact that he's no longer in the running leaves a void. ESPN's Joe Schad has reported that Boise State coach Chris Petersen could be in the mix. Petersen was also linked to the USC job. Defensive coordinator Justin Wilcox has been rumored to go with Sarkisian to USC, but that could change if he's offered the position at Washington.
Other reported names
include Alabama assistant Doug Nussmeier and Missouri coach Gary Pinkel.
All Huskies fans can do is sit and wait. And watch next year's USC-UCLA game feature their former coach on one side and a former player on the other.
October, 8, 2013
10/08/13
5:00
AM ET
1. No. 7 Georgia lost two receivers and a tailback to knee injuries Saturday, which is something to which the Dawgs' next opponent, Missouri, can relate. The Tigers had so many injuries during last season's 5-7 SEC debut that head coach Gary Pinkel revamped his entire practice and training regimen, eliminating two-a-days and reducing contact drills. Missouri is 5-0, ranked No. 25 and its starters have a missed a total of three games because of injury.

2. Here's what I noticed about the 13 names reported to be on the College Football Playoff Selection Committee. Three people have won a national championship (Pat Haden as a player, Tom Osborne as a coach and Barry Alvarez as an assistant). There are more former quarterbacks (four) than former head coaches (three, and Ty Willingham is on both lists). If Stanford comes up for discussion, Willingham and Condoleezza Rice would have to leave the room, but what would West Virginia athletic director Oliver Luck do?

3. No. 11 UCLA should move to 5-0 this week by defeating a Cal team that is 0-4 against FBS opponents. That would set up not only a showdown the following week at No. 4 Stanford but it would put the Bruins on the cusp of returning to the top 10 for the first time in eight seasons. Since the glory days under Bob Toledo, when the Bruins appeared in the top 10 in four of five years from 1997-2001, UCLA has appeared in the top 10 for a total of three weeks. A long drought appears to have ended in Westwood.

February, 5, 2013
2/05/13
1:00
PM ET
Washington State has never ranked highly in the recruiting rankings, even when it ended up with three consecutive top-10 national rankings from 2001-03. But coach Mike Leach might have done one of the nation's best recruiting jobs with a simple text message this winter: "Why don't you come to Key West we'll have a lot more fun."
That was Leach's text to the man who would shortly become the Cougars' new receivers coach, David Yost,
per a story from CBSSports.com's Dennis Dodd
.
For those of you wondering who that is, Yost is only one of the nation's best offensive minds, the longtime offensive coordinator at Missouri under Gary Pinkel. He was known for his creativity, his ability to develop quarterbacks, his recruiting ability and his funky hair.
[+] Enlarge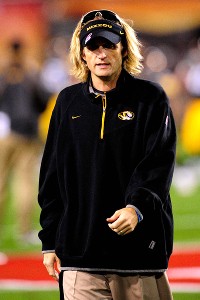 Matt Kartozian/USA TODAY SportsNew receivers coach David Yost resurfaced with the Cougars after taking a year off from coaching.
What makes Yost's story interesting -- and made him available to Washington State -- was that he bailed out on the grind at Missouri this year, citing burnout. Yep, he just upped and quit.
"I'd just gotten tired," Yost told Dodd. "I didn't want to do it anymore."
Some Coug fans might be worried that Yost is going to Pullman to coast, to take it easy, to work 40 hours a week. Don't bet on that. The problem at Missouri was he'd taken on too much: assistant head coach, recruiting coordinator, quarterbacks coach and offensive coordinator.
If you're an obsessive worker, it's hard to back off or ask for less responsibility. For one, every coach is supposed to be driving hard for that next big gig, that prestige job.
Lots of folks talk about walking away, trying to spend more time with their families. For Yost, however, it was more than talk. He was willing to make a massive change in the trajectory of his life. From the story:
When her husband made the decision wife Carrie was all in for a change, said they could live on a budget. She promised to get a job if it came to that to support a family that had grown with three kids -- Kennedy, Keaton and Kamden. Friends and acquaintances were caught somewhere between wonder and praise for the coach's decision.

The consensus Yost got was, "I was impressed you were able to step away instead of kind of grinding through it."
Now he takes on less with a refreshed outlook.
After generating as much buzz as any hiring in 2012, Leach's first season in Pullman was a major disappointment. It was particularly surprising how poorly the Cougars' offense played, considering it had two experienced, capable quarterbacks and a good crew of receivers.
While Yost's responsibility is only receivers -- reducing responsibilities was the whole point after all -- he surely will inject some energy and new ideas into the offensive preparation. He also is known as a players' coach. He should have a lighter touch than Leach. This seems like a good pair -- a little of the ol' yin and yang of offensive innovators.
It's not unreasonable to project that Yost will boost his new team as much as any five-star player who signs on Wednesday.
September, 15, 2012
9/15/12
7:24
PM ET
Missouri doesn't have quarterback
James Franklin
at its disposal as the Tigers host Arizona State tonight.

Missouri coach Gary Pinkel
told ESPN's Holly Rowe
prior to kickoff that he had hoped Franklin would be able to go as the Tigers try to avoid a 1-2 start, but that he "can't play." Franklin was injured in last week's 41-20 loss to Georgia when Bulldogs linebacker
Jarvis Jones
hit his arm as it was going forward on a pass attempt.
The injury isn't anticipated to be serious, but redshirt freshman
Corbin Berkstresser
got the start when Missouri kicked off against the Sun Devils tonight. Franklin has completed 38 of 62 passes for 400 yards with three touchdowns and an interception through two games this year.
Tonight is Berkstresser's first career start. He has thrown for 60 yards and a score on 5-of-5 passing this season.
September, 10, 2011
9/10/11
11:24
AM ET
By
ESPN.com staff
| ESPN.com
TEMPE, Ariz. -- About to jump on a flight to L.A. for the USC-Utah tilt, but I wanted to give you a few more things from Arizona State-Missouri.
First of all, the biggest item of consternation in the press box was the two timeouts at the end of regulation called by Tigers coach Gary Pinkel. It felt like he was doing work for the Sun Devils, trying to ice his own kicker.
Turns out Pinkel thought 48 yards was too far for a game-winning field goal and he thought he might be able to draw the Sun Devils offsides. So ASU's discipline -- yes, discipline -- played a key role in getting the game to overtime.
Here are some quotes:
ASU QB Brock Osweiler
On how the team deals with the pressure
:
"It was a black out, it was sold out, it was a Friday night game: We could not make things easy, had to make things exciting. Our team is just relentless. We could not give up. We came onto the field tonight wearing T-shirts that said "Band of Brothers" and we firmly believe that is how this team is and how we stick together and ultimately, how we get through these hard fought games."
On satisfaction of the win:
"It is what you work for. When you are waking up at 5:30 in the morning, every morning from January to August; you are doing all the workouts, watching all the film. These are the games you are working for -- the big games to win when you are close. For us to do that tonight it is just a great feeling, but at the same time it is just one win. We have to get prepared for Illinois right away. They are a quality opponent and we have a lot more games this year that we have to be ready for."
LB Shelly Lyons
On the environment out on the field tonight
:
"It was crazy. Probably the most packed game since I have been here at ASU. It was great to have fans provide a lot of support tonight and it really helped us out especially those of us on defense. Missouri was running the hurry-up and because of the noise it took them a long time to get their plays in."
WR Jamal Miles
On feelings before the missed kick at the end of regulation
:
"For me, I had a lot going through my mind. I had one of the big turning points in the game when I dropped the punt return. I was like, 'I have to make a play.' Out there, I just did not want to lose."
On the range of emotions throughout the game
:
"There were a lot of emotions going on with me. I felt like I just had to make a play after I muffed the punt. The coaches trusted in me, they put the ball in my hands and I made everything of my opportunity."
On the first touchdown
:
"I just got open, Brock put the ball where it was supposed to be and I just made a play on it."
On seeing the black jerseys again this season
:
"I think we will see the black. It might not be all black, but we will be wearing black again."
LB Colin Parker
On the overall performance of the defense
:
"It was good at times and bad at times. We had drives extended by penalties and some things that we do not want to do. On the other hand, we had times when we were going three-and-out and playing well. There is good and bad; we have to look at the film and learn from the bad and keep doing the good."
October, 27, 2008
10/27/08
7:18
PM ET
By
ESPN.com staff
| ESPN.com
Posted by ESPN.com's Ted Miller
Tyrone Willingham was nearly fired as Washington's coach following the 2007 season, so know that the folks in power -- both inside and outside the university -- have been cogitating about who the Huskies next coach will be for some time.
School president Mark Emmert loves his football. He was chancellor at LSU when he bypassed the authority of athletic director Joe Dean, fired coach Gerry DiNardo and lured a guy by the name of Nick Saban away from Michigan State.
| | |
| --- | --- |
| | |
| | AP Photo/Elaine Thompson |
| | Washington president Mark Emmert, left, and athletic director Scott Woodward need the next Huskies football coach to revitalize the fading program. |
Remind me: Did that work out for LSU?
Emmert hung around the football team so much when things started to turn around that Tigers beat reporters dubbed him "Jerry Jones."
With Emmert's long-time right-hand man Scott Woodward recently elevated to athletic director -- think Robin to Emmert's Batman -- know that the athletic department will speak with one voice.
And that voice both wants and needs to sing an inspiring tune to the beleaguered Huskies fan base.
Two names would be sweet music to most Huskies fans: Missouri's Gary Pinkel and Seattle Seahawks assistant Jim Mora Jr.
Both have ties to Washington and legendary coach Don James. And both would be expensive.
Some might wonder why Pinkel, a finalist for the job when Rick Neuheisel was hired after the 1998 season, would leave Missouri after building it into a national power, but more than a few connected folks believe Pinkel could be in play.
Of course, the Huskies will have to substantially beat the five-year contract extension that Pinkel signed last December that guarantees him $1.85 million annually.
Mora already has been announced as the Seahawks next head coach after Mike Holmgren steps down at the end of the season, and word is he'll pocket top NFL coaching dollar, previously reported as perhaps as much as $5 million annually.
It's likely that feelers were sent out weeks ago.
But, considering that word of Willingham's forced resignation didn't leak out until Monday's press conference began, it's clear that Emmert and Woodward, both extremely media-savvy, are working very hard to keep a lid on things.
So everybody is going to trot out the usual suspects to replace Willingham:
Other Pac-10 head coaches: California's Jeff Tedford and Oregon State's Mike Riley.
Respected mid-major head coaches: Boise State's Chris Petersen, Fresno State's Pat Hill, Tulsa's Todd Graham, Utah's Kyle Whittingham and TCU's Gary Patterson.
Hot coordinators: Texas' defensive coordinator Will Muschamp (who was LSU's defensive coordinator when Emmert was at LSU), Missouri offensive coordinator Dave Christensen and USC OC Steve Sarkisian.
It's also probably worth it to toss former Oakland Raiders head coach and USC assistant Lane Kiffin's name into the mix.
The general feeling is Emmert and the moneyed friends of the program will be willing to put together a hefty contract for the right guy.
The need to immediately generate positive momentum suggests they will be looking for a name that makes a splash, which means a salary between $2 and $3 million a year. Maybe even more, considering the high cost of living in Seattle.
Worrying about a "splash" might seem superficial -- just hire the right guy -- but it's not. This is a critical juncture for the Huskies. It's not just about restoring the fading tradition of winning, which could take a few years due to poor recruiting from Willingham.
The next coach will need to inspire a sagging fan base during an economic downturn to invest in a massive and necessary renovation of Husky Stadium.
The city of Seattle also needs something to get excited about.
With the Sonics bolting for Oklahoma City, the Mariners in disarray and the Seahawks sagging even in the milquetoast NFC West, Seattle is hungry for some good sports news.
The Huskies used to be the team that most reliably carried the winning banner, and they were always the team that generated the most passion -- and that includes hate coming from the city's Washington State minority.
Husky Stadium use to be one of the nation's most feared venues. Under Willingham, the Huskies have lost 13 of their last 15 home games.
In recent years, it wasn't just that Huskies fans felt frustration and even anger over the downturn. It was that some were turning away from the program.
The next Huskies coach needs to immediately inspire hope. And then he needs to win.
October, 21, 2008
10/21/08
9:10
PM ET
By
ESPN.com staff
| ESPN.com
Posted by ESPN.com's Ted Miller
First, let me give credit to Will from Central Oregon for pointing out the Sagarin schedule ratings that launched my post about Pac-10 scheduling.
Second, this is an interesting piece on the same issue.
To the bag....
Ben from Berkeley, Calif, writes: Another fact you don't mention (but strengthens your argument) is the extra conference game that the Pac 10 plays. This guarantees half the conference an extra loss and hurts their relative strength of schedule when you compare what the Big 12 or SEC do with that extra "weak" (ie, beat up on the Texas Art Institute for Recovering Drug Addicts... ). While I do believe the round robin is the most fair way to determine a champion, it does hurt the conferences teams compared to the other leagues with championship games and/or unbalanced schedules.
Ted Miller: A great point Ben, one that many offered. When the NCAA added the 12th game, only the Pac-10 made it a conference game. All other conferences opted to use it to grab an easy nonconference win. So that automatically means five more losses in the Pac-10, which factors into strength of schedule within the BCS standings. Meanwhile, in other conferences, you get situations like Kansas last year, when the Jayhawks got to claim they played in the rugged Big 12 but they didn't play Texas or Oklahoma. Or what about LSU "winning" the SEC last year without playing Georgia. Or, for a Pac-10 example before the round-robin format was adopted, Oregon not playing USC while the Trojans rolled to consecutive national titles in 2003 and 2004.
---
Frank from Redding, Calif., writes: Do you think Jeff Tedford will be on the hot seat this year as once again we are failing to meet expectations? Cal has the talent, but seems to be outcoached and outplayed by inferior teams.
Brett from Washington DC, writes: Ted, Why do you think Cal never lives up to its potential? I mean, 2004 looked like the breakout season for the Tedford era, where we would finally compete regularly with U$C, but each subsequent season has been a disappointment in one way or another. Last year obviously being the biggest. Why can't we go from a team that belongs on other teams Upset Alert list to an elite team in the country?
Jay from Berkeley writes: How detrimental do you think Jeff Tedford is to Cal football? He receives so much praise, yet his teams never seem to achieve to the level of their talent... What do you think of his decision to start Nate Longshore over Kevin Riley with Riley coming off of a 42-7 win, and then staying with Longshore after he characteristically caused the offense to sputter in the 2nd half 2 weeks ago against Arizona State? Wasn't his meager performance against Arizona this week predictable?
Ted Miller: Gahhhhhh!
Who stole Berkeley and made it into Clemson?
I just don't get this stuff. "Hot seat" for Tedford? "Never lives up to its potential?" Tedford as "detrimental?"
If you guys keep writing this stuff, I'm going to climb a tree outside your window and refuse to leave. And I'll play sitar music. Endlessly.
Hey, Washington fans, are you listening? Looks like a program wants to commit hari kari -- any interest in this lousy coach Jeff Tedford?
Has Cal had some bad moments with Tedford over the past few years? Yes. Have there been moments when he's opened himself up to fair criticism? Sure. Is his handling of the QB situation debatable? Without a doubt.
He's not perfect. But he's perfect for Cal.
Go to the bathroom. Flush the toilet.
That's my sound effect for the Bears if you run Tedford off.
October, 16, 2008
10/16/08
1:15
PM ET
By
ESPN.com staff
| ESPN.com
Posted by ESPN.com's Ted Miller

What can you say about a winless team that almost certainly will fire its head coach by season's end, at the latest?
The fan base, split over coach Tyrone Willingham following the 2007 season, is now almost entirely unified behind his ouster. The Huskies have been terrible on both sides of the ball, but the defense has been particularly awful, ranking 118th in the nation in total defense (495.4 yards per game) and 116th in scoring (42 points per game).
The schedule has been brutal -- Oklahoma and BYU offering a pair of top-10 nonconference foes -- and losing quarterback Jake Locker likely for the season to a thumb injury seemed to quash any reasonable hope for a surge once the competition eased.
A 34-point loss at Arizona suggested that the gas may be out of the tank, and the Huskies and Willingham are just playing out the string.
Offensive MVP: Locker hasn't been terribly good this year, but that's largely a function of his green and mediocre supporting cast due to poor recent recruiting. Before getting injured while throwing a block against Stanford, he had rushed for 180 yards and three touchdowns and passed for 512 yards and a touchdown with no interceptions.
Defensive MVP: It's hard to pick an MVP on one of the nation's worst defenses, but defensive lineman Daniel Te'o-Nesheim, a three-year starter, has been more a part of a potential solution than the problem. He's fourth on the team with 27 tackles and leads the Huskies with 4.5 tackles for loss. He also has the defense's only three sacks of the season.
What's next: What's next is probably a lot of losses and then an Apple Cup against equally beleaguered Washington State in a game that will be a national punchline.
Then there will be a search for a new coach, with the fan base hoping for a big name home run, such as Missouri's Gary Pinkel or California's Jeff Tedford, which won't happen.
October, 13, 2008
10/13/08
2:30
PM ET
By
ESPN.com staff
| ESPN.com
Posted by ESPN.com's Ted Miller
These are "Happy Midseason!" Links. Or unhappy, depending on your team.