March, 1, 2011
3/01/11
3:09
PM ET
By
ESPN.com staff
| ESPN.com
Arizona State has signed two receivers who will be added to a 2011 signing class that now includes 18 players:
Karl Holmes
of Muir High School in Pasadena, Calif., and
Rashad Ross
of Butte College (Calif.).
You can read their
bios here
. And the Sun Devils' 2011
class is here
.
While neither obviously is an elite recruit, it seems clear that coach Dennis Erickson felt the Sun Devils need to bolster their depth at the position.
While ASU only loses
Kerry Taylor
, who led the team with 54 receptions, from its 2010 receiving corps, the Nos. 2, 3, 4 and 5 receivers --
Mike Willie
,
T.J. Simpson
,
Gerell Robinson
and
Aaron Pflugrad
-- as well as
George Bell
are seniors in 2011.
July, 27, 2010
7/27/10
1:30
PM ET
By
ESPN.com staff
| ESPN.com
Receiver is a difficult position to evaluate this year. Just about every team has a solid (or better) lead receiver back and some intriguing, but inexperienced, talent around him. But, other than Washington, no team should feel completely secure.
There is, however, a lot of potential at the position. Many of the names below who appear as secondary options could end up competing for All-Pac-10 spots.
Note: Tight ends and running backs don't count here.
Great shape
Washington: The Huskies entire two-deep is back, topped by second-team All-Pac-10 pick Jermaine Kearse and Devin Aguilar, who ranked seventh in the conference in receiving yards per game in 2009. James Johnson was probably the best freshman receiver in the conference last year.
Good shape
[+] Enlarge

AP Photo/Ben MargotOregon State's James Rodgers caught 91 passes for 1,034 yards and nine TDs last year.
We'll see
California: The Bears only lose No. 2 WR Verran Tucker and the underwhelming Nyan Boateng, but, other than Marvin Jones, they didn't get much production here in 2009.

Arizona State: The Sun Devils lost their top-two WRs, but the cupboard isn't empty, with Oregon transfer Aaron Pflugrad, who would have started for the Ducks in 2009, and JC transfer George Bell, Gerell Robinson, Jamal Miles and Kerry Taylor. Still, it's not a proven group.

Washington State: The Cougars went through spring with just four scholarship receivers, a crew topped by Jared Karstetter and Gino Simone. The incoming recruiting class features five receivers, and at least a couple will get on the field. The Cougars are OK here but they did rank last in the conference in passing in 2009.
May, 17, 2010
5/17/10
5:16
PM ET
By
ESPN.com staff
| ESPN.com
Arizona State's Toa Tuitea, a sophomore defensive tackle, has been named the Sun Devils' "Hard Hat Program Champion," which recognizes his work in the football program's strength and conditioning program.
He topped a list of 48 Sun Devils who were honored.
A news release from the school said the "Hard Hat Program was created to reward those individuals who do what's right in the weight room even when no one is looking ... a Hard Hat Player is someone who is self-motivated, a competitor, committed to personal and team excellence, dependable, accountable, disciplined and most importantly, puts the team first."
To become a Hard Hat Player, a player has to achieve a certain point total during winter workouts. He earns points based on his effort for strength training, speed development and conditioning sessions. They are also awarded points for competitive events and performing extra workouts in the "Blitz Package Program." Each athlete is evaluated after every workout by the sports performance staff with input from an athlete's position coach when applicable.
The list of the honored includes:
Corey Adams
, Derrall Anderson, George Bell, Omar Bolden,
Jarrid Bryant
, Mike Callaghan, Jonathan Clark, Chris Coyle, Dean DeLeone, Eddie Elder,
Steven Figueroa
, Evan Finkenberg, Clint Floyd, Garth Gerhart, Lawrence Guy, Jon Hargis,
J.J. Holliday
, Matt Hustad, Osahon Irabor, Patrick Jamison, Keelan Johnson,
Brandon Johnson
, Anthony Jones, Kyle Johnson,
Cameron Kastl
, Ronald Kennedy,
Dan Knapp
,
Trevor Kohl
,
LeQuan Lewis
, Shelly Lyons,
Cameron Marshall
, Shane McCullen,
Jamal Miles
, Bo Moos,
James Morrison
, Gerald Munns,
Brock Osweiler
,
Aaron Pflugrad
,
Cole Rarrick
,
Jamarr Robinson
, Andrew Sampson, Zach Schlink,
Max Smith
, Adam Tello,
Steven Threet
,
Matthew Tucker
and Thomas Weber.
Starters or key contributors who didn't make the list (for whatever reason, including injury or excused absence) include: linebacker Vontaze Burfict, receiver
Gerell Robinson
, receiver
Kerry Taylor
, defensive end James Brooks, defensive tackle Williams Sutton, defensive tackle Saia Falahola, defensive end Greg Smith and linebacker Brandon Magee.
May, 7, 2010
5/07/10
10:00
AM ET
By
ESPN.com staff
| ESPN.com
Arizona State

2009 overall record
: 4-8
2009 conference record
: 2-7 (ninth)
Returning starters
Offense: 3, Defense: 4, punter/kicker: 2
Top returners
: K Thomas Weber, DT Lawrence Guy, LB Vontaze Burfict, DE James Brooks
Key losses
: WR Kyle Williams, WR Chris McGaha, RB Dimitri Nance, OT Shawn Lauvao, DE Dexter Davis, LB Travis Goethel, LB Mike Nixon
2009 statistical leaders (*returning starter)
Rushing
: Dimitri Nance (795)
Passing
:
Danny Sullivan
(1,939)
Receiving
: Kyle Williams (815)
Tackles
: Mike Nixon (73)
Sacks
: Lawrence Guy* (4.5)
Interceptions
: Mike Nixon, Jarrell Holman, Ryan McFoy (3)
Spring Answers
1. Help at receiver
: Even though the Sun Devils lost their top two receivers, Kyle Williams and Chris McGaha, the position appears fairly solid, particularly with Oregon transfer
Aaron Pflugrad
, who would have started for the Ducks in 2009, and JC transfer George Bell performing well this spring.
2.
Em-Bolden
: Cornerback Omar Bolden looked like the budding star he was supposed to be as a true freshman, but he struggled mightily as a sophomore and then missed 2009 with a knee injury. Entering spring, there were questions about whether he could regain a starting spot. No longer. Bolden may have turned in his best work yet this spring and should be a leader in the secondary.
3.
For the defense
: The Sun Devils lost seven starters from their outstanding 2009 defense, but they may be even better this fall. There's lots of speed and young players who excelled in 2009, most particularly linebacker Vontaze Burfict, had a year of seasoning in which to mature and refine their game.
Fall questions
1. Who's the QB
? Before spring, many expected Michigan transfer
Steven Threet
to win the job. At the end of spring, sophomore
Brock Osweiler
instead emerged as the leader. In the fall,
Samson Szakacsy
rejoins the competition after sitting out spring drills, hopefully with a healthy arm. All three are capable, so there may be a few more plot twists before this one is resolved.
2.
What about the O-line (again!)?
The Sun Devils were already replacing two starters on the O-line when veteran guard Jon Hargis injured his knee, ending his 2010 season before it began, so there are lots of questions. For instance, will Zach Schlink and Matt Hustad be available? Both are talented but have been riddled with knee problems. And: Are JC transfer Brice Schwab and redshirt freshman Evan Finkenberg ready for Pac-10 play? Both are slated to start at tackle. It doesn't matter who plays QB if the O-line can't get the job done.
3.
What about maturity
? Sure, there's loads of talent on defense, but look at the sorts of guys who graduated: end Dexter Davis and linebackers Mike Nixon and Travis Goethel. Each were smart, savvy players and strong locker room guys. In other words, leaders. It's unclear who will fill their shoes. Even with those guys, the Sun Devils had over 1,000 yards in penalties last year -- 200 more than any other conference team. Smarter, more disciplined play might make a difference in close games.
March, 31, 2010
3/31/10
2:39
PM ET
By
ESPN.com staff
| ESPN.com
TEMPE, Ariz. -- So how did quarterback
Steven Threet
end up at Arizona State?
"You want the long story or the short story?" Threet replies.
The short story: Threet signed with Georgia Tech out of Adrian (Mich.) High School but opted to transfer to Michigan when the Yellow Jackets changed offensive coordinators. Then the Wolverines changed head coaches and offenses from a pro-style scheme to a spread-option under Rich Rodriguez, which didn't fit the 6-foot-5, 237-pounder's style in the least.
[+] Enlarge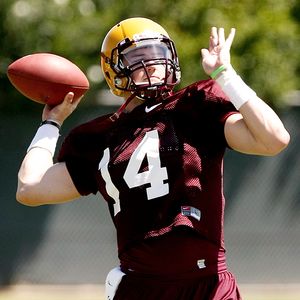 Rick Scuteri/US PresswireSteven Threet hopes to win the Sun Devils' starting quarterback job.
D'oh.
The Sun Devils also have changed offensive coordinators since Threet arrived, but no matter. He's hopeful that three times -- and programs -- is the charm.
"I'm comfortable with this offense," he said.
Threet, now a junior, and true sophomore
Brock Osweiler
will be competing this spring to take the reins of an offense that can only get better in large part because it was mostly lousy in 2009, averaging just 18 points per game against BCS conference foes.
Osweiler (6-foot-8, 245 pounds) played in six games and started one -- an ill-fated, blowout loss at Oregon -- completing 43.6 percent of his passes for 249 yards with two touchdowns and two interceptions.
Threet started eight games at Michigan in 2008, completing 51 percent of his throws for 1,105 yards with nine touchdowns and seven interceptions. He also rushed for 201 yards and two scores, so he's not a complete stiff in the pocket.
Both guys have some experience, but neither was anything close to lights out. Both have talent. Both have leadership skills. Both are tall.
And it's a straight-up competition with no leader at this point, at least officially. Coach Dennis Erickson said he flipped a coin to decide who would get the first snaps with the No. 1 offense when spring practices started Tuesday. Threet
won the toss
, by the way.
"Steven has experience playing in games, and Brock has a lot of physical talent," Erickson said. "So we're going to give them both a fair shot and see what transpires."
Erickson said he's looking for accuracy and good decision making in the Sun Devils' "new" spread offense, which will be run by new coordinator Noel Mazzone.
"New" in quotes mostly means that the scheme looks a lot like what Erickson did in the past when his offenses were humming -- spread the field with four receivers and control the game's tempo.
"The guy who wins the job is the guy who manages what we do offensively," Mazzone said. "You can't be just a flash player and be a good quarterback. The, 'Oh, man, he's got a strong arm -- did you see him throw that one deep?' So what? Can a guy move the football, keep us out of bad situations with down and distance and protect the football?"
February, 4, 2010
2/04/10
11:18
AM ET
By
ESPN.com staff
| ESPN.com
Arizona State's recruiting
class of 26
was about filling "needs," said coach Dennis Erickson, which is why five of the six junior college transfers will play on offense and 15 of the signees come from that side of the ball.
The Sun Devils defense broke through last fall, but the offense struggled -- again --and lost seven starters. The class includes five receivers and three running backs, and it's almost certain at least a couple will be in the rotation in the fall.
Top prospects:
You can probably pencil in
Brice Schwab
as a starting offensive tackle. Erickson called the 6-foot-8, 320 pounder "the best junior college offense lineman that I saw." Offensive guard
Chris De Armas
also could break through. The Sun Devils needed a tight end and
Josh Fulton
is a good one, though he is recovering from shoulder surgery. Safety
Eddie Elder
was signed to compete immediately for playing time. Erickson said receiver
George Bell
"could be special."
Under the radar
: Erickson compared receiver
Michael Willie
to T. J. Houshmandzadeh, whom he coached at Oregon State. He called cornerback
Alden Darby
a "sleeper." Erickson compared the class' lone quarterback,
Taylor Kelly
, to Jake Plummer.
Issues
: The class was generally ranked in the bottom half of the Pac-10. And the influx of junior college players might send up a red flag to some. It's a little surprising Erickson wasn't able to sign a couple of highly rated skill position players, considering the immediate opportunity to play.
Notes:
Two key players not listed in the class are transfers: quarterback
Steven Threet
(Michigan) and
Aaron Pflugrad
(Oregon). Both could be starters in the fall ... Erickson said
Joita Te'i
and
Calvin Tonga
will start out on the defensive line but could end up as offensive linemen ... The class features players from five states.