March, 12, 2014
Mar 12
12:00
PM ET
LOS ANGELES -- Through a crush of digital cameras and recorders, new USC head coach Steve Sarkisian was given the requisite initial questions following his first official practice as USC's head coach.
"What's it like being back?"
"How was the walk onto the practice field?"
"What's it like coaching some of the guys you recruited at Washington?"
Yada, yada, yada.
It didn't take long, however, for the queries to turn to the quarterbacks. Much like last season, anytime USC has a quarterback competition it's going to be in the national spotlight. For now, save the cards -- score, report or otherwise -- because to speculate on the quarterbacks after one practice barely scratches the surface of superficial. Particularly since, as Sarkisian noted, "we were practicing in our underwear."
[+] Enlarge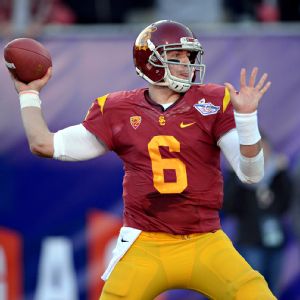 Kirby Lee/USA TODAY SportsCody Kessler led USC to 10 wins last season, but his status as starting quarterback is not guaranteed.
To be clear, the Trojans wore shorts and helmets. But the lingering question throughout spring and into the fall will be whether
Cody Kessler
will retain his starting job, or give way to
Max Browne
.
Neither quarterback seemed particularly thrilled to be talking about a competition on Day 1.
"I'm just trying to get better every practice," Kessler said. "I'm going to keep working. I've been competing my whole life. And even if (there wasn't a competition) I'd keep competing. It is what it is and I'm just going to keep trying to get better."
At first glance, the assumption is that Kessler has the inside edge given his experience. Last season he completed 236 of 361 passes for 2,968 yards with 20 touchdowns to seven interceptions. He posted a raw QBR of 59.7 with an adjusted QBR of 66.7 in guiding the Trojans to a 10-4 record and a victory in the Las Vegas Bowl, where he was named the game's MVP.
"I thought they both did some good stuff," Sarkisian said. "They both had some moments they'd love to have back. We have to look at the film. We're moving at a pretty fast clip out there, and you're trying to assess everything at once, and it's hard to do that. There's plenty of stuff for both of them to learn from."
Then again,
Max Wittek
had more experience than Kessler heading into spring last season. So as far as Browne is concerned, it's wide open.
"Since the day I got here we've all competed each and every day," said Browne, who redshirted last season. "My mindset hasn't changed. Even last year when it was a Week 7 game and I knew I was redshirting, I was still competing ... It's no secret he led us to 10 wins last year. We had a lot of success. But we're both going to come out and compete each and every day and see where the chips fall."
Max in the middle
Those in attendance for the open practice might have noticed big No. 75 playing center. You might recall that
Max Tuerk
spent about a week at center last spring but couldn't quite get the quarterback-center exchange figured out -- mostly because Tuerk's arms are so long.
But with
Marcus Martin
departing -- and the new scheme being installed by Sarkisian working almost exclusively out of the shotgun -- the versatile Tuerk could be the primary guy in the middle.
"We didn't snap any over the quarterback's head," Sarkisian said. "So knock on wood. And there were no grounders. That was the first thing I was concerned about coming out today."
Tuerk is obviously a fan of the shotgun. As a consummate team player, he's happy going wherever the team needs him, as he started 13 games at left guard and one game at right tackle last season. In his freshman season he started five at left tackle.
"He could probably play three different positions," Sarkisian said. "We have to see how we evolve. At some point we'll get
Aundrey Walker
back and
Zach Banner
and
Jordan Simmons
. We have some versatility on this front. But it is comforting to know you have an experienced player at center when you are operating at this pace."
Speaking of pace
The hot buzz word at practice was "tempo" because of the fast-paced offense that Sarkisian is installing. The Trojans ran approximately 120 offensive plays with little time to rest in between.
The upside is that the pace boosts conditioning and gets the Trojans more prepared for a game situation. The downside is it doesn't allow for much in-practice instruction.
"If you make a mistake, you're glad you're going right back," Browne said. "If you throw a touchdown, like I did today to
George Katrib
, you don't get to time to celebrate either. It works both ways. But it allows you to get into a rhythm. You can dink-and-dunk your way down the field and never really get time to breathe."
April, 16, 2013
4/16/13
12:00
PM ET
Lane Kiffin and Co. have released their official post-spring two-deep depth chart. And not surprisingly, there aren't a lot of surprises.
One of the most watched quarterback competitions in the country lists
Max Wittek
OR
Cody Kessler
OR Max Browne. Leaving us with what we knew a month ago. It's going to be Wittek OR Kessler OR Browne.

Steve Bisheff of WeAreSC
makes his case
-- and a compelling one at that -- for Kessler, who clearly had the strongest spring of all three quarterbacks.
Despite Kessler's clear advantage coming into the (spring) game, Kiffin had Max Wittek starting with the first unit at the Coliseum on Saturday. And even after Kessler outplayed his main competitor, throwing for 242 yards and three touchdowns with no interceptions compared to Wittek's 145 yards, two touchdowns and two interceptions, Kiffin insisted that no quarterback had emerged as a front-runner for the position and that he won't name a starter until the fall.
Sticking with the offense, there was already an assumed pecking order at wide receiver, but it's more solidified now. Darreus Rogers and
Victor Blackwell
are behind Biletnikoff winner
Marqise Lee
.
Nelson Agholor
will start opposite Lee with
De'Von Flournoy
and
George Katrib
backing him up.
Some intrigue at running back with
Silas Redd
at the top, but the starting gig is listed as Redd or Justin Davis or
Tre Madden
. Same for the fullback, which lists
Soma Vainuku
or
Jahleel Pinner
as the starter.
So while the entire offensive backfield is a grab bag of "ors," there is at least some solidarity on the offensive line, where four of the five starters appear to be in place.
Aundrey Walker
and
Max Tuerk
make up the left side with
Marcus Martin
at center and
John Martinez
at right guard. The only spot still in doubt is at right tackle between
Kevin Graf
or
Chad Wheeler
.
The new-look 52 defensive front has
Devon Kennard
and
Morgan Breslin
at the outside linebacker spots (that's going to be a scary combination, by the way) with
Leonard Williams
and
George Uko
(also a darn good tandem) at the ends. Nose tackle is still up for grabs between
Antwaun Woods
or
Cody Temple
.
In the secondary, where there are almost as many holes as there are questions -- little has been determined. Three of the four starting spots have an "or" attached to them. Only
Anthony Brown
looks like the inked-in starter.
Torin Harris
and
Kevon Seymour
are battling for the other corner spot and
Demetrius Wright
or Leon McQuay III are battling for free safety.
Josh Shaw
and touted freshman Su'a Cravens -- who missed a significant portion of spring drills -- will head into fall battling for strong safety.