December, 17, 2009
12/17/09
2:16
PM ET
By
ESPN.com staff
| ESPN.com
Stanford running back
Toby Gerhart
was a unanimous pick for first-team All-American while UCLA kicker Kai Forbath was a consensus All-American.
Here's the list as it will appear in the 2010 NCAA Football Records.
Offense
WR --
Jordan Shipley
, Texas, 6-0, 190, Senior
WR -- *
Golden Tate
, Notre Dame, 5-11, 195, Junior
TE --
Dennis Pitta
, BYU, 6-5, 247, Senior
OL -- Mike Iupati, Idaho, 6-6, 330, Senior
OL -- Mike Johnson, Alabama, 6-6, 305, Senior
OL -- *Russell Okung, Oklahoma St., 6-5, 300, Senior
OL -- Trent Williams, Oklahoma, 6-5, 318, Senior
C -- Maurkice Pouncey, Florida, 6-5, 318, Junior
QB -- *Colt McCoy, Texas, 6-2, 210, Senior
RB -- *Toby Gerhart, Stanford, 6-1, 235, Senior
RB -- *
Mark Ingram
, Alabama, 5-10, 215, Sophomore
PK -- Kai Forbath, UCLA, 6-0, 192, Junior
Returner/All-Purpose -- *
C.J. Spiller
, Clemson, 5-11, 195
Defense
DL -- Terrence Cody, Alabama, 6-5, 365, Senior
DL -- *Jerry Hughes, TCU, 6-3, 257, Senior
DL -- Gerald McCoy, Oklahoma, 6-4, 297, Junior
DL -- *Ndamukong Suh, Nebraska, 6-4, 300, Senior
LB -- Greg Jones, Michigan St., 6-1, 228, Junior
LB -- *Rolando McClain, Alabama, 6-4, 258, Junior
LB -- Brandon Spikes, Florida, 6-3, 258, Senior
DB -- Javier Arenas, Alabama, 5-9, 198, Senior
DB -- *Eric Berry, Tennessee, 5-11, 203, Junior
DB -- *Joe Haden, Florida, 5-11, 190, Junior
DB -- Earl Thomas, Texas, 5-10, 197, Sophomore
P -- *Drew Butler, Georgia, 6-2, 203, Sophomore
* Indicates unanimous first team selection; Bold indicates consensus repeater from 2008
Here's an explanation of how the list was compiled from Jeff Williams, the NCAA's Assistant Director of Statistics:
The players listed had the highest number of points competing against players at that position only. A points system was used for the selections of the All-America team (three points for first team, two points for second team and one point for third team). Twelve players were unanimous choices by the five organizations used in the consensus chart -- American Football Coaches Association (First Team), Associated Press (First, Second and Third Teams), Football Writers Association of America (First Team), The Sporting News (First, Second and Third Teams) and Walter Camp Foundation (First and Second Teams). Note: Each of the five teams has a different way of listing the returner or all-purpose player. For the purpose of the Consensus All-America team those categories were treated as one position.
November, 29, 2009
11/29/09
12:09
AM ET
By
ESPN.com staff
| ESPN.com
Toby Gerhart: Strike a pose?
In perhaps the most impressive Heisman Trophy statement of the season, Toby Gerhart rushed for 205 yards on 29 caries, scoring three rushing touchdowns and passing 18 yards for another in Stanford's thrilling 45-38 comeback win over Notre Dame.
Gerhart -- oh, he also caught a pass for 33 yards -- was simply a beast, repeatedly punishing the Notre Dame defense. He never went down on first contact, and it's certain that more than a handful of Fighting Irish defenders are going to be worse for wear Sunday morning.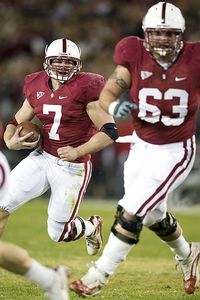 Jason O. Watson/US PresswireStanford's Toby Gerhart rushed for 205 yards and three touchdowns against Notre Dame. He also threw for a touchdown.
This was Notre Dame's fourth consecutive defeat, so the program already was hurting. The Irish finish the season 6-6, with all six loses coming by seven or fewer points. Coach Charlie Weis is almost certainly going to be looking for work this winter.
But this one was about Gerhart and Stanford, which finishes the season 8-4 and will be heading to its first bowl game since 2001. The Cardinal, by the way, went 1-11 in 2006, the season before coach Jim Harbaugh arrived.
Notre Dame took a 14-10 lead in the first quarter and didn't trail until Gerhart's final TD run with a minute left -- a run in which the Irish appeared to let him score in order to get the ball back.
The Irish drove to the Stanford 24, but couldn't punch in a tying TD.
For much of the game, the offenses dominated the opposing defenses. Notre Dame countered Gerhart with Jimmy Clausen and Golden Tate, a pass-catch combination that had the Cardinal secondary on its heels. Clausen completed 23 of 30 passes for 340 yards with five touchdowns and no interceptions. Tate hauled in 10 passes for 201 yards and three touchdowns.
But the Cardinal defense got the game's critical stop with six minutes left. On a third-and-2 from the Irish 35, running back Robert Hughes was stopped for no gain.
Stanford took over. Or Gerhart took over. He rushed seven times for 54 yards on the 10-play, 72-yard game-winning drive, treating the Irish defenders like they were pinball bumpers.
At this point, it's impossible to imagine that Gerhart won't be invited to New York for the Heisman Trophy ceremony. This performance, however, may have made this a two-man contest with Texas quarterback Colt McCoy, though a couple of fellows playing in the SEC championship game on Dec. 5 might make their own counter-statement.
Gerhart has rushed for 1,736 yards this season -- 144.67 yards per game. His 26 rushing touchdowns lead the nation and are a new Pac-10 record.
Moreover, in an age when speed kills, Gerhart reminds us that sometimes power ain't much fun to stop either. Not that Gerhart is slow. He hates it when folks doubt his speed, and we don't want to get on his bad side.
He's a hard man. Some defenders might swear he's made of bronze.
November, 25, 2009
11/25/09
1:16
PM ET
By
ESPN.com staff
| ESPN.com
Stanford coach Jim Harbaugh was greeted this week with questions about his coaching philosophy, the architectural plan he used to reconstruct the Cardinal football program and a couple of Rorschach
ink blots
intended to evoke the deep Harbaughian essence.
[+] Enlarge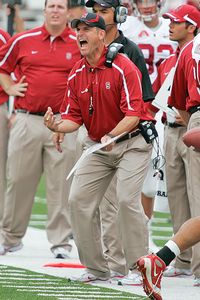 Steve Conner/Icon SMICoach Jim Harbaugh maintains he's not interested in leaving Stanford to coach elsewhere.
"That's one of those deep, probing questions," he responded to an inquiry about his coaching influences. "I'm just a coach trying to win a game."
It's not surprising reporters tried to tap into the Mind of Harbaugh this week. His Cardinal are playing host to Notre Dame on Saturday, and you may have heard that
lots of intrigue
surround the Fighting Irish and coach Charlie Weis at present.
As in: Most believe Notre Dame will be shortly looking for a new coach.
Some feel that Harbaugh might be a candidate, though Harbaugh has pooh-poohed such talk
as only he can
, telling the San Jose Mercury News this week, "I love Stanford, I'm only talking Stanford, and I will be at Stanford. God willing."
It's also not the best moment for Harbaugh during this mostly charmed season. A week ago, Stanford was the nation's hottest team after dispatching Oregon and USC on consecutive weekends. Then it lost the Big Game to resurgent California, taking a thorough
statistical beating
even though it only lost 34-28.
That dispiriting loss, which knocked the Cardinal out of the national polls and down a notch in the Pac-10 standings, did allow Harbaugh to share with reporters a behind-the-scenes look at his life.
He told of getting into his car with his family after the defeat and his son turning to his young daughter and saying, "Grace, you're only as good as your last game."
Ah, the life of a college football coach. They love you one week. Not so much the next.
But Harbaugh and his Cardinal can bounce back Saturday against the sagging Irish, who are riding a three-game losing streak that likely cut the thin rope tethering Weis to employment in South Bend.
Stanford (7-4, 6-3) is done with Pac-10 play. It will end up either second or third in the conference standings -- most likely in a tie for either spot. It already has qualified for its first bowl game since 2001. A win would just make it more appealing to bowl selectors as well as a national audience.
This one should feature some offense. Notre Dame has quarterback
Jimmy Clausen
and receiver
Golden Tate
, who may feast on a Cardinal secondary that ranks eighth in the Pac-10 in pass efficiency defense.
Stanford counters with Heisman Trophy candidate
Toby Gerhart
, who should secure at least an invitation to New York with an impressive performance. Gerhart leads the nation with 23 rushing touchdowns and is third in rushing with 139.18 yards per game.
Notre Dame ranks 80th in the nation against the run.
While Weis' goose is likely cooked, Harbaugh knows what he needs to do to restore the momentum of his rebuilding project.
"We know we've got to rise again, rise from that adversity," Harbaugh said. "This team has risen from adversity before."
PAC-12 SCOREBOARD
Saturday, 12/20
Monday, 12/22
Tuesday, 12/23
Wednesday, 12/24
Friday, 12/26
Saturday, 12/27
Monday, 12/29
Tuesday, 12/30
Wednesday, 12/31
Thursday, 1/1
Friday, 1/2
Saturday, 1/3
Sunday, 1/4
Monday, 1/12
Tweets from https://twitter.com/ESPNCFB/lists/pac12