April, 6, 2012
4/06/12
12:00
PM ET
Points, points, points. This is the Pac-12 after all, where offense rules. Last season, five Pac-12 teams ranked in the top 30 in scoring average. Others, however, weren't as explosive. Colorado (12th in the conference/109th nationally), Oregon State (11/100), UCLA (10/88) and Utah (9/tied for 74th) all had trouble consistently finding pay dirt. So this week we're looking at which of these four teams has the best chance to show significant offensive improvement.
Ted Miller
: Oregon State's offense was bad last year. That's the obvious bad news. More obvious bad news: It was bad for a fundamental reason: It couldn't run the ball, ranking 118th in the nation with just 86.9 yards per game. The end result was an offense that ranked 11th in the Pac-12 in scoring (21.8 points per game) and 10th in total offense (373.7 yards per game). And while we're being party poopers, why not note there are only eight healthy offensive linemen this spring, which makes it impossible to field a full second team?
Ah, but we come not to bury the Beavers, but to praise them! This half of the Pac-12 blog is providing Oregon State fans an iron-clad guarantee: The Beavers' offense will be better in 2012. Perhaps much better. And that's why we believe they will win enough to earn a bowl berth after consecutive seasons at home during the postseason.
[+] Enlarge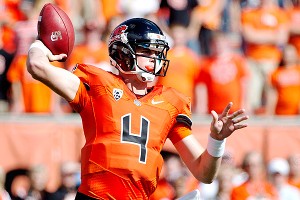 Jim Z. Rider/US PRESSWIREOregon State quarterback Sean Mannion should see some improvement in his supporting cast as he enters his sophomore season.
Why? Let's start in the cockpit with quarterback
Sean Mannion
, who won the starting job as a freshman over returning starter Ryan Katz, only to discover THE NEW CAR! he'd been given the keys to was a Pinto. With little support from a running game to keep defenses honest, Mannion threw a lot but not always successfully, ranking ninth in the conference in passing efficiency with 16 touchdowns and 18 interceptions. But two numbers are notable: First, he completed 64.5 percent of his passes and was sacked just 27 times in 473 attempts. That suggests two things. Mannion is both accurate and has good pocket presence. Accurate? That completion percentage ranked fifth in the conference, ahead of Oregon's
Darron Thomas
and Arizona State's
Brock Osweiler
. As for pocket presence, the Beavers ranked fifth in the conference in sacks surrendered despite ranking third in pass attempts. And that was with no running game.
Mannion's supporting cast at receiver is strong. Three of the top four receivers are back, including
Markus Wheaton
and speedy flanker
Brandin Cooks
. And essentially the entire cast at running back is back.
So, really, it comes down to the offensive line, where three starters are back, not including tackle
Michael Philipp
, a 2010 starter who is trying to get a once-promising career back on track. Don't expect to hear glowing reports this spring. Tackle
Colin Kelly
and guard
Grant Enger
, both returning starters, are out with injuries, so there's a lack of bodies. But in the fall they should be healthy just as a pair of intriguing reinforcements arrive: touted freshman
Isaac Seumalo
, rated the No. 19 overall player in the nation in 2012 by ESPN Recruiting, and junior-college transfer Stan Hasiak, who saw plenty of action during his tumultuous time at UCLA. Both are potential – even likely -- starters.
Mannion flashed plenty of potential in 2011. He will be far more seasoned in 2012. The offensive line will be better, too, which means at least a mediocre running game to keep defenses from pinning their ears back and going after the quarterback.
In other words, the Beavers offense will be much improved overall in 2012. Now ... about that defense ...
Kevin Gemmell
: I'm glad you brought up Osweiler, because he's somewhat pertinent to the team I'm picking to improve offensively -- UCLA.
All together now: "Ding, dong, the pistol is dead." And not a half-snap too soon. Time to make way for the shotgun.
To see where the Bruins are headed on offense, you need only to look back at what Osweiler did the past two seasons with the Sun Devils -- specifically what he was able to do with Noel Mazzone running the show.
Now Mazzone is new coach Jim Mora's offensive coordinator at UCLA. I know there is a multi-quarterback competition in the works. That certainly will have some bearing. But even so, it's almost impossible for the Bruins not improve on last year's 23.1-ppg scoring average with this time-tested offense.
Consider the Sun Devils of 2009, pre-Mazzone: 90th in total offense (334.4 yards per game) and 91st in scoring average (22.3 points per game). Now, look at Mazzone's first season in 2010: 29th in total offense (425.6) and 28th in scoring average (32.2). Last year: 25th in total offense (445.8) and 28th in scoring offense (33.2).
Translation: The guy knows how to move the ball and create points.
I talked earlier this week
with
Brett Hundley
, one of those quarterbacks in the hunt for the starting gig, he says this offense is much simpler and allows the quarterback to play more quickly and think less. Makes sense. And whoever wins the gig will have an experienced running back in
Johnathan Franklin
beside him. The fifth-year senior was 24 yards short of a 1,000-yard season despite an impressive 5.9 yards per carry average.
[+] Enlarge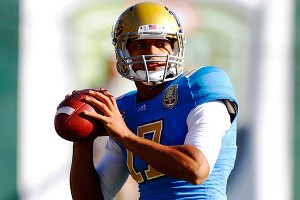 Jason O. Watson/US PresswireSophomore Brett Hundley could prove to be UCLA's most athletic option at quarterback.
But this offense is about moving the ball in the air. And finding three or four receivers to consistently perform is going to be just as important as finding the right guy standing five to seven yards behind the center. Mazzone has said
he's not married to four- or five-receiver sets
. So bona-fide talent
Joseph Fauria
should get plenty of chances to catch the ball from the tight end position.
Devin Lucien
,
Shaq Evans
and
Ricky Marvray
are the likely wide receiver trio. But unlike the previous offense, the receivers won't be square pegs in round holes. This offense should accentuate the speed and athleticism that UCLA always seems to have, but never knows quite what to do with it.
The Bruins were in the bottom half of the nation in sacks allowed last year, but the return of tackle Xavier Su'a-Filo, who is back after an LDS mission, should help bolster the line. All indications out of spring are that he looks solid.
Jeff Baca
and
Greg Capella
both saw significant playing time last season (Capella started 14 games and Baca 13), so that experience should help cut back on the sacks.
Now, to the quarterback spot.
Kevin Prince
has the most experience, followed by
Richard Brehaut
. Both are seniors. But there is a call from fans to completely cleanse themselves of the previous regime and start fresh with Hundley, a 6-foot-4, 225-pound dual-threat quarterback who might be the most athletic of the bunch.
Whoever wins the job is destined for a pretty good season. Because given Mazzone's history of turning slugs into sluggers, UCLA looks like the team to drag itself up from the Pac-12's offensive cellar.
April, 3, 2012
4/03/12
8:35
PM ET
Recognition is so important for an offense. Think
Andrew Luck
-- or Peyton Manning -- wildly gesticulating at the line of scrimmage.
Or, for that matter, Oregon quarterback
Darron Thomas
doing the same thing.
That was something that stuck with me after I chatted with Oregon sophomore center
Hroniss Grasu
a couple of weeks ago. We were talking about how he improved at making line calls during the 2011 season, but he went out of his way to note how good Thomas was at helping out, at identifying last-second changes a defense made that perhaps hinted at its ill intentions.
The point: Centers and quarterbacks are the brains of an offense. The center typically makes the calls at the line of scrimmage that make sure everyone is accounted for. And quarterbacks communicate to both the skill players and the line about checks and audibles.
The QB and center work in tandem. They need to be in sync. And having smart, experienced signal-callers and centers is a big deal for an offense. It means an offense can go to the line with more options, and it can check into the right option more often than not. That breeds confidence, both among players and with their coaches.
So which Pac-12 teams are experienced at QB and center? Who has both back, one back or neither?
Thanks for asking.

Arizona: Center
Skinny
: While
Nick Foles
was the Wildcats' quarterback last year,
Matt Scott
has started five games, so the offense is not in inexperienced hands. Senior center
Kyle Quinn
did a solid job in 2011, earning honorable mention All-Pac-12 honors. On the downside, the Wildcats are installing a new offense with coach Rich Rodriguez, so past experience isn't as helpful.

Arizona State: Neither
Skinny:
QB
Brock Osweiler
is gone as is center
Garth Gerhart
.
Kody Koebensky
likely takes over at center, while the quarterback competition continues to be wide-open. Of course, the Sun Devils are installing a new offense under new coach Todd Graham, so being green isn't as much of an issue.

California: Both
Skinny
: QB
Zach Maynard
should be much more in control as a second-year starter. While center
Dominic Galas
is back, he's sitting out spring due to a shoulder injury, and it appears he will switch over to guard. Galas, some of you Bears fans might recall, did have some issues with shotgun snaps last year.
Chris Adcock
or
Mark Brazinski
could end up winning the job.

Colorado: Center
Skinny
:
Tyler Hansen
is almost certainly going to be replaced at quarterback by Texas transfer
Connor Wood
, a sophomore with no game experience. It should help Wood, however, to have junior
Gus Handler
back making the line calls.
Daniel Munyer
, who's slated to start at guard, also has starting experience at center.

Oregon: Center
Skinny: Center
Grasu's first start as a redshirt freshman was against LSU's beastly defensive front. That was a baptism by fire, but he consistently improved throughout the season. QB
Bryan Bennett
has some experience, including one start, but he will be challenged this spring by redshirt freshman
Marcus Mariota
.

Oregon State: QB
Skinny
:
Sean Mannion
is back at QB, but center
Grant Johnson
is gone. The frontrunner to win that job is sophomore
Roman Sapolu
. The Beavers have injury issues on the line this spring, and that likely will slow down the unit's -- and Sapolu's -- development.

Stanford: Center
Skinny
: You might have heard that Andrew Luck is gone.
Brett Nottingham
and
Josh Nunes
look like the favorites to replace him, but neither has significant experience. Senior
Sam Schwartzstein
did a fine job stepping into Chase Beeler's shoes in 2011, but life was, naturally, easier with Luck at QB. More will fall on Schwartzstein in 2012.

UCLA: QB
Skinny
: The Bruins have two quarterbacks with significant starting experience back:
Kevin Prince
and
Richard Brehaut
. But redshirt freshman
Brett Hundley
might end up winning the job. All three are learning a new offense this spring under new coach Jim Mora and offensive coordinator Noel Mazzone. Sophomore Jacob Brendel -- or perhaps junior
Greg Capella
, who mostly started at guard last year -- are the frontrunners to replace
Kai Maiava
at center.

USC: Both
Skinny
: You've maybe heard of Trojans QB
Matt Barkley
and his receivers,
Robert Woods
/
Marqise Lee
, being the best pass-catch trio in the nation. Well, Barkley and senior center Khaled Holmes are the perhaps the best QB-center combination in the nation. Holmes was second-team All-Pac-12 in 2011, and he's probably the best center in the conference.

Utah: Both
Skinny
: Junior
Jordan Wynn
, a three-year starter, only needs to stay healthy for the Utes to get at least solid QB play. Center
Tevita Stevens
is solid, but he will be breaking in a pair of new OTs.
Washington: Both


Skinny
: Junior QB
Keith Price
was a revelation last year as a first-year starter, far eclipsing the production of his celebrated predecessor, Jake Locker. Senior center
Drew Schaefer
is a 30-game starter. So this is a strong combo for the Huskies.
Washington State: Both


Skinny
:
Jeff Tuel
feels like a decided frontrunner to retain his starting job at QB, while junior
Matt Goetz
returns at center. A junior-college transfer in 2011, he started the final nine games of 2011. A year of seasoning -- and in the weight room -- should help Goetz in 2012.
February, 28, 2012
2/28/12
7:00
PM ET
Noel Mazzone doesn't care how many touchdowns
Kevin Prince
or
Richard Brehaut
threw. Or how many
Brett Hundley
didn't throw, for that matter.
He doesn't care about how many yards
Johnathan Franklin
ran for, or how many catches
Joseph Fauria
made or how many holes
Greg Capella
opened.

He simply doesn't care.
"To me, it's all a clean slate," said UCLA's new offensive coordinator. "I purposely don't spend time studying film from last year. Never mistake potential for performance. Everything is performance-based. All I know -- all I care about -- is what started on Jan. 9 for me. I don't care what you did last season. The question is, are you performing now?"
The Bruins don't open spring ball until April 3. But that doesn't mean Mazzone and new head coach Jim Mora aren't watching, evaluating, making mental notes about who is grinding and who is goofing. Mazzone didn't go so far as to say a culture change is needed at UCLA. Rather, it's an attitude change.
"Whatever school, high school, college, or NFL team you go to, you want to create an attitude," he said. "That's our purpose. We want to create an attitude and find the qualities we're looking for to be a UCLA football player. That's all I concern myself with.
"Be physical. Be fast. And finish. The football plays will take care of themselves. If we can get our kids to play with great tempo and great toughness and learn to finish what they start -- whether it be a play, a drive, in the weight room or in class or whatever they do in life -- if we can get them into that kind of mindset, that's our priority."
Mazzone, a seasoned offensive mind with more than 30 years coaching offense, comes to UCLA after spending the last two seasons with Arizona State, where he was widely credited with turning around the Sun Devils' once anemic offense. In the two years before Mazzone arrived (2008 and 2009), ASU ranked 100th and 90th, respectively, in total offense. In 2010, Mazzone's first year, the Sun Devils improved to 29th. Last season, 25th.
He said UCLA fans can expect a similar scheme.
"It's the only thing I know," he said. "I can't do anything else. I don't know anything else."
Though based on the personnel, the Bruins probably aren't going to be the spitting image of the 2011 Sun Devils. Once UCLA starts up spring ball, Mazzone said he'll have a better idea of which direction the team is going to take schematically.
"My philosophy is I want to get the best players on the football field," he said. "If it happens to be a tight end and two wides and two running backs, that's what it will be. If it's a running back and four wide receivers, that's what it will be. If I'm lucky enough to have good players at several positions, we'll have multiple sets. I just want to get the ball in the playmaker's hands."
And like the majority of the conference, UCLA's future at quarterback isn't set. Sticking to his guns, Mazzone said his decision is not going to be weighted by experience or inexpereince. He has only one preference when picking a quarterback.
"I prefer guys that can score points," he said. "I don't care who it is. I'm not too worried about experience. I'm looking for productivity and the ability to move the football and be a leader for our offense. I don't care if it's a true freshman or a redshirt senior. It really doesn't matter. I'll let them compete and let the best guy that fits that criteria be our guy."
September, 7, 2011
9/07/11
12:40
PM ET
By
ESPN.com staff
| ESPN.com
UCLA
center Kai Maiava has been suspended for the Bruins' home opener against San Jose State.
The LA Times reported
that Maiava tested positive for marijuana, citing "people in the program who were not authorized to speak on the matter."
From the Times:
Under UCLA's drug policy, an athlete is suspended for the next athletic contest after testing positive for a third time. The fourth positive test results in "an immediate suspension from participation in athletics" and a loss of scholarship, according to the policy.
Maiava, perhaps the Bruins best lineman, was the team's center in 2009 but sat out last season after breaking his ankle during the fall scrimmage. Greg Capella is expected to replace him in the starting lineup.
It's not certain how the rest of the line will look because of the potential early return of Jeff Baca, who was cleared to practice this week after breaking his ankle during spring practices.
Chris Ward will start at one guard, and Baca could start at either tackle or guard. If Baca plays tackle, Sean Sheller, who started at tackle in the opener at Houston, likely would move inside to guard, though JC transfer Albert Cid also is a possibility.