October, 3, 2013
10/03/13
1:00
PM ET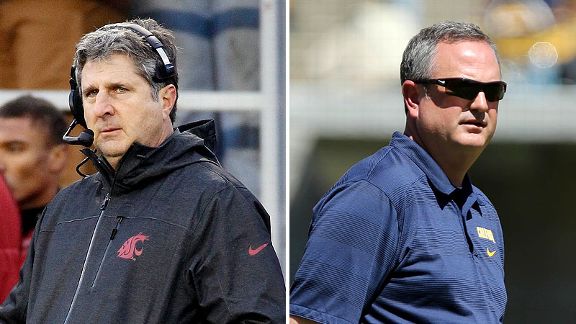 Getty Images, USA Today SportsFirst-year Cal coach Sonny Dykes (right) worked with Mike Leach (left) in his younger days. That influence is easy to point out, as the Golden Bears and Cougars employ similar pass-happy attacks.
When Sonny Dykes was a graduate assistant at Kentucky in the late '90s under Hal Mumme and Mike Leach, he had a self-imposed gag order.
"I just tried to keep my mouth shut and learn as much as I could," Dykes said. "They made a big impact on our profession. It was an exciting time to be a young football coach."
Dykes went on to work closely with Leach at Texas Tech, and now -- 16 years later -- his
California Golden Bears
will host Leach's
Washington State Cougars
in a Pac-12 North showdown that is being pitted as the Air Raid vs. the Bear Raid. When Dykes was a wide-eyed assistant at Kentucky, coaching against a Leach team -- especially with him in Berkeley and Leach in Pullman -- seemed like an unlikely prospect.
"I doubt either one of us knew what the future held," Dykes said. "That's what's interesting about our profession. You never know where you are going to end up. And if you are in it long enough you are going to coach against friends and people you have worked with and worked for. Part of it is getting old. You bounce around more in this profession and you see more people. I don't think either one of us ever envisioned us ending up where we have, but I think we're both glad we are where we are."
Dykes is in his first season with Cal (1-3, 0-1 Pac-12) and has experienced all of the growing pains of a new coach installing a new system with young players. Playing Northwestern, Ohio State and Oregon in the first four games hasn't helped, either. Leach, however, is in Year 2 in Pullman and is starting to make headway. The Cougars (3-2, 1-1) have already matched their win total from last season while scoring a signature win over USC in Week 2.
Leach has seen several of his assistants go on to get head coaching and coordinating gigs. Naturally, he's always happy for them.
"I'm proud of them that they have had successful careers," Leach said. "and I was excited for [Dykes] when he got the job. He did a good job at Louisiana Tech. I was excited for him and it's a great opportunity. I know he's going to do well."
So far it's been a rough start for the Bears, who have mostly been as advertised offensively but have seen a slew of defensive injuries coupled with learning a new system place them in an early hole.
"It's a process," Dykes said. "It doesn't look very good early. Then you hope it looks a little better later. And by the end of the season you hope it looks real good and next year you build on that."
This week Dykes opened up the quarterback competition after going with true freshman
Jared Goff
for the first weeks of the season before pulling him against Oregon. While he expects Goff to retain his starting role, it was noteworthy enough for Dykes to add an "
or
" between Goff and redshirt freshman
Zach Kline
on this week's depth chart.
"We thought Zach came in and did some good things," Dykes said, noting Kline's 18 of 37 performance in a loss to Oregon where he threw for 165 yards and a touchdown with one interception. "But Jared has distinguished himself pretty well. I don't think it's going to be that big of a deal. We told them we'd let them compete this week and see how they both performed and then make a decision. I think Jared has played well ... I'd be surprised if anything else happened other than him being the starter."
Given the pass-heavy schemes both teams run, it makes sense that both rank in the top five in the league in passing offense. Cal is No. 2, averaging 373 yards per game, while the Cougars average 327 yards per contest. WSU is second in the league with 12 touchdowns, but also have the most interceptions with 10.
While the offenses aren't identical, Leach can see his influence on what Dykes is trying to do.
"Sonny worked with for me for close to 10 years when you count back there Kentucky, so there are definitely some similar influences," Leach said. "They're a little different. They are more play-action quick game. They do some good things. There are some similarities. Less I guess than most people would think. Both have evolved a little bit over time."
Dykes has certainly put his own stamp on the scheme -- noting that Cal's run game is significantly different from Washington State's. But he's expecting to face the traditional air raid from the Cougars on Saturday.
"A lot of the guys that have worked for Mike have changed, but Mike has kept the most pure version of it," Dykes said. "It's a lot of the same things he's been doing for a long time. Mike understands offensive football as well as anybody ... his teams are always going to be very good at doing specific things. Everyone has taken it and put their spin on it and changed this or changed that, but he's kept it the same and made some small adjustments here and there. But it's the most pure version of the air raid."
December, 5, 2012
12/05/12
8:35
PM ET
California has hired Louisiana Tech coach Sonny Dykes, an offensive specialist, to replace Jeff Tedford as the
Bears head football coach
.
Why is the 43-year-old with a 22-15 record coaching in Ruston, La., a good hire in Berkeley?
For one, offense.
Louisiana Tech's offense ranked No. 1 in the nation in scoring this season with 51.5 points per game. And it wasn't just about passing. Most intriguing is the solid balance, as the Bulldogs rushed for 227.2 yards per game, which ranked 18th in the nation. They also ranked 18th in the nation in passing efficiency while yielding just eight sacks.
[+] Enlarge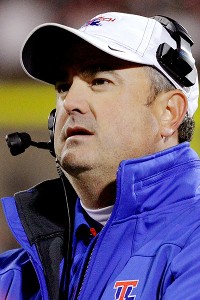 AP Photo/Seth PerlmanSonny Dykes went 22-15 in three seasons as coach of Louisiana Tech.
Dykes, who replaced recently fired Tennessee coach Derek Dooley at Louisiana Tech, is the former offensive coordinator at Texas Tech -- co-coordinator with now-West Virginia head coach Dana Holgorsen -- and Arizona, where he was largely responsible for the development of former Wildcats QB Nick Foles, now with the Philadelphia Eages. He learned offense from Hal Mumme and Mike Leach and is the son of former Texas Tech coach Spike Dykes, so he's grown up around the business.
In 2006, the year before he arrived at Arizona, the Wildcats ranked 115th in the nation in total offense and 105th in scoring offense. In 2008, the Wildcats ranked 16th in scoring and 33rd in total offense.
Dykes was the 2011 WAC coach of the year and led the Bulldogs to a 9-3 finish this season, which included road wins over Illinois and Virginia. The Bulldogs also almost knocked off Texas A&M before losing 59-57.
Dykes is known as a good recruiter with a good eye for talent. He also is socially smooth, so he should be able to negotiate those demands at Berkeley, which isn't the typical environment for a coach who expects football to be first at all moments.
Any questions? Well, defense. The Bulldogs were horrible at it this year. They were much better a year ago. The first big question will be who Dykes hires as his defensive coordinator.
Still, Cal appears to have grabbed a rising star, a molder of quarterbacks, one who knows the West Coast but also has knowledge of other areas, including Texas and the Southeast.
He steps into a good situation. Cal has a newly remodeled stadium and upgraded facilities that are the match of any Pac-12 team. It has a good Bay Area recruiting base, and a brand name that allows for a national reach.
Dykes needs to know, however, that Bears fans, despite being pretty darn bright, have become demanding. Fans started to grumble about Tedford not when he posted his first losing season in 2010 but in 2008 and 2009 when he won 17 games. Seven or eight wins a season won't create much enthusiasm. (And Dykes won't have the services of standout receiver
Keenan Allen
, who
announced Wednesday that he will enter the NFL draft
).
Of course, if Dykes leads the Bears to their first Rose Bowl since 1959, they will immediately build a statue of him outside of Memorial Stadium.
June, 16, 2009
6/16/09
12:38
PM ET
By
ESPN.com staff
| ESPN.com
Posted by ESPN.com's Ted Miller
First in a series of Pac-10 thoughts that might come from unusual angles.
| | |
| --- | --- |
| | |
| | Chris Morrison/US PRESSWIRE |
| | Sonny Dykes' offense averaged 36.6 points and 402.4 yards per game in 2008. |
Don't be surprised if...
Arizona offensive coordinator Sonny Dykes becomes a hot head coaching candidate when the Wildcats new starting quarterback posts surprisingly strong numbers this fall.
Dykes, 39, has completely transformed the Wildcats offense.
In 2006, the year before he moved to Tucson from Texas Tech, Arizona averaged 16.6 points and 252.8 yards per game. Yes, those are horrible numbers. In 2007, Dykes' offense rewrote the program's offensive record book, and in 2008 they did it again, averaging 36.6 points and 402.4 yards per game.
Yes, that's a stunning transformation.
Dykes is widely considered an outstanding recruiter. His final season at Texas Tech he won the All-American Football Foundation's Mike Campbell Top Assistant Award.
He learned passing offense from Hal Mumme and Mike Leach. And last year he proved he could create balance, see 504 rushes and 412 passes.
As for his coaching genes, he's the son of Texas Tech coaching legend Spike Dykes.
The key, however, is this season. While the NFL's lack of interest in former quarterback Willie Tuitama tends to suggest Dykes deserves even more credit for the offensive transformation of the past two seasons, his proving he can develop a guy from scratch -- either Matt Scott or Nick Foles -- will raise more eyebrows among programs looking for a new leader.
In other words, if the Wildcats again rank in the top half of the Pac-10 in most offensive categories on their way to a second consecutive bowl game, Dykes might not be long for Tucson.