December, 22, 2009
12/22/09
3:39
PM ET
By
ESPN.com staff
| ESPN.com
Experience at quarterback, coaches will tell you, is about as important as anything, and both BYU and Oregon State have that well covered heading into the MAACO Bowl Las Vegas tonight.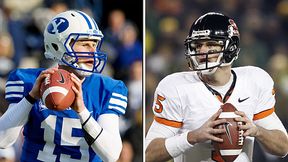 US PresswireMax Hall and Sean Canfield lead potent passing attacks heading into the MAACO Bowl Las Vegas.
Experience? BYU's
Max Hall
has won 31 games, more than any other previous BYU quarterback. And there have been a lot of good ones.
Oregon State's
Sean Canfield
isn't exactly a rookie. He'll be making his 24th start against the Cougars.
That experience probably means neither figures to get rattled.
"The chances of rattling [Hall] are tough," Beavers coach Mike Riley said. "You're talking about a guy who has been through a lot in his career and played a lot and has been productive as heck. It's just like we said with Sean. The best thing that happened for Sean is to play for a long time in one stretch and grow and gain the confidence."
Quarterbacks -- duh -- are always important, but these two are their offenses' engine, though Hall is probably a bit more critical to the Cougars.
Who has the edge?
Consider:
Hall finished ranked third in the nation in passing efficiency. Canfield ranked 15th. It's fair to counter, however, that Canfield faced more talented secondaries in the Pac-10.

Canfield completed 70 percent of his passes for 3,103 yards and 21 touchdowns with six interceptions. Hall completed 68 percent of his passes for 3,368 yards with 30 touchdowns and 14 interceptions. Those interceptions might catch your eye, but Hall only threw four in the final seven games.

Both pass defenses are questionable. Oregon State ranked 60th in the nation in pass efficiency defense; BYU was 40th. The Beavers will be missing starting cornerback Tim Clark, while the Cougars will have a speed disadvantage in the secondary.

Canfield is a higher-rated NFL prospect, in large part because Hall lacks ideal size. Mel Kiper rates Canfield the fifth-best senior quarterback.

Neither defense had a lot of sacks in 2009. BYU ranked 53rd in the nation with 24; Oregon State 106th with just 15. BYU's offense gave up 21 sacks, which ranked 54th in the nation. Oregon State surrendered 29, which is 87th.

Both quarterbacks have help. Canfield has the Rodgers brothers, receiver James and running back Jacquizz. Hall has All-American tight end Dennis Pitta and running back Harvey Unga.
So, who has the edge?
Too close to call. The game sets up as though both offenses will move the ball well and both quarterbacks will have time to distribute the ball to their playmakers.
Canfield's key is to get the ball to the Rodgers brothers in space so they can stress the Cougars with their speed and elusiveness.
Hall didn't play terribly well in the Cougars rivalry-game victory over Utah to conclude the season -- he completed just 12 of 32 passes -- but he kept his cool and threw the game-winner in overtime. He needs to stay in rhythm and take what the defense gives him.
Both veteran quarterbacks figure to play well. The one who plays better, however, likely will lead the winning team.
December, 21, 2009
12/21/09
10:11
AM ET
By
ESPN.com staff
| ESPN.com
Breaking down Tuesday evening's Las Vegas Bowl between No. 18 Oregon State (8-4) and No. 14 BYU (10-2).


WHO TO WATCH
: This is a primetime matchup of skill players. BYU will offer up quarterback
Max Hall
, tight end
Dennis Pitta
and running back
Harvey Unga
. The Beavers will counter with quarterback
Sean Canfield
and the Rodgers brothers, running back Jacquizz and receiver James. The difference for the Beavers is speed. The Rodgers brothers have it, while the Cougars are mostly about power. Canfield has been accurate all season, and if he can distribute the ball in space to the Rodgers brothers, all three could have a star turn.
WHAT TO WATCH
: The Beavers pass defense. Starting cornerback
Tim Clark
broke his leg in the season-finale vs. Oregon, so an already thin crew is even thinner --
said coach
Mike Riley, "We're thin. We're absolutely thin.'' Even with Clark, the Beavers ranked sixth in the Pac-10 in pass defense and pass efficiency defense. They surrendered 20 TD passes -- only Washington State surrendered more -- and their eight interceptions were tied for second fewest in the conference. Moreover, they only recorded 15 sacks, which ranked ninth in the conference, six fewer than No. 7 Stanford. Hall and BYU rank 12th in the nation in passing and have accounted for 31 TD passes.
WHY TO WATCH
: It's the first matchup of ranked teams in the bowl seasons, and it's always interesting when the Pac-10 and Mountain West square off. The MWC annually wants to prove itself vs. BCS conferences -- perhaps paving the way for it to become one? -- while the Pac-10 doesn't want to endure dismissive sniffs from its BCS conference brethren. As for the game itself, there will be a lot of playmakers on both sides of the field.
Jacquizz Rodgers
, for one, could make a statement for the 2010 Heisman Trophy race, while Canfield could improve his already blossoming NFL draft prospects.
PREDICTION
: BYU 33, Oregon State 30. So much of a bowl game is about which team is more motivated. Last year, Oregon State also lost a Civil War rivalry game with Oregon that knocked it out of the Rose Bowl, but the Beavers got blown out and embarrassed and wanted to exorcise that memory -- particularly the defense -- in the Sun Bowl. They were motivated. This time? They lost a heartbreaker. That's a different sort of touchstone. As for BYU, sure the Cougars are playing in their fifth consecutive Las Vegas Bowl. But they are riding high after a win over Utah in their rivalry game and surely will recall that they were out-hustled by Arizona in the bowl last year. That will be a lesson, and they will be plenty motivated this time to take a Pac-10 scalp.
December, 6, 2009
12/06/09
9:00
PM ET
By
ESPN.com staff
| ESPN.com
Oregon State (8-4) vs. BYU (10-2)
Dec. 22, 8 p.m., (ESPN)
The MAACO Las Vegas Bowl matches a pair of ranked teams that wish they were somewhere else.


Early in the season, BYU thought it was a BCS-buster when it beat Oklahoma. But the Cougars got pushed around by Florida State and trounced by TCU, which ended those dreams.
Oregon State lost its season finale at Oregon, the rivalry game defeat costing the Beavers the Rose Bowl for a second-consecutive season.
BYU will be playing in its fifth-consecutive Las Vegas Bowl, and the Cougars are 2-2 vs. the Pac-10 in the bowl. So this is sort of a rubber match.
The game features a pair of outstanding quarterbacks. BYU's
Max Hall
is third in the nation in passer rating and has thrown 30 touchdown passes. Oregon State's
Sean Canfield
is 15th in the nation in passing rating and has competed 70 percent of his throws.
Canfield gets a lot of help from the Rodgers brothers, running back Jacquizz and receiver James. Hall gets a boost from burly running back
Harvey Unga
and tight end
Dennis Pitta
BYU has slightly better numbers on defense, and pass rush may be a key. Neither team has been great at getting to the opposing quarterback – the Beavers have only 15 sacks – and neither is great at pass protection.
December, 20, 2008
12/20/08
11:38
AM ET
By
ESPN.com staff
| ESPN.com
Posted by ESPN.com's Ted Miller
First ... can we PLEASE ... get a "Go Spiders!" from everyone?
Thanks.
Let's jump into the bowl season, what do you say? Up first: Vegas, baby!
Who to watch: Willie Tuitama and Mike Thomas
These two are four-year starters who took the Mike Stoops era from the dregs to the program's first bowl game in a decade. Along the way, they combined to rewrite the school's passing record book and earn spots on the Pac-10's all-time list. But can they go out winners?
What to watch: Arizona's D vs. BYU's 239-pound running back Harvey Unga
Unga is a load, and his offensive line is one of the biggest in the country. The Arizona defense is quick but undersized and it has struggled this season against power running games -- see losses to New Mexico and Stanford. BYU also has a high-flying passing game, so if Unga gains great chunks of yardage, it's going to be a long evening for the Wildcats.
Why to watch: Because this is the best game -- by far -- of the first day of the bowl season. The Pac-10 would like to take a bite out of that 1-6 regular-season record versus the Mountain West Conference. And Arizona coach Mike Stoops would add another level of security with a bowl victory after whipping Arizona State. He might even get a raise.
December, 19, 2008
12/19/08
11:30
AM ET
By
ESPN.com staff
| ESPN.com
Posted by ESPN.com's Ted Miller
Final regular-season record was 60-16 (that half-point for the Civil War pick became unwieldy).
On to the bowls...
BYU 30, Arizona 24: It's possible that BYU will play indifferently because this is the Cougars fourth consecutive Las Vegas Bowl. But I don't think they will because this is a mature team with a good coaching staff. It's also possible that Arizona, playing in its first bowl game since 1998, will play like a team that's just happy to make the postseason. Don't think that will happen either. Guess here is this will be a hard-fought, entertaining game, but the Cougars will prevail because 239-pound running back Harvey Unga will start to wear down the Wildcats undersized defense in the second half, and that will help keep the ball away from Willie Tuitama & Co. Moreover, the 'Cats still haven't proved they can win a game in the fourth quarter. So in a competitive affair, that goes against them.
December, 19, 2008
12/19/08
9:38
AM ET
By
ESPN.com staff
| ESPN.com
Posted by ESPN.com's Ted Miller
Five things to consider, underline or anticipate from the Las Vegas Bowl on Saturday between Arizona and BYU.
Can the Wildcats win a close one? Arizona has won seven games this year. The smallest margin of victory? Fifteen points (vs. California). The Wildcats have lost five. Largest margin of defeat? Ten points (Oregon). Three of those defeats came by a combined 10 points. (If this sounds familiar, we wrote the exact same thing before the Arizona-Arizona State game; the Wildcats won by 21.) Arizona hasn't won the close games under coach Mike Stoops: It is 5-16 in games decided by a touchdown or less over the last four seasons. No. 17 BYU doesn't look like the sort of team the Wildcats could blow out. So, if the game is tight, will the 'Cats play loose, or will they gag again? Of course, when the Cougars lose, they'd don't mess around, see 25- and 24-point defeats to TCU and Utah, respectively.
Goodbye Tui and Thomas: Quarterback Willie Tuitama and receiver Mike Thomas, both four-year starters, have rewritten the Arizona record book in their respective areas. Thomas needs just three catches to eclipse Arizona State's Derek Hagan, who had 258 career receptions, for the Pac-10 record. Tuitama needs 114 yards to hit the career 10,000-yard passing mark. Both should reach their numbers. But will both go out winners? If so, it may be due to a scoring fest. BYU's defense has given up 32 or more points in four of its last six games.
Power back blues: While high-powered passing comes to mind when most folks think of BYU -- and quarterback Max Hall is outstanding -- the Cougars also have a solid running game. Arizona's run defense isn't bad. It ranked fifth in the Pac-10 (132 yards per game), and held a strong California running game to just 110 yards. But power backs thrive against the Wildcats' undersized front seven. New Mexico's 234-pound Rodney Ferguson rolled up 158 yards on 26 carries in a win over Arizona, while Stanford's 230-pound Toby Gerhart had 116 yards on 24 carries in a Cardinal comeback win. It just so happens the Cougars feature 239-pound Harvey Unga, who's rushed for 1,061 yards and 10 scores. Further, BYU's offensive line is massive -- each starter weighs 315 pounds or more. If Arizona can't slow the run, then it's going to be a long day.
Strength on strength: Hall, who passed for 3,629 yards and 34 touchdowns, is money with receiver Austin Collie, who leads the nation with 1,419 receiving yards on 95 receptions. Arizona, however, is good against the pass, giving up 169.8 yards per game, the 14th-fewest in the country. And Hall did have seven interceptions in the Cougars two defeats, including five in the season-finale against rival Utah.
Which team really cares? None of the Arizona players has been to a bowl game, mostly because the program hasn't played in one since 1998. Will they play as if just getting to the postseason was enough? BYU is playing in its fourth consecutive Las Vegas Bowl. The Cougars had much higher aspirations during a 6-0 start to the season. Will they play like surprisingly frigid Las Vegas is the last place they want to be? Bowl games are often won by the team that is happy to be there and highly motivated to succeed. Will either team here play that way?

December, 7, 2008
12/07/08
8:15
PM ET
By
ESPN.com staff
| ESPN.com
Posted by ESPN.com's Ted Miller
Based on the records, this looks like a mismatch. But is it?


BYU, winners of three consecutive Las Vegas Bowls, started the season talking about perfection and a BCS bowl berth and rolled to a 6-0 start. But the Cougars fell well short in their two biggest games, getting drubbed by 25 and 24 points at TCU and Utah.
On the other hand, the Wildcats and Cougars have three common opponents: New Mexico, Washington and UCLA. BYU beat all three, while Arizona lost to New Mexico. Both blew out UCLA, though the Cougars' 59-0 drubbing of the Bruins was one of the season's most shocking thrashings.
Arizona manhandled Washington, but the Huskies were playing their first game without quarterback Jake Locker. BYU slipped by the Huskies, 28-27, when Locker, you may recall, was flagged for unsportsmanlike conduct for flipping the ball into the air after scoring what appeared to be a last-second, game-tying touchdown, pending the PAT, which was subsequently missed after an extra 15 yards was tacked on.
BYU's defense struggled over the second half of the season, giving up 32 or more points in four of its last six games. The BYU offense leans on quarterback Max Hall, who has thrown 60 touchdown passes over the past two seasons, finding receiver Austin Collie and tight end Dennis Pitta, but the Wildcats' defense probably should be just as worried about running back Harvey Unga. The Wildcats, who lost 20-7 to BYU in 2007, have struggled against power backs, and the 239-pound Unga, who's rushed for 1,061 yards and 10 TDs, certainly fits that bill.
September, 12, 2008
9/12/08
3:25
PM ET
By
ESPN.com staff
| ESPN.com
Posted by ESPN.com's Ted Miller
UCLA coach Rick Neuheisel and his Bruins tasted unexpected success against Tennessee -- "unexpected" at least from the perspective of outside observers -- and they want more. Now all they have to do is beat a second-consecutive ranked team, this time on the road.
| | |
| --- | --- |
| | |
| | Stephen Dunn/Getty Images |
| | Next up for the Bruins defense: BYU's Max Hall, who passed for 3,848 yards last season. |
It's a feast-famine matchup at No. 18 BYU.
Feast: BYU's dynamic offense featuring QB Max Hall and 243-pound running back Harvey Unga vs. UCLA's stout defense, which is led by tackles Brigham Harwell and Brian Price.
Famine: BYU's leaky defense, particularly a questionable secondary vs. UCLA's mix-and-match offensive line and green QB Kevin Craft.
Washington couldn't do anything to slow Hall and Unga last week in the Cougars 28-27 victory. Hall, who passed for 3,848 yards last year, completed 30 of 41 throws for 338 yards and three TDs, while Unga rushed for 136 yards on 23 carries. Hall's favorite target is tight end Dennis Pitta, who has 21 receptions in two games.
"[Hall] is a master of what they are trying to accomplish offensively," Neuheisel said.
Hall, however, won't be able to sit back in the pocket against the Bruins like he did against the Huskies, a fact he's probably fully aware of, considering the Cougars 12-game winning streak -- the longest current streak in the nation -- is mostly wedged between a pair of games with the Bruins.
UCLA beat the Cougars 27-17 in the Rose Bowl a year ago at home. Three games ago, the Cougars returned the favor when they slipped UCLA 17-16 in the Las Vegas Bowl.
Neuheisel called it a rubber match. And considering the bowl loss came after a short, game-winning field goal attempt was blocked, there's no reason for the Bruins to fear the Cougars, though it's clear there's plenty of respect.
"The good news is we're familiar," Neuheisel said. "The bad news is they're really good."
For the Bruins, the question is what kind of encore will they provide after the thrilling 27-24 overtime win over Tennessee?
Will reality set in, particularly the reality of three senior starters out with injuries -- RB Kahlil Bell, who is listed as doubtful, WR Marcus Everett and TE Logan Paulsen?
And who is QB Kevin Craft? Is he the four-interception mess he was in the first half against Tennessee? Or the cucumber-cool hurler who led the comeback over the Vols in the second half?
Are the Bruins, who are coming off a bye week, a one-hit wonder with their heads still in the clouds or are they refocused on earning a victory that will establish them -- again, unexpectedly -- as a legitimate Pac-10 contender?
"I think we're back to business," Neuheisel said. "It was fortunate we had that [bye] week because there was some residual walking in the clouds that we had to knock out of ourselves during last week's practices."
The fundamental UCLA plan hasn't changed, and likely won't the entire season. Play with the cards close to the vest on offense and hope the defense and special teams keep things close.
"Hopefully, we'll take a page out of what we did against Tennessee and take the game to the fourth quarter," Neuheisel said.