December, 20, 2010
12/20/10
10:14
AM ET
Checking in with the news items from the weekend that was.
August, 4, 2010
8/04/10
11:24
AM ET
USC opens preseason camp today. Here's a quick look.
Who's back
: Six starters on offense, six on defense and punter Jacob Harfman.
Big names
: QB
Matt Barkley
, C Kristofer O'Dowd, DT Jurrell Casey
What's new
: Everything? Pete Carroll is out; Lane Kiffin is in. The only holdover from Carroll's staff is receivers coach John Morton. The postseason is out; NCAA sanctions are in. AD Mike Garrett is out; Pat Haden is in. Defending Pac-10 champions is out; finishing with four conference losses is in. Certain dominance is out; questions about the future are in.
Key competition
: There are lots of areas of intrigue, starting with returning starter Chris Galippo trying to hold onto the job at middle linebacker against converted end Devon Kennard. Who will replace the injured Christian Tupou at defensive tackle: Either DaJohn Harris or Hebron Fangupo. What's the pecking order behind
Allen Bradford
at tailback? And what about receiver, where freshmen Kyle Prater, Robert Woods and Markeith Ambles figure to challenge returning veterans. The only certainty in the rebuilt secondary is CB Shareece Wright. Oh, and freshman Kevin Graf is listed ahead of returning starter Butch Lewis at left guard.
Breaking out
: Wright, O'Dowd, WR
Ronald Johnson
and DE Armond Armstead will be all-conference if they stay healthy. What will Barkley in Year 2 look like after starting as a true freshman? Kennard looks like a rising star. Freshman RB Dillon Baxter had folks whispering "Reggie Bush II" in spring practices. Hopefully without the greedy parents and accompanying parasites.
Quote
: Kiffin on the team's strengths and weaknesses: "I feel good about our defensive line. Depth in general is going to be an issue. We have to be extremely intelligent and smart. Seven of our 10 coaches have NFL experience. We're going to have to be NFL-oriented because of our situation.
Notes
: The Trojans were picked second in the preseason media poll. They received 12 first-place votes compared to 15 for Oregon. It was the first time in seven polls USC hadn't been picked first. ... 13 returning starters is the second fewest in the conference. ... Players who left the program after NCAA sanctions were announced: safety Byron Moore (junior college), linebacker Jordan Campbell (Louisville), wide receiver
Travon Patterson
(Colorado), fullback
D.J. Shoemate
(Connecticut), defensive end Malik Jackson (Tennessee). Also, the Trojans released touted offensive lineman
Seantrel Henderson
(Miami) and linebacker signee
Glen Stanley
(Florida State) from their scholarship commitments.
August, 3, 2010
8/03/10
12:09
PM ET
Defensive tackles clog the middle and collapse pockets. Dominant ones who demand attention from two blockers make life much easier for defensive coordinators, who suddenly see their linebackers running to the ball unmolested.
And it's typically not a strength position in the Pac-10. Coaches who have worked both down south and out west will tell you that one of the peculiar differences is how many more DTs there are in SEC and ACC country. (Quarterback goes the other way.)
[+] Enlarge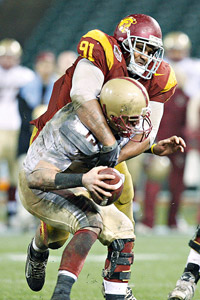 Tony Medina/SMICasey Jurrell had 54 tackles and four sacks in 2009.
In 2010, however, defensive tackle is solid in the conference. The three teams at the top of this list feature potential All-Americans at the position.
So how do things stack up?
Great shape
USC: The Trojans would rank among the nation's best at the position if not for the season-ending knee injury to Christian Tupou. Still, Jurrell Casey is a beast, Hebron Fangupo is huge and DaJohn Harris was one of the surprises of spring practices.

Oregon State: All-America candidate Stephen Paea is powerful and explosive and if he turns in a big season beating double-teams, he could end up a first-round NFL draft pick. Brennan Olander is a returning starter and converted end Kevin Frahm provides depth.

Arizona State: Both 2009 starters, Lawrence Guy and Saia Falahola, are back, and Corey Adams and Williams Sutton should provide quality depth.
Good shape
Oregon: Brandon Bair is underrated, and Zac Clark saw plenty of action as a backup in 2009. While inexperienced, there's young talent to provide depth.

Washington: The Huskies are solid with Cameron Elisara and Alameda Ta'amu, returning starters who turned in their best work this past spring.

California: Hard to rate teams that use a pure 3-4 because there's only a single nose tackle. Still, if Derrick Hill can stay healthy, he and Kendrick Payne will be an outstanding tandem making life tough for opposing centers.

Stanford: The Cardinal is breaking in its own 3-4 this year. Nose tackle Sione Fua is solid in the middle, with Terrence Stephens his backup. Stephens saw limited action as a true freshman in 2009.
We'll see
UCLA: The Bruins are replacing two starters, including the dominant Brian Price. David Carter, Justin Edison and Nate Chandler were solid in spring practices, so the position isn't a huge concern.

Arizona: The Wildcats are replacing two starters, including the underrated Earl Mitchell, a third-round NFL draft pick. After spring practices, Sione Tuihalamaka and Lolomana Mikaele topped the depth chart, which featured six names.

Washington State: Another position where the Cougars might be "better than you think," particularly if Bernard Wolfgramm can stay healthy. Touted JC transfer Brandon Rankin was impressive this spring, and true sophomore Anthony Laurenzi, a five-game starter in 2009, offers experienced depth.
May, 5, 2010
5/05/10
3:39
PM ET
Coach Lane Kiffin repeatedly praised USC's defensive line this spring, but it got thinner on Wednesday with the announcement that senior starting nose tackle Christian Tupou will miss the 2010 season with knee injury.
Tupou, who started 21 games over the past two seasons, tore a ligament in his left knee during the spring game on Saturday.
"It's unfortunate that it happened, but I'm okay," Tupou said in a statement. "I'll deal with it. It's part of the game. I'm down, but I'm not out because I can come back in 2011. Through training and rehab, I see a brighter light at the end of the road."
Tupou has yet to use his redshirt season, so if he could return in 2011 as a redshirt senior.
He had 25 tackles and four tackles for a loss in 2009 and earned honorable mention All-Pac-10 honors. A political science major, he will graduate next week and will begin graduate study in the fall.
With Tupou out, DaJohn Harris and Hebron Fangupo will compete for the starting job, defensive line coach Ed Orgeron said in a text message to ESPN.com's Bruce Feldman. Derek Simmons was listed behind Tupou on the
post-spring depth chart
.
April, 15, 2010
4/15/10
11:45
PM ET
LOS ANGELES -- Watched USC practice Thursday, so here are some quick observations.
Lots has been written about how much better a slimmed-down Matt Barkley is moving. It was just one practice, but that also was my impression. Barkley seemed comfortable rolling out of the pocket and throwing downfield, which was not a big part of his game last fall.
USC will have the best defensive line in the Pac-10. That's an opinion that feels pretty close to a fact you can write down in ink. Why? Lots of talent and the return of Ed Orgeron, who will provide a huge coaching upgrade. There's simply no way for players to slack off around his mega-intensity. Ends Armond Armstead, Nick Perry, Wes Horton and Malik Jackson and tackles Jurrell Casey, Christian Tupou, DaJohn Harris, Hebron Fangupo and Derek Simmons give the Trojans a deep, big and athletic group of nine guys.
Hard to believe the Trojans won't be better on special teams this year. For one, John Baxter is widely considered one of the nation's best special teams coaches. Second, the first 20-30 minutes of practice are dedicated to special teams, which often includes some quirky drills Baxter brought from Fresno State.
Easy to see why folks are excited about Devon Kennard's move to middle linebacker, where he might displace Chris Galippo as the starter. He's got size and speed and apparently good instincts. A couple of his hits, including one in the backfield on running back Marc Tyler, inspired hoots of appreciation from his teammates.
Coach Lane Kiffin said Ronald Johnson is playing faster than any previous Trojans receiver, at least in recent memory.
What's not helping the offense: Only six offensive linemen are healthy.
Kiffin said there's no pecking order at running back, and he's not a fan of using the three-plus-man committee the Trojans used in the past. He wants one or two guys, but said he hasn't decided who's in and who's out. Here's a guess that one of the guys will be Allen Bradford, and fancy true freshman Dillon Baxter seems almost certain to get touches.
Quarterback competition with Barkley and Mitch Mustain? Not really. Barkley will be the starter. "Matt is playing really, really well," Kiffin said. "Mitch is playing good."
Two spots in the secondary appear set: Shareece Wright is by far the best cover cornerback, and coaches are raving about Jawanza Starling at safety.
There are still a lot of people watching practice, but the difference from the completely open practices of the Pete Carroll era is that USC officials know everybody who is on hand.
Among those at practice: Former USC coach John Robinson.
March, 12, 2010
3/12/10
1:49
PM ET
Two USC players have been granted an extra year of eligibility due to medical hardship by the Pac-10.

Cornerback Marshall Jones and defensive lineman Hebron Fangupo, who both suffered season-ending injuries in the third game of the 2009 season against Washington State, now will enter spring practices with two seasons of eligibility remaining.

Both were expected to be key contributors in 2009 before getting hurt. The 330-pound Fangupo had two tackles and half a sack in limited playing time, while Jones had four tackles.
September, 28, 2009
9/28/09
11:56
AM ET

Posted by ESPN.com's Ted Miller
Updating the worst part about the game.
Arizona

Arizona is banged up but it has a chance to get much healthier during its bye week and before it visits Washington on Oct. 10. Receiver Bug Wright is out after knee surgery, but running back
Nic Grigsby
(shoulder), running back
Keola Antolin
(ankle), defensive end Brooks Reed (ankle), offensive tackle Mike Diaz (concussion), offensive guard Vaughn Dotsy (concussion) and receiver
Delashaun Dean
(thigh bruise) all could be ready to go after the bye.
Arizona State
The Sun Devils get defensive end James Brooks back from a three-game suspension, which means senior end Dexter Davis can move back to the weak side, where he has a better chance to get to the quarterback. On the downside, the struggling offensive line has issues. The top two centers, Garth Gerhart (toe) and Thomas Altieri (knee) are banged up, as are guards Jon Hargis (shoulder), Zach Schlink (knee) and Matt Hustad (knee). Hustad is doubtful for Oregon State's visit, while the others are questionable. Also, tight end
Jovon Williams
(knee) is questionable.
Oregon
Oregon cornerback Walter Thurmond is likely out for a few games with a knee injury. Coach Chip Kelly may provide more specifics during his news conference today, but he typically calls every player "day-to-day" and forces reporters to read between the lines. Kelly did say Saturday that he didn't believe Thurmond would be done for the season. Safety T.J. Ward (ankle) and receiver
Rory Cavaille
(shoulder) are both questionable.
Oregon State
Receiver
Darrell Catchings
, who just came back from a wrist injury, is now out for 2-3 weeks with an ankle sprain. Also, linebacker Keaton Kristick suffered a stinger against Arizona and probably won't practice much this week.
Stanford

Backup tailback
Jeremy Stewart
hurt is right knee against Washington. It's unclear how serious the injury is.
USC

Defensive tackle Hebron Fangupo (broken leg) and end Marshall Jones (neck) suffered season-ending injuries against Washington State. Linebackers Jordan Campbell and Nick Garratt sprained their ankles and are questionable for the Cal game as is linebacker Malcolm Smith (ankle), who sat out against the Cougars.
Washington

The Huskies might get receiver
Devin Aguilar
back for the visit to Notre Dame. Aguilar sat out the Stanford game with a sprained knee.
Washington State
The Cougars can't stay healthy. They probably lost a starting offensive and defensive lineman against USC: Steven Ayers (ankle) and defensive tackle Josh Luapo (knee). Starting guards B. J. Guerra (knee) and Zack Williams (ankle) aren't expected to be ready to play at Oregon. Defensive end Kevin Kooyman (knee) missed the USC game but might be ready for the trip to Eugene.
August, 13, 2009
8/13/09
11:06
PM ET
Posted by ESPN.com's Ted Miller
Handful of notes from Thursday's practices.
August, 13, 2009
8/13/09
9:51
AM ET
Posted by ESPN.com's Ted Miller
USC coach Pete Carroll added another week to quarterback Aaron Corp's potential down time -- now three weeks with a cracked fibula -- which means Matt Barkley could win the starting job for the opener against San Jose State by default.
The opener, after all, is three weeks and two days away.
The LA Times weighs in on the matter.
It shows how obsessed we media folks are with USC's quarterback situation that a potentially significant injury to a starting defensive tackle -- Averell Spicer needed to be helped off the field after spraining his ankle -- gets pushed to the back burner.
Of course, this is USC, so the Trojans will just plug 330-pound JC transfer Hebron Fangupo into Spicer's spot. Carroll on Fangupo to the LA Times: "He's as potentially good as anyone we've had play the three-technique spot."