April, 23, 2013
4/23/13
9:00
AM ET
Say what you want about the flagging reputations of former USC quarterbacks, but at least they keep things interesting.
One of the big questions for the 2013 NFL draft this week is the fate of
Matt Barkley
. Will he still get picked in the first round or will his stock continue to tumble?
Barkley seemed to -- finally? -- reveal some frustrations this week in a
series of interviews
in which he questioned coach Lane Kiffin's play-calling in 2012.
See here
. And
here
.
But he wasn't the only former Trojan making news.
Mark Sanchez
spoke up about the
New York Jets
acquiring
Tim Tebow
last year, and the
media circus that the organization seemed to embrace
. That, of course, created a new, if more modulated, media circus.
That wasn't the oddest bit of "news."
Former USC quarterback Mitch Mustain, who backed up Sanchez and Barkley after transferring from Arkansas, is
the subject of a new documentary
. It's narrated by former Arkansas basketball coach Nolan Richardson, which adds to a slightly strange texture in itself.
What's it about? Well, it's called "The Identity Theft of Mitch Mustain," which strikes me as a bit melodramatic. Mustain, who had an undeniably live arm, had one problem: His ability to select football programs.
When Mustain decided to leave Arkansas, where he was mismatched with head coach Houston Nutt, he could have become the starter for about 100 or so teams. But he chose USC, which simply had better quarterbacks on hand. End of story, at least on the USC end.
The Arkansas stuff, however, is fairly rich
.
Meanwhile,
Matt Leinart
is a free agent,
Carson Palmer
signed with Arizona -- perhaps to be closer to the Pac-12 blog --
Matt Cassel
is with the
Minnesota Vikings
,
Aaron Corp
is on the
Buffalo Bills
roster and
John David Booty
is out of the league.
Not many schools can list so many NFL QBs, but that operates as a negative when the success rate is so low.
The cumulative affect of all this mediocrity and odd drama -- fair or unfair -- is freight for Barkley.
His draft stock is not just about a disappointing season and over-heated questions about his arm strength, which is certainly NFL-adequate. It's guilt by association: USC QBs and their recent history in the NFL is pretty lousy.
USC's QB past shouldn't mean that much. Barkley should be evaluated, positively or negatively, on what he has done, who he is and his potential. But that dubious lineage will make more than a few NFL GMs skittish.
But all it takes is for Barkley to end up back in the first round. We shall see.
February, 2, 2011
2/02/11
12:47
PM ET
By
ESPN.com staff
| ESPN.com
Former USC quarterback Mitch Mustain was arrested late Tuesday night and held on a
felony narcotics charge
, Los Angeles Police Department spokesperson Bruce Borihanh confirmed Wednesday to ESPN Los Angeles.
Mustain was arrested at 8 p.m. PT on Tuesday. Bail was set at $30,000. Mustain has not paid bail and is still in jail, Borihanh said.
The
LA Times
reported "the arrest came as the result of a sting operation."
Mustain, 22, might be the nation's best-known backup quarterback. Considered one of the nation's top QB recruits in 2006, he signed with his home-state team, Arkansas, and he went 8-0 as the Razorbacks starter as a true freshman. But he opted to transfer to USC in 2007 after a highly publicized falling out with coach Houston Nutt.
At USC, however, he was unable to beat out Mark Sanchez and then Matt Barkley. While he only started one game at USC -- a 20-16 loss to Notre Dame this season, when Barkley was hurt -- he was still considered an NFL prospect.
This arrest, obviously, dims those prospects.
Mustain is the second former Trojan to be arrested this week. Former defensive end Everson Griffen, now with the Minnesota Vikings, was
arrested Monday
on suspicion of felony battery, when LAPD officers used a Taser to subdue him after a traffic stop near campus. Prosecutors told the LA Times "that felony charges would not be filed because officers were not injured and Griffen lacked a criminal history. The case is being forwarded to the Los Angeles city attorney's office."
June, 4, 2010
6/04/10
9:00
AM ET
By
ESPN.com staff
| ESPN.com
USC got a look at what its offense might look like without starting quarterback
Matt Barkley
during the spring game. The verdict? Not too shabby.
[+] Enlarge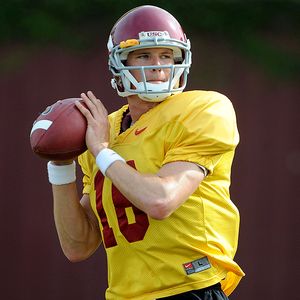 Kirby Lee/Image of Sport-US PRESSWIREIf Matt Barkley were to get injured or falter, the USC coaching staff would "be very comfortable" turning to Mitch Mustain, above.
With Barkley sidelined by a bruised hand,
Mitch Mustain
threw five touchdown passes while completing 19 of 29 for 299 yards to lead his team to victory.
While ESPN's College Football Live rates Barkley as "irreplaceable," the Trojans coaches doesn't seem too worried about the prospect of potentially turning to Mustain, a fifth-year senior.
"We'd be very comfortable," quarterbacks coach Clay Helton said.
Mustain is probably the nation's best known backup quarterback. He went 61-2 at Springdale (Ark.) High School and was named the 2005 Gatorade, USA Today and Parade Magazine National Player of the Year before becoming the biggest recruit in Arkansas history. He went 8-0 as a true freshman starter, yet things turned sour between Mustain and Razorbacks coach Houston Nutt -- let's just say it was complicated -- and Mustain opted to transfer to USC.
The Trojans offered a new start, but Mustain couldn't manage to win the starting job after sitting out a season, per transfer rules. He first served as Mark Sanchez's backup in 2008 and then failed to beat out Barkley last fall. He saw limited action in 2008 -- he passed for 157 yards with two TDs and two interceptions -- but didn't throw a pass last year and was a mostly a forgotten man under coach Pete Carroll and offensive coordinator Jeremy Bates.
With the arrival of new coach Lane Kiffin, however, the message was no job was safe. Even Barkley's.
"Mustain really wanted to come and compete and show that he's a big-time quarterback who can help the team in any way," Helton said. "We were very proud of the way Mitch responded during the spring."
While few expected Mustain to beat out Barkley, who emerged as a clear No. 1 when spring practices ended, he impressed the coaching staff, Helton said.
"I thought he really put in the extra effort and the extra time of really understanding the system," he said. "We're extremely pleased with him."
The good news is that Mustain's game experience likely means he won't be too wide-eyed if he's needed to step in for an injured Barkley. The bad news is that he's the last line of defense -- or offense. This spring, after
Aaron Corp
opted to transfer to Richmond, he and Barkley were the only two scholarship QBs on the roster, though
James Boyd
was moved from defensive end to fortify depth. In the fall, touted freshman
Jesse Scroggins
arrives, but turning to a true freshman quarterback is rarely a good thing in the Pac-10.
If Barkley is lights out and doesn't get hurt, it seems unlikely that Mustain will see much playing time. His future hope, of course, is to copy the path of Matt Cassel, Matt Leinart's backup at USC, who signed a six-year, $63 million contract in July 2009 with the Kansas City Chiefs.
But Helton isn't writing off Mustain.
"I think he is going to be a guy who definitely helps us in his last year," he said.
May, 22, 2009
5/22/09
7:37
PM ET
By
ESPN.com staff
| ESPN.com
Posted by ESPN.com's Ted Miller
UCLA coach Rick Neuheisel will participate in the 2009 Armed Forces Entertainment college football "Coaches Tour" beginning late next week, an effort to help rally U.S. servicemen and women in the Middle East and Europe and show appreciation for their efforts.
"I am honored to be participating in this tour," Neuheisel said in a statement. "Our men and women overseas put their lives on the line every day, and I'm thrilled to be able to personally thank them for all they do. They are a long way from home, and if we can bring a little bit of home to them, then we have accomplished the goal of the tour."
Other coaches on the tour include former Auburn coach Tommy Tuberville, Mack Brown (Texas), Troy Calhoun (Air Force), Jim Tressel (Ohio State), Jim Grobe (Wake Forest), and Houston Nutt (Mississippi).
The tour will depart from McConnell Air Force Base, near Wichita, Kan., on May 27. The coaches will visit troops stationed at U.S. military installations in Germany, Turkey, Spain, Iraq and Djbouti (Africa) and will return to the U.S. on June 4.
On the tour, the coaches will personally interact with the troops, hold formal college football symposiums where troops will have an open microphone to ask questions, and at some locations, will host flag football games for the military members and serve as honorary coaches.