February, 3, 2012
2/03/12
1:05
PM ET
Stanford's recent success just about
Andrew Luck
? That's just silly talk.
If ESPN NFL draft guru Todd McShay is on target with his mock 2012 NFL draft, plenty of evidence to the contrary
will be produced on draft day
.

McShay projects that Luck will be the No. 1 overall pick, of course, but he also projects that Luck will be joined by three teammates in the first round.
How many other teams will produce that many first-round picks? One: National champion Alabama.
The Pac-12 has seven first-round picks in McShay's mock draft.
Here's how McShay sees things, with some comments included.
1. Andrew Luck, QB Stanford (Indianapolis Colts)
2. Matt Kalil, OT, USC (St. Louis Rams)
13. David DeCastro, OG, Stanford (Arizona Cardinals)
This might seem a bit high for a guard, but DeCastro was the most dominant interior offensive lineman in the nation in 2011 and has a chance to develop into one of the elite NFL players at his position. Offensive tackle is also a need area, but DeCastro is a much better overall player than the top available tackle. Cornerback could also be a consideration, but both
Janoris Jenkins
(North Alabama) and
Dre Kirkpatrick
(Alabama) carry off-field baggage.
18. Jonathan Martin, OT, Stanford (San Diego Chargers)
20. Nick Perry, DE, USC (Tennessee Titans)
The Titans have three defensive ends set to become free agents and need a dynamic pass-rusher to complement Derrick Morgan. While Perry is raw, he has good initial burst and natural pass-rush skills. Cornerback, safety and offensive line are also need areas, but Perry makes the most sense in this situation.
26. Coby Fleener, TE, Stanford (Houston Texans)
The Texans would rather get a wideout here to complement Andre Johnson, but Rutgers'
Mohamed Sanu
and South Carolina's
Alshon Jeffery
would be reaches at this point. A difference-maker at tight end would help, though, and Fleener is a reliable target with toughness, a competitive nature and underrated speed/athleticism. He could draw some attention to the middle away from Johnson, and with a deep wideout class Houston could find a quality receiver in the next couple of rounds.
29. Vontaze Burfict, LB, Arizona State (Baltimore Ravens)
Burfict is a physical freak with tremendous athleticism and explosive power. He's a top-20 talent, but questions about his discipline on and off the field are hurting his stock. However, Burfict could contribute immediately and would benefit greatly from the leadership and guidance of Ravens middle linebacker Ray Lewis. And you have to wonder whether the Ravens would press their luck and take another player with character flags after bringing cornerback Jimmy Smith into the fold last year.
Here's McShay's
player rankings
.

Here's Kiper's
Big Board
.

And here's Kiper's
top-five by position
,

which is chock full of Pac-12 players.
Most interesting: Kiper ranks former Arizona State's Brock Osweiler No. 3 among the quarterbacks, ahead of former Arizona's
Nick Foles
, who is fifth. Luck, of course, is No. 1 and Heisman Trophy winner
Robert Griffin
III is No. 2.
If Osweiler ends up getting picked on the first day -- first two rounds -- it certainly will validate his surprising decision to enter the NFL draft.
August, 25, 2011
8/25/11
12:32
PM ET
ESPN.com's NFL draft experts are well into their preseason evaluation of draft eligible players, and there is a lot of early love for the Pac-12, which could produce as many as eight to 10 first-round picks.
Consider this evaluation of the
top-three offensive tackles
: USC's
Matt Kalil
, Stanford's
Jonathan Martin
and Iowa's
Riley Reiff
. The analysis is based on how each did against former Arizona defensive end Brooks Reed, a second-round selection for the Houston Texans.
Steve Muench rated them like this: 1. Kalil; 2. Reiff; 3. Martin.
Overall, this year's top tackles acquitted themselves nicely against a top-level defensive player in Brooks. That will be noted in their evaluations as the draft process plays out, and these same comparisons could come into play for teams seeking to separate these players on their boards.
Then
there are the quarterbacks
. Three of the top-four prospects are from the Pac-12: Stanford's
Andrew Luck
(duh), USC's
Matt Barkley
and Arizona's
Nick Foles
.
Luck is No. 1 for mental makeup, second for accuracy, first for release/arm strength and first for pocket mobility. It was a bit surprising that Foles ranked ahead of Barkley for arm strength.
This
ranking of running backs
is sure to get Oregon and Washington fans nipping at each other (shocker): The Huskies'
Chris Polk
is the No. 2 running back behind Alabama's
Trent Richardson
, while the Ducks'
LaMichael James
is fifth.
(Please wait until the innocent blogger is out of the way before you start brawling).
Three of the top four tight ends
and four of the top-seven are from the Pac-12: Stanford's
Coby Fleener
at No. 2, Oregon's
David Paulson
at No. 3, USC's
Rhett Ellison
at No. 4 and California's
Anthony Miller
at No. 7.
The
list of offensive linemen
has Kalil and Martin at Nos. 1 and 2. I would encourage Scouts Inc. to break out film of Stanford's David DeCastro: If he's not one of the first three guards off the draft board, well, cut off my legs and call me shorty.
Arizona's
Juron Criner
is ranked
No. 5 among the receivers
.
Defense will be up next.
May, 1, 2011
5/01/11
12:10
PM ET
The Pac-12 provided 37 players to the NFL draft over the weekend, one fewer than the SEC, which led all conferences.
If the six combined picks from Colorado and Utah are taken away from the conference, the old Pac-10 provided NFL teams 3.1 draft picks per team, also just behind the SEC at 3.17.
Here's where the Pac-12 players went:
First round
No. 8
Jake Locker
, QB, Washington: Tennessee
No. 9
Tyron Smith
., OT, USC: Dallas
No. 17
Nate Solder
, OT, Colorado: New England
No. 24
Cameron Jordan
, DE, California: New Orleans
No. 27
Jimmy Smith
, CB, Colorado: Baltimore
Second round

7.
Akeem Ayers
, LB, UCLA: Tennessee
10.
Brooks Reed
, DE, Arizona: Houston
13.
Rahim Moore
, FS, UCLA: Denver
21.
Stephen Paea
, DT, Oregon State: Chicago
24.
Shane Vereen
, RB, California: New England
Third round

13.
Jurrell Casey
, DT, USC: Tennessee
20.
Mason Foster
, LB, Washington: Tampa Bay
25.
Shareece Wright
, CB, USC: San Diego
29.
Christopher Conte
, S, California: Chicago
33.
Sione Fua
, DT, Stanford: Carolina
Fourth round

5.
Jordan Cameron
, TE, USC: Cleveland
19.
Casey Matthews
, LB, Oregon: Philadelphia
21.
Jalil Brown
, CB, Colorado: Kansas City
27.
Owen Marecic
, FB, Stanford: Cleveland
Fifth round

8.
Brandon Burton
, CB, Utah: Minnesota
9.
Gabe Miller
, DE, Oregon State: Kansas City
14.
Jacquizz Rodgers
, RB, Oregon State: Atlanta
23.
Richard Sherman
, CB, Stanford: Seattle
Sixth round

2.
Ryan Whalen
, WR, Stanford: Cincinnati
14.
Caleb Schlauderaff
, OG, Utah: Green Bay
17.
Ronald Johnson
, WR, USC: San Francisco
19.
David Carter
, DT, UCLA: Arizona
22.
Allen Bradford
, RB, USC: Tampa Bay
24.
Mike Mohamed
, LB, California: Denver
32. Ricky Elmore, DE, Arizona: Green Bay
38. Zach Williams, C, Washington State: Carolina
Seventh round

12.
D'Aundre Reed
, DE, Arizona: Minnesota
24.
Scotty McKnight
, WR, Colorado:
New York Jets
30.
Lawrence Guy
, DT, Arizona State: Green Bay
37.
Stanley Havili
, FB, USC: Philadelphia
38.
David Ausberry
, WR, USC: Oakland
39.
Malcolm Smith
, LB, USC: Seattle
By Pac-12 school:

Arizona (3)
Arizona State (1)
California (4)
Colorado (4)
Oregon (1)
Oregon State (3)
Stanford (4)
UCLA (3)
USC (9)
Utah (2)
Washington (2)
Washington State (1)
The final tally by automatic qualifying conferences
:
SEC... 38
Pac-12... 37
Big Ten... 36
ACC... 35
Big East 22
Big 12...19
Nebraska was a big swing to the Big Ten from the Big 12 with seven picks. With Colorado and Nebraska, the Big 12 provided 30 selections.
This was the tally through three rounds
:
SEC: 20
ACC: 19
Pac-12: 15
Big Ten: 13
Big 12: 9
Big East: 4
April, 30, 2011
4/30/11
12:12
PM ET
Here's where things stand for the Pac-12 through three rounds of the NFL draft.
First round
No. 8
Jake Locker
, QB, Washington: Tennessee
No. 9
Tyron Smith
., OT, USC: Dallas
No. 17
Nate Solder
, OT, Colorado: New England
No. 24
Cameron Jordan
, DE, California: New Orleans
No. 27
Jimmy Smith
, CB, Colorado: Baltimore
Second round
7.
Akeem Ayers
, LB, UCLA: Tennessee
10.
Brooks Reed
, DE, Arizona: Houston
13.
Rahim Moore
, FS, UCLA: Denver
21.
Stephen Paea
, DT, Oregon State: Chicago
24.
Shane Vereen
, RB, California: New England
Third round
13.
Jurrell Casey
, DT, USC: Tennessee
20.
Mason Foster
, LB, Washington: Tampa Bay
25.
Shareece Wright
, CB, USC: San Diego
29.
Christopher Conte
, S, California: Chicago
33.
Sione Fua
, DT, Stanforrd: Carolina
Through three rounds by conference (with Nebraska in the Big Ten and Colorado and Utah in the Pac-12):
SEC: 20
ACC: 19
Pac-12: 15
Big Ten: 13
Big 12: 9
Big East: 4
Note: The old Pac-10 has 13 without two first-round picks from Colorado. Big Ten has 12 without Nebraska. Big 12 has 12 if Colorado and Nebraska are included.
February, 11, 2011
2/11/11
10:30
AM ET
Todd McShay has released his
third mock NFL draft
, and six Pac-12 players are projected to be picked in the first round. Those players are:
Locker was the most-watched player at the Senior Bowl. Here's what McShay has to say after the smoke cleared -- and before the NFL combine: "Locker's stock took a big hit this season, but we still think he will come off the board in the first round. The Seahawks are not completely settled at quarterback and could do worse than bringing in a local hero with a lot of upside, and if they don't pull the trigger, we could see a team trade back into the late first round to get Locker"
Further, Steve Muench lists
five underclassmen
who did not crack the first round in McShay's latest projection but could use pre-draft workouts to boost their stock and work their way into the top 32 picks, and UCLA free safety
Rahim Moore
tops the list. Writes Muench:
If he looks fluid during drills at the combine his stock could jump. The Jets pick at No. 30 overall and have a need at free safety, where Brodney Pool and Eric Smith are both unrestricted free agents. Moore's strength is in coverage and he can hold up on the back end of a blitz-heavy scheme like the one the Jets run.
November, 17, 2010
11/17/10
6:56
PM ET
A lot has been made of California's split personality this season, but it's possible UCLA and Washington are even more deranged.
Both started the season with high expectations, particularly Washington, which thought it had a Heisman Trophy candidate when quarterback
Jake Locker
opted to return for his senior season.
Splat. Both opened with losses on the road to mediocre teams.
Washington bounced back with a strong win over Syracuse. Joy! Then it got run over at home by Nebraska. Despair! Then the Huskies won at USC. Joy! Then the Huskies got bounced at home by Arizona State. Despair! Then they beat Oregon State in double-overtime. Joy!
Then they got waxed in three consecutive games. Lots of despair.
[+] Enlarge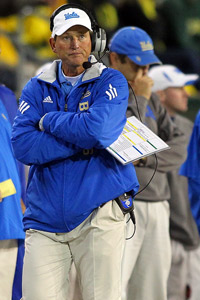 Jonathan Ferrey/Getty ImagesRick Neuheisel, the former Washington coach and current UCLA coach, will be a central figure when the Huskies host the Bruins on Thursday.
UCLA followed up its loss at Kansas State by getting trenched at home by Stanford 35-zip. Abandon ship! Then it beat Houston and Texas when the Cougars and Longhorns were still considered good. Back on the bandwagon! Then, after beating Washington State, the Bruins got waxed in two consecutive games and couldn't make plays at the end to upset Arizona. Bail on the Bruins!
Then, the Bruins upset Oregon State. Hope?
It's hard to project either way for either team as they head into a meeting Thursday night in Husky Stadium.
"When they play well in all three phases, [they] look really, really good -- as we have this year at times," Huskies coach Steve Sarkisian said. "There are other times when things haven't gone well, that [things] have fallen apart on them, as they have for us."
And so both teams find themselves desperate for a win to keep bowl hopes alive. Sarkisian's Huskies need to win their final three game -- visits to California and Washington State are ahead -- while the Bruins need to win two of three -- they are at Arizona State then play host to USC in the season-finale.
So there's not a lot of margin for error, and everyone knows the stakes are high. A bowl game would make it a successful season for either team. A losing record would fall short of preseason expectations. Bruins safety Rahim Moore joked this week -- seemingly -- that he'd quit football if the Bruins didn't manage to earn bowl eligibility. It's clear both coaches aren't against dangling the bowl game as a motivational carrot.
"Whether I dangle it or not, our guys are well aware of what we need to do," UCLA coach Rick Neuheisel said.
As far as subplots, Neuheisel is one. The Huskies coach from 1999-2002, he's not very well liked by some in Seattle, who still blame him for the program's lengthy downturn, even though Neuheisel went to four bowl games in four years -- the worst was the Sun Bowl -- and won a Rose Bowl after the 2000 season.
Neuheisel, who has been gracious in his comments about Washington since being hired at UCLA, said he expects the animosity to die down, and that Huskies fans will mostly focus on rooting for their team. And as for his role in the program's downturn?
"There were a lot of mistakes made. Certainly, I made some," he said. "But it's been seven years. My last year coaching there was 2002. There's been ample time to fix things."
Another subplot is the return of Locker from a rib injury that sidelines him for the defeat at Oregon on Nov. 6. This will be Locker's final home game after a hugely disappointing season. Can he put on one final, big show, something like did down the stretch last year?
Speaking of quarterbacks, there's also UCLA's
Richard Brehaut
, who's been surprisingly effective running the Bruins pistol offense and has breathed some life into a once moribund passing game. It's taken some time, however, for Neuheisel and -- particularly -- offensive coordinator Norm Chow to develop confidence in Brehaut. Their hands were forced when starter
Kevin Prince
was lost for the year with a knee injury.
"Richard is kind of a swashbuckler who can get in there and throw the ball around and make it look really easy," Neuheisel said. "Then all of a sudden, when the defense is coming from a lot of different places, is he really aware of what's happening and remembering all the nuances that go with playing quarterback? He wasn't as advanced [as Prince]. Now that he's having to do it, he's learning and getting better very quickly."
Then there's the weather. It's expected to be cold and rainy. The perception is the Southern-California-centric UCLA roster won't be accustomed to that, particularly Brehaut.
Whatever the weather, though, Brehaut's best bet is to hand the ball off. The Bruins have run the ball well this year, and the Huskies rank 118th in the nation in run defense (219.6 yards per game).
Finally, Washington is going for a blackout -- black uniforms, black shirts for fans, black end zones -- in order to make a statement for the ESPN broadcast.
You could say they are dressing for a funeral. The question is: Will it be their own, or the Bruins in mourning after the game?
April, 30, 2010
4/30/10
2:30
PM ET
March, 18, 2010
3/18/10
6:08
PM ET
After 24 years as an NFL assistant coach,
Vic Fangio
is five practices into his tenure as Stanford's defensive coordinator.
He has 11 years of experience as a defensive coordinator for three NFL teams: the Carolina Panthers, Indianapolis Colts and Houston Texans. Last year, he worked for Stanford coach Jim Harbaugh's brother, John, who is the head coach of the Baltimore Ravens.
Now he's charged with transforming a defense that ranked near the bottom of the Pac-10 in most key statistical categories.
The Cardinal won't go back to work with its second spring session until March 30, so it seemed like a good time to check in with Fangio and take the measure of his nibble of college coaching.
Having worked for two Harbaughs, what's the difference in terms of personalities?
Vic Fangio
: Oh, it's too early to tell. They are similar but also different in their own ways. It's too early to see -- I haven't gone through a season.
I know you've answered this question a few times already, but why after so many years in the NFL to you take a swing at college coaching?
VF
: The timing was right. I've gotten to know Jim the last couple of years and I kind of like what he's got going on out here. We've talked about it in the past as early as late last season. At that time I didn't think I would. But he did a good job recruiting. This just seemed to be right this time.
I know you've only had five practices, but what do you feel like the biggest adjustment will be going from the NFL to college?
VF
: One is the hashmark differences. There truly is a wide side and short side in college football. There is in the NFL but not to the degree there is here. No. 2 is the different offenses you'll see here compared to the NFL. The quarterback can be more of a third running back than a quarterback. You get all the gun-read stuff and the option game. Although that rarely appears in the NFL, and it makes it a different game here.
What about recruiting: What are your responsibilities there?
VF
: I'm from the Northeast, so that will be the part of the country I'll focus on. And the Maryland, Virginia, Pennsylvania, Delaware -- up in that part of the country.
I would assume that, even without a lot of experience in recruiting, your NFL pedigree will be a selling point.
VF
: We're going to try that. The defense we're going to use here, although we're going to have to make some adjustments for the differences in the offenses we'll be facing, will be an NFL-oriented defense. We feel like anybody who has aspirations to play at the next level will be getting great training here for playing for an potential NFL career.
I read a couple of things from Baltimore that talked about you being a no-nonsense kind of guy. I would think that approach might work pretty well at Stanford compared to you running into some prima donna aspect in the NFL. Is that a fair assessment?
VF
: However I got that, that label is false. That's not my personality to begin with. But I think there's a misnomer in the NFL that you have a bunch of prima donna personalities. I never had any problems dealing with players in the NFL. People seem to forget those players came from the colleges. They don't make a drastic change once they leave campus and come to the NFL. They're still at the root the people they are. Now there's the business aspect in the NFL that does enter into the picture at times. But as a coach you try not to deal with that very much. I'm just going to be myself, whatever that is, that is who'll I'll be. I'm not going to try to change or be someone different just because I've changed the level of ball I'm coaching at.
I understand you're a 3-4 guy. I know writers sometimes make a bigger deal out of that than they should, but how are you guys incorporating that with Stanford personnel that was mostly 4-3 last year?
VF
: We've obviously had to do some position changing with some of the players. Some of the players who were ends last year are now going to be 3-4 outside linebackers. The prerequisite for that position is to have some defensive end abilities in you because you are going to play on the line of scrimmage, predominantly, and you'll end up playing an outside rushing position, so you do have to have some defensive end abilities. Yet you do have to have enough athleticism and linebacker skills to be counted on to be involved in pass coverage at times.
Part II on Friday: Talking personnel and Fangio's coaching plans.
January, 7, 2010
1/07/10
12:15
PM ET
I know this is a day late, but take a gander at this:
What do you notice?
That the former Pac-10 defensive players went one, two, three in the Defensive
Rookie of the Year voting
.
Not too shabby.
Five Pac-10 defensive players are candidates to be drafted in the first two rounds this spring: UCLA defensive tackle Brian Price, USC safety Taylor Mays, USC defensive end Everson Griffen, California cornerback Syd'Quan Thompson and Cal defensive lineman Tyson Alualu. Oregon State's junior defensive tackle Stephen Paea would join that list if he opts to enter the draft.
Wonder if any of them will challenge Ndamukong Suh, Eric Berry or Gerald McCoy for 2010 Rookie of the Year honors?
October, 16, 2009
10/16/09
2:46
PM ET
Posted by ESPN.com's Ted Miller
USC assistant Jethro Franklin isn't terribly long-winded -- as you shortly will find out in this Q&A -- but he's good with a defensive line and he's awesome on the
slip-and-slide
.
Franklin out-slipped and out-slided offensive line coach Pat Ruel this week in two rounds on the Trojans rain-soaked field, which served as a tiebreaker between the offense and defense for the day. So things weren't too uptight during Notre Dame week.
Franklin is in his second tenure at USC. He was the D-line coach in 2005, and also coached the position for the Green Bay Packers, Tampa Bay Buccaneers and Houston Texans.
Despite replacing three starters on his line -- only tackle Christian Tupou returned from the record-setting 2008 unit -- the Trojans presently rank among the national leaders in all major defensive categories and are getting more pressure on opposing quarterbacks -- see 21 sacks through five games vs. 29 all of last year.
Franklin and his line have their eyes set on chasing down Heisman Trophy contender
Jimmy Clausen
on Saturday. Seemed like a good time to check in.
Five games into the season, what's the biggest surprise for you?
Jethro Franklin
: The biggest surprise? I don't know. We've still got a ways to go. I haven't had a chance to reflect on it in that manner. I don't know. I just take them one at a time. I'd like to answer that one but I really can't.
Has the defensive line exceeded your expectations?
JF
: Well, we're making progress. As long as we can continue to go up the ladder and not take any steps backwards then I'm satisfied. So far, we just keep plugging away and improve week-in and week-out. We look forward to doing things right, finishing plays and basically not having any steps backwards on the ladder of success.
Who's playing well?
JF
: They are all playing hard. I would say they are all playing with pretty good consistency. We just have to continue to improve and don't let anything that is sub-par or any thing that is just OK -- we've got to continue to get better.
If there was one thing you could improve coming into the game at Notre Dame, what would it be?
JF
: We can always improve on our effort. That's something we can always improve on. We can always improve on assignments and being consistent and doing things right. We can always improve on our technique.
Notre Dame has put up some good offensive numbers: Is this the best offense you guys have faced this season?
JF
: They're doing a heck of a job over there. We respect the heck out of those guys. We know in order for us to do what we want to accomplish we've got to go out there and play our hearts out. We've got to play our best performance so far.