June, 19, 2014
Jun 19
10:30
AM ET
There will be familiar faces around weight rooms and in front of overhead projectors in football complexes this summer: coaches' faces.
Big deal.
Except it is a big deal, at least to the coaches who can now occupy strength and conditioning sessions and hold film study with their players.
The NCAA partially adopted a rule from the hardwood in October allowing a maximum of eight hours of mandatory workouts for players for eight weeks of the summer. What football coaches really care about, however, is the ability to watch those conditioning sessions and meet with their players for up to two hours each week. Any on-the-field work with footballs is still prohibited.
[+] Enlarge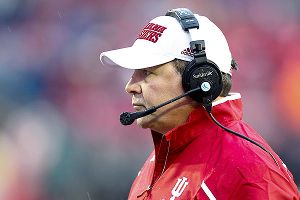 AP Photo/Andy ManisIndiana coach Kevin Wilson is one of many coaches that can visit with players in the summer rather than relying on "spies" to get information on offseason workouts.
"You don't need secret spies anymore," Indiana coach Kevin Wilson told ESPN.com. "You can just watch your football team now. ... It's common sense that if I'm in control and if I want to walk in the weight room and watch them lift weights then I can watch them lift weights."
It is uncharted territories for most coaches, who are used to relying on third-party word of mouth from the program's strength coach and upperclassmen on how summer workouts are progressing and whether freshmen are adjusting. Some coaches began mapping out how they would use their eight hours when the rule was passed, while others will take the pulse of the team and adjust accordingly. For some, they'll protect the details of those hour splits as if it were the playbook.
"We have to carve out [player meetings] with our strength coach, time that we can take away from his hours because you're not adding extra time," Notre Dame coach Brian Kelly said. "There is this model that I'm not interested in giving up to anybody, that we think gives us a balance."
Notre Dame is still debating between
Everett Golson
and
Malik Zaire
as its starting quarterback, so Kelly can spend part of the summer mentally preparing both for the upcoming competition. He will institute a "spring ball installation" of the core offensive plays and defensive structure, "something we've never been able to do in June." He'll also show his quarterbacks all of their mistakes in previous settings in hopes of limiting them once the season begins.
The vast majority, if not all, are in favor of the rule, although to varying degrees. Indiana's Wilson has walk-on players who could eventually earn a scholarship, so those players feel a need to attend summer workouts. He knows that means some will take out additional loans for summer school.
For the coaches, with summers now filled with prospect camps and recruiting visits, there are fewer hours to break away from the football facility. Wilson will take advantage of the change, but he wonders whether coaches will suffer from the burnout a 365-day coaching calendar lends itself to. The NCAA implemented a two-week summer dead period to combat the evolving recruiting calendar, but Wilson knows some coaches will stick around to watch tape with players.
"It's a little ironic they added a rule that for two weeks a recruit can't come in but added a rule so you can spend that time with your players," first-year Wake Forest coach Dave Clawson told ESPN.com.
Added Wilson: "How do we find the balance? It's nice we can work with them, but it's finding a balance where your coaches can find sanity. It's nice we can talk legally but … I think you can overcoach.
"It will be interesting after year one, whether coaches will say they want to do more or do less."
No school returns fewer starters in 2014 than Utah State, so coach Matt Wells is tasked with making sure those players who will be asked to step up this fall are physically and mentally able. He is also cognizant that his staff spending too much time with the team this summer could produce undesired results.
[+] Enlarge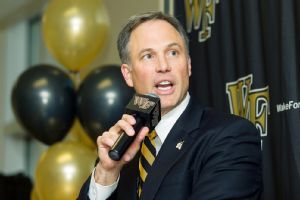 Brian Westerholt/Four Seam Images/AP ImagesThe new NCAA rules are a boon to first-year coaches such as Wake Forest's Dave Clawson, who get a chance to get acclimated with their new players.
In the early portion of the summer, Wells will meet with his team more often than he might in July. He will bring the program's newcomers up to speed with scheme and terminology in meetings, but he also doesn't want to overload them. With the upperclassmen, he believes it will become counterproductive to have extended and repetitive classroom sessions.
"We're going to still lean on player-led meetings, voluntary meetings the coaches aren't in because it builds leadership in your team and in position groups," Wells told ESPN.com. "We've benefitted from that the last three summers from an increased leadership role, and I think it's important for the players to have a break from the coaches."
For first-year coaches such as Clawson, the new rule will narrow the learning curve this fall as his players continue to adjust to his offensive and defensive ideologies. Clawson is seemingly like most coaches, though, in that he does not favor using the full two hours for Football 101 seminars. Wake Forest's new coach is not deviating much from the old summer status quo.
When he and his staff assessed the Demon Deacons following the spring, he felt strength and conditioning was lacking most. So when mandatory summer workouts kicked off, he decided he'd only spend 30 minutes to an hour each week meetings with players.
"It didn't make sense to take two hours away from that," he said.
That could change in the coming weeks, though. While some schools already have their entire incoming freshman class on campus, Clawson won't see all of his until July. He said the previous rule preventing coaches from working with freshmen lacked common sense.
"It used to be awful, the first time a freshman's ever on campus and you can't be around them," Clawson said. "When these guys first get here, you need to have some involvement. Part of recruiting is parents trusting you with their son, and first time they drop them off, to not be allowed around them was very hard."
September, 3, 2010
9/03/10
10:13
AM ET
By
ESPN.com staff
| ESPN.com
Some quick notes to get you through the hours until Saturday.
Arizona's visit to Toledo will be the first time a Pac-10 team has played in a MAC team's home stadium.
Arizona State opens its season vs. back-to-back Big Sky opponents, starting with Portland State on Saturday. Because the Sun Devils play two FCS foes, they must win seven games to become bowl eligible.
California is 8-0 all-time vs. UC Davis, but the last meeting was in 1939.
Oregon has won 16 of 17 home openers, dating to 1993. The only loss during that span was a 30-24 defeat vs. Indiana in 2004.
The Ducks will be without the services of running back LaMichael James and kicker Rob Beard as they serve one-game suspensions.
Oregon State, which has never played TCU, opens the season against the Horned Frogs ranked in the Top 25 for first time since 2001.
Oregon State: 1-3 in its past four seasons openers vs FBS schools.
Stanford's game vs. Sacramento State has been designated as the Bill Walsh Legacy Game in honor of the Hall of Fame coach who had two separate stints at Stanford (1977-78; 1992-94).
UCLA leads the series with Kansas State 1-0, winning last year 23-9.
The Bruins have won three of four openers on the road this decade.
BYU has won 4 of its plast 5 vs Pac-10 schools; Washington is 1-4 vs Mountain West competition since the conference was formed in 1999.
Huskies coach Steve Sarkisian was the BYU quarterback in 1995-96.
Washington State holds a 2-1 advantage vs.Oklahoma State, but the Cowboys won the last matchup 39-13 in 2008.
August, 11, 2010
8/11/10
11:18
AM ET
By
ESPN.com staff
| ESPN.com
Bill Phillips Sr., father of three FBS football players, including Stanford guard Andrew Phillips, was one of five people who died in an Alaskan plane crash that also claimed the life of former former Alaska Senator Ted Stevens.
Phillips also was the father of Indiana freshman tight end Paul Phillips and Virginia sophomore tight end
Colter Phillips
Here's a statement from Stanford coach Jim Harbaugh:
"We are struck with deep sadness by the tragic and sudden loss of Bill Phillips. The hearts and prayers of our entire team and staff extend to the Phillips family and the families of those lost in the crash. A man could hardly live a more full life than Bill, whose kindness and friendship touched us all deeply. His legacy lives on through his four sons, four incredible young men he raised."
According to the
San Francisco Chronicle
, "Andrew's 13-year-old brother, William "Willy" Phillips, survived the crash, as did former NASA chief Sean O'Keefe and his teenage son, Kevin. Three others died in the crash. The elder Phillips had worked for Stevens in Washington."
You can read more
on the crash here
.
And here
.
Our thoughts go out Phillips and everyone else touched by this tragedy.