September, 10, 2013
9/10/13
11:00
AM ET
When an unranked team beats a ranked team, there is a knee-jerk reaction to place the blame squarely on the ranked team for "not taking care of its business." Case in point: Washington State's win Saturday night at the Los Angeles Coliseum over the No. 25
USC Trojans
.
The last 72 hours has seen a media blitz of assaults on USC coach Lane Kiffin (deservedly so), criticism of USC's two quarterbacks (deservedly so) and open-ended questions about what the heck is wrong in Troy.
Lost in all of that hot-seat banter (except maybe in Pullman, Wash.) is the fact that Washington State won the football game. Most of the East Coast probably woke up Sunday morning and said "Really? How'd that happen. Trojans must have tanked."
Maybe. Or maybe Washington State should be getting more credit for winning on the road.
"I don't worry about any credit," said Washington State coach Mike Leach. "We had the game. We came out on top and it was a really tightly contested game. USC is a great team. This was one of the great defensive battles. It was back-and-forth. It was a very exciting game even though there wasn't a lot of points. Maybe they'll replay it so I suggest people on the East Coast watch it because it was an entertaining game."
In a contest Leach described as "a bloodbath in the trenches with all kinds of body punches," it was the Cougs who threw one more haymaker than the Trojans -- who lost at home to Washington State for the first time since 2000.
[+] Enlarge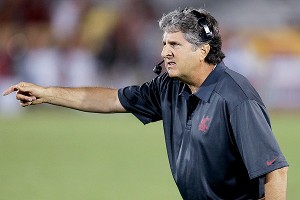 AP Photo/Chris CarlsonMike Leach said the win over USC was a great defensive battle.
With neither team's quarterback(s) playing particularly well, Leach credited his defense for staying poised and being opportunistic. Both defenses combined for 18 tackles for a loss, five sacks and five turnovers.
Damante Horton
, recently named the Pac-12 Defensive Player of the Week, snatched a pair of interceptions, returning one 70 yards for a touchdown just before halftime. Andrew Furney's 41-yard field goal was the difference.
"Games unfold in a funny kind of way and you have to adapt throughout the course of the game," Leach said. "It was a tight game. As time went on it became a battle of defensive lines. Both defensive lines were the most dominant forces in the game. USC's defensive line was dominant. Our defensive line was dominant. It became a major trench war with the upper hand being both defensive lines so you kind of adapt accordingly. I don't think the quarterbacks on either side settled in and both sides adapted around that."
Players speaking to the media Monday said several times that they went into the game "expecting to win."
"I think that was one of our main focuses, was confidence," said defensive lineman
Ioane Gauta
. "We had confidence in each other making plays. Our secondary handled the game real well and we feel like we dominated the front seven. Our linebackers made plays. They made big tackles for losses. We're proud of that."
This game might serve as a turning point in the Mike Leach era at Washington State. Because it's one thing to talk about expecting to win. It's another to actually play like you believe it.
"The most important thing is to remove as much clutter as you can from your mind and focus on what you and your abilities can do and where they can take you and just go out there and do your best and do it without any hesitation," Leach said. "Together, expect to be successful and do it over and over. Sometimes people do it with the game as a whole. I think instead it needs to be each individual battle you play and some of that has to be the enjoyment of engaging in one battle after the next and then trying to win each battle. I think our team in particular has done a better job of that."
With an FCS opponent in Southern Utah coming up this week, players are doing their best to put the USC victory behind them and focus on what's ahead.
"We finished, and I'm proud of them for that," Leach said. "We went out there and played hard and not let things disrupt our composure … the biggest question is are we focused on Southern Utah right now? Because that's what we need to do."
August, 6, 2013
8/06/13
10:30
AM ET
Today we begin rolling out our day-by-day snapshots of each Pac-12 team heading into the 2013 season. We start in reverse alphabetical order with the
Washington State Cougars
.
Washington State
Coach
: Mike Leach (87-52, 3-9 at Washington State)
2012 record
: 3-9 (1-8, Pac-12 North)
Key losses
: DE Travis Long, WR Marquess Wilson, QB Jeff Tuel, RB Carl Winston
[+] Enlarge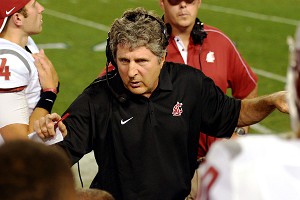 Jake Roth/US PresswireMike Leach is hoping to see more improvement in his second season at Washington State.
Key returnees
: WR
Gabe Marks
, WR
Brett Bartolone
, QB
Connor Halliday
, S
Deone Bucannon
, DT
Ioane Gauta
.
Newcomer to watch
: WR Vince Mayle (JC transfer, Sierra College) is a big, physical receiver at 6-foot-3, 240 pounds. Despite an already-deep receiving corps, Mayle's presence ups the competition in an offense that favors receivers.
Biggest games in 2013
: Aug. 31 at Auburn: We'll see what kind of progress the team made in the offseason and who will be the quarterback -- at least for one week. Nov. 29 at Washington: Last year's Apple Cup, a thrilling come-from-behind win for the Cougars, re-ignited the rivalry after the Huskies had won three straight.
Biggest question mark heading into 2013
: The obvious question is who is going to be the quarterback --
Connor Halliday
,
Austin Apodaca
or both? But it's the guys up front protecting the quarterback who are also cause for concern. Elliot Bosch is a steady anchor at center, and there is some depth across the line, if not uncertainty on who plays where. Last year the Cougars gave up more sacks per game than any team in the nation and were second to last nationally in interceptions thrown. A lot of that falls on the quarterbacks. But a lot also falls on the line. Improved line play should also boost the running game, which averaged just 29 yards per game (a bit misleading considering the total number of sacks allowed) and produced just six touchdowns on the ground.
Forecast
: Expectations are a little more tempered heading into Year 2 of the Mike Leach era. This time last year, folks were talking postseason. And why not? Leach had never had a losing season as a head coach and had been to 10 straight bowl games. But it didn't work out that way, and people are starting to understand that it's going to take more than Leach being on the sidelines for this team to reach the postseason for the first time since 2003.
With that said, there is talent -- especially at wide receiver with Marks, Bartolone,
Isiah Myers
and a host of others. If the offensive line, coupled with more consistent quarterback play (presumably, for now, from Halliday), can reduce the sacks and buy more time, we could see the offense be even more explosive than last season when it averaged more than 330 yards per game in the air. The addition of former Missouri offensive coordinator Dave Yost to the coaching staff shouldn't go unrecognized, either.
While the defense yielded more than 33 points per game in 2012, the Cougars saw a major uptick in the pressure department in their first season running Mike Breske's 3-4 front. They jumped from 94th in sacks per game and 78th in tackles for a loss per game in 2011 to 11th and eighth, respectively, in 2012. They need to find a replacement for Long -- and it looks like
Logan Mayes
, once thought to be the "buck" linebacker in waiting, will focus his time specifically on defensive end. There is some experience in the secondary and Bucannon is a bona fide playmaker and one of the top safeties in a league heavy on safety talent.
It might take another season for the Cougars to really make a big push toward the postseason. But there should be significant signs of improvement as Leach's players come to understand what he demands of them and they continue to grow into the schemes. Last year 17 freshmen started regularly compared to just four seniors. That trial-by-fire experience should start to pay dividends.
October, 6, 2012
10/06/12
9:38
PM ET
The
Oregon State Beavers
overcame an uncharacteristically inefficient first half on offense, but pulled away from Washington State in the second half en route to a
19-6 home win
.
Luckily for No. 14 Oregon State (4-0, 3-0), Washington State's offense didn't look much better.


The teams combined for eight turnovers -- including three interceptions by Washington State quarterback
Connor Halliday
, who was eventually replaced by
Jeff Tuel
. Oregon State quarterback
Sean Mannion
also had a three-interception day.
Considering the big numbers both of these teams were capable of, the outcome is a bit of a surprise.
Oregon State cornerback
Jordan Poyer
hauled in three interceptions for the Beaver defense, which held Washington State (2-4, 0-3) to 227 total yards of offense and no touchdowns.
The Beavers held a 6-3 advantage at halftime following a pair of
Trevor Romaine
field goals and one from WSU's
Andrew Furney
.
But they found the end zone in the third quarter when Mannion (25-of-42, 270 yards) connected with
Markus Wheaton
on a 12-yard score in the corner of the end zone.
"Wipe that slate clean, we have a brand new second half," Mannion told the Pac-12 Network after the game. "...That's great about our whole offense. We realize we're going to have some good plays and some bad plays. You have to play with a short memory."
Washington State, while struggling offensively, appeared to take another step forward as a defense. safety
Deone Bucannon
, defensive tackle
Ioane Gauta
and
Casey Locker
all had interceptions for the Cougars. Linebacker
Travis Long
also played well with a sack, three tackles and a pass breakup.
But the Cougars, who rushed for just 20 yards, couldn't get much going offensively. Halliday was 9-of-20 for 81 yards with the three picks before Tuel replaced him. Tuel went 11-of-17 for 126 yards and an interception.
Despite the shaky performance, Mannion was 5-of-7 for 64 yards on OSU's second to last drive of the game, a 12-play march that spanned 86 yards and was capped with a
Tyler Anderson
1-yard touchdown run.
May, 21, 2012
5/21/12
11:00
AM ET
Washington State defensive coordinator Mike Breske took a few minutes out of his busy recruiting schedule to answer some questions about WSU's transition to a new coach, a new scheme, some personnel questions and the challenges of facing Mike Leach's offense every day in practice. Here's part one of the two-part Q&A.
How difficult is the switch, fundamentally, from a 4-3 to a 3-4?
Mike Breske
: It's pretty significant, both mentally and physically. Coming in here, we didn't really have a true nose guard so we've had to adapt kids there. We've got a young man coming in from Fullerton JC this fall (Ioane Gauta) that will be a true, 300-pound biscuit in terms of the nose guard position, which will help. But it gives us some more flexibility at the defensive end position. We've asked some guys to do things that they haven't been asked to do before. They've responded. But those 15 practices, it was a struggle in terms of picking up a new system and new coaching. And it works both ways -- coaches learning players and players learning their coaches. But by Practice 15 we were playing fast and that was our goal in spring ball. We're ahead of the curve. The thing on defense, we're not on a one-year, two-year, three-year plan. We're on a six-month plan. We've got to get up to speed by the time we get up to Provo, Utah.
Will you be pretty true to the 3-4 or are you going to be a little more multiple?
[+] Enlarge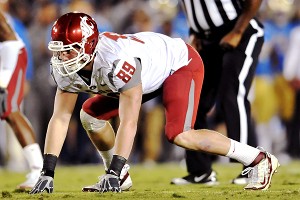 AP Photo/Cal Sport MediaNew defensive coordinator Mike Breske intends to deploy defensive end Travis Long all over the field.
MB
: We'll be multiple. That's going to be based on the game-plan and the type of offense we're going to see each week. We have to have flexibility in our package. Yet, we don't want to put too much in. That type of deal where we overwhelm our kids. We always want to be able to play fast on defense and be able to make plays. Not think, but react. That type of thing. We'll jump into an over scheme and an under scheme and a 3-4 scheme and be very multiple. That's going to be a plus for us because we won't be the biggest, most physical front seven you're going to see in the Pac-12. We have to take advantage of our assets, not our liabilities.
How would you describe yourself as a defensive play caller. Are you fairly aggressive or are you more comfortable sitting in a base and letting the game come to you?
MB
: I'm pretty aggressive. I think that's one of the reasons coach Leach looked at me. He's an out-of-the-box-type head coach. He's saw what we did at Montana the last couple of years -- there we were dabbling in the 3-4 and we were going to move in that direction anyway. I think we want to make things happen and create things on our side of the ball and, obviously, we want to get our offense on the field. We're not into those 12-15 play type drives on defense. And I know coach doesn't want that either. He doesn't want his offense on the sideline.
Travis Long in the "buck" linebacker position. How different is it going to be from his previous job as a 4-3 defensive end?
MB
: I think he's adapted very well. We talked to Travis before we went to spring ball and said this is the plan we're outlining for you. You're going into your senior year and we're going to try to take as much advantage of you as we can. We're going to be very multiple with Travis. Not only at the buck position, but he's going to line up inside too. You're going to see him at all different spots and take advantage of his skills that he brings to the defense. Probably the most difficult challenge Travis had this spring was pass drop. That's something he hasn't had to do and he got better as the spring went on. We're not going to do a lot of dropping with Travis because he's too valuable in the pass rush and around the line of scrimmage. But again, we want to be multiple with him. Bring him from different spots on the field and make sure the offense knows where he's at. Yet, also drop him into coverage. That was his biggest challenge. He got a good head start on it. He'll keep working on it this summer and when two-a-days come around I expect he'll be vastly improved in that part of his football game.
Is multiple positions a characteristic of the "buck" position? Or is it something specific you're trying to do with Travis?
MB
: We're not going to be putting him on the back end. We're just trying to take advantage of his skill level. He's a talented player and we want production out of him. Don't just take up space on the field. If you're out there for 10 plays, how many opportunities did you produce? We just feel strongly that Travis can do that in multiple positions. Give him credit because he's got good football 101. You can think of a plan for a kid, but if he can't handle it mentally, it's not going to work and it will hurt the defense. He has the football 101 skills and relate and adapt and that's why we're doing it.