October, 1, 2014
Oct 1
12:00
PM ET
"Catastrophic" is the word Arizona State coach Todd Graham used to describe when his team gives up a non-offensive touchdown -- be it defensive or special teams. After last week's catastrophe against UCLA, he seems qualified to weigh in on the subject. His Sun Devils gave up a 95-yard interception return and a 100-yard kickoff return against the Bruins in last week's 62-27 loss.
[+] Enlarge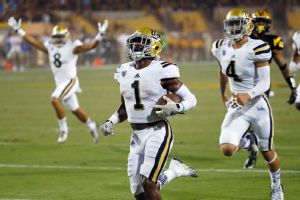 AP Photo/Matt YorkIshmael Adams scored two of his three return touchdowns last week against Arizona State.
That brings up one of the more interesting sidebars to this week's South Division showdown between the Bruins and the
Utah Utes
. Both teams have benefited greatly from getting non-offensive points. The Utes are headlined by return man
Kaelin Clay
, who leads the conference in punt return average (26.1 yards per return) and has scored four special teams touchdowns -- three punts and one kickoff.
The Bruins aren't too shabby themselves in the special teams department.
Ishmael Adams
leads the conference in kickoff return average (28.2 yards per return) and has returned one for a touchdown. He also has a pair of interceptions returned for a touchdown. He provided both non-offensive touchdowns for the Bruins last week.
"You look at our league, it's scary each week," Graham said. "You look at the punt returners and kick returners, every week you've got dynamic guys. It's a challenge. Those are momentum shifts that are catastrophic. When you have them, they are great momentum changes. They are immeasurable."
The Bruins have scored five non-offensive touchdowns this season. Three have come by way of interception, one was a fumble return and the last was the Adams kick return. Utah also has five -- four on special teams and one defensive.
So the chore facing UCLA coach Jim Mora and Utah coach Kyle Whittingham this week is to find ways to neutralize Clay and Adams in the kicking game. Whether that's directional kicking, kicking away from them all together or simply putting faith in their coverage units, both coaches recognize the explosive potential of the other's return man.
"We kickoff to whoever," Mora said. "We have one of the best kickoff coverage units in college football. We have not given up a single yard yet in four games in punt return.
"Now, [Clay] is special. I don't know if we'll be able to say that after this game. We don't really change what we do. We have tremendous respect for him. But we don't want to go too far away from what our core principles and foundation are."
The odds of winning go up dramatically when scoring a non-offensive touchdown. But that doesn't always mean victory is assured. Like the Bruins last week, the Utes also scored a defensive touchdown and a special teams touchdown. Yet despite the 58-yard punt return from Clay and an 11-yard pick-six from
Eric Rowe
, they still fell 28-27 at home to Washington State, which erased a 21-0 first-quarter deficit.
"It's a major impact in the momentum and flow of a game," Whittingham said. "For whatever reason, it's a bigger boost and a bigger lift when you score a non-offensive touchdown. It has more of an impact on your team. It seems like more of a momentum type play than a touchdown from your offense. It can really turn a game and help you out. But we obviously came up short last week."
Turnovers should be on both coaches' minds this week. Recall last year the Bruins narrowly escaped Rice-Eccles with a 34-27 victory after
Travis Wilson
threw six interceptions. Granted, not all of them were his fault. There were drops and tips and missed routes. But "interceptions" aren't a receiving category.
And whether it's on special teams or defense, Whittingham is well-aware of what Adams is capable of.
"You try to not to get the ball in his hands," Whittingham said. "We have a directional punter in
Tom Hackett
; he's able to put the ball in various locations on the field. We hope to keep it out of his hands. We don't know if we can do that all the time, but we hope to minimize it. He's a dangerous player. He's very explosive. You'd be crazy to just kick right to him. That doesn't make sense."