February, 3, 2015
Feb 3
3:30
PM ET
We all know that recruiting is an inexact science, and Arizona linebacker
Scooby Wright
proves the point on his Twitter handle
TwoStarScoob
.
The true sophomore unanimous All-American became the nation's most decorated defensive player, winning the Lombardi, Nagurski and Bednarik awards.
That is the focus of
this series
. We'll run through each Pac-12 team and highlight a player who was low on star rating when he arrived on campus but became a critical guy.
Up next: Washington State
Two-star Scoob:
WR
Isiah Myers
Recruiting ratings:
ESPN.com: one star; Rivals.com: two stars; Scout.com two stars
Recruiting analysis:
Of the 16 players ESPN.com assigned a number grade (out of 100) to in his class,
Myers' 67
was the lowest. In fact, only one player that signed with a Pac-12 school that season had a lower grade. He was ranked the 244th-best receiver prospect in the country and his evaluation included: "The biggest issue is his lack of overall speed and explosiveness. He just does not run very well and lacks the ability to be a big play threat both vertically and after the catch." His most noteworthy accolade appears to be a No. 32 ranking on the Orlando Sentinel's Central Florida Super 60 list.
On campus?
As a true freshman, he caught seven passes for 76 yards before becoming an important piece the following year. He was a solid contributor over the next two seasons -- more than pretty much everyone had him pegged for -- with 79 receptions for 863 yards and seven touchdowns. As a senior he really blossomed. He finished the 2014 season with 78 catches for 872 yards and 12 touchdowns and finished his career tied for No. 45 on the conference's all-time receptions list.
January, 15, 2014
1/15/14
5:30
AM ET
The Cougars reached a bowl game for the first time since 2003 despite the Pac-12 featuring more top-to-bottom depth than at any point in the past decade.

In coach Mike Leach's second season, WSU won as many conference games (four) as it did under his predecessor, Paul Wulff, in four seasons from 2008 to 2011.
That's what should be remembered, not the meltdown at the end of the Gildan New Mexico Bowl.
Moving forward, WSU has a lot to be excited about. All 10 players who had at least 25 catches this season will return next year. That's a lot of returning weapons for quarterback
Connor Halliday
in his senior season.
You can read our graded review of WSU here.
Offensive MVP:
Halliday set the school single-season record passing record with 4,597 yards. He went to sleep three times as the Pac-12 single-season record holder, too, before Oregon State's
Sean Mannion
eclipsed his total in the Sheraton Hawai'i Bowl. Halliday's 34 touchdown passes tied Ryan Leaf for the single-season school record.
Defensive MVP:
Safety
Deone Bucannon
led the Pac-12 with 109 tackles during the regular season and was the first WSU player since 2007 to receive first-team All-Pac-12 honors. The hard-hitting safety led WSU with five interceptions, a total that was tied for fourth-best in the conference.
Best moment:
The game-winning touchdown pass from Halliday to
Isiah Myers
against Arizona. It would be easy to pick the victory at then-No. 25 USC, but that was early in the season and Halliday's pass to Myers delivered a victory in what basically amounted to a win-or-no-bowl situation. A week later, Arizona beat Oregon on the same field.
Worst moment:
The final 2 minutes, 52 seconds of the New Mexico Bowl. The Cougars had a 45-30 lead before Colorado State scored 18 points in the game's final 172 seconds to pull off a remarkable comeback. For WSU, it will be remembered as a mind-boggling collapse made possible by a pair of fumbles and questionable clock management.

November, 18, 2013
11/18/13
4:00
PM ET
Washington State quarterback
Connor Halliday
didn't have the best numbers this week. And he wasn't mistake-free.
But he was clutch when it counted. With his performance in Washington State's 24-17 road win over Arizona, the Cougars are on the verge of postseason play for the first time in more than a decade.

Halliday threw for 319 yards and two touchdowns with an interception in Washington State's win in Tucson. With the score tied at 17-17 in the fourth quarter, he engineered a brilliant 10-play, 80-yard drive that ended with a 25-yard touchdown to
Isiah Myers
. On that final drive, Halliday went 6-for-6, finding six different receivers for 74 yards and the score.
On the final touchdown, Halliday had to roll to his right before finding Myers at the 8-yard line. Some balance and a nifty spin from Myers took care of the remaining eight yards. Halliday completed 73.6 percent of his throws in an efficient 39 of 53 performance.
"It was a huge game by the offensive line," Halliday said. "To be able to run the ball for more than 100 yards, and the sacks that we had were coverage sacks. They gave me all day to throw and it's tough when Arizona is dropping eight, it's going to take a little while for our guys to get open, so huge ups to the offensive line."
Based on his line's play, Halliday said the Cougars were confident their final drive would produce points.
"We got down the field on the last drive and missed the field goal but we moved the ball pretty well there and made big plays," he said. "I had a feeling that we were going to be able to put something together, and the boys up front really helped out on that."
August, 6, 2013
8/06/13
10:30
AM ET
Today we begin rolling out our day-by-day snapshots of each Pac-12 team heading into the 2013 season. We start in reverse alphabetical order with the
Washington State Cougars
.
Washington State
Coach
: Mike Leach (87-52, 3-9 at Washington State)
2012 record
: 3-9 (1-8, Pac-12 North)
Key losses
: DE Travis Long, WR Marquess Wilson, QB Jeff Tuel, RB Carl Winston
[+] Enlarge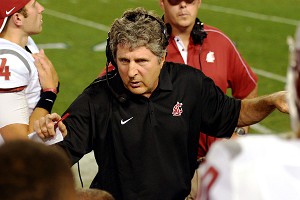 Jake Roth/US PresswireMike Leach is hoping to see more improvement in his second season at Washington State.
Key returnees
: WR
Gabe Marks
, WR
Brett Bartolone
, QB
Connor Halliday
, S
Deone Bucannon
, DT
Ioane Gauta
.
Newcomer to watch
: WR Vince Mayle (JC transfer, Sierra College) is a big, physical receiver at 6-foot-3, 240 pounds. Despite an already-deep receiving corps, Mayle's presence ups the competition in an offense that favors receivers.
Biggest games in 2013
: Aug. 31 at Auburn: We'll see what kind of progress the team made in the offseason and who will be the quarterback -- at least for one week. Nov. 29 at Washington: Last year's Apple Cup, a thrilling come-from-behind win for the Cougars, re-ignited the rivalry after the Huskies had won three straight.
Biggest question mark heading into 2013
: The obvious question is who is going to be the quarterback --
Connor Halliday
,
Austin Apodaca
or both? But it's the guys up front protecting the quarterback who are also cause for concern. Elliot Bosch is a steady anchor at center, and there is some depth across the line, if not uncertainty on who plays where. Last year the Cougars gave up more sacks per game than any team in the nation and were second to last nationally in interceptions thrown. A lot of that falls on the quarterbacks. But a lot also falls on the line. Improved line play should also boost the running game, which averaged just 29 yards per game (a bit misleading considering the total number of sacks allowed) and produced just six touchdowns on the ground.
Forecast
: Expectations are a little more tempered heading into Year 2 of the Mike Leach era. This time last year, folks were talking postseason. And why not? Leach had never had a losing season as a head coach and had been to 10 straight bowl games. But it didn't work out that way, and people are starting to understand that it's going to take more than Leach being on the sidelines for this team to reach the postseason for the first time since 2003.
With that said, there is talent -- especially at wide receiver with Marks, Bartolone,
Isiah Myers
and a host of others. If the offensive line, coupled with more consistent quarterback play (presumably, for now, from Halliday), can reduce the sacks and buy more time, we could see the offense be even more explosive than last season when it averaged more than 330 yards per game in the air. The addition of former Missouri offensive coordinator Dave Yost to the coaching staff shouldn't go unrecognized, either.
While the defense yielded more than 33 points per game in 2012, the Cougars saw a major uptick in the pressure department in their first season running Mike Breske's 3-4 front. They jumped from 94th in sacks per game and 78th in tackles for a loss per game in 2011 to 11th and eighth, respectively, in 2012. They need to find a replacement for Long -- and it looks like
Logan Mayes
, once thought to be the "buck" linebacker in waiting, will focus his time specifically on defensive end. There is some experience in the secondary and Bucannon is a bona fide playmaker and one of the top safeties in a league heavy on safety talent.
It might take another season for the Cougars to really make a big push toward the postseason. But there should be significant signs of improvement as Leach's players come to understand what he demands of them and they continue to grow into the schemes. Last year 17 freshmen started regularly compared to just four seniors. That trial-by-fire experience should start to pay dividends.
July, 17, 2013
7/17/13
7:00
PM ET
Receiver is not as strong a position in the Pac-12 as it was last year, but it's still pretty darn good, with Belitnikof Award winner
Marqise Lee
back and Oregon State's
Brandin Cooks
being a potential All-American.
And if Arizona didn't lose
Austin Hill
to a knee injury this spring, three 1,000-yard receivers would be back.
So how do things stack up?
GREAT SHAPE
[+] Enlarge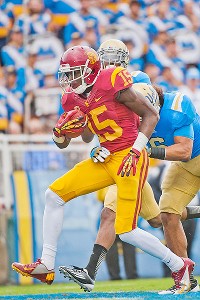 Jonathan Moore/Getty ImagesReceiver Nelson Agholor proved last season that he can be a deep threat for USC.
USC
: Lee is the nation's best receiver. Sophomore
Nelson Agholor
averaged 17.9 yards per catch last year. Just like last year when Lee was paired with
Robert Woods
, this might become the best combo in the country, though, of course, Woods was far more proven than Agholor. The depth is questionable but, at least based on recruiting rankings, it is talented.
Oregon
: While
De'Anthony Thomas
is officially a running back, you can't help but allow him to toss some fairy dust here. Further,
Josh Huff
seemed to take a step forward from being a pure athlete to a legit receiver last year, and up-and-comer Bralon Addison as well as
Daryle Hawkins
and
Keanon Lowe
are back. It's worth noting the top six pass-catchers overall are returning.
Washington
:
Kasen Williams
is the headliner after catching 77 passes last year. He's big and fast. The next two leading wideouts,
Jaydon Mickens
and
DiAndre Campbell
, also are back. Like the Ducks, the Huskies' top six pass-catchers, which includes a TE and RB you might have heard of, are back. Washington and Oregon fans will delight in knowing that I switched these two at the last minute, when I decided you couldn't completely ignore Thomas as a receiver.
Washington State:
While there's no Marquess Wilson among the returning guys, this is a deep crew:
Brett Bartolone
,
Gabe Marks
,
Dominique Williams
,
Isiah Myers
,
Bobby Ratliff
and
Kristoff Williams
caught between 53 and 22 passes last year. Phil Steele ranked the Cougars 28th in the nation at this position.
Oregon State
: The Beavers cling to "great shape" only because the speedy Cooks could be headed for a huge season after he caught 67 passes for 1,151 yards -- 17.2 yards per catch -- last year. There are some depth questions, though
Kevin Cummings
and
Richard Mullaney
combined for 31 receptions last year and
Obum Gwacham
and
Micah Hatfield
are back.
GOOD SHAPE
UCLA
:
Shaq Evans
caught 60 passes for 877 yards last year, but after him the leading returning receiver is
Devin Fuller
, who caught just 20 passes. Still, there's young talent here, topped by
Devin Lucien
,
Jordan Payton
and
Kenny Walker
.
California
: Sure, Keenan Allen is gone, but there's lots of young talent that saw action last year.
Chris Harper
was second on the 2012 Bears with 41 catches, while speedy
Bryce Treggs
had 21.
Darius Powe
and
Maurice Harris
also saw action, while redshirt freshman
Kenny Lawler
is promising. This might turn out to be a "Great shape" crew -- if there's a QB getting them the ball consistently.
Colorado
: Don't laugh -- the Buffaloes are solid at receiver, particularly with
Paul Richardson
back after missing 2012 with a knee injury. He's an All-Pac-12 type talent, and the top two receivers from 2012,
Nelson Spruce
and
Tyler McCulloch
, are also back. Further, converted running back
D.D. Goodson
is intriguing. Question for Buffs is QB, not WR.
Utah
: The Utes two leading wideouts in 2012 are back.
Dres Anderson
and
Kenneth Scott
combined for 69 catches last year. And they are probably better than folks think because the Utes' passing game problems started at QB, where true freshman
Travis Wilson
was taking his lumps most of the season. It hurts that projected starter Quinton Pedrosa was given the boot this summer for violating team rules.
Arizona
: The Wildcats would have been in "Great shape" if Hill hadn't blown out his knee and Tyler Slavin hadn't left the program. The issue isn't experience: Five guys return with at least 20-catch seasons. But there's a decided lack of a go-to guy. The leading returning receiver,
Dave Richards
, caught just 29 passes last year and ranked fourth on the team.
WE'LL SEE
Stanford
: Five of the top six receivers from 2012 are gone, though it's worth noting the top two didn't play receiver. While
Ty Montgomery
hinted at his potential in 2012, he only caught 26 passes for 213 yards with no TDs. After that, there are just names and potential based on strong spring performances:
Devon Cajuste
,
Michael Rector
,
Kodi Whitfield
and
Kelsey Young
.
Arizona State
: None of the Sun Devils' top five pass catchers from 2012 are back playing receiver this fall. The position was decidedly questionable last year -- see the top three receivers being a tight end and a pair of running backs -- and it is even more so this year, in large part because it's the team's only obvious hole. Yet, great hope hangs on incoming players, most notably the touted
Jaelen Strong
.
You can see previous previews here:
Quarterback
Running back
July, 16, 2013
7/16/13
1:00
PM ET
The watch list for the
Biletnikoff Award
, presented annually to the nation's top receiver, was announced Tuesday morning. Here are the seven candidates from the Pac-12:
The most obvious omission is Washington's
Kasen Williams
, and here's a bet one of Washington State's receivers --
Gabe Marks
?
Dominique Williams
?
Isiah Myers
? -- will get some consideration. It's also worth noting that Arizona's
Austin Hill
would have been on the list had he not blown out his knee during spring practices.
April, 22, 2013
4/22/13
1:00
PM ET
More than 8,000 fans turned out in Spokane, Wash., to see to see the
Washington State Cougars
Gray team score a late touchdown and 2-point conversion to top the Crimson squad 22-21.
Jesse Brown
connected with
Gabe Marks
late in the fourth quarter and then he found
Theron West
for the game-winning two-point score.
Neither offense was particularly sharp in the first half so head coach Mike Leach gave them a pep talk at halftime.
"I think some guys were afraid to go out and turn it loose," Leach said. "Performance anxiety, I guess, maybe they tried to make too much happen. We definitely had some of that. We definitely had too many dropped balls. We didn't get our work done in the first half so we're going to play a full second half."
The offenses came to life in the second half. Quarterback
Connor Halliday
completed 38 of 58 throws for 406 yards with three touchdowns -- but he also threw a pair of interceptions.
Austin Apodaca
was 27-of-45 for 279 yards with a touchdown.
Leach, never one to get too chatty about his quarterbacking hierarchy, called Halliday and Apodaca "pretty even."
"I thought other than turnovers, Connor played pretty decent in the second half," Leach said. "I thought Austin, when he settled in, played good. I thought he played nervous and frantic a little bit in the first half."
Marks caught a game-high 11 balls for 107 yards and pair of touchdowns in the victory.
Kristoff Williams
led the Crimson squad with seven catches for 136 yards and a touchdown.
Isiah Myers
and
Bobby Ratliff
also had receiving touchdowns for the Crimson team while Apodaca scored on the ground for the Gray squad.
"When we get a little tempo going and put a streak together, that was good," Leach said. "We need to make these streaks longer now."
Because of the split squad, the defense was limited to staying in base fronts. Leach said they could shift and twist, but there was no blitzing. The defenses combined for 10 "sacks" and safety
Taylor Taliulu
and linebacker
Justin Sagote
each had 11 tackles. Taliulu and
Jared Byers
also had interceptions.
The Cougars will wrap their spring session on Tuesday -- with more work ahead as they look to fall camp.
"This is going to continue," Leach said. "It's going to be heavy weight room and heavy running and they need to continue to work and develop their skills. We need to make more out of this time than the people we play. I think that's very important."
October, 14, 2012
10/14/12
2:30
AM ET
The California Bears have themselves a winning streak.


Behind a huge game from standout wide receiver
Keenan Allen
, the Bears (3-4, 2-2) won their second consecutive game -- and their eighth straight over Washington State -- by downing the Cougars
31-17
in Pullman, Wash.
Allen caught 11 balls for 166 yards -- including a 69-yard touchdown to give the Bears a 7-0 lead -- to move up to No. 2 on Cal's all-time reception list.
Quarterback
Zach Maynard
, who was coming off one of the best games of his career last week against UCLA, wasn't quite as efficient this week. He did, however, complete 14 of 23 balls for 189 yards and a score with two interceptions. He also showed off his running ability, scrambling 10 times for 78 yards, including a 1-yard touchdown that stretched Cal's lead to 21-3 early in the third quarter.
C.J. Anderson
totaled 112 yards on 15 carries with a pair of scores as part of a 318-yard rushing night for Cal.
"I thought Zach made a lot of good reads and pulled it down for some positive yards," Cal head coach Jeff Tedford told the Pac-12 Network after the game. "And the backs always run hard."
For the Cougars (2-5, 0-4), who have now dropped four in a row, it was another inconsistent showing. Starting quarterback
Connor Halliday
was replaced by
Jeff Tuel
for the second week in a row after Halliday completed just 4 of 10 passes for 74 yards with two interceptions.
Tuel looked sharp at times, completing 30 of 53 balls for 320 yards with two touchdowns.
Brett Bartolone
hauled in both of Tuel's touchdown passes.
Isiah Myers
led the Cougars -- who were without
Marquess Wilson
for the second half after he took a hard shot in the end zone -- with eight catches for 108 yards.
September, 8, 2012
9/08/12
8:32
PM ET
By
ESPN.com staff
| ESPN.com
The Pac-12 should stop scheduling Sacramento State. And Colorado might want to rethink its ideas about FCS teams.


Sacramento State, which won at Oregon State in the 2011 opener,
beat Colorado 30-28
with a 30-yard field goal as time expired.
Colorado, 0-2 after losing to Colorado State in the opener, is now 1-2 all-time against FCS teams. It lost to Montana State in 2006.
The Buffaloes didn't just lose, they got beaten. They jumped to a 14-0 lead, but the Hornets didn't back down. They outgained the Buffs 466 yards to 341. While Sac State did most of its damage through the air, it still outrushed Colorado 154 yards to 153.
But the biggest difference was at quarterback. Sophomore
Garrett Safron
threw for a career-best 312 yards on 25-of-37 passing for the Hornets. He also was 4-for-5 for 53 yards on the game-winning drive.
Colorado quarterback
Jordan Webb
was just 12 of 24 for 160 yards. In Webb's defense, it's clear the Buffs don't have much talent at receiver.
The lone bit of good news for Colorado was freshman fullback
Christian Powell
, who ran for 147 yards and three touchdowns.
Colorado was hoping to get its young team off to a fast start against a very soft early schedule. Now that the Buffs are 0-2 against that soft schedule, it's not easy to see where victories -- even a victory -- will come.
A notoriously bad team on the road, Colorado will be at Fresno State next weekend.


California 50, Southern Utah 31
: California led just 20-17 in the third quarter, but the the Bears erupted in the fourth quarter to post an easy win. Quarterback
Zach Maynard
completed 17 of 23 passes for 229 yards with a touchdown and an interception. Running back
Isi Sofele
rushed for 104 yards on 19 carries, and wide receiver
Keenan Allen
had two touchdowns, one on a 69-yard punt return. It was the Bears' first victory inside newly renovated Memorial Stadium. A week after looking terrible in a loss to Nevada, the Bears piled up 518 yards, scoring 30 points in the fourth quarter. Still, it was hardly an impressive win. The Bears defense, expected to be strong, surrendered 371 yards. The Thunderbirds had just 209 yards in a 34-3 loss to Utah State the previous week. Cal is at Ohio State next weekend.


Washington State 24, Eastern Washington 20
: Mike Leach has his first win coaching the Cougars, but his offense is still not clicking.
Jeff Tuel
threw a pair of touchdown passes to
Isiah Myers
, but the Cougs were outgained by the FCS Eagles 469 yards to 355. The Cougs' highlight, in fact, was a 60-yard field goal just before halftime from
Andrew Furney
. Tuel completed 20 of 26 passes for 171 yards and two touchdowns with no interceptions. He may have cemented his hold on the starting job, as backup
Connor Halliday
completed just 5 of 11 for 76 yards with an interception. Washington State is at UNLV on Friday.
April, 9, 2012
4/09/12
9:00
AM ET
Catching you up on the spring scrimmages from over the weekend.
UTAH

There were highlights on both sides of the ball as the Utes ran 97 plays in front of more than 3,000 fans at Rice-Eccles Stadium.
Projected starting quarterback
Jordan Wynn
completed 11 of 27 passes for 103 and two touchdowns. Wide receiver
Dres Anderson
caught seven balls for 96 yards, which included a 22-yard touchdown reception. A lot of the veterans on both sides sat out to yield time to the younger players. In the absence of running back
John White
IV, Harvey Langi rushed nine times for 42 yards --
earning praise from head coach Kyle Whittingham
.
"He's starting to play the way that we envisioned he would when we recruited him," Whittingham said. "... He really did some good things."
The defense also had its share of highlights. They managed five sacks -- despite defensive lineman
Star Lotulelei
and linebacker
Trevor Reilly
sitting out.
Joe Kruger
tallied three sacks and
Joape Pela
notched a sack and a pair of tackles for a loss. Cornerback
Keith McGill
returned an interception 35 yards for a touchdown.
"It wasn't perfect by any stretch of the imagination," said new offensive coordinator Brian Johnson. "But I thought we did a nice job moving the ball and guys showed up ready to play. Still got some work to do these last two weeks, but I think we've been doing a nice job so far."
Whittingham added that he thought the "flow" and "tempo" of the play calling was much better from the quarterbacks and Johnson.
WASHINGTON STATE

The defense recorded 12 sacks -- though a sack was granted when a defender could "grab" the quarterback. Still, defensive end
Logan Mayes
was able to get his hand on the quarterback four times and defensive tackle
Xavier Cooper
got there three times.
Quarterback
Jeff Tuel
settled in and completed 19 of 33 passes for 253 yards, two touchdowns and an interception -- one of four turnovers created during the 110-play session held in front of a couple of hundred fans at Martin Stadium.
"I feel real comfortable like I'm really starting to get a grasp of the plays,"
Tuel told reporters after the session
. "That's really what it is. Once you get it mentally, you start playing physically and not thinking about things. That's one of the things coach [Mike] Leach harps on is being hesitant. You really have to let it go."
All six scores came through the air with
Gino Simone
catching seven balls for 101 yards and a score.
Bobby Ratliff
and
Andrei Lintz
also caught five balls apiece and touchdowns, followed by scores from
Isiah Myers
and
Rahmel Dockery
.
Quarterback
Cody Clements
also threw a pair of touchdowns on 8-of-12 passing with an interception and
David Gilbertson
completed 15 of 26 balls for 192 yards and a score.
USC

The banged-up Trojans held a non-tackling scrimmage on Saturday. Garry Paskwietz and Erik McKinney from WeAreSC
break down what they saw from USC
-- specifically running back Buck Allen getting his reps now that
Tre Madden
is gone for the year. Allen has been hampered by a hamstring injury.
"Today gave me confidence,"
Allen told USC's blog
. "A teammate went down, so I knew I had to step up. I could have taken the day off, but I didn't."
Head coach Lane Kiffin talked about Madden's injury and said he thinks he'll come back as a "great player." He also said that Madden's switch from linebacker to running back is permanent.
"Extremely disappointing," Kiffin said of losing Madden. "Probably one of the most valuable guys on our team as of last week because we have a lot of great players, but sometimes we have guys that are similar to them. We don't have anybody like him, nor do we have anybody coming in really like him.
"To have a big guy that could run a 4.5 electronic, with his hands, it was really unique and it was a great experiment. Unfortunately he won't be here this year for us."
In other injury news, wide receiver
De'Von Flournoy
suffered a high ankle sprain.