June, 25, 2013
6/25/13
4:30
PM ET
And on the 27th month, the NCAA shall speak on Oregon, Chip Kelly and L'Affaire de Willie Lyles.
And those pronouncement will produce... what?
Will the sanctions prove harsher than expected, thereby poleaxing the Ducks off their newfound perch among the nation's elite? Or will the sanctions prove manageable, perhaps causing discomfort but not ending the Ducks' quasi-dynastic run in the Pac-12?

We shall see. Folks in Eugene have been consistently optimistic, and it would rate a surprise if Oregon is hammered. Still, you never know with the NCAA.
The NCAA's Division I Committee on Infractions (COI)
will announce its findings
in a teleconference with reporters at 11 a.m. ET. The man who shall describe the Ducks' sanction fate will be Gregory Sankey, associate commissioner of the SEC.
SEC? Uh oh. (Of course, we kid!)
The committee's full report will be released to the media 30 minutes before the teleconference.
Oregon's troubles began in March 2011 when ESPN.com and Yahoo! reported the Ducks made payments to dubious Texas-based scouting service operator Willie Lyles, who had close ties to several Ducks recruits, most notably running backs LaMichael James and
Lache Seastrunk
. Things got murkier when it was discovered that Oregon apparently received very little of value for its $25,000.
Yet the NCAA rules on the use of scouting services at the time were vague enough that Oregon could claim it was operating in a gray area. This became one of the complicating elements as the school attempted to negotiate a summary judgment with the NCAA. That and the fact Lyles had significant relationships with several other schools, schools that had not been hit hard by NCAA sanctions.
Oregon agreed to seven major rules violations, and in October offered to self-impose several penalties, including the loss of three scholarships over three years, recruiting limitations and two years of probation.
The COI, however, rejected the attempt to reach a summary judgment, which forced Oregon officials, including former coach Chip Kelly, to appear before the committee in late April in Dallas.
"We have been informed by the NCAA that the Committee on Infractions report on the University of Oregon will be released tomorrow," the Oregon athletic department wrote in a statement. "Until we have received and reviewed the report we will not comment."
Oregon will have 15 days in which to file an appeal if it is unhappy with the ruling.
As for the severity of the penalties, it's difficult to guess, but Rob Moseley of the Eugene Register-Guard
makes a good point here
:
In a statement that accompanied the October 2012 summary disposition proposal, the Ducks acknowledged that "errors were made and that we will improve" but also that "our coaches did nothing to intentionally gain unfair advantages."
The NCAA's enforcement staff -- essentially the prosecutor, while the Committee on Infractions was judge and jury -- agreed during the summary disposition attempt that "the violations were not intentional in nature." But it also argued that the Ducks nevertheless had "an obligation to ensure that the activities being engaged in comply with NCAA legislation."
"Intention" matters, and finding a lack thereof is good for Oregon.
It's also notable that the NCAA enforcement staff didn't yoke Oregon with the dreaded "lack of institutional control" charge, instead going with the less worrisome "failure to monitor."
On the other hand, Oregon
may fall under repeat violator status
due to a 2004 case that was ruled a major violation after assistant coach Gary Campbell, who is still on staff, had improper conduct in the recruitment of running back J.J. Arrington.
Oregon folks would contend the NCAA taking more than two years to resolve this matter is a penalty in itself, with the glacial pace of an investigation allowing a dark cloud of the unknown to shadow the school for an extended period of time.
That dark cloud of the unknown, however, will be removed Wednesday. Whether it gives way to a tornado of sanctions or sunny skies -- or something in between -- remains to be seen.
July, 27, 2012
7/27/12
7:15
PM ET
By
ESPN.com staff
| ESPN.com
Greetings.
You can follow me on
Twitter here
.
To the notes!
Preston from Portland writes
:
Silas Redd
is good, quite good, but not great. If he does in fact go to LA to join the Trojans, how big of an impact would he have on USC's season?
Ted Miller
: Oh, I'd say Redd is pretty darn good. He was second-team All-Big Ten in 2011, rushing for 1,241 yards and seven touchdowns. He's generally considered Penn State's best returning offensive player -- and unquestionably its most explosive.
USC's already-loaded offense would be significantly better with Redd, who's a pretty good receiver out of the backfield, by the way,
Matt Barkley
. Paired with
Curtis McNeal
, the Trojans might then have the nation's best backfield tandem. Just like they do at receiver. And quarterback, though Barkley is only one guy.
Let's put it this way: How much better do you think Oregon was with
Kenjon Barner
behind LaMichael James? Or USC with LenDale White sharing time with Reggie Bush? Or California with Marshawn Lynch seconding J.J. Arrington?
Two elite running backs are a HUGE boon to an offense.
Further, the underrated McNeal, who averaged 6.9 yards per carry in 2011, has a history with injuries. So Redd not only offers a 1-B in the backfield, he offers an an insurance policy.
An added bonus with Redd aboard would be touted incoming freshman
Nelson Agholor
being able to stay at his best position -- receiver -- rather than switching to running back.
Redd would be a huge get for the Trojans, one that addresses a need area with a proven, ready-to-suit-up star.
---
Troy from Spokane, Wash., writes
: So it seems some of the local media has tried to lower the expectations for the Huskies this year, saying things like the offense will take a step back, and that 7.5 is too big of an over/under for a win total this year. I am happy with the program's progress under Sark so far, but like many of us, would like to see the program to continue to improve. What should our expectations be this year and going forward?
Ted Miller
: Eight wins would be a successful season for the Huskies. And,
as I've previously noted
, I think the Huskies' breakthrough to a double-digit win, top-25 season could come in 2013, when quarterback
Keith Price
is a senior, a number of other players hit their peak maturity and new defensive coordinator Justin Wilcox's schemes have settled in.
Oh, and they return to a fancypants, remodeled Husky Stadium.
I think Washington makes a big leap forward on defense this year. I think there's solid talent that underachieved in 2011 under Nick Holt. There are two big questions: 1. The offensive line; 2. The schedule.
The big measure to me is if the Huskies get to their Oct. 20 game at Arizona with three wins. That would mean upsetting at least one among this gauntlet: at LSU, Stanford, at Oregon and USC. If that happens, there's no reason they couldn't run the table thereafter and win nine games.
But I think eight wins is a fairly optimistic number for the regular season.
---
Cy from Anaheim writes
: With all this talk of how dynamic
De'Anthony Thomas
is, what are the chances that
George Farmer
of usc comes out and has a better season? both have similar playing styles and skill sets...
Ted Miller
: Absolutely. Let's remember that Farmer was high school teammates with
Marqise Lee
, and there weren't many people who thought Lee was the better of the two (
Robert Woods
also played for Junípero Serra (Calif.) High School but was a year ahead of Farmer and Lee).
Farmer, who has outstanding speed, was beset by injuries last season but he also seemed a bit overwhelmed by college football. An abortive move to running back also didn't really work out.
The expectation is that if Farmer can stay healthy, he'll become a big-time offensive weapon. And, yes, perhaps he'll eventually battle Thomas for the title of Pac-12's most dynamic player.
---
Rich from Phoenix writes
: I'm a die hard Sun Devil fan, but I have to say that I'm shocked that any media member would a) pick the Devils to win the PAC 12 South and b) pick them to win the conference championship game. ... Do you know who in the media made those predictions? And what backing do they have to make that vote? With the new coaching staff and system to implement, an untested linebacker corp (aside from McGee) plus a new starting quarterback and untested receivers, I can't see how they could be tops in the conference, let alone their division. But if their votes have some merit, that will bring me a little more hope going into this season. What are your feelings going into the season for the Sun Devils?
Ted Miller
: I don't know which three voters in the Pac-12 media poll picked Arizona State to win the South Division and to win the Pac-12 title game. If I were running the poll, I'd take their vote away for future years because it's not a defensible vote. I don't see media polls as sacred or anything, I just think you have a responsibility if you vote to not take an idiotic position.
No offense, ASU. It's just that the Sun Devils have the fewest returning starters in the Pac-12 -- 10 -- from a team that imploded last season and fired its coach. They are adopting new schemes on both sides of the ball, schemes that are very different from last year.
All that said, I think the Sun Devils have a legitimate chance to win six games and to become bowl eligible. Forget how Todd Graham left Pittsburgh and all the bombast that followed: I think he's a good fit for what this program needed -- discipline and structure. If the Sun Devils get solid play at quarterback, they will win some games, though I'd rate their over-under for victories at four. Maybe five.
And I'd be beyond stunned if they won the Pac-12.
---
Ryan from Salt Lake City writes
: How come you shafted Utah on your media day coverage? You have an "On Stage" article for every team in the conference but Utah. What's up with that?
Ted Miller
: Typically before every season I descend into hell and consult Mephistopheles about which Pac-12 team I should screw over that coming season. Kevin joined me this year, which is cool because -- and this might surprise you -- there is an outstanding spicy food place on the third level that I wanted to show him. I really like spicy food.
Well, after chatting with Nick Saban, er, I mean, Mephistopheles, he said it should be Utah. Something about a past trip to New Orleans bothered him. Kevin agreed. I said I didn't want to do Utah because Kyle Whittingham is the closest thing to a pit fighter in the conference. Pit fighters are both cool and a little risky to harass. But I was outvoted. Kevin and Ni ... Mephistopheles shared a cackle with each other.
So that's why we didn't included Utah with our "On stage..." feature during media day. It will be the first of many slights, curses and mishaps that will befall the Utes because of this random bit of evilness from the Pac-12 blog.
You might hear an alternative explanation that yours truly had a WiFi glitch that killed the unsaved piece when I tried to post it, but you should ignore that perfectly reasonable explanation.
We didn't redo the post because, well, it would have been fiction. Utah was no longer on stage.
But here's a quick question for you outraged Utes: How many other Pac-12 teams, other than the two picked to win the North and South Divisions, got a
video
and a
story
from media day?
And, if you want to see Utah "on stage,"
just go here
(you can hear me cloaking my preseason curse as a question about defensive tackle
Junior Salt
to Whittingham and a follow-up with
Star Lotulelei
at 7:40).
---
July, 12, 2011
7/12/11
2:30
PM ET
By
ESPN.com staff
| ESPN.com
Robert Cohn was once middleweight boxing champion of Princeton. Do not think that I am very much impressed by that as a boxing title, but it meant a lot to Cohn.
January, 19, 2010
1/19/10
9:00
AM ET
By
ESPN.com staff
| ESPN.com
The assignment: Rank the top-10 Pac-10 players of the decade.
Gulp.
The list of folks not on this list includes numerous consensus All-Americans, award winners and record-setting players. So feel free to disagree.
And, yes, NFL success sometimes functioned as a tiebreaker, which is why Reggie Williams, Mike Williams, Rien Long, Dave Ball, J.J. Arrington, Mike Hass, Derek Hagan and Joey Harrington, among others, are not on this list.
Every player on this list, other than Steven Jackson, was a consensus All-American.
10.
Troy Polamalu, S, USC
: Pete Carroll's first great defensive player, he was a two-time All-American. The 16th overall pick in the 2003 draft and five-time All-Pro is on track for a Hall of Fame NFL career.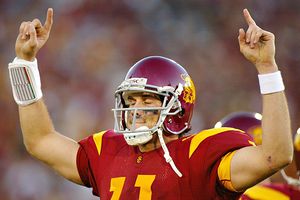 Christian Petersen/Getty ImagesUSC quarterback Matt Leinhart led the Trojans to three national championship game appearances.
9.
Antoine Cason, CB, Arizona
: The four-year starter grabbed 15 career interceptions and won the the Thorpe Award as the nation's best defensive back in 2007. He was the 27th pick (San Diego) of the 2008 draft.
8.
Haloti Ngata, DT, Oregon:
The 345-pounder was the best run stuffer the Pac-10 has seen of late. He blocked seven kicks at Oregon and piled up 17.5 tackles for a loss his final two seasons before becoming the No. 12 pick in the 2006 draft (Baltimore).
7.
Dwayne Jarrett, WR, USC
: What separates Jarrett from the conference's other All-American receivers is simple: His 41 career touchdown receptions are nine more than any other player in Pac-10 history.
6.
Steven Jackson, RB, Oregon State:
Jackson's NFL career has proven that he was ridiculously underrated in college. He finished with 3,625 career rushing yards, which ranks 11th on the Pac-10 career list, and 46 career touchdowns.
5.
Toby Gerhart, RB, Stanford
: The 2009 Heisman Trophy runnerup finished with 3,522 career yards and 44 touchdowns.
4.
Terrell Suggs, DE, Arizona State
: In 2002, he set an NCAA record with 24 sacks and Pac-10 record with 31.5 tackles for a loss. He won the Lombardi Trophy as the nation's best defensive lineman and the Nagurski Award as the nation's best defensive player.
3.
Reggie Bush, RB, USC
: He won the 2005 Heisman Trophy after finishing fifth the year before. He led the nation with 222.3 all-purpose yards per game and set the Pac-10 record for total yards from scrimmage with 513 (294 rushing, 68 receiving, 151 return) against Fresno State. And every time he touched the ball, everyone held their breath.
2.
Carson Palmer, QB, USC
: He won the 2002 Heisman Trophy and his 11,818 career yards passing is No. 1 all-time in the Pac-10.
1.
Matt Leinart, QB, USC
: He won consecutive national championships and the 2004 Heisman Trophy. In 2005, he finished third in the Heisman voting and lost the national championship game to Texas. He owns the Pac-10 single-season (38) and career (99) records for touchdown passes.
January, 30, 2009
1/30/09
5:26
PM ET
By
ESPN.com staff
| ESPN.com
Posted by ESPN.com's Ted Miller
With national signing day just around the corner, we're joining the other ESPN.com conference bloggers in recalling memorable recruiting moments.
Of course, the nature of the Pac-10 blog's memory might be a bit different, leaning toward the strange instead of the player-personnel moments.
1. Kevin Hart decides to play for California -- Not!: Hart, an offensive lineman, became the first FBS player from Fernley, Nev., when last year he picked the Bears over Oregon, saying, "Coach [Jeff] Tedford and I talked a lot, and the fact that the head coach did most of the recruiting of me kind of gave me that real personal experience." Only problem was: Hart had never talked to Tedford and wasn't offered a scholarship, by Cal or any other FBS program. He'd made his entire recruitment up and then staged a ceremony at the high school in front of television cameras.
2. Pete Carroll arrives at USC: USC had always recruited well, but Carroll has created a recruiting juggernaut that might even eclipse what Bobby Bowden had going at Florida State during its run of dominance in the 1990s. In 2001 and 2002, Carroll's first two seasons at Troy, UCLA finished atop the Pac-10 recruiting rankings. Since then, USC has owned the top spot every year and hasn't been ranked out of the nation's top-10. In fact, the Trojans have finished No. 1 in the nation, according to at least one of the major services, five times over the previous six years.
3. J.J. Arrington signs with Oregon -- Not!: Oregon and California were in a tight battle for the services of touted junior college running back J.J. Arrington in 2003. On the last night a JC player could sign a letter of intent, Arrington told Oregon assistant Gary Campbell that he wanted to be a Duck. Only the midnight deadline passed without a signed letter, with Arrington having second thoughts. According to the LA Times, "Campbell went to the hotel where Arrington was staying, and the player forged his father's signature and falsified the time on the letter of intent." When Cal uncovered the subterfuge and complained, Oregon released Arrington and Campbell was suspended and not allowed to recruit off-campus for a year.
4. Dirty recruiting 2002: Then-Washington coach Rick Neuheisel told reporters on signing day in 2002 that he felt like he needed to hose himself off because of all the dirty recruiting going on against him, specifically naming Oregon and UCLA. To support his case, Neuheisel pointed out that Oregon had been running a video at Autzen Stadium that juxtaposed an image of him with a movie scene of people vomiting. Lovely. As for then-UCLA coach Bob Toledo trying to lure offensive lineman Clay Walker away from Washington, Neuheisel said: "Bob Toledo tells (Walker) that 'if I'm gone, you don't think (Neuheisel) is going to be the next head coach at UCLA?' I mean Bob Toledo is basically telling (Walker) he's going to get fired." Toledo did get fired. And who's UCLA's coach now? Just saying.
5. Bolden's hat spat: On national signing day 2007, touted cornerback prospect Omar Bolden sat in a television studio with three hats in front of him: USC, Washington and Oregon State. Most assumed he was about to don the USC hat. He flipped the Huskies and Beavers hats aside. He picked up the USC hat. Then he tossed the hat away, reached behind himself and produced an Arizona State hat. "I ain't going to be no Trojan... I'm going to be an Arizona State Sun Devil," he said. The move went over way better in Tempe than at Heritage Hall.