November, 17, 2013
11/17/13
4:45
PM ET
By
Associated Press
| ESPN.com
DENVER -- The Broncos confirmed Sunday that interim coach Jack Del Rio interviewed for the head coaching job at Southern California during Denver's bye week.
Fox Sports first reported Del Rio's interview with his alma mater.
USC Athletic Director Pat Haden reached out to Broncos executive vice president John Elway for permission to speak with Denver's defensive coordinator at a time that was convenient for the Broncos.
The Broncos were impressed by Haden's approach because college administrators are under no obligation to seek permission from NFL teams before reaching out to their coaches.
Del Rio interviewed for the Trojans' job Nov. 1.
To continue reading,
click here
.
January, 12, 2010
1/12/10
4:08
PM ET
By
ESPN.com staff
| ESPN.com
Jack Del Rio has
opted to stay
with the Jacksonville Jaguars instead of replacing Pete Carroll at USC, making him the third candidate to apparently say no to the Trojans.
Del Rio follows Oregon State's Mike Riley and Tennessee Titans coach Jeff Fisher.
Now what?
Move on to option four. And so on.
You can follow many of the
rumors here
.
The newest name on the list, as reported by ESPN NFL Insider Adam Schefter: Steve Mariucci, the former California Bears, San Francisco 49ers and Detroit Lions coach.
Mariucci presently works for NFL Network and hasn't coached since 2005.
He
leads a list
that Scott Wolf of the LA Daily News made. Mariucci is followed by Herman Edwards, Steve Sarkisian and Lane Kiffin on said list.
If it feels like reporters are starting to trot out a group of the "usual suspects," well, that's not an unjustified suspicion.
So you should probably should throw Stanford coach Jim Harbaugh in there, too.
The
LA Times reported
this morning that Boise State coach Chris Petersen and former Oregon coach Mike Bellotti are potential candidates.
USC doesn't seem like a good fit for Petersen -- too "big city" -- while Bellotti
is recovering
from double knee-replacement surgery.
Two outstanding coaches who probably would listen to overtures are TCU's Gary Patterson and Utah's Kyle Whittingham. It doesn't appear either has been contacted.
USC fans might want to ask why.
For Trojans fans, this has to feel like déjà vu all over again. In 2000, Mike Garrett was rejected by three candidates before settling on Pete Carroll.
Will No. 4 be a charm for him again?
January, 12, 2010
1/12/10
1:16
PM ET
By
ESPN.com staff
| ESPN.com
Is it time to scratch Jacksonville Jaguars coach Jack Del Rio off USC's list?
Sports Illustrated's Peter King
just tweeted
, "It's official: Jack Del Rio staying in Jacksonville."
January, 12, 2010
1/12/10
12:44
PM ET
By
ESPN.com staff
| ESPN.com
Watch
this video
of Jacksonville Jaguars coach Jack Del Rio.
Lots of coachspeak. There's plenty of room in his statements for him to still become USC's next football coach.
On the other hand, he might not be willing to leave behind the $15 million left on his contract with the Jaguars to go to USC.
To get that money, he needs to get fired. The Florida Times-Union
is reporting
that won't happen.
Ergo: Del Rio remains in Jacksonville.
He's believed to be interested in the USC job -- too much chatter suggests he has at least raised an eyebrow -- but the time frame favors the Jaguars, who appeared to be on the fence about retaining Del Rio before Pete Carroll bolted to the Seattle Seahawks.
It's a little bit of a game of chicken between Del Rio and the franchise. The Jaguars might be hoping that the thought of coaching his alma mater would lure Del Rio west, which would save the struggling franchise money.
Del Rio is presently meeting with Jaguars owner Wayne Weaver. We should get a clearer picture this afternoon.
January, 12, 2010
1/12/10
10:06
AM ET
By
ESPN.com staff
| ESPN.com
Another day, more names get attached to the USC coaching vacancy.
The LA Times this morning
added two names to the hunt
: Boise State's Chris Petersen, who just signed another extension with the Broncos, and former Oregon coach -- and current athletic director -- Mike Bellotti.
The LA Daily News reported late Monday night that USC has offered Jacksonville Jaguars coach Jack Del Rio
a contract
, but a report out of Jacksonville
cast doubt
on whether Del Rio will leave with so much money on the table with his present contract.
Petersen is much like Oregon State coach Mike Riley, who signed a contract extension with the Beavers after he was identified as USC's top target. Petersen has spurned previous big-money offers to remain at Boise. But would USC be a temptation?
Bellotti flirted with USC in 2000, but ultimately backed away as athletic director Mike Garrett was forced to hire a guy named Pete Carroll.
Bellotti, who turned 59 in December, hasn't seemed totally in love with being an athletic director, so maybe he'd be intrigued by the opportunity.
January, 12, 2010
1/12/10
1:30
AM ET
By
ESPN.com staff
| ESPN.com
Several reports say that Jack Del Rio, at present the Jacksonville Jaguars coach, has moved to the fore of USC's search to replace Pete Carroll.
This one
says that Del Rio has been offered a contract.
This one
, also from the LA Daily News, says he will bring in former Notre Dame defensive coordinator Jon Tenuta to run the defense.
This one, however, says that Del Rio is
likely to stay
with the Jaguars.
You can see video of Del Rio
walking to his car
here.
Stay tuned. This could develop quickly.
January, 10, 2010
1/10/10
11:52
AM ET
By
ESPN.com staff
| ESPN.com
If you were ranking the wish list pecking order for who USC might want to hire to replace coach Pete Carroll -- and, yes, we
continue to wait
for an official announcement from the Seattle Seahawks -- it likely would go: 1. Oregon State's Mike Riley; 2. Tennessee Titans coach Jeff Fisher; 3. Jacksonville Jaguars coach Jack Del Rio.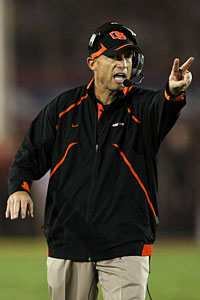 Stephen Dunn/Getty ImagesMike Riley and the Beavers finished 8-5 this season.
From the moment Bruce Feldman first reported it -- and other insiders have since backed it up -- Riley has been
choice No. 1
.
Riley would be an interesting hire. Combine his acumen as a talent evaluator and X's and O's skills with USC's recruiting base and national reach, and the end-result could be outstanding. His sterling reputation of a man of integrity also would go over well with the NCAA, which is investigating the Trojans' football program.
The question is whether Riley wants the job. There's a big difference between Oregon State and USC, Corvallis and LA, from expectations to lifestyle. Heck, start with traffic.
Riley has repeatedly said since he returned for his second tenure at Oregon State that he wants to retire a Beaver and he's never seemed driven by money, which he certainly could make more of with the Trojans. He's repeatedly said that his "grass is always greener" life lesson was when he left Oregon State for an ill-fated stint with the San Diego Chargers.
That doesn't mean he's not going to talk to the Trojans, but for the sake of this blog entry, let's say he doesn't want the job.
Then comes Fisher, who like Riley, USC athletic director Mike Garrett
tried to hire
before. But Fisher, who played at USC, has two years left on a contract that pays him $5.5 million a year, not to mention that he is a career NFL coach.
Let's say he also doesn't want the job.
What about Del Rio?

Del Rio
That could be an interesting choice, starting with the fact that he
might want the job
.
He's a former USC linebacker and has an impressive
coaching resume
, particularly on defense.
On the downside, like Fisher, Del Rio is a career NFL coach. And he has three years left on a contract that will play him more than more than $15 million.
Ah, but there's also an intriguing upside.
Check this out
. That's Del Rio's coaching staff in Jacksonville. See the offensive coordinator and running backs coach?
If Del Rio could bring Dirk Koetter and Kennedy Pola with him to USC, that would be a major coup.
Say what you want about how things went for Koetter at Arizona State -- and things didn't go well toward the end -- but the man knows offense. Just ask current Nebraska coach Bo Pelini. When Pelini was LSU's defensive coordinator -- and a highly respected one at that-- Arizona State rolled up 560 yards in a 35-31 loss.
Koetter and quarterback
Matt Barkley
could make beautiful music together.
Moreover, Koetter knows the Pac-10 and the recruiting landscape of the West Coast. If Del Rio needed help finding his way around a college coaching job, Koetter obviously could offer guidance.
And USC folks surely remember Pola, also a former Trojans player and coach. He was a USC assistant from 2000-2003 and earned a reputation as an outstanding recruiter.
Del Rio also may soon be available, or at least the Jaguars might embrace a way to save themselves some money on his contract. According to Gene Frenette of the Florida Times Union, "Del Rio is expected to meet with Jaguars owner Wayne Weaver on Monday or Tuesday to discuss this past season which ended with a four-game losing streak, a 7-9 record, and many fans calling for Weaver to bring in a new coach."
Hmm.
You know, the last time Garrett was unable to hire his first -- or second -- choice, things seemed to work out OK for the program.
January, 10, 2010
1/10/10
10:10
AM ET
By
ESPN.com staff
| ESPN.com
Another day for the Big Story.
January, 9, 2010
1/09/10
2:49
PM ET
By
ESPN.com staff
| ESPN.com
USC fans will want to move on quickly from Pete Carroll's
expected departure,
per ESPN's Adam Schefter, to the good news of a big-name replacement.
It may not be that easy.
First of all, the early scuttlebutt points to three candidates: Oregon State's Mike Riley,
Tennessee Titans
coach Jeff Fisher and
Jacksonville Jaguars
coach
Jack Del Rio
.
To those names, reporters will line up the usual suspects: Boise State's Chris Petersen, TCU's Gary Patterson, Stanford's
Jim Harbaugh
and Utah Kyle Whittingham. Or maybe Herm Edwards? Or Tony Dungy? Or
Mike Leach
!
So there are some names. An impressive list, yes?
Ah, but there's a big issue in advance of pursuing candidates: Who's in charge of the search?
Will USC -- and its powerful boosters -- entrust this search to embattled athletic director Mike Garrett?
Early indications are Garrett will be in charge, but that might -- or should -- make Trojans fans nervous.
Let's first recall that Garrett's hire of Carroll, for which he has always enjoyed taking credit, wasn't entirely about a prescient and savvy evaluation of a man's character and a skill set. It was more like hitting a number on the roulette wheel or winning the lottery.
It was lucky.
Carroll was far from the first choice -- most accounts list him at No. 4 behind Riley, Dennis Erickson and Mike Bellotti -- and the hire was greeted with derision by many pundits, who saw the decision as a sign of desperation.
Obviously, the pundits were wrong, and Garrett deserves some credit for his desperation call hitting the jackpot.
But is there confidence that Garrett can hit the winning number twice, particularly when his own job is in jeopardy, as
Michael Lev of the Orange County Register pointed out
?
Sure, his hire of Carroll helped an athletic department that was hemorrhaging money balanced the books due to a boom in football revenue, but little else has gone well in the Trojans athletic department under his watch. Both the basketball and football programs are presently the subject of NCAA investigations, and the NCAA might look favorably on Garrett being held accountable for the questionable oversight in recent years.
(Just as the NCAA will look favorably on the next coach having impeccable character and, if he's a college coach, a clean sheet on NCAA compliance issues).
Moreover, with school president Steven Sample retiring in August, the new president might want to hire his own guy to oversee an athletic department in transition.
It's not unfair, therefore, to wonder if this critical hire is going to be made by a lame duck athletic director. And to question the wisdom of that course of action.
Still, the need to make a quick, decisive move is critical. There's less than a month until national signing day, and a new staff needs to be in place to fight for what appears at this point to be a good -- if not great -- recruiting class.
Know that Pac-10 and other coaches are eagerly dialing up players presently committed to USC, seeing if perhaps Carroll's departure will inspire a wandering eye.
Know that UCLA coach Rick Neuheisel, in particular, senses that, hey, the
football monopoly in LA might actually be over
.
What's the ideal scenario for USC?
Identify a top candidate that will be met with widespread approval and will generate positive momentum for the program. Quickly ascertain if he wants the job in order to avoid the embarrassing rejections that preceded Carroll's hire.
Hire him.
Easier said than done.
January, 9, 2010
1/09/10
11:18
AM ET
By
ESPN.com staff
| ESPN.com
It appears that one of the great coaching runs in college football history is over.
[+] Enlarge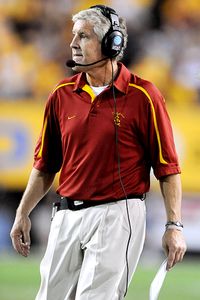 Kirby Lee/US PresswirePete Carroll compiled a 97-19 record as USC's coach.
ESPN's Adam Schefter
is reporting
that USC's Pete Carroll has reached an agreement to become the next head coach of the Seattle Seahawks.
Carroll was 97-19 with two national championships and seven Pac-10 titles as USC's coach. The Trojans went 6-6 his first season but would win at least 11 games over the next seven seasons, each of which ended with top-five rankings. Under Carroll, USC became the nation's pre-eminent college football program.
Of course, things trended down in 2009. The Trojans went 9-4, got blown out in losses to Oregon and Stanford and only returned to the national rankings after beating Boston College in the Emerald Bowl, the Trojans' first non-BCS bowl since Carroll's first season.
Moreover, off-field issues
might be a concern
for USC going forward, particularly with the NCAA and the Reggie Bush case.
Now Trojans fans' attention turns to who the next coach will be.
He will try to fill very big shoes.
Names that will come up: Oregon State's Mike Riley, Stanford's Jim Harbaugh, Boise State's Chris Petersen, TCU's Gary Patterson and Utah's Kyle Whittingham.
As well as current or former NFL coaches, such as Tennessee's Jeff Fisher, Jacksonville's Jack Del Rio or former Buccaneers and Raiders coach Jon Gruden.
Recall that when Mike Garrett was trying to hire a coach in 2000, USC wasn't such a great job. Garrett's overtures were rebuffed by Riley, Dennis Erickson as well as then-Oregon coach Mike Bellotti.
It's a much different job now, but the monstrous shadow of Carroll's legacy as well as potential NCAA problems could give some big-name coaches pause before they accept the post.
Of course, if the offer is in the range of $4.4 million per season, which Carroll was making, then all the drawbacks won't seem so daunting.
January, 8, 2010
1/08/10
5:53
PM ET
By
ESPN.com staff
| ESPN.com
If you can't get enough of the Pete Carroll-to-Seattle story, we're here to help.
The
LA Times
: "A Seahawks contingent including CEO
Tod Leiweke
interviewed Carroll in Los Angeles earlier this week to gauge his interest in replacing [Jim] Mora."
The
LA Daily News
already made a list of potential Carroll replacements: "1. Mike Riley. 2. Jeff Fisher. 3.
Jack Del Rio
."
Scott Wolf
reports further
: "We hear Pete Carroll's already putting together a coaching staff if he can reach a deal with the
Seattle Seahawks
."
The Orange County Register is
taking a poll
on potential Carroll replacements. Nick Daschel made
his own list
.
Oregon State fans need to be prepared for Mike Riley getting mentioned a bunch. The only way Riley can end such talk is by releasing a statement saying, "I'm not interested in being USC's next head coach. I will not talk to any USC representatives about the job. My Beavers are going to whip USC next year in Corvallis."
(I added that last part for Beavers fans who are mad that Riley's name keeps coming up).
Mark Wicker has
this insight
: "Carroll certainly has the right to pursue whatever dreams he has, and he has given USC perhaps its best football run in history. But when he goes out of his way to discourage [former quarterback Mark] Sanchez from pursuing HIS dreams, it might seem a little disingenuous for him to even be discussing jobs with the NFL"
This is from USC's sports information director, Tim Tesslaone: "Pete's name comes out at this time every year. In the past, he hasn't commented on such reports. He was not expected in today. I've put a message out to him, but haven't heard back yet. At this point, we have nothing to report. Perhaps check with the Seahawks."
Conquest Chronicles, a USC blog, has a fairly measured take
here
: "Pete Carroll owes us NOTHING! He has given us more than anyone could have expected for all the great games and awards. Pete Carroll has done plenty for USC. He put us on a run that won't ever be matched in college football. But nothing lasts forever and now may be the time."
Washington coach Steve Sarkisian, Carroll's former offensive coordinator,
talked to reporters
about Carroll potentially joining him in Seattle. Sark said he hasn't talked to Carroll about the situation.
Danny O'Neil's blog for the Seattle Times is
worth checking out
.