September, 22, 2010
9/22/10
6:50
PM ET
Notre Dame coach Brian Kelly was doing a great job Tuesday, saying nice things about Stanford and coach Jim Harbaugh. He called Harbaugh "a very good football coach" and "passionate."
But then he made a joke.
"I don't think he's the best Harbaugh," Kelly quipped. "I think Jack is the best Harbaugh of the Harbaugh coaches. There's no question. Jack is a good friend of mine."
Jim Harbaugh probably would agree that his dad -- a highly respected coach -- is the best Harbaugh. But Jim Harbaugh also is a man who feeds voraciously on motivation, and part of that is zeroing in on the smallest of slights. Anything to feed the fire. Anything to add an iota of oomph to his and his team's preparation for and execution on game day.
So, in short, Harbaugh probably is thinking, "Oh, yeah? We'll see who the best Harbaugh is on Saturday when my team plays your team, Brian!"
[+] Enlarge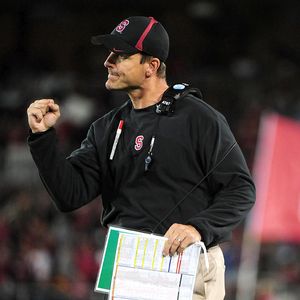 Kyle Terada/US PresswireOne of Stanford coach Jim Harbaugh's mottos: "We're going to win with character but we're also going to win with cruelty."
Does that sound like a whimsical exaggeration?
Well, consider this: Harbaugh went for a 2-point conversion with six minutes left while up 48-21 at USC last year. After the game, Pete Carroll famously asked Harbaugh, "What's your deal?" To which Harbaugh replied, "What's your deal?" thereby creating an innovative catch-phrase for Stanford's season-ticket campaign this year.
Or what about this: Last weekend, Wake Forest lined up for a field goal with 10 seconds left before halftime. The Demon Deacons trailed 41-7. Harbaugh called time out in order to ice the kicker.
Or this: With 5:25 remaining in the fourth, and Stanford up by 44 points on the overwhelmed Demon Deacons, Harbaugh challenged an incomplete pass hoping it would be ruled a fumble.
When asked this week if he has created a "ruthless," "merciless" team, Harbaugh laughed -- or was it a cackle? -- and called those "big words."
"They take great pride in being strong and being a tough football team," he allowed.
Harbaugh is an interesting cat. When he likes a question -- such as an inquiry about fullback
Owen Marecic
or quarterback
Andrew Luck
-- he can be extremely colorful. When he doesn't -- such as when he's asked about injury information -- he can be bland or even snappy.
What's clear, however, is he's got No. 16 Stanford playing at an extremely high level. The Cardinal outscored UCLA and Wake Forest 103 to 24 on consecutive weekends.
Stanford center Chase Beeler is the quintessential Stanford player. He's a former National Merit Semifinalist who is majoring in history and peppers his speech with words bigger than "ruthless." And he's pretty much a badass. He's a three-year starter who earned second-team All-Pac-10 honors in 2009 and he owns a reputation for finishing his blocks with a, er, certain bit of crispness.
Beeler admits there is a philosophical basis to Harbaugh's football culture at Stanford.
"One of our mottos is, 'We're going to win with character but we're also going to win with cruelty,'" he said.
That motto isn't likely headed to a Hallmark card anytime soon, but here's a guess a couple of high school football coaches just got a new phrase to try out Friday night.
Tough and physical is one thing. Those qualities can make a team competitive. But to win the Pac-10, you've got to have elite playmakers. That's where Luck comes in. He's thrown 10 touchdown passes thus far and no interceptions. At his present trajectory, he's one or two big performances away from becoming a legitimate Heisman Trophy candidate.
"I think he had a 50-something yard run for a touchdown [52 yards, actually], so his ability, his escapability, I didn't know what it was. I now know what it is," Kelly said. "The guy is extremely athletic, as well, and he can run. So he brings a big dimension to the table and not just throwing the football."
Luck and his offense, which ranks third in the nation with an average of 51.7 points per game, are probably eager to face a Notre Dame defense that is struggling, ranking 102nd in total defense. The Fighting Irish offense, however, will provide a good test for the Cardinal's apparently rejuvenated defense. Junior quarterback
Dayne Crist
, who is buddies with Luck, leads an attack that averaged 451 yards per game, including 318 yards through the air.
Stanford's big question entering the season was pass defense. It presently leads the nation, surrendering just 80 yards through the air. But a game at Notre Dame will be a far bigger challenge than home games vs. Sacramento State, UCLA and Wake Forest, an FCS team and two others that don't throw the ball well.
If Stanford takes care of business decisively as most expect it to, then it will head to Oregon on Oct. 2 for a game that could resonate nationally as well as in the Pac-10. But first things first. Overlooking Notre Dame would be a mistake.
"Every week we're in a fight for our lives," Harbaugh said.
And Harbaugh and his Cardinal plan to fight with character and cruelty.
April, 28, 2010
4/28/10
12:11
PM ET
By
ESPN.com staff
| ESPN.com
If you're a Stanford fan or a Baltimore Ravens fan or a fan of learning what makes coaches tick, this story on the Harbaugh clan
is a must-read
.
(You'll need an ESPN.com Insider subscription, or you can buy the May 3 issue of ESPN The Magazine. It's the one with Roger Federer on the front, which is also a great story).
For one, the picture of Jim Harbaugh that hangs in his family home is a classic -- his earnest expression while cradling a football owns an almost
Shakespearean intensity
.
A couple of highlights.
Here's the main difference between Jim, the Stanford coach, and John, the coach of the Baltimore Ravens: Jim is a football junkie to the bone. John is more of a corporate CEO sort:
Jim is like Dad in that way -- a true football believer, with a decidedly animal, kill-or-be-killed approach to the game. Here is a man who owns matching mangled pinkies that bend outward at the middle knuckle and a predatory energy that announces his entrance into a room, even if you're not looking and he's not talking. The locker room is where he was meant to be. "I could have been a player or a coach," he says, in a gravelly Great Lakes accent. "My brother could have been anything he wanted."
And, to further that point:
Matt Weiss, a former Stanford staffer for Jim who is now a Ravens assistant for John, clarifies the difference: "Put a brick wall in front of Jim and he'll run through it. Put that wall in front of John and he'll find three ways around it."
I've never spoken with John Harbaugh, but that certainly is an apt description of his younger brother.
After you read the story, make sure you then "... go out there and attack this day with an enthusiasm unknown to mankind."
February, 4, 2010
2/04/10
1:56
PM ET
By
ESPN.com staff
| ESPN.com
Stanford signed a
class of 22
that ranked 18th in the nation and featured three players ranked among the ESPNU 150.
Coach Jim Harbaugh was pleased, to say the least.
"The afterburners have ignited, and we are excited for the talented and ambitious newcomers who have made the decision to come to Stanford," he said. "Across all positions, this signing class is full of playmakers that possess athleticism and explosiveness that will help us reach multiple Pac-10 championships and a national championship."
Golly.
Top prospects
: Defensive end
Blake Lueders
, a former Notre Dame commit, leads a class that should bolster the Cardinal defense. Harbaugh compared him to Brian Urlacher. Safety
Devon Carrington
should immediately compete for playing time. Harbaugh was able to lure quarterback
Brett Nottingham
away from a UCLA commitment.
Under the radar
: Offensive lineman
Dillon Bonnell
is expected to be ready this fall after missing the 2009 season due to a knee injury.
Issues?
The class took a hit when committed linebacker Jordan Zumwalt opted to sign with UCLA. Linebacker was a need area and the class didn't include one who was highly rated. Two other committed players signed elsewhere: cornerback Louis Young (Maryland) and running back Brandon Bourbon (Kansas). It will be interesting to see who ends up at cornerback, a position in which the Cardinal need an athletic upgrade.
Notes
: Quarterback
Dallas Lloyd
is expected to go on a Mormon mission and won't enroll until 2012 ... Harbaugh said his father, Jack, won't stay on staff as running backs coach, a position the elder Harbaugh served in during the Sun Bowl ... The class features athletes from 12 states.
January, 6, 2010
1/06/10
10:21
AM ET
By
ESPN.com staff
| ESPN.com
Change is coming to Stanford's coaching staff, and the name at the top is still getting tossed around in the rumor mill.
First, it appears coach Jim Harbaugh will lose at least five assistant coaches this offseason.
Running backs coach Willie Taggart was hired to be Western Kentucky's new head coach, and he took defensive backs coach Clayton White and assistant strength coach Terry Obee with him. Co-defensive coordinator Andy Buh
has been hired
to coordinate the defense at Nevada.
Finally, Florida
hired
D.J. Durkin, Stanford's special teams and defensive ends coach. Harbaugh already has hired Brian Polian, late of Charlie Weis' staff at Notre Dame, as special teams coach.
It will be interesting to see if Harbaugh tries to retain
his father
, Jack, who served as the Cardinal's running backs coach in the Brut Sun Bowl.
Beyond all this, Harbaugh's own name is in the news, most particularly as
a candidate
for the Buffalo Bills job. And count on there being other rumors -- college and NFL. Recall that a
number of reports
had Harbaugh practically out-the-door to Kansas in mid-December.
Sure, Harbaugh recently signed a three-year
contract extension
, but that won't stop the rumors, particularly when the NFL jobs start to open up.
The good news emerging from this is that Stanford knows it has a good coach. The bad news is the constant distraction.